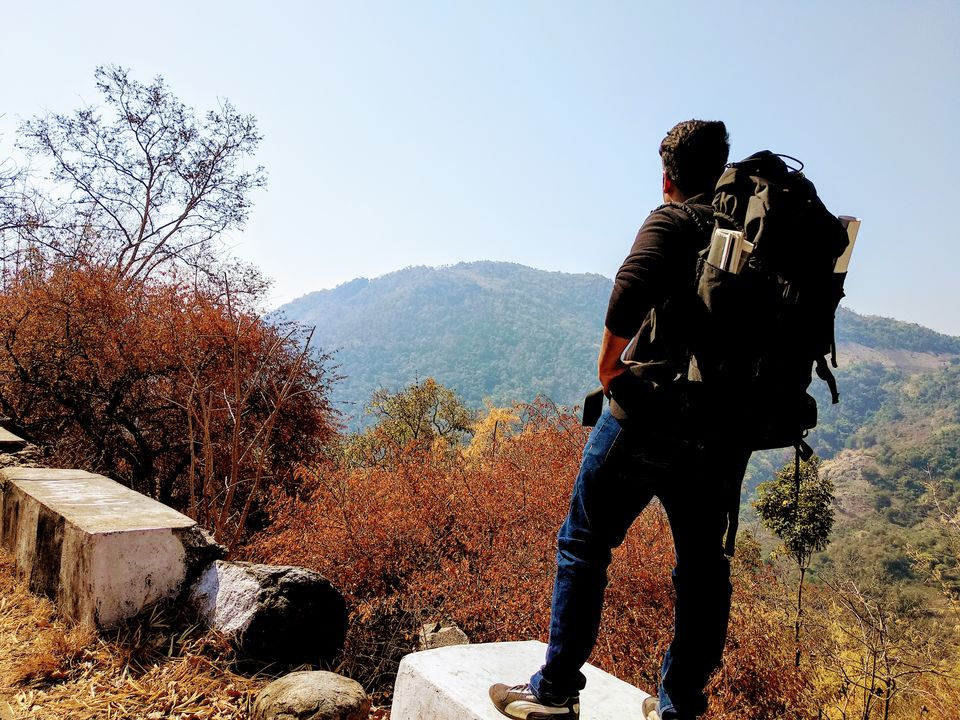 It was when suddenly I and my friend decided that we have to take a trip to Lambasingi, popularly called the Kashmir of Andhra Pradesh. We didn't know a Village could give us a feel of Heaven. Our trip was completely free and we won it in a contest held by BunkTravel.Com. You have to check it out.
Anyhow, Lambasingi is a small village located around 109 kms far from Visakhapatnam, Andhra Pradesh.
Our trip to Lambasingi was a life enriching experience that I'm gonna share here today.
We started at 5.30 A.M. from Rushikonda, Visakhapatnam, driving alongside the Bay of Bengal and looking at the Sunrise…It was the most beautiful morning of my life…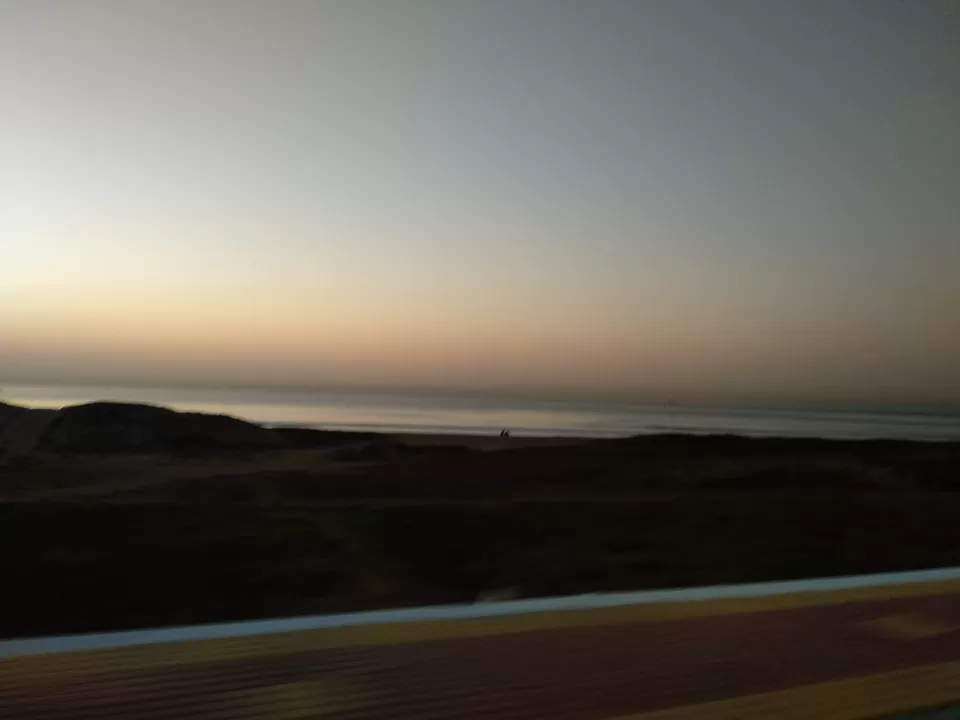 The sky was like slowly fading and turning from black to blue to orange to finally yellow under the sun.
We were on a two-wheeler, just me and my friend. We were just going with the winds and driving in fun when I asked him to stop as I had to take a picture of the sunrise which was so beautiful and undeniably simple to see.
A great thing happened while on our way to Lambasingi. Around the Gajuwaka Area we saw this guy, possibly the most patriotic person you'd ever see in your life. This guy was carrying the Indian Flag on his Bicycle at 6 in the morning. It was amazing to see such people exist.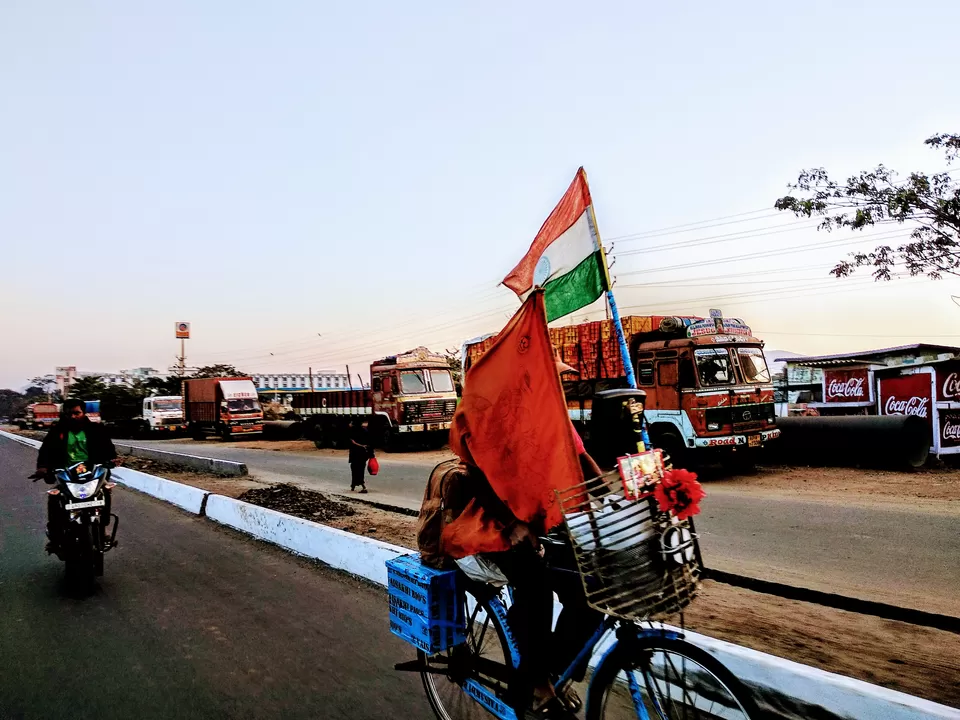 As we were heading to our destination, the sun was taking pace and coming out of the sky.
Isn't it just amazing to see how something so simple as the sun can be so beautiful if seen at the right time in the right place?
There were a lot of hills(Literally, a Lottt) while on our way and even Lambasingi was situated on a hill at an elevation of 3000ft. While on our way, we also saw a lot of Coconut trees(very common in this region) and crows(again very common in this region).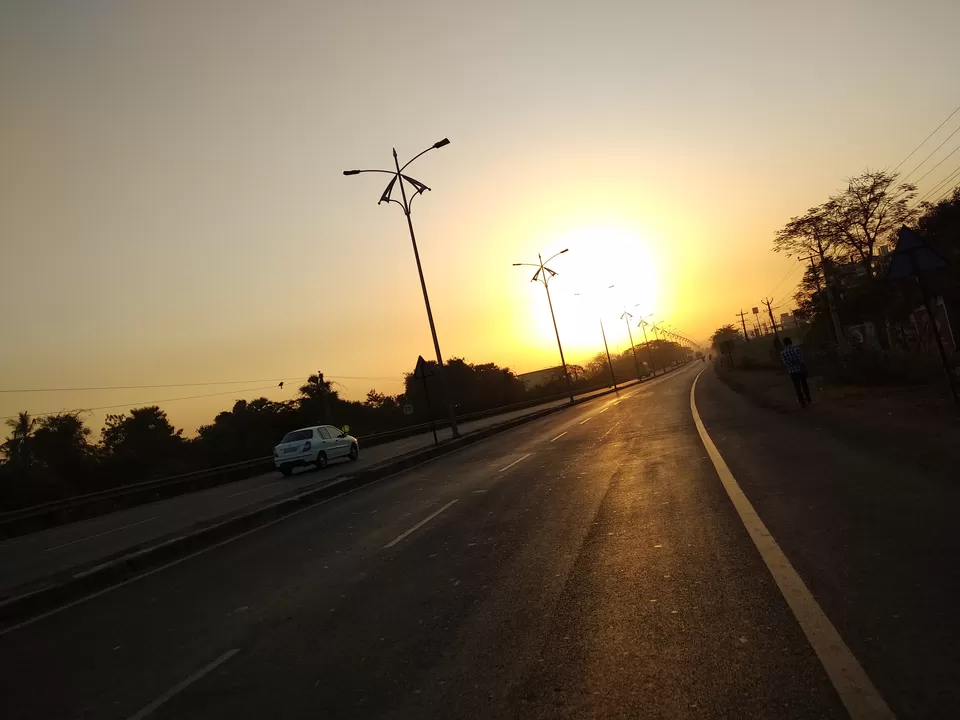 We decided to stop and have our breakfast at a highway-side dhaba(restaurant) and had the Authentic South Indian Egg Dosa served to us for only Rs.40.
There was also this cute dog looking at us so we decided to feed him too, so I got him a packet of biscuits. He was really happy and ate the whole packet. I loved it, it was one of those moments where you feel truly good from inside.
The road to Lambasingi is very clean and well-structured, the route is also available on Google Maps so there's no chance you'd be misguided by anyone on the route. Although, we got so much into our travel modes that we did not look at the Google Navigation and lost our way.
Yes, someone like me can also lose his way.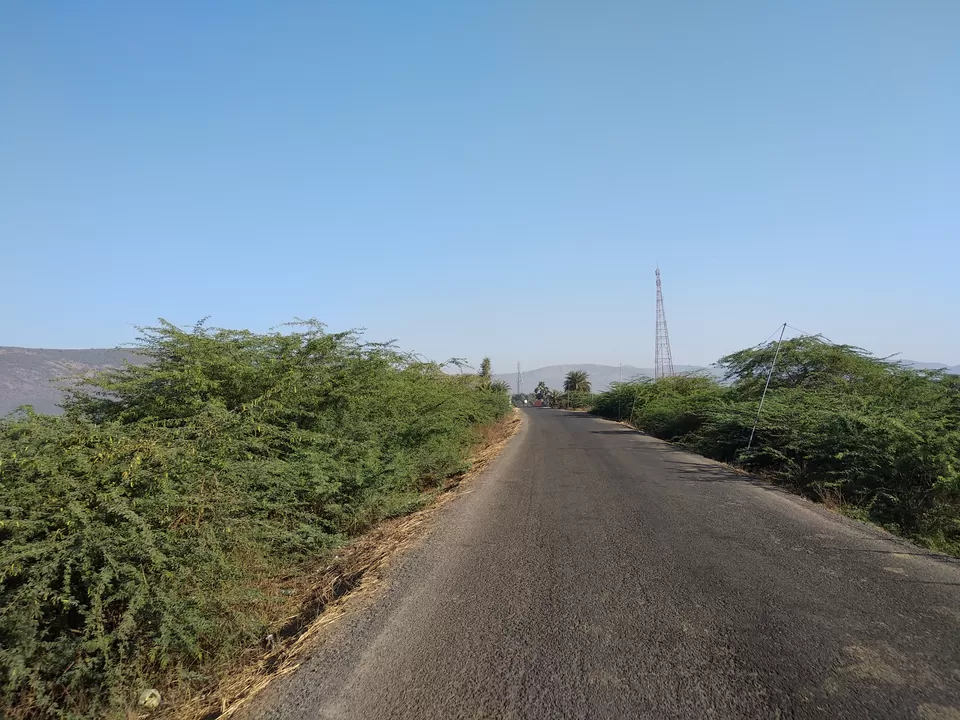 So we were there, stuck at some unknown place with no signal in our phones. Anyhow, after moving around a little bit, we found the signals and got back on track and went to Lambasingi. We went 35 kms ahead of the turn we had to take so we had to return another 35kms back to that turn to get to Lambasingi.
Then we finally reached that hill, it was still a tough climb with smaller roads and heavy vehicles going up and down. There are a lot of curves along the way that you need to be careful about because if one falls from that height, it's very likely that he'll die.
Anyhow, as I say, the view from the top makes the whole journey worth it and it was worth it.
We reached the top and then I asked my friend to take my pic in my favorite pose (Azaadi = Freedom pose).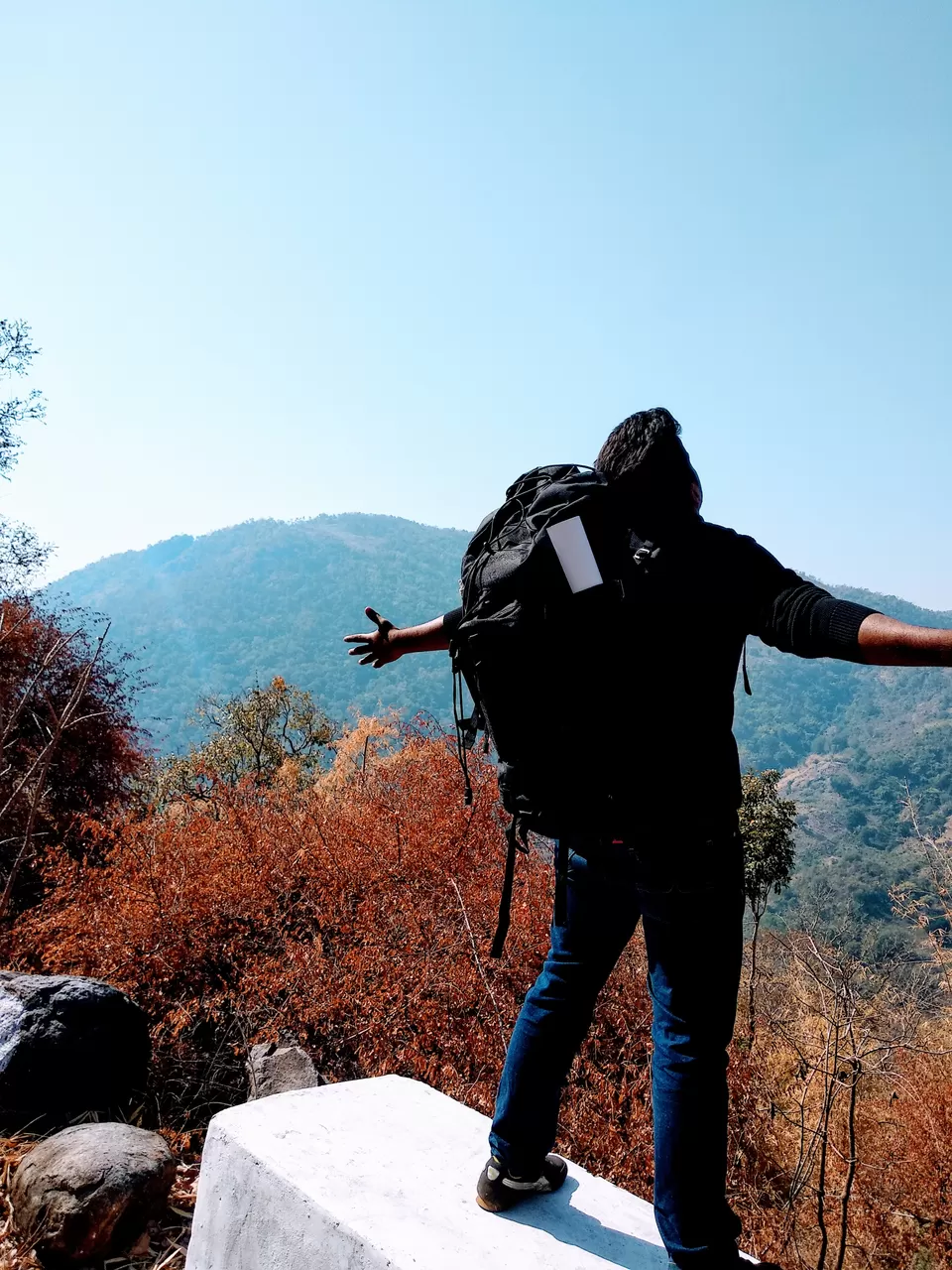 It was really good, the feeling of being on top, the freedom of being myself and a love of nature for me. It was the time I just fell in love with Nature.
Then we waited a little around the corner and I got into thinking how beautiful this world is. I recommend each and every one of you to travel to places that have a lot of Nature in them because when you get connected to something as simple as Nature, you get connected to yourself.
Hey. Did I introduce you to my other best friend? My rucksack or (Mera Basta in Hindi).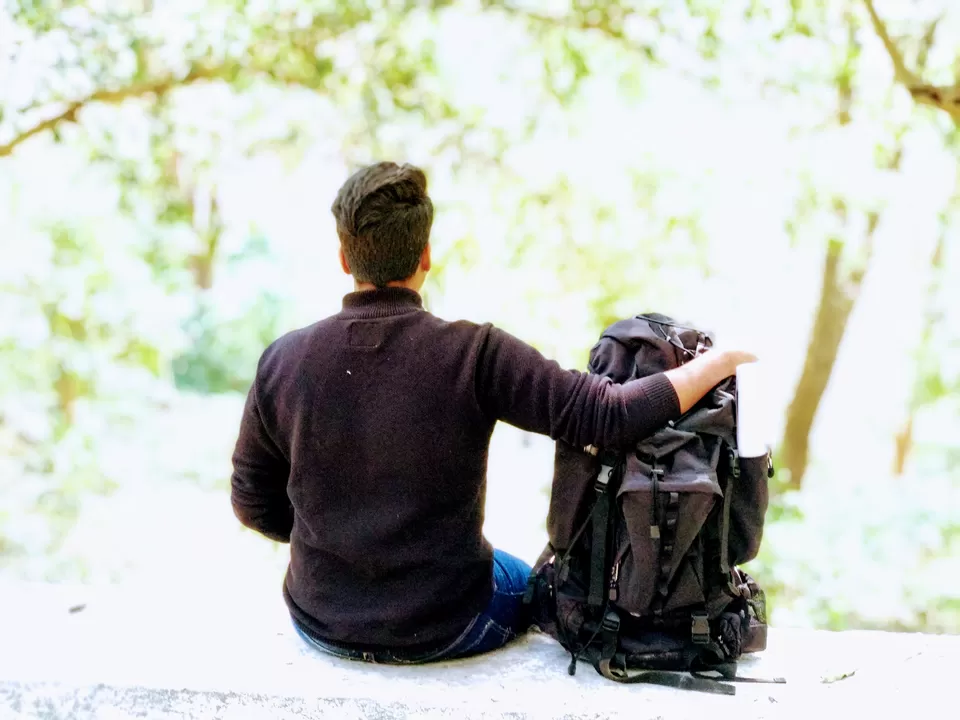 We are very very close, almost in a relationship and I've spent more time with my rucksack than with any human ever.
A fun thing happened on the way back, there was this monkey I wanted to take a picture of. I didn't know that there was a whole family of monkeys waiting to chase us. I went near this monkey in an attempt to take a picture when all of his family members came around and started shouting at us, Boy there were Angry. That's when we turned into Flash and ran so fast they couldn't get us. That was a fun experience.
On our way back, we came to this place called the Yerravaram Waterfalls. It is located on the same mountain but in a different route. This waterfall was so silent and peaceful like it feels one should sit here and see the water falling the whole day. Meditating here is a very good way to find the inner meaning of your being.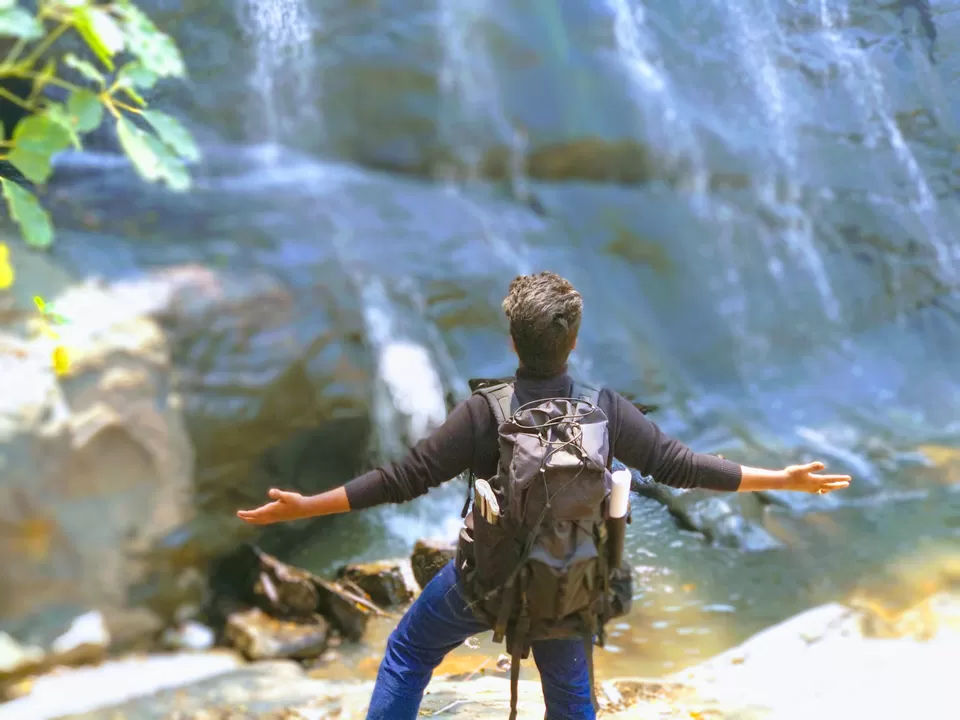 As an Indian, it is in my genes to take a bath under a waterfall, we do it a lot.
One big mistake I did was I didn't test the temperature of the water before diving into it. I just dived into it and boy, it was cold. So cold I could feel my limbs freezing but I decided not to come out otherwise the temperature outside and inside would confuse my body to which temperature to adapt to.
The valley of Lambasingi is really really big and visible from the Waterfalls. So coming to the waterfalls directly is a good idea to see the Valley as well as the water together.
We stayed there for around 3 hours and then we decided to return. It took us around 2 hours to reach Visakhapatnam back and that's when I gave my best friend a little rest.
So this was all from my trip.
I recommend everyone to take this trip at least once if you come to Andhra Pradesh but I also suggest have your own vehicle or rent a personal vehicle as public transport is not available easily.
Follow me on Instagram @bunktravel
Frequent Searches Leading To This Page:-
Andra pradesh tour itineraries, andhra pradesh pilgrimage tour packages, Andhra pradesh religious tours Packages, Andhra Pradesh spiritual tour Package, Andhra Pradesh Temple Travel Package