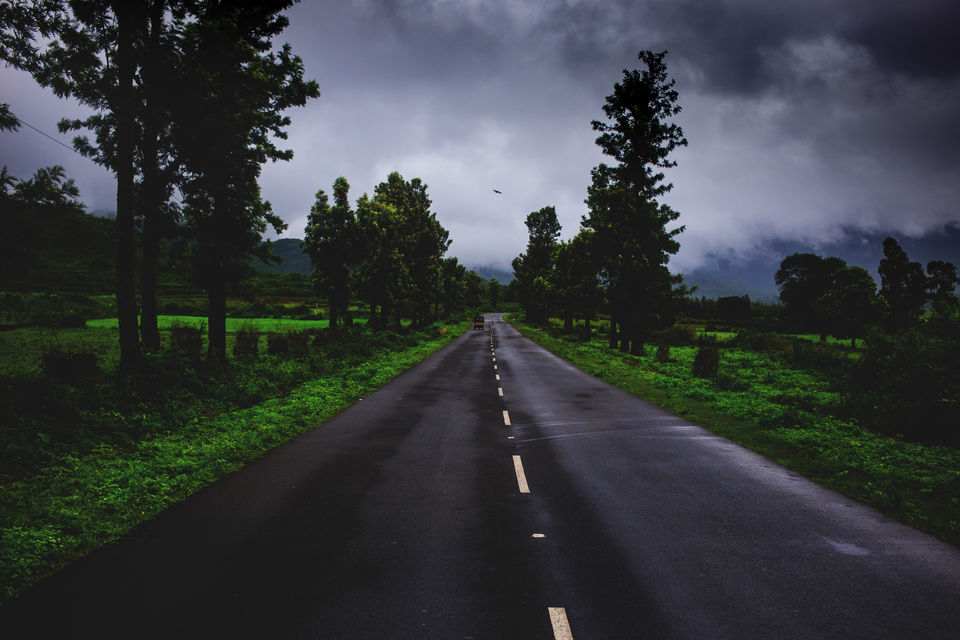 The western ghats of the eastern coast of India

One of the friends while sitting on the terrace of my apartments started recalling his trip to Araku Valley during his college days. This was probably the 25th time he had told us about the trip with each version different from the previous one. Tired of his story another friend of mine told him, "If Araku is really that beautiful during monsoons, why not plan a trip and check if it really is as magical as you always describe it to be during monsoons". We friends looked at each other and each one knew this talk had come up at the right time, Eid was just a couple of days away and it was a long weekend.
5 minutes later everyone was checking the availability of tickets, looking up for car rentals in Vizag and places to visit...what we did not check was the temperature and climate. Getting 11 confirmed tickets was difficult at that time as it was a long weekend and Visakhapatnam is probably one of the best getaways in Andhra and Telangana. We somehow managed to get 7 confirmed tickets and rest 4 on waiting, without thinking much we booked them because we knew 7 tickets were more than enough for a group of young boys going on a fun trip and anyways the travel time was also just 12 hours. Everyone had taken an oath to travel light because of which many of us even did not pack an umbrella or even a raincoat (worst decision ever). We carried two tents which we had purchased long back hoping that one day we all friends would use it for camping one day.
The day had finally come, we offered the Eid prayers, met relatives, ate some delicious food and left for the station in a public bus. Everyone was energized and taunting the friend who always talks about Visakhapatnam that 'If the place isn't as beautiful as you have always told us, then you are bearing rest of the groups trip cost'. As we reached the station, some friends picked up some snacks while some were busy checking the passenger list as to who our unlucky co passengers were and few were busy using the free wifi at the station. Train arrived and we all settled down, we started of with playing cards and then sharing funny train experiences...a couple of co passengers too joined us. We decided to have a good sleep in order to enjoy the next day. The thin and lean ones adjusted the 4 friends who were seat less. The night journey was cold, colder than what we had probably expected.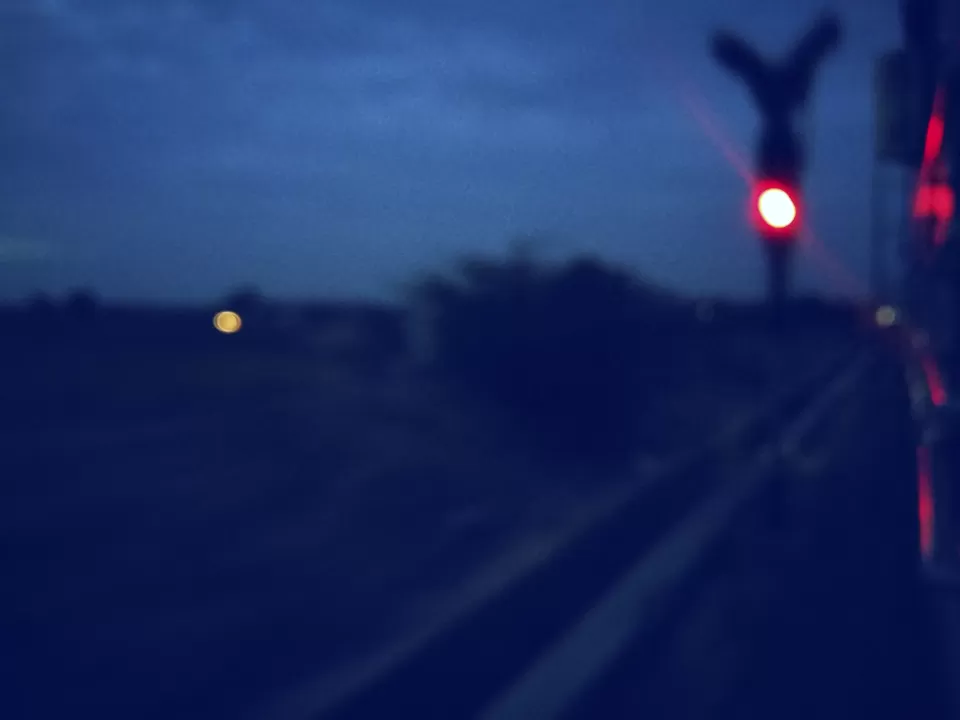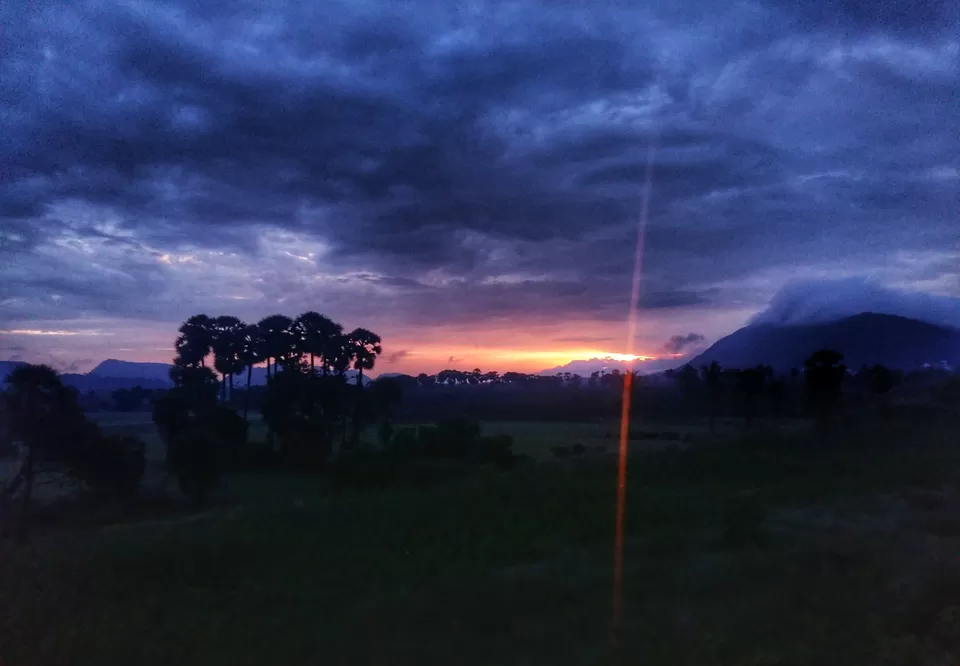 Almost everyone woke up early morning the next day as our arrival time at Visakhapatnam was 6 am. We woke up to a beautiful sunrise which infact was the brightest or the clearest vision of the sun we saw in the entire trip. As soon as we reached the station we had our tempo driver waiting for us and we quickly got in to the tempo and told him to take us to the best and cheapest breakfast place enroute Vizag Valley. He stopped at a small dhaba type of place where we ate but in a limit as no one wanted to upset their stomach and ruin his as well as others trip. Our tempo had a music player luckily and someone or the other was always playing his music on a low volume. Everyone had occupied the seat next to his favourite friend in the group. While exiting Visakhapatnam we were shocked to see that it was so developed as well as clean. 100-120 kms into the ride we stopped for a quick lunch because we had to anyhow reach the Katiki waterfall at the earliest.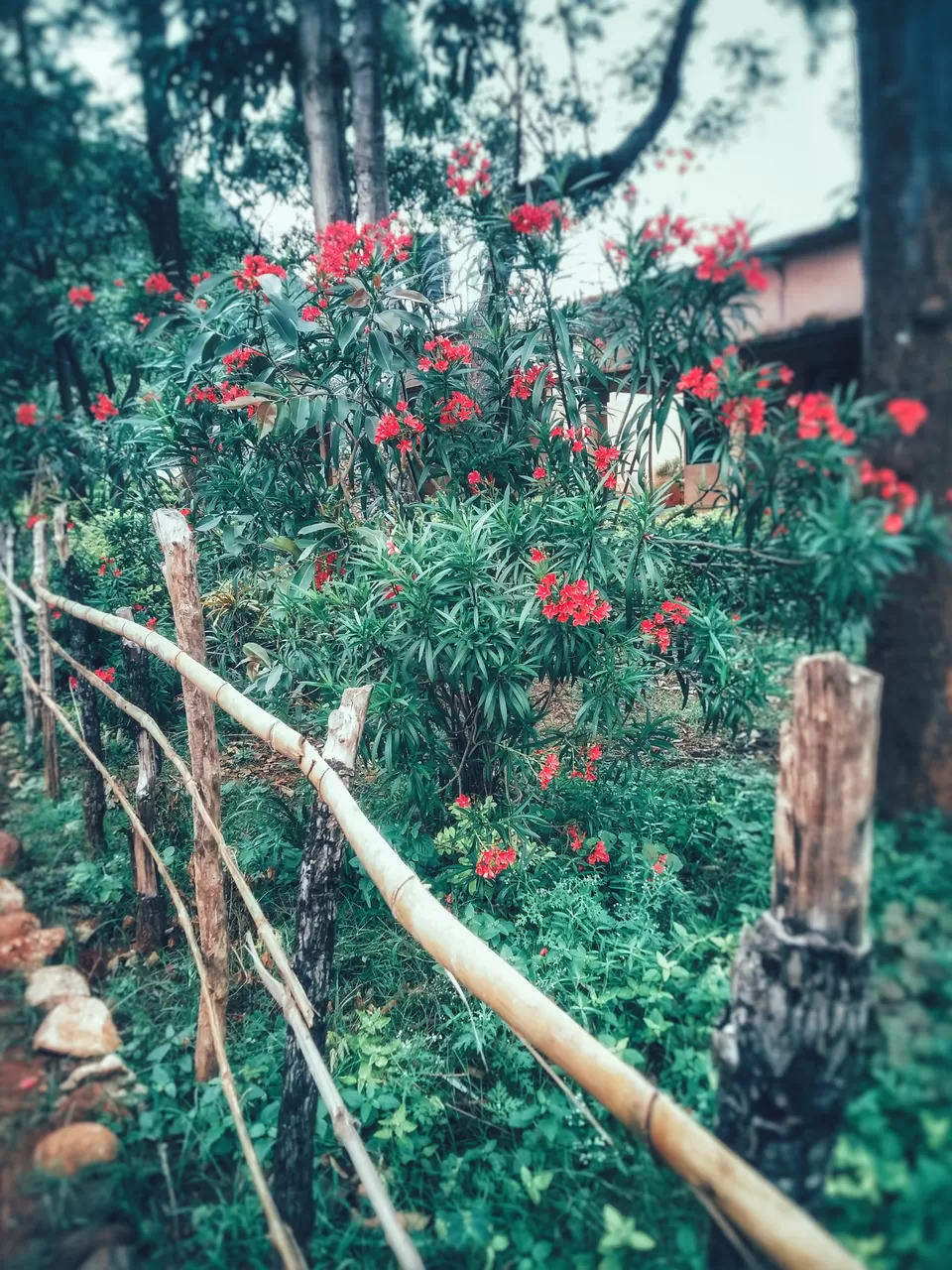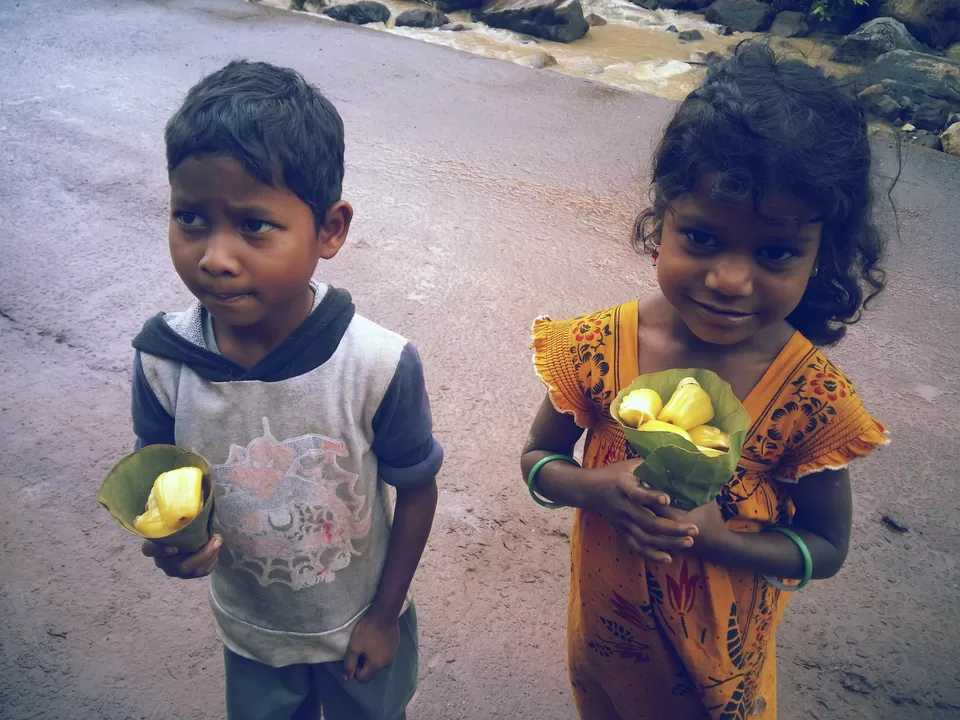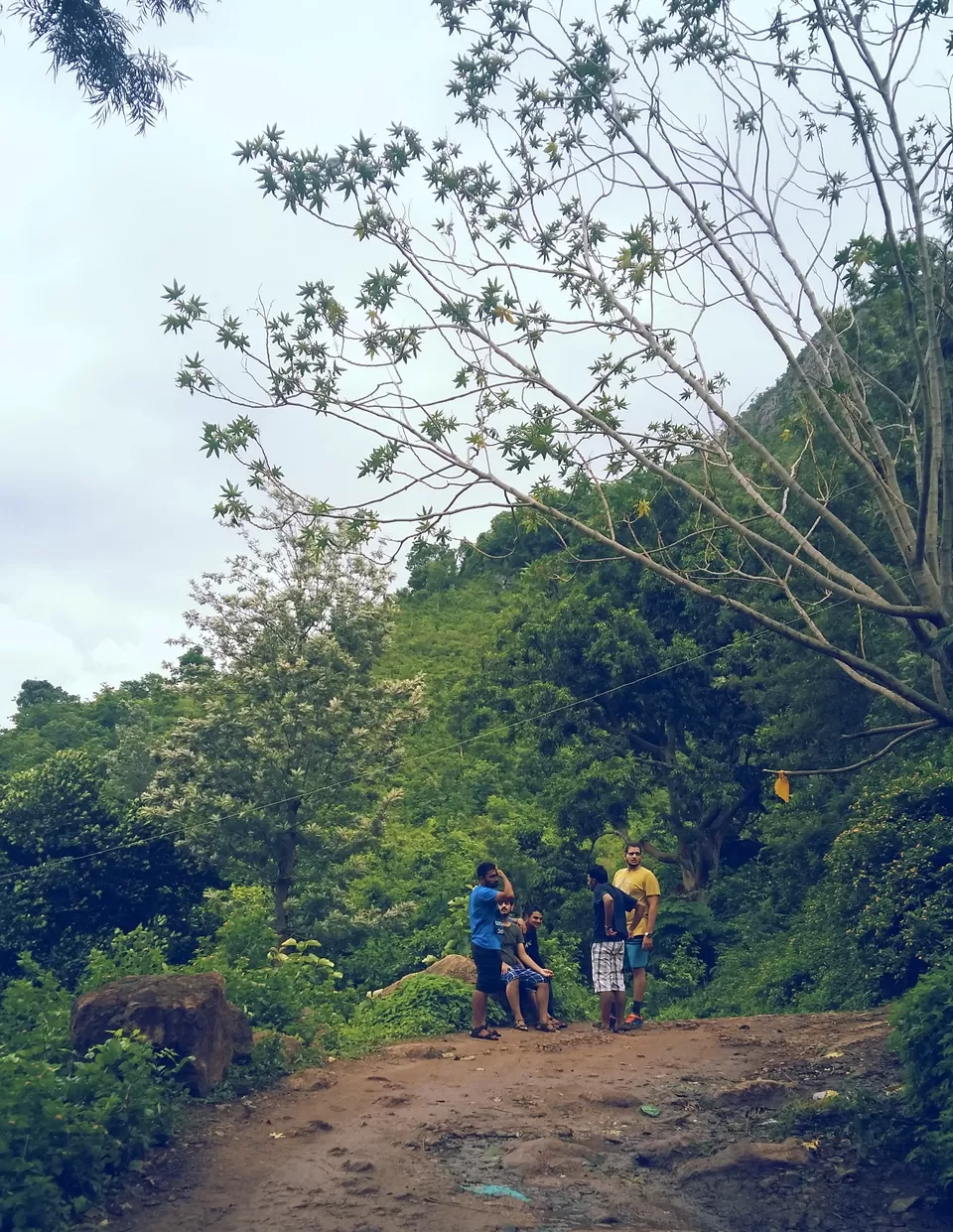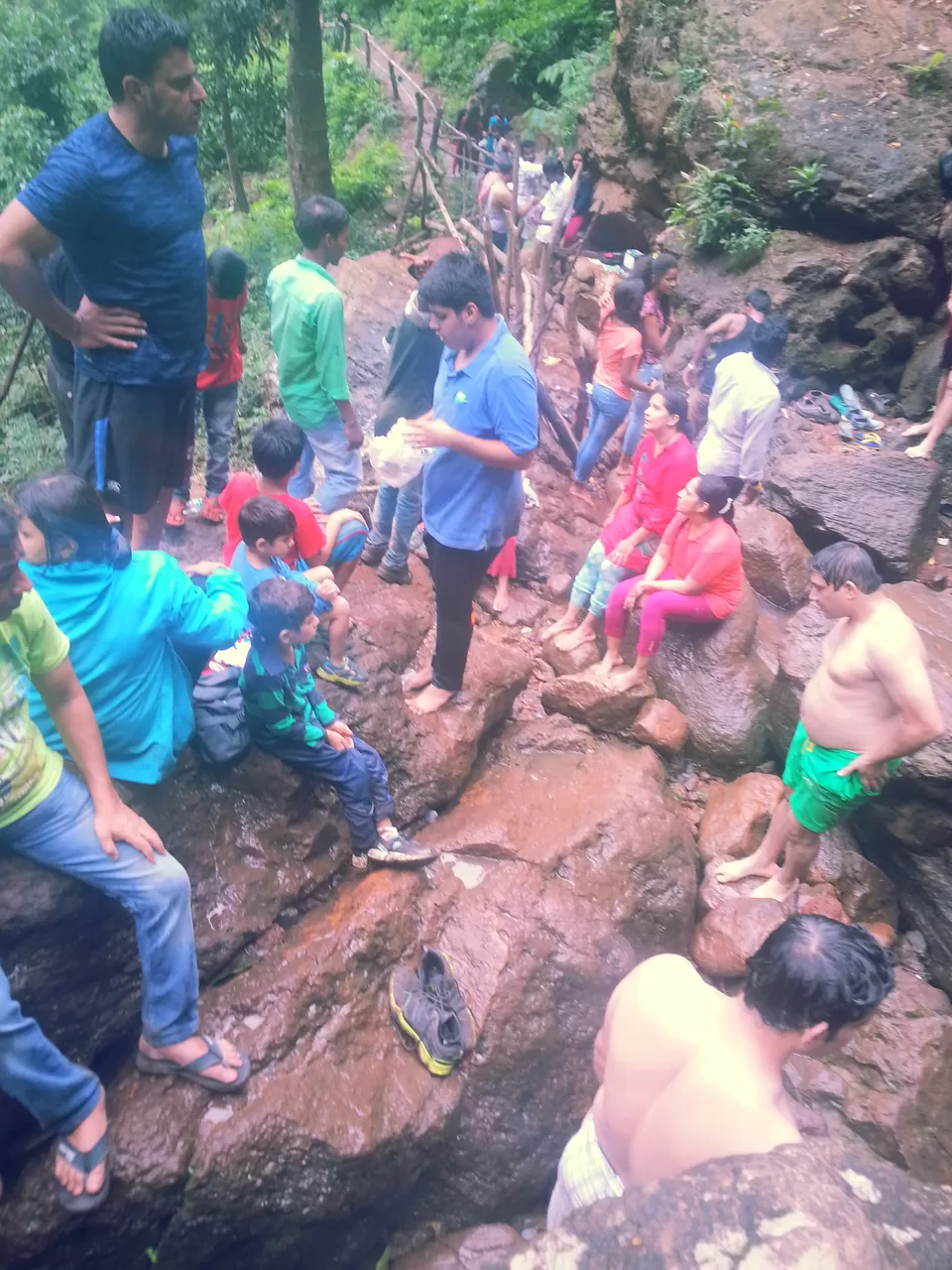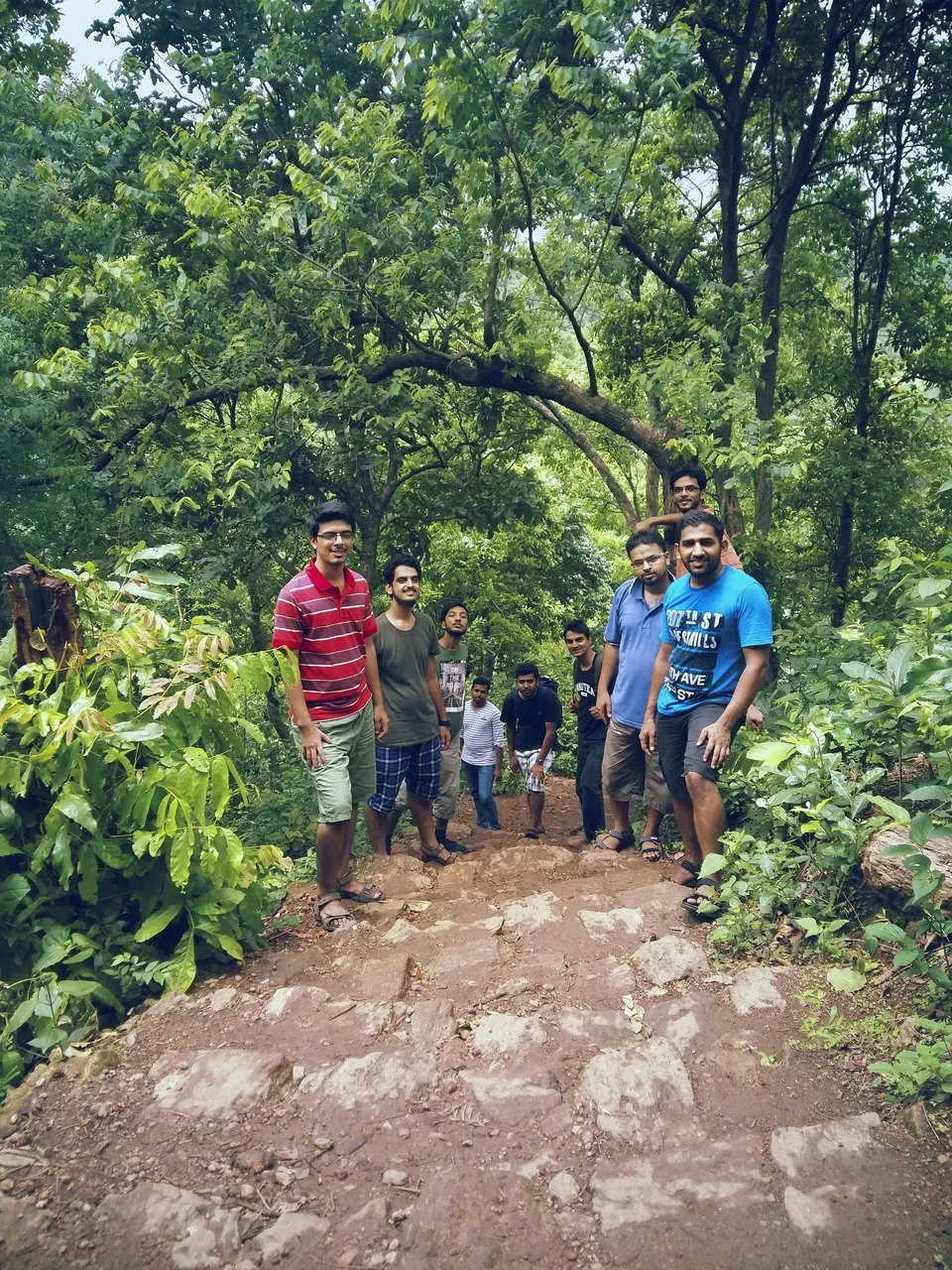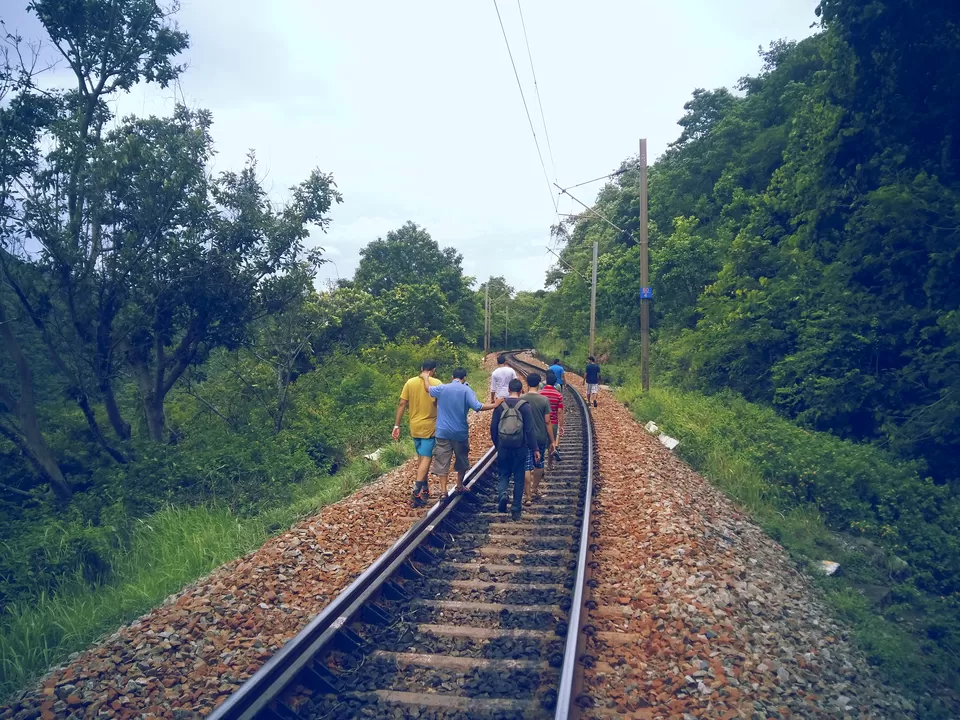 As soon as we reached the spot we came to know that the waterfall is way into the jungle and one needs to hire a jeep to reach the base of the waterfall. What would young chaps with tight budget do?? Exactly what you just thought of, we decided to trek, initially what looked easy began to take a toll on us because some of us were in slippers, few did not have rain protection and it started raining. We somehow reached the fall only to find out about 50 people bathing, cleaning utensils and clothes and doing all that which one should not do, also we didnt have one good spot to sit or enjoy the fall leave alone take a photo without the crowd getting into the frame. Disappointed we returned and cursed at our selves for choosing the wrong time to travel to a touristic destination. As we left the place it started raining very heavily, the driver had difficulty driving too. Our next destination was Bora caves which we again couldn't enjoy as it was over crowded and it was very dark. The only consolation we could give to ourselves was that chalo, 'lets enjoy the camping at night'. We scouted locations ideal for camping near the Araku valley. We zeroed on few locations just before the Araku town , as per plan we ate dinner in the town and while discussing out loudly the camping plan..the restaurant owner said its highly impossible for you guys to camp out tonight. The last thing we wanted to hear at the end of a already poor day. We were told that because it was a festival day, the police will keep roaming around the town and if they see tents pitched up in the middle of nowhere then you guys will be in trouble. He then also mentioned to us that the police will not mind you guys camping till mid night. Our driver was also scared and advised us not to do the camping part. We rest assured him that nothing would happen. We had to book three rooms in lodge which was about 30kms (nearest from the camping location). Those who wanted to use the washroom, change their clothes, rest for a while did so and then we finally left for the camping spot.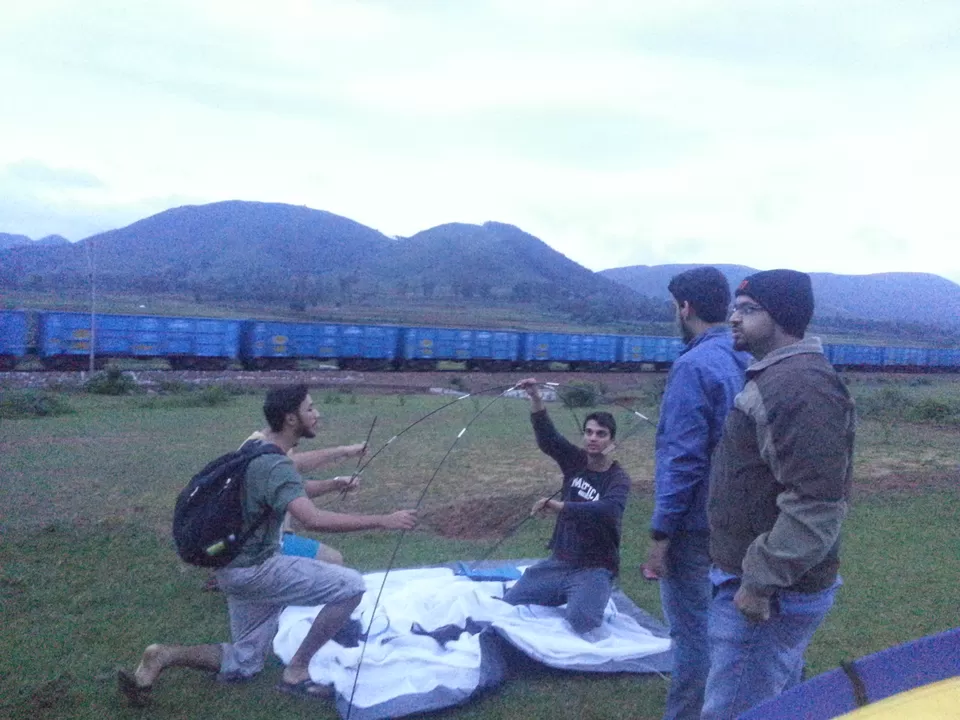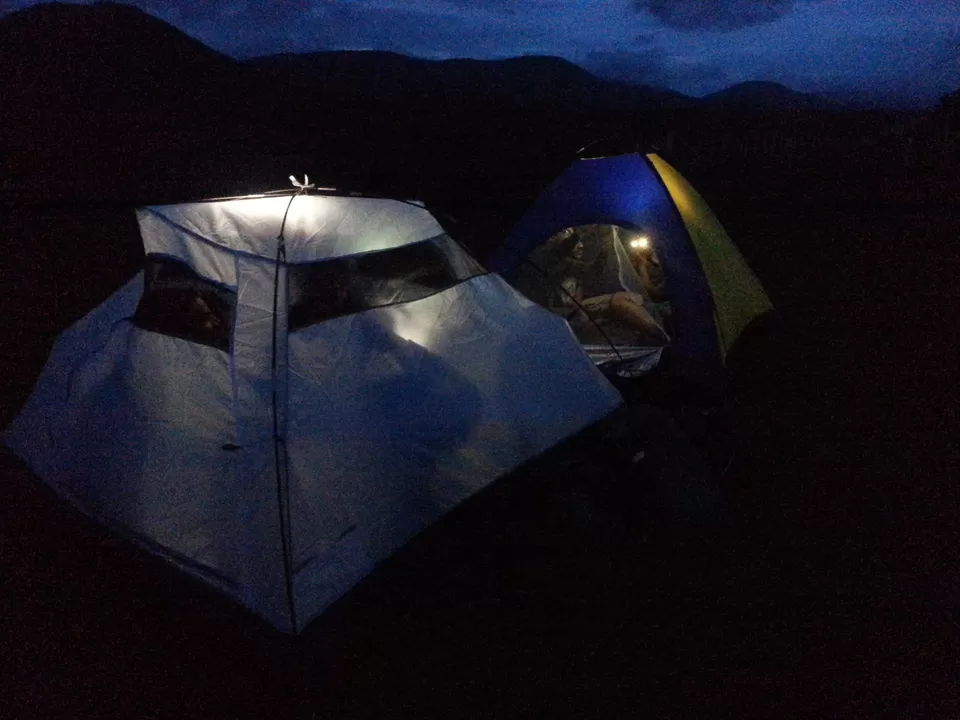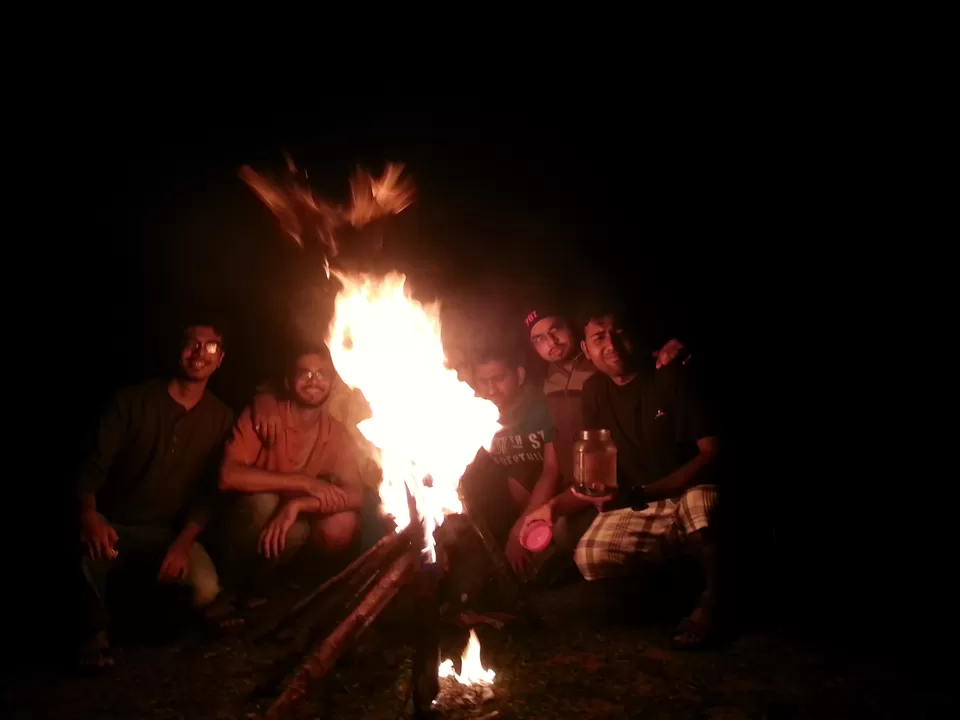 It was a beautiful vast plain grassland with a train track passing through it. We set up our tents before it got dark and went back to the town again to get food. We ate our dinner in the tents, made a bonfire but it was so cold that it didnt help us. Midnight was few minutes away and we packed up our stuff and left. The driver was bored to death sitting in the tempo in the cold and now it was his turn to entertain us so he started telling us tales about the place. The first story he told us was that just 3 days back a tiger/leopard was spotted just a few meters away from where we had camped. Even the most tired and sleepy person in the group got up and was all ears now. We asked him why he did not warn us or stop us from pitching the tent there, to which he replied I thought 11 guys would be enough to tackle a tiger or leopard *slow claps*. We returned to the hotel very tired and slept.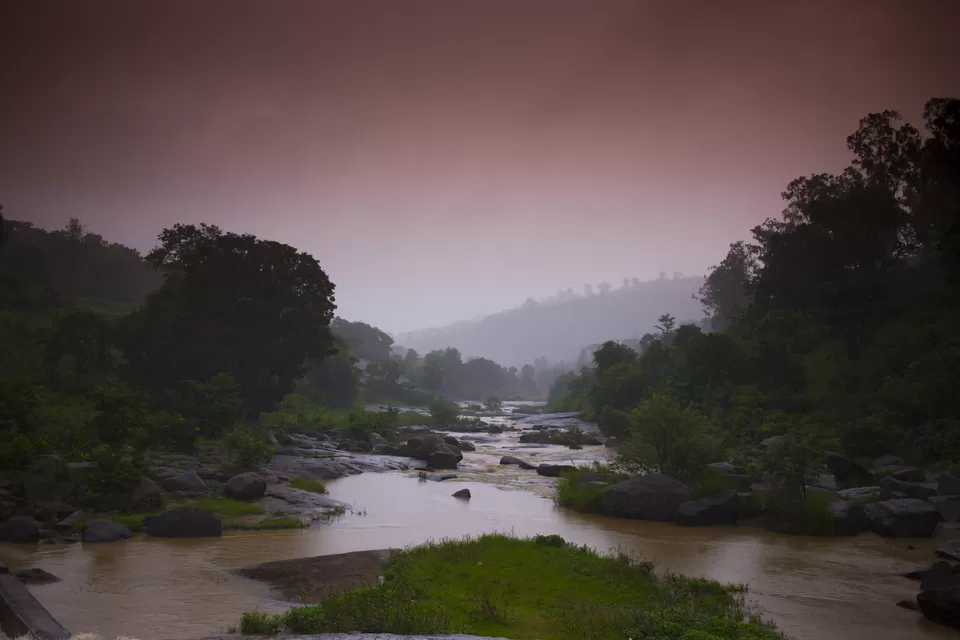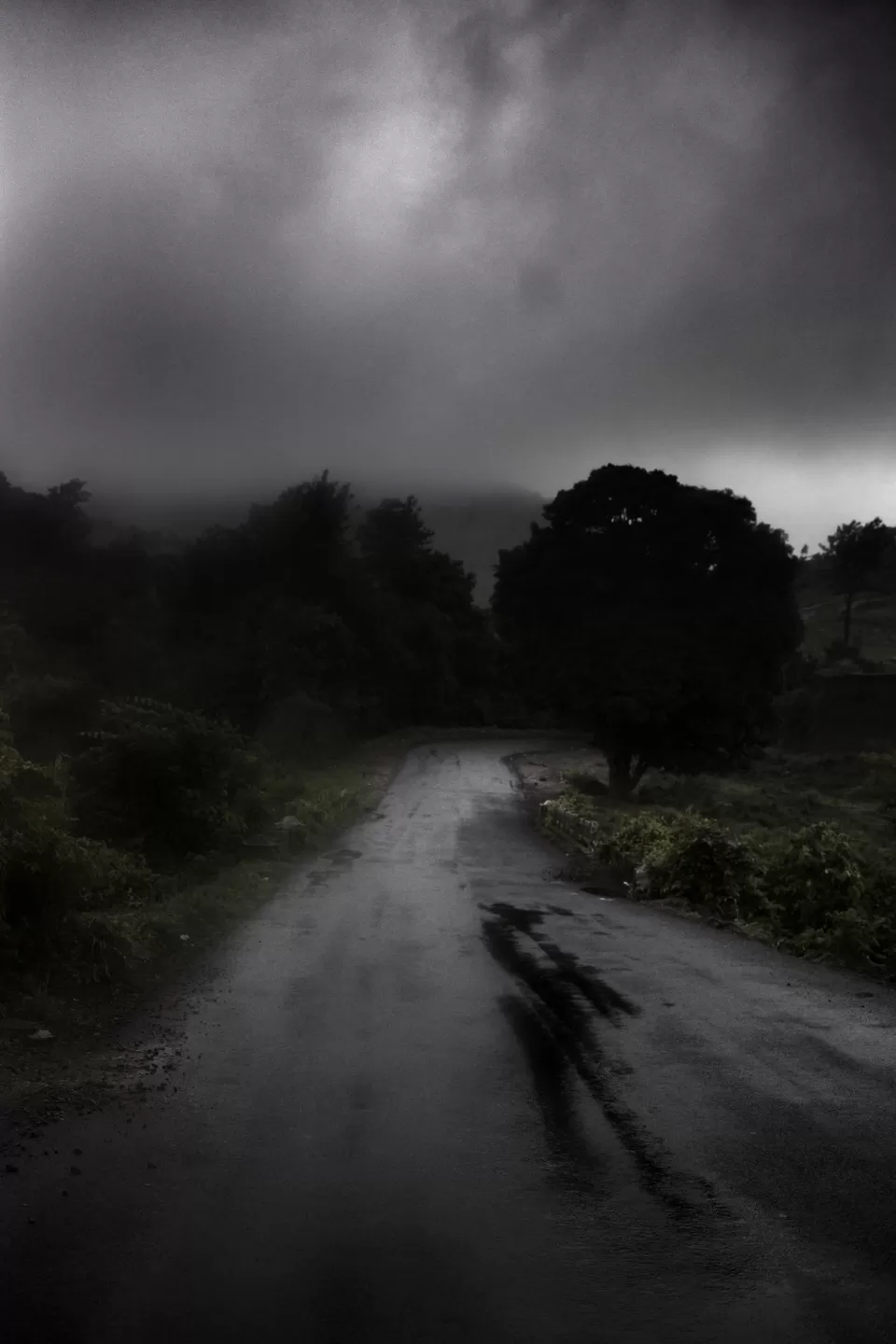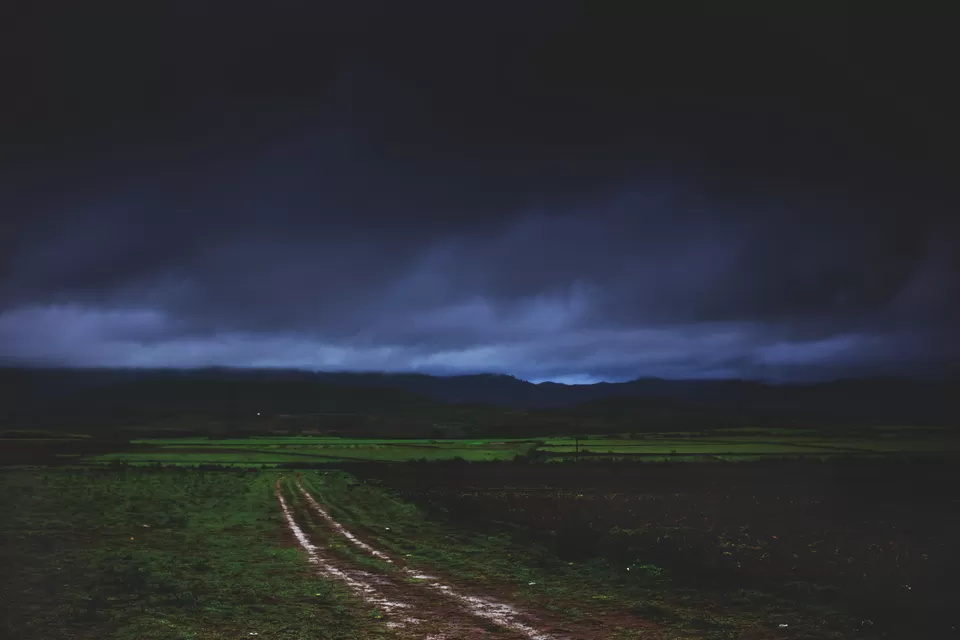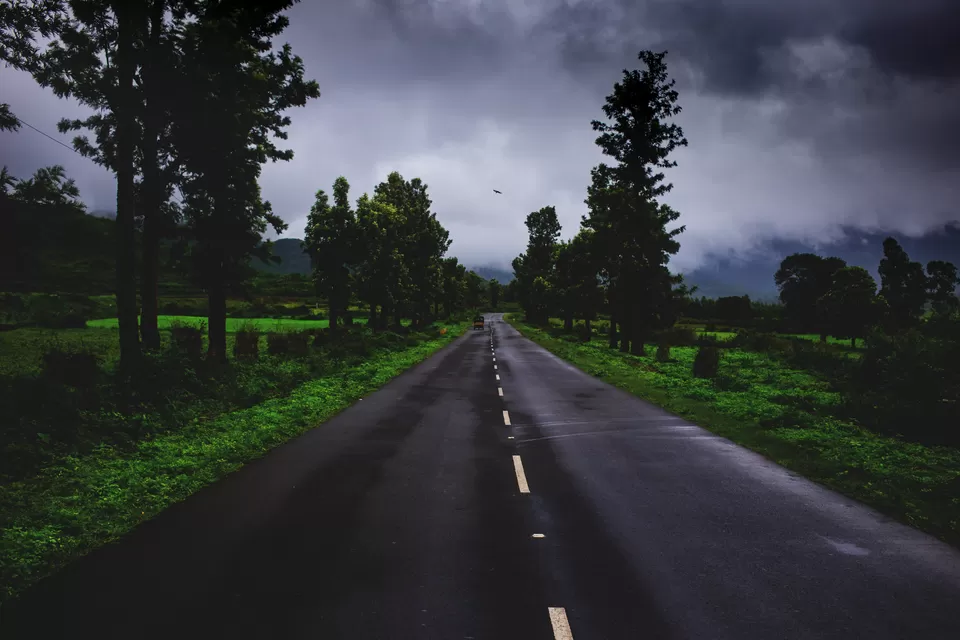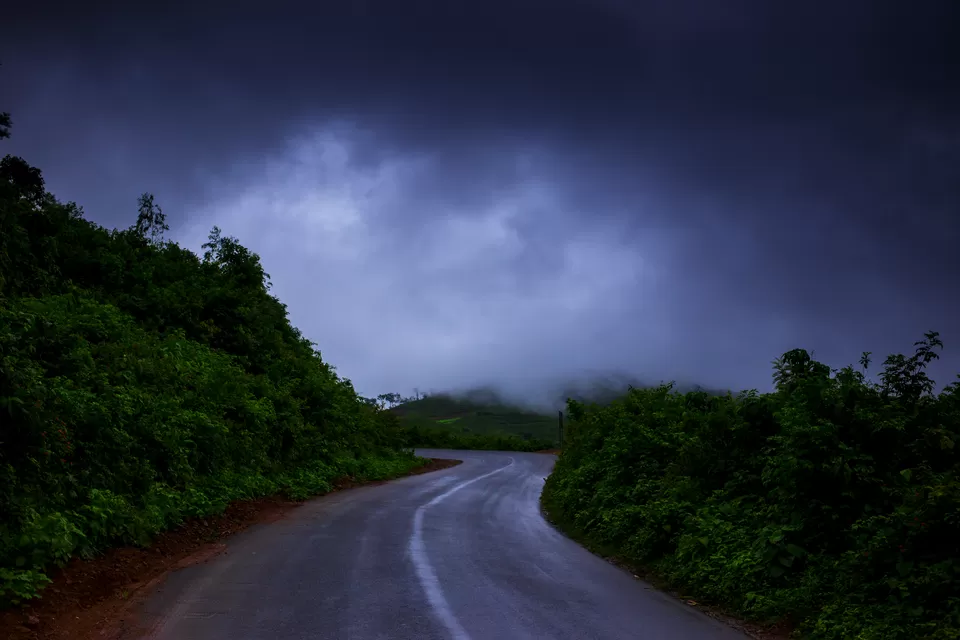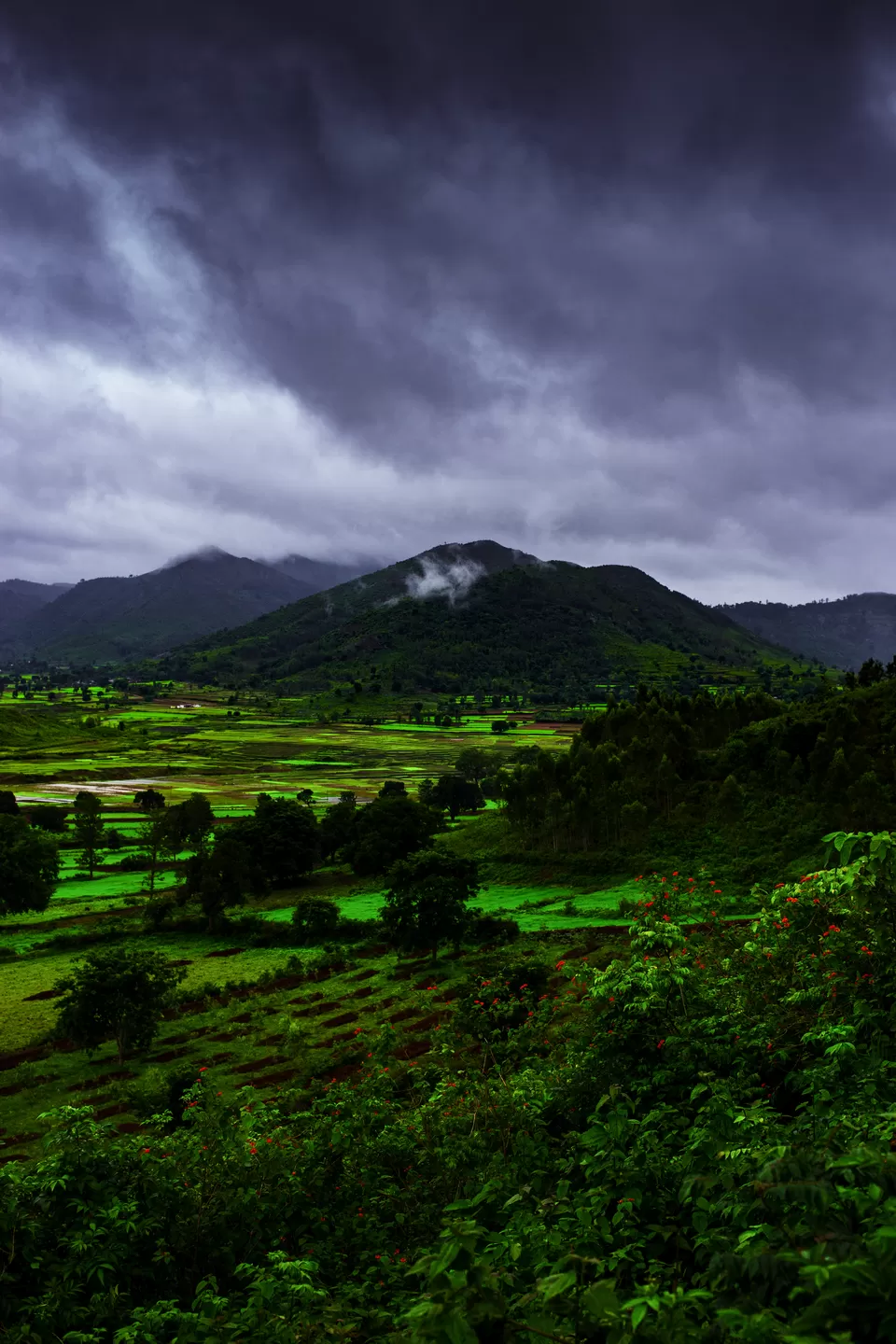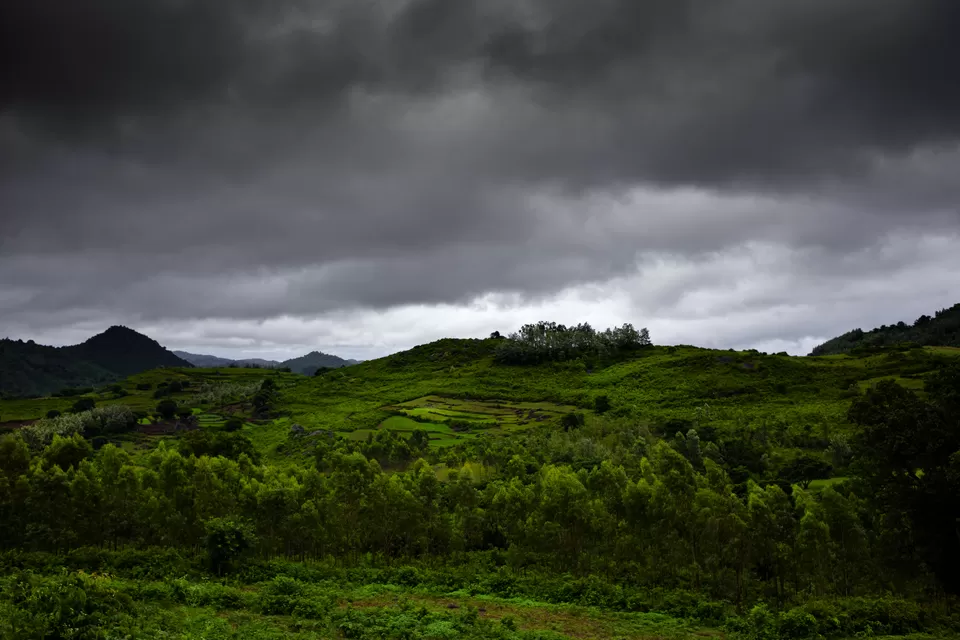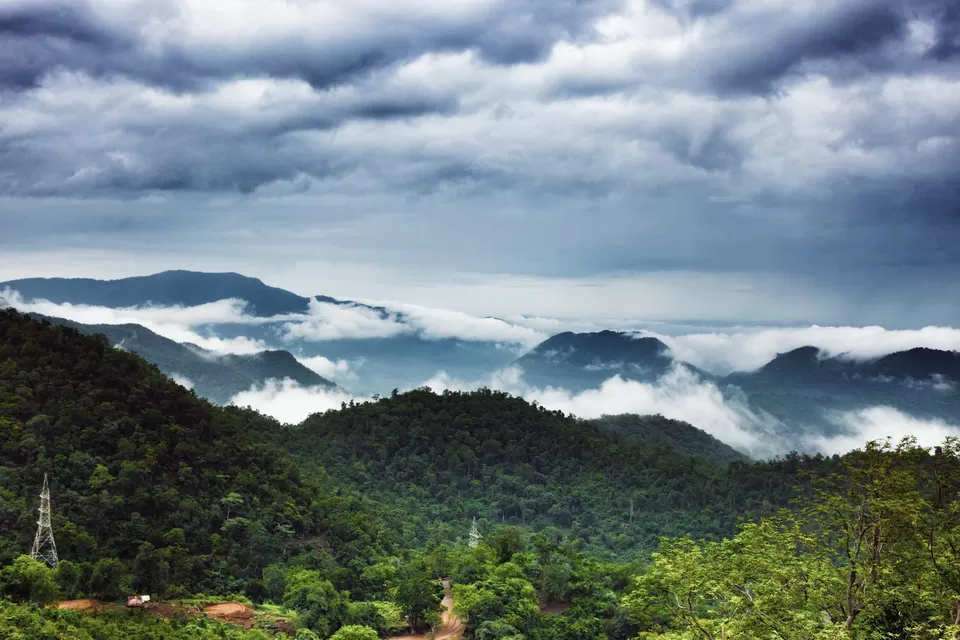 Last day of our journey and we had already seen enough of rain and been disappointed by the touristic places. We ate a record 52 dosas and a couple of idlis for breakfast (the dosas were small but they were TASTY!) We visited different points and places but the best we could do was enjoy them from the tempo itself as it was raining heavily. We decided that we would leave for Visakhapatnam instead of wasting time here and as soon as we left back for Visakhapatnam the rain stopped and the view around us was mesmerizing. I being a photographer jumped with joy, took out my camera and started shooting landscapes. We passed through dense fog, heavy clouds and some needle turns.
The ride back to the city was one of the best thing since we had reached Visakhapatnam. We reached the city and decided to hit it off to the beach, it was sunny in the city. We had a couple of hours before leaving back to Hyderabad. Storm warning and high tides made it difficult for us to approach most of the beaches, only a stretch of beach was open with heavy life guards deployments. We had a good time at the beach, ate snacks and left for the station.