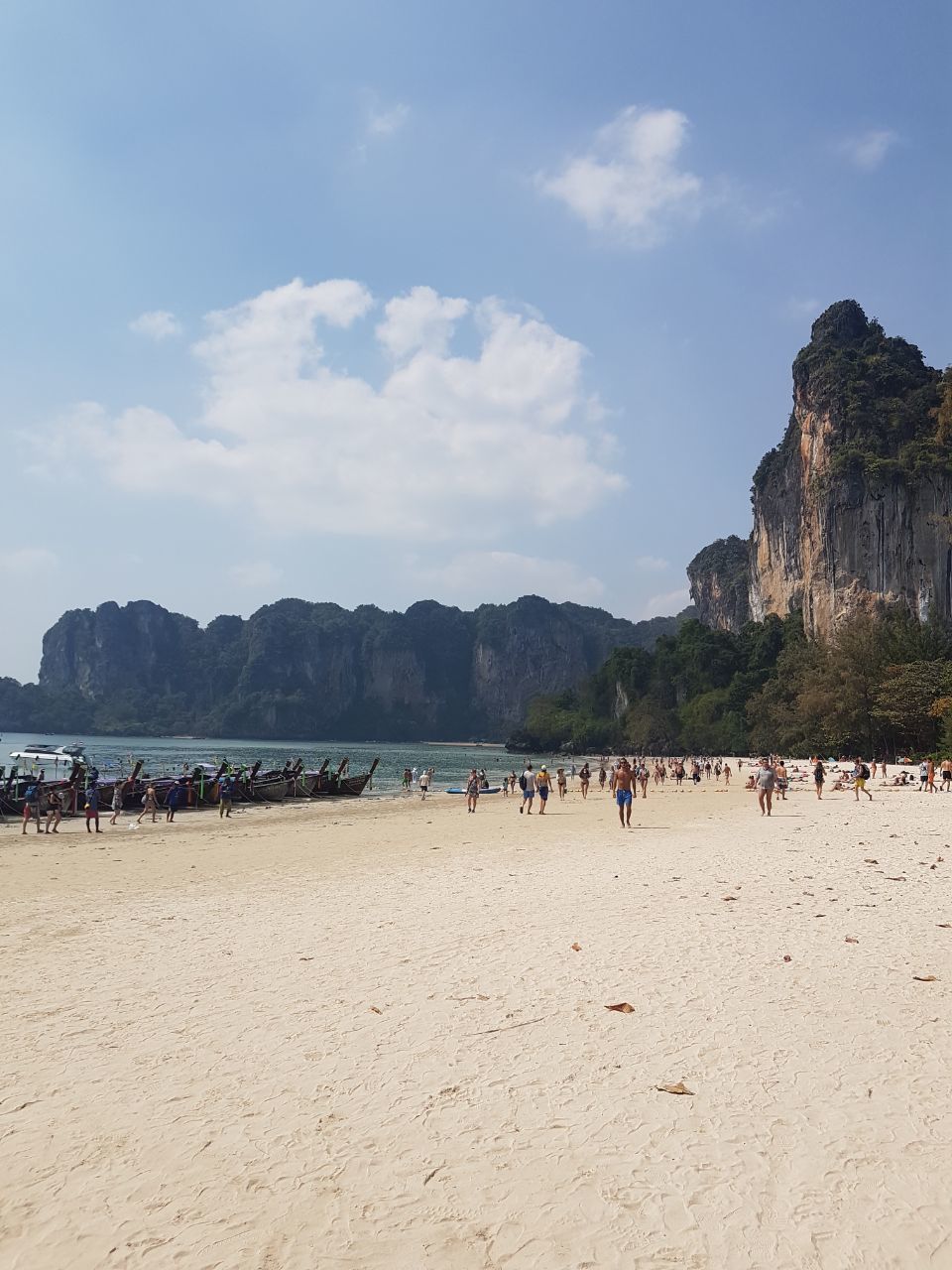 Krabi had been a long pending trip for us, what with our love for beaches, and Thailand being the most convenient international getaway possible! With our anniversary around the corner, we decided it was about time we made this trip happen!
While most people asked us how we could possibly spend an entire week in a small beach town, they couldn't have been more wrong! Krabi is actually a pretty big district with multiple distinct islands. So this took massive amounts of research to plan and book.
The trip turned out to be amazing - not only because it was beyond beautiful, but also because of the kind of freedom we felt while traveling - freedom to wear what we wanted, to be away from judgement, and to just relax, and be.
Visa
While Thailand has a very convenient visa-on-arrival process, one thing to be aware about is that you need the visa at your first port of arrival. Given we had only 2.5 hours in Bangkok before boarding our flight to Krabi, we decided to apply for the visa in advance (turned out to be the right decision, given the lines at the visa-on-arrival desk!)
Visa Cost: Approx. INR 4000 per head
How to Get There
To reach Krabi we needed to take a 4.5 hour flight from Mumbai to Bangkok, and then switch over to a domestic flight from there to Krabi.
This meant we spent pretty much all of our anniversary in a flight or at an airport. But then we had the anniversary week to look forward to.
Flight Cost: INR 55,000 for 2 people (can be much lesser if booked more in advance / off-season)
Since we reached post 7PM, the shared cab from the airport had shut, and we had to book an individual mini-van (600 Baht) to our hotel.
The hotel itself was quite pretty. Walking distance (though a good 20min walk) from the main Ao Nang beach, this was nestled amongst a lot of greenery and hills.
We received some welcome snacks and after having dinner at the restaurant we dozed off for the day.
Ao Nang is the beach in the main Krabi district, and isn't the best beach around. This is the main commercial area with lots of shops, restaurants and a very goa-feel.
More importantly, you can take the local 'long-tail boats' from Ao Nang to visit other islands nearby.
We decided to go to Railay beach, half an hour away from Ao Nang.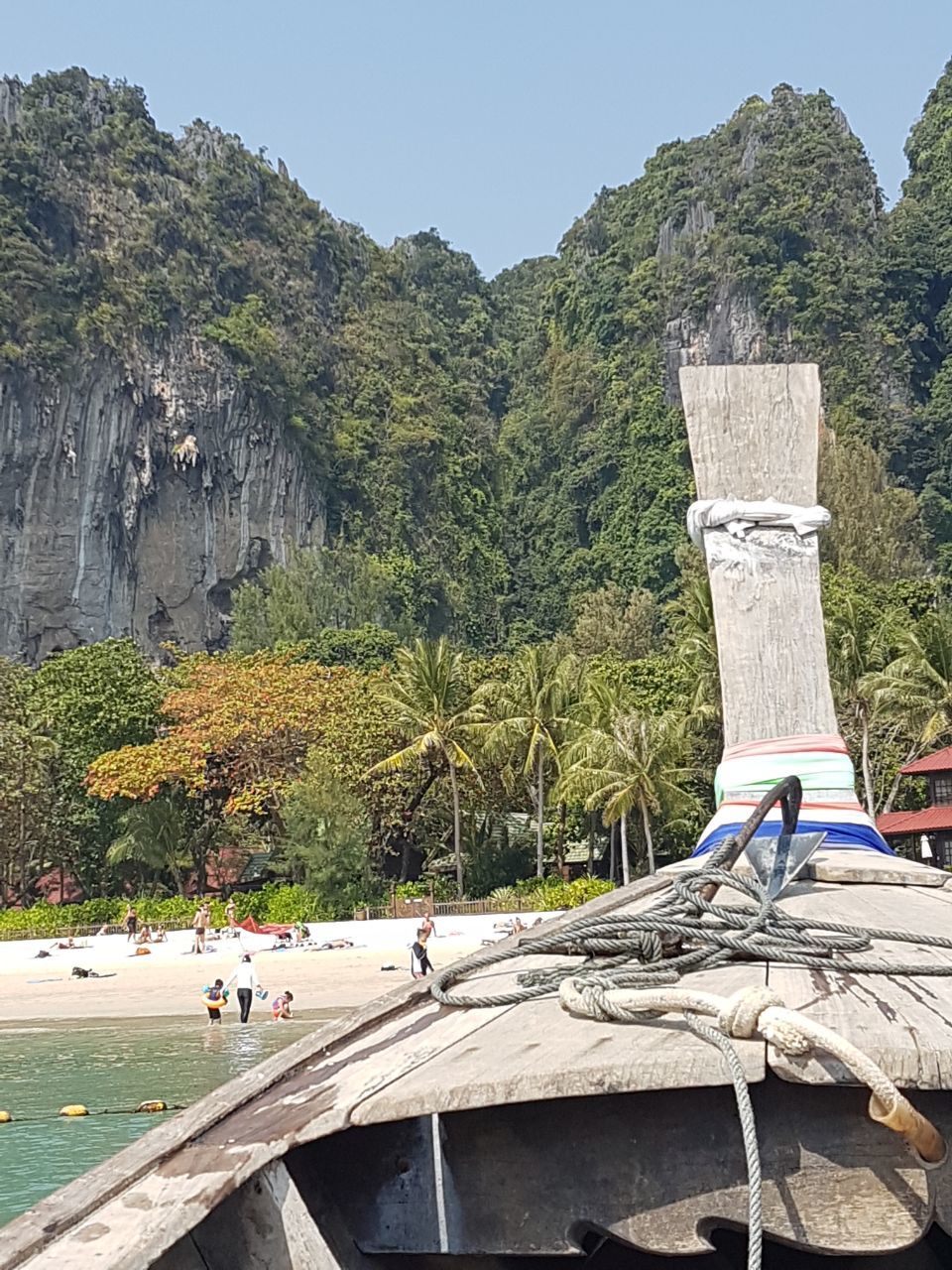 Now, to get onto a long-tail boat you first have to wade through knee deep water, then climb aboard using a rusty ladder, all while the boat is bobbing and tilting towards you as you climb!
Railay was a small beach, seemingly cut-away from the world. It was extremely peaceful and the water was still and super clean. We spent a few hours swimming, floating, chilling on the beach and basically getting sun burnt!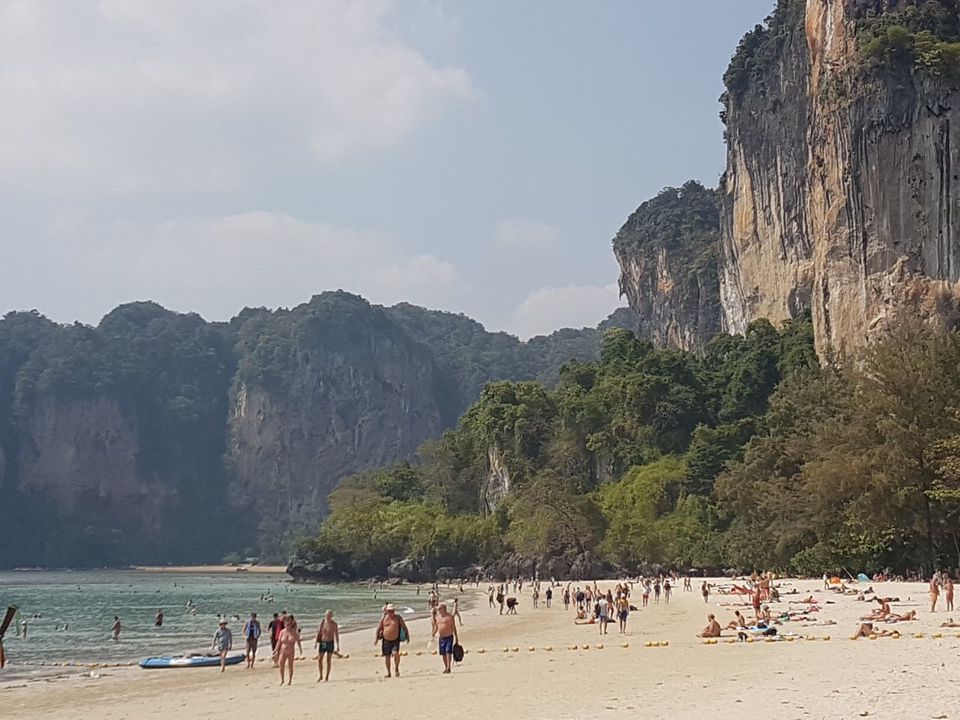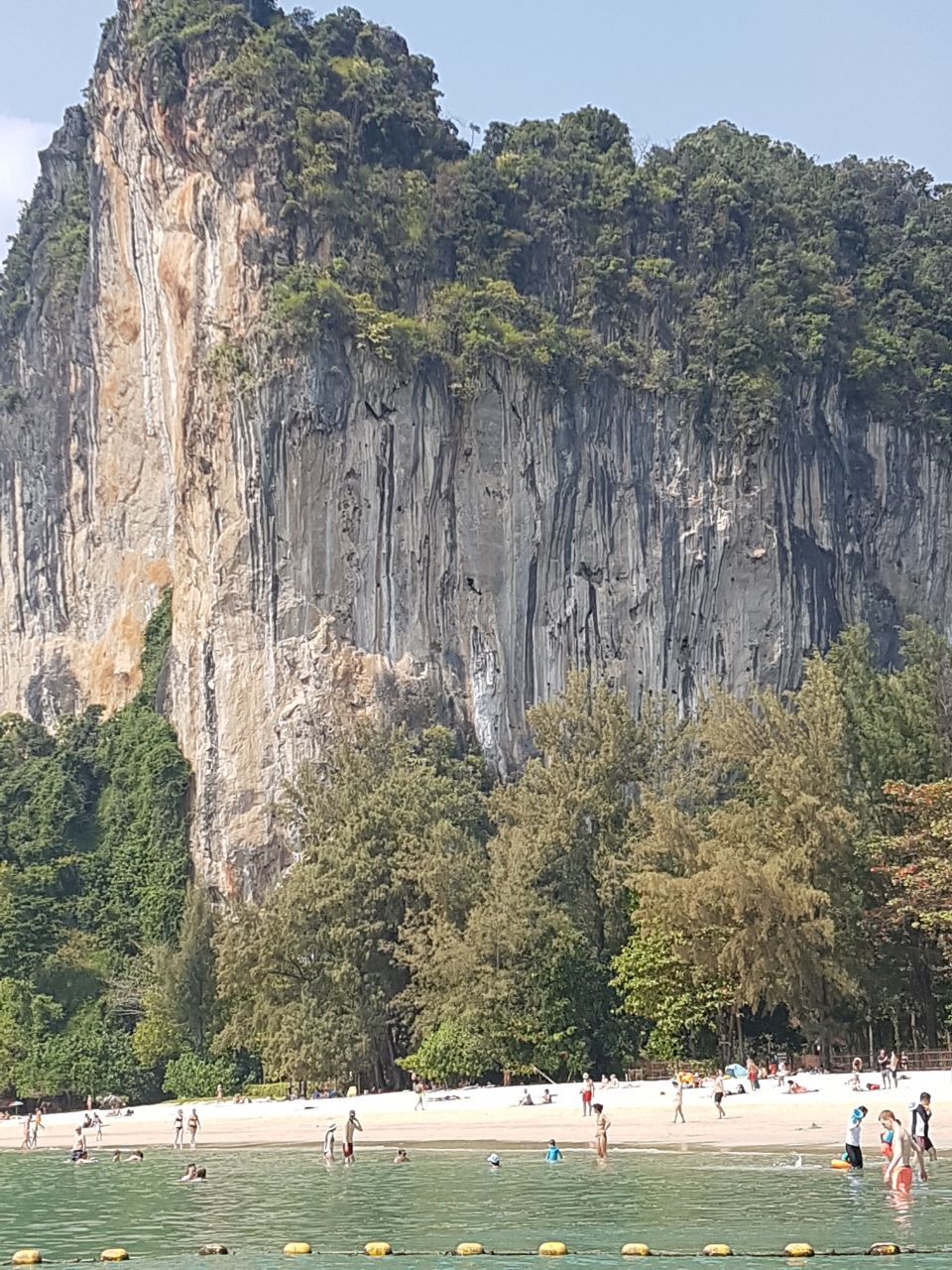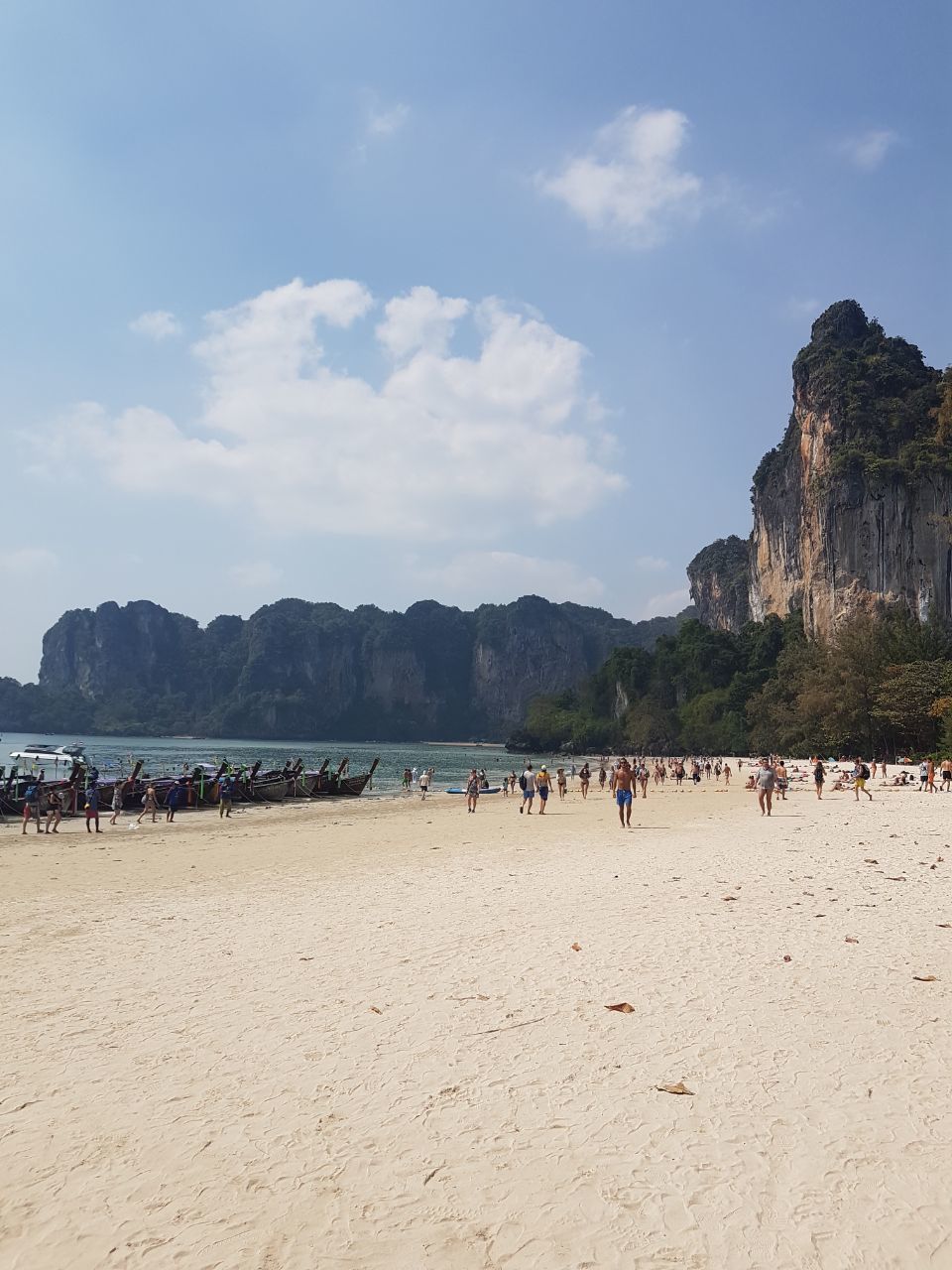 We spent an hour sitting in whatever little shade we could find on the beach, and then moved inland to where at least 20 Bob-Marley themed restaurants and pubs seemed to be.
We decided to stop at an Italian restaurant and ordered a pizza…which turned out to be a closed gujiya type pizza. Gulped it down anyway…we were starving after all the swimming!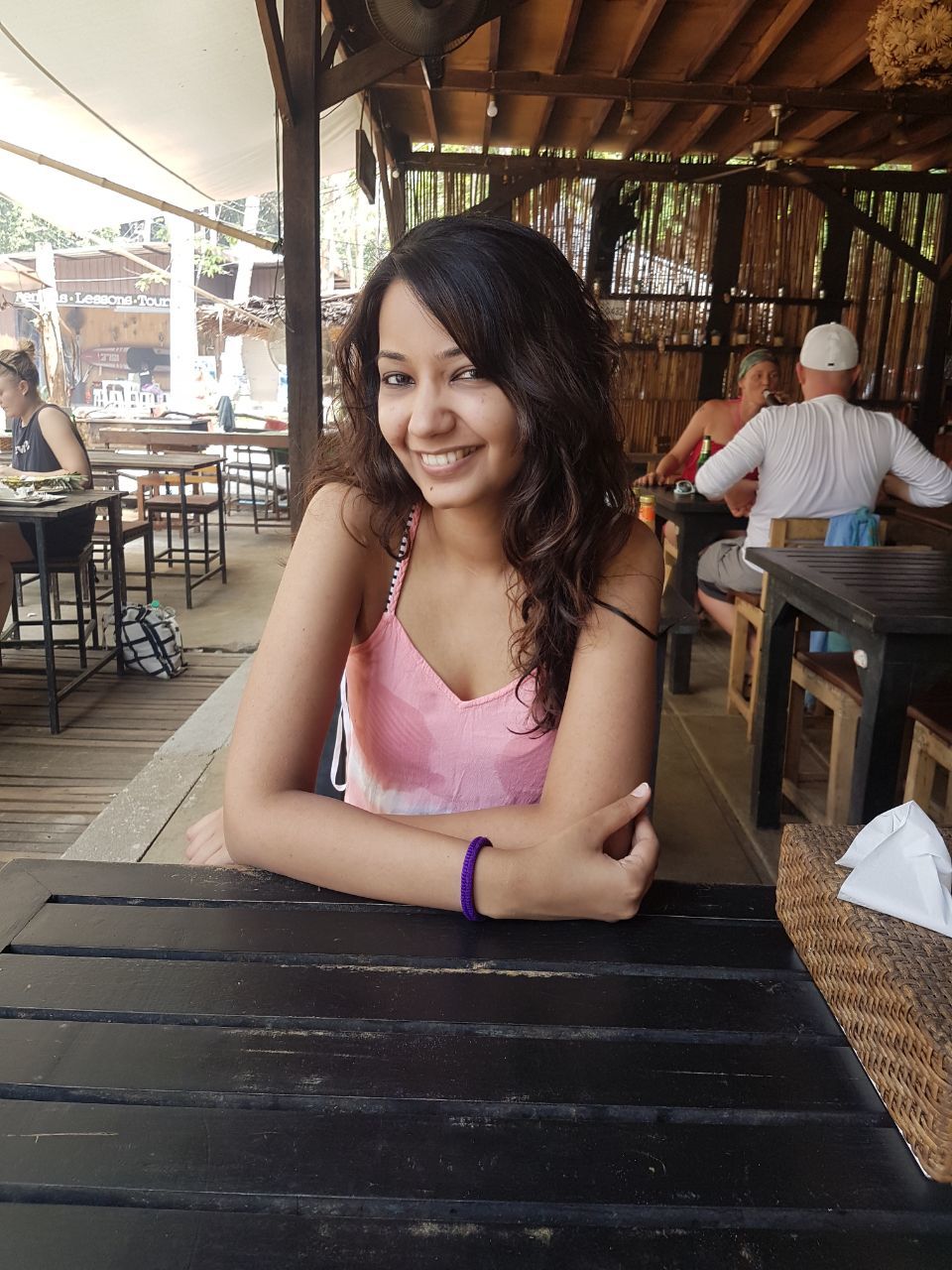 Topped it off with some ice cream, and then decided to wade through the water and head back to Ao-Nang.
Round-trip fare: 300 baht per head.
Climbing back onto the long-tail (where I almost got squished between two boats while wading in the water) we headed back.
The half hour ride was full of multiple hilly and lonely islands.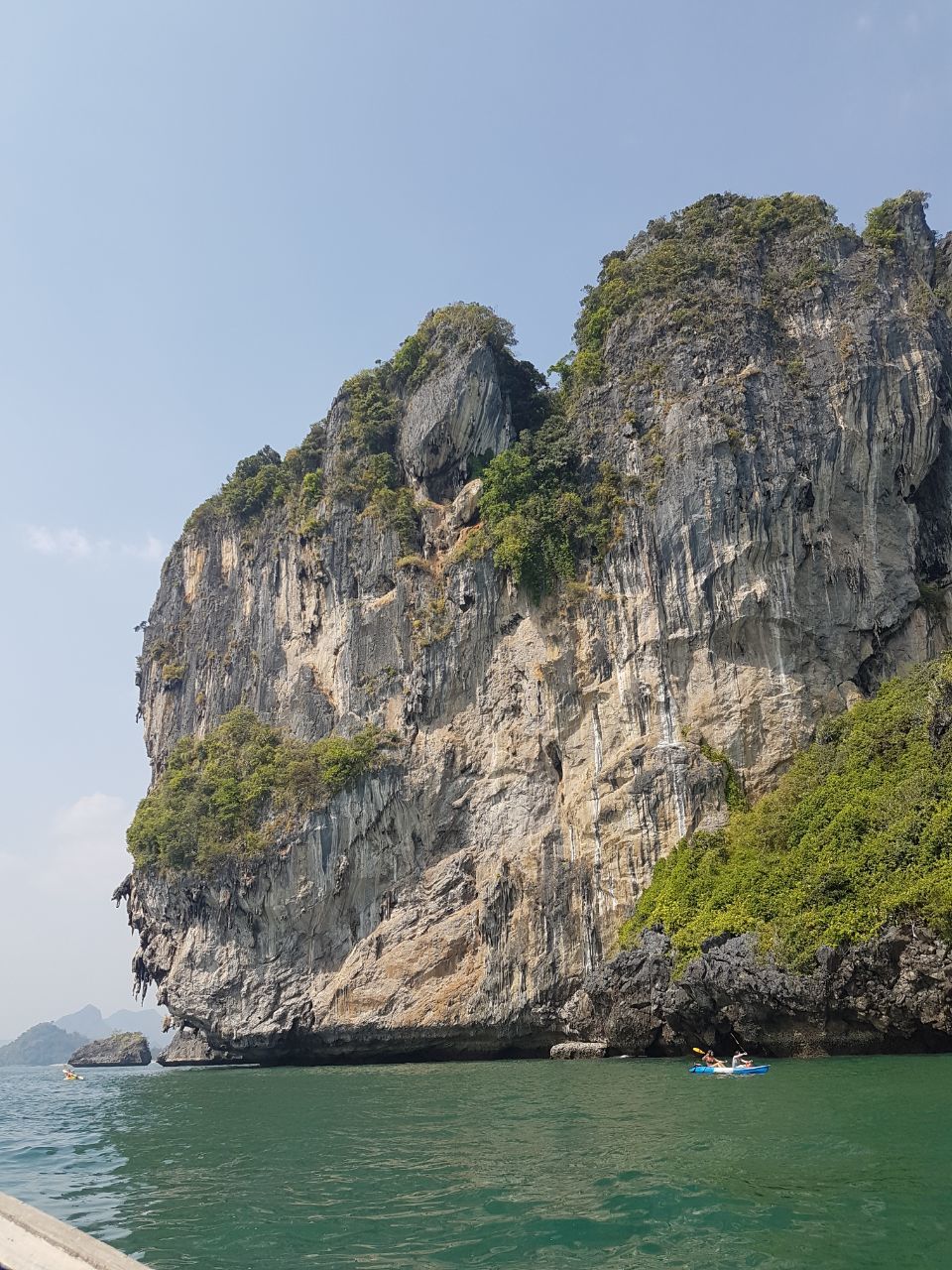 What was striking the most was how clean and pretty the water was!
The boat was full, and it was interesting to see luggage and a baby being passed from the boat to the person standing in the water while de-boarding.
On reaching our hotel, we cooled down in our room for some time, then decided to head down to the pool.
While the pool was over-crowded with squealing kids, we decided to sit and relax and read on the side.
We stepped out into the market for dinner, and booked a tour to the Emerald Pool for the next day.
We booked a half day tour to the Emerald Pool & Hot springs (at half the cost from the market as compared to our hotel) and were picked up promptly at 8.30 AM by a mini-van.
It took around 1.5 hours to pick up everyone and reach the jungle. We had to walk around 2km to reach the first pool. However there were proper paths cut in the jungle, and then a wooden path further in, so walking wasn't a problem.
The horribly sweaty heat was the problem!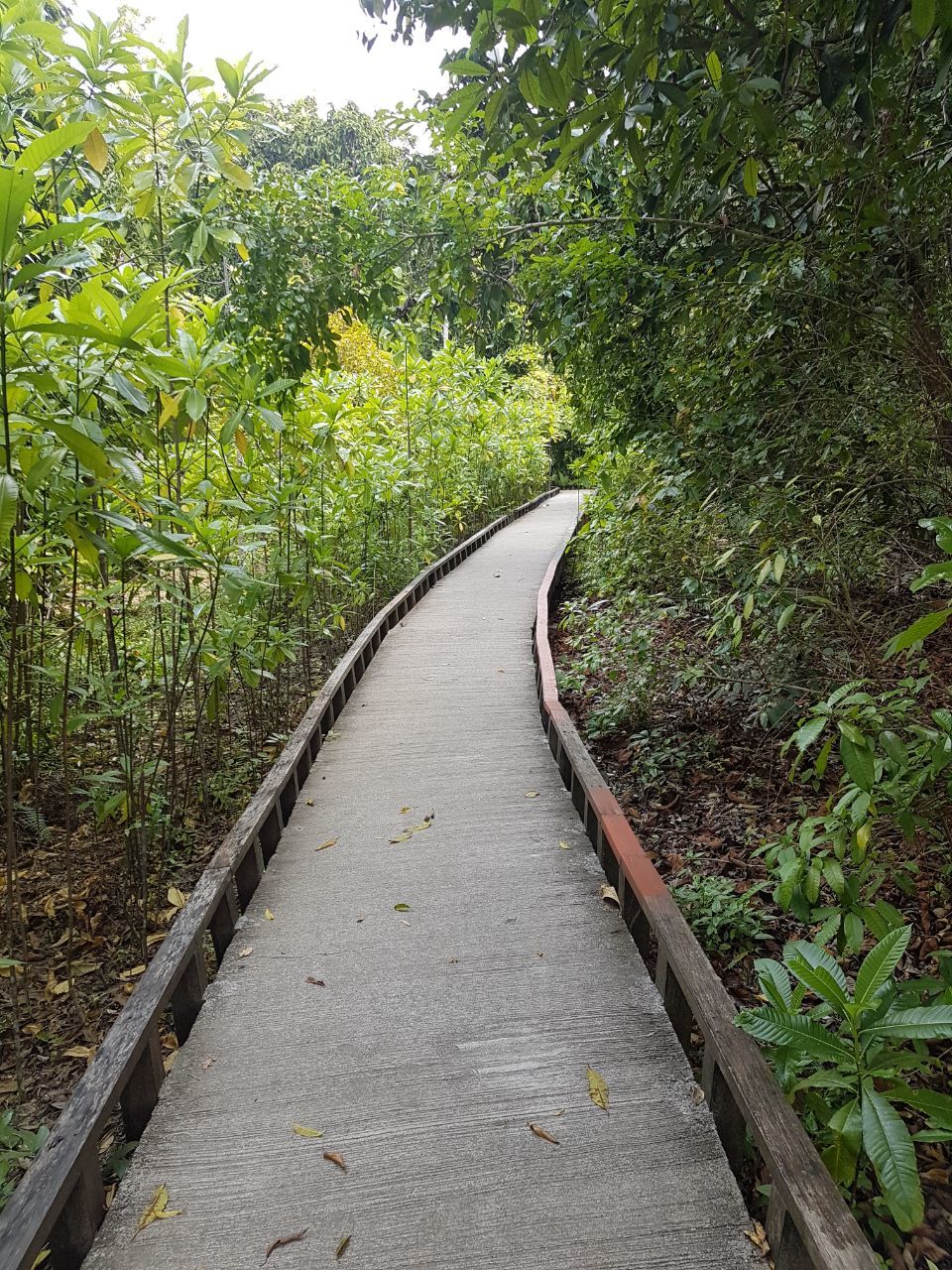 We first went to the further pool, called the Blue Pool. And the name really doesn't need any explanation!
Clear blue water so that every branch fallen into the bed could be seen clearly from the viewing platform!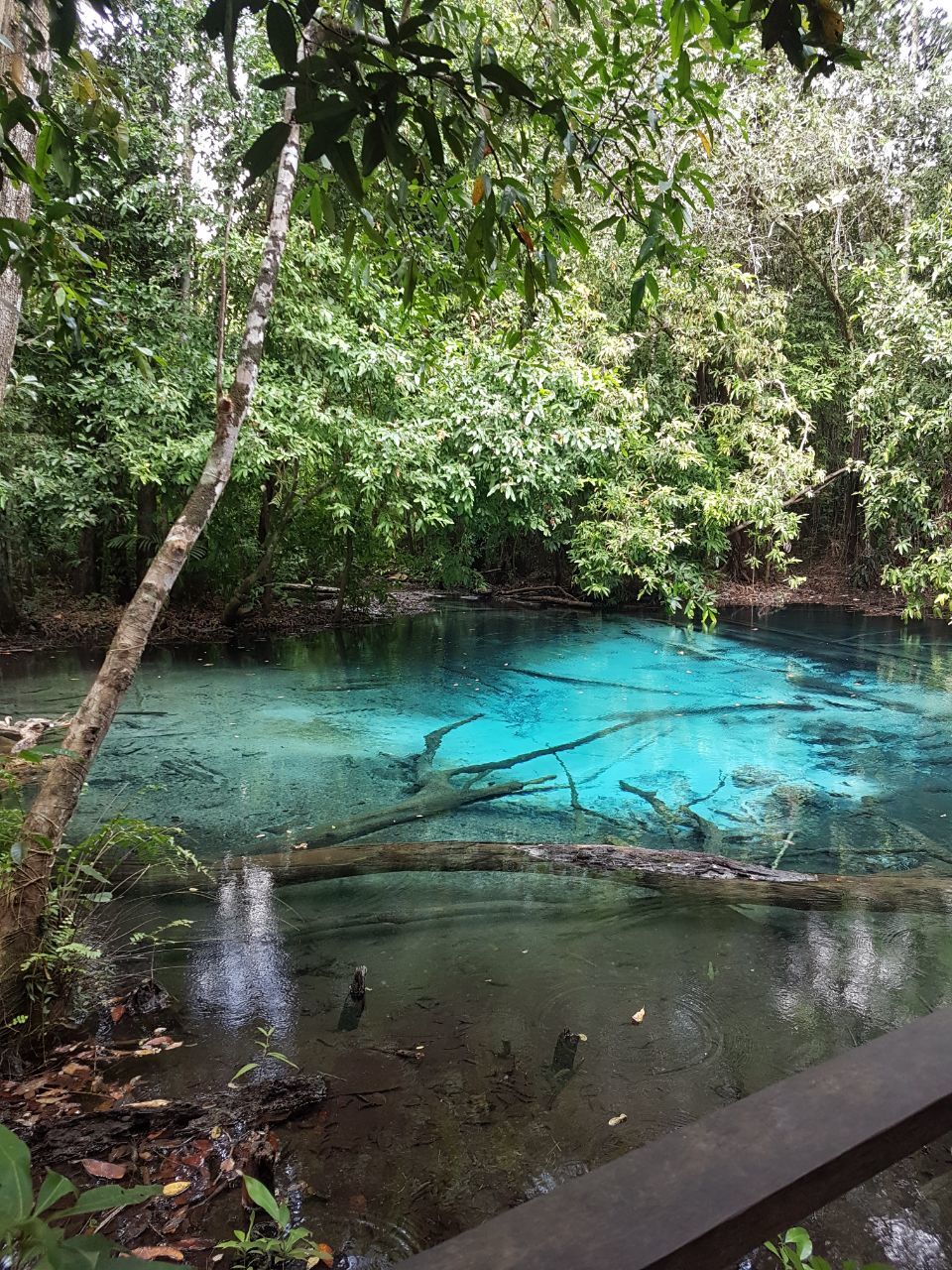 We weren't allowed near the water here as apparently the pool is surrounded by quick sand. The wooden walking boards suddenly made more sense now!
From there we walked back to the Emerald Pool, which in contrast had clear green water. Here everyone was allowed in. And given we were dripping with sweat, we quickly jumped into the pool.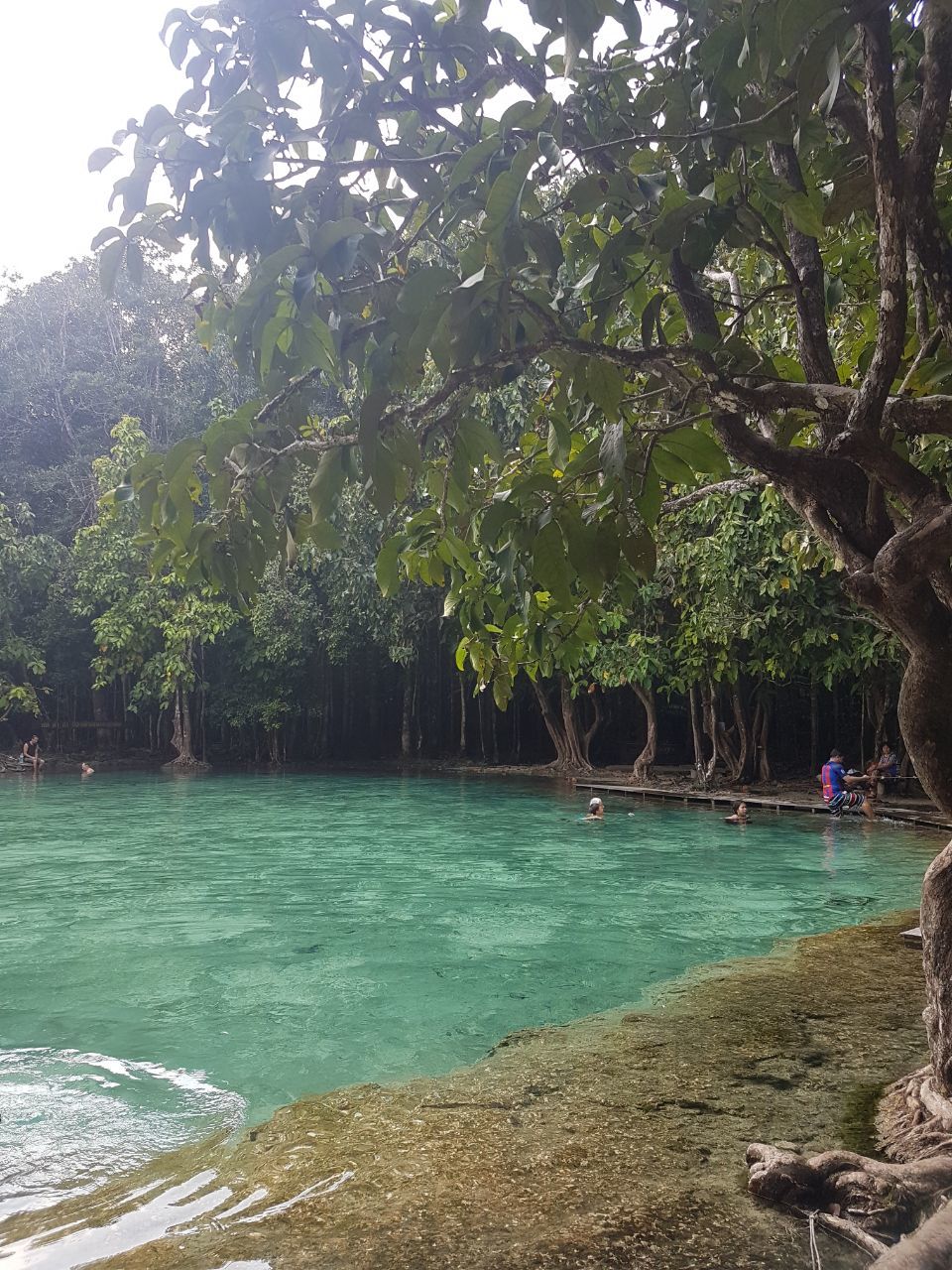 Jump however is an exaggeration, as the rocks surrounding the pool are covered with slippery algae, and you literally have to hold onto a rope/ tree roots and glide into the water.
So while getting in and out was scary, the pool itself was cool and much needed on that humid day! A lot of people were standing outside, so the water wasn't as crowded.
15 minutes away from there were the hot springs. Another good 10 minute walk in the sun (this time without the green cover of trees) led us to an underwhelming stream of hot water.
The hot spring area itself looked like it could comfortably seat only about 10 people. And it already had around 15.
Nor did the water look very clean and inviting.
So this time we just sat it out and waited for the group to get done.
One of the girls in our group was from Vietnam, and mentioned that it was her last day of the trip, and she was tired of getting into water and was happy to stay outside and dry. We wondered if that's how we were going to be by the end of our trip.
We were back in our hotel in time to relax, roam the market, and pack for our departure the next day for Phi Phi.
This was meant to be the highlight of our trip - The Maya Bay Sleepaboard tour started at 2pm from Phi Phi Don. For this we had to take a morning ferry (9.30 AM) from Ao Nang to Phi Phi and then while away a few hours until the tour started.
Phi Phi Don was an extremely crowded town, full of tourists and happening hostels, restaurants and pubs. Overall a very Baga beach kind of feel, in terms of how commercial it was.
But it was SO crowded that there was no place near the pier to sit in the shade, McDonald's was overflowing and the heat was horrible. Which is why we eventually just sat in the shade in one corner. We also managed to convince a phone shop guy to charge our phone there.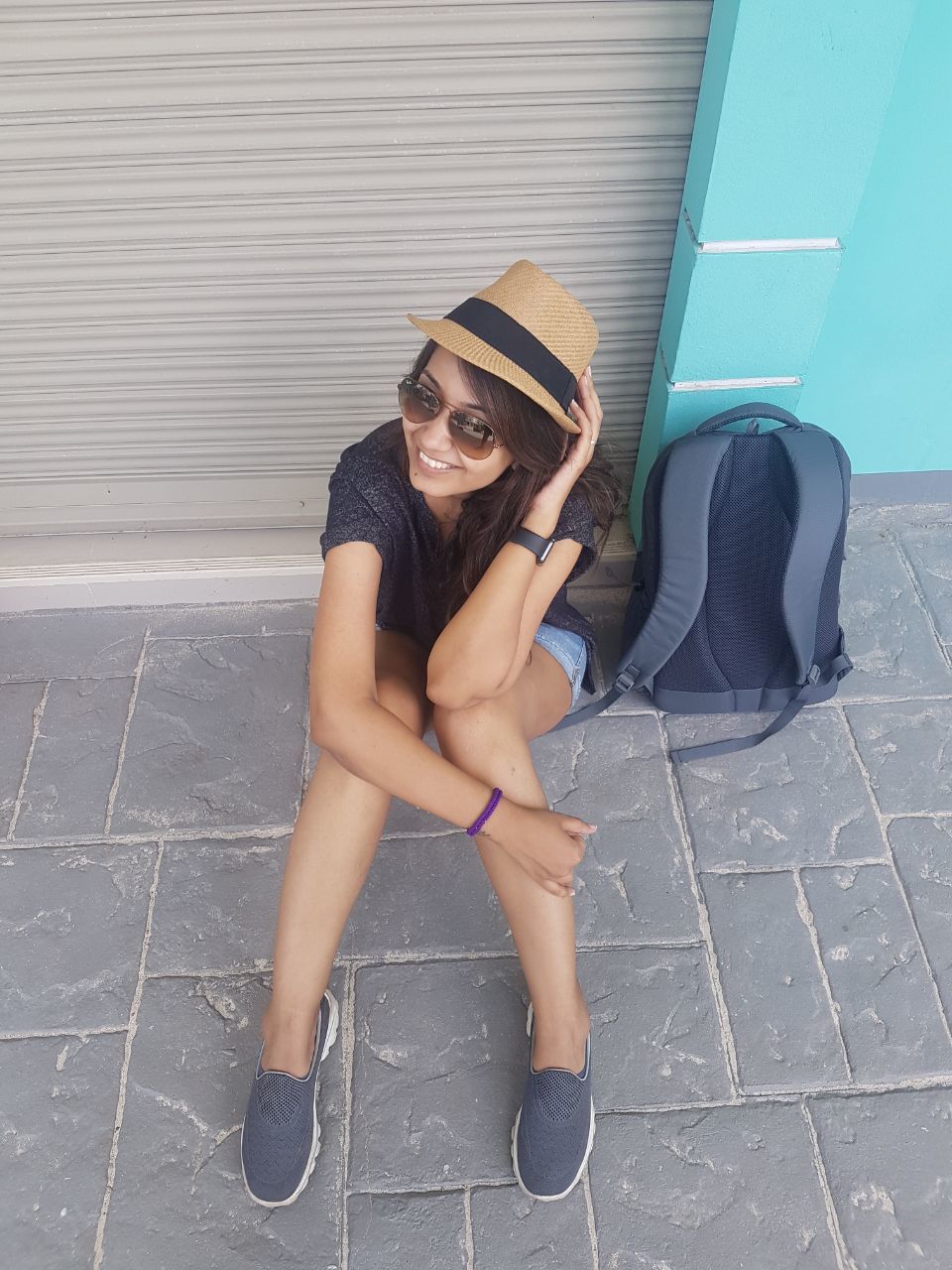 The Maya Sleepaboard boat took off from the pier as scheduled. There were around 20 people on board, with a good mix of young people from across different countries.
We rode past Vikings Island (you're not allowed to stop there as there are precious nests that are harvested by the government worth millions), and eventually stopped in Maya Bay. At this time tourists were still at the Bay, so we were allowed to go snorkeling and kayaking in the deep water (away from the actual beach). We both used life jackets, just to be on the safer side given this was actual deep sea that we were anchored in.
After a few hours of this, when most of the tourist boats had left, we were taken on a smaller motor boat to the actual Maya Bay beach.
Maya Bay was a small and beautiful beach (once the tourists were gone). Surrounded by hills, the water is absolutely still and crystal clear. One of the most serene places possible. The beach became famous after the movie "The Beach" starring Leonardo di Caprio was shot here, and since then tourists have been bombarding the place. In fact the week after we got back, there was news in the papers that the beach was being shut down during some seasons as the natural coral etc. are getting damaged since the movie. So we managed it just in time.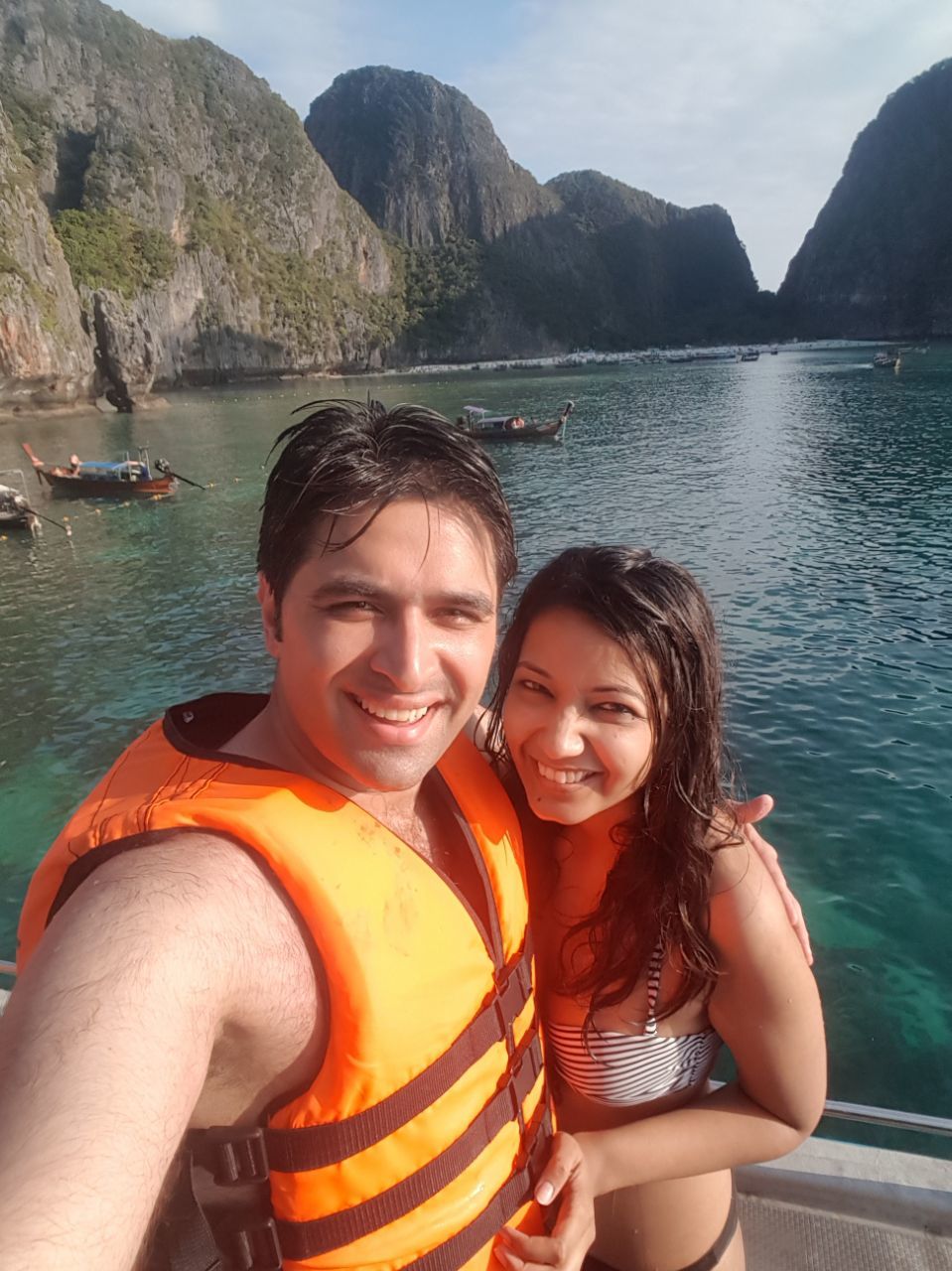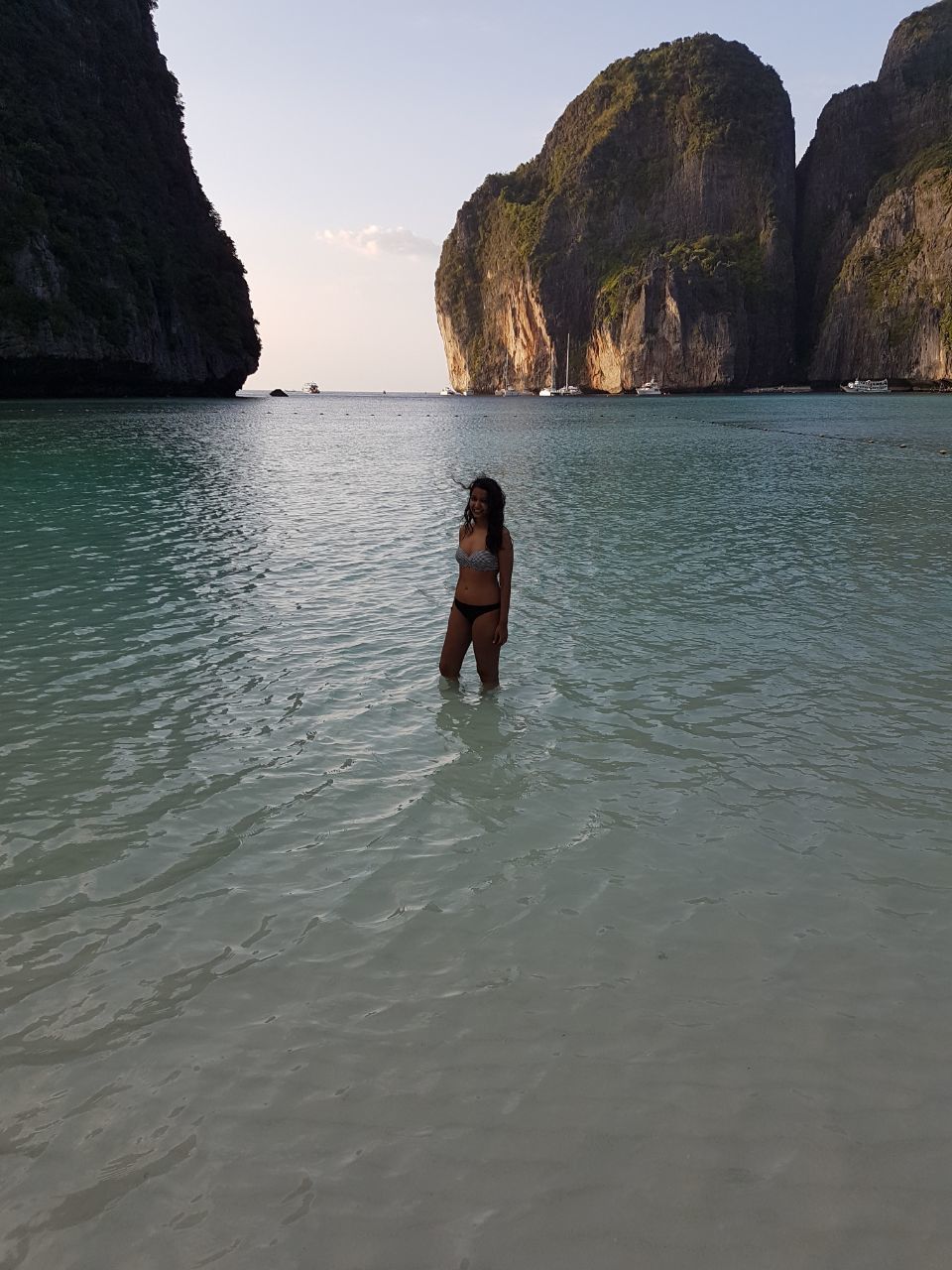 After this we were taken back to the Sleepaboard boat to sit on the deck and watch the sunset. It was really one of the most beautiful sights – there were barely 2-3 boats on the horizon (private yachts) and just the water, zero noise, and a really big sun setting slowly and clearly on the horizons. Almost the best and most calming 30mins of the trip.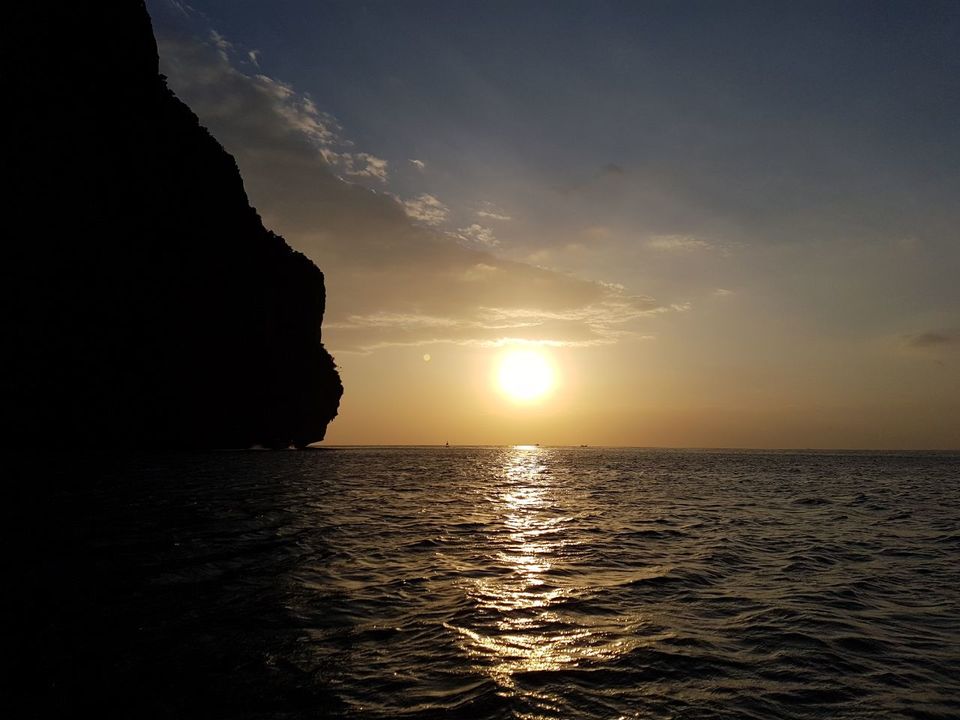 After the sunset, we were served dinner in the boat – some super yummy chicken thai curry and rice. A large bucket of alcohol was part of the package, and soft drinks were on the house. Once we had been handed our buckets, we were again loaded onto the boat and taken to a beach on the side, where a bonfire had been lit. There were games that went on into the night. You could choose to participate, or just lie back in the sand and stare at the stars.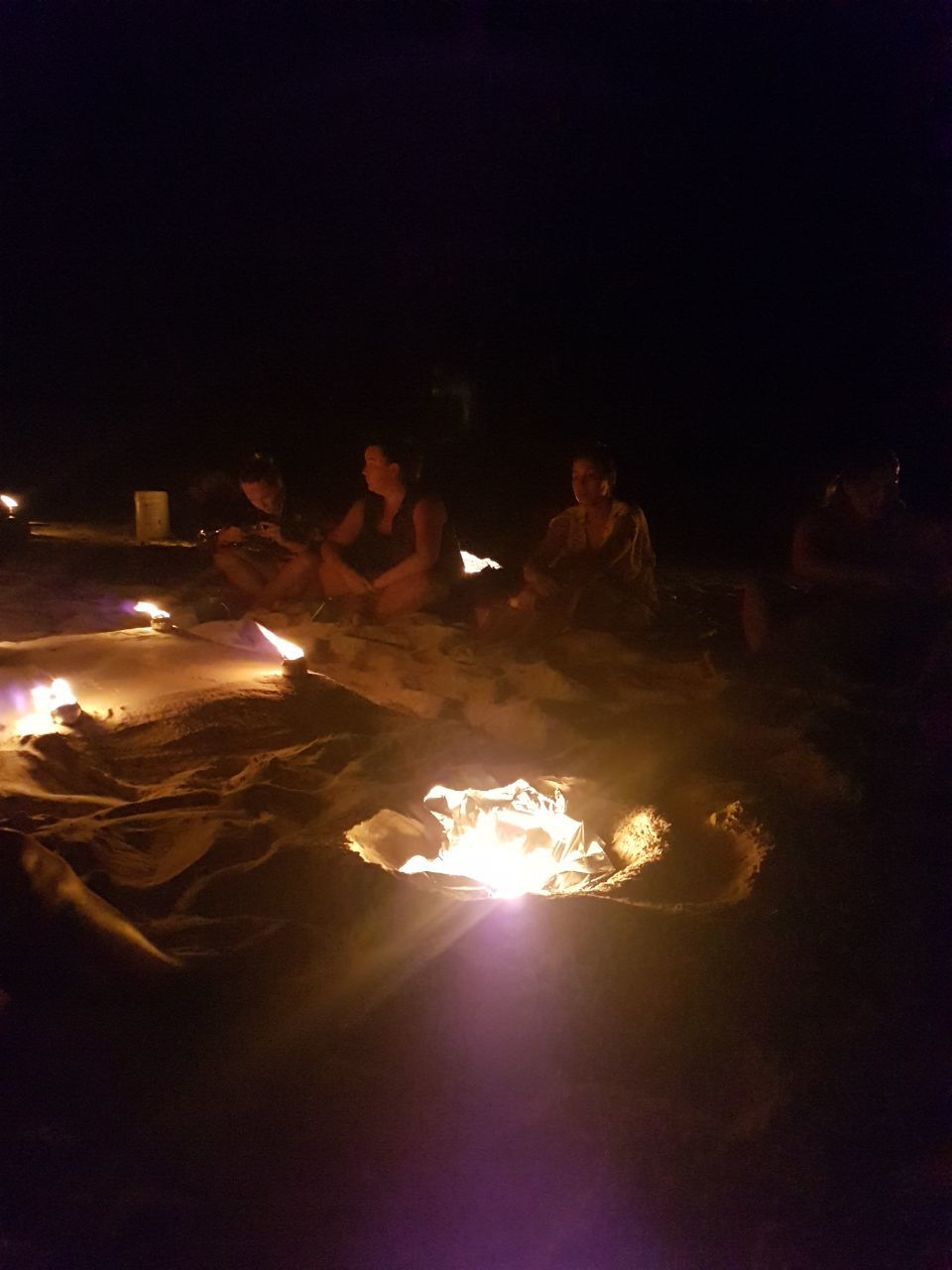 We returned to the boat almost at midnight, where we were once again allowed to go snorkeling. This time in the pitch dark (with everyone in life jackets). There were phytoplanktons in the water, so if you moved your hands and legs, you could see thousands of tiny glimmering stars in the water. Sadly, these can't be caught on camera.
After this people could party into the night, or move onto the deck with a sleeping bag and sleep under the stars. It was really beautiful - except it was so windy throughout the night that it felt like the sleeping bag would blow off the boat. I could barely sleep, but Anshul had a good time. At 6AM we were woken up to be taken back to Maya bay one last time before the tourists came in. The entire overnight experience was definitely the highlight of our trip!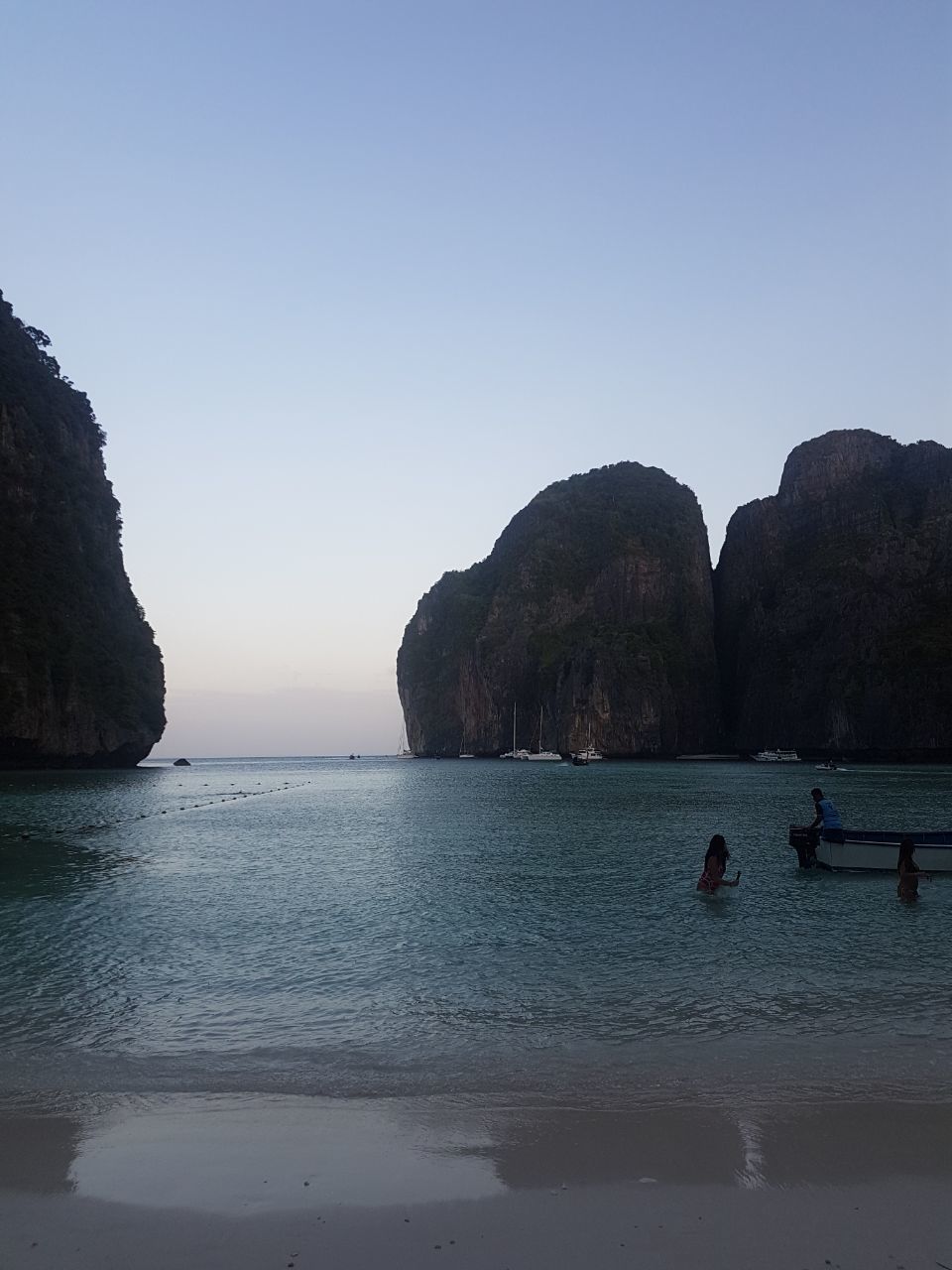 From Phi Phi we took a ferry to Koh Lanta – which involved a long wait in the ferry and quite a few hours of travel. From the Koh Lanta port the hotel van took another 45mins to actually reach the resort. Koh Lanta is an extremely peaceful island, away from the crowded party areas. Laid back, and full of self sufficient resorts at large distances – it's meant purely to relax in. We were exhausted by the time we reached Anda Lanta (our resort), and not exactly enthused when we saw the number of lizards there. But when we complained to the reception, they actually came to our room with 5 people who caught multiple lizards and threw them out!
Anda Lanta was right at the beach. This one had waves and rocks (unlike the earlier ones), but was still absolutely clean
The one and a half days at Anda Lanta we did absolutely nothing, and spent them just relaxing and rejuvenating at the end of our trip. We spent all our time in the pool, getting a massage, going to the beach and sleeping. It was the perfect way to end the vacation.
From Koh Lanta we hired a private van to take us back to mainland Ao Nang, where we were spending our last day since that was close to the airport. A 3 hour journey, we were almost relieved to reach good ol' Ao Nang again – with loads of restaurants and hotels without lizards. I think a part of us is too urbanized to handle nature!
We spent our last day in Ibis Styles, resting, doing some last minute shopping and eating. The hotel itself was small, but clean and satisfactory. Was definitely too crowded to even think of enjoying the pool! Left the next morning for our flight to Bangkok and onwards to Mumbai.
Of course, knowing our luck, the final flight of course went halfway, took a u-turn and landed us back in Bangkok, but that's another story!