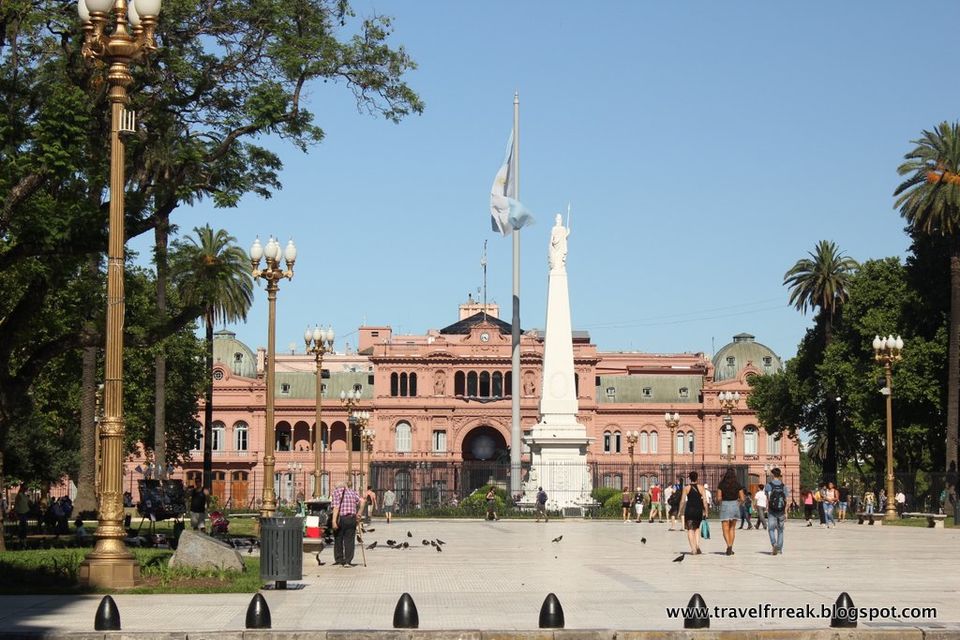 Details and photos on, http://travelfrreak.blogspot.com/2019/03/argentinian-cities-of-ushuaia-and.html
Patagonia around El Calafate (1) Patagonia around TDP (2)
The blog below covers our stay in two of the cities in Argentina, Ushuaia and Buenos Aires.
Day 10: Explore Ushuaia town; trip to Martillo island to see penguins; stay at Hotel Canal Beagle Day 11: Ushuaia - trek to Esmeralda lake; flight to Buenos Aires (late night); stay at Hotel Park Tower Day 12: Buenos Aires - explore Plaza de Mayo, San Telmo, Puerto Moreno waterfront; stay at Hotel Park Tower Day 13: Buenos Aires - explore La Boca and Caminito, Cafe Tortini; see tango performance; stay at Hotel Park Tower Day 14: Buenos Aires - explore Recoleta cemetery, central Buenos Aires; New Years Eve at Puerto Madero; stay at Hotel Park Tower Day 15: Flight from Buenos Aires to London (afternoon)
Ushuaia is the southernmost city in the world and we spent two days there, exploring the town, do a short trek and take a trip to Penguin Island. In hindsight, we could have skipped it altogether. Then I spent 3 days in Buenos Aires which I totally enjoyed. For its culture, its beauty, its liveliness and its sun. It is a city with a soul of its own, a character of its own, a city I can see being enjoyable for longer periods of time too, not just as a tourist.
Day 10: Exploring Ushuaia town; trip to Martillo island to see penguins
This day was quite a relaxed one for me, where I walked around and explored Ushuaia at my own pace. First and foremost, I woke up to Spanish music being played in the streets outside our hotel, which was a great way to wake up and kept me in bed longer as it was quite enjoyable to sleep to ????.
I walked all along the waterfront in the morning as it was quite charming. It was lined with lot of huge yachts and boats all along, with the sea channel and snow covered mountains behind it. As I kept walking, the other side of the waterfront past the port looked even prettier, with widely spaced coloured houses on the hill across the channel and small boats all moored in the water. It was quite a picturesque walk all along, changing from the commercial to a more rural feel.
On the way, I also walked into one of the local handicrafts markets and was surprised with the kind of things I found. They were the kind of stuff found in India and Africa, and was totally in contrast with how how developed and first world Argentina felt otherwise. Also, they were surprisingly quite cheap, so I bought a few to get back home.
Then I walked a bit in the city, and the high street. Ushuaia didn't look like a typical European town , which all look pretty no matter which country they are in. Even though all around there was nature, with high mountains on one side and the sea channel on the other, I still had to find beauty in the photos I was taking. That was because the city was so commercialised and looked industrial, that a lot of buildings were not pretty. There was beauty, but you had to look deeper to spot it.
Some of my friends went to see the penguins on Martillo island which was a half day tour from 830 am - 4 pm. The tour was too long and apparently not as impressive as you only got to see the penguins from afar. My friends however, unexpectedly ran into a humpback whales and a few sea lions on the way, which turned out to an unexpected benefit.
In the evening, we had dinner at Kalma and it was one of the best dinners we had in the country - very tastefully made food in a nice little place hidden among the residential parts of the city. A great find again.
Day 11: Trek to Esmeralda lake; flight to Buenos Aires (late night); stay at Hotel Park Tower
Today we did a short trek in one of the nearby forested areas, and then were off to Buenos Aires late at night. We took a shuttle bus to take us till the start of the Esmeralda trek from the tourist centre right in front of our hotel. It took us about 30 mins to get there and was through pretty mountains and scenic forests. It was the easiest trek we did on this trip, almost felt like a walk in the park ????. It was 1.5 hour walk one way, 5 kms long with only 200 metres of total ascent. So we could enjoy the views around more than usual.
The walk was again picturesque, through green forests filled with huge tall trees. And then we walked through two huge open valleys with mountains on both sides which had been created during the glacier period of our earth's history. And the last part of the trek was right next to a small stream coming from the lake we were going to. All in all, it was an easy walk through very open paths and quite crowded with lot of tourists taking advantage of the good and warm-ish weather.
The end of the trail was the lake which had a unique greenish hue to it. Behind the lake were huge snow covered mountains which were feeding the lake. We were there for an hour, I sat at one end of the lake admiring the view and taking in the sunshine. It was great to sleep in the sun even though it was cloudy and dark in between. There were some grassy areas with stones against which you could sit. There were also lots of people there as it seemed like a popular place for tourists. Some of my friends went for a walk around the lake which was a bit of a obstacle race. And the walk back was also quick, and soon we were back in Ushuaia.
Our flight was in the evening, so we had some time in between and we had a late but heavy lunch at Hard Rock cafe. I realised then that as much as bad press food chains get, they are perfect when you are looking for comfort and quick food options. Our flight was an hour late, so we spent a lot of time at the airport. It was a very small and simple airport right next to the ocean. While taking off the views were incredibly beautiful. Of the city spread out between high mountains and the sea. And even while landing in Buenos Aires, you could see the neatly laid out streets in squares, all lighted up. Half of it in yellow street lights and half in white!
Ushuaia had a few other touristy things to do, like trekking up a glacier, taking the boat to a lighthouse, taking the train to the national park and so on. They also have loads of winter snow activities here. But in hindsight, I would say that Ushuaia has stuff to do but more so in winter than in summer.
Day 12: Buenos Aires - explore Plaza de Mayo, San Telmo and Puerto Moreno waterfront; stay at Hotel Park Tower
I spent three lazy days in Buenos Aires and they were all lovely, spent in exploring all the interesting areas of the city, eating different kinds of food, seeing the tango dance and so on. The first day started late though as we had reached the city at 2 am in the morning and the hotel only by 3 am. We were surprised though to see how much of the city was active and alive even that late (or early!). The local airport was located right in the middle of the city though and it was very convenient to get to our hotels.
It was raining in the morning but got sunny and warm in the afternoon by the time I got out. And it felt so amazing to be out in the warm sun, especially after all our time in the mountains in Patagonia. Though I had to deal with mosquitoes, lots of them. Something I haven't done for years, being in London.
BA is a very pretty city with a lot of depth. It is known as the Paris of the East and you can see how it was built with love and care. The central area is full of grand stone buildings with wide tree lined streets and lots of open spaces everywhere. It was a pleasure to explore it though it was easy to see how it has gone down over the years. Especially with all the overhead wires spoiling all the views.
It has many different areas for tourists to visit, all of which have a different character. The main ones popular with tourists are Retiro (the central area with touristy buildings), San Telmo (with antique shops), La Boca (football stadium and lot of street art), Puerto Madero (for the waterfront), Montserrat, Recoleta and Palermo. They are all closeby and easily walkable or uber-able. Though I later learnt that uber is illegal in the city!
The first day, I had a lazy breakfast at the hotel and finally got out only at 4 pm. It wasn't so bad though as there was light till almost 11 pm as it was summer, so there was still a lot of time to explore around. Most of my day was spent in walking and seeing the sights nearby. I first walked from Retiro (where my hotel was) to San Telmo and then Puerto Madero. I first got onto Florida street which is a shopping street and apparently the oldest street in BA. It was pedestrian only, had nice shops and was very cheap. There was a very laid back vibe to it, with the sun shining bright and I already started enjoying being in BA already. I also noticed people were offering 'cambio' (currency exchange) everywhere, I wonder why as I had heard that blue dollars which were the higher rate you could get in Argentina for USD was not available anymore. Still it seemed to be the biggest business for all the guys on the street.
Then I wandered around in the tourist area around Plaza de Mayo which had a huge tower in the centre of the garden and Casa Rosada next to it, famous for Evita's balcony presence. On the same square was the cathedral (Cathedral Metropolitana) and the city hall called Cabildo. Both was huge and pretty. You can walk to the Congreso building on Avenida del Mayo but I decided to move towards San Telmo. The whole ambience was enjoyable to walk but it get too hot at times too. I did not mind it much though ????.
Then I walked on Bolivar Street on my way to San Telmo, which was an area famous for its antique shops and free tango dancing. On the way I passed some awesome buildings including another church which was quite charming. The street felt like a bad area, so I changed to a parallel street called Defensa which felt more touristy. And safer! Even though it was just the parallel street. It had lot of antique and clothes shops all the way, which were fun to browse. The whole walk was through small but grand cobbled streets, lined with trees everywhere. It was quite a pleasure to walk by and felt like I was back in Europe, just a bit warmer. The street leads to the square called Playa Dorrego, which is where apparently Argentinian independence was first declared.
At Playa Dorrego, there were lot of small stalls selling stuff. And a restaurant which had free open air tango dancing. I saw one of the performances going on, where the lady sang a few songs and then danced along with a partner. It was the first time I had seen tango and was surprised why I hadn't seen more of it before. It is a lively dance, with quite pronounced and sensuous steps. It was good to just sit there in the sun and chill for a bit, watching the dancers come and perform. It inspired me to go and watch a proper show too, something everyone had told me to not miss but I hadn't booked yet.
My next stop of the day was the waterfront area of Puerto Moreno which was a bit of a walk from San Telmo. It was all along a small river that flows through the city, lined with restaurants on both sides and a few bridges crossing it. The walk was quite pleasing, with lot of people on both sides enjoying the walk. There were also a few war ships kept there as museums which were full of people exploring them. The mood of the waterfront was calmer around sunset and changed suddenly and became livelier when the place was all lighted up.
I had dinner at a seafood restaurant called Sorrento which had a nice ambience. But was also a lot more expensive than other places because of its location. After dinner, I did some more touristy stuff like walk to the Obelisk (a symbol of BA) and the Teatro Colon. The whole place was quite lively still, with people wearing summery printed clothes and being out in the streets at night. It did not feel that anyone wanted to call it a night, even at 11 pm!
About the Park Towers hotel
I was staying at the Park Towers, a luxury hotel near most of the places to visit. It was in Retiro and a great place to stay, with panoramic views of the city outside. The breakfast there was amazing, with a nice view of the city outside. And I loved the service and relaxing environment it provided. They had a nice open pool which was shared with the adjacent Sheraton hotel. And the massage even in such a high end hotel was relatively cheap by London standards.
Day 13: Buenos Aires - explore La Boca and Caminito, Cafe Tortini; see tango performance; stay at Hotel Park Tower
My second day in Buenos Aires, I thought I had figured out what to do, so was planning to have a long day of things to do. However, I again started out late after a breakfast in the hotel and left my hotel only at 2 pm. My first stop of the day was the La Boca area. The uber I took there had a driver who spoke English, so I learnt a lot from him. Apparently uber is forbidden but not illegal in Argentina. So you need to sit in front when you order one. He said Argentina looks like Europe and is like India. Even though it looks grand, it's people are poor and the politicians corrupt.
He also scared me a bit about the La Boca area. He said La Boca was an unsafe area, especially after 4 pm. And that he even though was a local would not go there after that time. He also told me that in the two block area around the stadium, you can walk around and nothing happens to tourists. Outside of that, there were no guarantees ????. I think he scared me a bit more than was needed, but I did see the point he was making, as the area was a lot more run down there than the other places I had seen in the city.
The Boca Juniors stadium was huge, painted in its yellow and blue colours. The shops all around were selling football stuff and had graffiti of Maradona, Messi and other players painted on their walls. The area was full of football fans who had come there to see this famous place. For me though, as I didn't know much of the history, it was just a colourful and lively place.
Two blocks down from the stadium was the Caminito area which was a tourist hot spot. It was like an outdoor market full of tourists, shops, tango and a total riot of colours. People were selling local paintings and handicrafts, all so colourful and attractive, at quite cheap prices. There were loads of Pope Francis statues there, I wonder if he was from the area. A lot of the bar had windows with famous Argentinian people peeping out. And there was tango dancing going on everywhere, in all the restaurants.
People were sitting out and eating the whole time. It was like a street fair and party there. Its a place to spend a lot of time, just enjoying the vibe and liveliness there. I could have spent hours here but I left around 4 pm given what the uber driver had said. And it turned out to be true, it took me 15 mins to find an uber driver to take me out of there!
My next stop was the famous Cafe Tortini which was listed as the meeting place where lots of Argentinian history has happened. When I reached three, there was a queue of about 20 people! But I got in within 15 minutes. It had a very parsi-cafe feel to it, with the old world charm, a cosy setting and an interesting food menu. I had a late lunch there, the typical thick crust pizza that is an Argentinian specialty. And I liked the time spent there.
I stopped at Galerias Pacificos for some errands which is a high end mall and could have been anywhere in the world. And my last stop of the day was a Tango show at Aljibe. My hotel had booked it and it costed 60 USD for the show, without the meals. The restaurant sends a shuttle which picks up the guests from the hotel. The dance show is for about an hour with about 4 musicians and 8 dancers performing multiple pieces over this time.
And the performance was totally outstanding and mesmerising! I don't have words to describe it, how time flew watching the performance. It is a very active dance with a lot of energy and keeps you enthralled throughout. One of the performances was with two ropes with a stone at the end which makes a sound when it hits the ground. And that was an unexpected fabulous performance. I think I enjoyed it even more than the tango dance! Very soon the performance was over and the shuttles again drop you back to your hotel. While coming back, I was again amazed by how fabulous the city looked at night, with its twinkling lights and liveliness, even at night.
Day 14: Buenos Aires - explore Recoleta cemetery, central Buenos Aires; New Years Eve at Puerto Madero; stay at Hotel Park Tower
The last day I first visited the Recoleta Cemetery which is listed as a place to visit. It was a huge area which had huge mausoleums of the rich and powerful of the city. Though impressive, I wasn't sure about what the big thing is to see there. Eva Peron's tombstone there though is very popular with everyone.
We then walked to one of the art museums nearby, Museo National de Bella Artes, but since it was New Years everything was closed that day. There was a walking tour also that I wanted to go to which was again cancelled given it was New Years (apparently the walking tours are must-dos when in BA). So we decided to just walk around and see some of the sights around as most of the places would not be open. We walked to the Obelisk through some very posh areas like Retiro. The place was full of huge mansions, just like in Europe. We then also saw the National Parliament, the Congreso which looked just like the Palace building in Budapest.
For the evening, we hadn't booked a place for dinner and it turned out to be a problem as it was New Years and none of the places were taking any more bookings. I walked to Puerto Madero and walked around a bit on the waterfront for some time. It was quiet till about 9 pm and it looked pretty before all the crowds came in! None of the restaurants had any tables free though. I also tried two of the cafes but they both had a very long queue and were only offering meat burgers. So that option didn't work either.
We were about to give up when I reached the Dandy Deli, a small cafe kind of place in Hilton hotel. It was on the waterfront itself and had a long queue of people outside (no wonder given everything else was closed). It was offering a very expensively priced meal of sandwich, salad, pepsi and ice cream - but at least it had food ????. They took an hour and a half to serve but it was totally worth it. I ate there and sat outside for some time. It was awesome! With the wind blowing, not so cold weather next to the river, crowds walking past, music playing and the promise of a new year. It felt amazing and uplifting just being there.
And soon around midnight, the fireworks started and the whole place became even better! There were fireworks everywhere, behind the ships, from the shops, around the bridges and the whole place lit up. Lot of people were still partying till late, as a lot of the restaurants had outside music playing and everyone was still dancing till later in the night. There was a huge crowd there suddenly though which was a quite scary. But overall, it was a nice way to bring in the new year. And I was happy.
Day 15: Flight from Buenos Aires to London (afternoon)
Today was our last day in Argentina and time to bid goodbye to the city. We took cabs to the airport and were on our way home. During this ride, I also realised that BA is not all grand and perfect. The areas outside the central areas are not the same and don't have all those huge stone buildings we had seen earlier. Outside it was the a lot more rundown, with simpler brick houses and the real life. And I realised what the uber driver had told me, Argentina is an interesting mixture of the first world and the developing world.
And while leaving, I felt a bit sad to say goodbye to all the fun experiences we had in the country, all the way from trekking to tango dancing. Argentina is definitely a place I can see myself coming back to someday.
Impressions and some interesting observations during the trip
Chile felt like quite a religious christian country. It was also much greener than Argentina. Maybe because of the direction of the rain carrying winds which blow from the sea Most people here speak Spanish. Its a bit tough getting around with English at times Most people in Argentina and Chile are white, with very few mixed people (I observed at least). There seems to be very little native influence left in Argentina. Also people are from different European lineage, with quite a few from Italy. Both countries promoted European immigration hugely, leading to this mix of people I observed lot of pictures of native Americans at multiple hotels, of them being painted head to toe in very interesting patterns. I read later that these were the Selk Nam people who used to roam Patagonia in the olden days and they are extinct now. Imagine, an entire race of people vanishing, just like that? When I talked about my trip with friends, it turns out everyone did the same activities and visited the same locations when they went to Patagonia. So its a good idea to not see others' photos before going, else the place may lose its novelty factor ???? Tourism in Argentina is expensive. Otherwise its not an expensive country, like eating local food, buying local handicrafts, for taking cabs etc. Blue dollars (where you get a much better rate changing cash dollars with local dealers than the official rate) are no more available in Argentina. So don't bother carrying those USD notes everyone told you to When you enter Chile as a tourist, you get an entry pass with the passport. Keep that safe, as whenever you show that to any of the hotels and restaurants you go to, you don't need to pay the local tax Service is very very slow here and everyone takes their own time. There are long queues everywhere, which move very slowly. So be patient!