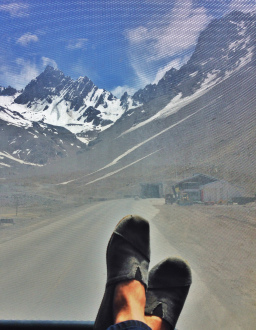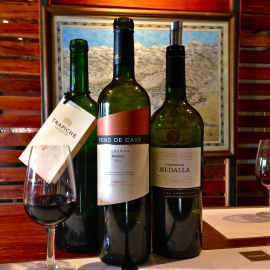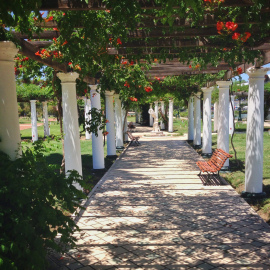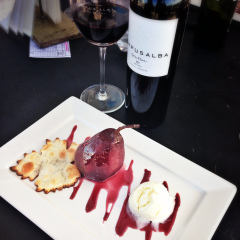 This small, tree-lined city is the logical overland stopping point between two popular (and populated) South American capitals: Buenos Aires, Argentina, and Santiago, Chile. But as the epicenter of Argentina's massive wine industry, Mendoza is a destination unto itself, and the perfect place for you to discover a Malbec (or two, or three) that will knock your socks off.
HOW TO GET THERE
As I traveled by bus to Mendoza from Santiago, I shared the journey with an unexpected companion. As the bus bopped along its narrow course through the Andes, my new friend mirrored me at every step. Clinging precariously to cliffs above, snaking along the base of the river gorge below, and occasionally darting in and out of rough-hewn tunnels, the track of the disused Trans-Andean railway seemed to be engaged in a perpetual duel with the highway, the route which seems to have prevailed.
One of the joys of traveling to Mendoza is getting there by bus from Santiago. The roughly 7-hour journey offers spectacular scenery, and is certainly the more cost-effective (and dare I say comfortable) way to go. I traveled with Andesmar from Santiago-Mendoza and Mendoza-Buenos Aires (overnight) and had an excellent experience on both trips, but there are countless bus companies to choose from. Visit Plataforma10 to research bus service throughout South America. If you're really prejudiced against buses, or don't like the idea of 20 back-to-back hairpin turns (which, though a bit hair-raising, was pretty phenomenal), Mendoza is also serviced by an international airport. But I bet the Andes look better from the ground.
WHAT TO DO
Vineyards The biggest draw in Mendoza is the wine. The wines produced in this region (Malbecs in particular) are world-renowned, so if you miss the vineyards, you're missing Mendoza. The highest concentration of vineyards is in nearby Maipu, about 30 minutes southeast of Mendoza center (roughly 50 minutes by local bus if you're feeling cheap, adventurous, or both). If you're tight on time, a tour may be your best bet-but I had an incredible day exploring the local vineyards by bike. I rented with Maipu Bike, which was easy to find and well-priced, but many fellow travelers also had good experiences with Mr. Hugo Bikes.
The vineyard I enjoyed most was Trapiche. They were one of the earliest pioneers of wine branding in Argentina, with 129 years on the market, and today they are among the first wineries experimenting with biodynamics. And at the end of the tasting, they let us finish the bottles. Yes, all of the bottles. But to be fair, I did also have a delicious wine-soaked-pear dessert at Tempus Alba.

Adventure There's no shortage of outdoor activities in Mendoza, from tame (trekking) to extreme (skydive wine-tasting). I chose a stunning three-hour sunset horseback ride through the foothills of the Andes, including a feast of Argentinian beef. With wine flowing, we built a campfire and our guides taught us some traditional songs on guitar. The last guests to arrive were the stars. I have to be honest...singing and drinking wine around a fire, debating constellations with new friends, belly full of delicious steak, all at a hillside ranch somewhere in Argentina that you'll never be able to find on a map, is a truly wonderful way to spend an evening.
While I did not do this, a popular adventure day-trip option from Mendoza is to visit Aconcagua Provincial Park and see Aconcagua, the highest mountain in the Americas and among the tallest in the world. I'm sure it would be a treat for any mountaineer.
Park-Hop Mendoza's parks aren't just beautiful, they'll also keep you on the grid, because the city's tree-lined streets can occasionally look quite similar. Plaza Independencia, at the city's center, is the largest, and its eastern edge marks the beginning of the charming pedestrian street Paseo Sarmiento. The four smaller squares that radiate from Plaza Independencia are Plaza Chile, Plaza San Martín, Plaza España, and Plaza Italia. Each have a distinctive flair, but don't be deceived by their good looks-these five plazas were designed in the wake of the 1861 earthquake that decimated the city, to give the its residents a safe refuge in the event of another colossal quake. Lastly, the massive Parque General San Martín on the western edge of the city is a great place to unwind. Wisteria-laden trellises adorn the lakefront, and the view from atop Cerro de la Gloria is, well, glorious-as is the impressive 1914 monument to the Army of the Andes at its peak. For more about the Army of the Andes, visit the Memorial de la Bandera de Los Andes, across the street from the Casa de Gobierno, directly south of Plaza Independencia.
WHERE TO STAY
This, of course, is entirely up to you and your budget, but I recommend that you stay within the city center, which can be found on a map by tracing the five plazas mentioned above. Almost all of what you'll want to see in town is within that zone. If you're into hostels, I had a good experience at Hostel Alamo, which also has plenty of quiet, private suites and a beautiful courtyard with small swimming pool.
HAVE YOU BEEN TO MENDOZA? SHARE YOUR EXPERIENCES BY LEAVING A COMMENT, AND THANKS FOR READING!