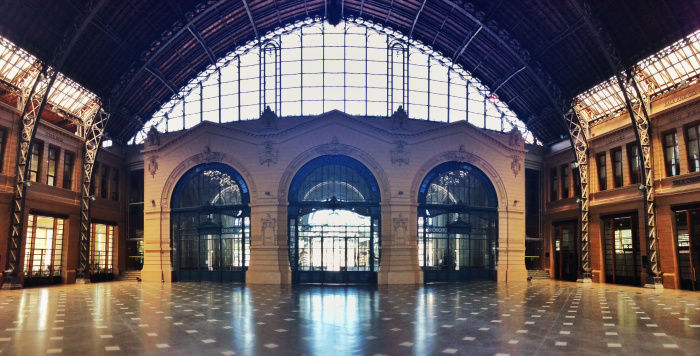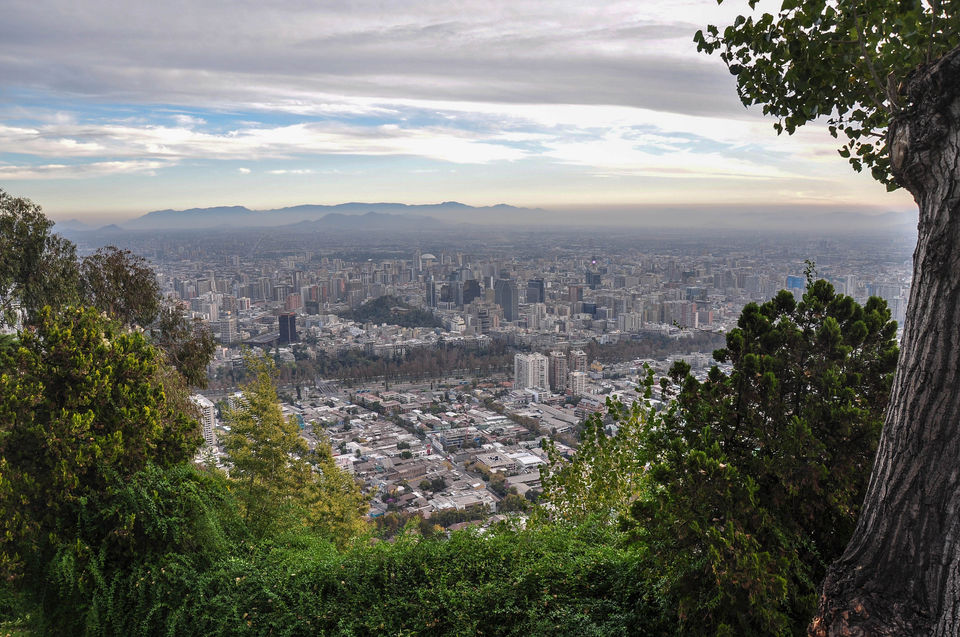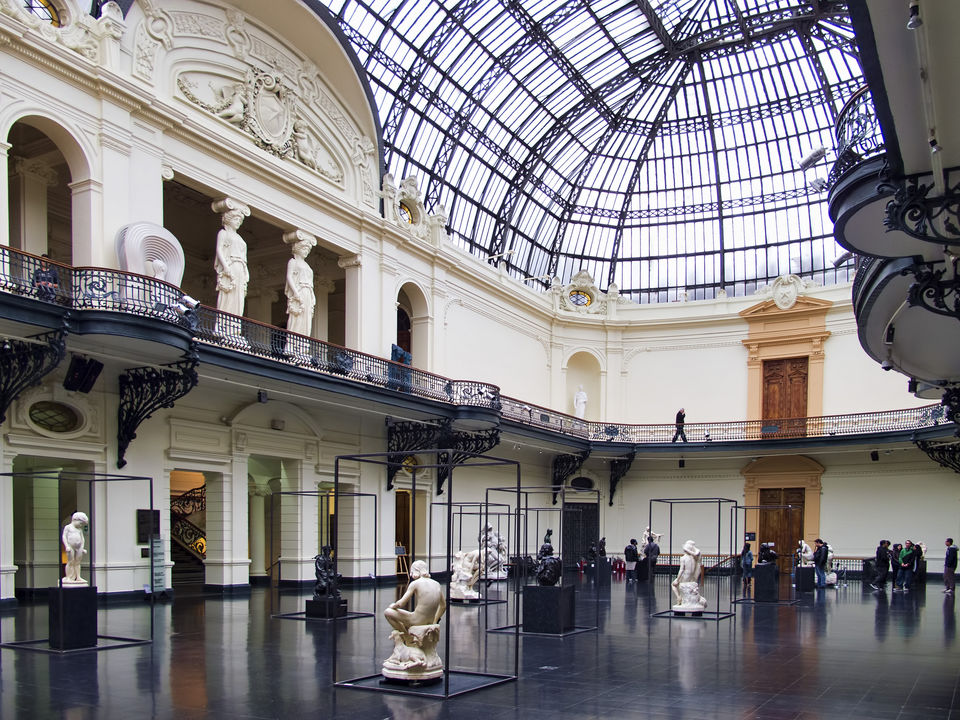 If you look at a map of South America, Chile looks like a geographical afterthought. Its average width is 175 kilometers (for us gringos, that's roughly the width of Florida's peninsula). But if you were to travel its 4,270 km length (that's New York City to Denver), you would experience nearly every climate known to man, from the world's driest desert in the north to perpetual glaciers in the south. Santiago is the gateway to the vast beauty and variety that Chile offers, and with a merited eagerness to experience the country's more exotic destinations — Easter Island, Patagonia, etc. — many travelers leave the city knowing it as little more than that: a gateway. But Santiago is a vibrant mecca for culture, nightlife, and history, and it deserves to be much more than a layover.
DAY 1
Hour 0: Check In, Late Afternoon Without a doubt, the best home base neighborhood in Santiago is Barrio Lastarria. There are plenty of options to lay your head at night, from hostels all the way up to private apartments. On the eastern side of Santiago Centro, Barrio Lastarria is central to the majority of the city's best experiences. Find a place within the triangle made by the metro stops Baquedano, Bellas Artes, and Santa Lucia. Just north of Barrio Lastarria is Barrio Bellavista, which has a number of hostels that are closer to the city's nightlife. 2 hours.
Hour 2: Grab a Drink Speaking of nightlife…bars and clubs in Santiago have a gritty local flair, especially in the nightlife epicenter Barrio Bellavista, making the scene truly unique. But more on that later. No matter where you come from, the journey to Santiago is a long one…but if you're feeling up for a drink or bite in a not-to-be-missed Santiago establishment, head to Bar The Clinic (Monjitas 578; Metro: Bellas Artes). Over the years, The Clinic has grown from a small two-room bar to a labyrinthine patchwork of rooms, courtyards, bars, and now even a small cinema housed within a beautiful historic edificio. The menu itself is a souvenir to be taken with you, mirroring The Clinic's other endeavor, a weekly newspaper parodying local and national politics (pay attention and you'll see it on the city's newsstands). Grab a typical Pisco sour or michelada to unwind, or if you're feeling brave, try aterremoto (but trust me, they're called "earthquake" for a reason). Read more about these and more of Chile's unique beverages in my post, Drinking Through Chile. 2 hours.
DAY 2
Hour 12: Get to Know Santiago If you survived a terremoto, why not work off your aftershock tremors with a morning walking tour of the city? Normally I'm iffy about tips-based tours, but Free Tours Santiago really does a great job, and it's better to get a broad overview of a place as soon as you arrive. The English tour will provide a solid historical context and give you a good bearings for further exploration. Look for the red "Free Tour" shirts in in front of the Catedral de Santiago at the Plaza de Armas, the main city square (Metro: Plaza de Armas). No need to reserve in advance, and tours leave daily at 10 AM (and 3 PM, if your terremoto was of biblical proportions). 4 hours.
Hour 16: Refuel Chile is not known for its gastronomy. But if an authentic meal is what you're after, look no further than the city's main markets:Mercado Central and La Vega. Mercado Central (Metro: Cal Y Canto) is the seafood market, and is an easy to spot peach-colored building. Inside you'll find pungently fresh seafood for sale, and a slew of seafood restaurants (note: the restaurants at the center of the mercado are pricier than those outside the center area, closer to the fishmongers). The massive Mercado La Vega (Metro: Patronato or Cal Y Canto) offers more than 60,000 square meters of stalls. Wandering the maze of this iconic mercado should be on every Santiago to-do list, and if you manage to find the small area of restaurants at the center-front of the market, you'll be treated to traditional Chilean and Peruvian cuisine at a very good price. 2 hours.
Hour 19: Architecture…and Trains Near both Mercado Central and La Vega is Estación Mapocho (Metro: Cal Y Canto), a former railway station turned cultural center. As a huge nerd for architecture, urban planning & redevelopment, and trains, I was thrilled to see this magnificent structure re-imagined in a way that enhances the city's cultural fabric while preserving a historic landmark. It's likely that the building will be hosting an event while you're in town, and the brief installation documenting Chile's rail history is interesting. Plus, if you're looking for a place to have a glam photoshoot, this is it. 30m-1 hour.
If you're traveling with kids (or, like me, become a kid at even the slightest mention of trains) a must-do is the open air train park, Museo Ferroviario(Metro: Quinta Normal, or a 45-minute walk from Estación Mapocho). There are dozens of pristinely preserved steam locomotives here, all of many different varieties and with placards describing how they were used on Chile's railways. Some you can even climb inside! The small entrance fee is worth feeling like a kid again. 1 hour.
A short walk south from Museo Ferroviario is Estación Central (Metro: Estación Central), the only functioning train terminal in the city (Chile's rail system is modern but minuscule). The station is a hive of activity–shops, street food, and vendors galore. But the real treat for architecture buffs is that the station was designed by Gustave Eiffel. It's impossible to miss the similarities between the station's graceful metallic shed and Paris' iconic Eiffel Tower. 30m-1 hour.
Hour 24: See a Show See a show? We're not in Buenos Aires! What is this madness?! Don't worry, dear friend, you're reading correctly and you're not insane. I guess this is the right time to admit that I spent much more than 72 hours in Santiago. I lived in the city for 2 months, researching Latin American theater and performance culture. And while Santiago's arts scene may not have the international recognition of Buenos Aires, it is alive and well, and growing exponentially. And in this highly-subsidized scene, most tickets won't run you more than $5000 CLP (roughly $10 USD). If you're a fan of opera or ballet, you won't be disappointed by the offerings at the beautiful Teatro Municipal (Agustinas 794; Metro: Santa Lucia). But if you're feeling a little more avant-garde, you can trust the programming at two of Santiago's best cultural centers: GAM (Av Liber Bernardo O'Higgins 227; Metro: Universidad Católica) and Matacuna 100 (Avenida Matucana 100; Metro: Quinta Normal). GAM also features a small but well-curated permanent visual arts exhibition. 2 hours.
DAY 3
Hour 34: Holy Hill In the middle of it all, just north of Barrio Bellavista, isCerro San Cristóbal (Metro: Baquedano). This hill is the crown jewel of Santiago's Parque Metropolitano, the largest urban park in South America. Its peak is crowned with TV antennas and an impressive statue of the Virgin Mary. If you're Catholic–or just a fan of John Paul II–you wouldn't dream of skipping over this site (in 1987, JPII blessed the city of Santiago from the chapel near the hill's summit). But for the rest of us, Cerro San Cristóbal offers an unparalleled panorama of the sprawling metropolis and the Andes Mountains. It is truly a spectacular sight, and perhaps the quintessential Santiago experience for tourists and locals alike. You can hike or bike to the top of the hill, or take the funicular, which makes a stop at the Chilean National Zoo (at the foot of the hill) on the ascending journey. Once you get to the top, treat yourself to a Mote con Huesillo from the snack stand. What's that? Read more about it here. 3 hours.
Hour 37: A Sobering History Adjacent to Parque Quinta Normal is theMuseo de la Memoria y los Derechos Humanos, or the Museum of Memory and Human Rights (Metro: Quinta Normal). When you consider that every Chilean above the age of 30 that you pass on the street in Santiago has direct memories of Chile's military years, this museum is without question a required stop on any trip to Santiago. Opened in 2010, the museum offers a thought-provoking and surprisingly non-judgmental view of its all-too-recent past, the sobering years of Chile as a military state (1973-1990). From the museum's website, its mission is to "allow dignity to victims and their families, stimulate reflection and discussion, and to promote respect and tolerance" so that similar events do not happen again. Poignantly emblazoned on the building's facade is the phrase, "The Museum is a School." 3 hours.
Hour 40: Siesta in Barrio Italia There's no doubt you'll want to decompress a bit after the Museum of Memory, and an afternoon siesta is just the way to do it. Lounging in one of the city's many parks is enjoyable, but in my opinion, the best place to siesta isBarrio Italia (Metro: Santa Isabel). This is Santiago's SoHo, and time seems to slow down here. Don't expect the hustle and bustle of Lower Broadway, but the offerings here are just as chic as any you'd find in Manhattan. Concentrate your time on Av Italia between Marin and Sucre. This barrio is dotted with cafés, car repair shops, and colorful shotgun-style colonial homes that have been converted into stylish boutiques. Each building contains a number of individual stores (most of which are no larger than your average bedroom), specializing in everything from furniture to clothing to books to wine. Most have coffee or ice cream shops that open onto large courtyards where you can laze in the afternoon sun (this is a siesta, after all!) and some even have galleries featuring work by local artists. Antique stores literally spill their inventory onto the sidewalks, where you can engage with craftsmen as they carefully bring new life to old furniture. The calm and joie de vivre radiating from Barrio Italia allows you to forget you're in the center of a huge metropolis, and the lethargy that will overtake you is sure to be a welcome respite. 3 hours.
Hour 43: The Mother of All Sandwiches Like I said, Chile is not known for its food. However, there is one place that shines above the rest,Fuente Alemana. It's even been featured on Anthony Bourdain's "No Reservations." The behemoth sandwiches are worth fighting for–and if you happen to visit one of their locations during lunch hour, you will be fighting. I got the Churrasco Italiano con queso (Meat, avocado, tomato, mayo, and cheese) and it was divine. This place is fast and delicious, and I would have happily eaten there every day if I hadn't been afraid of turning into a blimp. 1 Hour.
Hour 48: Night Out in Bellavista I hope you took a nap, because true to Latin American culture, the parties don't get started until midnight at the earliest, and go until the wee hours of the morning. If you're not quite a night owl, grab a few brews at one of the sidewalk bars along Piu Nono, the main street of Bellavista (great for people watching). They'll start filling up around 10 PM, as a first stop for many Santiaguinos en route to long nights of dancing. If you're in it for the long-haul, the clubs will really get going around 1 AM. Considering the throngs of people, it won't be difficult to find a place you'll like. 2-4 Hours.
DAY 4
Hour 60: Foot Traffic Only Rise and shine! If you visit Santiago over a Sunday, you're in for a special treat. Like Sunday mornings in other Latin American cities, many major avenues become pedestrian- and bike-only. Between 9 AM to 2 PM, be sure to savor this weekly ritual like the locals do. My favorite is Av Pedro de Valdivia in Providencia, but the main thoroughfare through Parque Forestal is just as nice, and likely to be closer to your accommodation. 2 Hours.
Hour 62: Art Smart The Museo de Bellas Artes and Museo de Arte Contemporaneo (Metro: Bellas Artes) are conjoined-twin art museums, sharing a building in Parque Forestal. Both museums are free on Sundays, and offer solid permanent collections as well as interesting temporary exhibitions. Pick your poison and wander amongst the canvases, sculptures, and installations fashioned by both Chilean and international artists. 3 Hours.
Or, perhaps you're familiar with Pablo Neruda. His former home in Santiago is called La Chascona (Metro: Baquedano), located in Barrio Bellavista near the foot of Cerro San Cristóbal. The intimacy of Neruda's former home allows visitors a glimpse into the life of one of Chile's most famous and influential poets. 2 Hours.
Hour 66: Barrio Lastarria As your time in Santiago comes to a close, be sure to make the best of Barrio Lastarria. If you haven't explored it already, you'll want to sample its stalls for souvenirs, or grab an ice cream before you head to your point of departure. There is little debate that the best ice cream in Santiago is at Emporio la Rosa (Metro: Bellas Artes; where Merced and Monjitas fork at the southern edge of Parque Forestal). Their courtyard seating is a great place to soak up your final moments in Santiago, and your mouth will be too busy smiling to even consider complaining about your imminent departure. 2 hours.
Hour 72: Bid a fond farewell to Chile's vibrant capital.
ADDITIONAL ACTIVITIES
La Moneda The seat of Chile's government. Tours are offered irregularly and should be reserved in advance. At the time of writing, the grounds surrounding the Palace were under renovation to become an expansive new park.
Cerro Santa Lucía The second best view in the city (behind Cerro San Cristóbal), and watch your step as you make your way to the top. It's free, but you will be asked to sign the guestbook upon entrance. The cerro was a defense battery in the 1800s, but now features beautiful grounds and an impressive European-style fountain.
Museums Santiago has a number of great museums, and I've only mentioned a few. While I firmly believe that the Memory Museum should be first on your list, other options include the Museo Chileno de Arte Precolombino, the Museo Histórico Nacional, the Centro Cultural Palacio la Moneda, and the Museo Nacional de Historia Natural.
Get Out of Town Not more than an hour's drive from Santiago are expansive vineyards in the south, the heart of Chile's famous wine industry, and Cajón de Maipo in the east, an outdoorsman's paradise. Just an hour and a half west of Santiago are Valparaíso and Viña del Mar, Chile's historic port and beach cities. The pair are served by frequent bus service to and from Santiago, as often as every 5 minutes during peak summer months.
WHEN TO GO
Summer? Winter? For those of us who call the northern hemisphere home, we benefit from the southern hemisphere's opposite seasons. Peak season in Santiago (and the majority of South America) is December-March. You'll be greeted with blissfully hot temperatures while you're friends up north are removing icicles from their nostrils.
Santiago a Mil Festival Every January, Santiago hosts the Santiago a Mil Festival, a three week-long international theater festival that imports acts from across the globe alongside a slew of national programming, including free and open-air street performances.