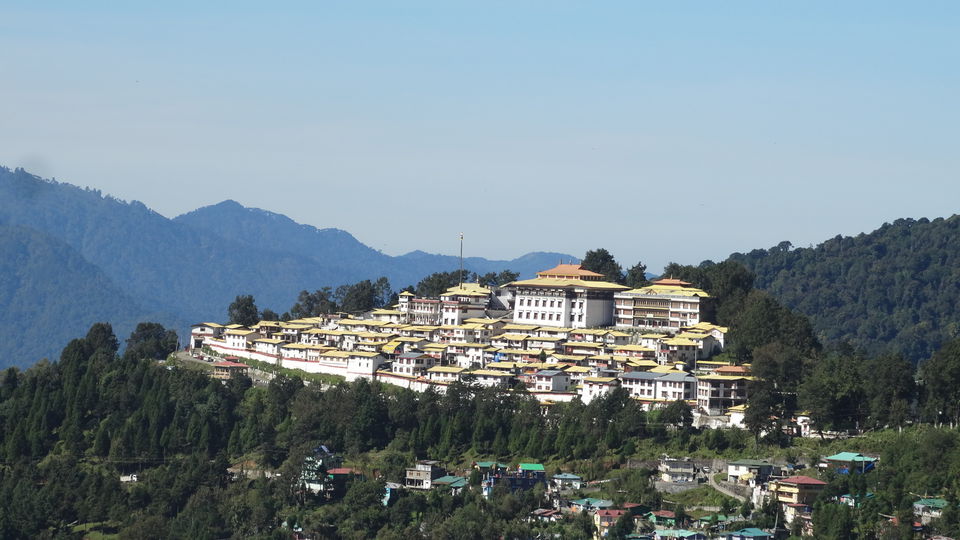 The trip to Tawang was on my mind for a very long time, but finally me and my friend were able to make some time from our daily schedule to visit this land with full of scenic beauty of nature.
The name of Tawang is believed to have derived its name from the grandiose of Tawang Monastery perched on the edge of the ridge running along the western part of Tawang township. The popular interpretation is that the name "Tawang" was given by his holiness the Mera Lama Lodre Gyatso. "TA" means Horse and "Wang" means Chosen.
How to Reach:
1. Nearest Airports:
* Tezpur Airport
* Lokpriya Gopinath Bordoloi International Airport, GAU.
From Guwahati you can hire a car. We booked ours through a known person (After negotiating, we mutually agreed on Rs. 4000/- per day, Swift Desire. But now, after taking the journey I suggest hiring an SUV for the trip as the road conditions are quite rough. Hiring a SUV will cost you around Rs. 5000-6000 per day)
From Guwahati ISBT: Network Buses ply from Guwahati to Bomdila. From Bomdilla you can hire Sumo Cabs till Tawang.
From Guwahati Railway Station: You can avail Sumo Cabs from Guwahati to Tawang. (Approx seating capacity: 10 persons).
* Helicopter Services are also there from Guwahati to Tawang, but they might get cancelled due to weather conditions.
2. Nearest Railway Station: Tezpur
From Tezpur, Tata SUMO cabs ply till Bomdilla, Tawang.
** Before entering Arunac:al Pradesh you should have Inner Line Permit with you.
1. You can apply for it online on their website. Ideally if all documents are in order then it takes maximum 2 working days for the permit to be processed.
2. Else, you can get it on arrival at Guwahati Airport and Guwahati Railway Station.
3. Or you can visit the DC office located at Delhi, Kolkata, Guwahati, Shillong, Tezpur, Dibrugarh, North Lakhimpur, Jorhat and all the DC offices of Arunachal Pradesh to get your ILP.
Day 1: Guwahati to Tenga.
We started our journey at 09:00Hrs from Guwahati Airport. The road journey from Guwahati to Bhalukpong took us nearly 4 Hours. After showing our permits at check post we proceeded to our initial destination,Bomdilla. But, after crossing bhalukpong, the road conditions deteriorated also road widening activity was going on. Our average speed was no more than 10 km/hour.It was getting late and daylight was slowly diminishing. So considering the conditions we decided we will halt at Tenga instead of Bomdilla. We reached Tenga at 20:00 Hrs .
At the end of day 1 we covered about 330km and we spent about 11 hours on road.
Day 2: Tenga to Tawang
We knew it was going to be a long journey. After having a light breakfast,we started at 08:00 Hrs for Tawang. We reached Bomdila around 09:00 Hrs. As our schedule was tight, we restricted ourselves from visiting too many places. We skipped the orchid farms.
*Bomdila Monastery*
Also known as Gentse Gaden Rabgyel Lling monastery,a beautiful monastery located on the top of a hill. One can see valley and Bomdila Town from here.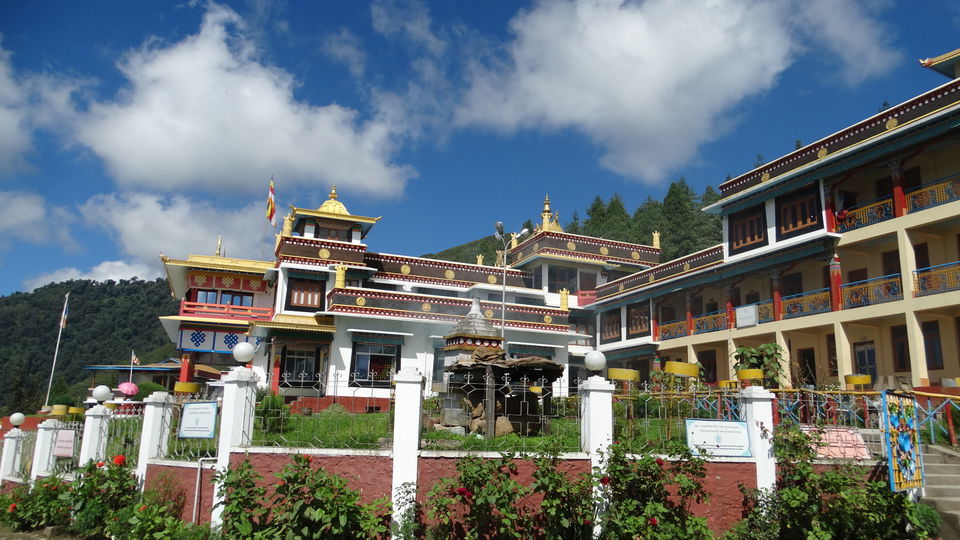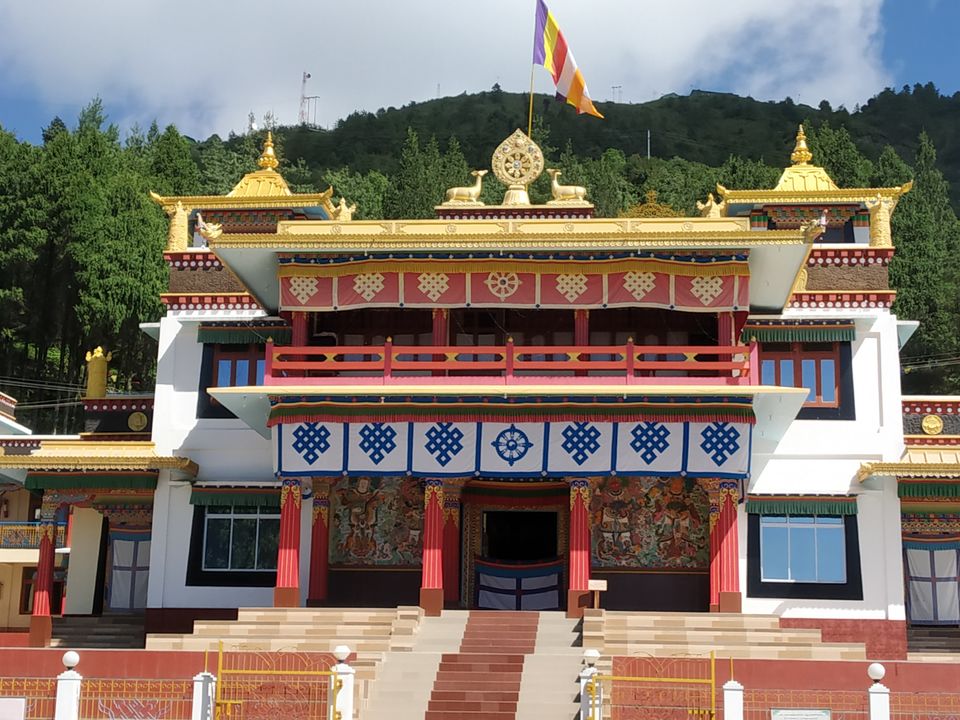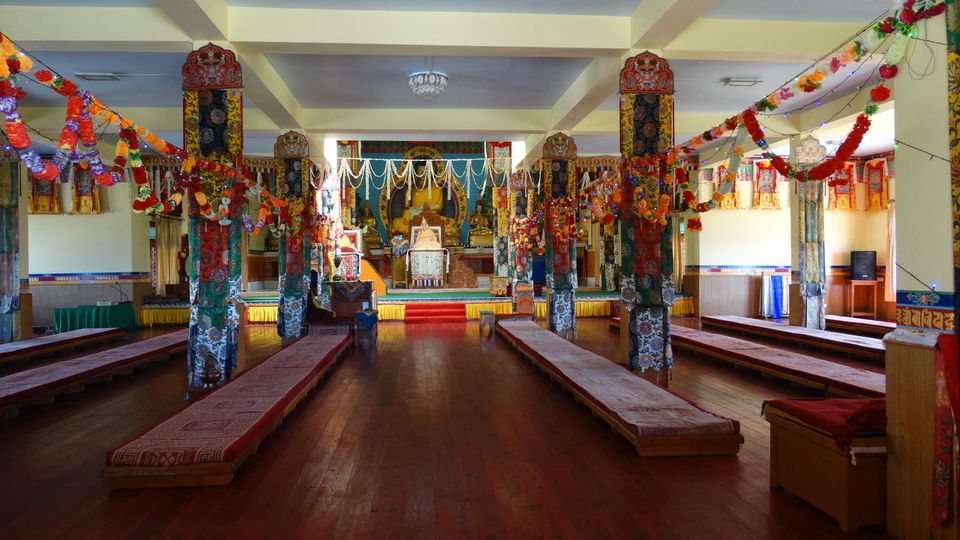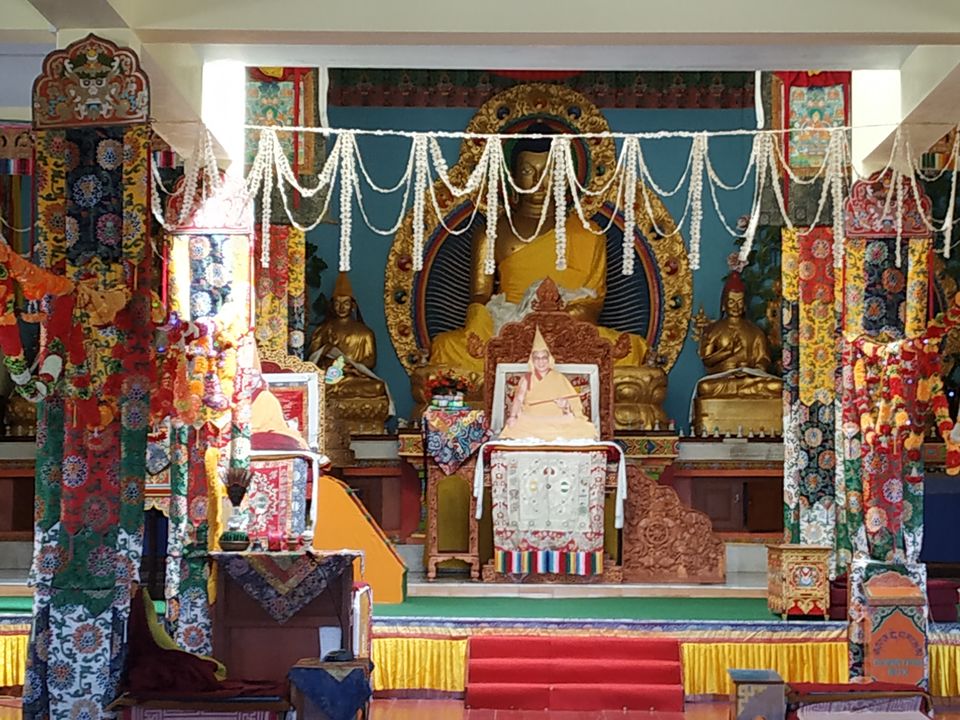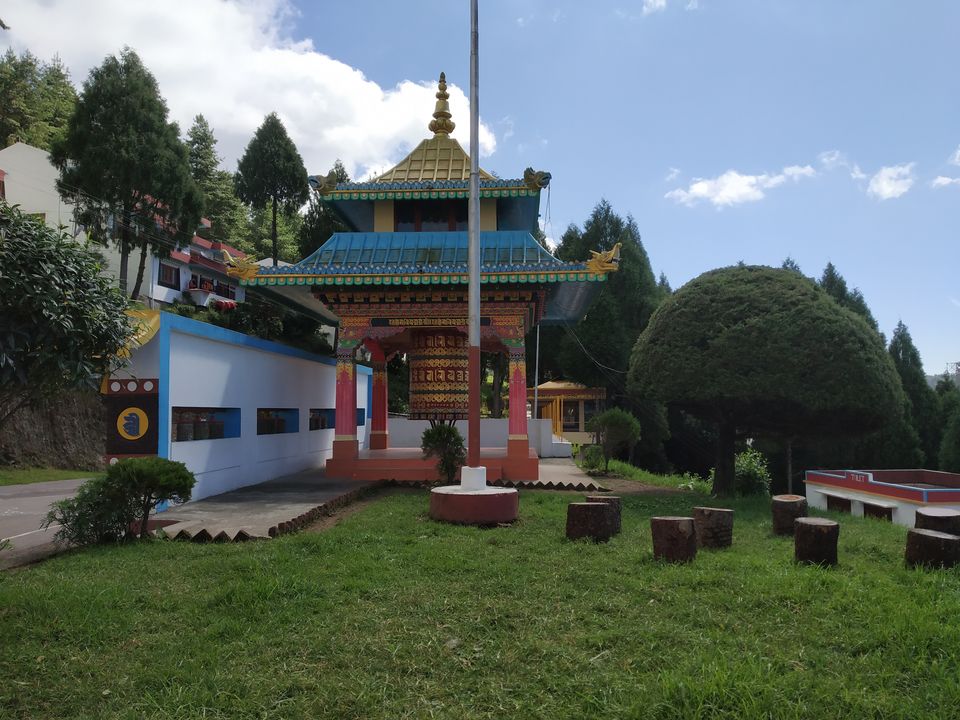 After spending sometime at Bomdilla Monastery we proceeded towards Dirang.
Time Spent: 30 Minutes
We reached Dirang at around 11:00 Hrs.
*Dirang Monastery*
Also known Thubsung Dhargyeling Monastery. This is a newly built large monastery. The architecture is marvellous. The monastery is beautifully decorated inside as well as outside.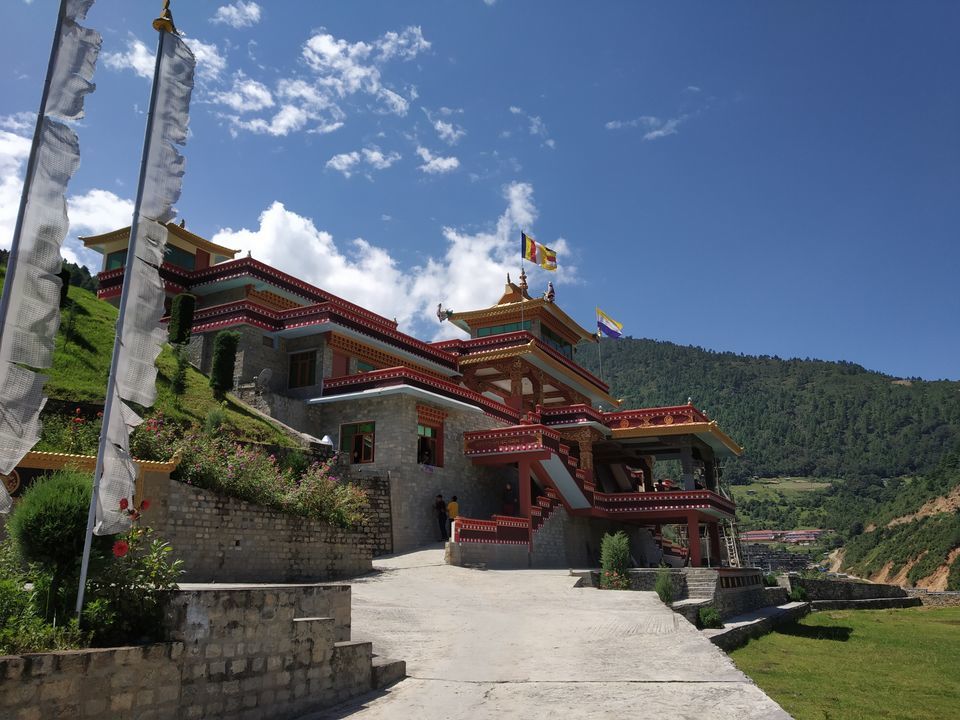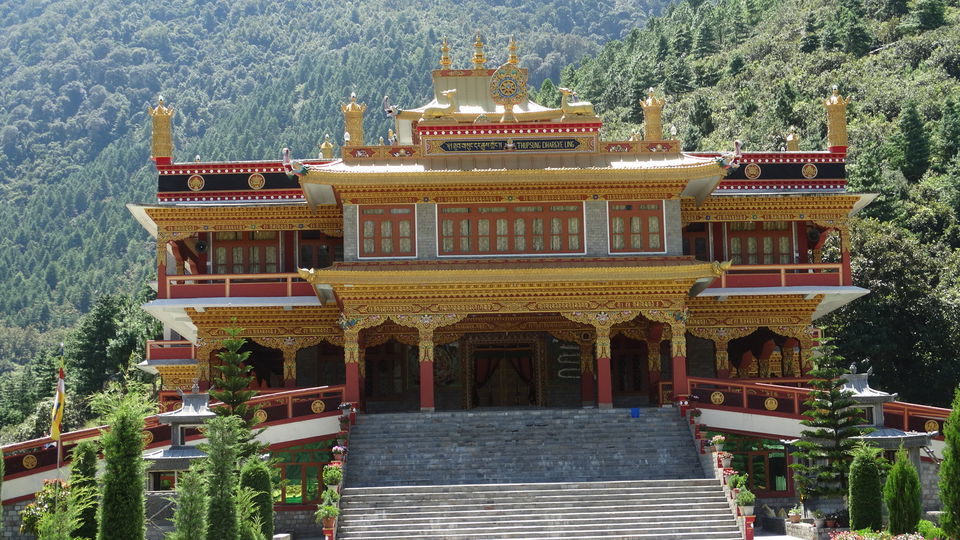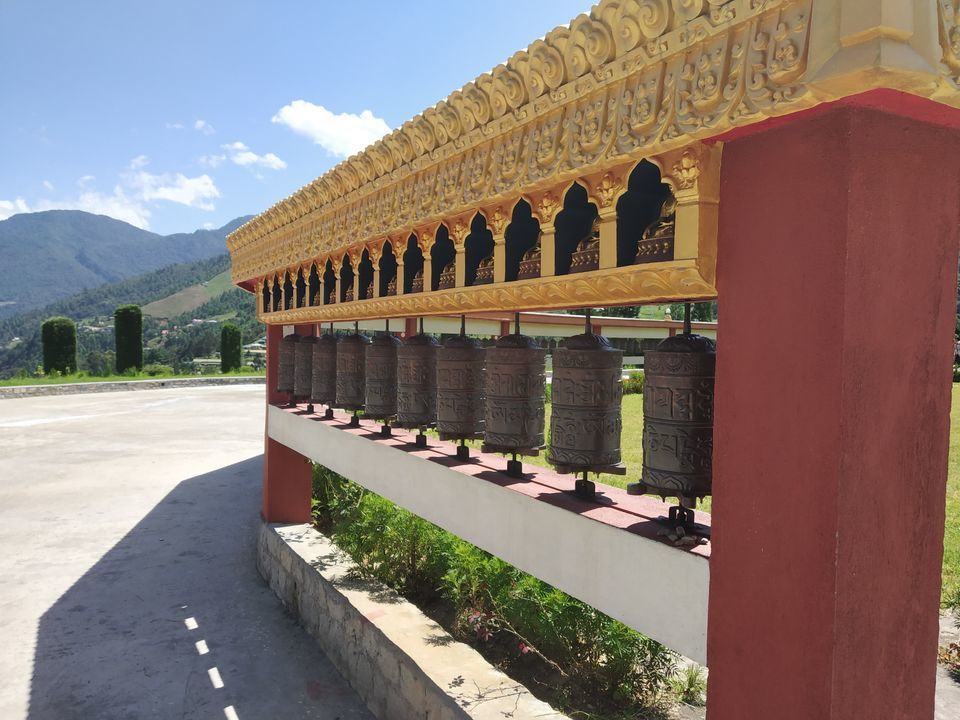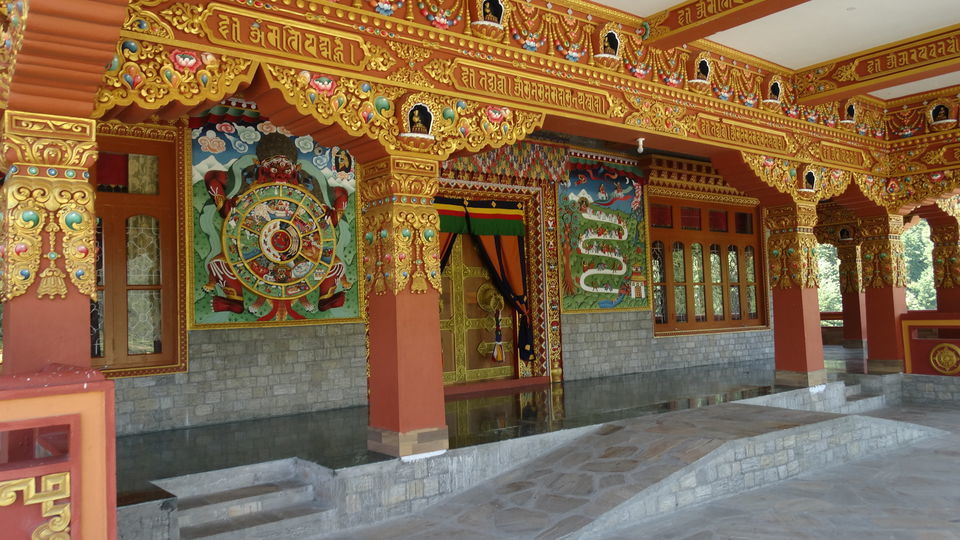 We spent around 01 Hour here, and after that we proceeded towards Sela Pass, Gateway to Tawang.
*Sela Pass*
The road from Dirang to Sela Pass was good, except few patches. We reached Sela Pass around 14:30 Hrs. It is at an altitude of 13,680 ft.A cafeteria isthere which run by military personals. You can get tea, coffee, samosas , bread pakoras there.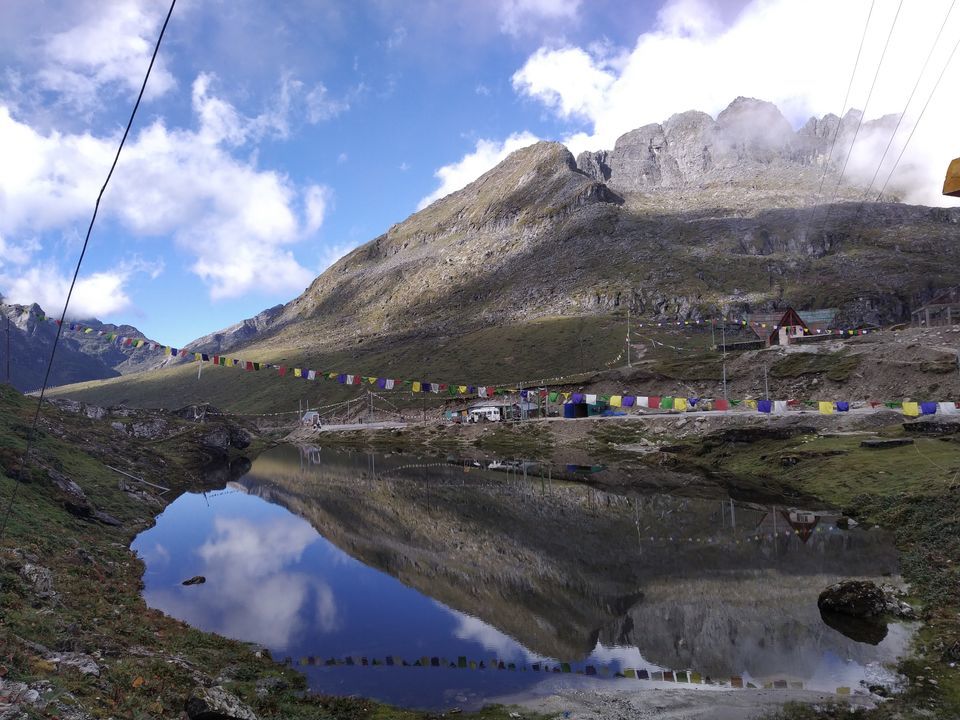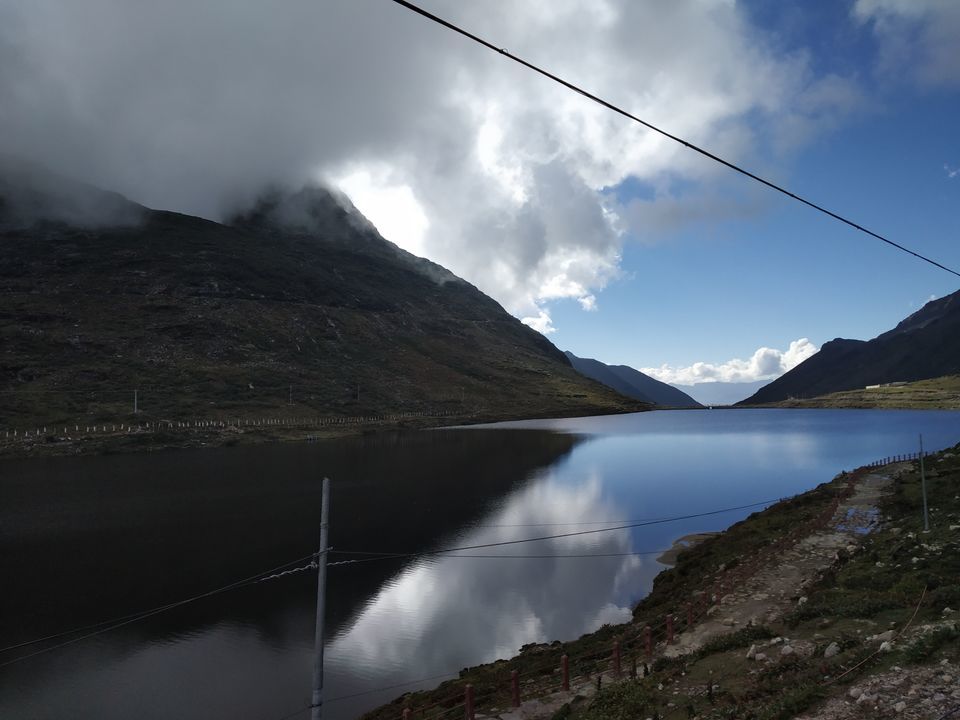 As our target was to reach Tawang by evening, we had some snacks at the cafeteria, clicked some photographs and moved towards tawang.
After a journey of around 12 hours from Tenga, we reached Tawang by 20:00 Hrs. As we were really exhausted, we ordered our dinner and retired to bed. Also, we asked the hotel reception to arrange for our permits and sumo car for Bumla Pass.
Day 3: Tawang
After having our breakfast, we went for local sightseeing. Our first stop was Giant Buddha Statue.
*Giant Buddha Statue*
It is very near to old market area. The statue is beautiful and colourful and located at a height from where you can see the entire Tawang City. The statue height is over 40 feet.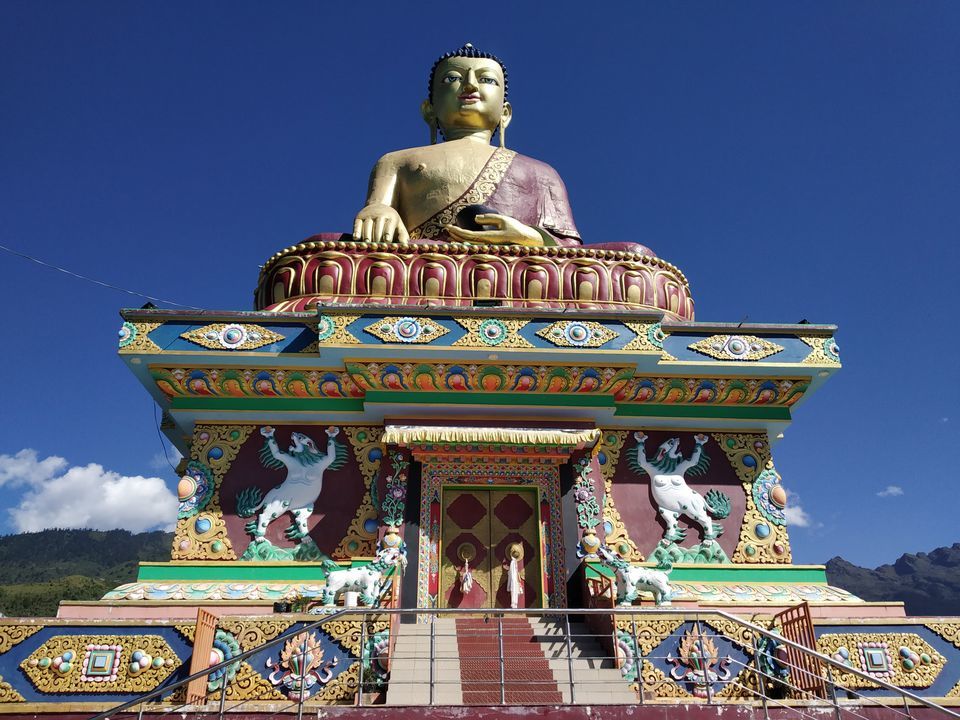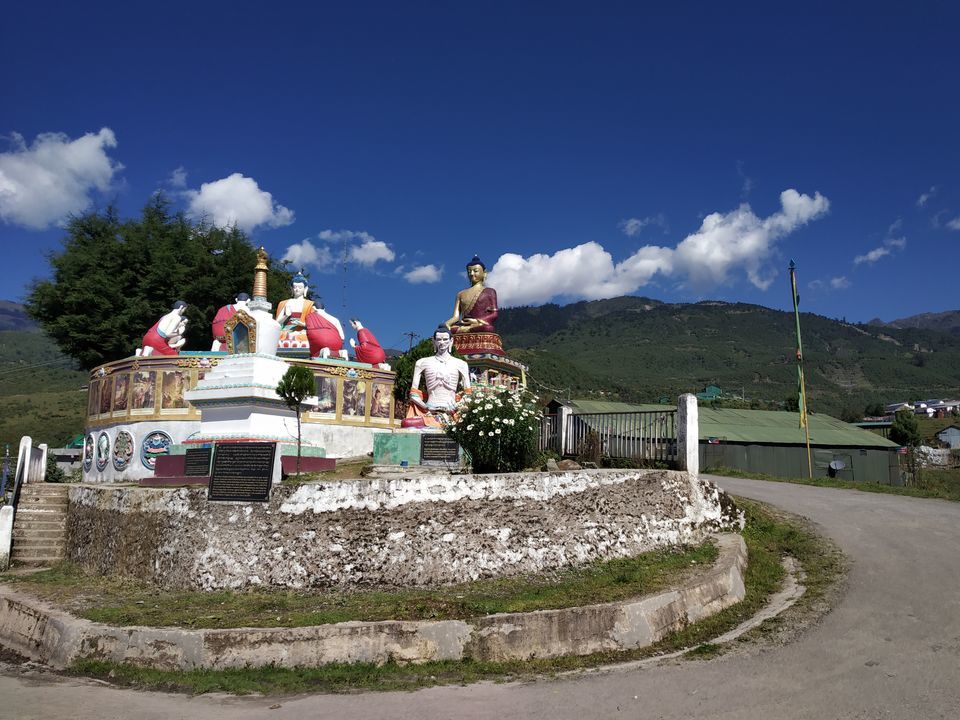 *Tawang Monastery*
Our next stop was Tawang Monastery. It is the largest monastery in India and world's second largest monastery. This monastery is located on the top of a hill and the place is visible from far away and can be seen from almost all parts of Tawang. The intricate artwork present on walls and ceilings adds to the beauty of the place. The atmosphere of the place is as peaceful as the sight of it.Also there is a museum in the monastery, where rare artefacts are kept.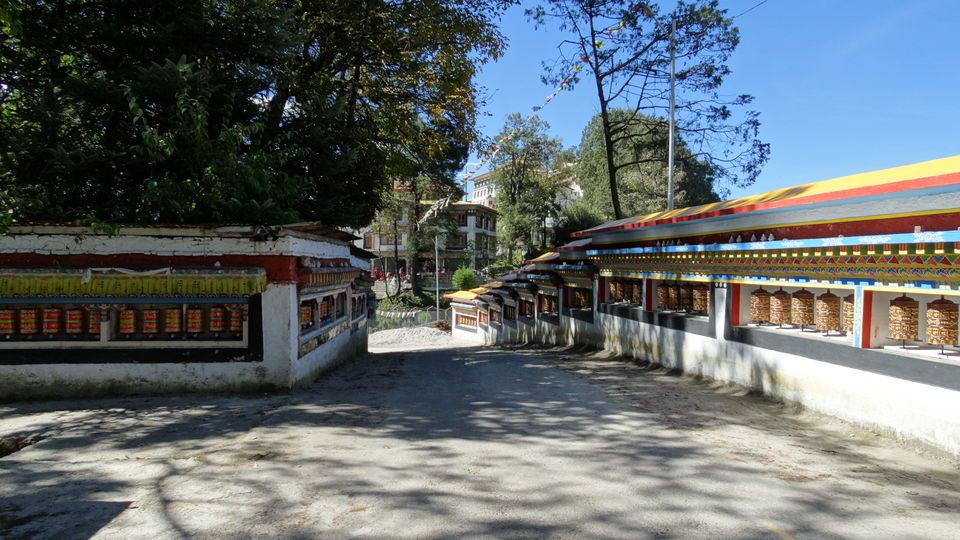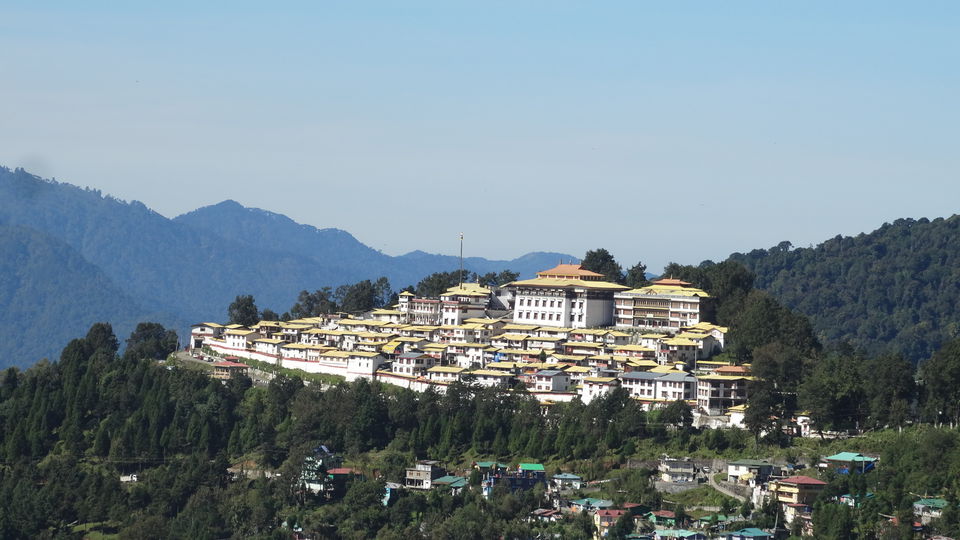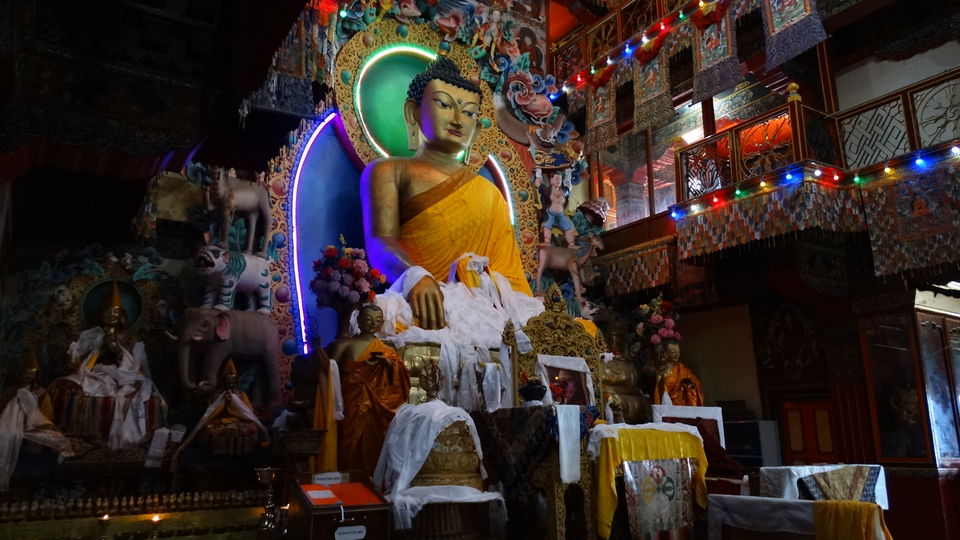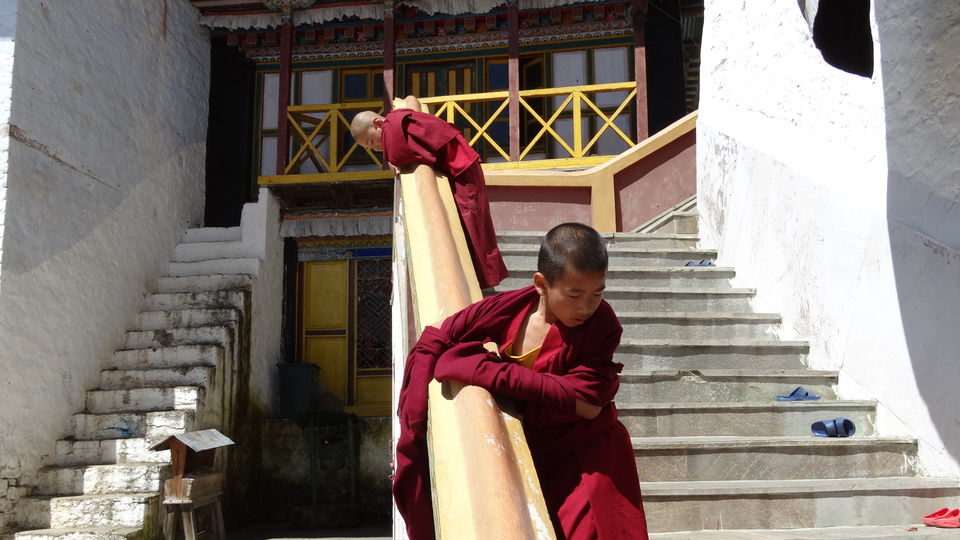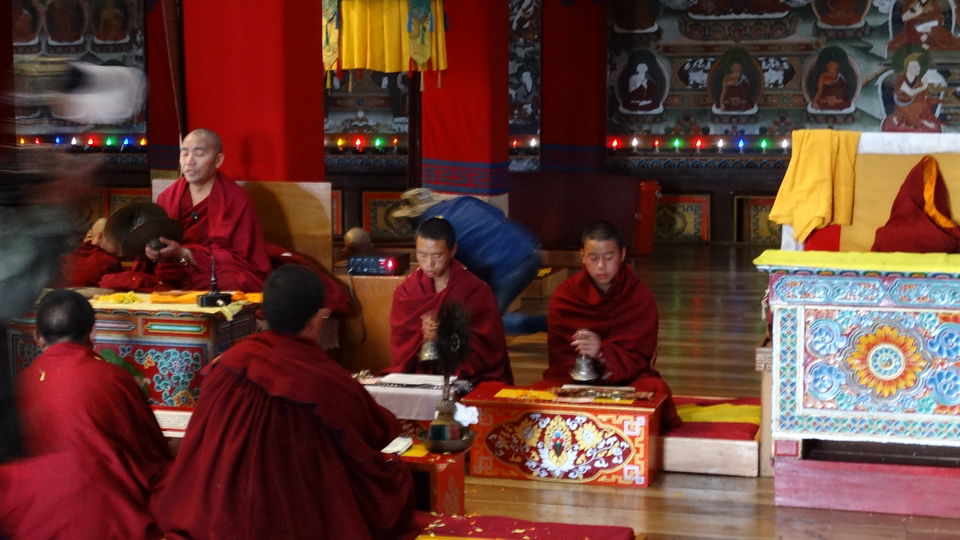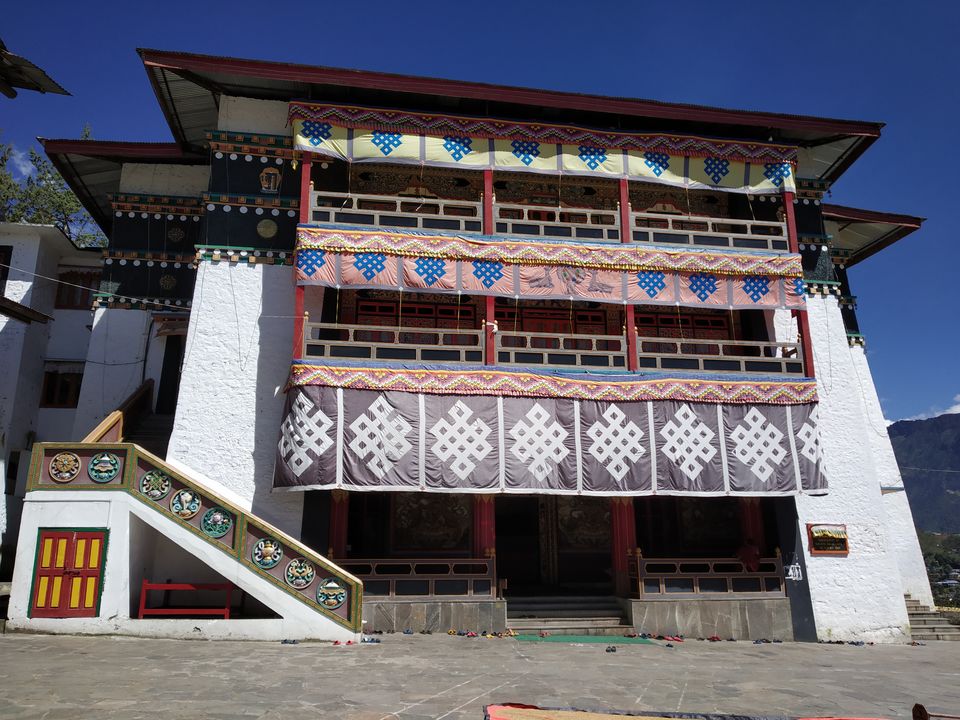 Next we visited Brahma-dung-chung Ani Gompa
*Brahma-dung-chung Ani Gompa*
This monastery is run entirely by women and is considered as one of the oldest Ani Gompas of this region. When we went there the doors were closed, but a lady monk (Ani) opened the doors for us.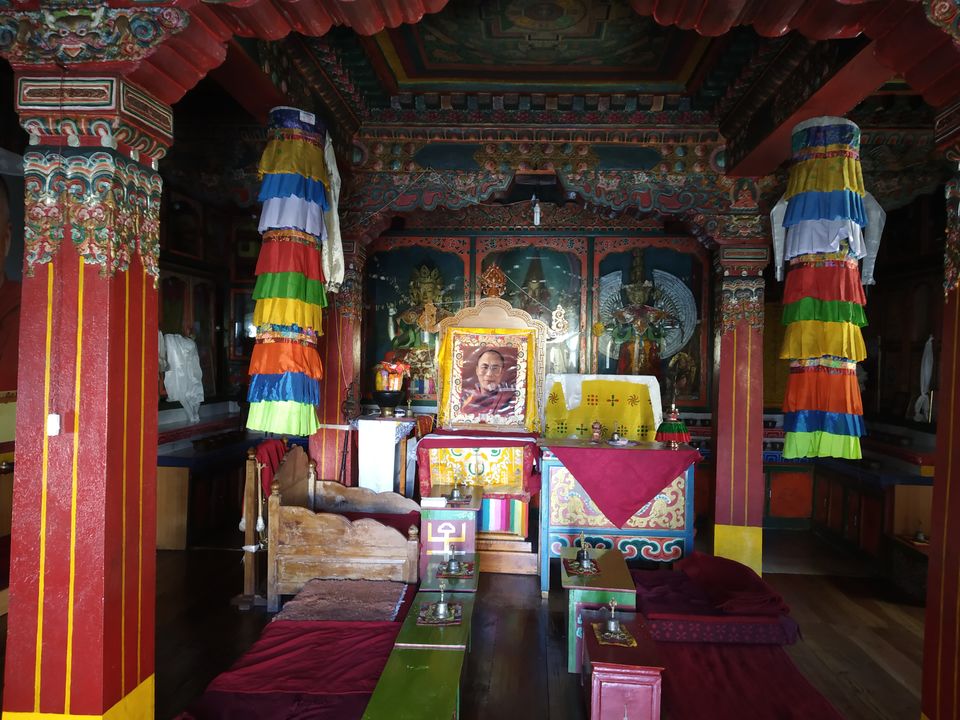 *Khinmey Nyingma Monastery*
Also known as Thegste sang-ngag monastery.The name Khin-mey is derived from Monpa word Khi-Ket-Mey, meaning a place for listening to the dogs. Khinmey gompa belongs to the Nyingmapa school of Tibetan Buddhism. Inside the monastery it is decorated with paintings of deities.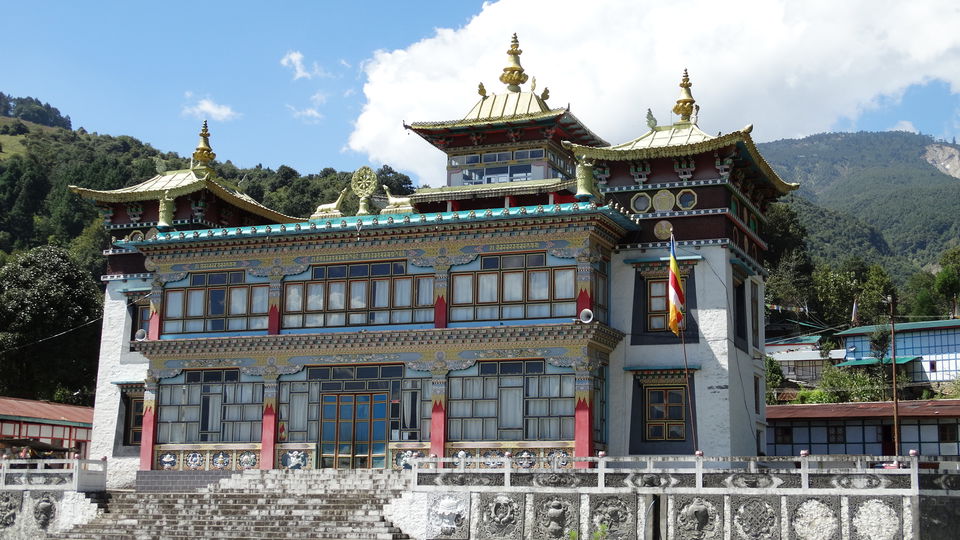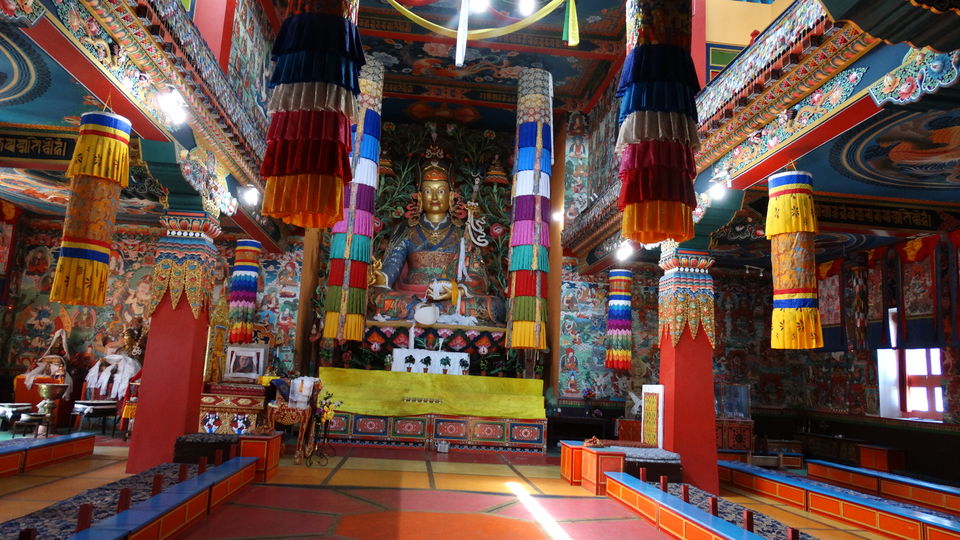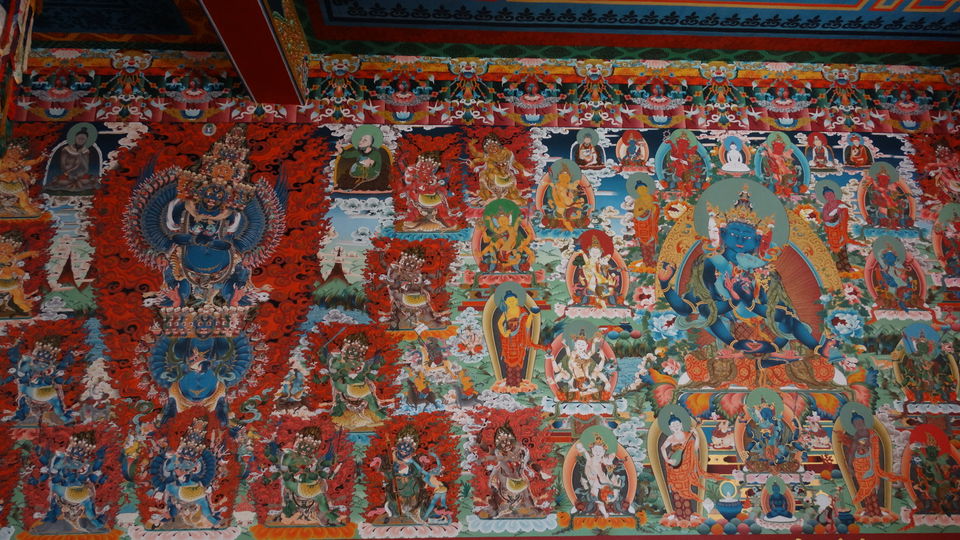 *Tawang War Memorial*
This memorial has been constructed in the memory of our 2481 brave soldiers martyred in 1962 war with China. Names of all the martyrs are engraved here. There is a light & Sound show which starts at around 6:30 pm in evening.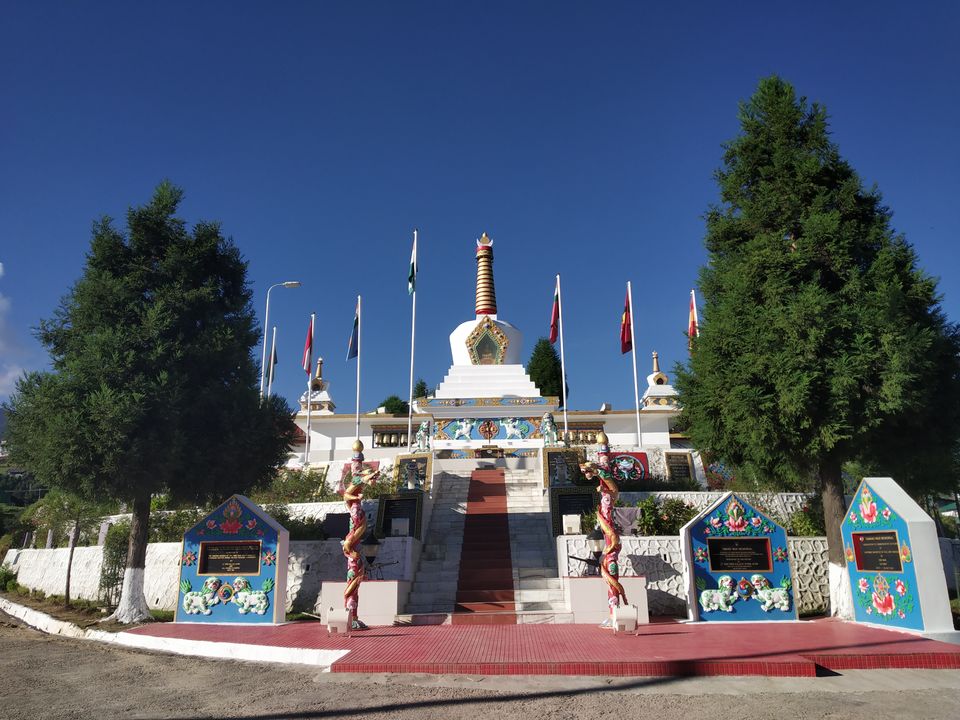 Day 4: PTSO Lake-Bumla Pass-Sangestar Tso Lake.
( Requires special permit, Hotel reception arranged the permits for us.)
*PTSO Lake/Pangateng Tso Lake*
Pankang Teng Tso Lake, also called as Ptso Lake is on the road towards Bumla. The water is pristine and crystal clear. The overall view as nice.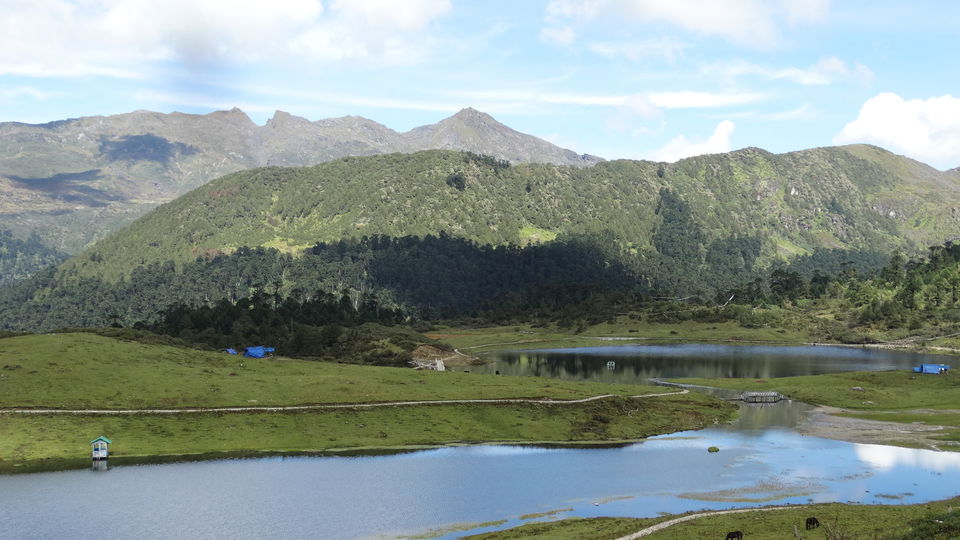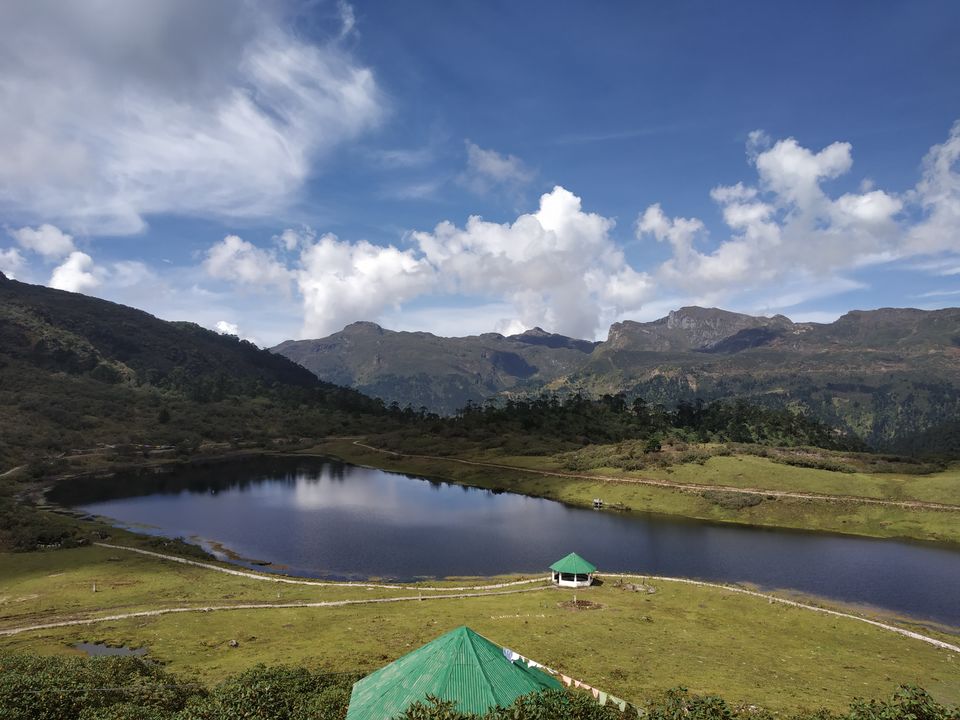 *Bumla Pass*
On reaching there, we were greeted with free hot water and tea, after that a Jawaan took us for briefing at the India-China border gate.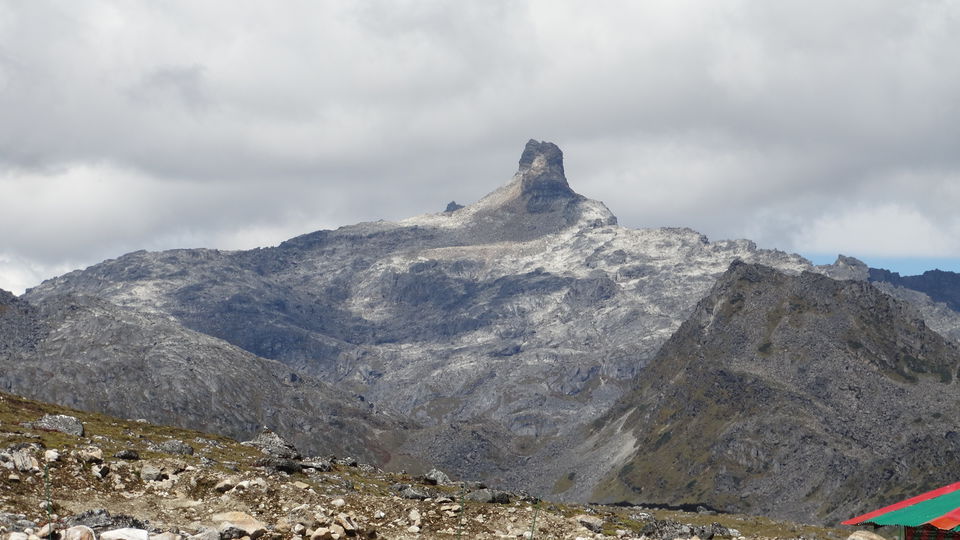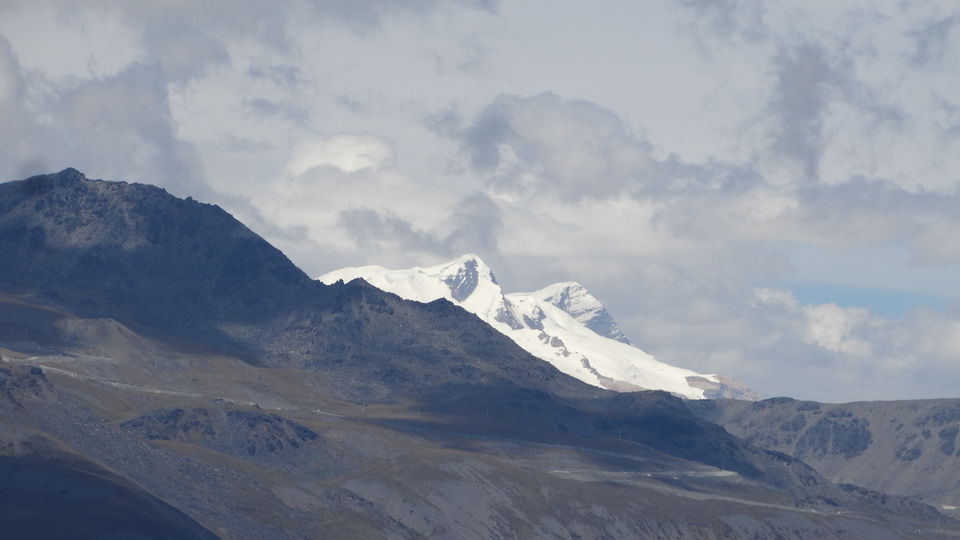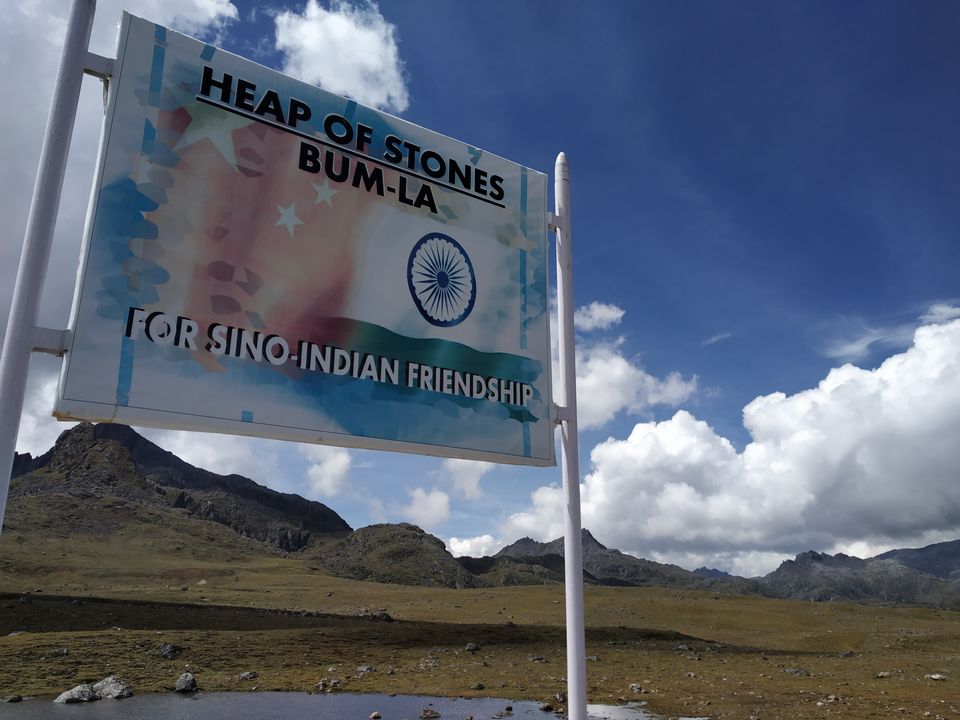 *Shonga-tser Lake*
After the songs of the Hindi movie Koyla which featured Madhuri Dixit became popular, this lake has also become popular to the tourists as Madhuri Lake. Very unique feature of lake is the remains of trees trunks standing in between the lake. The lake was formed as an outcome of earthquake in 1972.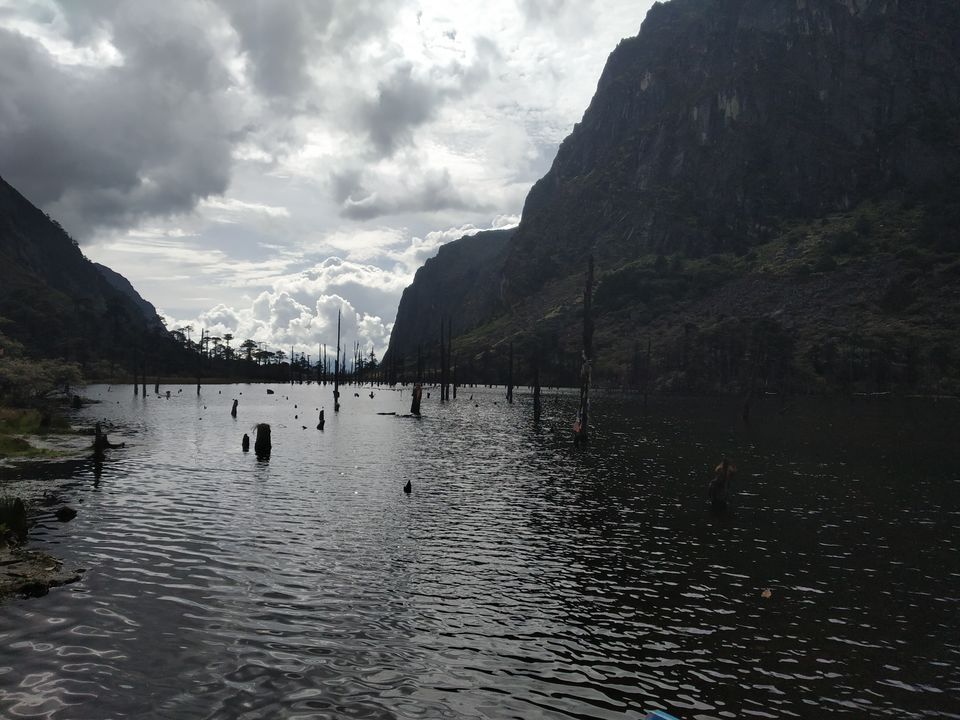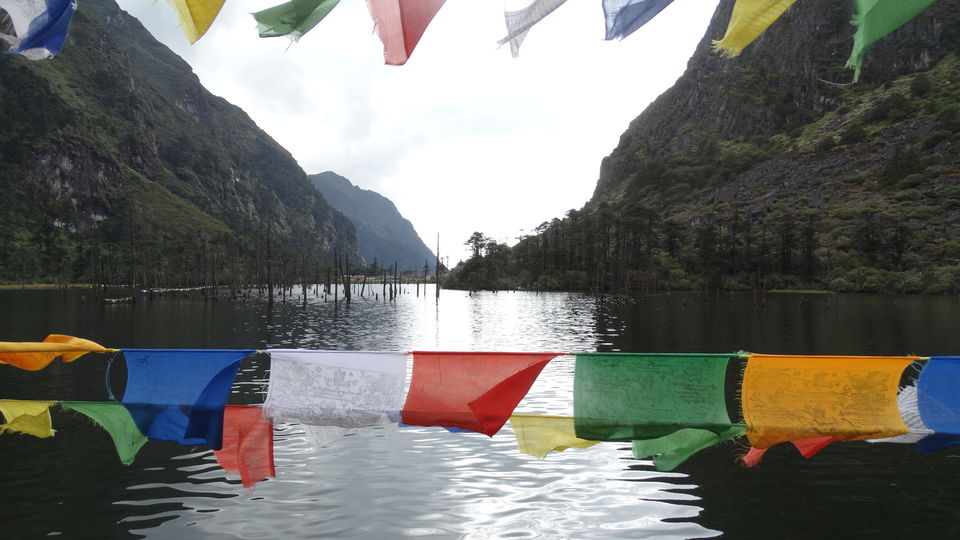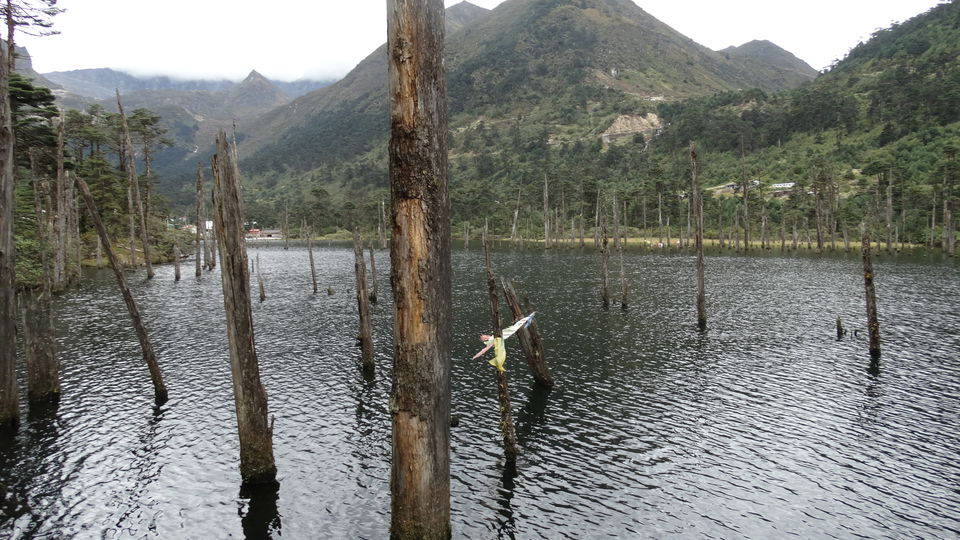 *Tak-Tsang Gonpa*
The name means "Tiger's Den". It is near to Shonga-tser Lake. It is believed to have been hallowed by the visit og Guru Padma Samhava in the eight century. Legend has it that the Guru Meditated in a cave here for some time.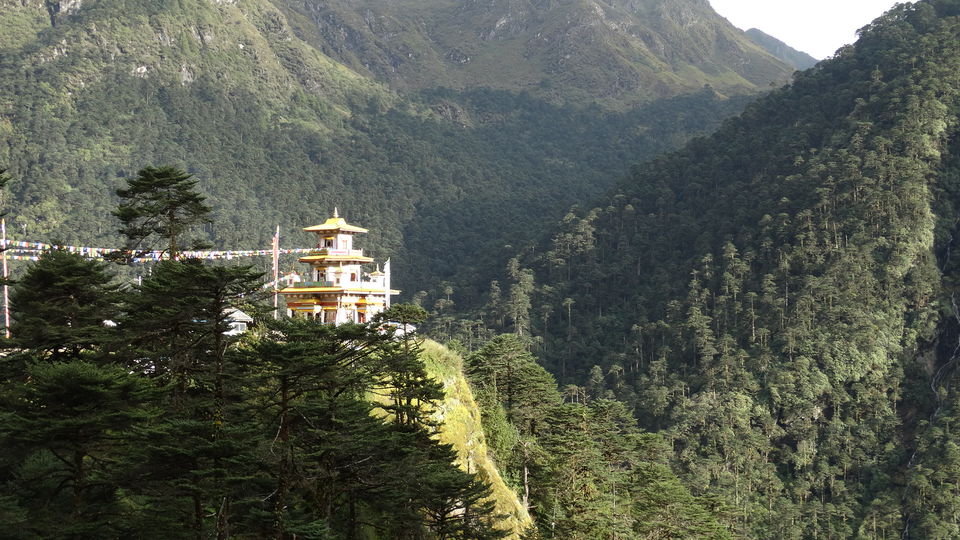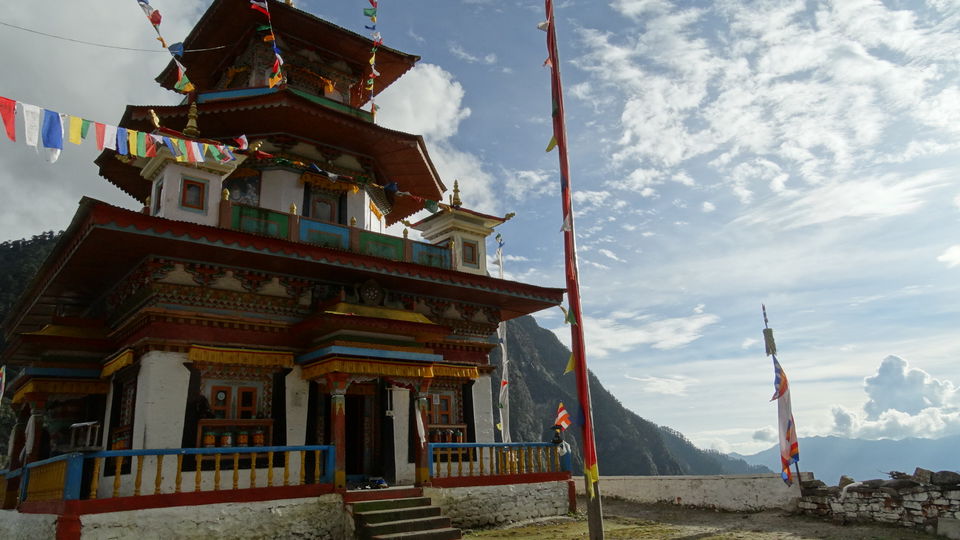 Day 5: Tawang-Tenga
We started our journey back to Tenga. We left Tawang around 06:30 am. On our way our fist stop was Jang Falls
*Nuranang Falls*
Also known as Jang Falls.It was really nice to watch this waterfall. Mesmerising views with greenery all around.It's huge and feels great to go to the base of the falls and experience it.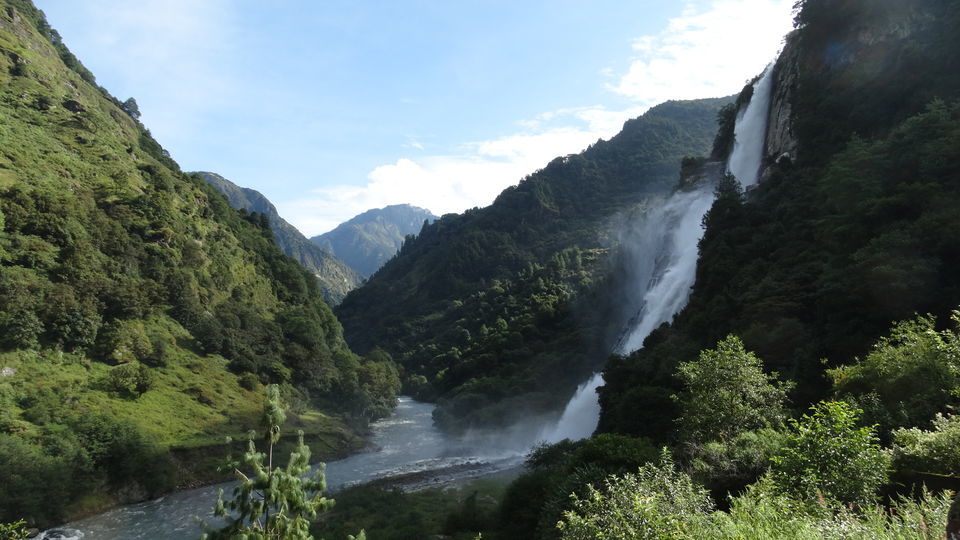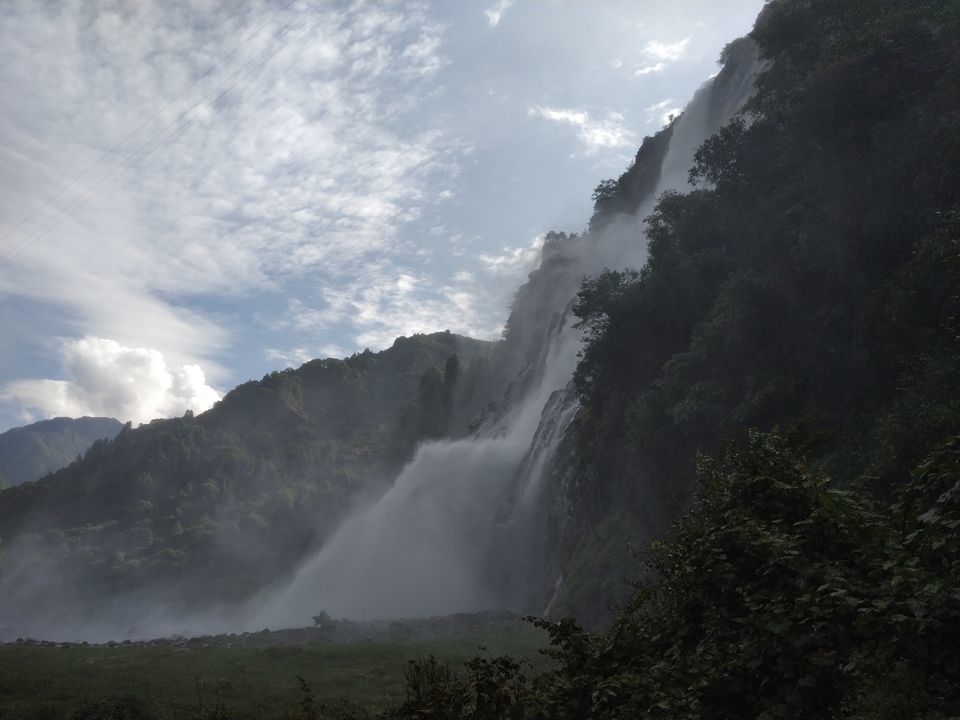 *Jaswantgarh War Memorial*
This War Memorial is Dedicated to a Indian Soldier who along with two local Monpa girls prevented the Chinese army from advancing in the Indian Territory. He was awarded Maha Vir Chakra posthumously at the Battle of Nuranang.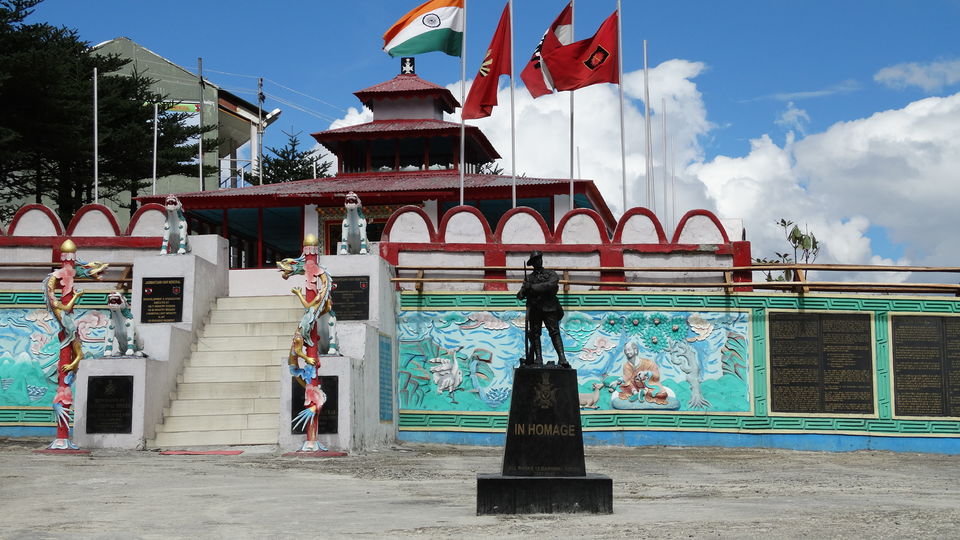 Day 6: Tenga-Guwahati.
As we knew the road to Bhalukpong was in a pretty bad shape, we decided to take another route to Guwahati. The Trans-Himalayan Highway. Our our way we visited an Apple Farm and Gyuto Monastery.
*Shergaon Apple Farm*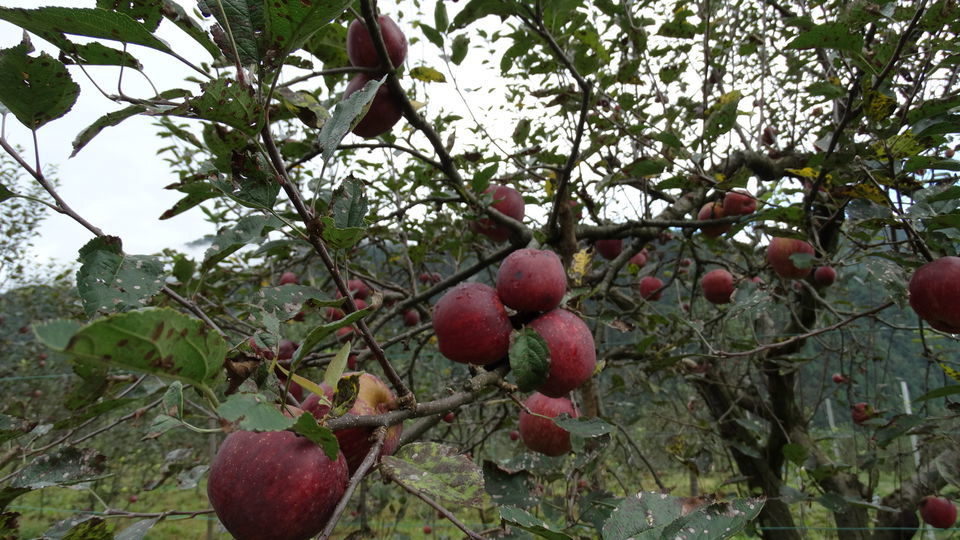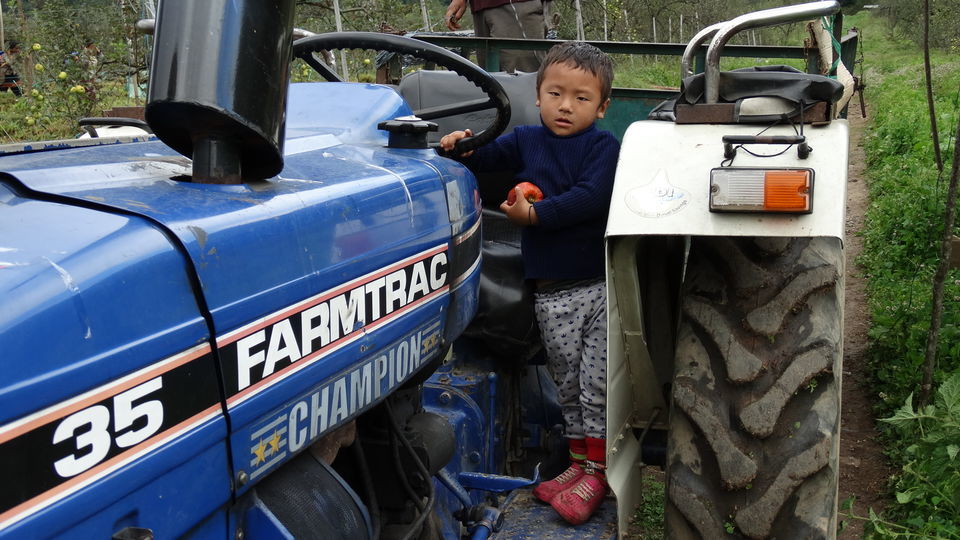 *Gyuto Monastery*
It is said to be the first Gyuto monastery in exile. Later the head office was shifted to Dharmasala. Only few monks live here now.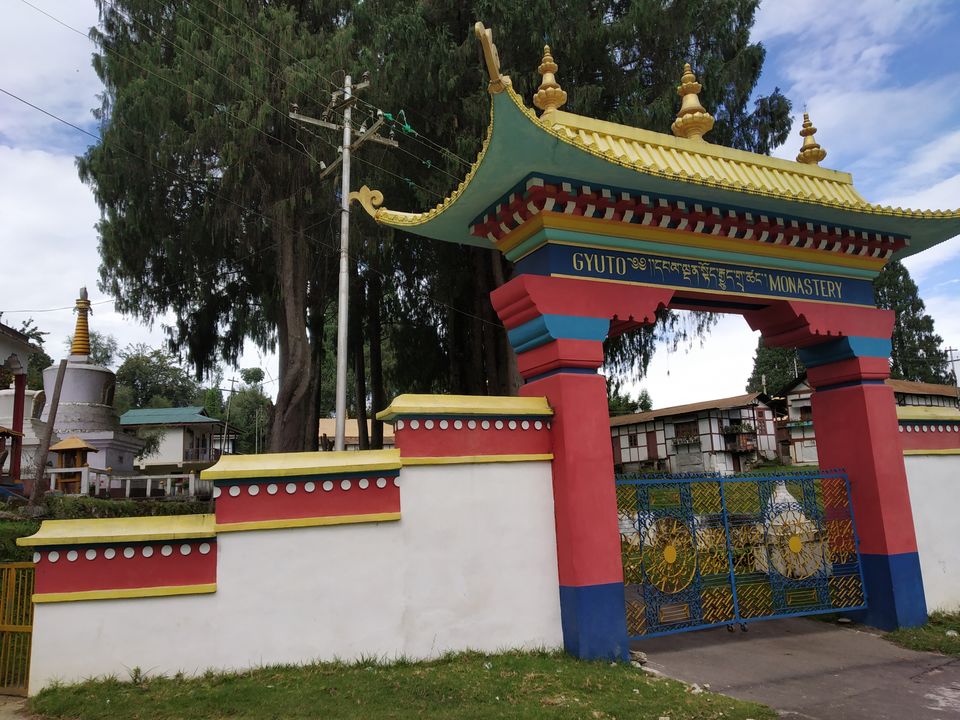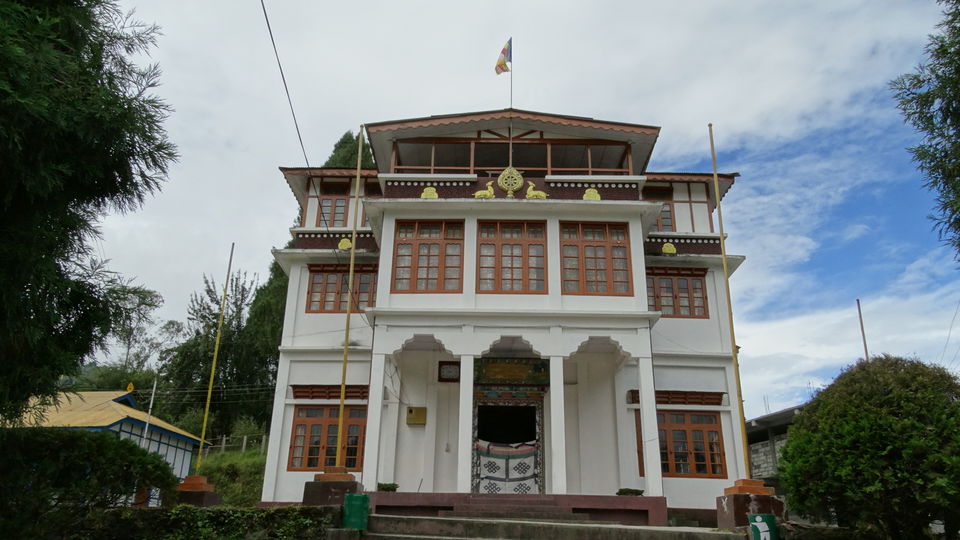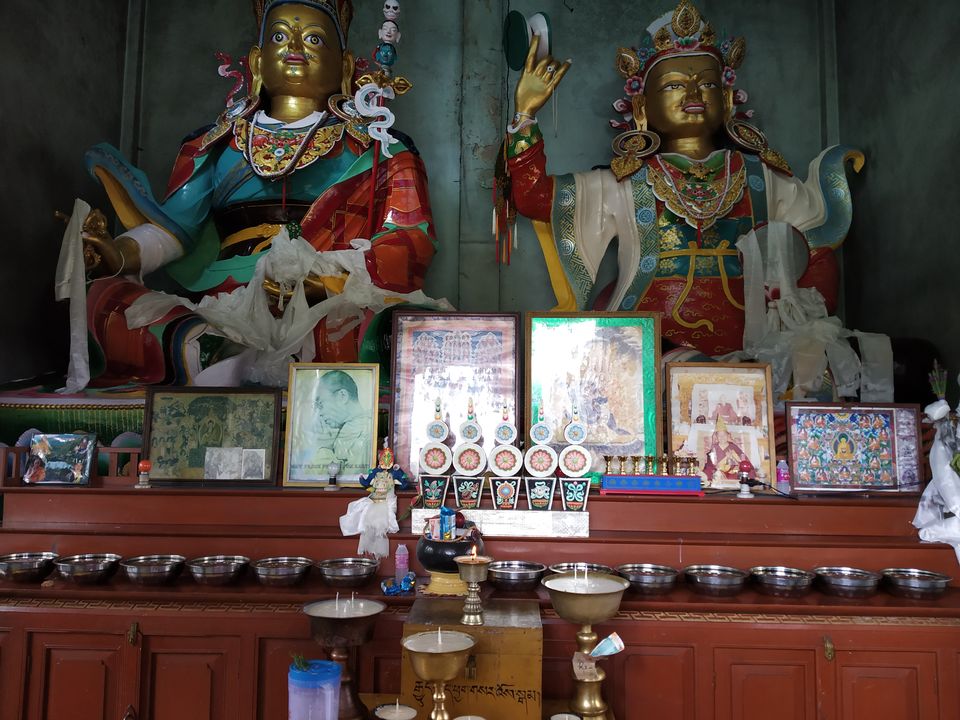 We reached Guwahati around 03:00 pm. With this we came to the end of our beautiful and mesmerising trip.