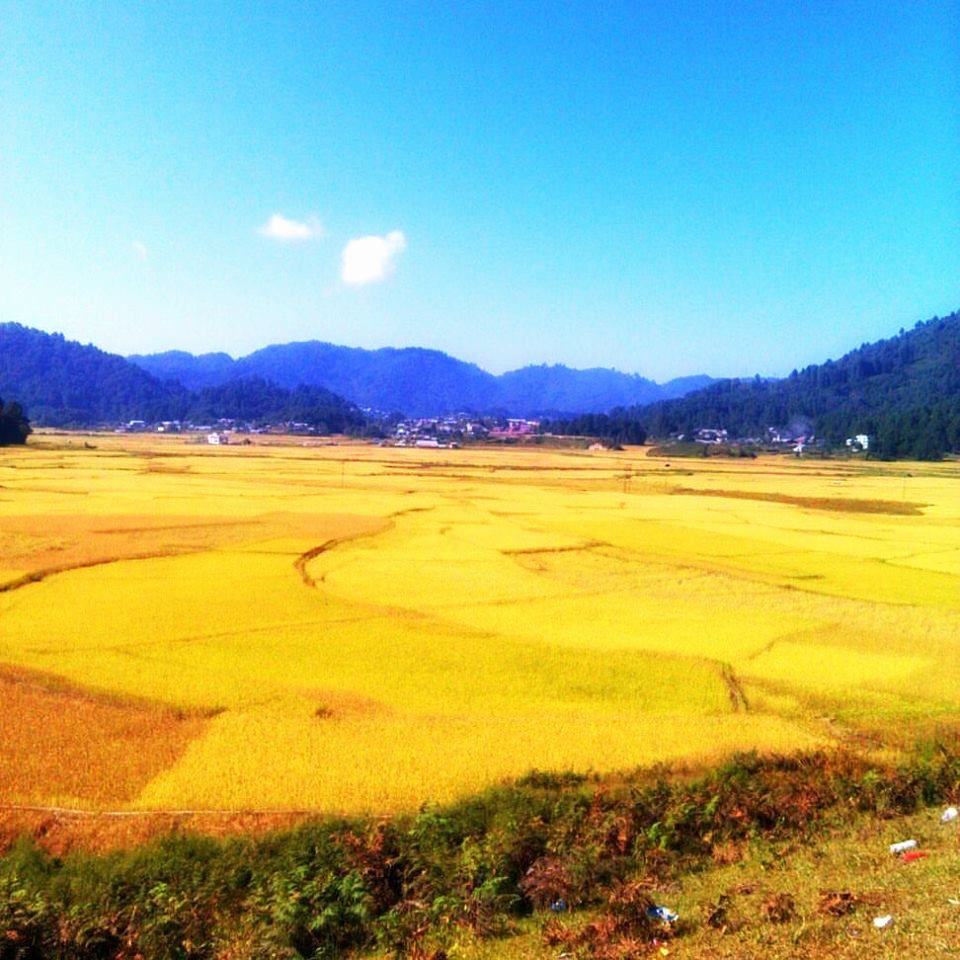 How strange it seemed when I secretly wished this journey of mine should have never ended. I came back leaving a part of me there. My happy part!
It was not my maiden visit. I was in Ziro a few years ago when I had sales target to achieve. At that time I did not pay much attention to the place or the journey as my mind was occupied with so many things. But this time around things were different.
I was restless, my palms sweaty. I wanted the wheels of the train to get rolling as soon as possible. My friend sitting on the opposite berth was observing my uneasiness and finally asked me why was I not calm. I did not have an answer. Now when I think about it, I feel it's because I wanted to get out of my home town badly, to be somewhere where I'd see only unknown faces, my phone would stop buzzing and also getting the 3g connectivity would be next to impossible.
And as we moved finally I felt better. The whole train was full of travelers like me, going to the Ziro Festival of Music. The excitement in every pair of eyes was so evident. We all wanted to be there and set our souls free.
Sleep never seems easy inside a moving train. I woke up every time the train halted, be it at a station or in the middle of nowhere waiting for a clearance. As I peeped outside, it was almost dawn. There was a slight drizzle too. We were in Harmoti, which meant we would be in Naharlagun in about forty five minutes or so.
The train reached Naharlagun right on dot. As we got down from the train it started raining quite heavily. The ones who had not made their Inner Line Permits were in a queue to get the needful done. I saw many artists disembarking and wrapping their guitars, drum sets in huge sheets of plastic. I badly wanted a cup of tea, but to my utter disappointment there wasn't a single tea stall in and around this quaint little station.
We took a taxi to the town which is about fifteen minutes from the station. Went straight to the Sumo Counter to book our seats. We did get the seats but the next Sumo to go to Ziro was a ten thirty, which meant we had close to two and half hours in hand. We put our backpacks in the Sumo counter and walked around looking for a place to eat. The breakfast was the longest I had in my life! We had a lot of time at our disposal.
The Sumo started right on dot and soon we were ascending the hills. The road was curvy, rocky and the higher we went worse it became. The rains had made it slushier. The Subansiri River flowing below looked muddy with strong rapids. At a few places there were landslides too. It should have taken about three hours to reach Ziro, but the condition of the road, the slush and our driver getting down to help another Sumo driver whose car had a break down made the entire journey close to five and half hours.
Mr. Tam who was hosting us kept calling me to keep a track. At one point I felt I had completely lost it. I just wanted to get down from the Sumo and start walking.
But things did not take such a bad turn. We reached Ziro at three thirty in the afternoon and Mr. Tam came to receive us. As we hopped in his car, the first thing we asked him, "How far is your home from the Fest Site"?
"Oh! Don't you people worry! It's just a kilometer"!
That was perhaps the best thing we heard during this back breaking ride!
So there we were, in Hong Village. We followed Mr. Tam's footsteps and finally reached his home. I was super thrilled to realize that I'd be staying the next three days in a stilt house made of bamboo and wood. It was small. But neat and clean. What could more one ask for? It was a typical Apatani home with a huge fire place in the middle of the living room, which they use it to warm water, smoke meat and keep the house warm.
Mr. Tam seemed more eager than us. He asked us to freshen up as quickly as we could so that he could drive us to the Fest Site. And like obedient children we exactly did as he told us.
There was a sense of euphoria in the site. The party was just about to begin and would get bigger and better. Once we were given our fest blue bands, we were inside. We looked around the stalls, checked the food and other stalls selling memorabilia.
The ZFM (Ziro Festival of Music) officially kicked off by seven and the first band Dayglocrazie was a bit disappointing. Not only me, I heard people standing close to me sipping their beers saying the kick off should have been with a peppy band, not with someone who was singing such mushy mushy songs. But after that Yesterdrive and later followed by Omak Komut Collective took matters in their able and responsible hands and they literally set the Fest on fire and sent the audience into a frenzy.
And I knew this was the beginning of some serious tripping on good music.
The next two days that followed, we saw some of the finest and most talented people performing in front of us, from one in the afternoon till about ten at night.
MenWhoPause, Barmer Boys, Takar Nabam, Neel & The Lighbulbs, Tetseo Sisters, Run It's the Kid, North, Side Effect, Alisha Batth and my favourite Prateek Kuhad were the most awesomest (only if the dictionary permits me to use such a word!).
Disappointment came when on the third day of the fest (which was my high point) we saw a huge white chart paper with this written and I quote, "Dualist Inquiry CANCELLED L P.S. He could not make it because he was injured."
I was a sore miffed. Felt like a rejected lover. But then there were too many things that made up for that one disappointment. I was around with friends with whom I could be me and feel good and secure. Then there where the newer set of friends, we talked, laughed, sipped Apong and clicked selfies, exchanged numbers, added each other in Facebook, Instagram and WhatsApp too. We devoured on Apong (which is a local wine made from fermented rice and millet seeds). Out of all the Apongs the Apong made by the Adi tribe is the one to die for. Its sweet. It keeps you warm and gives you a happy high. The Adi Apong was served to us in slim bamboo hollows with bamboo leaves used as a cover.
The best thing about the ZFM was off course the music. But also it was about people I was with, the ones I connected after years that mattered a lot.
It's a week now that I am back home. But I am still hung over. About everything that is Ziro. The green and golden paddy fields, the sunshine, the clear blue skies, the clouds, the rains, the fog, the slush, the long walks along the paddy fields and pine trees, the music, the happy and unknown faces, the familiar strangers. I came back home full of wonderful memories. I don't know if I will go to Ziro again. Just feel that the excitement would not be as it was this time.
I told my host I can stay in Ziro for the rest of my life happily working in paddy fields, drinking Adi Apong, walking around not having a care about meeting deadlines and con calls!
Thank you Ziro Festival of Music, Ziro, Hong Village, Mr. Tam (my host) and most importantly Bobby Hano the organizer!
Its truly the "Journey of your Life"!
Frequent Searches Leading To This Page:-
arunchal pradesh holiday package include festivals, festival of arunchal pradesh, ziro festival holiday package, arunchal pradesh festivals packages, festivals in arunchal pradesh