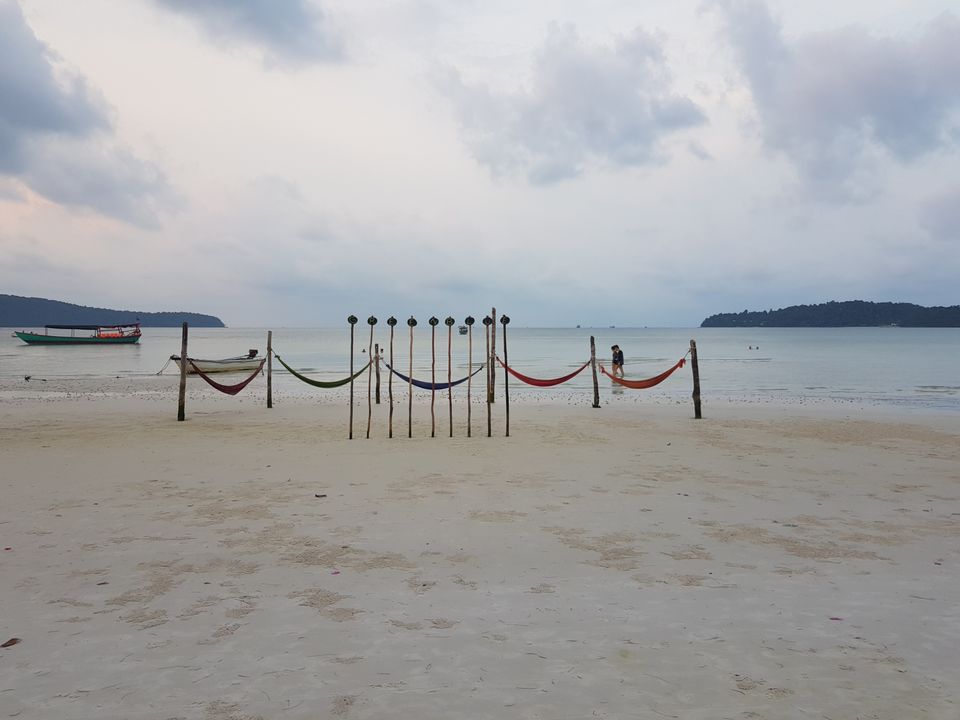 https://myaffairswithtravelandwine.wordpress.com/author/myaffairswithtravelandwine/
It's been a long time since I wrote anything down. Quite a few trips went by and quite a few stories about them still lay unedited and raw in my drafts. But today as I sit in the comforts of my house in Bangalore, I feel the need to write down this story as a token of gratitude to a stranger who helped me and my husband out when we thought we had no other way out of the situation we had found ourselves in.
If anyone doesn't know me yet, it has to be noted that I am an excessive planner. I plan every minute of a trip and get extremely panicky when there is any uncertainty in any minute of that plan. I even plan the restaurant I will have my coffee at on my layovers and I plan where I can sleep when my layovers are too long. Given this context, I must remind the readers that my mental state while going through the below episode was somewhere between "mental trauma" to "too traumatized to digest the happenings".
Air Asia has always been a fairly decent option for us Indians to travel to both Far East Asia and Oceania. Almost all my trips to that side of the world have been through Air Asia. My first international trip with friends was to Thailand and Air Asia made that happen given that we were slightly broke 22 yr olds back then.
Times have changed and Kuala Lumpur(KL) airport has also changed a lot. Now a much much better airport to transit through, I find myself almost making it my home during my layovers. So it was no surprise when I did my research for Cambodia that the best flights to make this trip happen were Air Asia flights. But this is exactly where my problems began. Booking through skyscanner (as always), I was directed to Kiwi.com to make the booking. Usually a trustworthy site, I booked my tickets and didn't look at it again until I reached the airport for my trip. I knew my onward was through KL but my return was through Bangkok (DMK) airport. I never had any problems transiting through these airports before, so I never really thought about it again.
The day of the travel arrived, and we headed to the Air Asia kiosk. One look at our tickets and the lady at the counter tells me that I need a Malaysian Visa to transit through. This obviously came as a shock to me as I had transited through KL a lot many times before. Turns out each leg of my journey was on a different PNR and they couldn't issue a boarding pass for my onward journey from KL. 2 hours to go for the flight, I was thrown off guard with this piece of information and as my first reaction was to panic and start demanding a justification for this random turn of events. The manager then shows up to tell me that I can pay extra to merge my PNRs. I didn't really know why I had to pay more for that, but now at 1 hr and 45 mins away from the flight, I just didn't have the heart to argue. It was a birthday trip and I just wanted to celebrate in peace.
Of course, all problems come in pairs or maybe in more numbers. We had 2 kgs extra among the two of us for which they wanted us to pay INR 6K extra. Not sure if anyone actually pays so much for an additional 2 kgs, but I just held my book, jacket and laptop in hand (as was suggested by a kind fellow Indian traveler who had mastered the art of perfect weight luggage - we Indians are good like that with loopholes) and easily breezed through check-in. The rest of the journey was rather uneventful but I had a premonition that my return will also have similar problems.
My first destination was a slightly remote island named Kong Rong Sanloem which was off the coast of Cambodia. It is a truly hidden gem with crystal clear sea green waters and a very laid back vibe. There was also minimum internet coverage and all my traveling woes disappeared as I changed into my bikini and hit the waters. I was exactly where I wanted to be. Away from laptops, excel sheets and a high-pressure job with a constantly urgent sort of environment.
2 days on that island was pure bliss. With a heavy heart, we made our way to Siem Reap. At 40 degrees, I wouldn't call Siem Reap as a welcoming change, but yes access to the internet and air conditioning was definitely welcome. Another laid back town but with loads of tourists, we were already missing our island life as our tuk-tuk pulled into our resort.
Resorts in Siem Reap are considerably cheap and their Khmer hospitality was mind-blowing. We had stayed in Ankgor Heart Bungalows which was 1.5 kms from the center of the city but was well worth the value for our money. As a whole, Siem Reap was a place where my husband felt like tipping generously just because of their welcoming and helpful nature (not ashamed to mention that we are otherwise lousy tippers since we believe the cost of service is built into the overall bill). Overall, we had a pleasant stay and the resort offered us rather expensive gifts as souvenirs which had left us slightly shocked and elated. Riding to the airport in the tuk-tuk, we felt like a king and queen riding on a chariot.
But as luck would have it, such feelings lasted for just a short period. The man at the counter at Siem Reap airport didn't entertain our questions about merging the PNRs as we had done for our onward flight. We were expecting some sort of tussle at this point, but he just mindlessly issued our boarding passes, almost saying "Just get out of my country already". We mistakenly took this attitude as "Hey you, King and queen of Cambodia, nothing can stop you both now".
"Mistakenly" was clearly a light word to describe that feeling since we found ourselves in a very very scary situation as we landed at Bangkok's chaotic DMK airport. The transfer desk lady (unlike the ignorant man at the counter in Siem Reap), told us clearly that with the ticket we had, we had to enter the country and then exit the country. We were thankful that Thailand at least had Visa on arrival for Indians and we could probably just throw some money at our problems and we can reach India safely.
At this point in our first unexpected revelation, we had 3 hours to the next flight and we were still hopeful.
We then walked some distance to the immigration area which had like 4 to 5 areas which had Visa on Arrival written but didn't say in which order to approach these counters (I shall crib later about the state of affairs of the signboards at DMK). As luck had it we ended up at the wrong counter and we were informed there is a form to fill and we were directed to the right counter. The form filling would have been least of our problems had we had a pen handy but since we had to beg for a pen from a bunch of people belonging to a nationality that barely understands us and is known to be least helpful (will not mention which nationality they belonged to, but they were not Thai is all I will say), we wasted around 15 mins before someone with a kind heart decided to give us a pen. We fill up the forms, probably the fastest we have written after our 12th board exams and we quickly show up at the right counter. We find ourselves facing a stern lady who had just denied visas to a couple after yelling and howling at them in a language we did not understand. One look at the application, she tossed it back at us like we are a bunch of illiterates because we didn't have our photographs on the application. At this point, I have to say that we were hoping that there was some sort of transit visa which didn't require all the formalities of a regular tourist visa. But we were clearly wrong and we were sent back to find ourselves photographs that didn't exist.
With two and a half hours left for the next flight, we quickly ran around and spotted a photo booth. The lady there then informs us that she doesn't accept cards or USD (the only thing we have on us in the from of money) and points us towards an exchange. With exactly 14 dollars to convert and no ATMs around, we were given 394 Thai bhats in exchange. This was the first time we started feeling helpless. How can no exchange counter take cards, how can there be no ATMs when all the counters are accepting only local currency and how can there be no alternative when visa fee is expected in cash and in local currency.
Things were beginning to look really grim as we proceeded to try our luck begging to the lady at the photo booth counter. This was our make or break situation. There was no way we could have moved ahead without this photo. As we struggled to communicate our situation with her, she slowly opened her own wallet and added the 6 bhats we were short for the required photos. I could have cried at that point and fallen at her feet. A simple act of kindness towards two wandering strangers who looked out of place and clearly out of their country and looking for a way to get back to their own country.
I am not quite sure how this whole thing would have turned out if she didn't have the heart to pull out her wallet. I imagined myself cleaning toilets at the airport to find the cash for the photo and visa, but thankfully it didn't get to that. We took the photos in a hurry as we now had wasted another 15 mins. The final photo of mine is a keeper. I look exactly how I felt at that point of time: A tired traveler stuck in the wrong country with no way out. Though I think one can also say I look like a victim of human trafficking in that photo.
We then hurried to the grumpy immigration lady and was directed to a new lady who was probably my mother's age. She was kinder and approved our form without talking much. Here again, we had to fill a form but thankfully instead of sending us out of the line, she loaned us a pen after making a face that mothers typically make when they try to communicate things like "you are hopeless", "you will never learn" or "are you really mine?".
The lady didn't talk much and stamped our application and sent us to the next counter. This was the next point we were expecting to be screwed since we quite literally didn't have a penny to offer as a fee for the visa on arrival. A leap of faith is what we took standing in the line, waiting to get yelled at by the lady at the new counter. Without saying a word she looked at our onward tickets and issued us visa fee exempted Visa on Arrival. I couldn't thank my stars enough but it could have helped if I knew this part beforehand (point to be noted for the planner in me, yes I have not yet made my peace with this slip up from my side).
With 2 hours to go, we then rushed to the last immigration counter that is now filled with large groups of tourists. Just like the feeling when rainy black clouds part its way for a tiny ray of sunshine to pass through on a very very rainy and gloomy day, a new counter opens up and we find ourselves the first ones at that counter.
The stamping sound at the immigration counter had never felt so good before as we managed to get ourselves a free entry into Thailand. Just when we think that all is well, we now come face to face with the reality of DMK signboards. We ended up spending 15 mins which we didn't have to spare to find where the departure area was and when we finally made it and saw the kms long lines at the Air Asia check-in counter, we just wanted to give up and get a hotel in Bangkok. We managed to spot a lady working for the airline in this mess and she directed us to ahead of the check-in line. Not sure if there was ever anything in my life that aligned itself so well as if I had all lucky stars in the world. I always believed that hard work and planning trumps luck any day but I stood corrected at that moment. We all need a bit of luck to survive in this world, and yesterday was my lucky day.
I want to say the rest of my journey was uneventful but DMK airport is a real nightmare with queues everywhere: at check-in, at immigration, at security, at food courts, just everywhere. But nevertheless I am back in my bed in my home country and I am happy to be back.
So in conclusion, plan ahead, be cautious of multiple PNR tickets for transiting flights, read all possible websites and blogs in case you are transiting through new airports and always keep extra cash on you. We were not the only ones struggling there, we saw quite a few people with passports stronger than an Indian passport going through similar problems.
Plan, double check your plans and be safe people! Until next time.
#badtrip