Kempegowda Airport ----->>> Don Mueng Airport City-DMK ( Travel,Visa)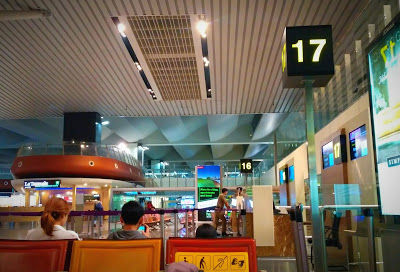 To Kempegowda Airport:
Depending on your budget and luggage you can either take a Cab or a Bus. Cab: 500INR to 1000INR depending on your location and your choice of Uber Cab. Uber Pool allows two people and two bags. KIAS bus: 255INR to 100INR depending on your boarding point. Time:1 Hr 35 mins to 2 Hr 35 mins depending on the Bangalore Traffic. I Boarded the Bus from Hebbal as there won't be any traffic after that and it took me about 45mins to reach. If you don't have a check in luggage you can be at the airport just 1Hr 35 mins prior. You can get the boarding pass downloaded and printed online or there is a separate counter for people who don't have a check-in baggage. So there is no need to go 3 hours prior.
Flights:
I took Air Asia Flight. The cost of flight varies from one airline to another. My trip was a last moment plan and it cost me a total of 16777 for the 4 flights I did take.
Bangalore To Bangkok(DMK)- 6999 (Fluctuates between 6633 to 6999 at the max it can go up to 20k depending on the airline)
Bangkok(DMK) to Bangalore- 6794(Fluctuates between 6794 to 7699 and max to 20k depending on the airline)
Bangkok(DMK) To Phuket- 1664 (Depends on how prior you book it. Can cost from 1188 to 3000 at the Max)
Krabi To Bangkok(DMK) -1410 (Depends on how prior you book. Can cost from 975 to 3000)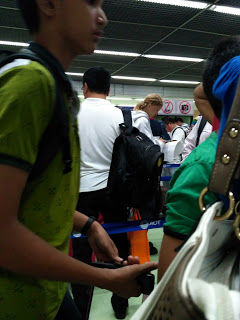 After landing, an Air Asia bus will take you to the arrival gate, walk upstairs, and you will find the sign *The *You need to have "Visa on arrival". There will be 3 visa officers or at least that was the case when I visited. Your documents will be verified by one of them and you will be given a token, wait for your token number to receive the Visa. photo size isn't a big matter as I used 4*5 which was Malaysia Visa photo requirement. *10000 THB again isn't a strict requirement, but you need to have 2000 THB for the Visa as they only accept cash and not cards. Hotel Booking and Return Ticket compulsorily. *You will need to give the immigration card (You will receive onboard) along with other documents. Arrival part of the card will be retained and Departure will be returned to you. Keep it safe!!! Once you are done waiting in queue for document verification, Token Counter, there is another queue for immigration before you leave the airport. It took me 1 hour 45 mins to get my VOA done.
There are many Tourist sims. True Move Tourist SIM, AIS Mobile SIM, D-tac Sim and many others. The cost will vary from 179THB to 599 THB. I bought a D-tac SIM with 9GB data valid for 7 days and it cost me 179THB. It was the cheap and best offer I could find. I stayed for more than 7 days but since I had WIFI at every hostel and hotel I stayed at, I downloaded offline maps and was quite familiar with Thailand by the end that I did not Top up the sim. If you want, you can top up the SIM in any local shops. Conclusion Local Transport: If you stay near Hebbal go to Esteem Mall and then catch a bus to avoid traffic. Others leave 4 hours before boarding if you have Check-in luggage else 3 hours before Boarding. It takes 2hours to 3hours to reach the airport depending on your location and traffic by bus. Check google map for time updates depending on traffic. Visa: Run to the counter before others to cut off the waiting time. Save additional time by filling your Visa form prior and take it along( I duly filled it and left it behind). Sim: I would suggest D-tac as I found it much cheaper and worked really well for me even on islands.