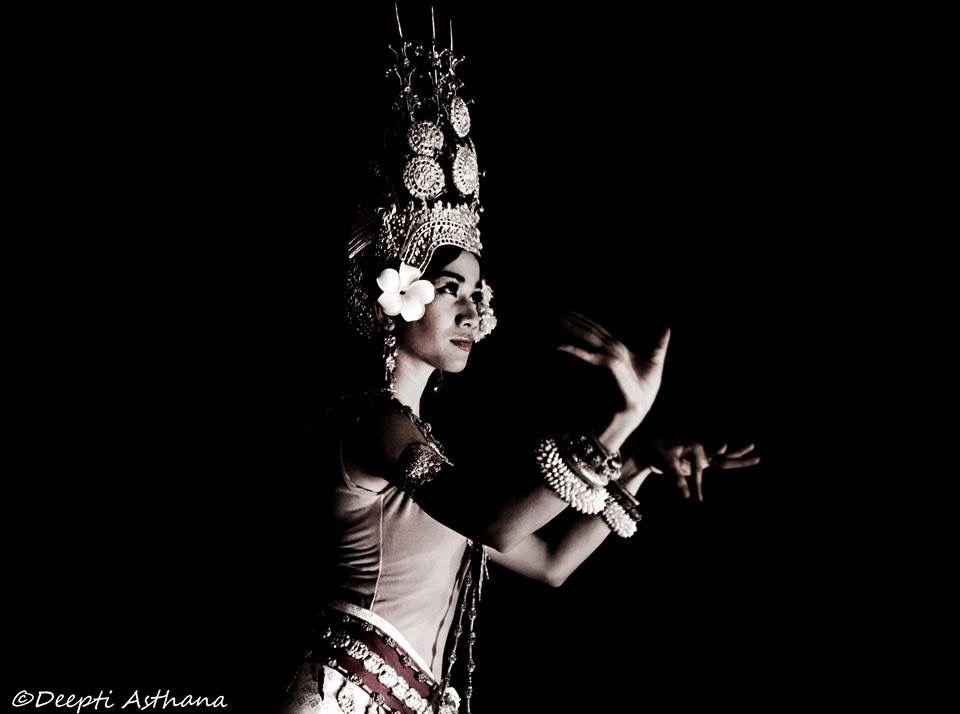 It is hard to believe that something so horrific had happened to Cambodia and the people are still trying to recover from the genocide and the pains caused by it. Almost 2 million people were killed and the artists and intellectuals and the arts and dance suffered the most. When the Khmer Rouge seized control of the country in 1975, the dancing had to stop. Khmer classical dance suffered a huge blow during the Khmer Rouge regime when many dancers were killed because classical dance was thought of as an aristocratic institution. Khmer dance shows a must watch when being in Cambodia. Most of the performers are young girl and they perform on stage after school so that they are able to make money to finance their studies. As economy in Cambodia is bad and this tradition helps and supports quite a few families. I felt privileged to see this ancient dance form.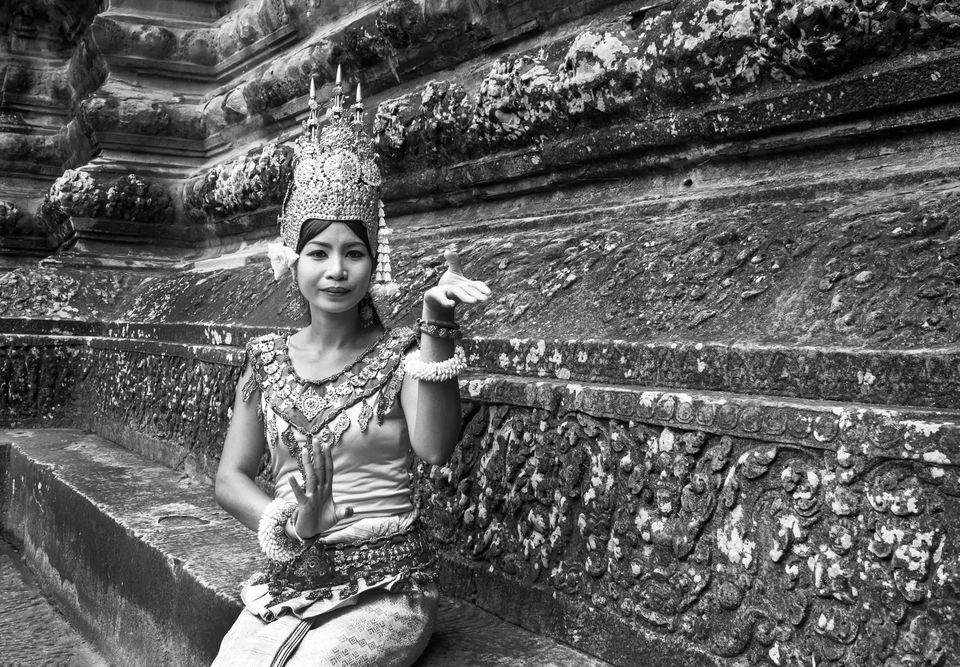 Apsara at Angkor temple
Khmer classical dance derived from Indian court dance, which traces its origins to the apsaras of Hindu mythology, heavenly female nymphs who were born to dance for the gods. The traditions of Thailand and Java (in Indonesia) also influenced the music and dance of Cambodia. In classical Cambodian dance, women, dressed in brightly colored costumes with elaborate headdresses, perform slow, graceful movements accompanied by a percussive ensemble known as the Pin Peat. Pinpeat orchestras include drums, gongs, and bamboo xylophones. Notice the graceful movements of the Apsara dancers.  You'll also see them depicted on the walls of many of the temples and reliefs at Angkor Wat.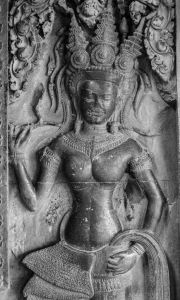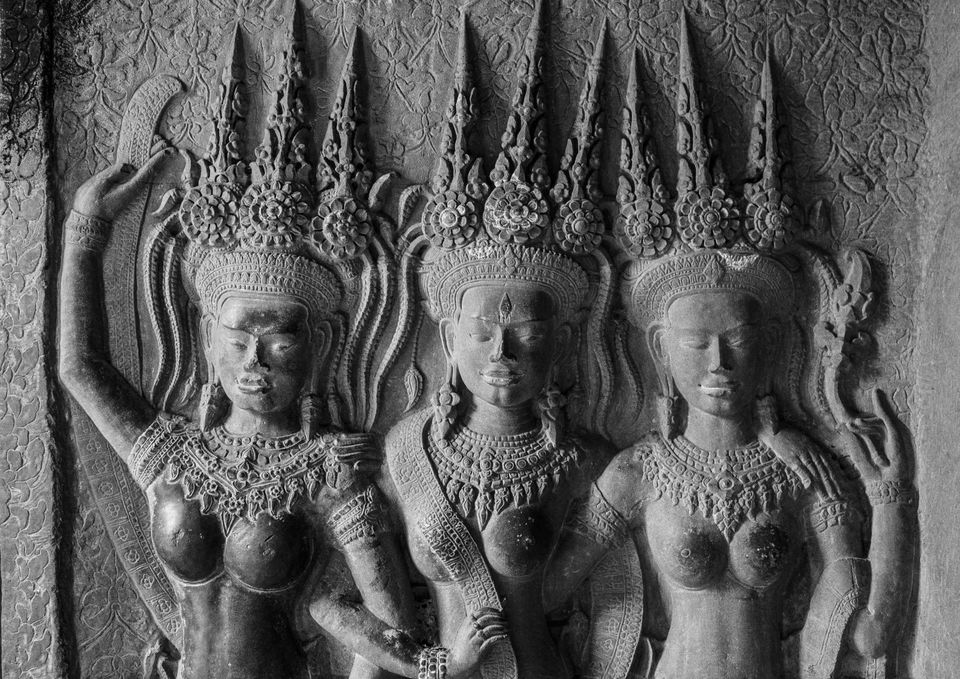 The Apsara carving at temple, notice the hair styles
I was so keen to watch the Apsara dance and extensively researched before the trip. There were some expensive dance shows and circus shows around $38 and I avoided those seeing the mixed reviews.  I settled myself on a very funky Temple pub who stages the show ever evening around 6. It was a great deal to drink a few Angkor beers and relish the cuisine as you enjoy the performance.  I was keen to meet the Apsaras and know the experience of young dancers, I asked the manager for the special permission to meet them in dressing room. The girls started giggling so did boys seeing me with my camera. However there was enormous proud and glamour in their eyes. I was closely watching their jewelries and dresses which were so very elegant specially the five pointed headdress. And after a while the whole room as filled with aroma of fresh flowers and pretty faces cladded in silk and glittering jewels.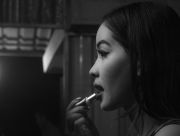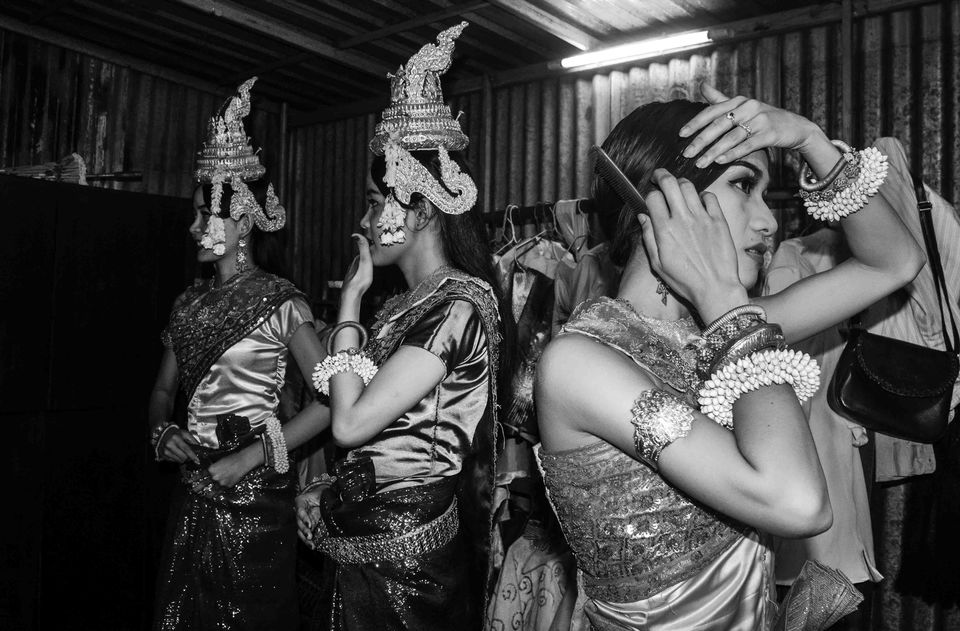 At the dressing room
After a brief conversation with them I settled myself at front table. And they performed 5 different performances on our very own mythological stories of Mahabartha and Ramayana.  There was a performance Sneak Toseay Dance - a dance around a tiger, a peacock, a deer, and other animals which was a great story telling. Their moments and gestures were very refined and no one could judge how young these girls were. I watched the full performance of an hour and half and was lost in the beauty, music and dance. My trip wouldn't have been completed without this important insight into the culture of Cambodia. And I can highly recommend Temple Pub as the quality of show and dance was as good as special shows and without the eyes hurting lazer.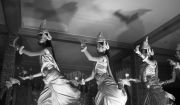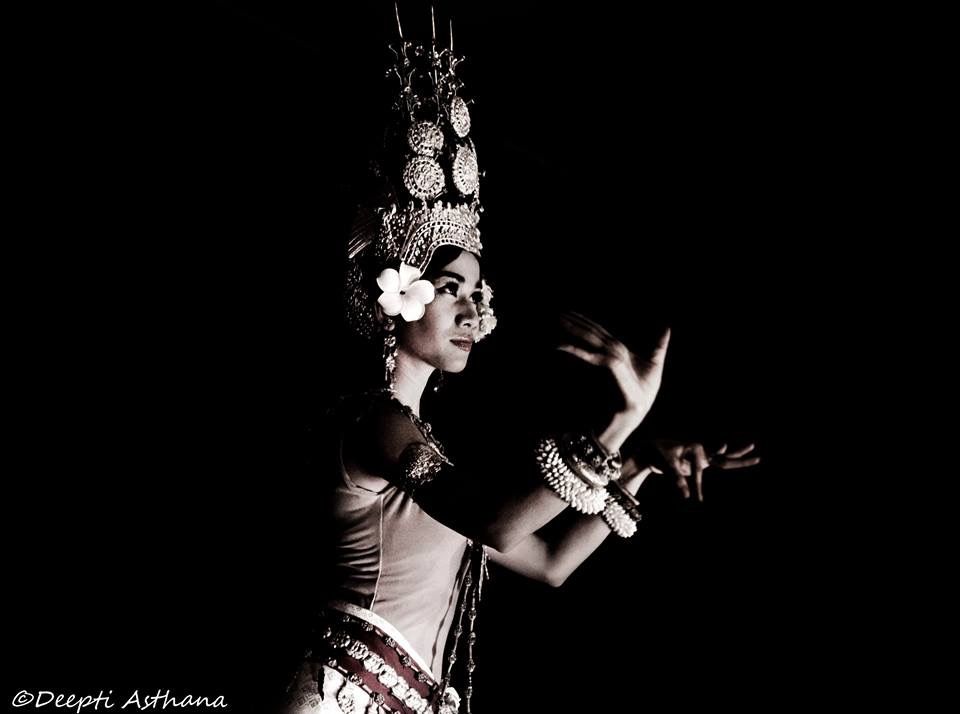 You may find more related articles and pictures on datravelography.com