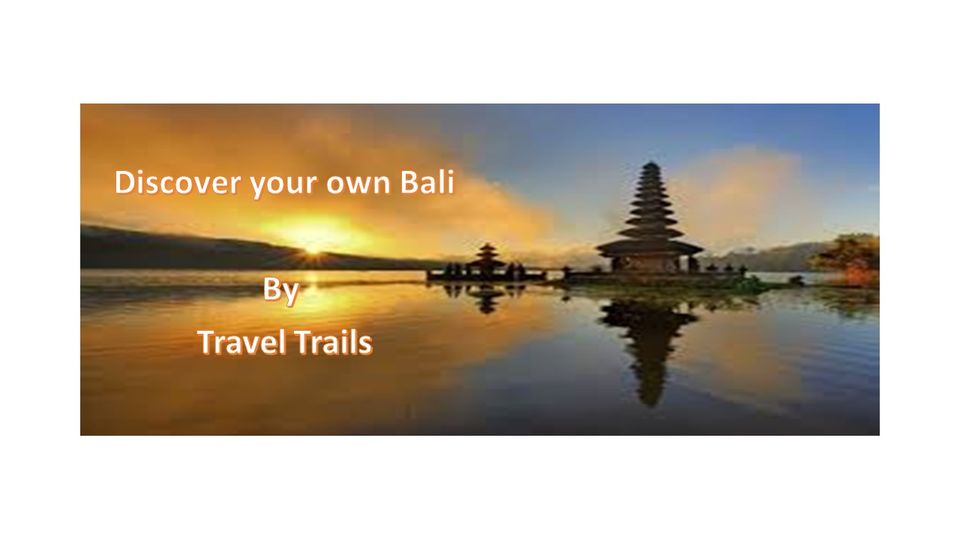 Bali is called " the Island of God" and it looks quite appropriate to say so, the assorted natural beauties of magnificent mountains, jagged coastlines, volcanic hillsides, quaint green sheets of rice terrace, beautiful beaches and coral reefs.
People & Culture
Bali reminds you of how important kindness and generosity are. The locals are lovely and cheerful, that it would be hard to have a bad day, someone will always put a smile on your face.
The locals from birth to grave are highly talented. on both sides of streets you will be able to see some beautiful carving and sculptures. They have the magical mystery of turning anything to splendid arts, may it be wood, metal, rock, clothes & the list goes on.
Being an Indian, I have never seen so much take away from Ramayana and Mahabharata even in India as much as i witnessed at Bali. The names of places, people , the beautiful carved sculptures in every lane and road midways epitomize their strong culture and belief.

Even in poor rural and neglected villages, beautiful temples are a common sight. Even layered pieces of palm leaf and neat fruit arrangements made as offerings by Balinese women have an artistic side to them.
Traditionally, displaying of female breasts is not regarded as immodest. You may able to see photos of Balinese women with bared chests, however, a display of the thigh is considered immodest. In modern Bali these customs are normally not strictly observed, but visitors visiting Balinese temples are advised to cover their legs.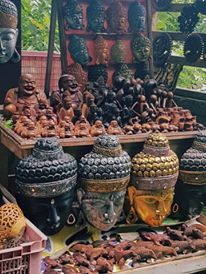 Places to explore
Kintamani Volcano:
Its one of the most favourite tourist destination. It has a magnificent view of the Mount Batur, which is still an active volcano and serene calm lake batur flowing down the lane. The temperature here is at least 15 degree less than the temperature of bali. We were fortunate to witness a mesmerizing sight of both rain and sun at the same time during our visit. You may just choose a restaurant with a view of Kintamani to sip a coffee or get high over a few bottles of local Lemon flavored "Bintang" beer.
Although we didn't go ahead for a trek, but for those who love to do it, can actually trek over mount Batur. It is a 2 hour trek to see the sunrise, and the rays creating those sprinkle of diamond dust look on the lake.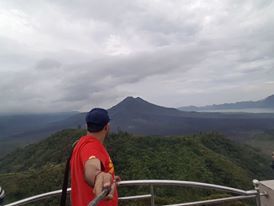 Bali Pulani Coffee plantation tour.
Over here the coffee processing is done in an organic way. Drying, roasting etc. is still carried out using natural tools such as pans made out of clay. You will get to try a wide range of coffee's. You may be seated overlooking the rice plantation and sip through these coffees. Out of the total range, we enjoyed Vanilla & Ginger the most.
You will be enthralled to see the process of making, one of the most expensive coffee named Kopi Luwak. Its made with coffee cherries eaten and defecated by the Asian Palm Civet ( one type of cat). Although, its been promoted all across Bali, we didn't enjoy the strong bitter flavor.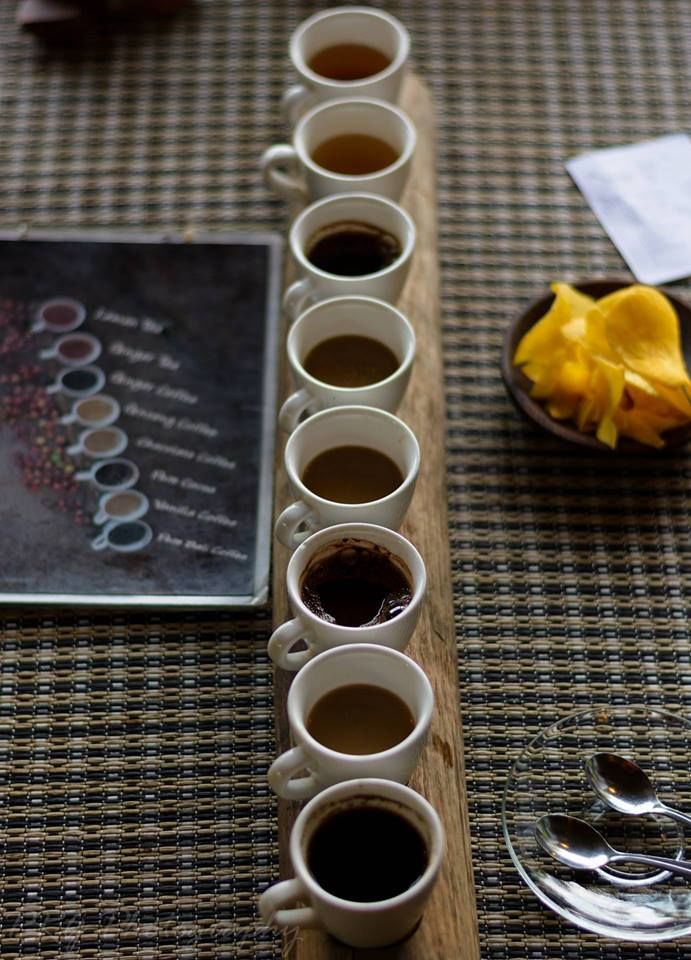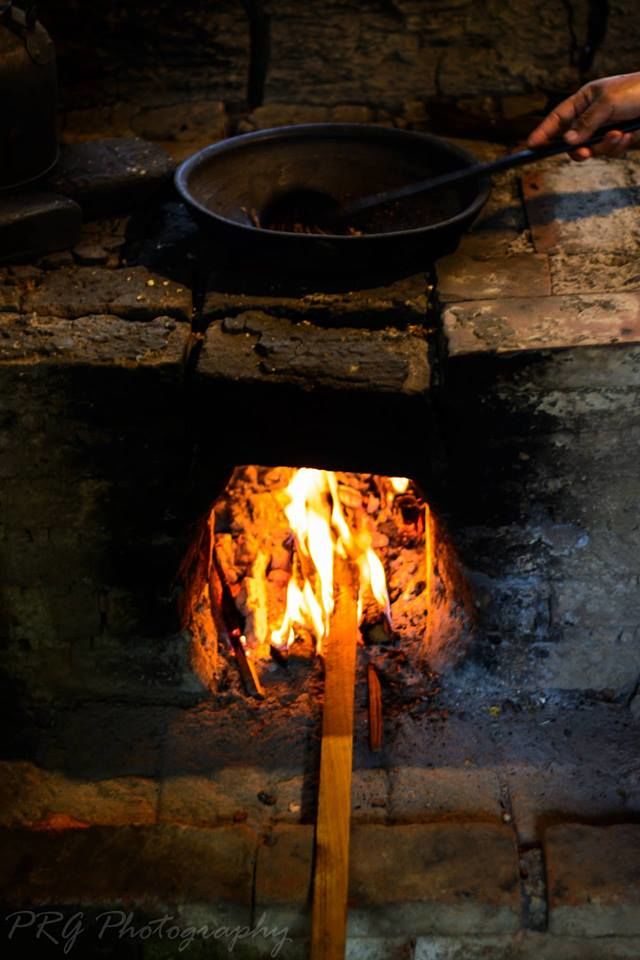 Don't be afraid even if its your first encounter with water sports. This is the place where you might want to try, the underwater Sea walking which is just 4mtrs deep, Scuba diving and much more to bring back the memories of coral reef and beautiful fishes. The beach is quite friendly to swim and laze out.
Nusa Dua Water Blow: You can witness the beauty of nature, as large waves from the ocean constantly crash against the rocked limestone edges. Preferably, visit here during high tide to see the massive waves making some dramatic appearance. Well as said, the journey is what matters not the destination, it speaks out at this place. The beautiful green garden kissing the blue beach is a strike to see. After the spell bound visuals of the water blow, you may want to relax on the shores of the beach. It has a piece to offer to everyone who wants serenity.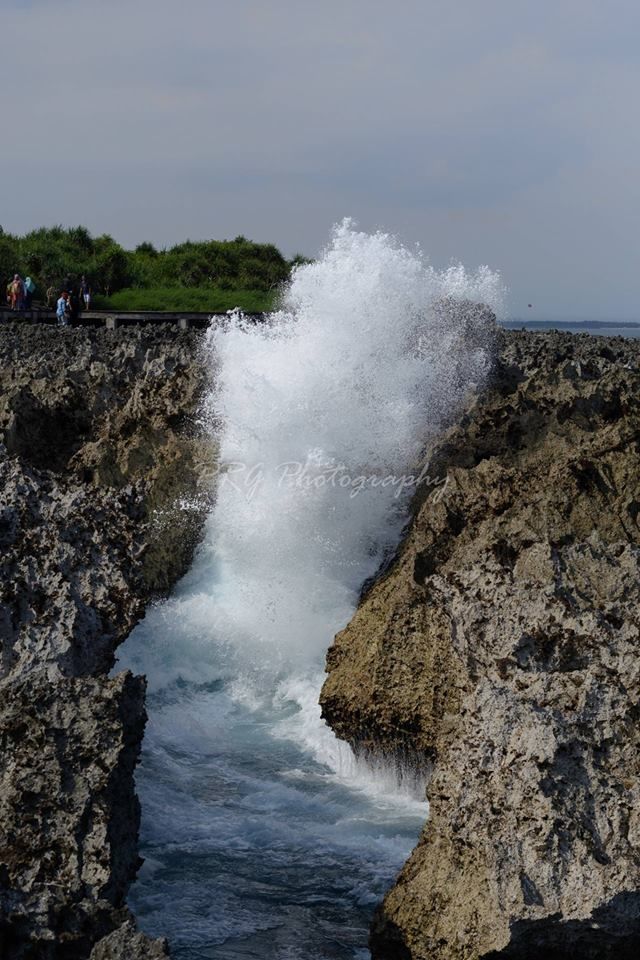 Uluwatu Temple ,one of six key temples believed to be Bali's spiritual pillars, is renowned for its magnificent location, perched on top of a steep cliff approximately 70 metres above mean sea level. This is famous for the sunset backdrop, but what grabbed my attention is the slow motion waves which shows splash of color change from blue to turquoise blue to snowy white. It is difficult to express the beauty of this place in words, you got to experience it. In midst of crowd around, you will have a reflection of time with yourself or your loved ones with the rendezvous of this color transforming beach hitting the cliffs.
You need to be careful with your belongings, as our pre ancestral Monkeys seems to have superior hold on the place.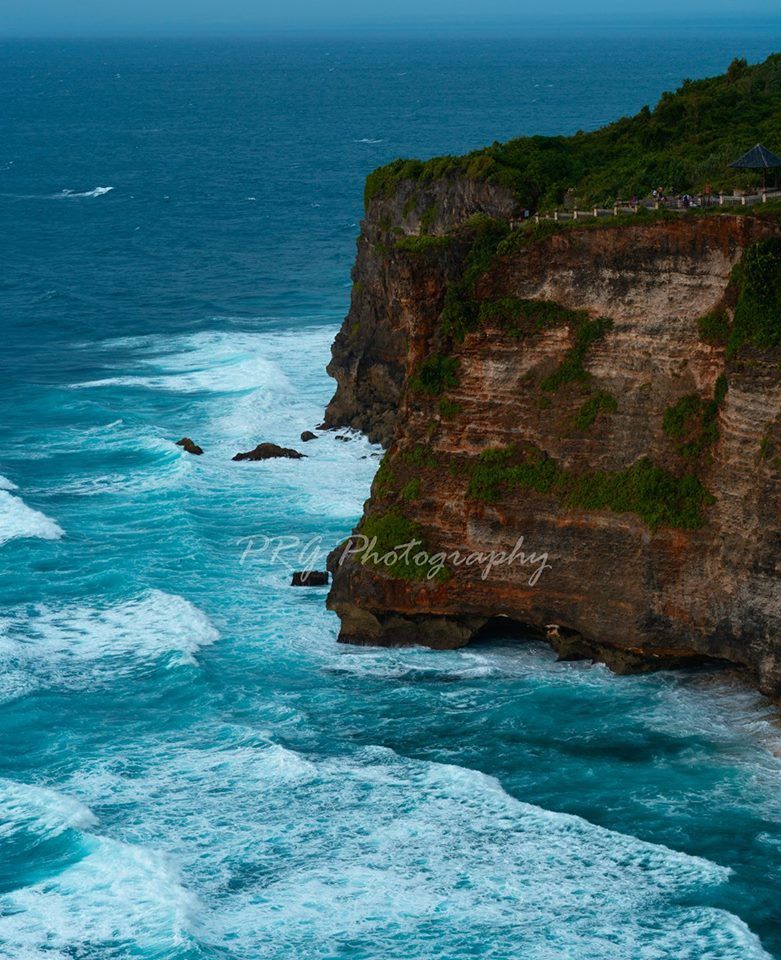 It is one of the most famous landmarks of Bali, famed for its unique offshore location and sunset as backdrop. Pura Tanah Lot- which means Land in the sea. During the high tide, the rock formation is completely surrounded by water, although we were there at low tide, it still didn't disappoint us. With both sides rock formation and temples, you may want to just relax and see the way sunset gifts the golden look to the place. As time passes, the waves get more dynamic and gives you a pleasant feel to sit and enjoy.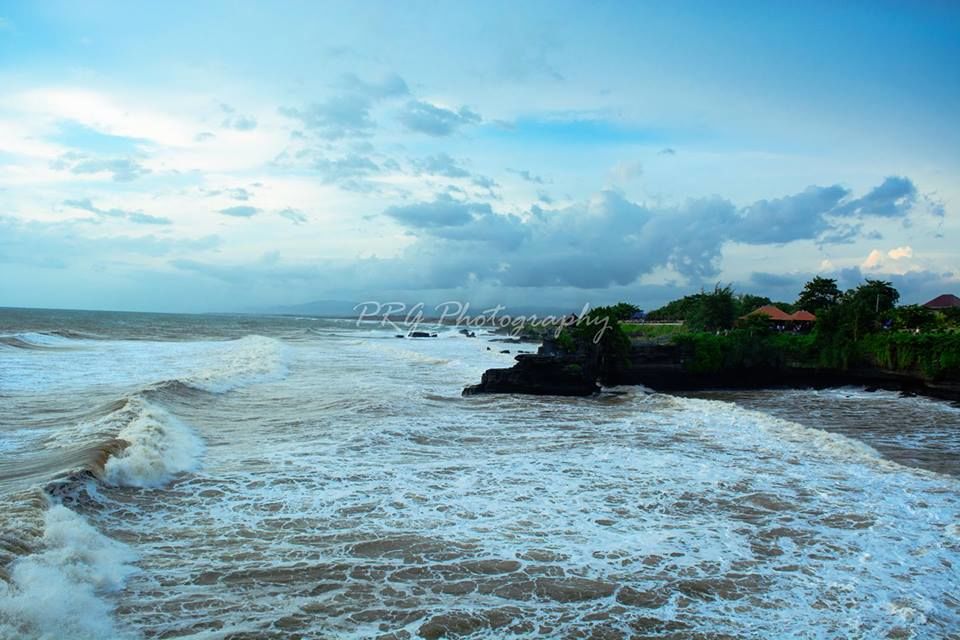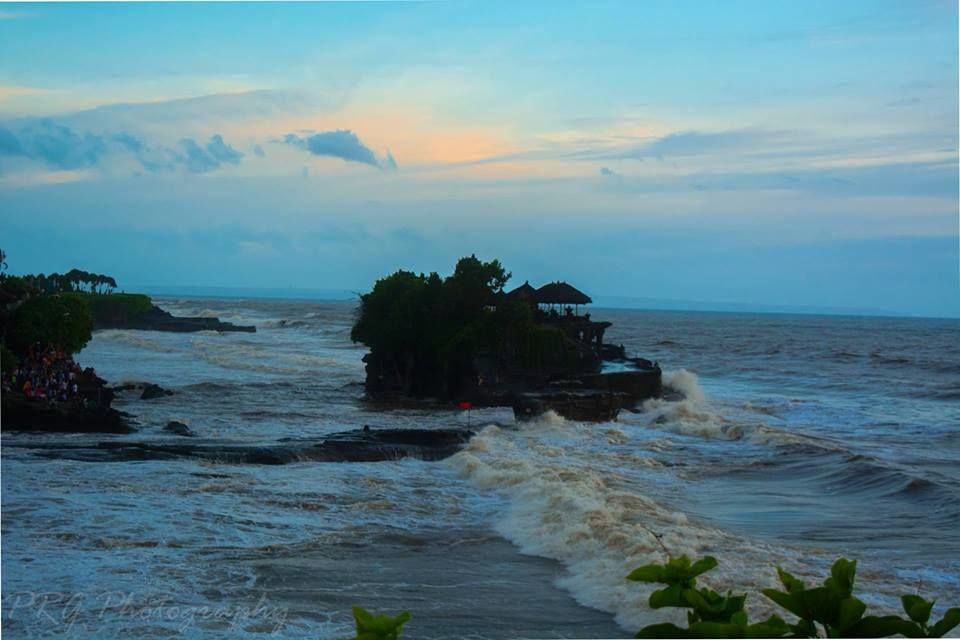 Tegenungan Water fall:
Here visitors can lounge in the pool underneath, letting the thundering water splash around you. If you can climb down stairs and back up, you can easily visit the water fall in an hour.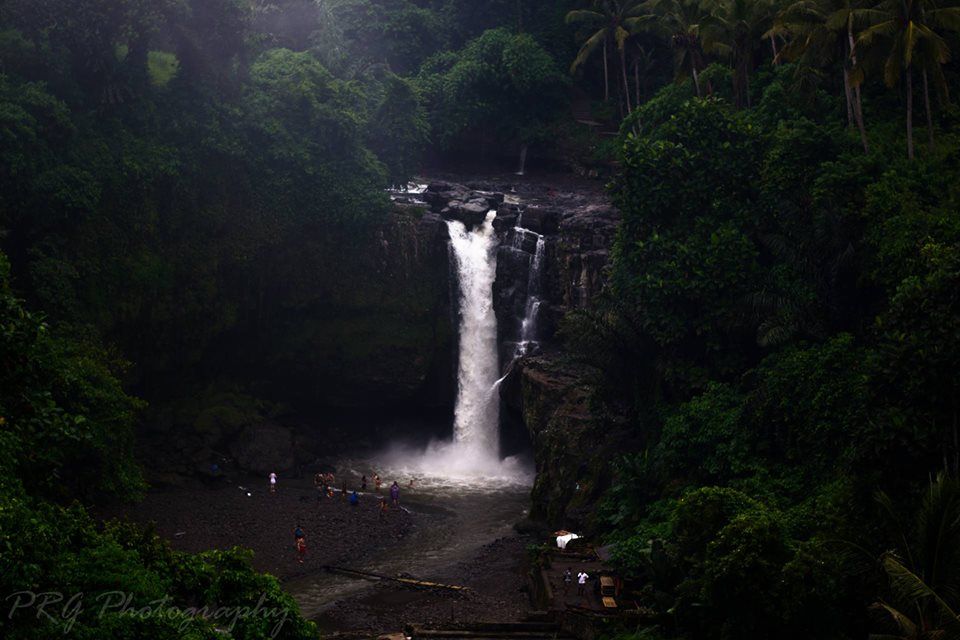 Places to visit in our next trip:
Nyang Nyang Beach: A secluded beach lined by a towering green cliff. You may need help from the locals to trace this beach.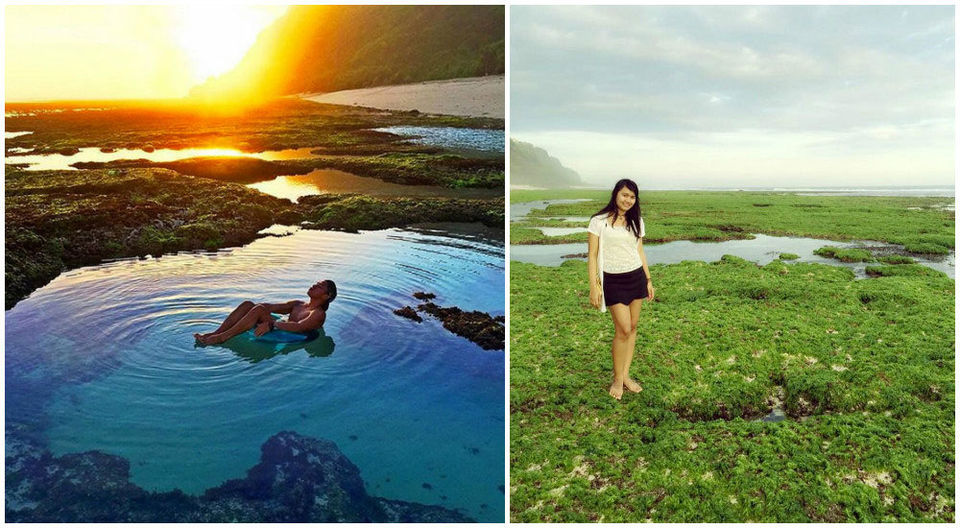 Nusa Lembongan: Nusa Lembongan is a small island off the southeast coast of the main island of Bali. Quickly becoming one of Bali's most popular attractions, this island paradise is a world away from the hassle and hectic pace of South Bali. Neither hawkers nor traffic gets in to this magnificent scenery; this is a fine place to just put your feet up and relax. Main activities include surfing, diving and snorkeling. The water is some of the clearest you will find anywhere, and a vivid aqua blue in colour.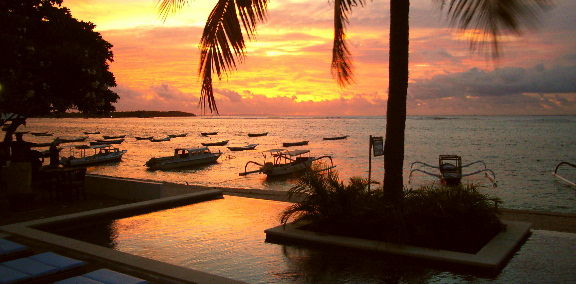 Nusa Penida
This isolated island boasts of rugged beauty, which is pretty much untouched and undeveloped.
Nusa Penida is a haven for local birdlife and home to some endangered bird species, including the Bali Starling. So if you love to bird-watch, you can start your journey at the FNPF Bird Sanctuary in Ped Village.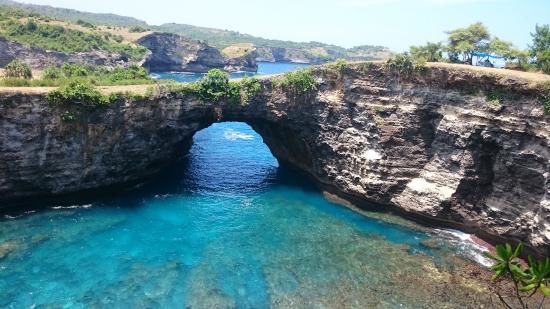 Delight your taste buds
Potato Head:
Well every one has heard about Potato head in Bali. It has all its rights to be famous. You can groove to the rhythmic music in the background, laze around on the garden beds or couches with an amazing windy view of sunset. I don't think it will be wrong to compare its name with a cliché saying of "couch potato" because all you feel like doing here is just laze around and relax. Not only they offer a great view, they also have some scrumptious food on their menu.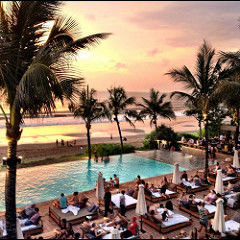 Woo Bar:
Who says you need to travel miles and climb rock to see sunset. Good news to all of you, its just right around the corner in Seminyak. It's a part of W retreat and has a stunning view of sunset. They have a mix of seating arrangement for all types of dining. May it be just cozy couches , seats around the bar or romance in their outside seating with the drama of sky in sunset.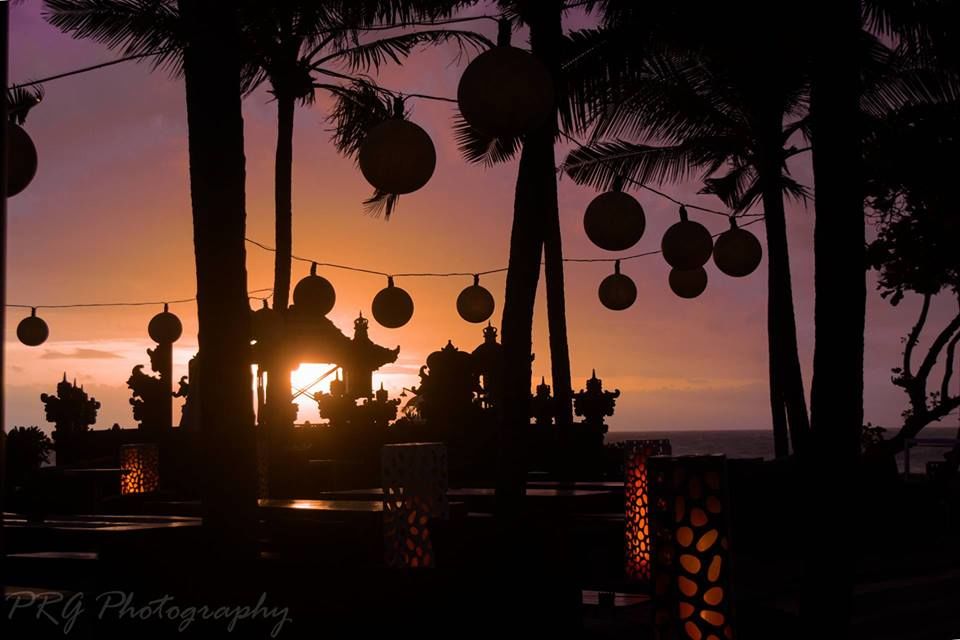 The Coffee Library:
It's a quaint café for all the coffee lovers. They have a vibe which takes you back to the most cozy comfort you ever been. You could choose from a variety of break fast and burger menu. If you want to hang out with friends, or just spend time with yourself, read book and sip through coffee, then my friends you are at the right place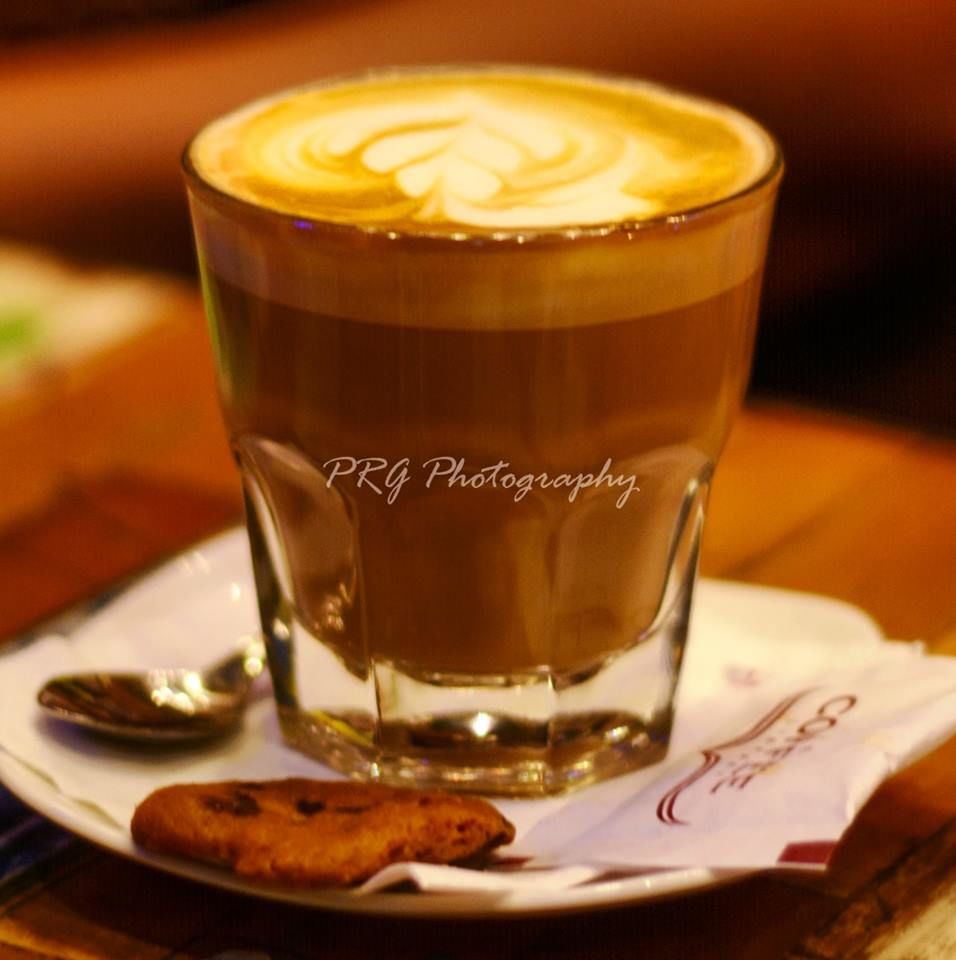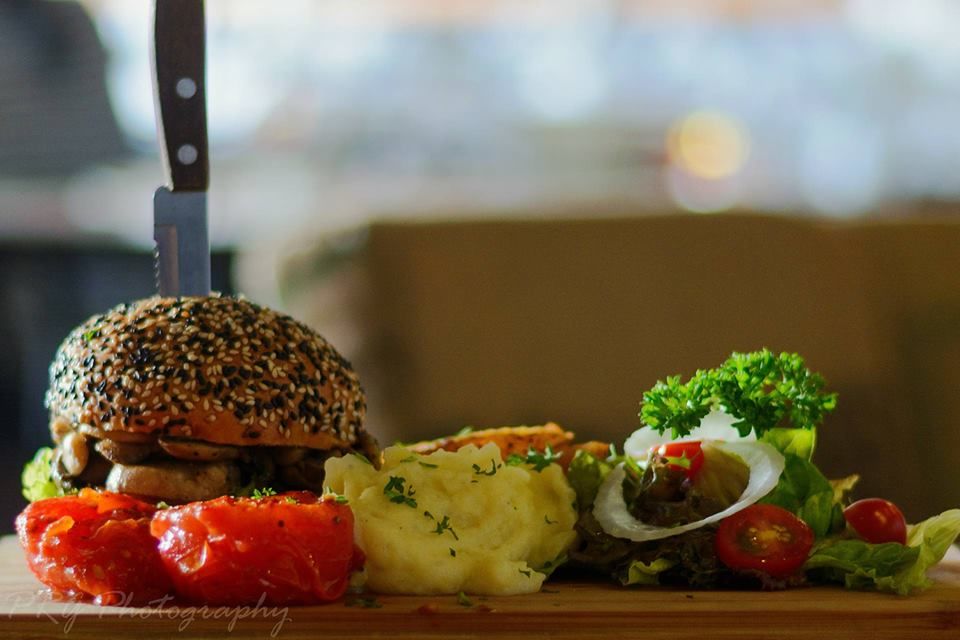 Sun Shoot Bar:
This is a local place with outside seating, well decorated with beautiful lighting. They have some delicious food to offer. Do visit this place for breakfast, lunch, dinner or even for small bites, they will not disappoint you.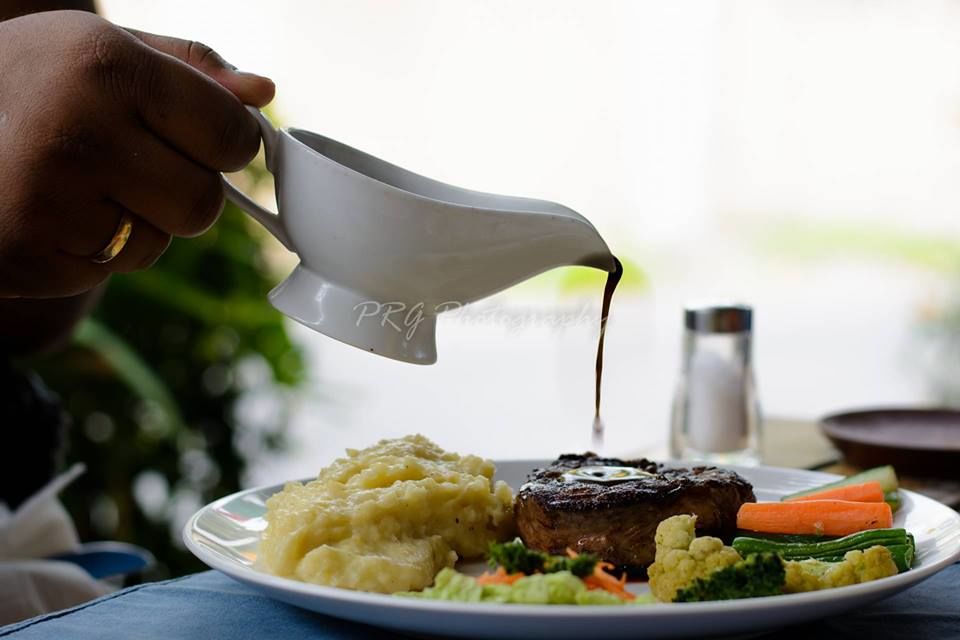 Ultimo- Italian Restaurant
A place where you will love to dress up and have a fine dining. Do try their Martinis or Daiquiris, they have some good range of flavors in that. Our personal favorite was the litchi daiquiri they offer. As we went on a Christmas eve, the place was beautifully decorated with Christmas trees and cute lighting all across. By and large the food was great, but our top pick was the White sauce penne pasta and Risotto.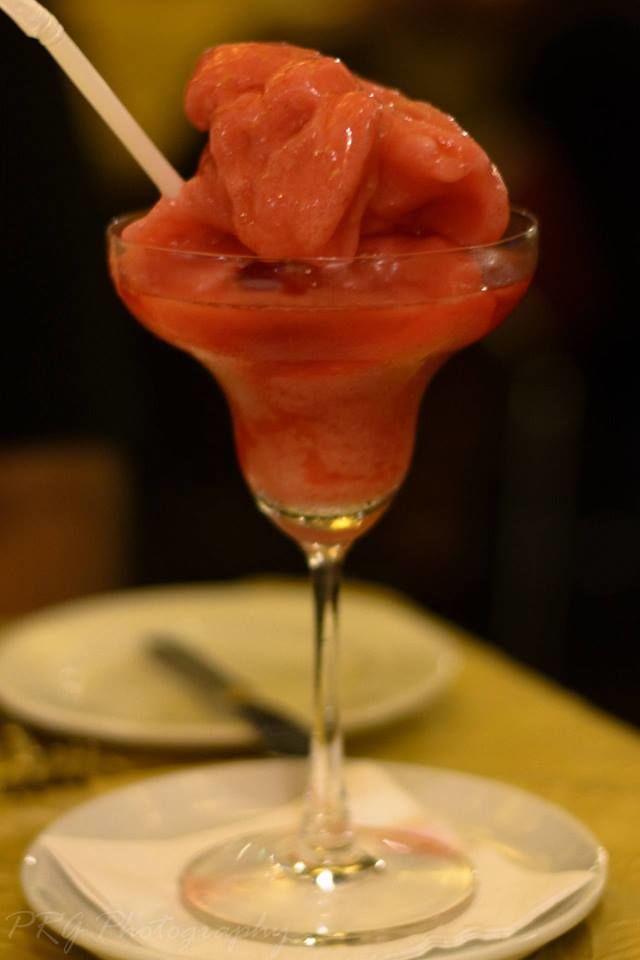 Stay:
Unless you are on a luxury extravaganza trip, you have many options to choose from air bnb or booking.com. We can personally recommend the place where we stayed. It's in a quaint lane with bunglows all around. The place belongs to an amazingly sweet person name Sugi. Gedong villa is located in seminyak with just 10 minutes drive to the beach and hush bush areas of Bali. Markets, restaurants, pubs everything is at a good reach here. The villa has two spacious bedrooms with a clean pool and an open kitchen. If you aim to have a mix of peace at home and party outside, then you are home.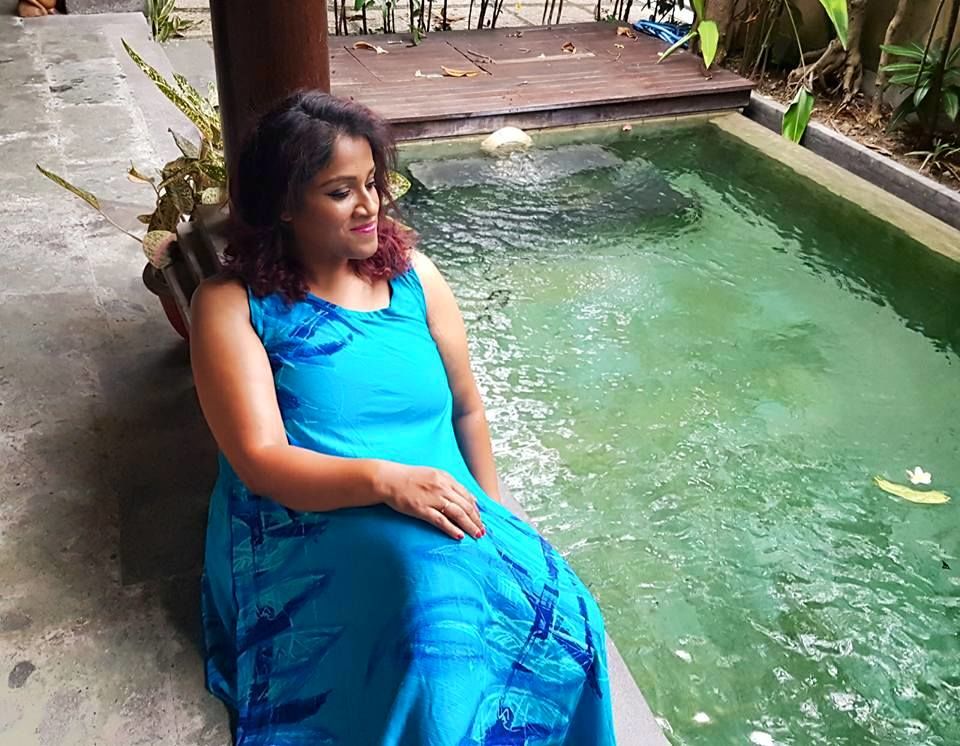 Shopping:
You have many places where you can walk around and shop. We visited the legian market and seminyak market. Ask for free markets, as you will get cheaper stuff. Make sure you bargain for everything here. They take a mark up of 50% on price , hence bargain accordingly.
Commutation
Places are well connected here through taxis. Always call for blue bird taxi, as they are the most efficient and easily available one. You can download the app for the same and book from there, as they have some attractive offers which goes on. If you planning for a whole day trip, we recommend to go ahead and book through local agents, as they will able to take you to places and can even act as guide.
Expense: for 7 nights and 8 days:
Stay: INR 280000 for 4 people for 7 nights
Food and travel in Bali: 60000 for two people
Total cost including flights will be approx.: 140000 for two people.
Frequent searches leading to this page:-
Bali honeymoon package cost from India, Bali honeymoon packages with private pool, 4 days 3 nights Bali honeymoon package, best places to visit in Bali Indonesia for honeymoon