We all have visited theme parks and hotels in various places, but have you ever visited an oil rig for a holiday? What if I tell you an oil rig will soon be transformed to a resort which has 800 rooms along with a theme park? Have I piqued your curiosity yet? Well, read on to find out more about this cool, new entertainment venue coming up in the Middle East.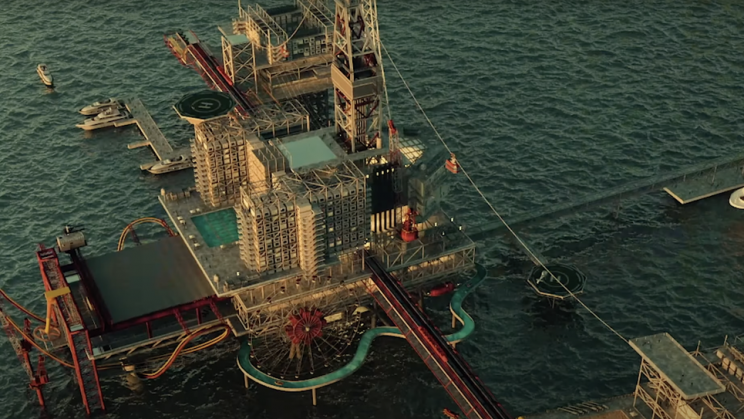 Saudi Arabia's Public Investment Fund has unveiled plans for its latest tourism attraction called The Rig – a series of connected platforms that span 150,000 square metres.
This upcoming tourist attraction is a literal oil rig in the Persian Gulf which will feature three hotels, 800 rooms, 11 restaurants, a roller coaster, a water slide, a Ferris wheel, go carts, bungee jumping, scuba diving, and a performance arena, along with many other things.
So if you are a sports enthusiast, a dare devil, or simply looking for a quirky holiday, this is the place is for you! Even getting to the Rig will be an experience in itself. Guests can travel in a ferry, yacht, cruise or even land at its very own helipad. Besides, the venue will have berths for 50 yachts.
The project is a wonder in itself and is expected to attract tourists from around the world, while being especially popular with citizens and residents of the GCC countries in the region.
A promotional video showed images of theme park water slides constructed on a drilling platform and a steel-and-glass hotel atrium at the centre of the attraction.
We are yet to get an opening date and as per reports the Project would be completed tentatively by 2025.
We cant wait to see this one of its kind experience and share more details with you! Till then don't forget to check out a photographer's account witnessing Saudi's untouched beauty.
Think we missed out on something? Let us know in the comments section below. Or write about it here and earn Tripoto Credits!