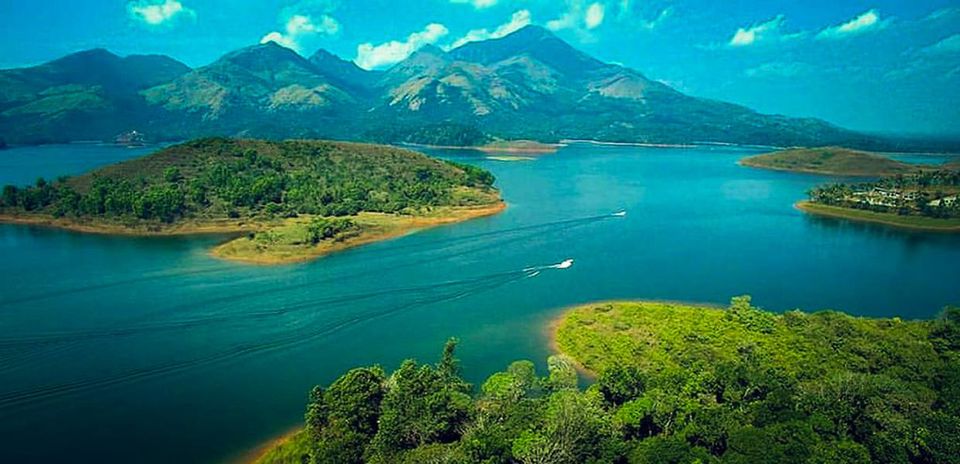 Natural scenic beauty and breathtaking landscape makes Wayanad one of the top touristdestinations in India. The most popular tourist attractions in Wayanad district include Chembra Peak, Edakkal Caves, Meenmutty Waterfalls, and Thirunelli Temple, among many others. Whether you're looking to engage in some historic tourism, or just enjoy a relieving outdoor adventure, there's always something for everyone in Wayanad. To accommodate the millions of visitors who stream here every year, Wayanad has dozens of hotels.
Note: booking an accommodation that's centrally located in Wayanad can be a tour-helper. This will effectively reduce the commute distance between yourself and the most popular tourist spots. Sultan Bathery (a historical town located in Wayanad) makes an excellent staging point from which you can easily travel to the popular tour hotspots in all of Wayanad.
Day 1: 7 am - Leave your hotel for Muthanga Wildlife Sanctuary.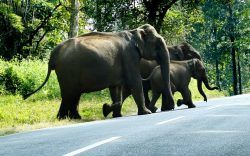 Tours at the sanctuary are typically available in shifts (7 am - 10 am), and (3 pm - 5 pm). Muthanga Wildlife Sanctuary is one of the top places that comes to mind for anyone who has extensively toured Wayanad. From Sultan Bathery, Muthanga Wildlife Sanctuary is just 13 kilometers (a 16-minute drive) away. The management at this sanctuary has placed great focus on scientific conservation with consideration for the lifestyles of the tribal people who live around the forest region.
There are so many elephants in this sanctuary that it was named a Project Elephant site. You can see a herd of elephants, some monkeys here and there, and lots of birds. Occasionally, you can see a tiger. The vegetation within Muthanga is composed of deciduous forests and evergreen forests that are the norm in this part of India. Perhaps the most thrilling thing about this wildlife sanctuary is that you get to enjoy a jungle drive, viewing elephants and other wildlife while at it. The Forest Department at Muthanga also organizes elephant rides for individuals who'd like to photograph and witness the large animal in its natural habitat.
Day 1: 10 am - drive back to your hotel for breakfast.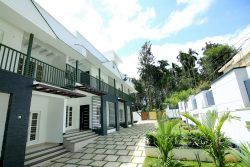 Day 1: 11 am - leave your hotel apartment for Kuruvadweep,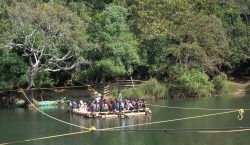 Which is about 1 hour 30 minutes (40 kilometers) from Sultan Bathery via the Panamaram - Nadavayal - Beenachi Rd. There is no food or people living on the island so you should carry some snacks or make sure you've eaten enough before embarking on this trip. Also referred to as Kuruvadweep, Kuruva Island is a protected river delta that comprises of a cluster of islands that are populated with dense fauna and flora. The island's geographical peculiarity gives it a serene ambiance.
The thing that stands out about this place were the attractive bridges made from bamboo trees and the incredible species of rare trees. Around the Kuruva Island area were also diverse species of orchids, birds, herbal plants waiting to be witnessed in this uninhabited island. The rafting here is actually a very enjoyable experience. The Kerala Tourism Department provides boats, and they will take a couple of hours to wade along the islands. You get to escape from life as you know it and spend some quality time taking in the great views. To safeguard the eco-tourism, partying and picnicking is prohibited here. But families can take lazy nature walks at Kuruva. The island is restricted sometimes (such as during the rainy season between June and September), so you should keep that in mind or at least enquire if you're visiting during this period.
Day 2: 5:30 am - leave your hotel apartment for a trip to Pookode lake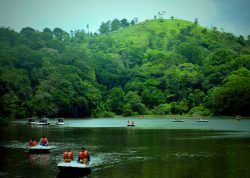 located about 44 minutes (37 kilometers) from Sultan Bathery, Pookode is a beautiful freshwater lake is 40 meters deep and spread over a 40-acre stretch. The calm and peaceful environment makes this one of the most popular tourist destinations in all of Wayanad. There are plenty of monkeys and other wild animals around here. If you're a photographer or nature lover, you'll be baffled ????
Boating facilities are available nearby so you can venture out into the lake itself. There's also a freshwater aquarium, shopping center and children's park located nearby. You can try a local spiced meal and talked to some friendly local chaps while the kids have fun in the children's play area.
Day 2: 12 pm noon - traveled to Banasura Sagar Dam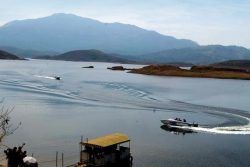 Banasura is located just 26 kilometers away (a 45 minutes' drive). Banasura Sagar is the biggest earth dam in all of India (and the second biggest in Asia). Start out with a short trek the dam grounds halfway to the top of a hill and enjoy the majestic views. There are lots of activities around Banasura Sagar dam including horse and jeep riding. You can take a boat rental from the nearby facility and venture out on the water for a while. In a nutshell, all this is an incredible and memorable experience, plus you can take a lot of good photos to cement the memory.
Day 2: 4 pm - leave for the 45-kilometer (about 1 hour 25 minutes) drive back to Sultan Bathery. You can try out one of the popular local recipes in your holiday rental or hotel apartment kitchen before embarking on your final day of visit in Wayanad.
Day 3: 8 am - leave your hotel apartment the E3 theme park
E3 Theme park is about 2 hours from Sultan Bathery via the Panamaram - Nadavayal - Beenachi Rd. Being the first-ever multi-recreational theme park in South India, the trip to E3 should be a treat for your kids. E3 Theme Park opens at 9:30 so it's great to get there by 10 pm. The park is majorly an affair for kids (mostly) and has most of what you might expect to find in any modern kids' park. There is a Moss Garden, a massive play park for children, and a Magnetic Free Fall. The 12D theater is also quite fascinating.
Day 3: 1 pm - Meenmutty Water Falls,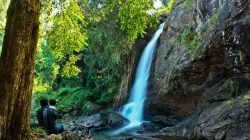 Take lunch and prep for a drive to the 6th place to visit in Wayanad, Meenmutty falls. Meenmutty is located just 8 kilometers away (20 minutes' drive) from the E3 theme park via the Ancham Peedika - Kolathuvayal Rd and Ubacha Rd. Meenmutty is the most impressive waterfall in Wayanad, popular for its great views, and serene environment. You'll have to walk a short distance to access Meenmutty falls, but it's totally worth it once you get there.
The water drops from nearly 1000 ft., through a series of 3 stages. This presents some form of a spectacular triple-decker effect that has essentially made this a top place to visit for any families in Wayanad. You can enjoy some time together in the water as a family and take a lot of awesome photos.
Other Wayanad attractions that are worth a mention include Chembra Peak, Neelimala, and Chethalayam Falls. But whether or not you can visit these places with family depends on how old your kids are. If your kid is just a toddler, it might not be advisable to take them to tour locations where they might be exposed to unnecessary risks.
For more details : www.levillagio.com/blog
Frequent searches leading to this page:-
Wayanad trip packages, Kerala Tourism Packages Honeymoon, Kerala Tourism Packages For Family, Top Kerala Tour Packages With Price, Place to visit Wayanad with family, Kerala Tour Packages 3 Nights 4 Days Price, Best Kerala Tour Packages With Price From Delhi, Kerala Tourism Best Places To Visit