I've done the Star Cruises before, but was too young to remember, so when the opportunity to take a work trip to Singapore came up, I decided to club it with a 3 night – 4 day cruise on one of Asia's finest luxury cruise liners – the Genting Dream. Since I've anyway visited Singapore multiple times, this presented itself as a great option to do something offbeat and unusual. I opted for the Isles of Malaysia tour which clubbed two of Malaysia's most beloved destinations – Penang and Langkawi! Thanks to an ongoing offer, I was able to grab a fabulous deal that worked out to about Rs. 26,200 for the Ocean View Stateroom.
Once you make your booking, here's what you are in for! The cruise fare includes complimentary access to international cuisines (with Indian vegetarian and Jain meal options) for up to 5 meals (breakfast, lunch, afternoon tea, dinner and supper)in a day at any of the inclusive restaurants, along with the pool on deck 16, a host of other outdoor activities coupled with world class entertainment. It however does not include your airfare, visa and shore excursions (in case you do plan to get off the ship to explore).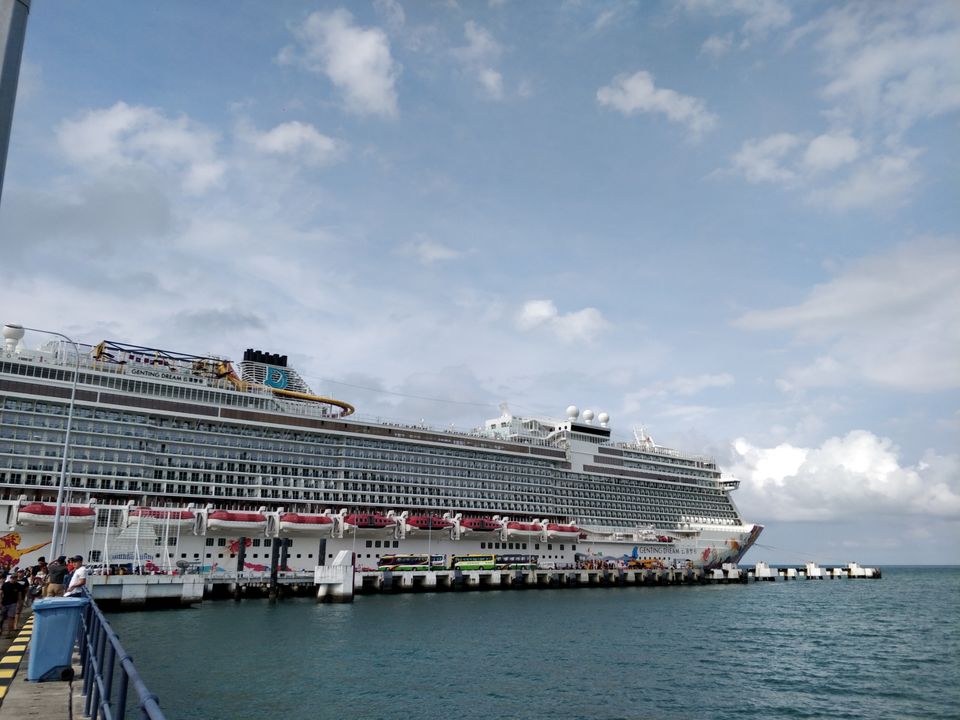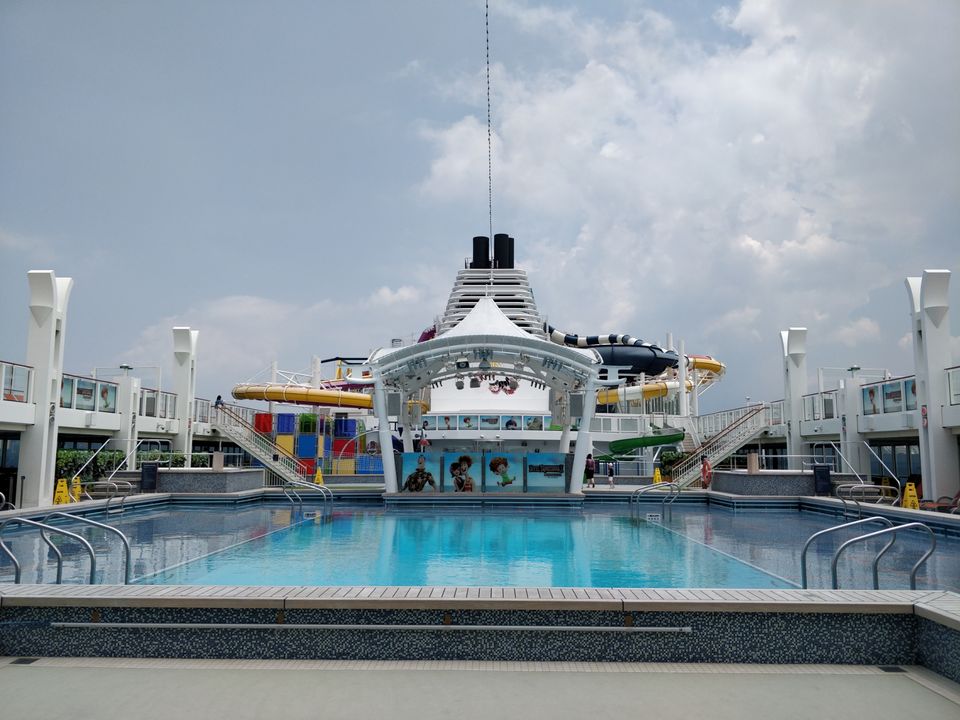 This state-of-the-art, ginormous beauty has all of 19 decks and accommodates about 3500 passengers at any given time. Upon arrival in Singapore, I was already bursting with excitement and made my way to the Marina Bay Cruise Centre early (around 12.30 pm) which ended up being a great idea to avoid the long queues! The check-in and immigration process at the port was a breeze and I was advised to carry a separate carry-on bag with clothes for the day since they send your luggage to the room only much later. You don't want to be stuck waiting then. The last call for boarding was at around 4.30 pm and we set sail at around 6 pm. This gave me enough time to do a quick tour of the beauty and I was so thrilled to have the pool pretty much all to myself. The best times to hit the other facilities with lesser crowds are usually during mealtimes or if you decide to come back from the day trips a little earlier than everyone else. But in case you do book the Dream Palace suites instead - the all-inclusive luxury cruise concept onboard Dream Cruises - you are in for the royal treatment! The Dream Palace is a class of its own enclave with about 142 suites and private VIP facilities including its own swimming pool, spa, gym and dining venues – with no queues. The luxurious essence of Dream Palace is embodied by the meticulous personalized services of its renowned team of Dream Butlers, chosen for their genuine personalities, language skills and renowned for their gracious service and unparalleled expertise.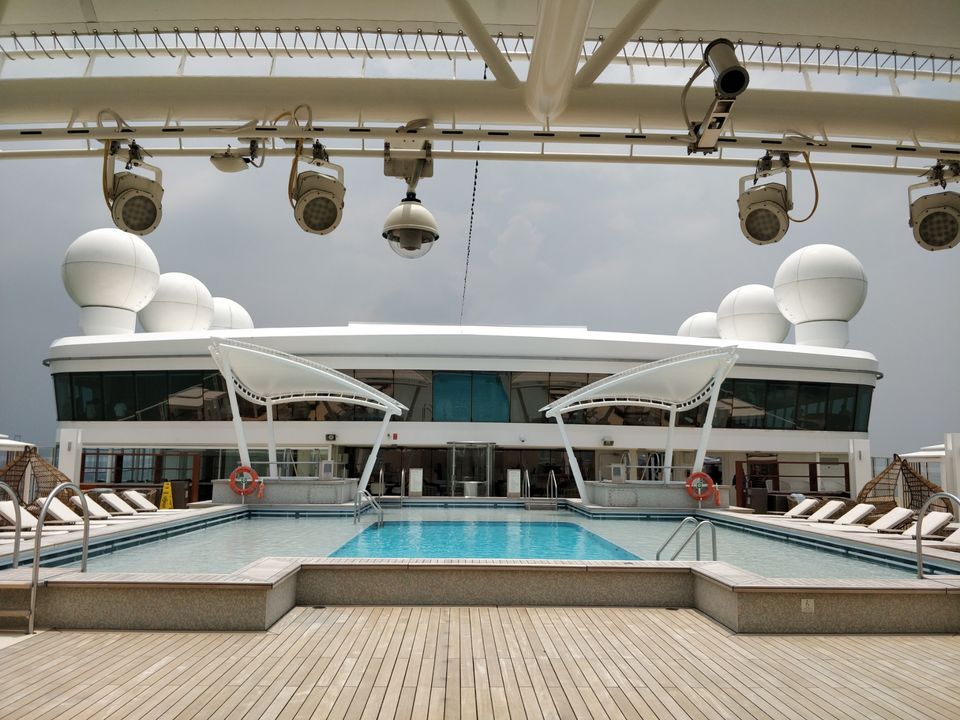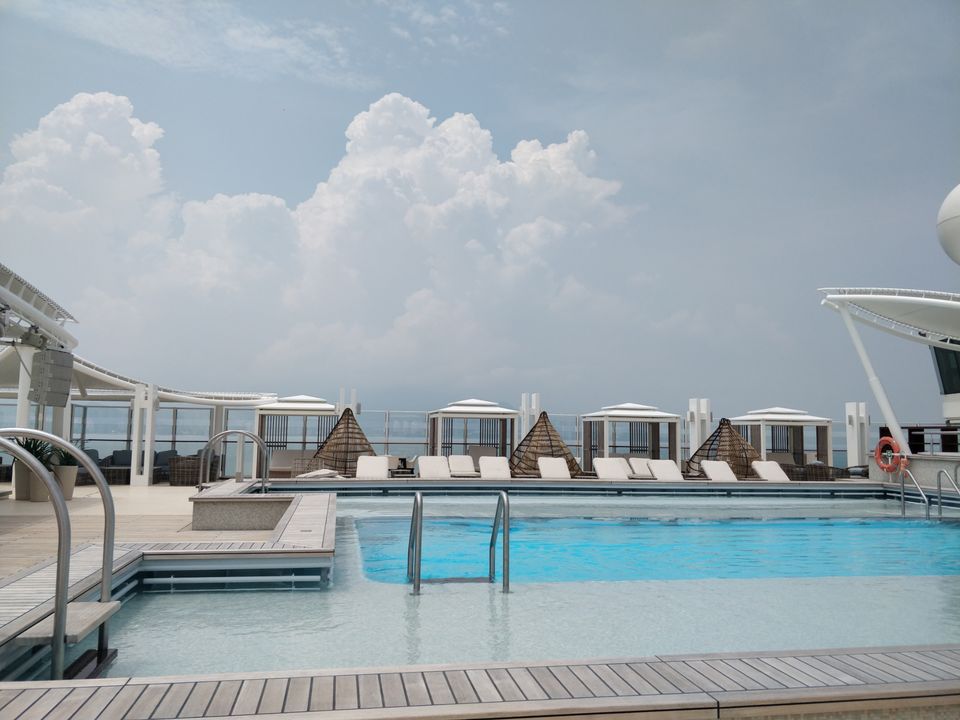 If you have kids and they are thrill-seekers, the highlight on Genting Dream is the Waterslide Park! Imagine taking the plunge into the water high above the ocean! There's grownup slides too, don't worry. On Deck 18 (above the pool deck) there's lots of child-friendly outdoor activities including Ping Pong tables, mini-golf, a rope course or even rock climbing! The rock climbing wall is about 24 feet high. Above that, there's the Sportsplex which is ideal for anyone who loves ball sports! One can choose between basketball, volleyball or five-a-side football. Isn't that exciting? On the first evening, I decided to check out the Zouk Beach Club which had an interesting foam party concept! This is an outdoor club with a shallow pool dance floor with two Jacuzzis overlooking the ocean – the best place to catch the sunset. This was definitely my first time partying in the ocean. There's also an indoor space to dance the rest of the night away to the beats of the resident DJs. Behind that is a social gaming and sports lounge packed with pool tables, board games and even a glow in the dark bowling alley! The bonus was the happy hour drinks available in the evenings for two hours between 5-7 pm.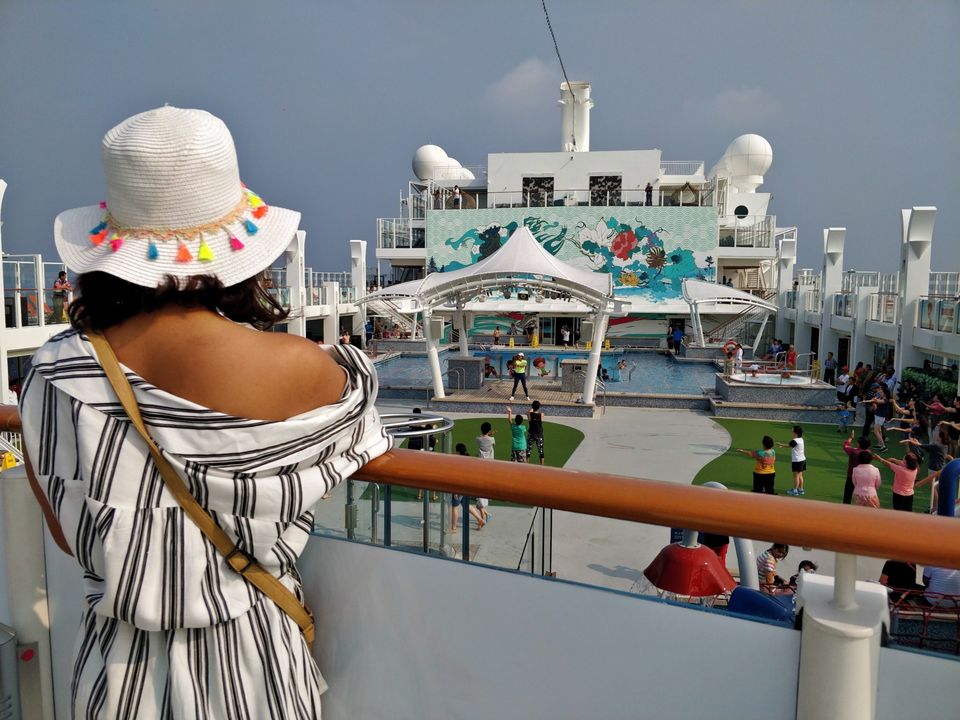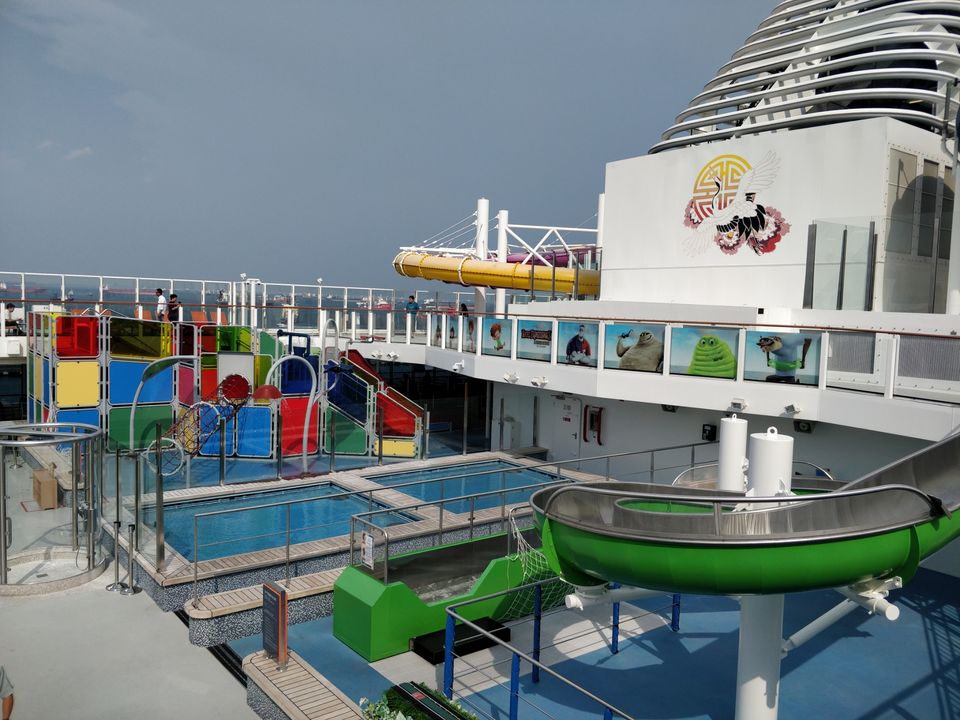 On day two, we arrived at Penang, and while a whole load of cruisers decided to go explore the city, I chose to stay back and do some more exploring on the ship. I started with a delicious breakfast buffet at the Lido followed by a quick run on deck 16 which has its own jogging / running track and followed it up with an exciting Zumba session on board. They also have an amazing gym which I decided to keep for the following day. I spent some time playing some mini golf and then decided to go catch a movie on deck 6. In the evening, there was a karaoke session which got us all in the mood to bring out our amazing bathroom singing skills and then we decided to hit the casino which was completely action packed.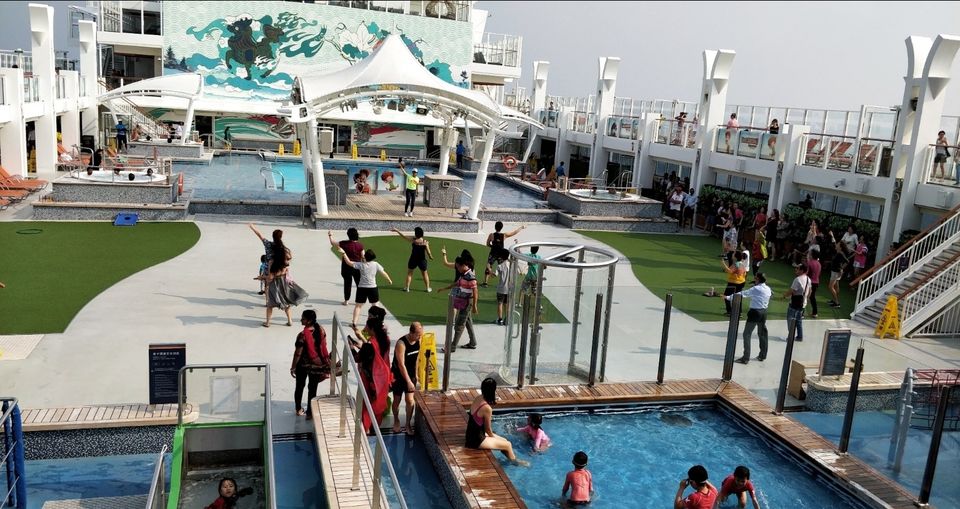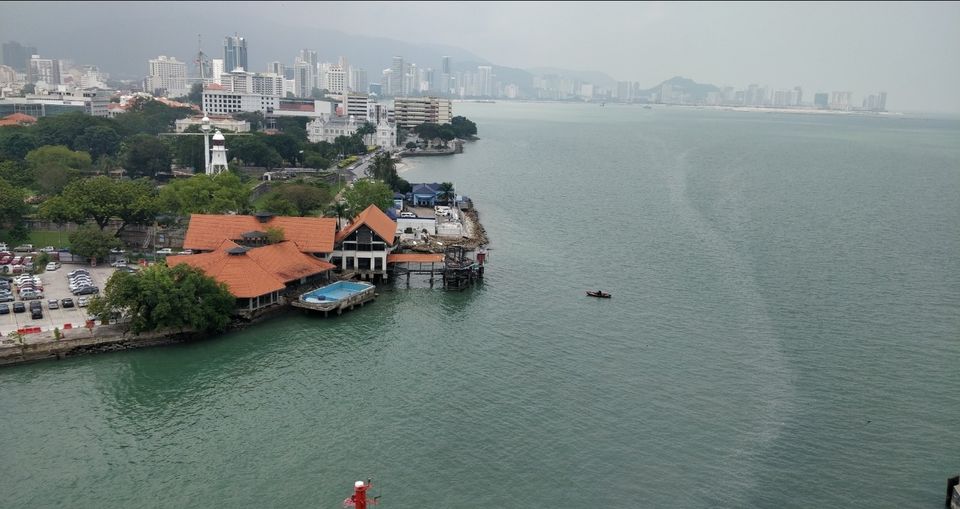 Day three was when we hit Langkawi and I decided to go explore the beautiful island. It was a quick 4-5 hour excursion and we found a very helpful local travel agent at the dock itself. He took us to see the beaches and then followed it up with a visit to Temurun waterfalls. I've been to waterfalls in the Philippines, Bali and Vietnam, but this was something else! Purely because it was away from the touristy action, there was literally nobody and the weather was so perfect when we got there. We had some ice chilled Milo (or as they call is Susu) when we got there. Aside from beautiful beaches and nature surrounding the island, Langkawi is also a duty free destination so make sure you keep some time aside for some shopping!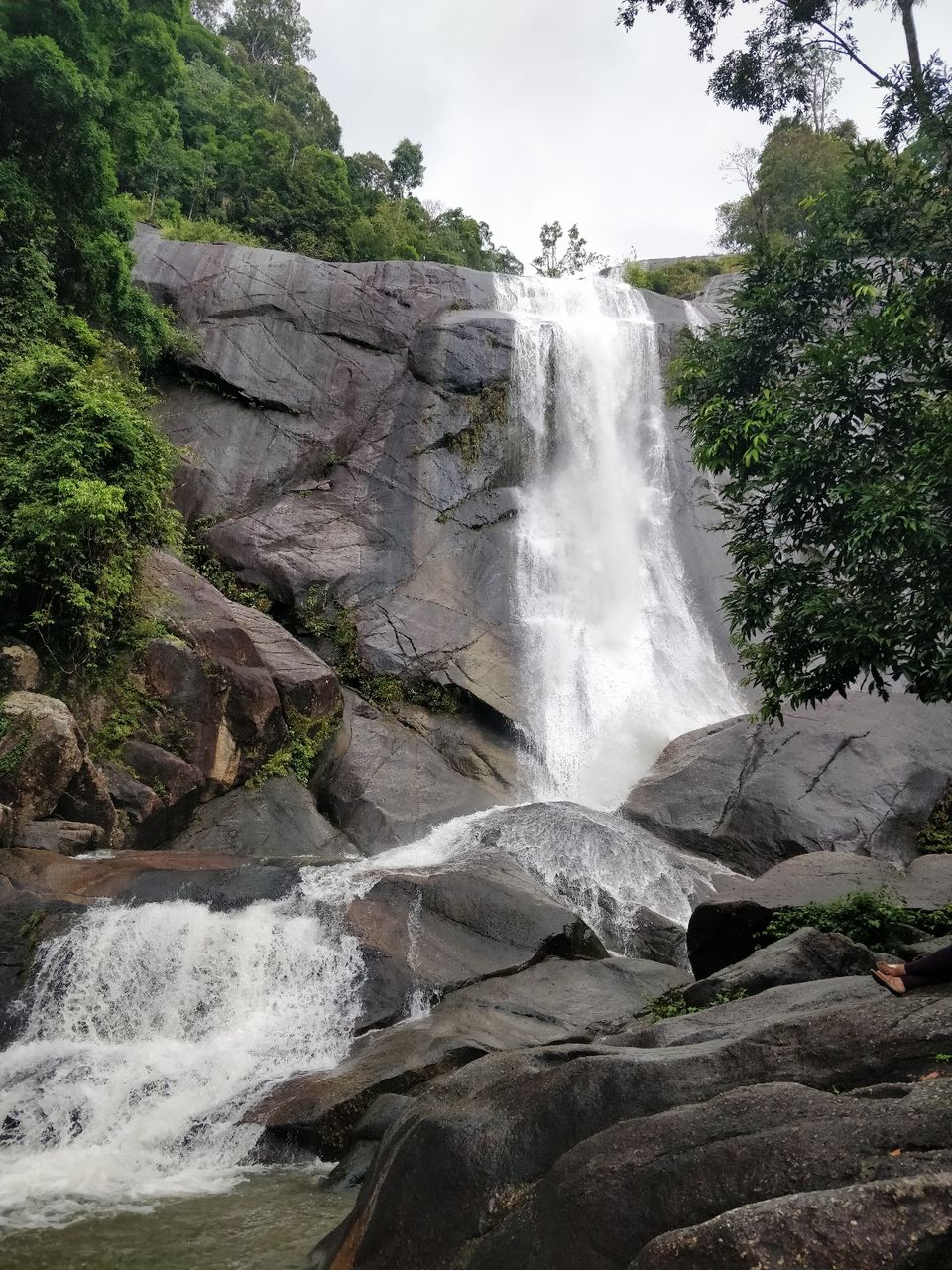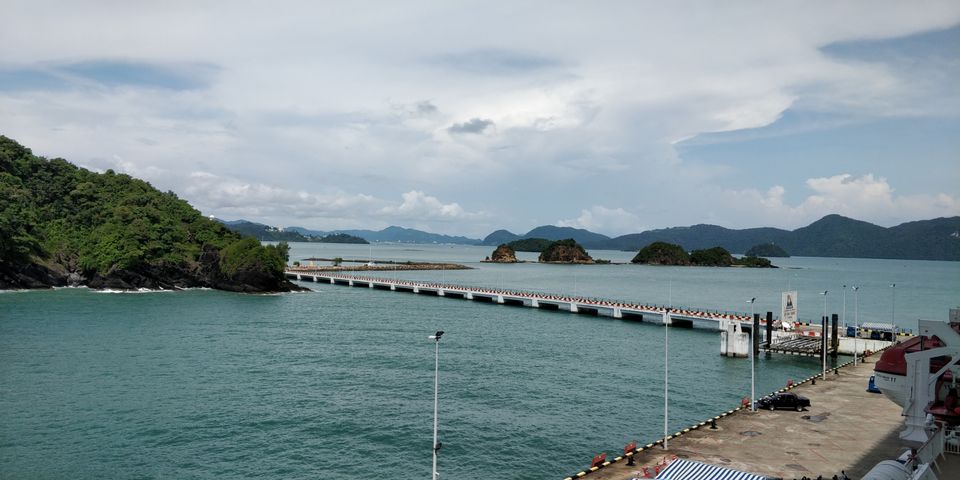 When we got back on board, it was already around 3ish so we chose to eat at Blue Lagoon – which was some of the best Chinese I've ever eaten. Also they have mahjong available for guests to play! At 7 pm we were all ready to go watch the live performances at the Zodiac theatre and oh my god! What an experience it was. Right from the talented performers to their outfits, uff it was a complete visual treat. We caught the show titled - The Voyage of a Lover's Dream which is the signature show of Dream Cruises. After the show, we rushed up to deck 16 for the fireworks display. Unfortunately, there was an unpredictable rain shower that hit just then and the fireworks show was slightly delayed, so we got a drink and returned to the deck in a bit. Everyone else was dancing and following the movements by the crew on the stage. We returned just in time for the sparkling display at sea.
This was definitely one of the most dreamiest experiences I've had and would most definitely recommend this for a family vacation because there's truly something for everyone on board this beauty.