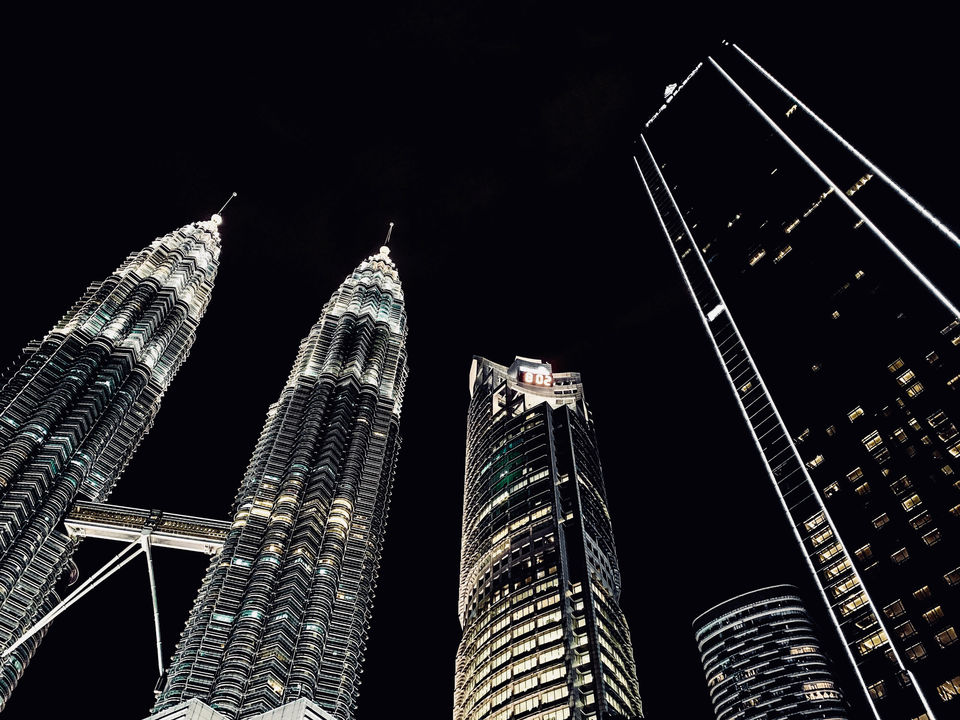 DAY 1
No other country has Asia's three major races, Malay, Chinese, Indian, plus various other ethnic groups in large numbers. Nowhere is there such exciting diversity of cultures, festivals, traditions and customs, offering myriad experiences. No other county is "Truly Asia" as Malaysia.
The day where our dream came true of traveling to a new destination a year ago on the same day which is new year eve. For 2020 it was a road trip adventure in Malaysia.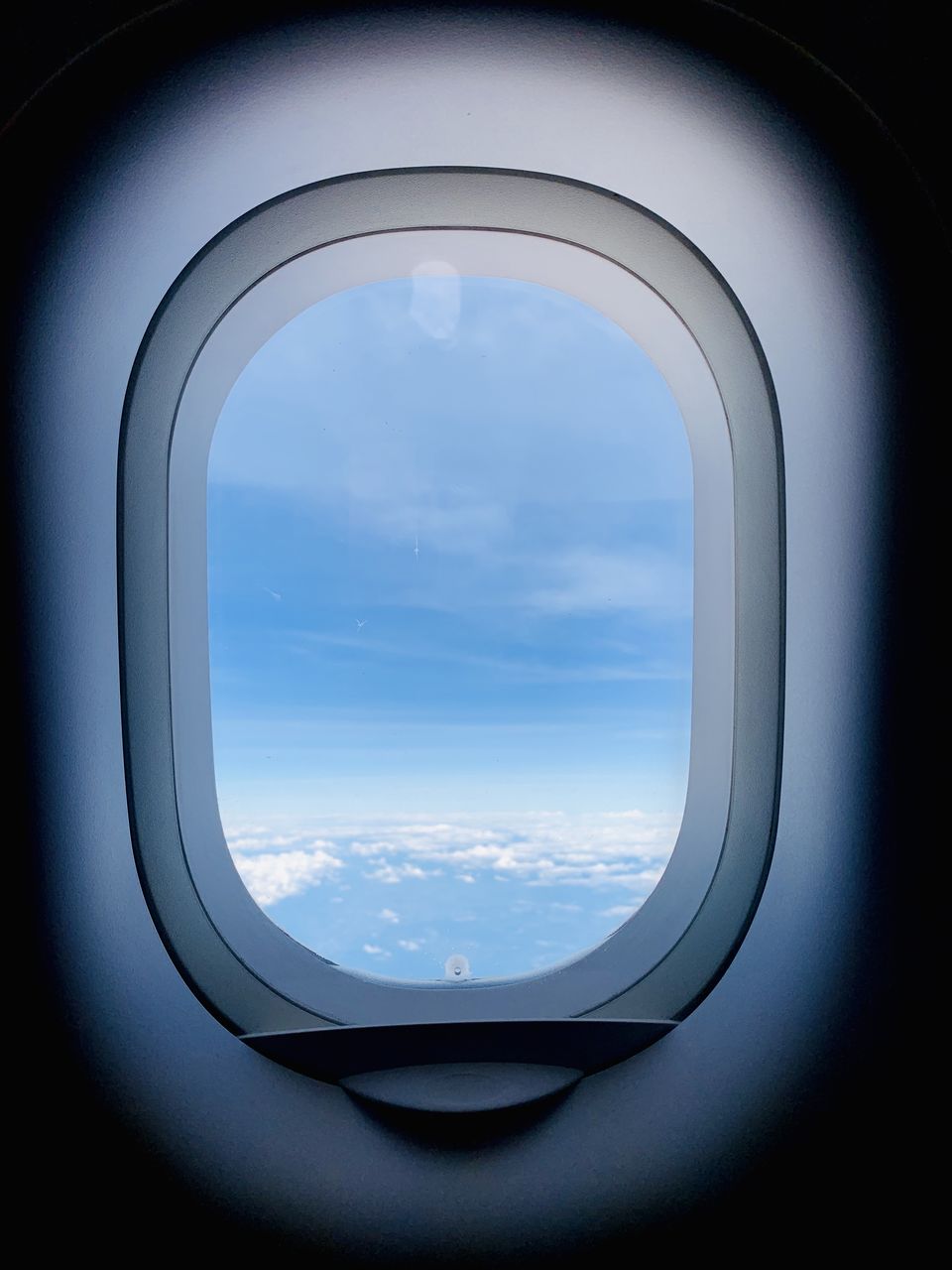 We landed as per our schedule in Kuala Lumpur around 14:00 on 31/12/19 for our new beginning adventure drive!
Cheapest mode of getting to KL Sentral/Bukit Bintang from KLIA2 is by justGrab(Uber) taxi if you're travelling in group of three or more paxs which cost you around 55-75RM. One can catch grab taxi from KLIA2 by sliding down to Level 1 Door 5, bit difficult to find you're way to door 5. Check out with airport persons for direction
Our stay was at One @Bukit Ceylon in Bukit Bintang, comfortable and cozy apartment with KL tower view in balcony. Easy on pocket as well.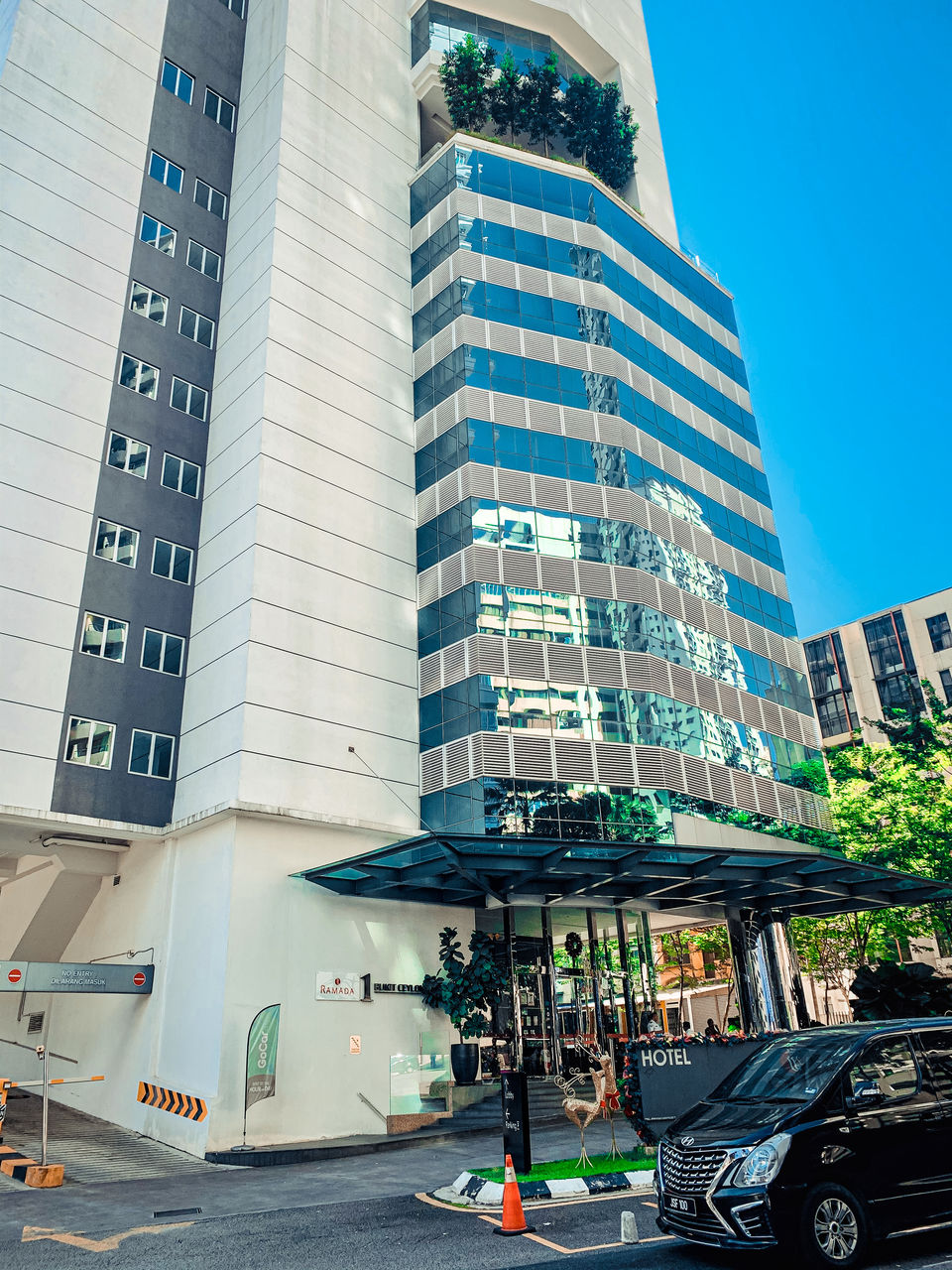 Agenda for this day was nothing but to visit the mighty world'only tallest twin tower and to witness the crowd who has traveled all over the world to welcome the new year 2020 with the bang!
Before welcoming 2020 we wanted to fill our tummy with Malay cuisine in local way. Our dinner was planned at Tapak Food Truck Street which is very close to Petronas twin towers.
And trust me we were not disappointed, the moment the clock ticked 00:00 there was crackling fireworks busting in sky in various form which we had never witnessed so far! As you keep looking the sky you drown into this magical nights as the firecrackers starts to dance on sky! We three were left with awe! We are trying to capture in our lens but still we are not able to focus because we were living in the moment among millions who were witnessing the moment!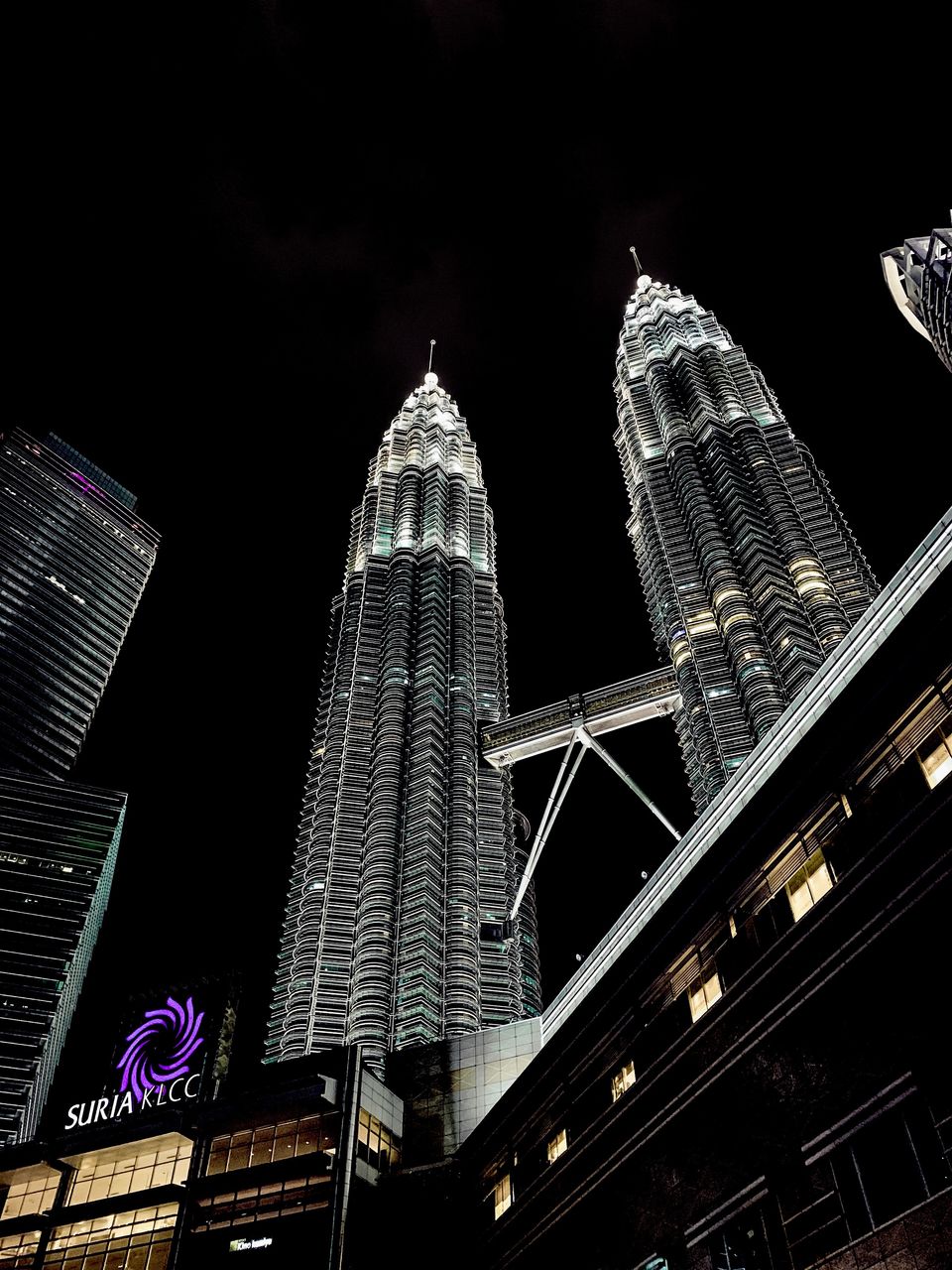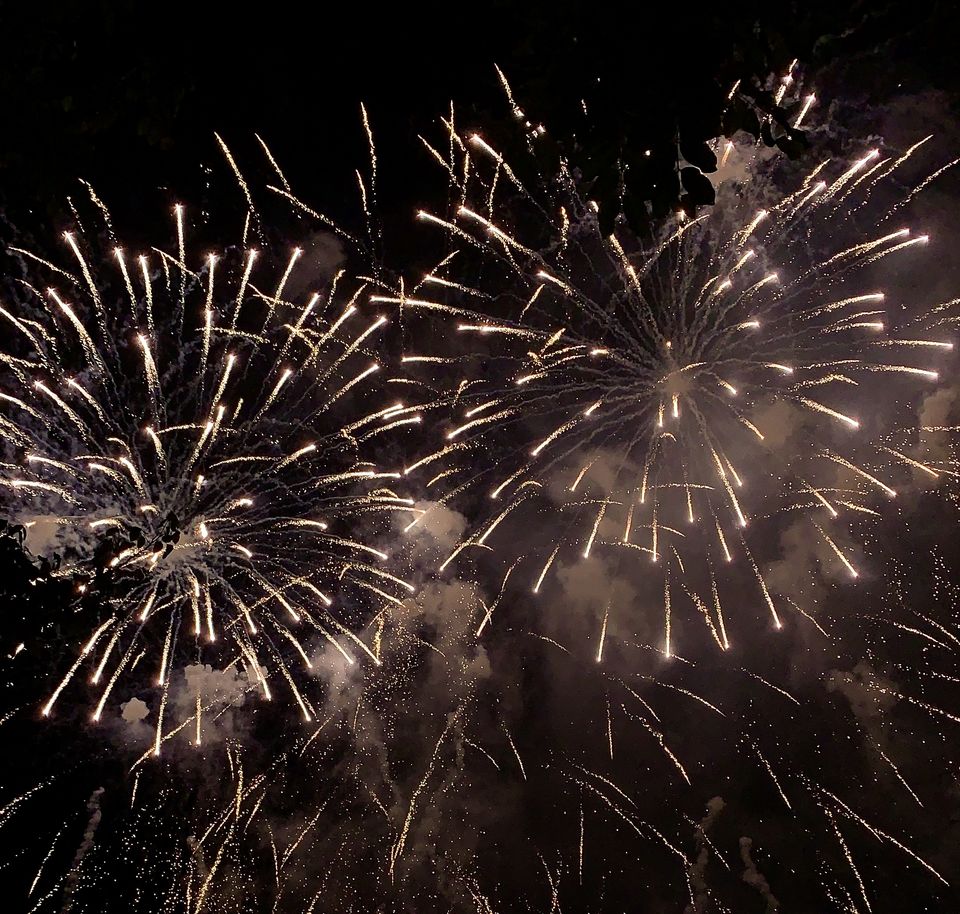 Words to live by -
"Each and every person who's around you are from different culture and everyone is going through untold stories but when you surround yourself with people who are joyful even you'll end up be prosperous, happy and you smile!"
DAY 2
As we got up, our first place to visit was Jamek Mosque, where we had to take MRT (metro) from the place where we stayed which was Bukit Bintang to Passar Seni and finding right train was big hurdle as there are many platforms underground and on the flyover anyone can easily get confused.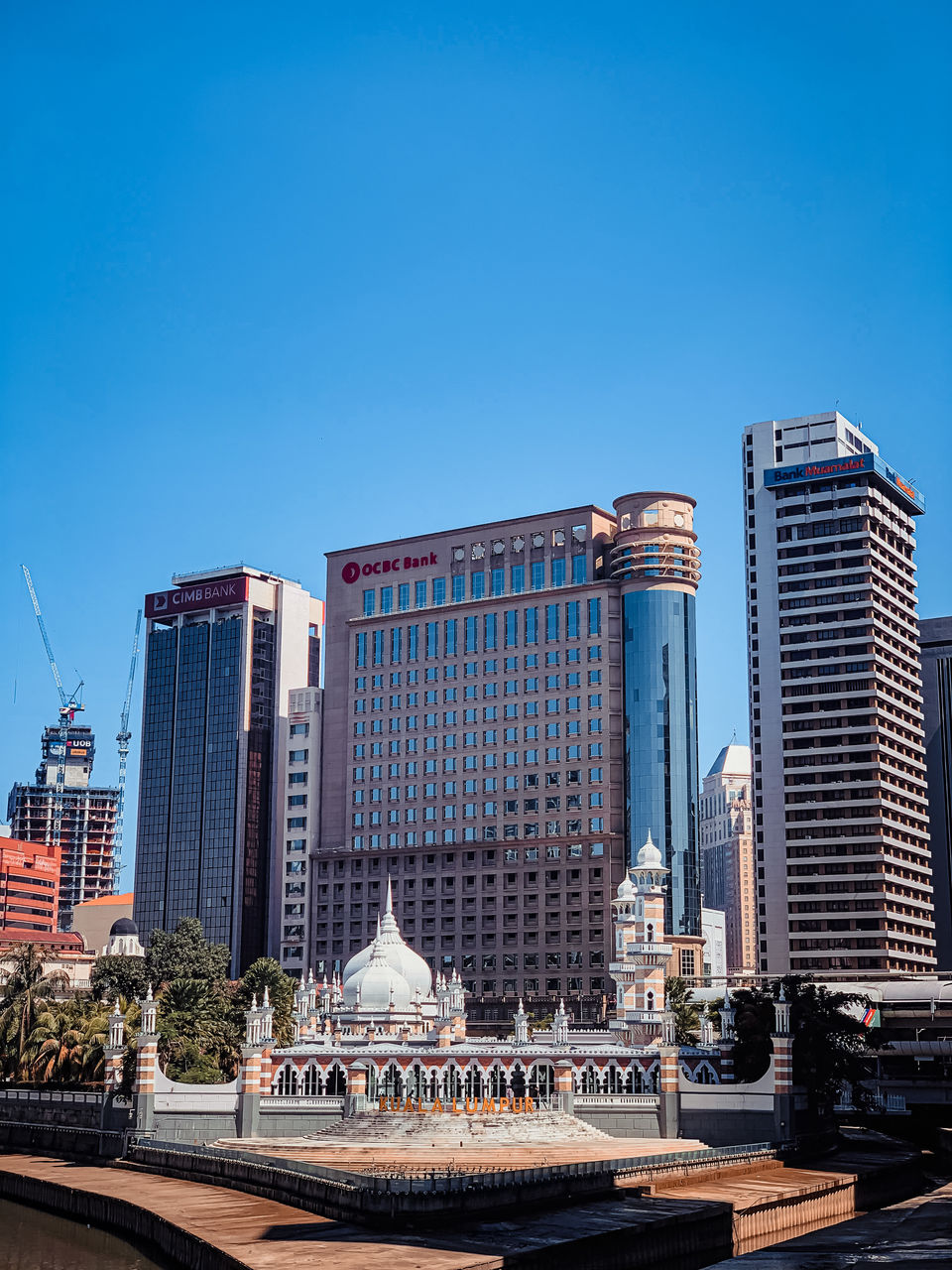 Next walk was to head to one more Street called Kasturi Walk and here also there was nothing much to see apart from souvenir collection and apparels, if you ask my suggestion I would suggest you to skip this street as there is nothing much to see.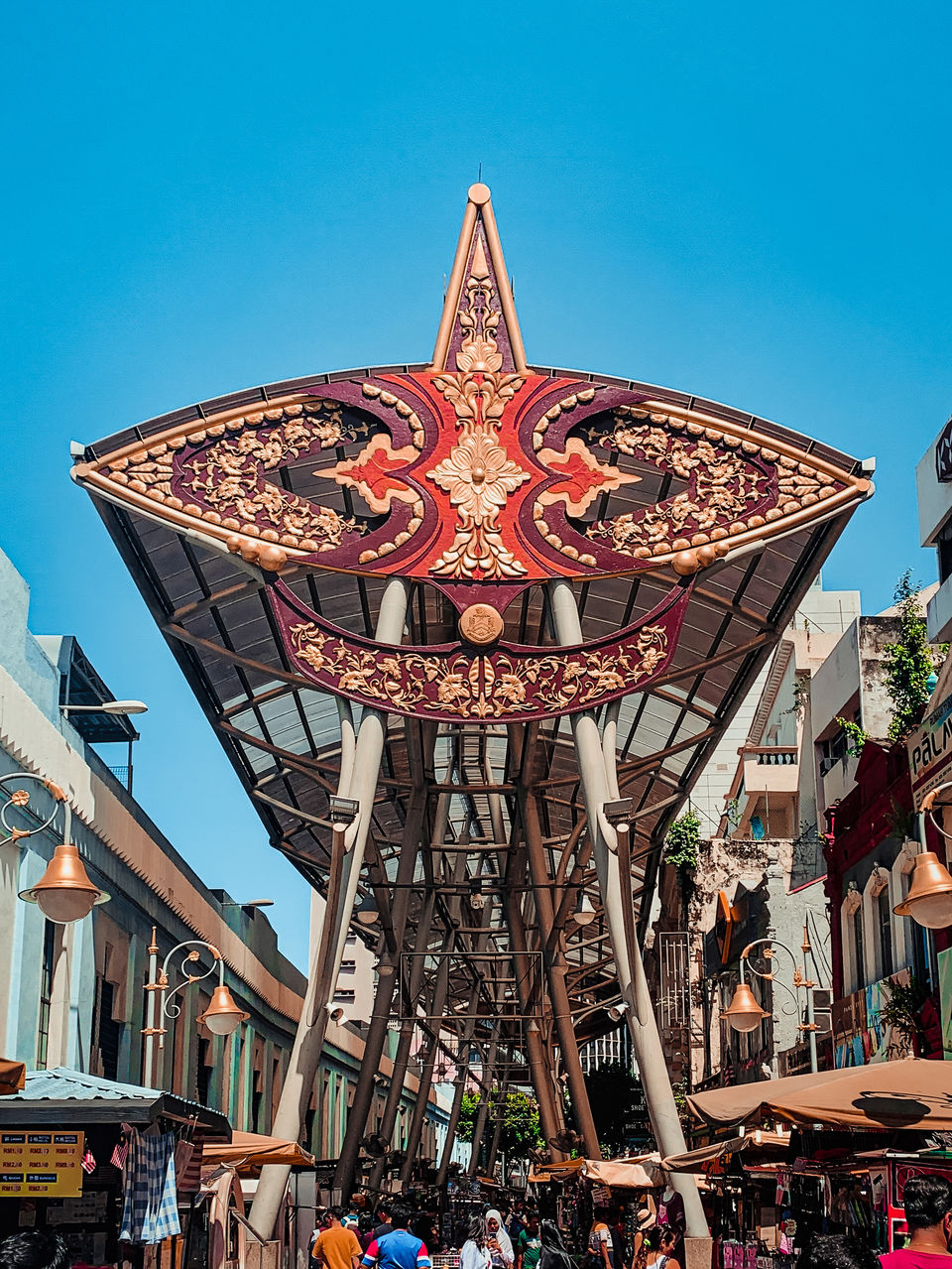 Petaling Street where you get the first copy apparels from Tommy Hilfiger to Gucci and LV to Kenzo Paris, you name the brand and they'll have the copy! and when you're in this street one must never miss the very famous drink of soya milk shake which is quite famous milkshake in Kuala Lumpur and it's called as 'Kim Soya Bean' it's a must drink for 8RM you will get a 200ml of soya milk.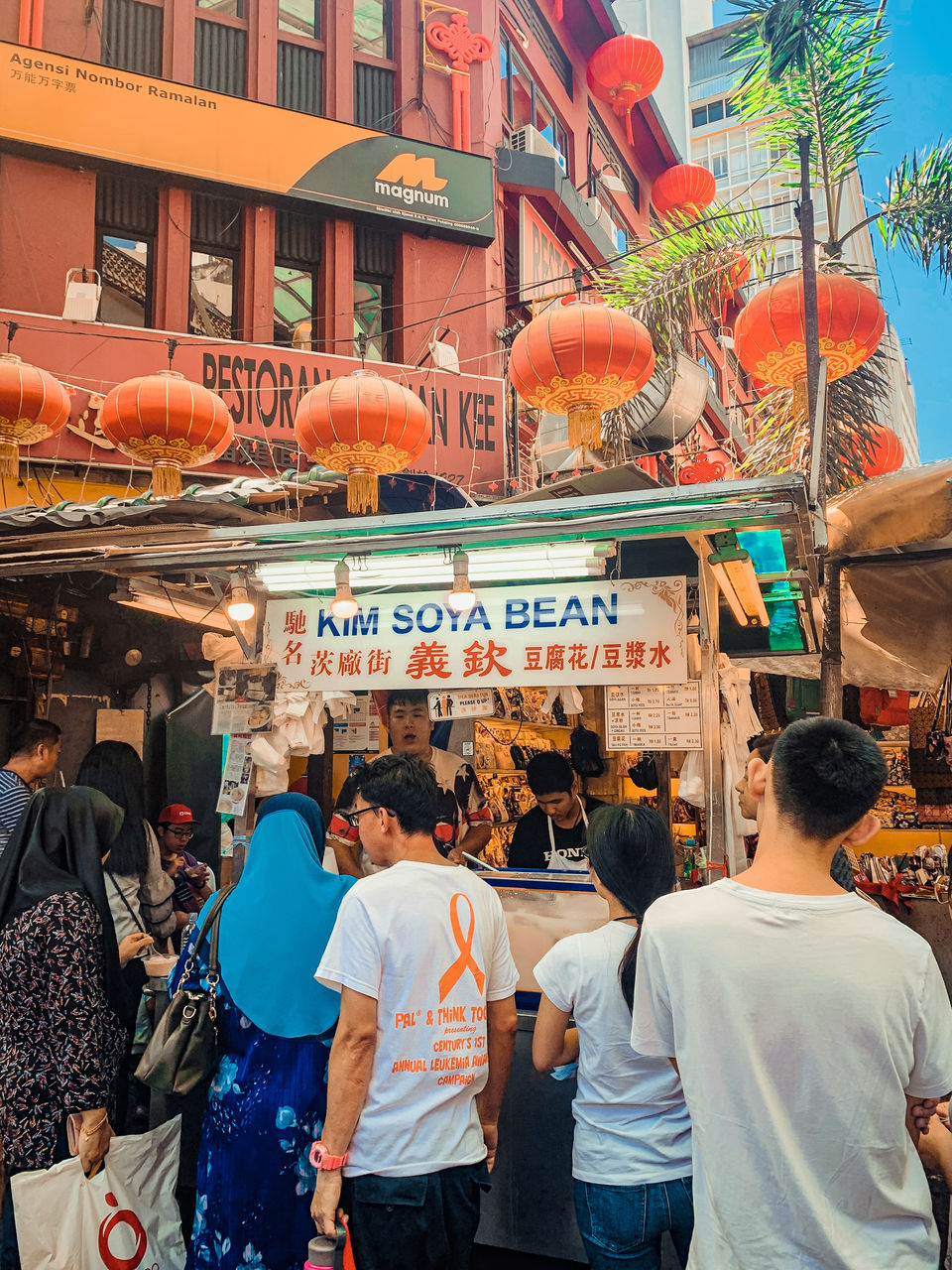 Afternoon session was full packed and our next stop was at Thean Hou Temple. Once we reached temple in Grab taxi, a lady gave us a warm welcome and directed us for dinning area has it was new year day their was free lunch offered by devotees. Thankful for the free food as we all were in hunger for a complete meal. Coming to temple architecture purely Chinese arch it was absolutely gorgeous and Instagram post content. Must visit place in KL.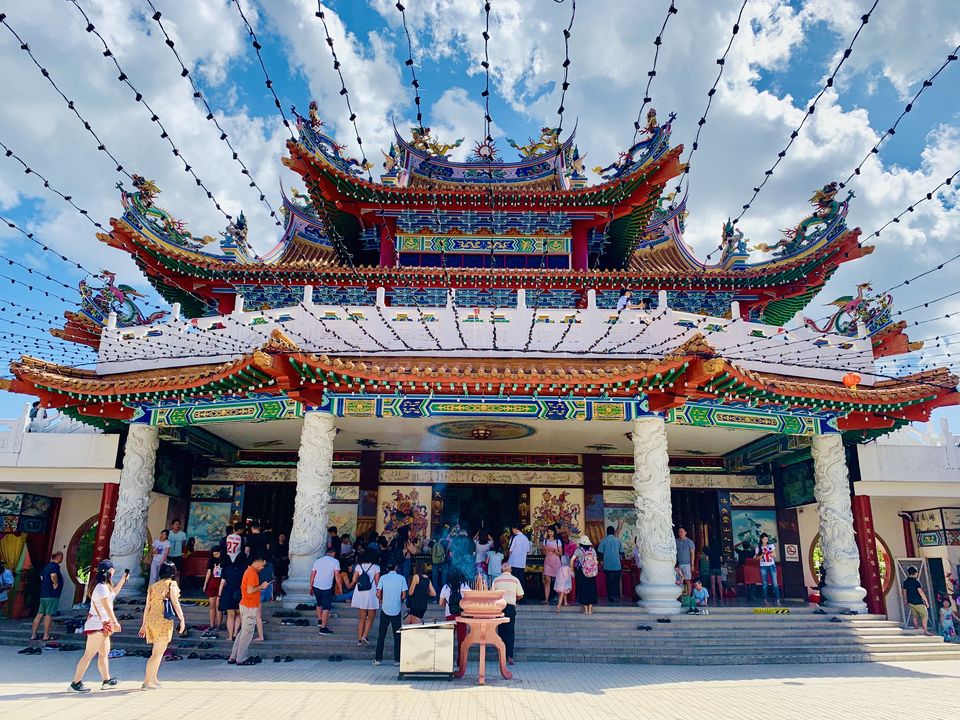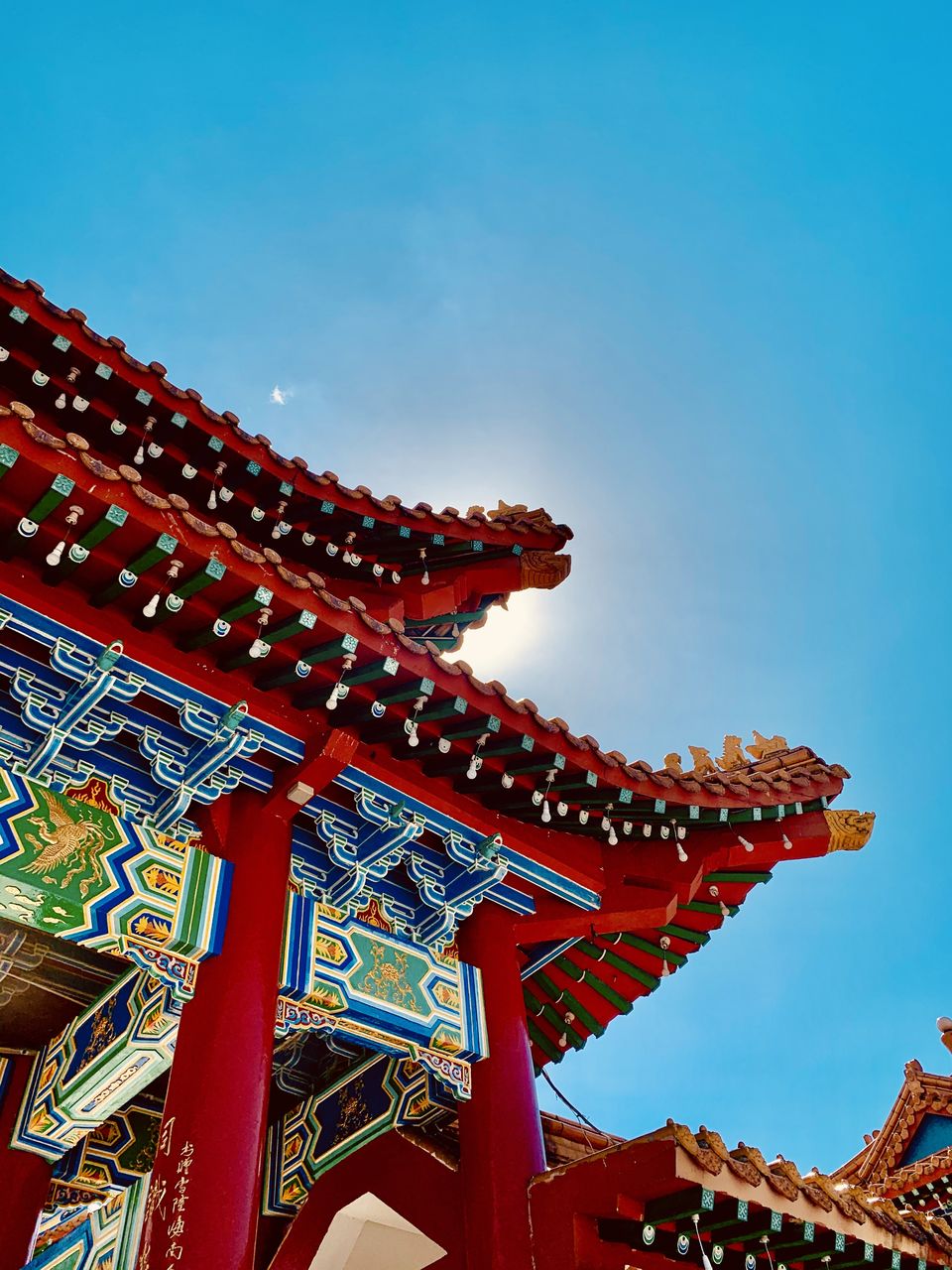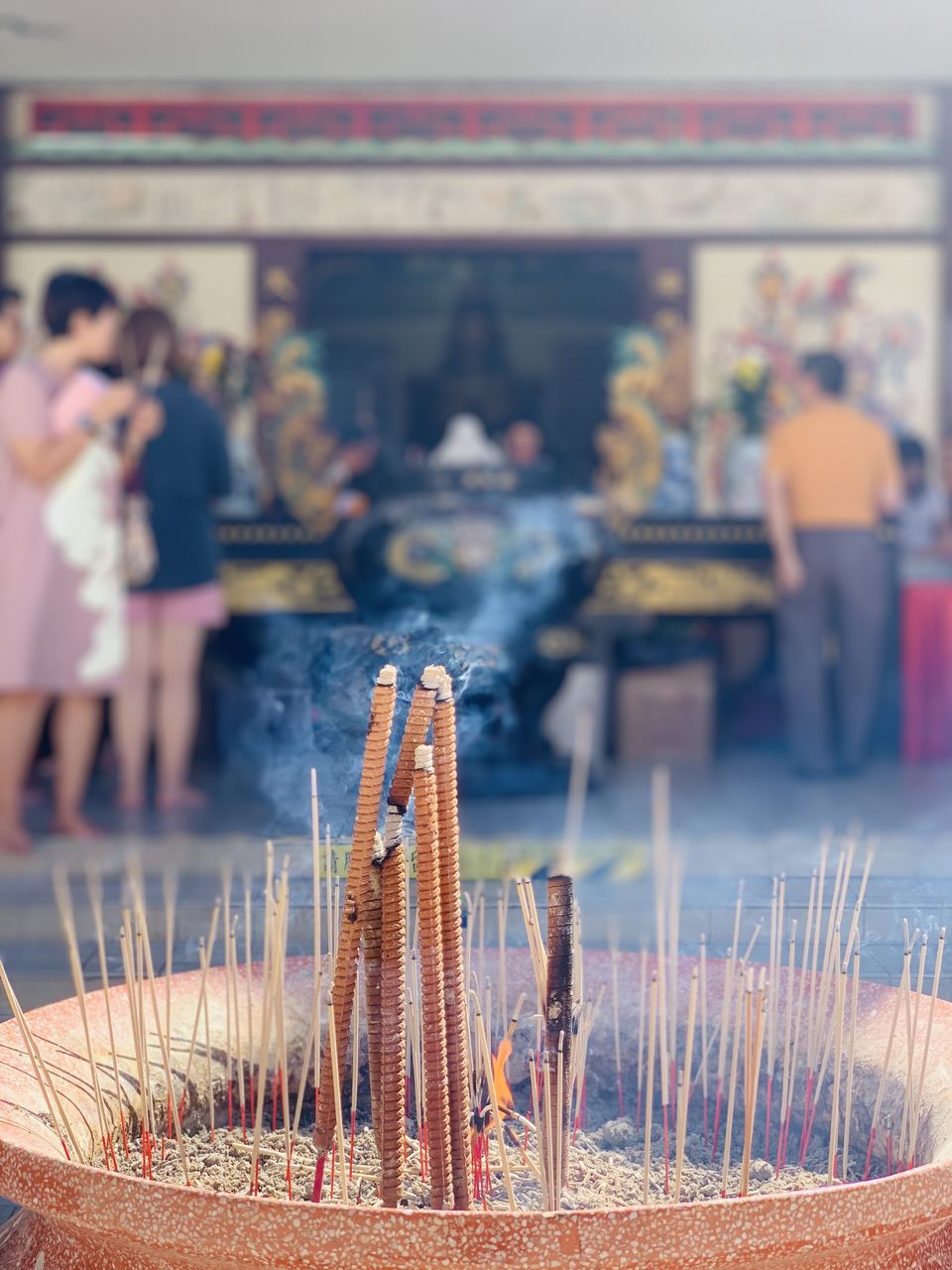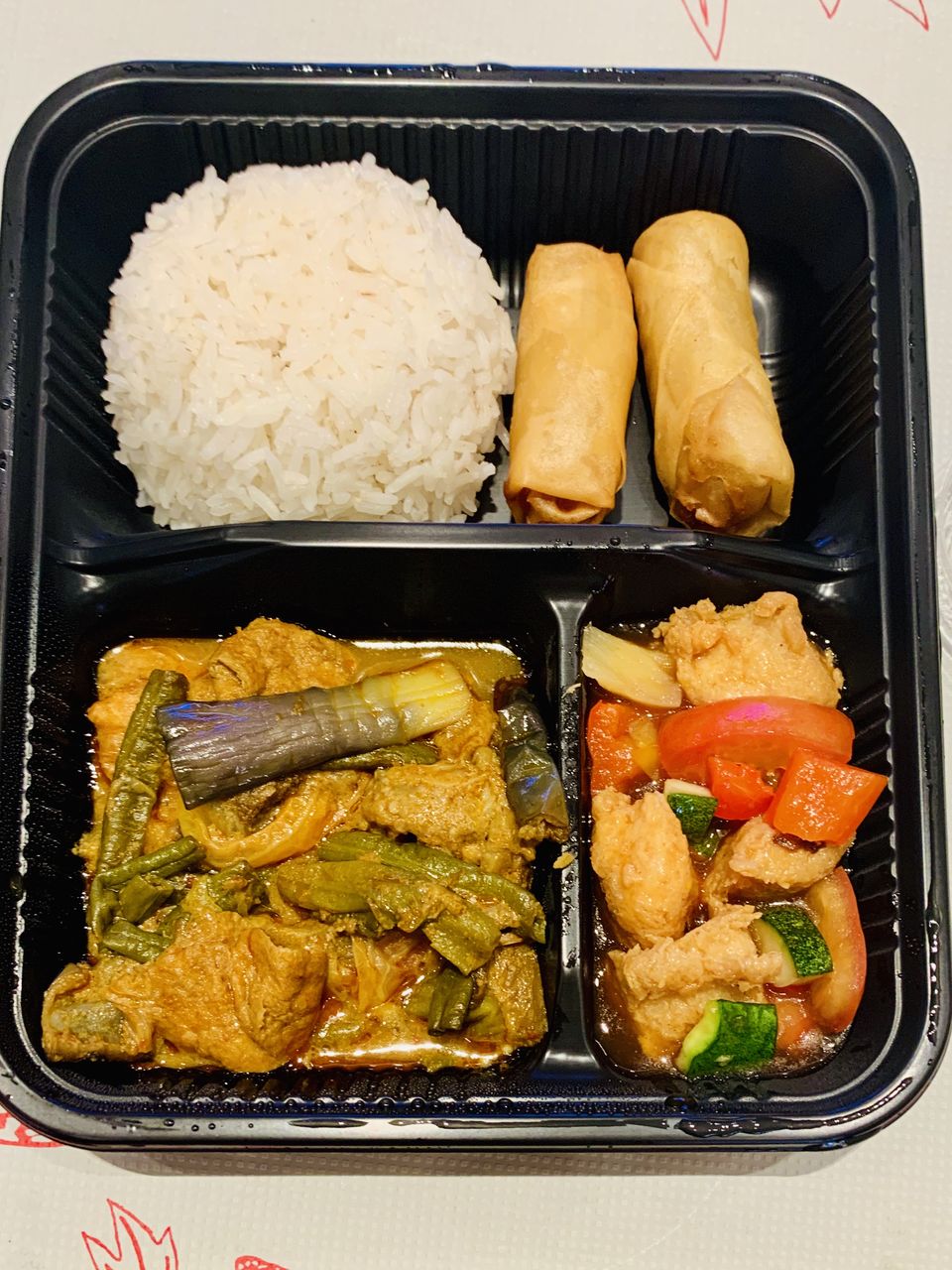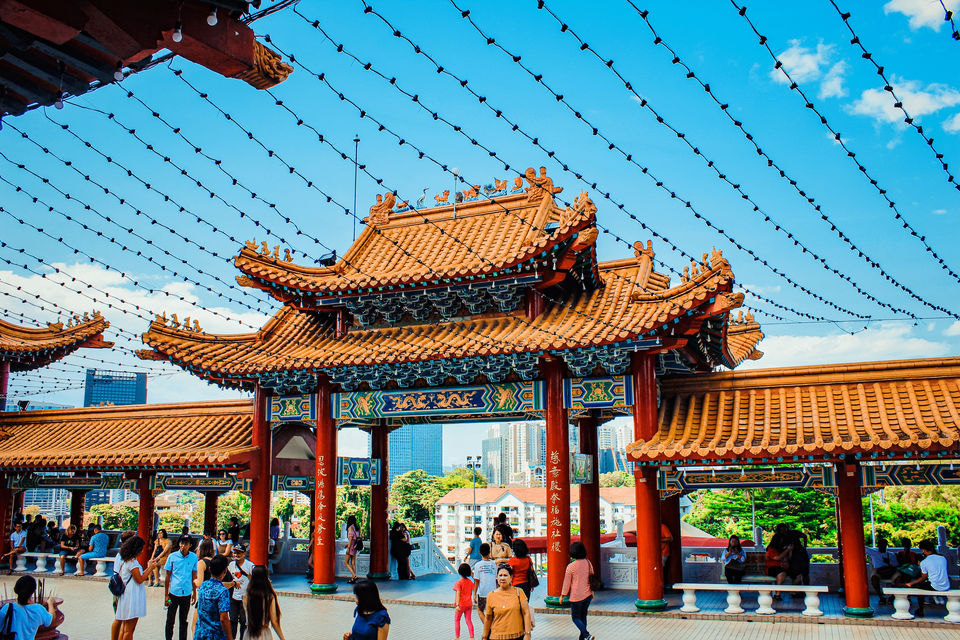 However, later part of this day comes down to our dream destination the Beautiful Petronas Twin Towers where we had the booked slot at 17:15 to discover ourselves the true beauty of bird eye view from the center of the two connecting tower! which was on the 42nd floor and the escort will give you 10 minutes time to roam around and click picture and then they'll take you to 86th floor which is an observatory deck and view of Malaysia from this place is oohhhoooohh! my goodness not for the weak hearted!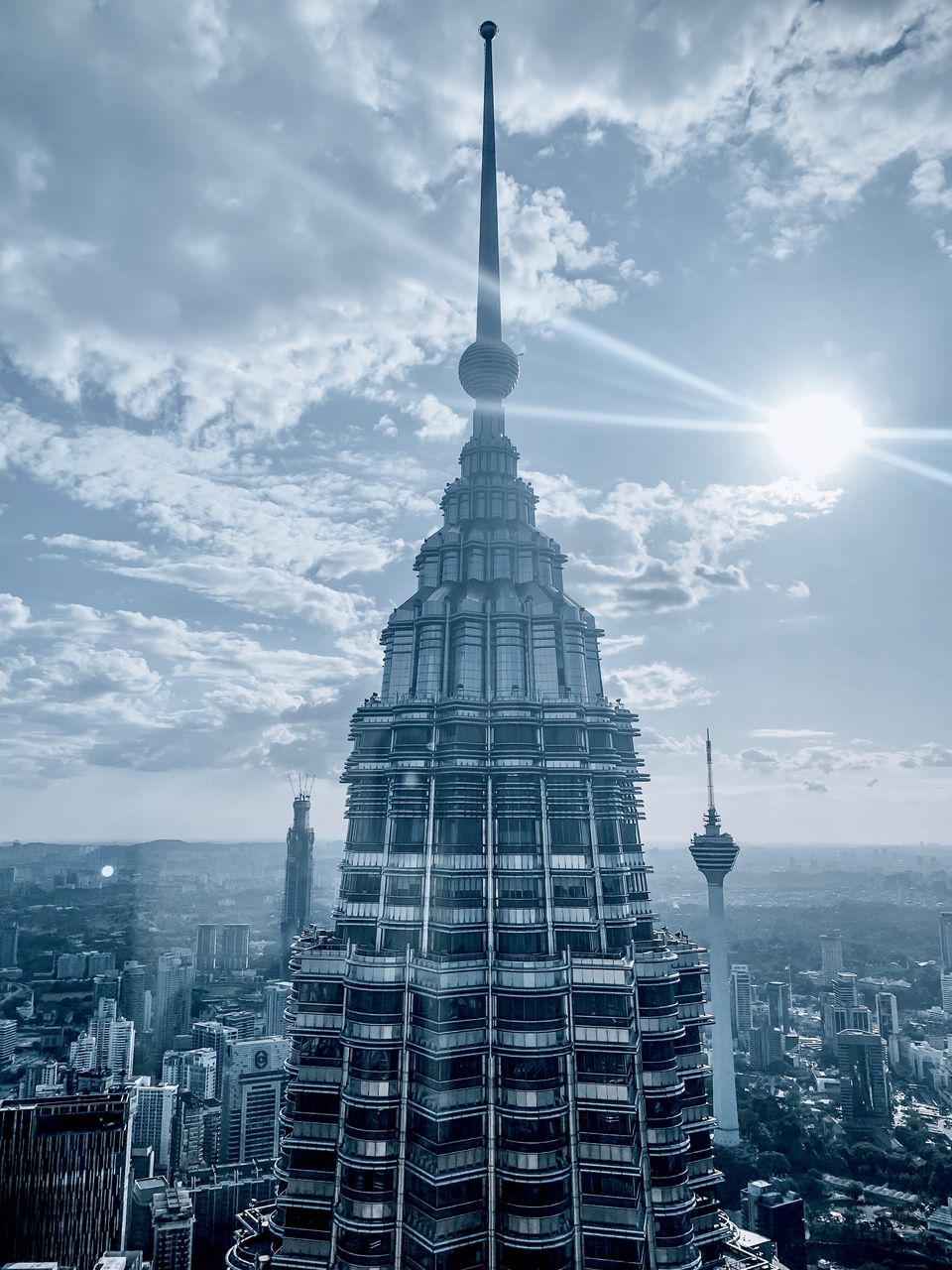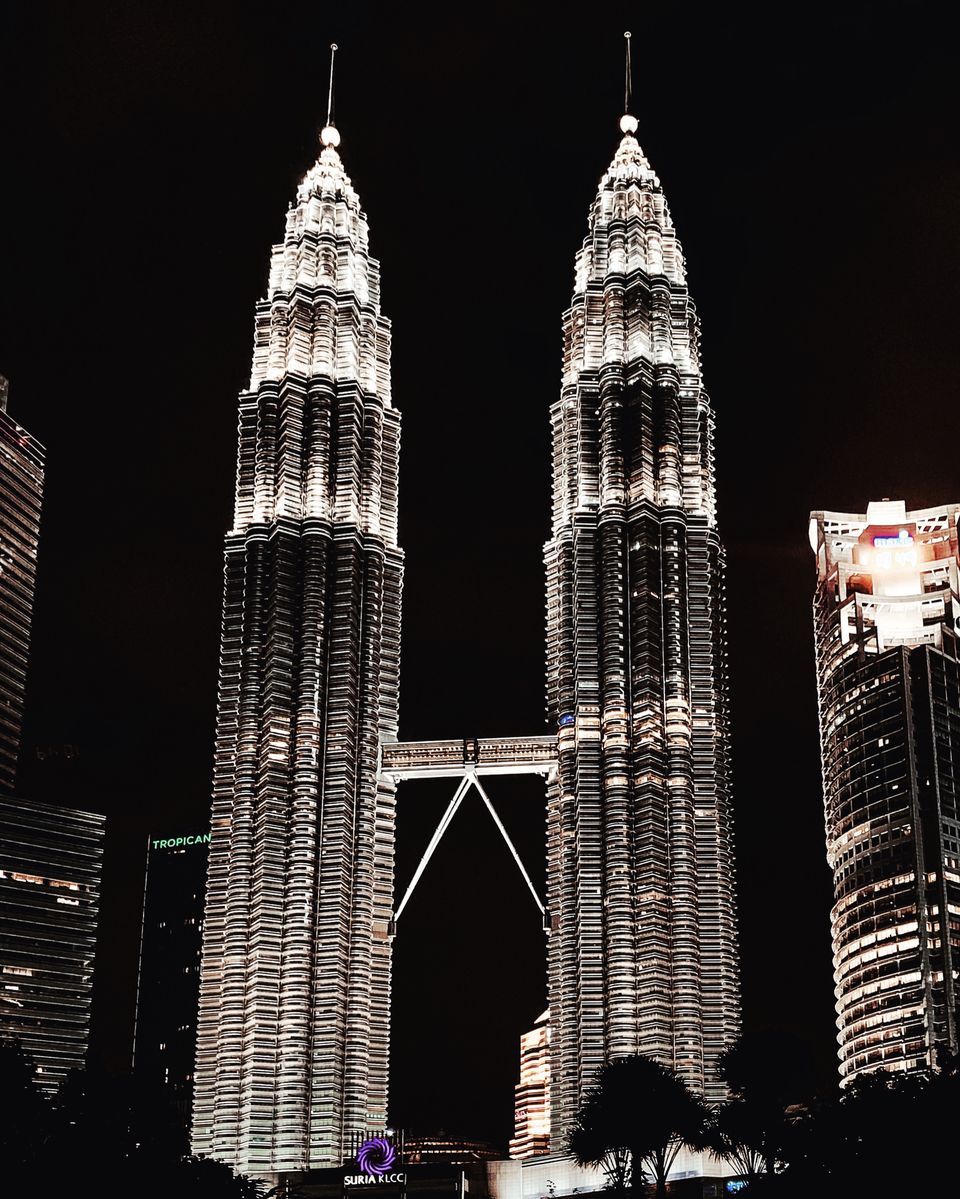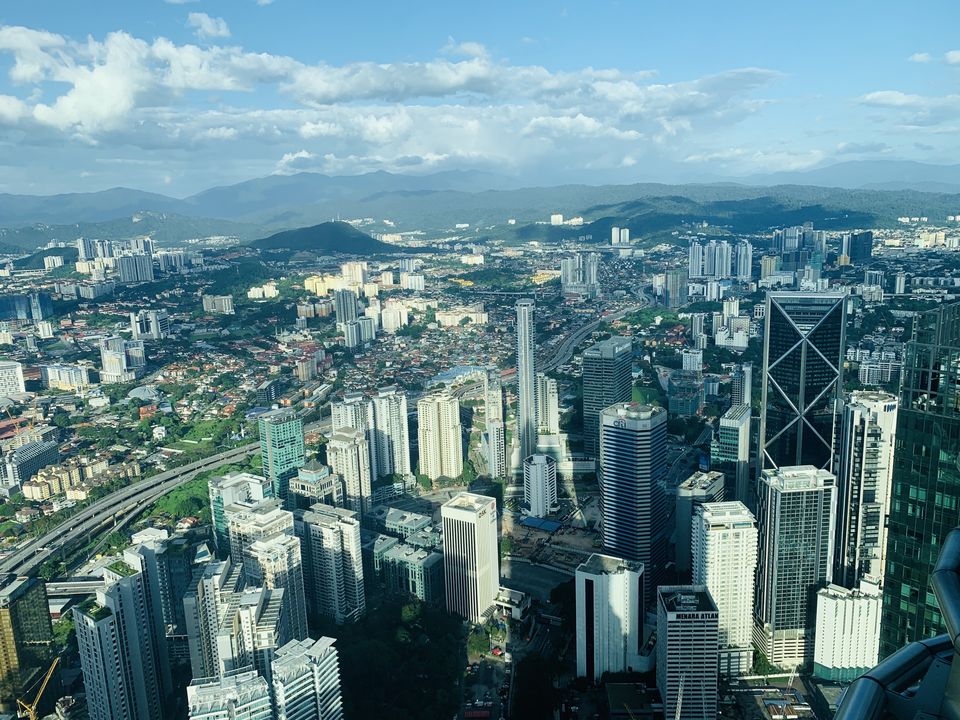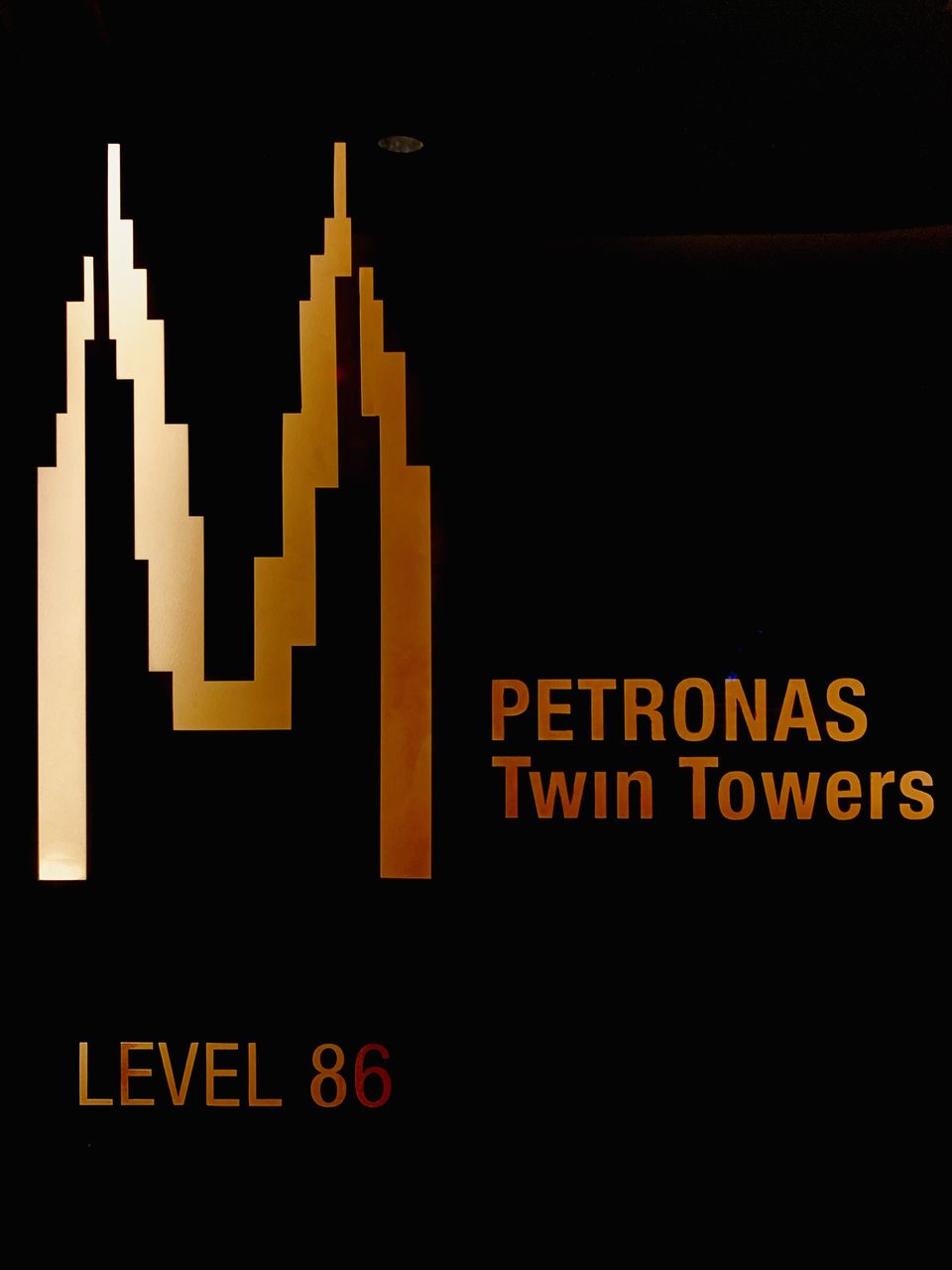 Dreams do come true if you work towards to it!
Words to live by -
"Traveling is not a journey but it's an experience and you carry that experience where ever you go and you'll live with that!"
DAY 3
The Drive Day!
Well, trust me this is what we were waiting for, as we were going to rent a car from the online car rental company called as SOCAR which is very reliable to book and drive.
All you gotta do is download the app on this link SOCAR
And register yourself with details and book the car and pay the money via credit or debit card and you'll get to know the location where car has been parked, that's it! It's so simple but sometimes you get really bugged up to find the car in the location as it will be parked inside the parking lot and that too in multiple levels, but a bit of patience can be easy to hunt the car.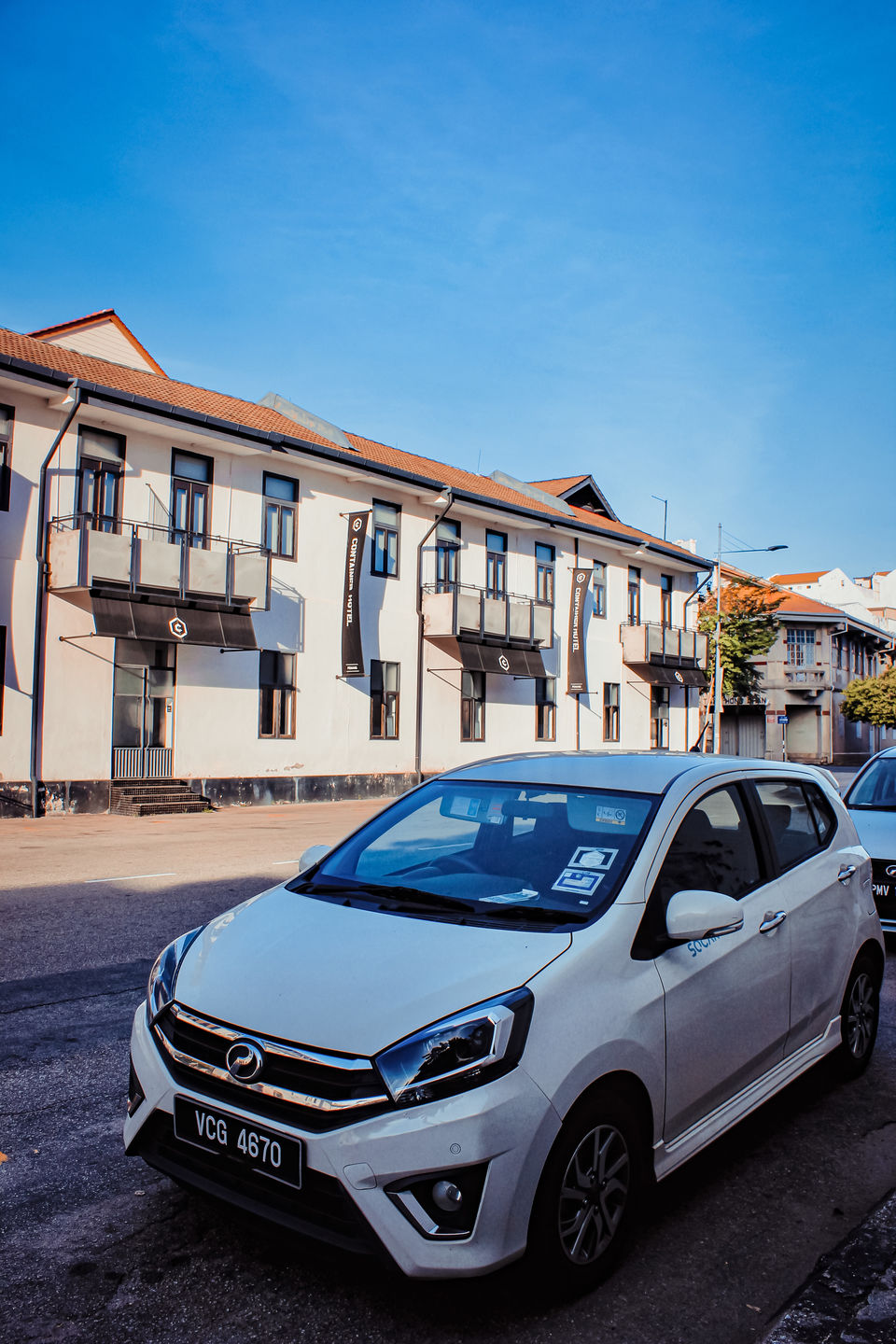 So agenda for today is to drive to Batu Caves which was approximately 37km from the city and then drive to Penang which was 300+km, however we had one more thing to take along with the car and that was "touch and go".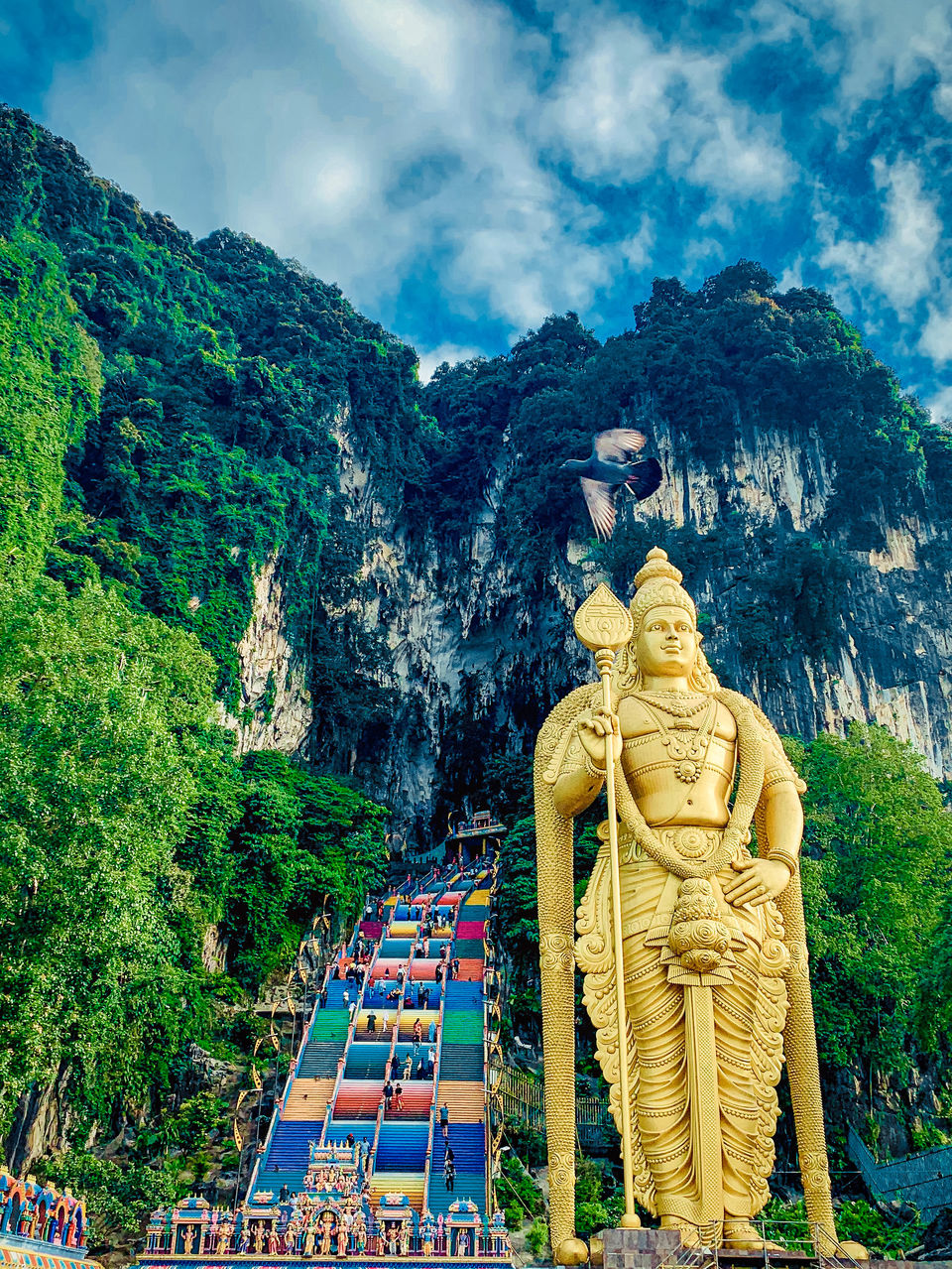 We reached Batu Caves by 09:00 and it was already burning hot, as we got down we could see the Murgan Statue one of the tallest statue which was completed in the year 1891. You could click very nice pictures on the way to temple as you have to climb 900 plus rainbow steps which looks beautiful from far but be prepared it's going to take your breath out! And if you want less crowd make sure you make it early, it was our bad we visited the temple when it was already crowded however we managed to click some good pictures! Over all experience on this temple, yup it was good.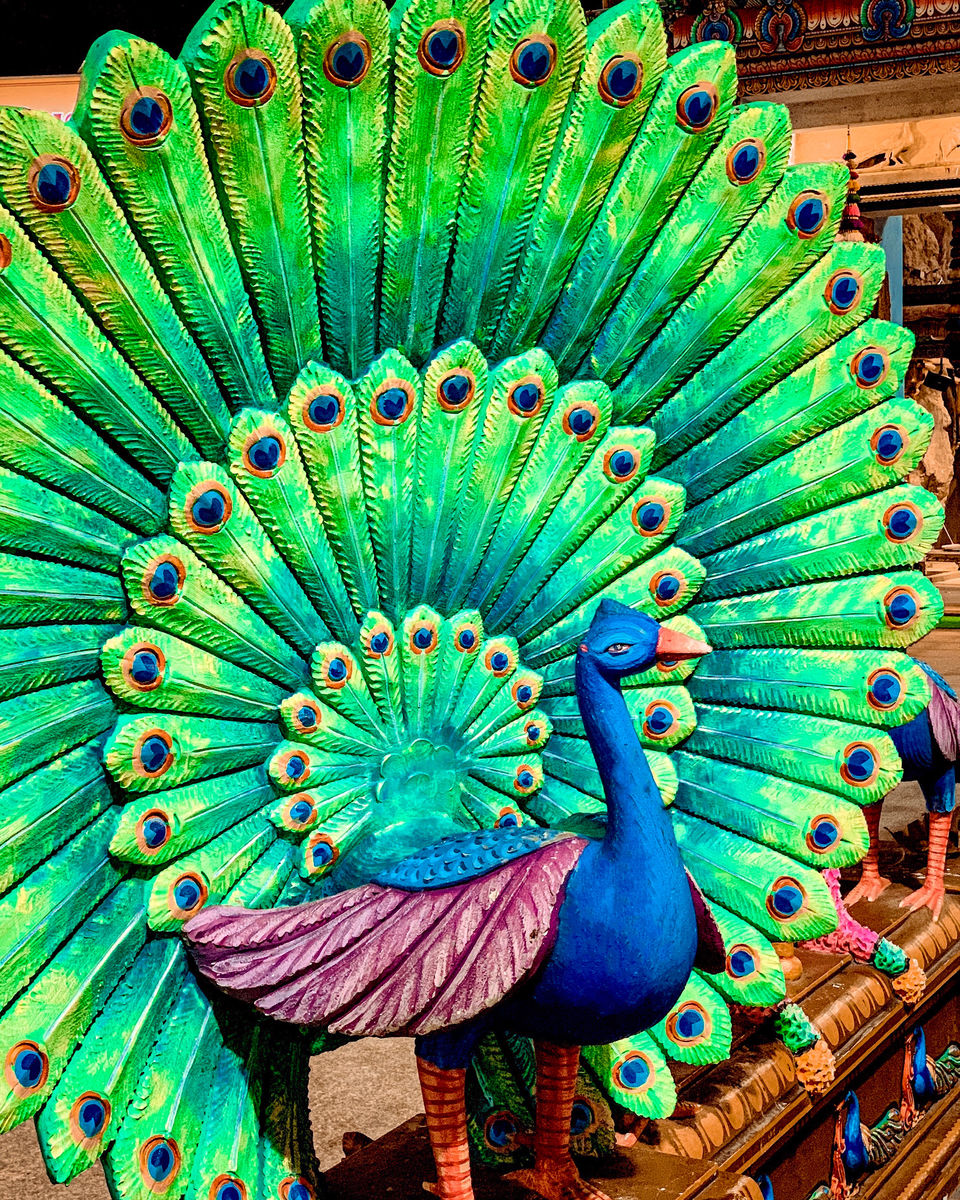 We resumed our journey and entered the destination to Penang on my phone and placed it on the dashboard, and it was showing as 297km ahead straight! can you even believe 297km stretch to enter another state. No right turn or left turn just go straight! As we cruised for while and we pulled over on petrol pump to get the petrol however there's no guy to put petrol to our car, we had to get down and we need to do the job so we had to either use a card on petrol pump machine or pay the cashier who will be sitting in grocery store and let him know the petrol pump machine number and he'll give us a slip and we had to take the petrol pump gun and load the petrol! It was a good experience and we got to know that, this is what will be going on until we leave Malaysia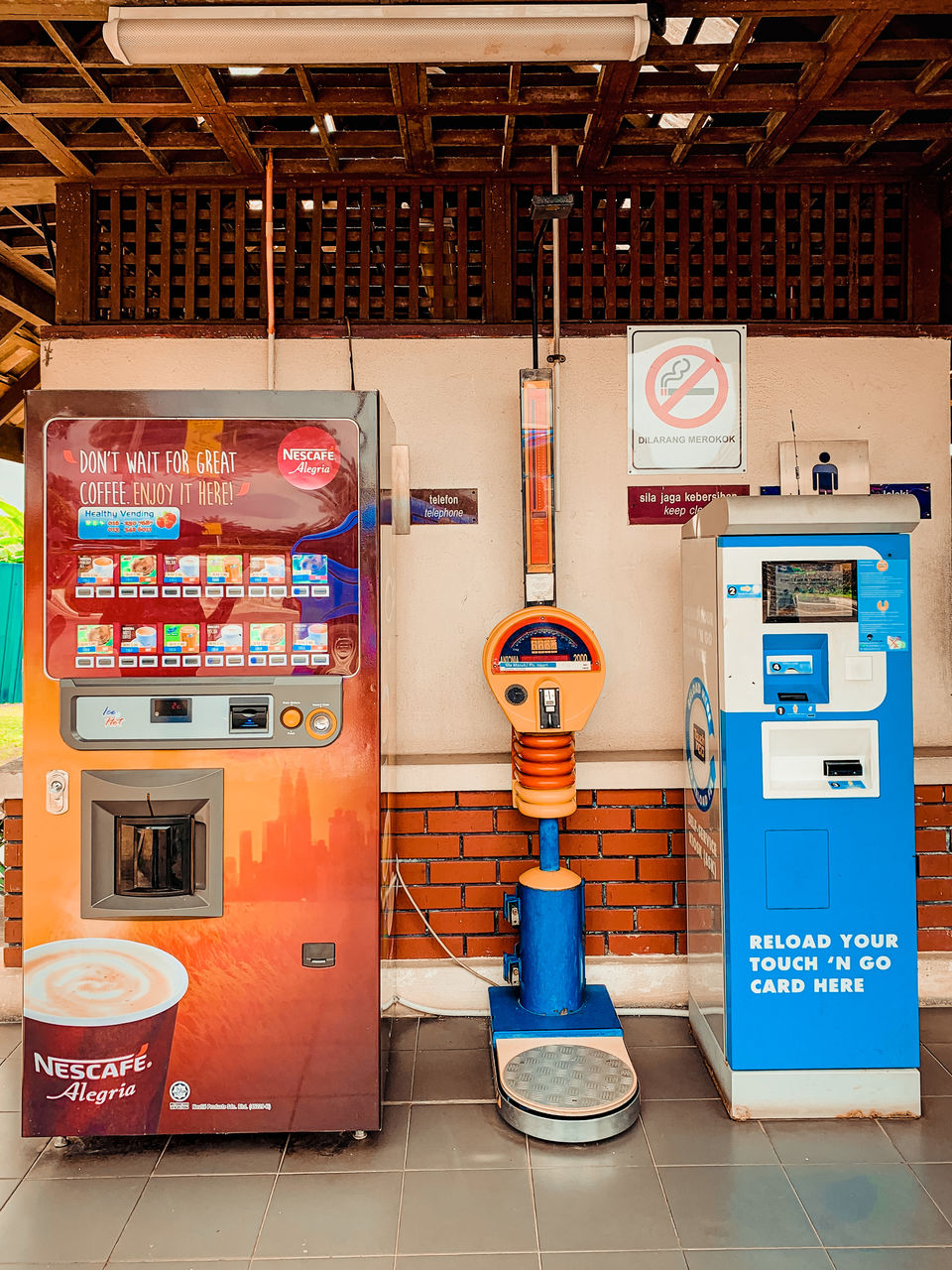 As we cruised over 100kmph the drive was effortlessly smooth by listening to Sandalwood, Bollywood and Hollywood songs one after the other. No one would honk unless they have to do it! As we cruised one fellow in a group who sits in back always fall sleep and two in front starts to talk about life and how we can still dream and live by having the freedom of time and money.
So we reached Penang Bridge by 15:00 which is a 13.5km (8.4-mile) dual carriageway toll bridge and controlled-access highway in the state of Penang, Malaysia. The bridge connects Butterworth on the mainland side of the state with Gelugor on the island, crossing the Selatan Strait.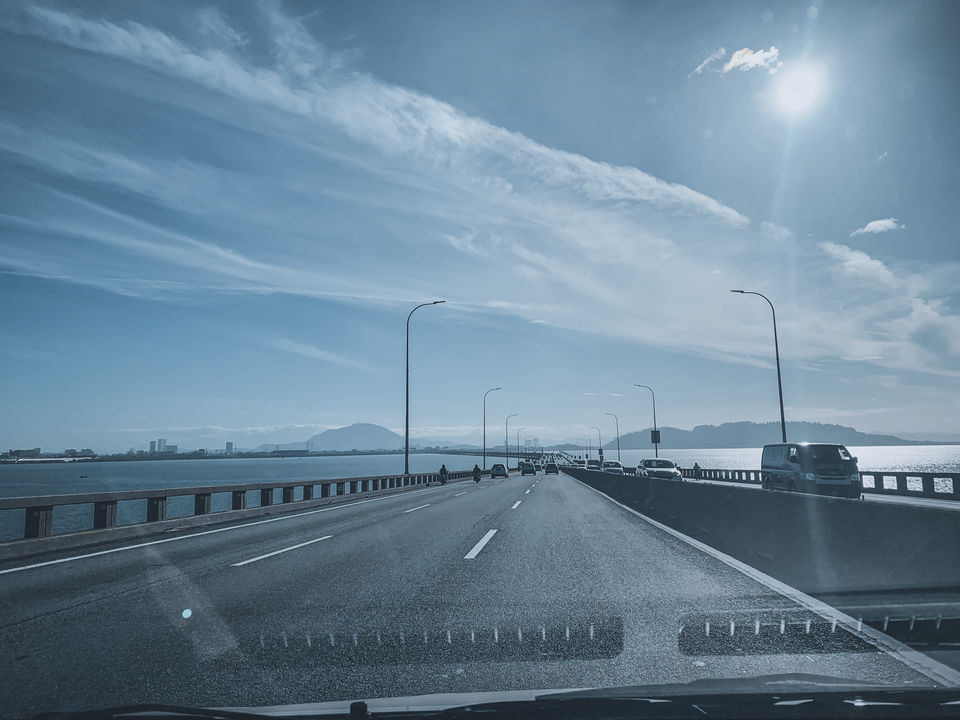 Once we reached George town in Penang our airbnb was Old Time Penang at World Heritage City and we had no place to park our car, however if we had to park we need to buy a ticket or you can call it as booklet of parking tickets which will cost you 4RM and you need to purchase this from any supermarket like Seven eleven.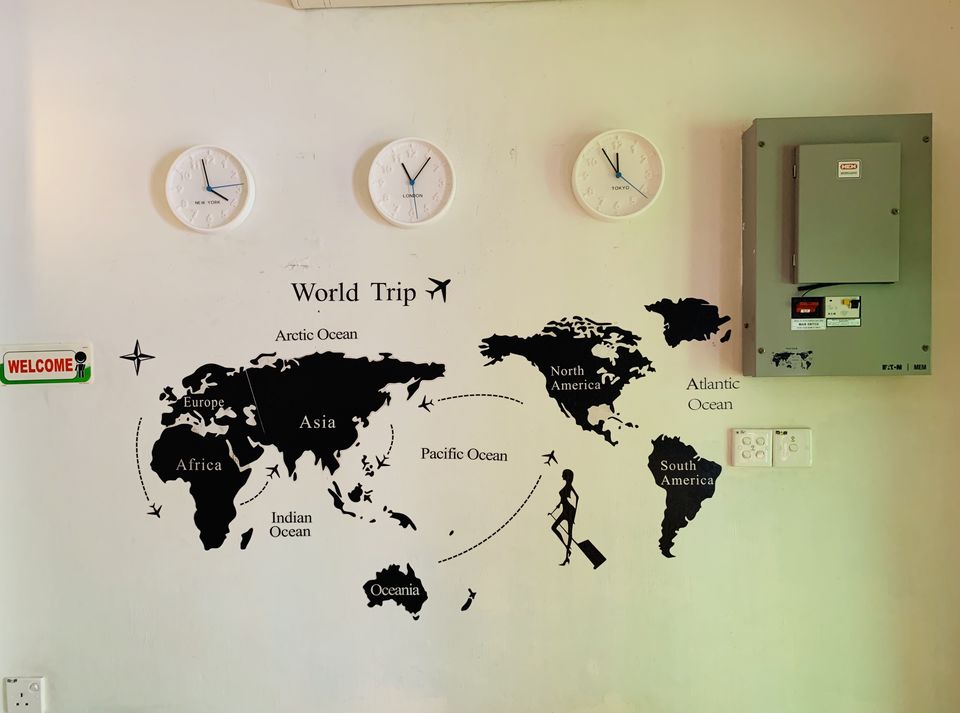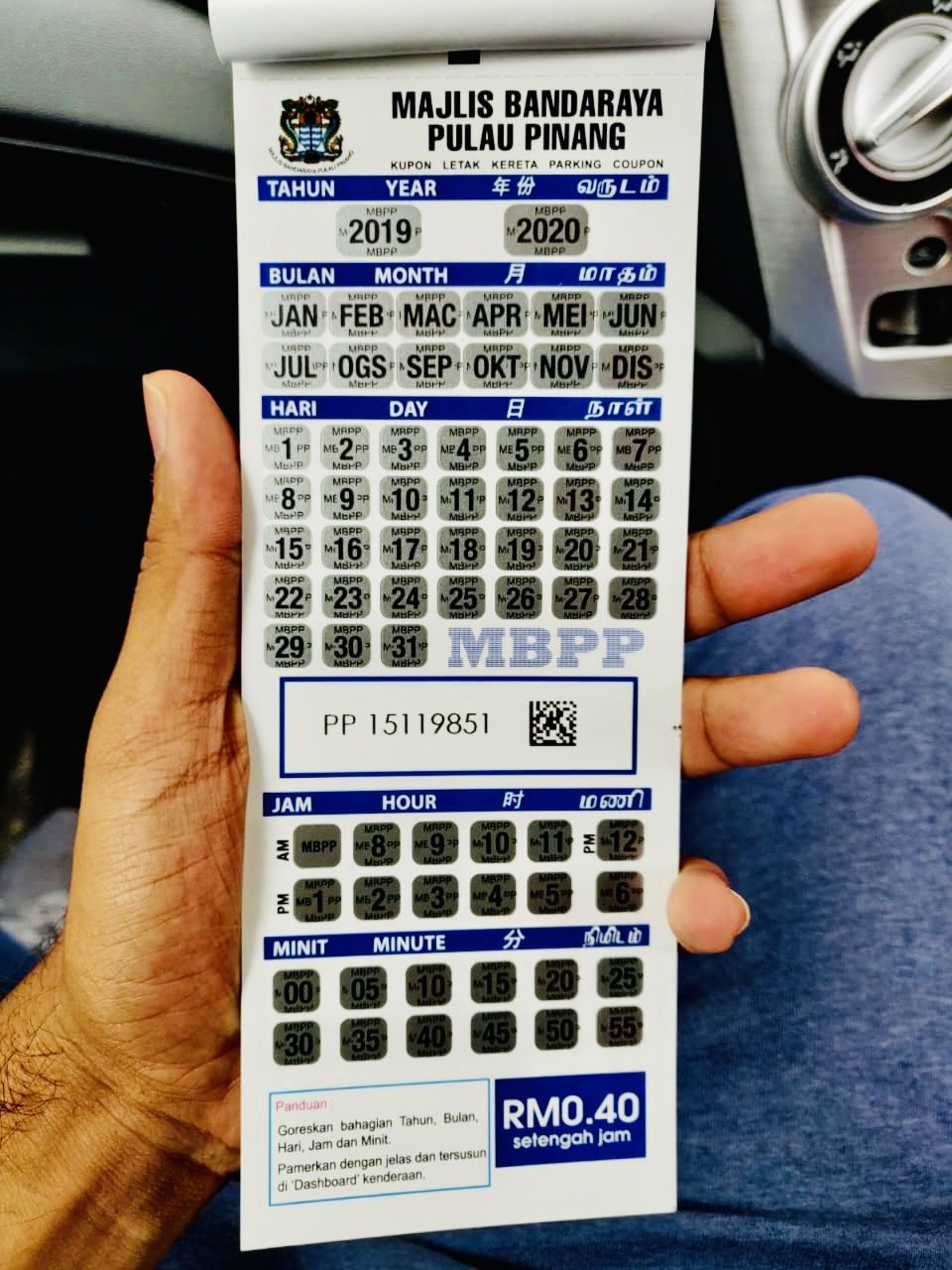 After we kept our luggage in our room we headed to Clan Jetties of Penang, it just means that people who have built home and shops on beds of ocean with the use of concrete and wood and it's a must to visit this place when your in Penang as it's very peaceful to see the ocean on the wooden plank where everyone remains calm by looking at the ferries which transports vehicle and goods and just to enjoy the calmness of water and to relate to yourself! Trust me when we three made to this point, it was an absolute silence in between us, it's not because we had nothing to talk but we were indulged in that moment looking at the calm ocean.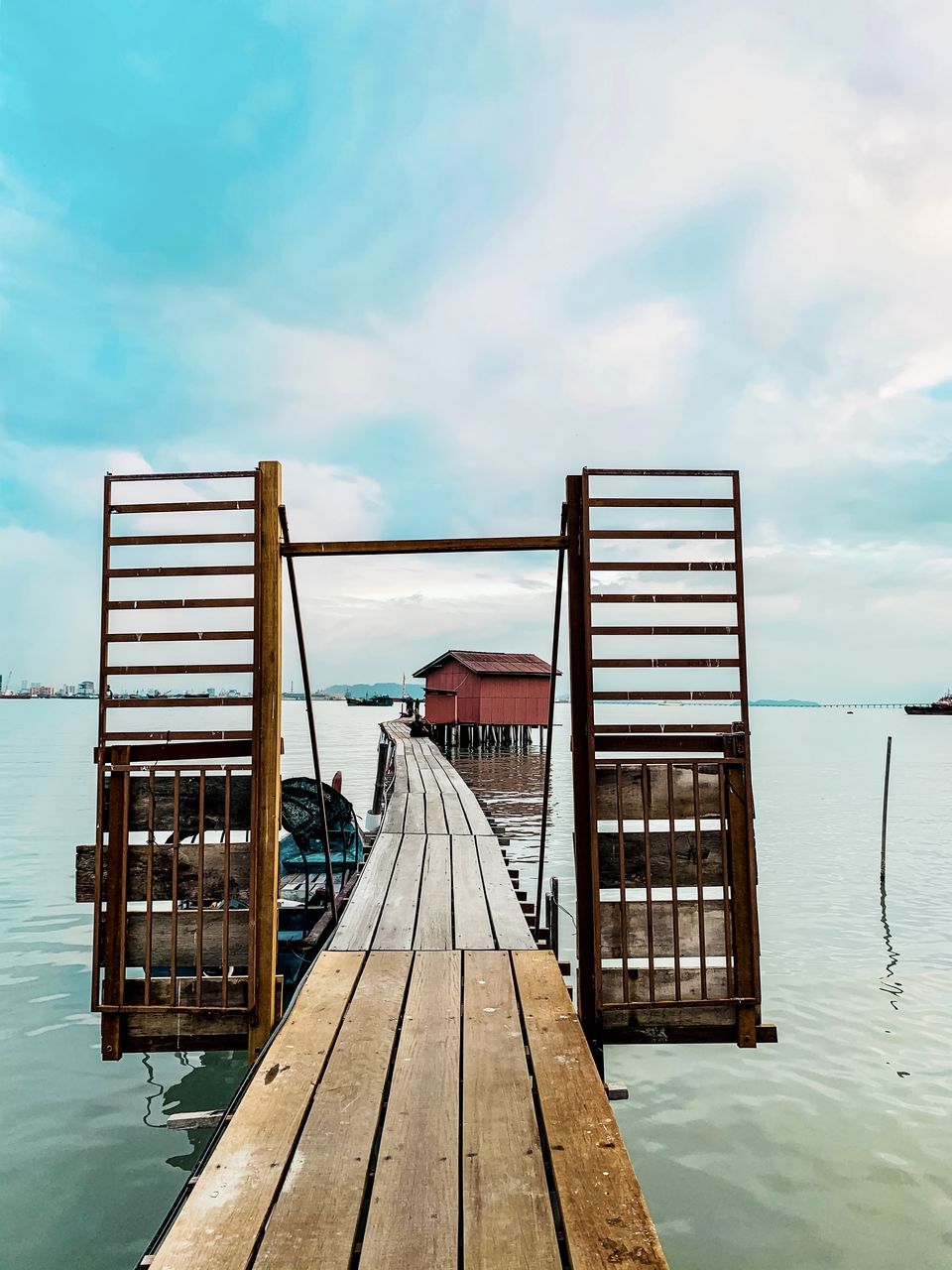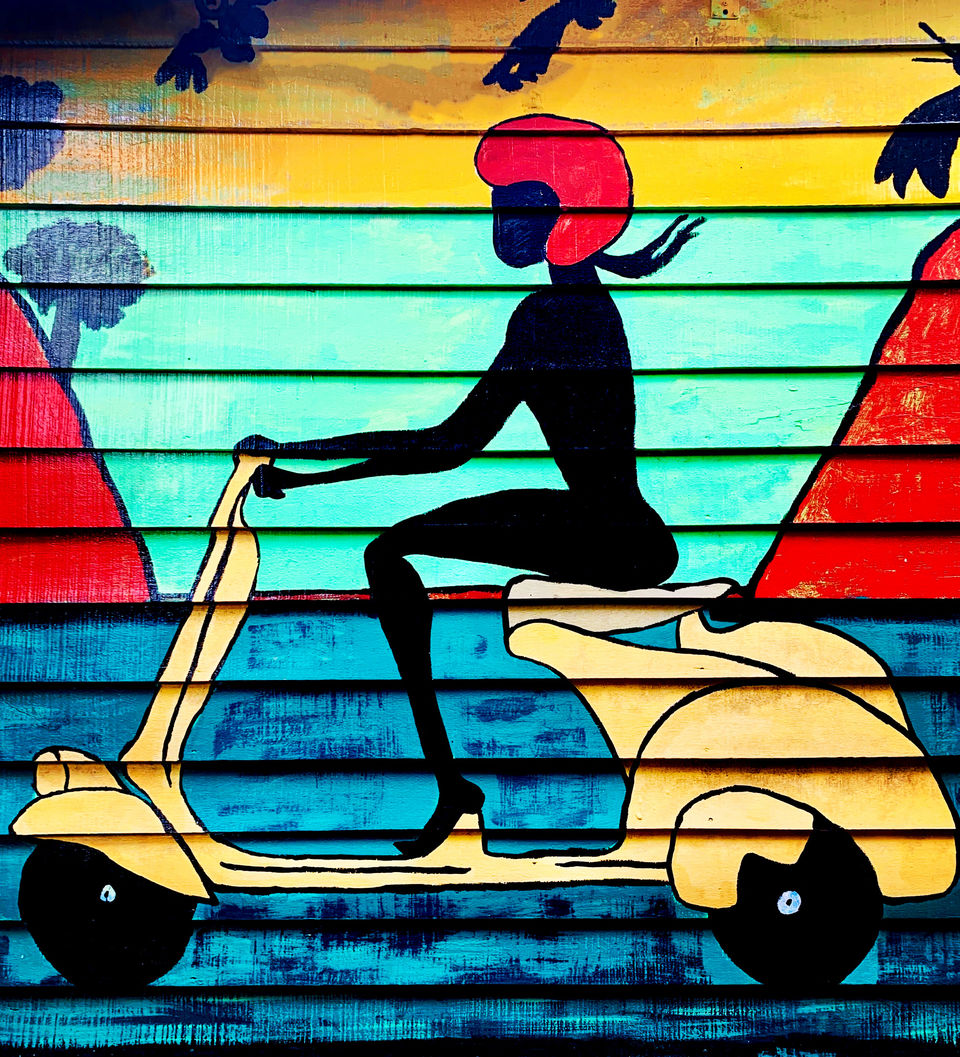 Later that evening we took a lazy walk on old street road looking around the delicious foods which is always sweet or it would with soya sauce. We already had enough of having sweet breakfast, lunch and dinner of soya sauce and we really wanted to eat something spicy so we had cup of noodles which is mixed of fish and chicken with egg and green chilly syrup! And we had to take more than 5 green chilly syrup to make it spicy and then have our dinner.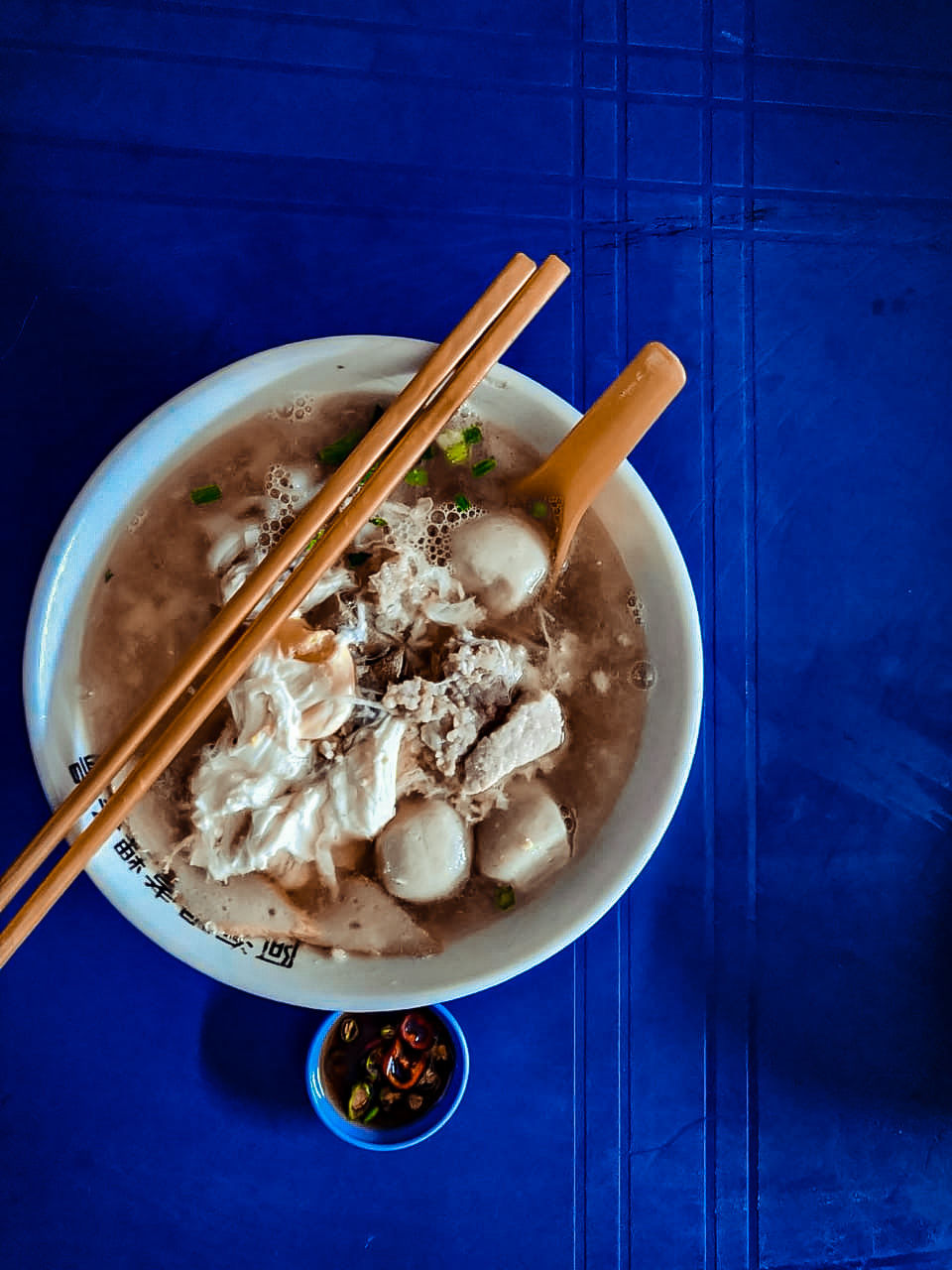 After a long walk on empty street at 20:00, we had to ahead back to our room and had two pegs of 18 year old whiskey to cherish the day and thank the universe for this beautiful day!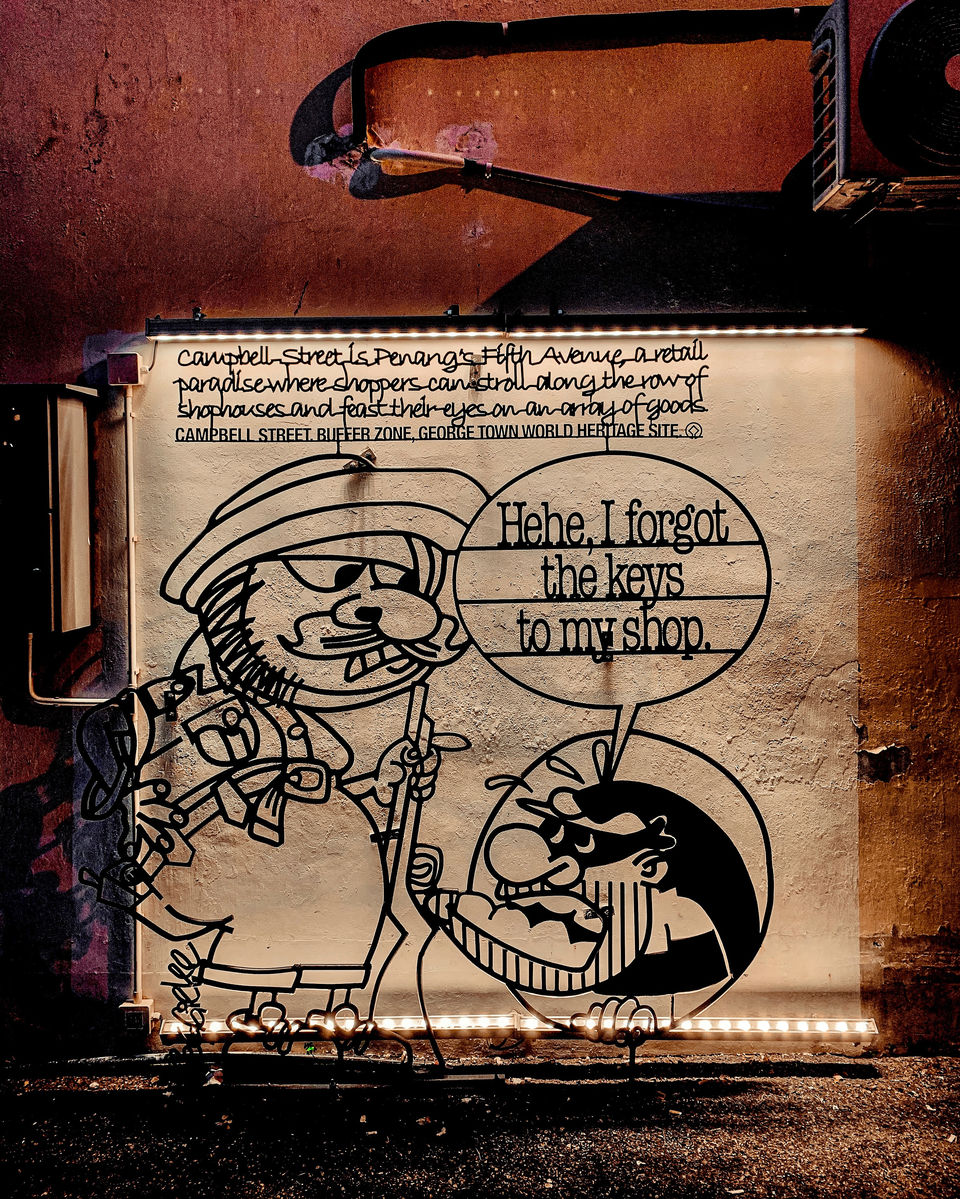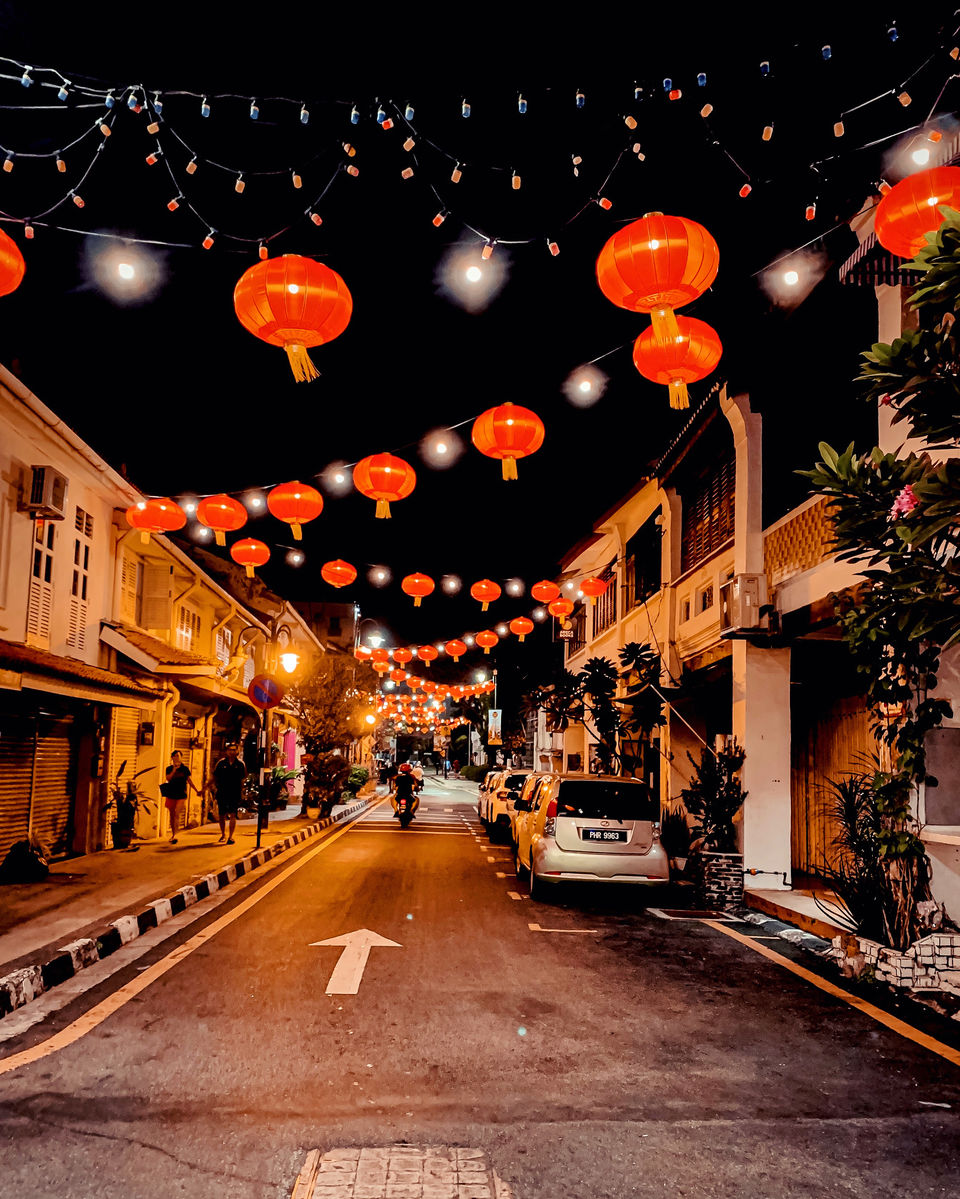 Words to live by -
Keep your clan close who dream and focus on success so that even you'll end up being the same!
DAY 4
The day was lit up quite quickly as we had to go for couple of places today, One was the Street art of George Town, Blue Mansion and also to Batu Ferringhi for sunset views.
So morning agenda was full on photo shoots on Street Art Penang which has been painted by many artists on George Town, every art in these streets tells a story of thousands emotions, however there are many popular paintings which has been painted but very few are quite famous and we took whole day to find those paintings which we always craved to see and take pictures with them, follow our Instagram handle for few famous arts photos with near by landmarks so that next time when you guys make into Penang you don't have to get tanned like us!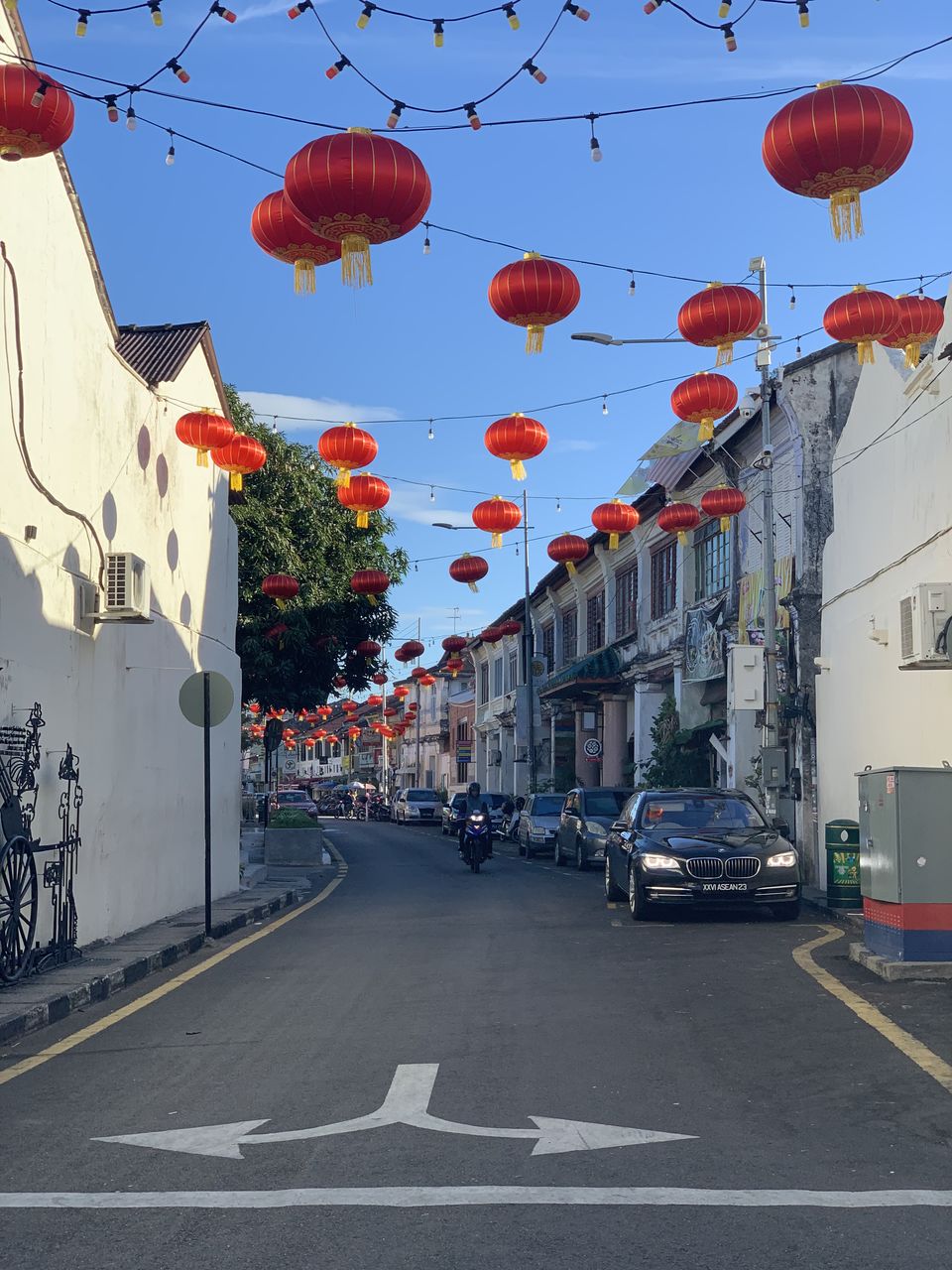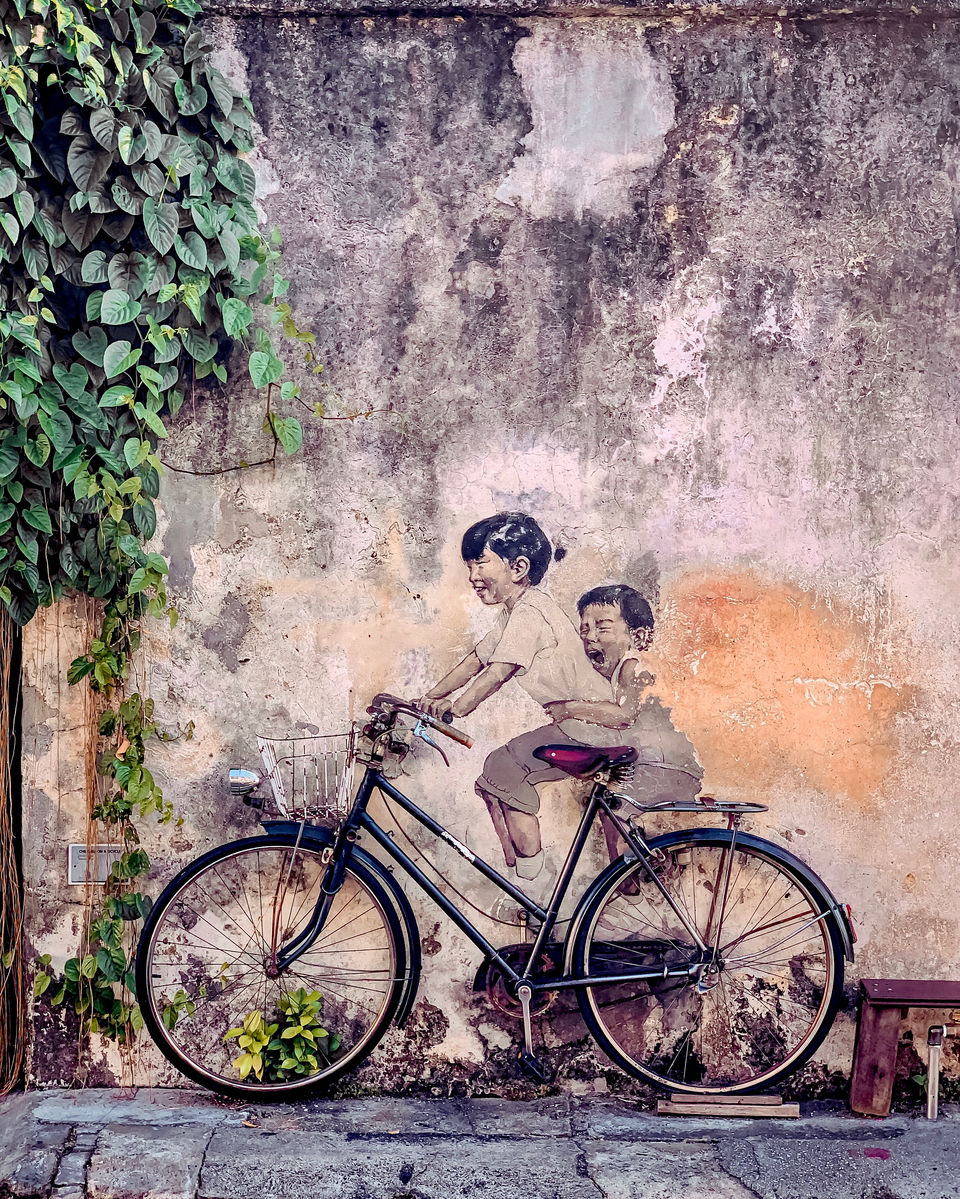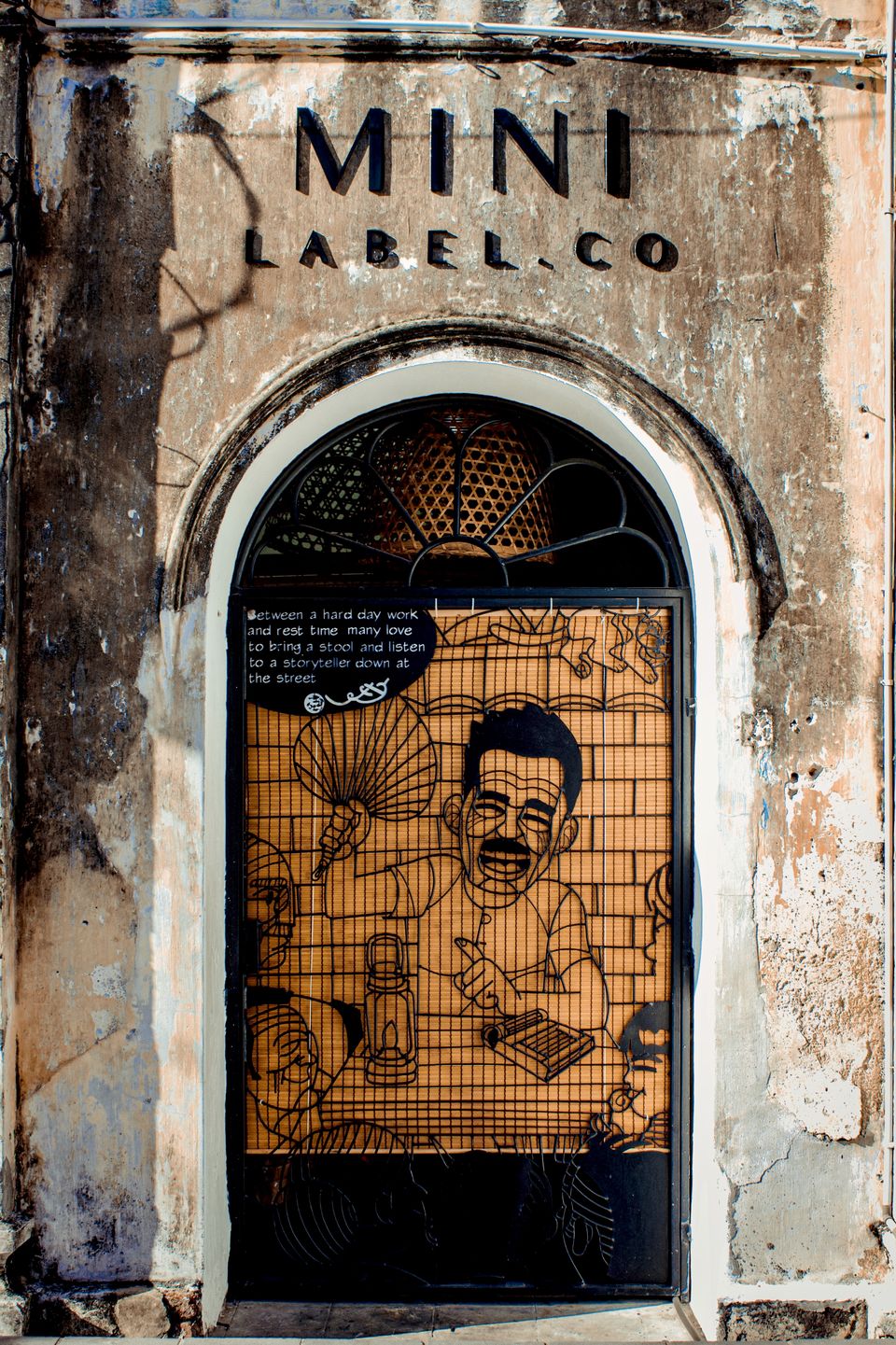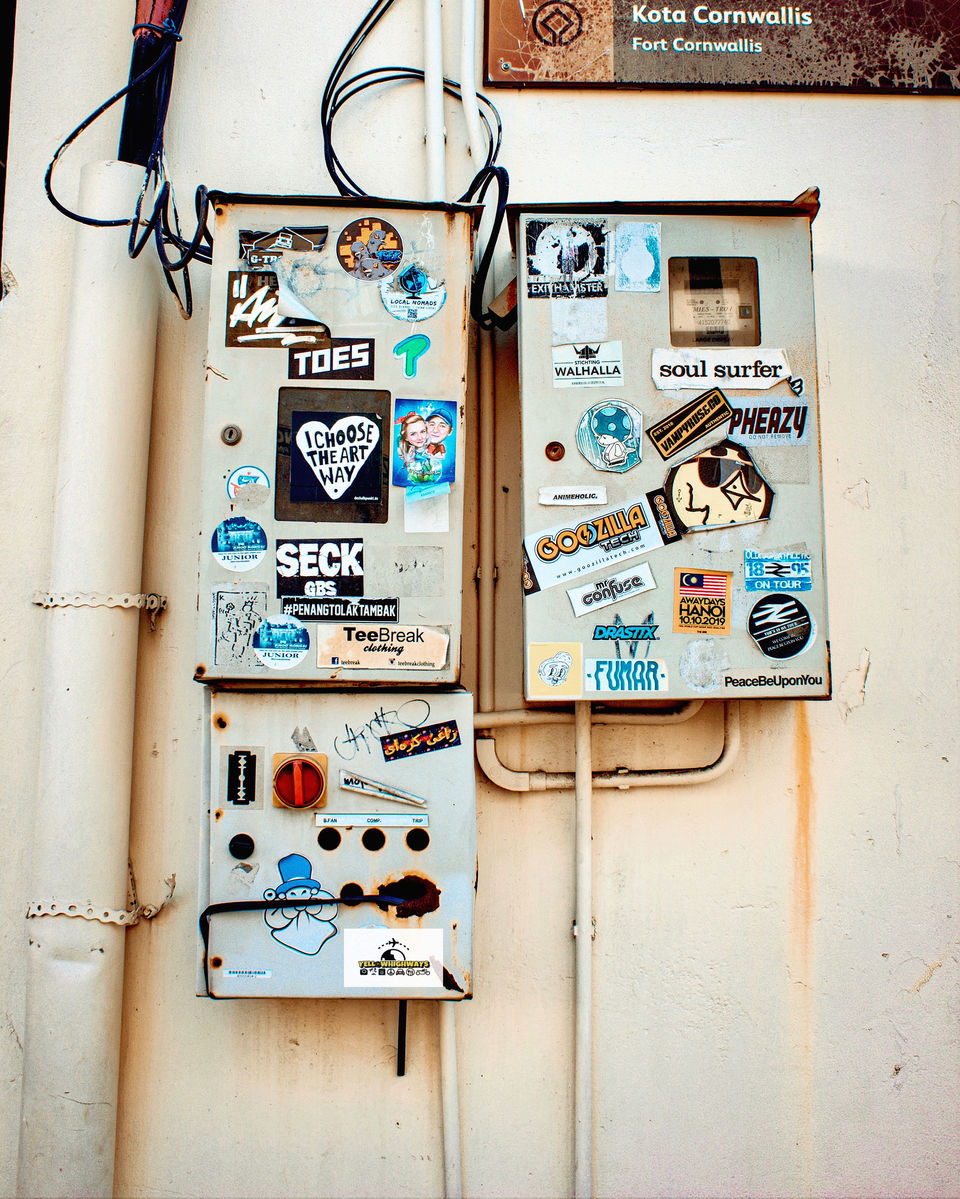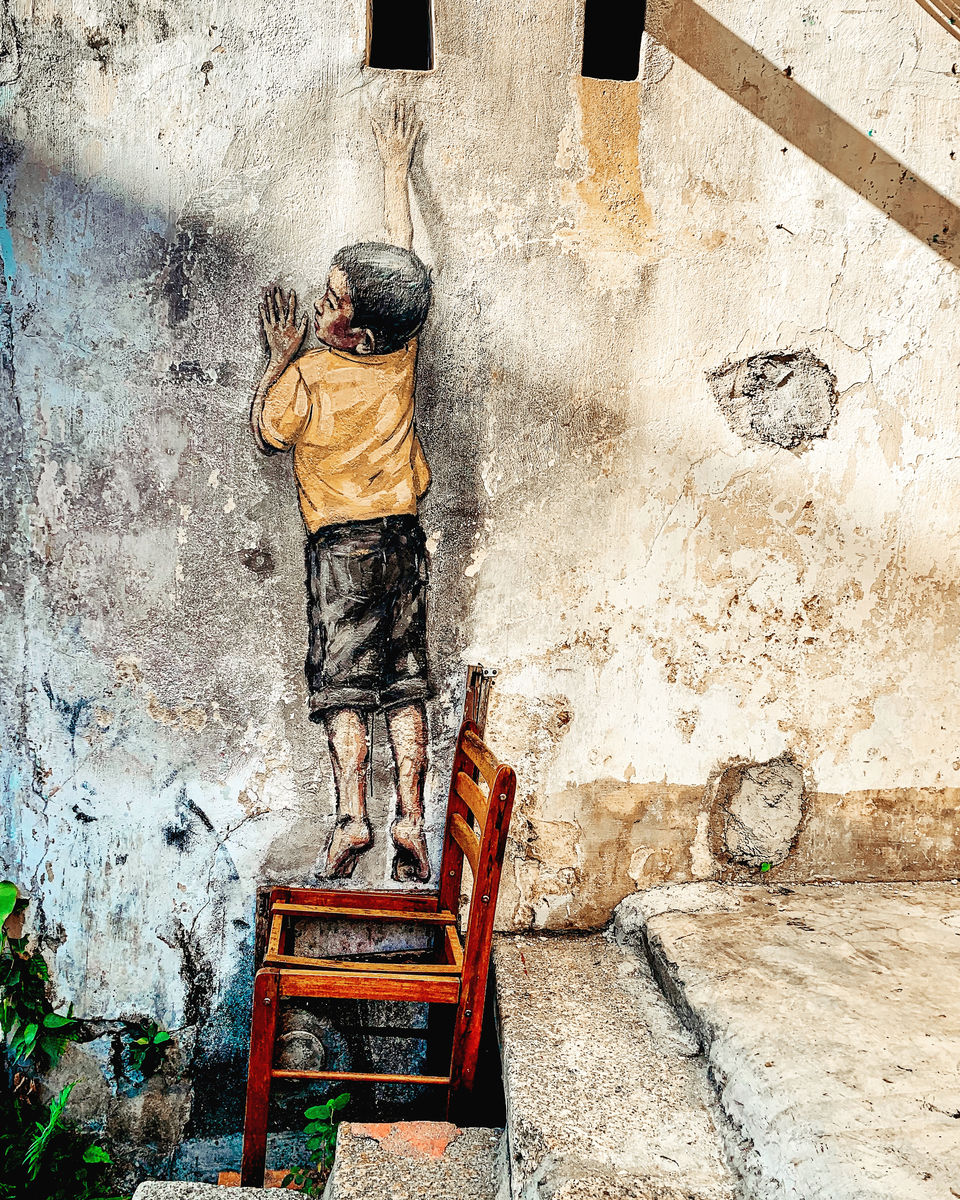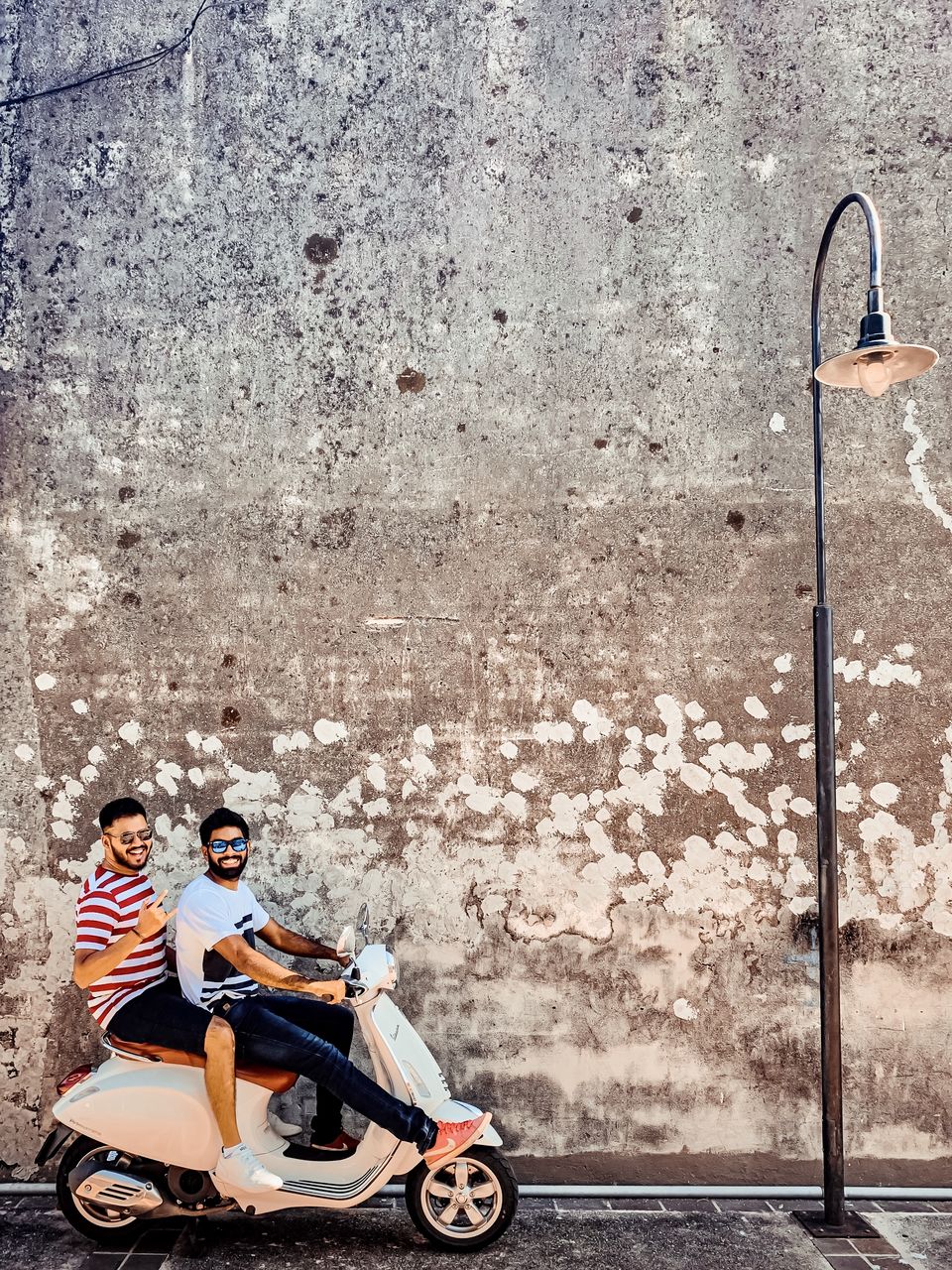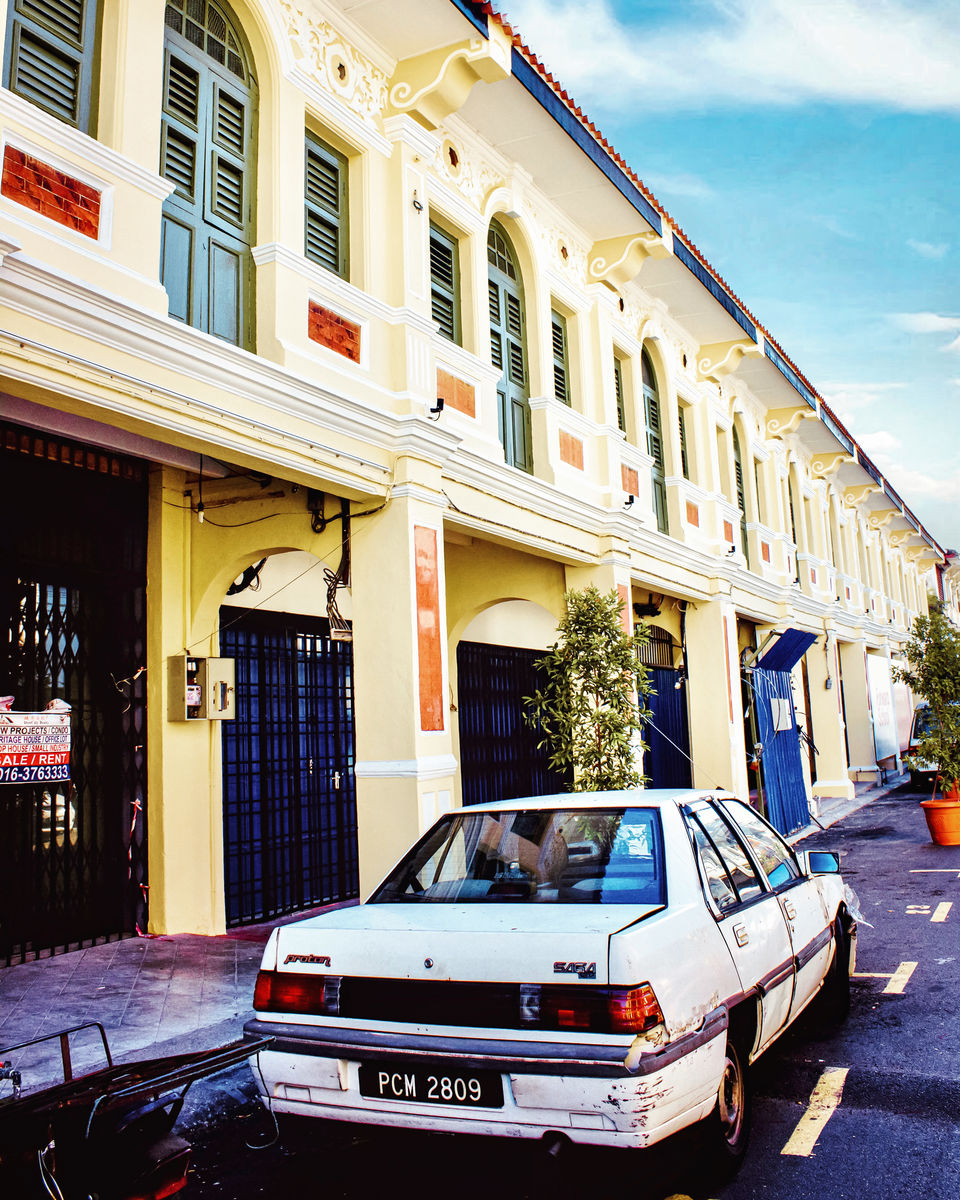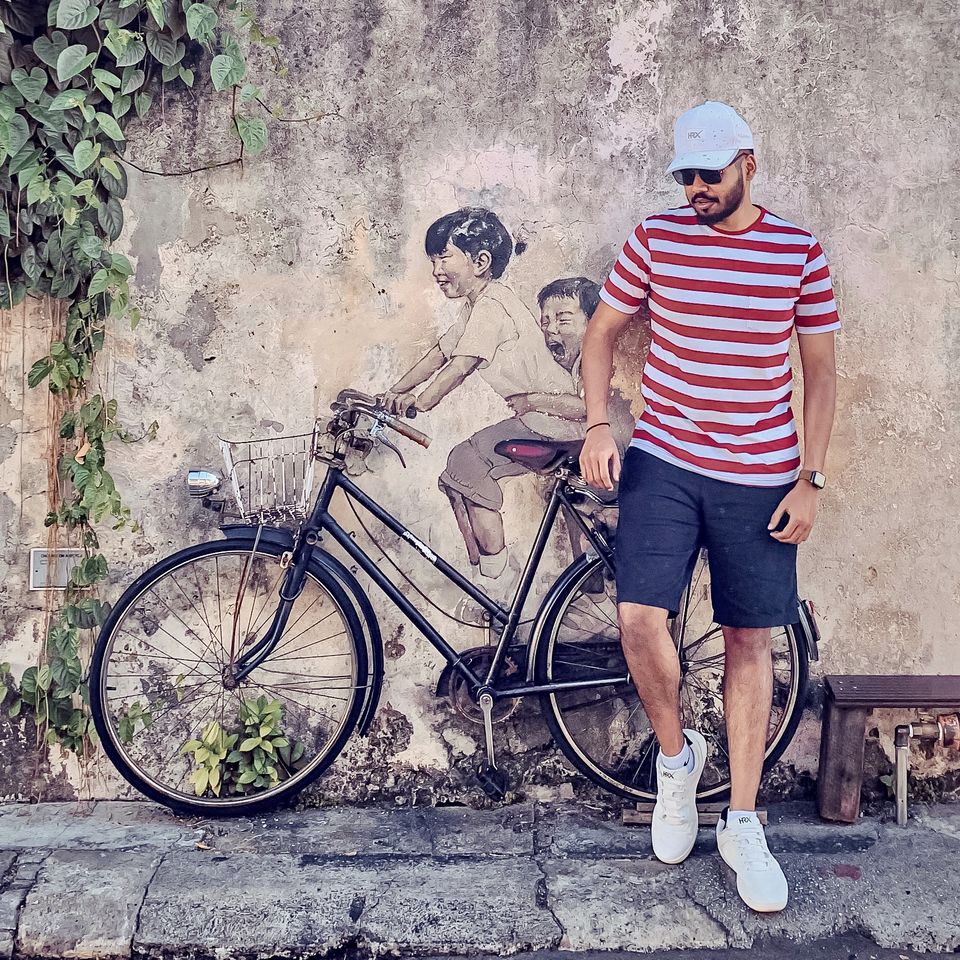 Next place to visit was the famous mansion known as Cheong Fatt Tze also called as the blue mansion of Penang which is government gazetted heritage building located on Leith Street, George Town. One must truly visit this mansion if your interested in history and heritage, the story behind this Mansion and why it's particularly called as blue mansion is something which is worth knowing for as previously there are many Hollywood movies have been shooted here such as Crazy Rich Asians, Indochine, The blue mansion, Road to down and The ghost bride many more.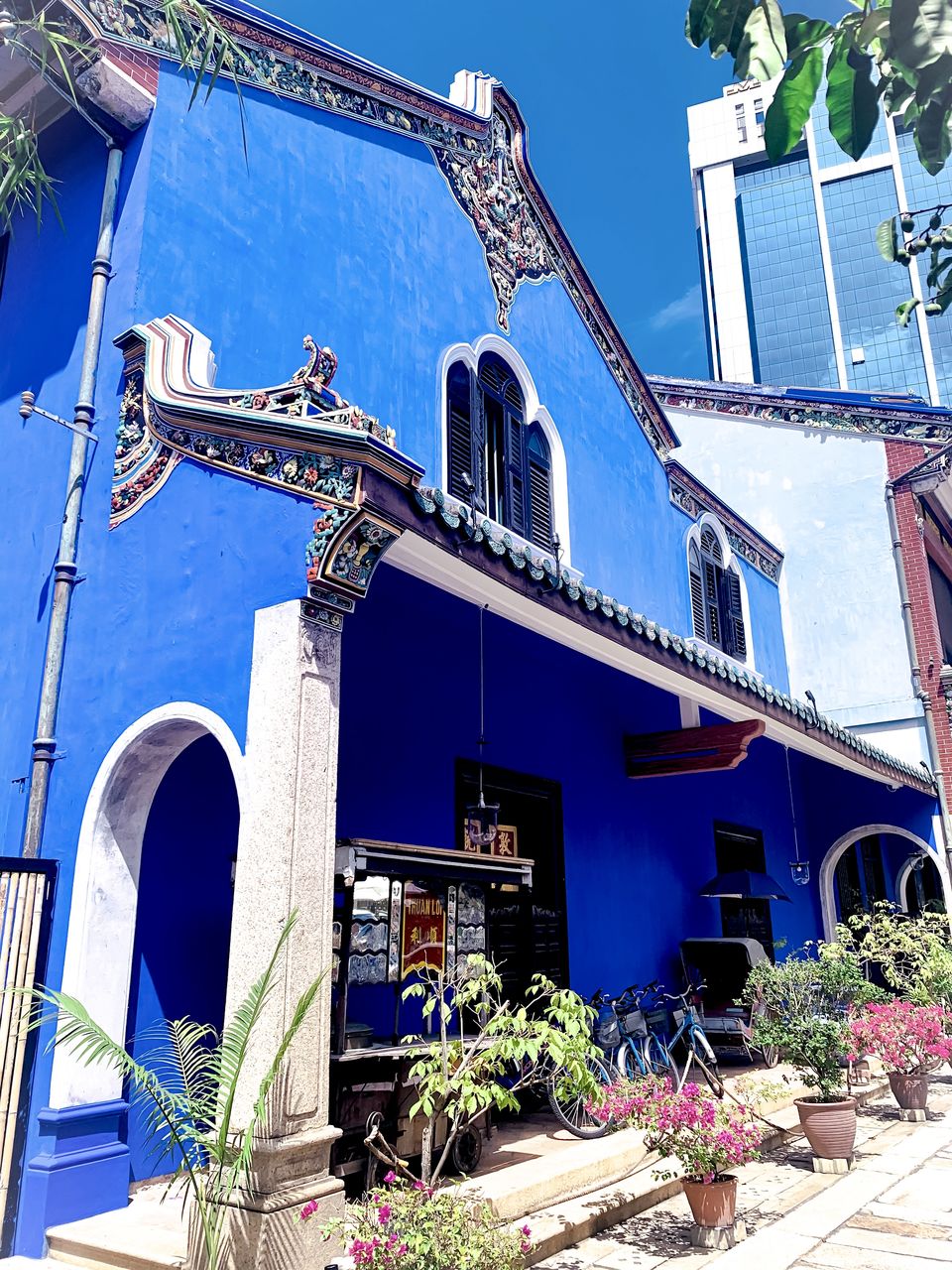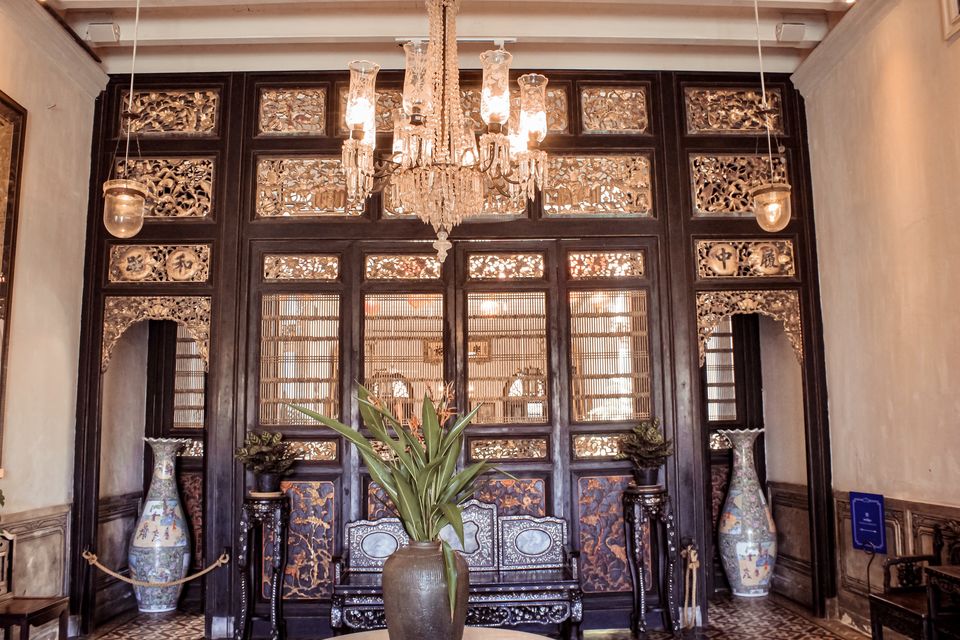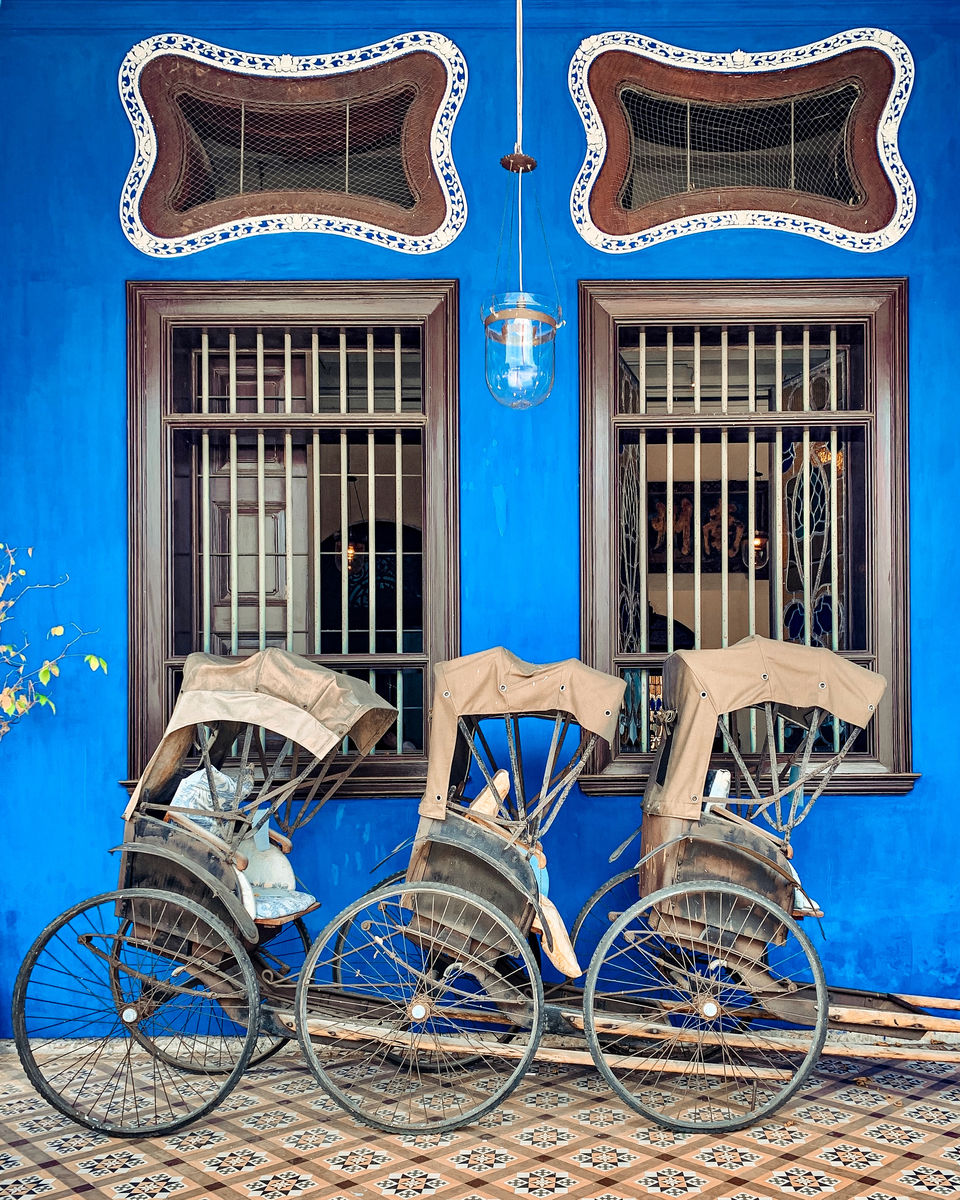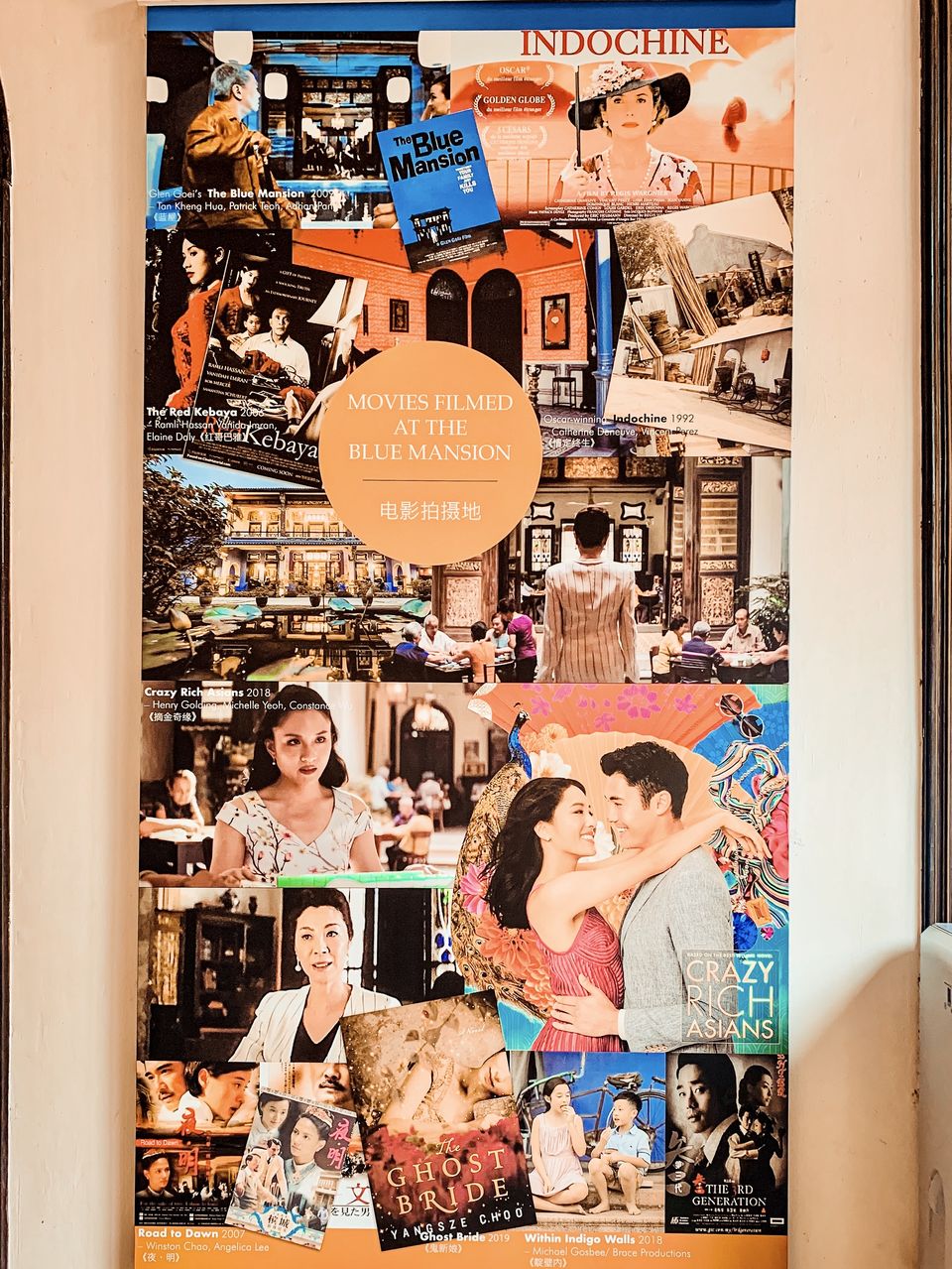 Once the tour was done, we drove to Batu Ferringhi to enjoy some sunset as we drove we realized one thing, rather than falling in love with the destination we fell in love with the journey and intent towards to it!
So we just sat down on white sand beach looking at kid who wanted to ride a horse and her mum who was negotiating for a fair price and a couple who is dreaming of brighter future who held hands together and walked on the shore, and also a introvert who swam all alone in the middle of ocean by living in that moment.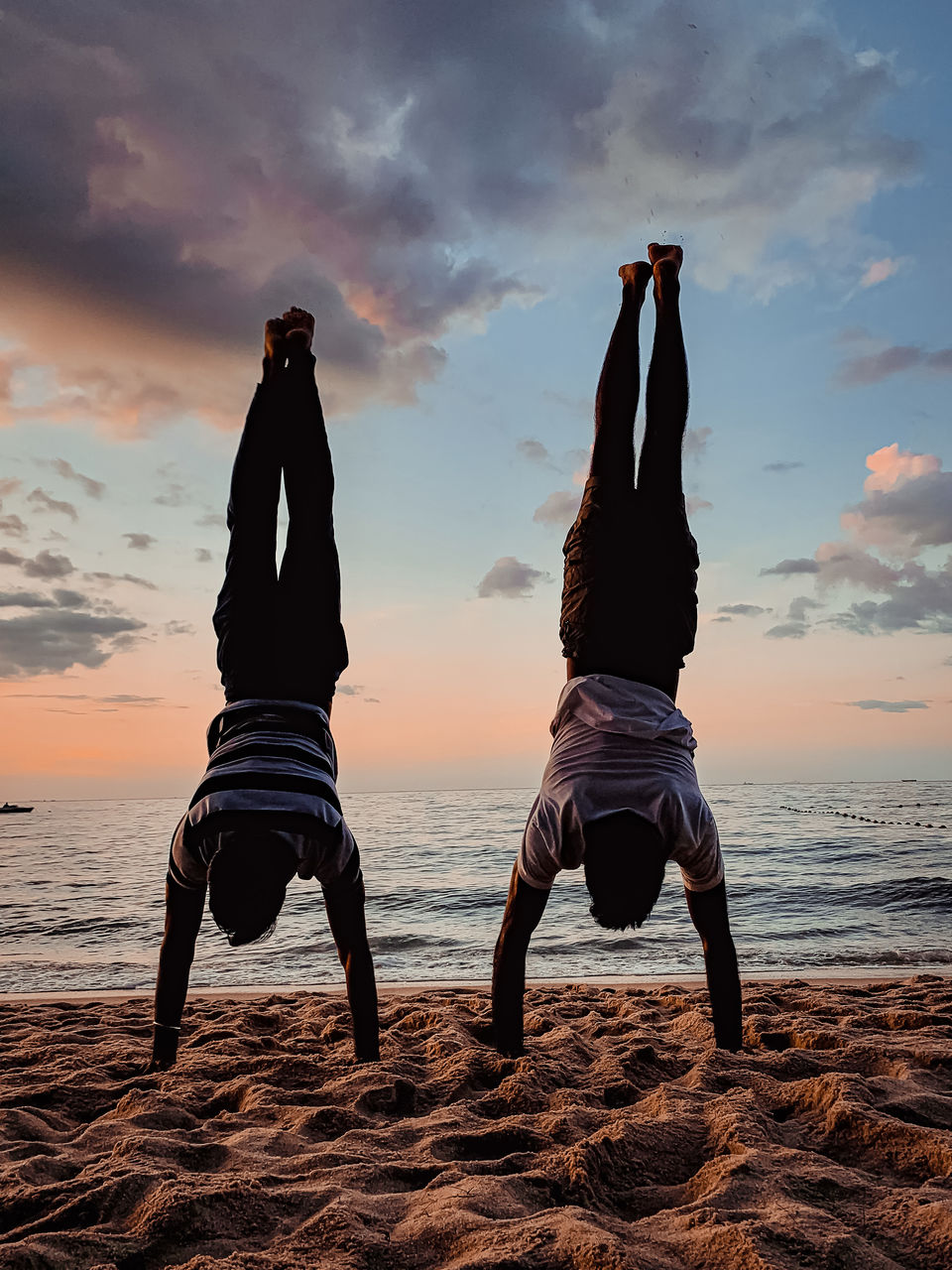 And we guess what? We were practicing hand stand! So after all at the end only moments what you live matters than to listen to someone who has done it already.
Words to live by -
Go Now!
Time will never be right.
DAY 5
Another day, another drive of 180km effortless drive. The agenda for today was to drive from Penang to Kuala Perlis which leads to leave our footprints on another Island known as Langkawi.
Langkawi is known for its own night life and duty free shopping, exquisite beaches and pristine rain forest and must to remember expensive parks as well.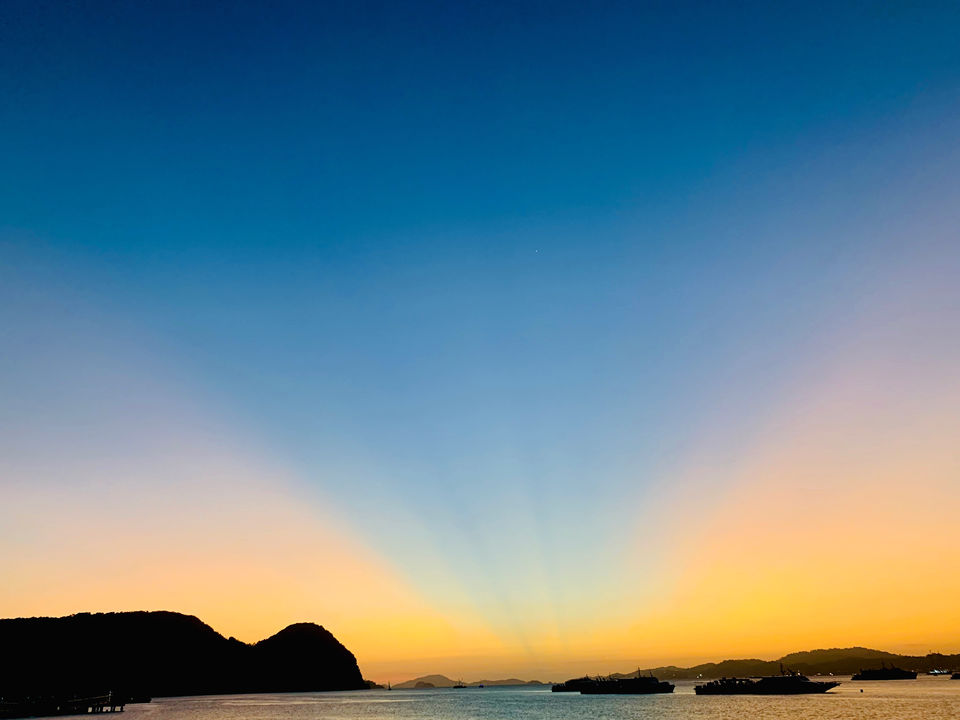 The Drive from Penang was beautiful as you get to drive on country sides where you can see green paddy fields and banana plants miles together planted and cropped. It hardly took 2 hours to reach Kuala Perlis where we supposed to park our car for two days which costed around 30RM and then bought ferry tickets to Langkawi which costed around 18RM for each, the cruising on ferry was for 2 hours actually but we touched Langkawi 30 minutes early and the journey was quite smooth it was not at all a bumpy ride as we always have an assumption that ferry rides will not always be the best one.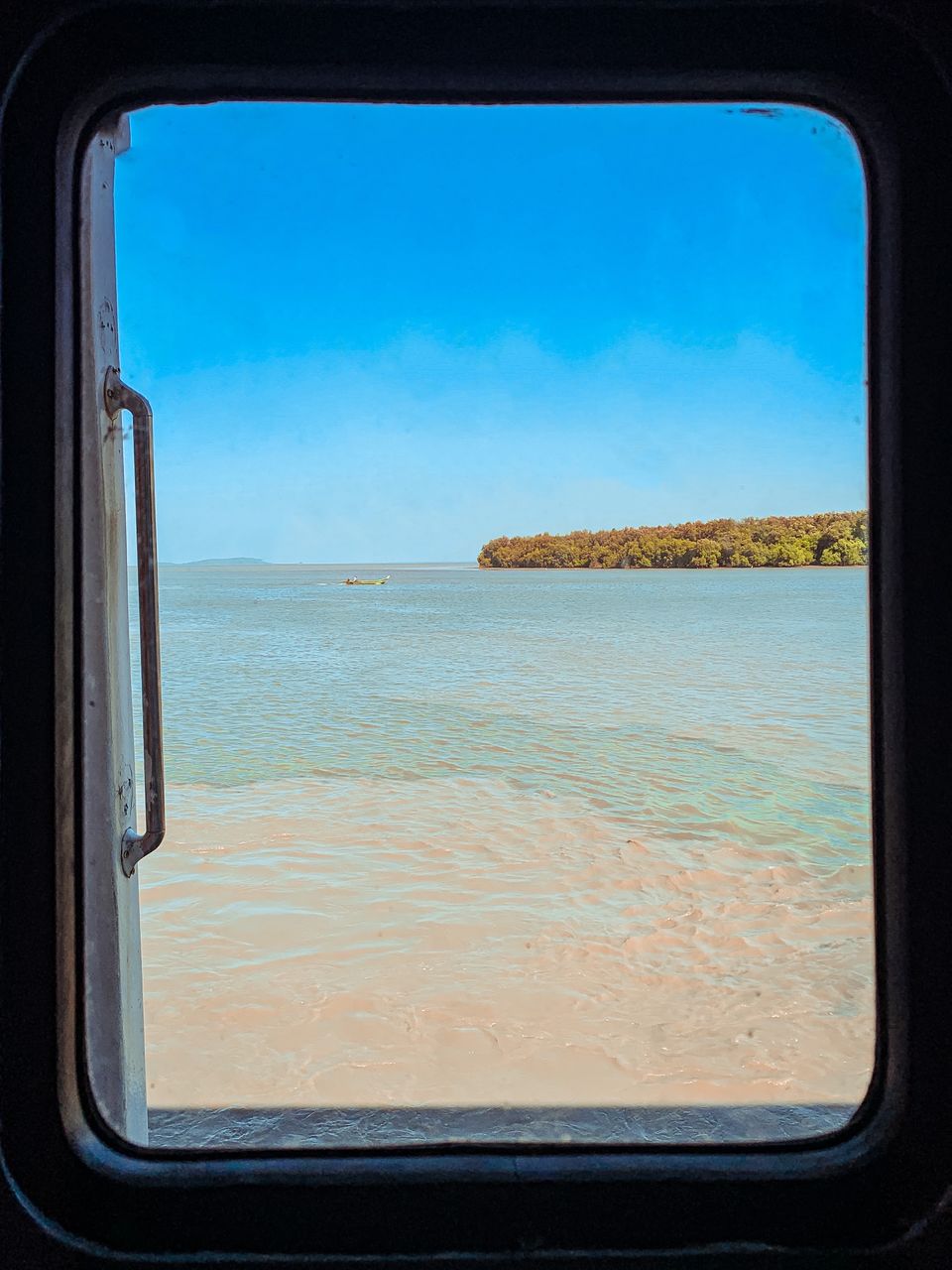 So once we touched down the Langkawi we hired one more car for 100RM for two days and drove to stay called as Lavigo Resort which was approximately just 5 minutes from Langkawi airport, the hotel was really good and you could easily give 3.5 out of 5. As we checked in at the hotel we unpacked all our stuffs and got into pool to relax as the next place of visit was the famous beach called as Tanjung Rhu Beach for sunset. After learning swimming lesson from one of our fellow member which went on ruin we decided that to go get fresh up soon and head to beach as the distance was 18km and it took 30 minutes to reach because of slight traffic. Well, the journey to beach it self was very soothing than being in front of the beach but it doesn't mean that it was not beautiful. It was very pleasant beach where you can get to see three giant part Islands on a row in middle of ocean and a sun who's trying to set in between then by turning orange which is something everyone got to see it.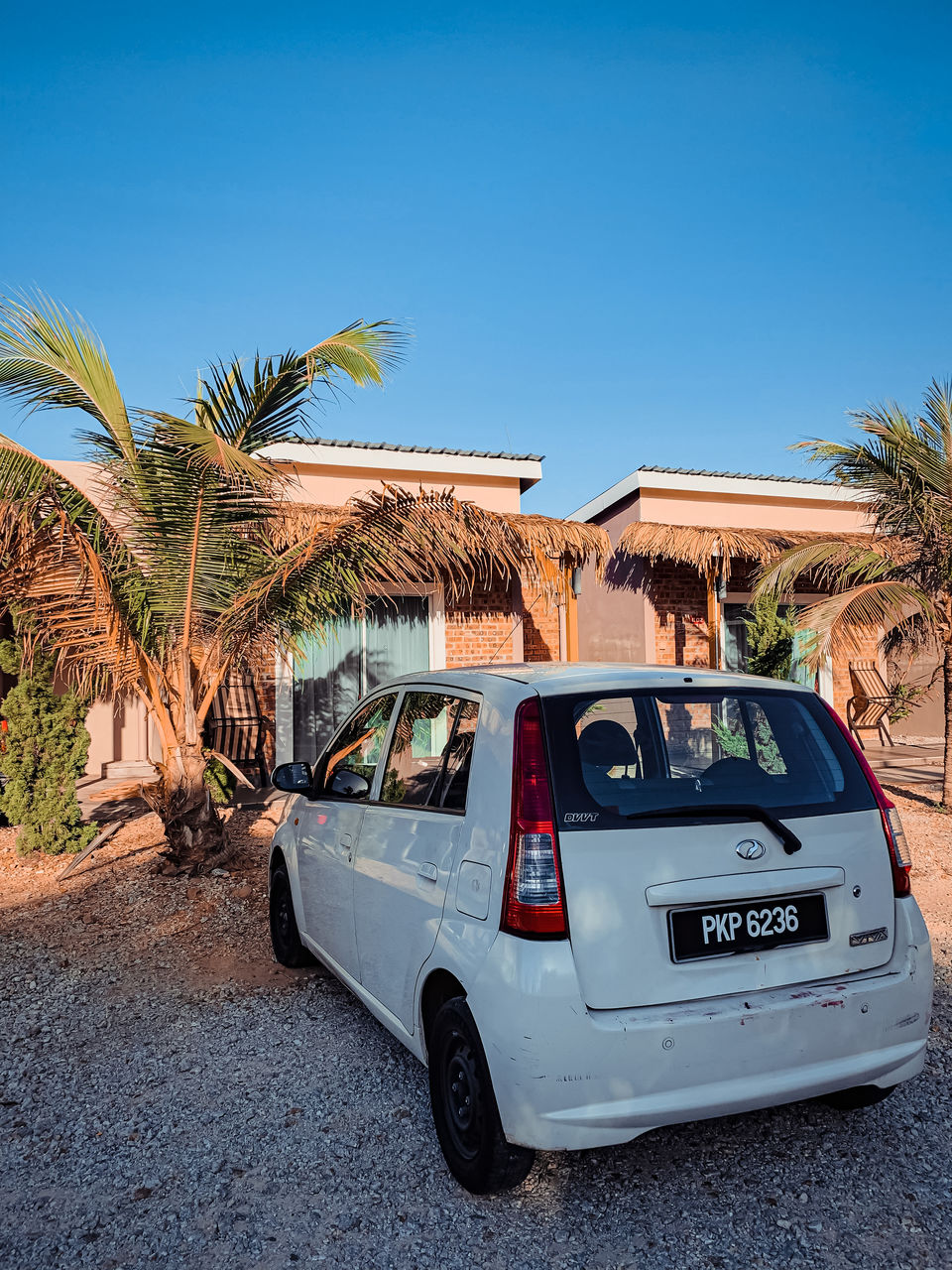 I have been to many beaches so far but none of them are same each beach will have its own vibe, some give urge to jump and play, some give peace, some give joy, some give memories. So if you ask me which is your all time beach, I wouldn't be able to answer that question it's like choosing to stick on to only one of your favorite food for a life.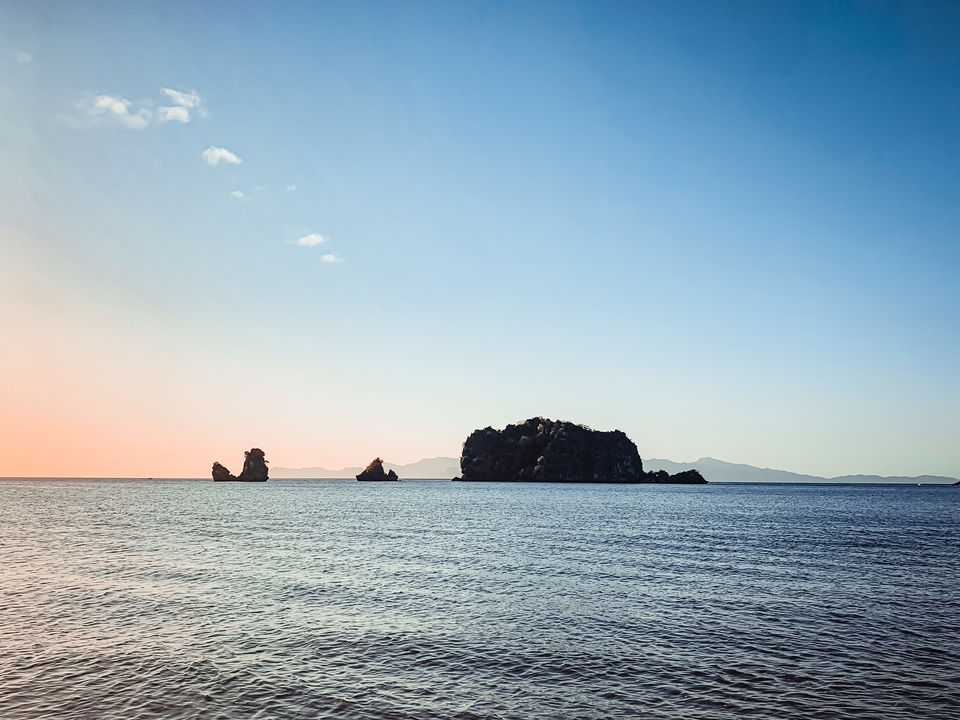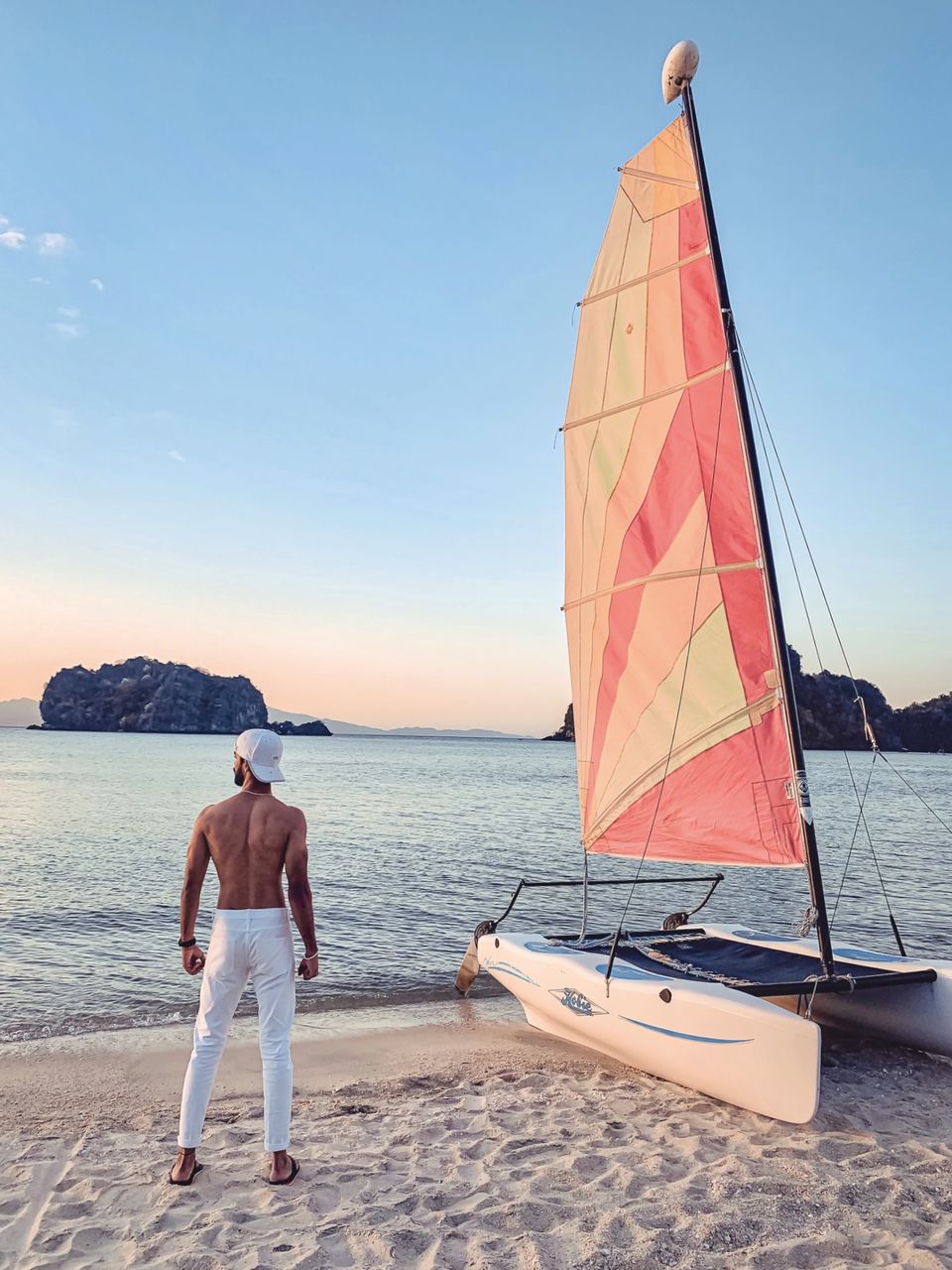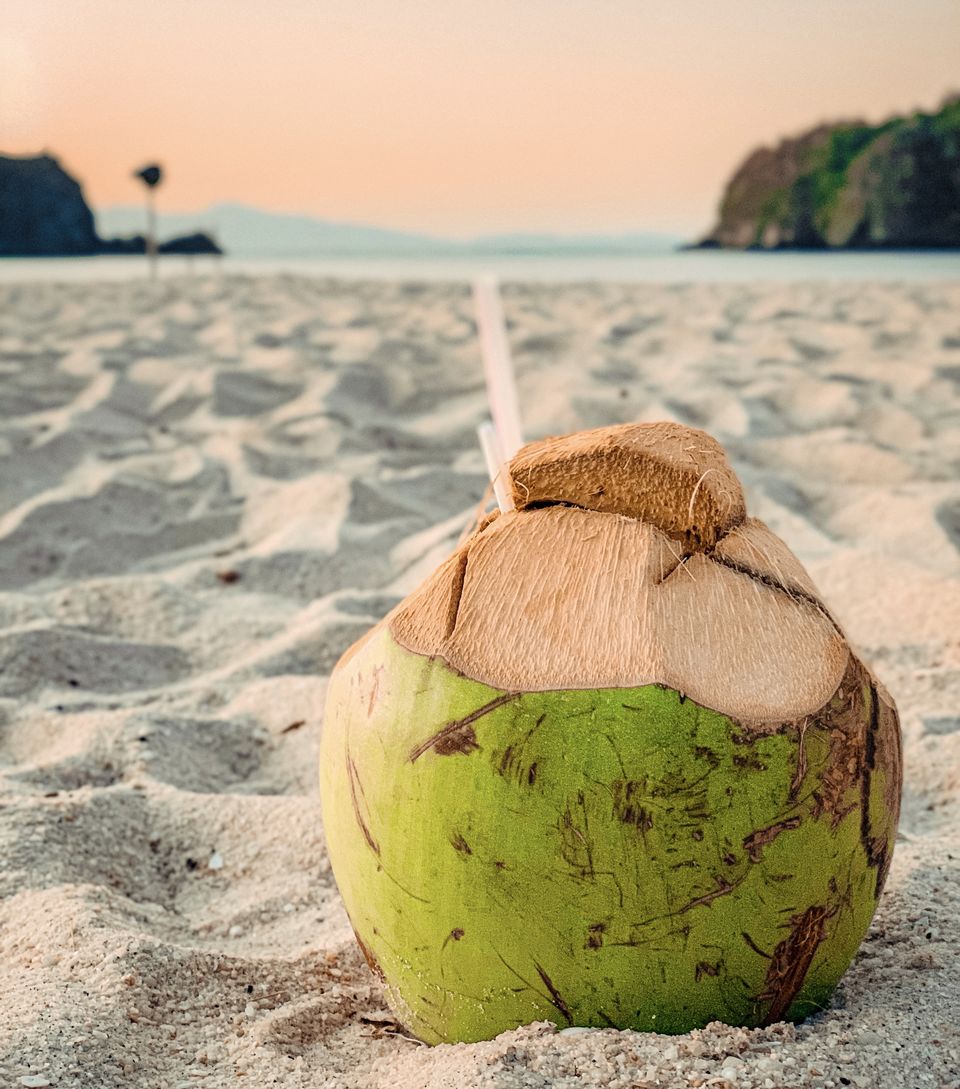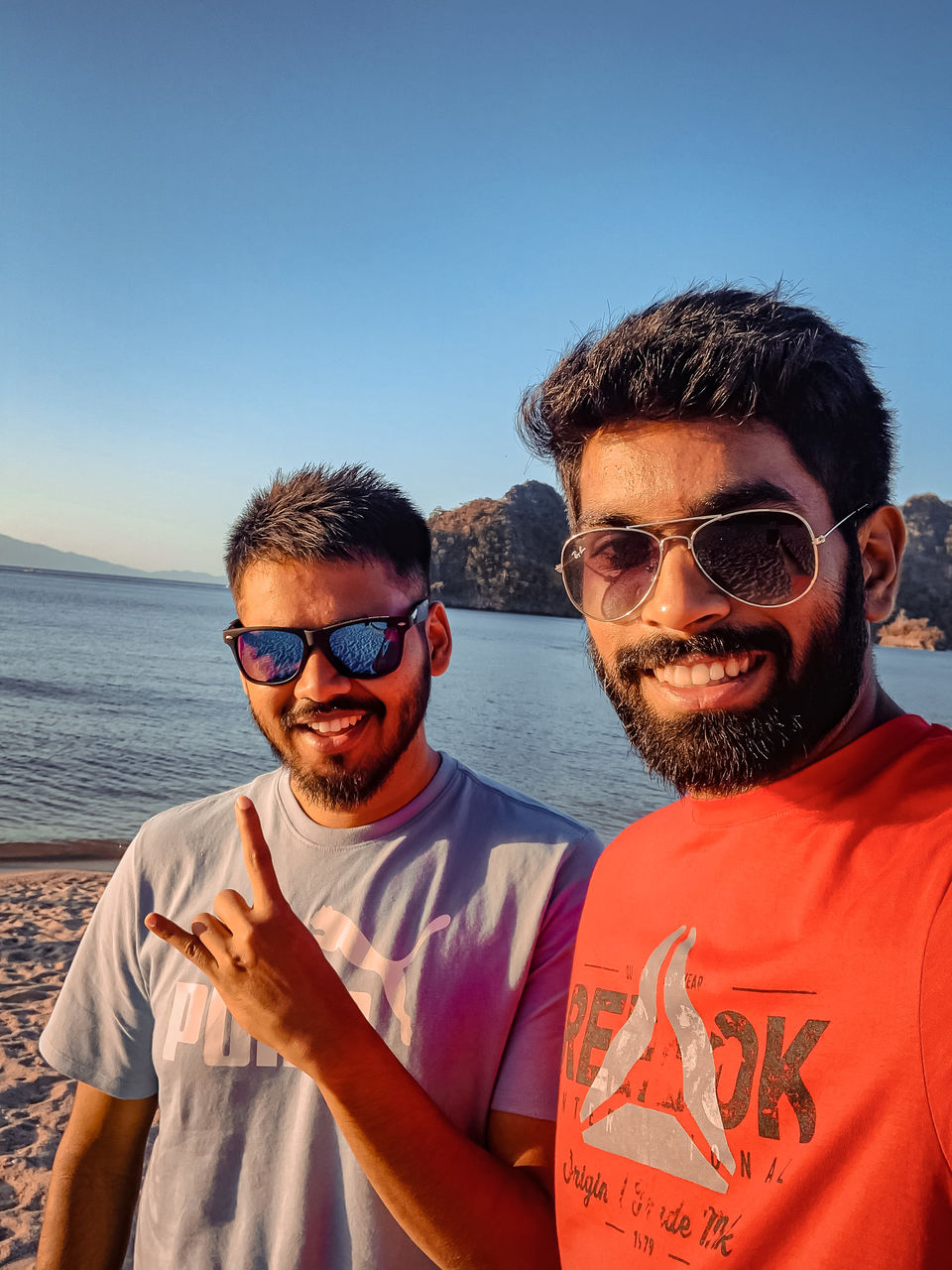 After a pleasant sunset and few photo shoots we head back to street called as Jalan Pantai Chenang which is famous for night life and duty free shopping, after a quite dinner we head back to our rooms to get a good sleep as tomorrow was supposed to be very exciting day!
Iconic landmark which cannot be missed in itinerary when you're in Langkawi i'e.., Eagle Square!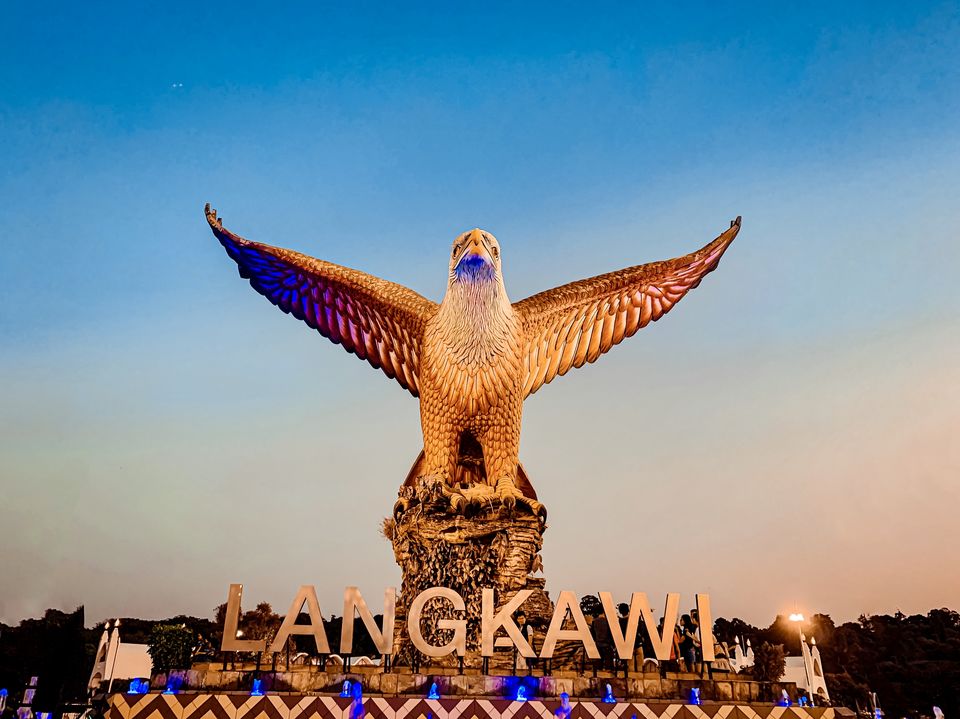 Words to live by -
Life is a journey. Everyone you meet, everywhere you go, everything you eat are the means of transportation to the final destination of your life and one got to make sure that he/she chooses the right persons, right places, right foods to reach the destination healthy!
DAY 6
Today's agenda was to visit few places in Langkawi which is mandate on list, however out of all the places on list, there was one particular place which we three were very eager to see and this place was one of the main reason to visit Langkawi and it was none other the Langkawi Sky Bridge which is built 2,170ft above sea level at the peak of Gunung Mat Cincang on Pulau Langkawi.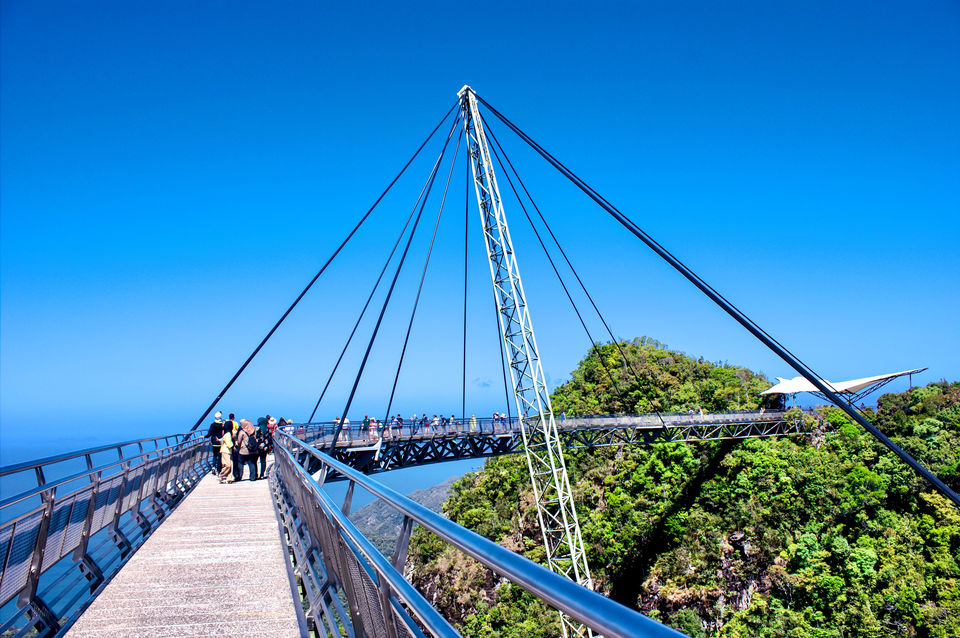 We left our room around 09:00 in the morning and the distance from our room was just 31km and we could reach by 45 minutes as we drove the excitement of being in the places which we always dreamt off kick started our day. We reached on time and went to take the ticket for sky bridge which roughly costed 75RM for each. It was quite expensive than we thought but again we came so far and we didn't wanted to go back visiting this only place, so we decided to go for it but unfortunately they had closed the bridge because of weather issue and we were pretty much disappointed and we had no clue what to do, however we further enquired and got to know that unless until the weather calms down no one will be allowed however they also confirmed that yesterday they had the same problem on bridge and they opened the bridge at 16:00, so we thought okay there's a hope let's do like this will buy the tickets as we were given four complimentary activities such as 3DArtGallery, Cable car with standard gondola, and tickets to SkyRex and SkyDom.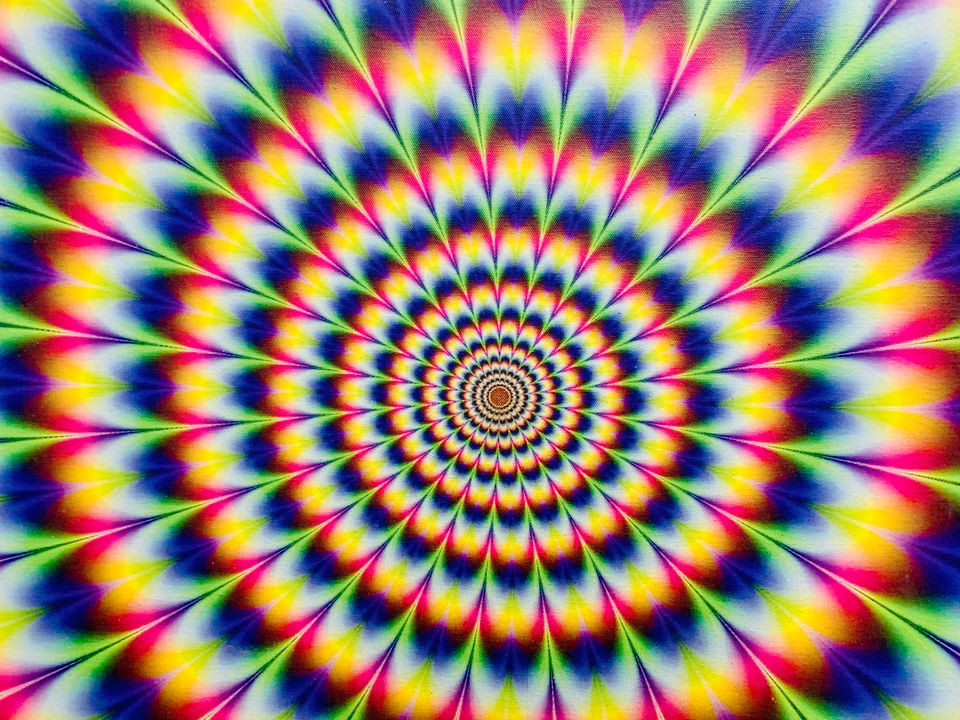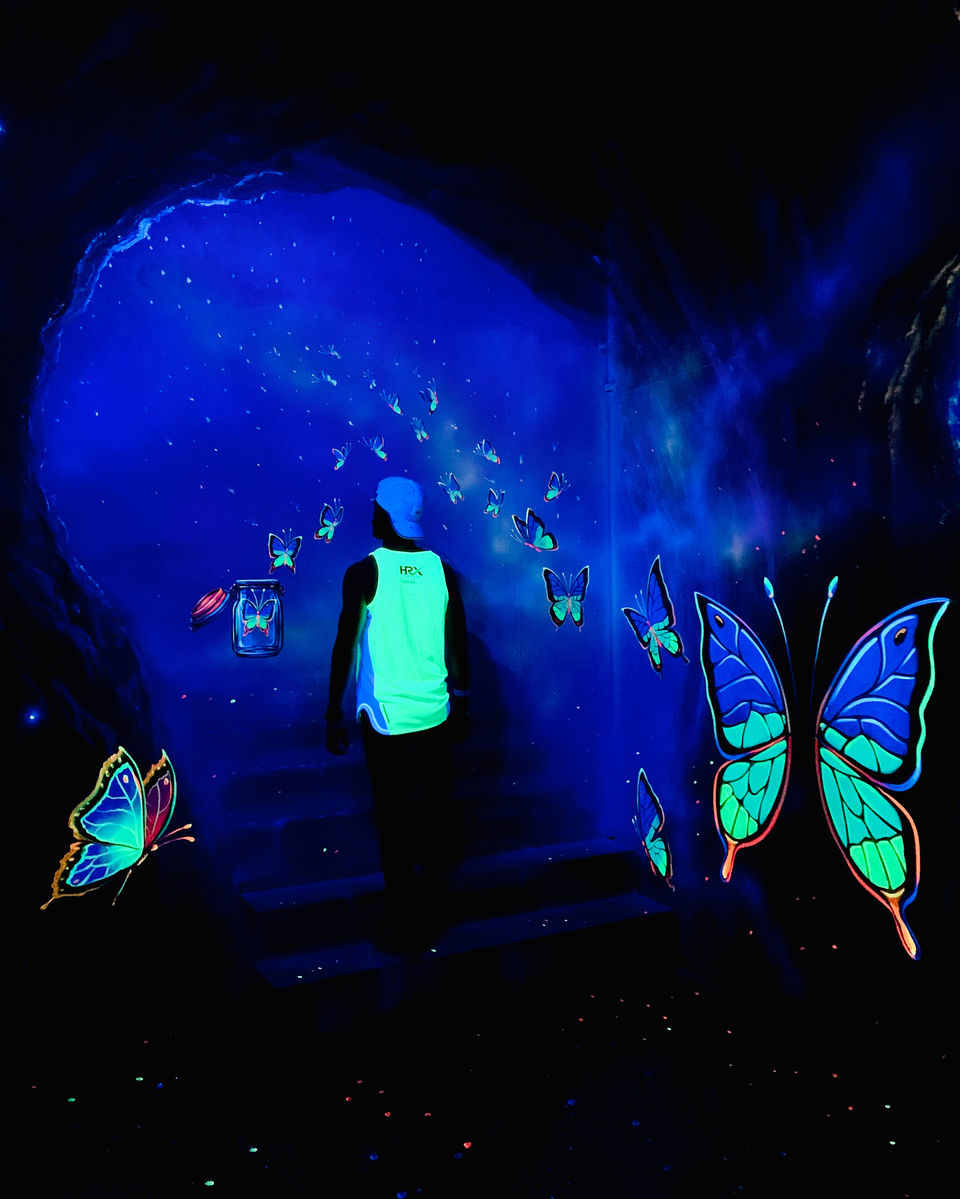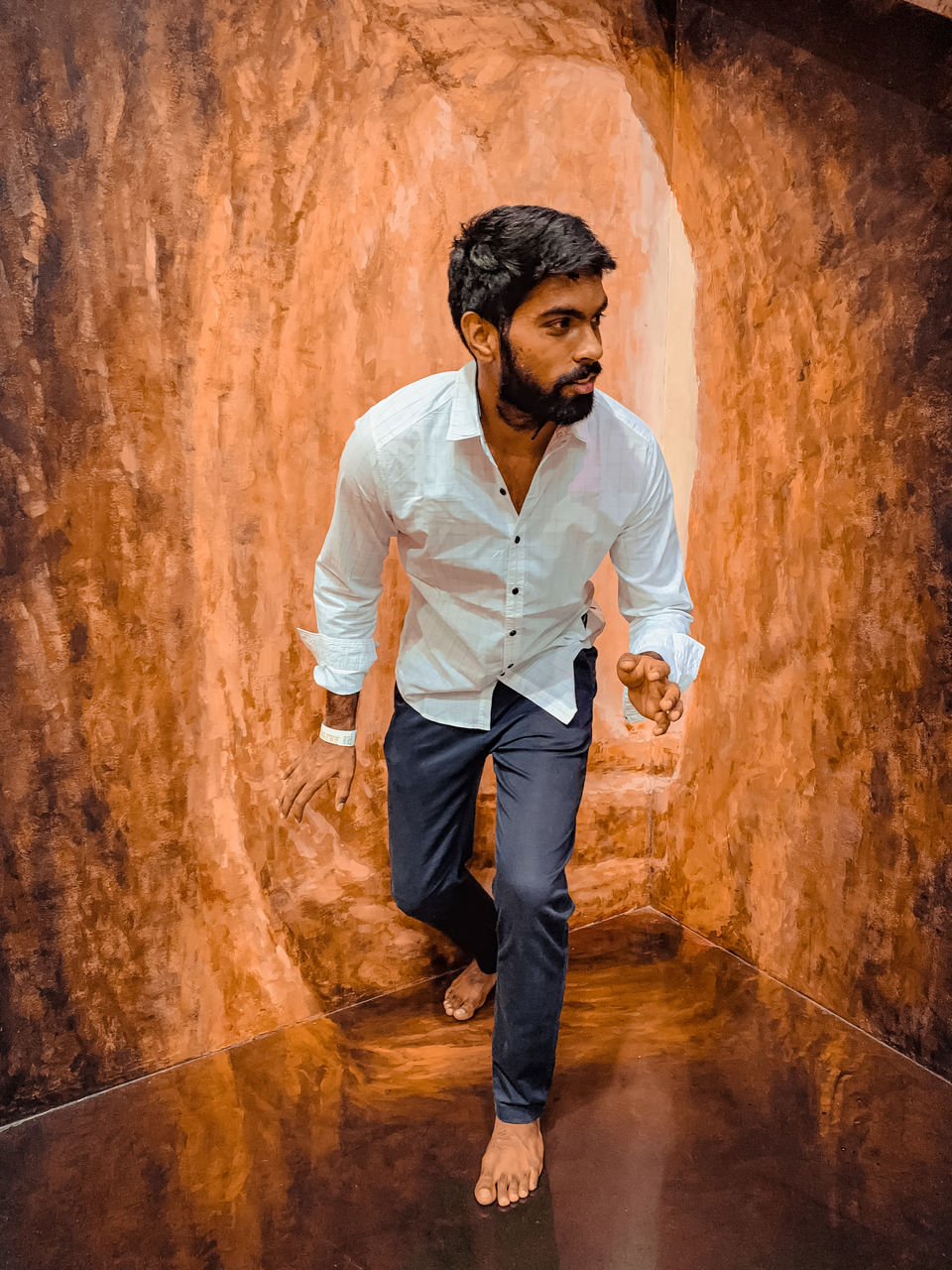 By the time we finish these activities let's hope that even weather would calm itself down so that we can get to go to bridge and fulfill our dreams! And luckily after one activities of 3DArtGallery the weather was alright and they started to let public in, we stood in queue for more than 30 minutes to board the SkyCab (cable car) which would take you from down to top of the hill to the bridge, it would roughly take only 5 minutes to reach up and the view will be breathtaking and definitely your knees will go weak if the wind starts to blew harder, however we managed to click some photos and videos using our GoPro and got settled. Once we got down from the cab there was a view point towards our right where we could see a part of Langkawi Island, once we captured few memories then we had to board one more cab to go to sky bridge and that would cost you 10RM. We reached the place and we had to take steps to reach the starting point of sky bridge.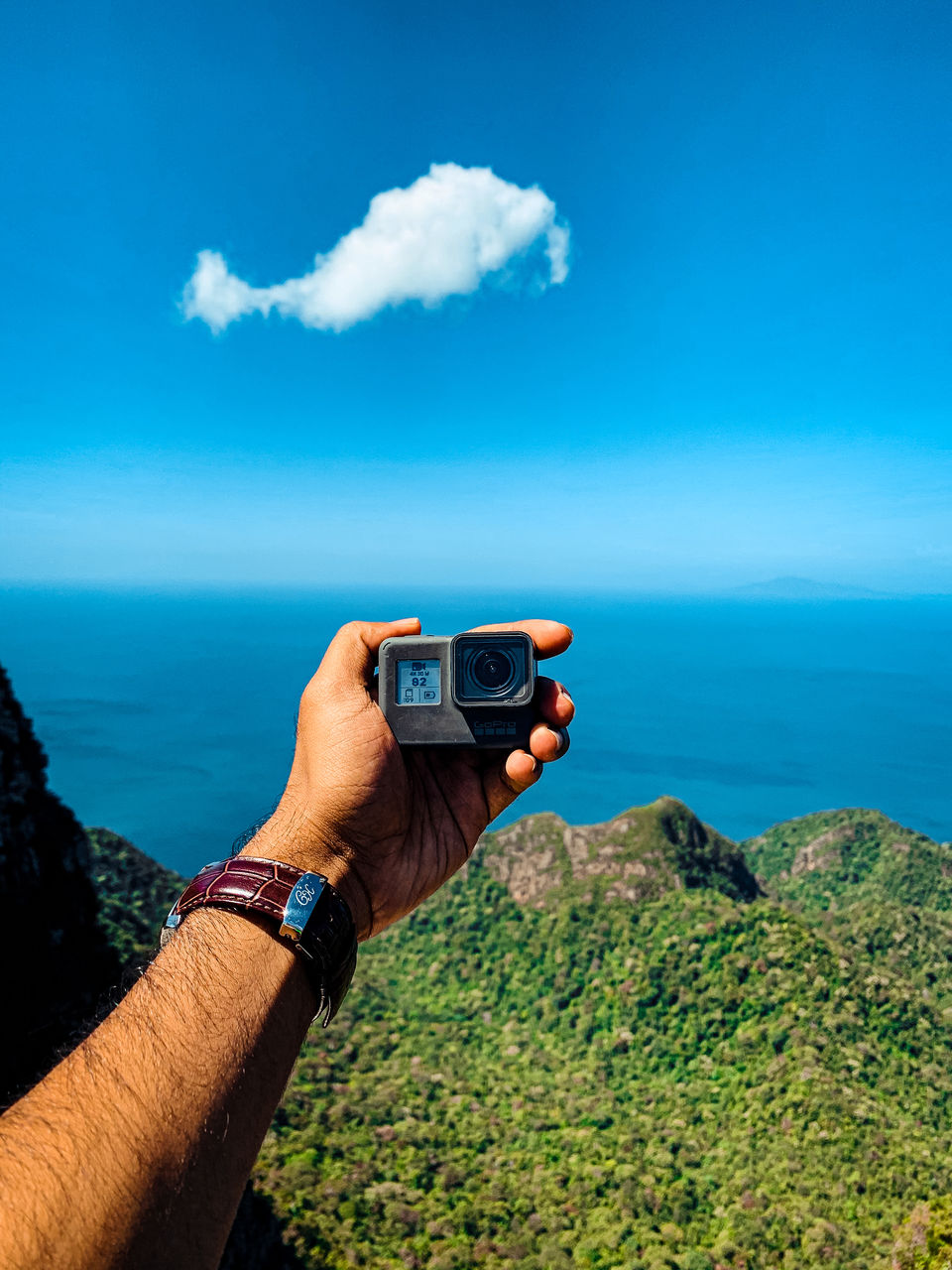 As soon as we reached I took my GoPro for a walk and left my both friend's to do their photo shoot and I was just making some 360 degree memories on eyes and on my GoPro eye. For a moment I stood on that bridge I looked at the never ending horizon where in as you keep gazing it's going to be hard to identify which is sky and ocean as they perceive you that both are same because of colors, you'll only make out one is ocean because of small island.
One tends to get lost with these beautiful views and also feels scary when the weather changes quickly to windy! This was the same place where "Don" Bollywood movie and "Annabond" Sandalwood movie was shooted. Once we are done with SkyBridge, we got down and visited the other two activities which was SkyRex and SkyDome which was not up to expectations however it was complementary so we just kinda enjoyed it. By the time we finish it was 17:00 and we were on the way to room and luckily we were crossing over Langkawi airport run away around 19:00 so we thought let's pull over here to capture flights landing. We happened to capture two flights but it was not so upto the mark so we decided to leave and finished our dinner and ahead back to sleep as tomorrow we had to check out early and had to catch 10:00 ferry to go back to Kuala Perlis and from there to Kuala Lumpur by 17:00 in evening which was approximately 497km and we need 4 to 5 hours to reach the destination!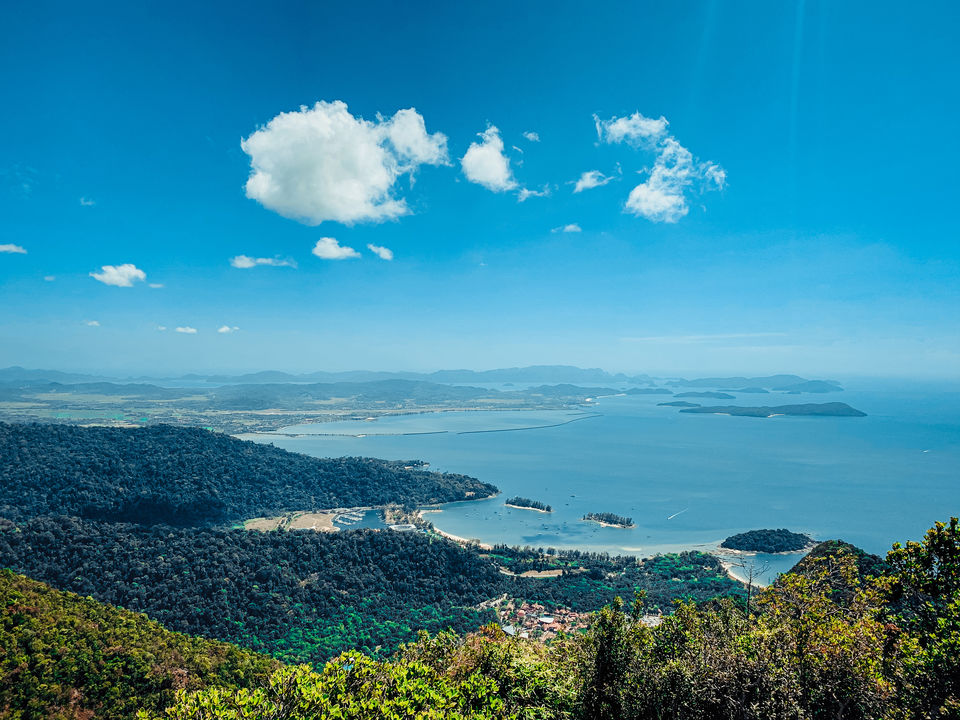 Words to live by -
It's better to see once than to hear thousand times!
DAY 7
We reached yesterday around 16:00 to Kuala Lumpur and checked in to hotel called as Smart Boutique hotel which was the only mistake which we did, the worst hotel which we ever checked in, however we had no option as we had made the booking already! We had to stay back. There's was nothing much to do actually today as we only place we had to visit was the famous IKEA mall, so we separated from the hotel we stayed, as two of them went to park the car and I stayed back at the hotel and after while I went to IKEA mall by using local transportation rather than using Grab taxi as I wanted to explore the city more in its own old fashion way!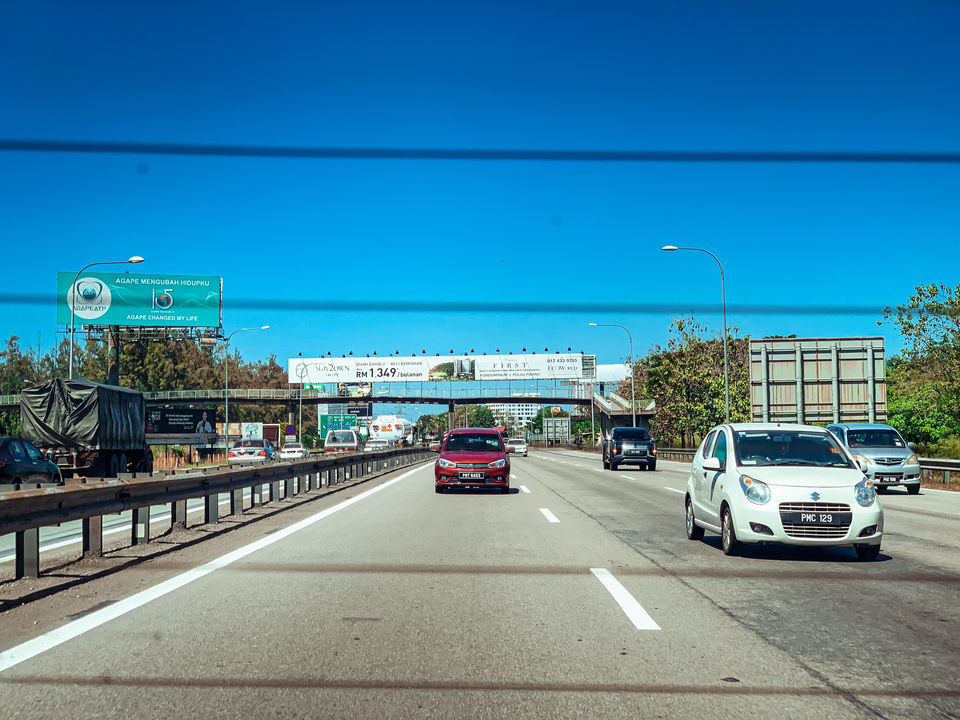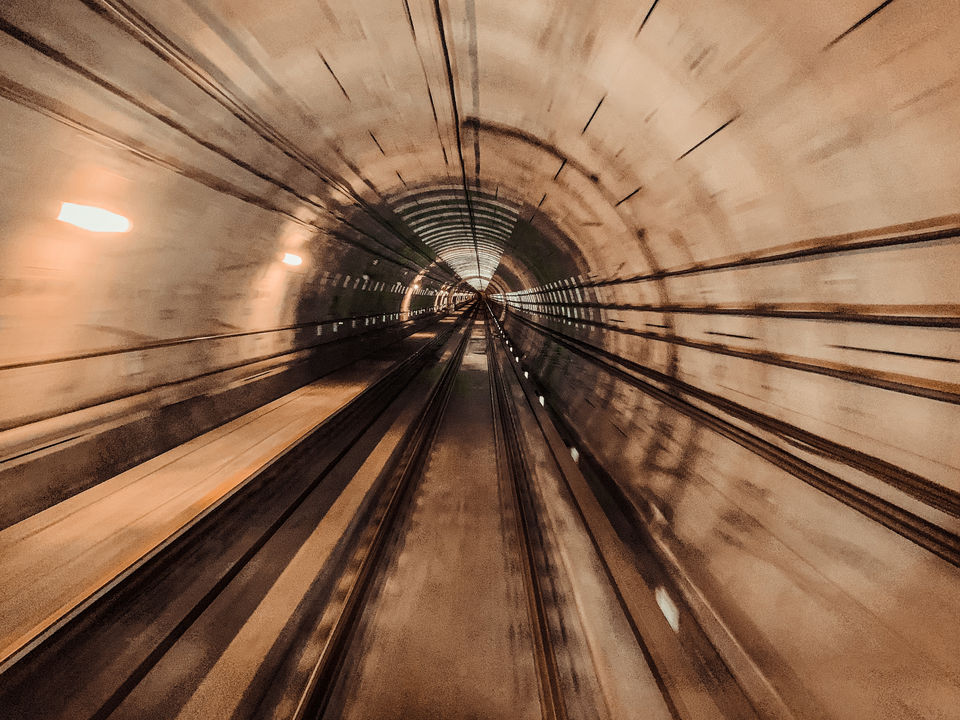 We had our dinner at the same mall and reached Bukit Bintang around 22:00 to shop few items such as flag and fridge magnets and we had shawarma at the corner streets around 01:00 looking at the ever busy streets of Malaysia, as the night got busy and we got tired, all it was left was just one more day and we were back to base our proud country INDIA.
Words to live by -
Seize every moment of life rather just living in the life!
DAY 8
Last Day in Malaysia, today's agenda was nothing much than renting one more car from SOCAR which can take us to one more last place in Kuala Lumpur which is QI Tower and head back to KLIA2 so that we can board our flight back at 15:00 to Bengaluru India.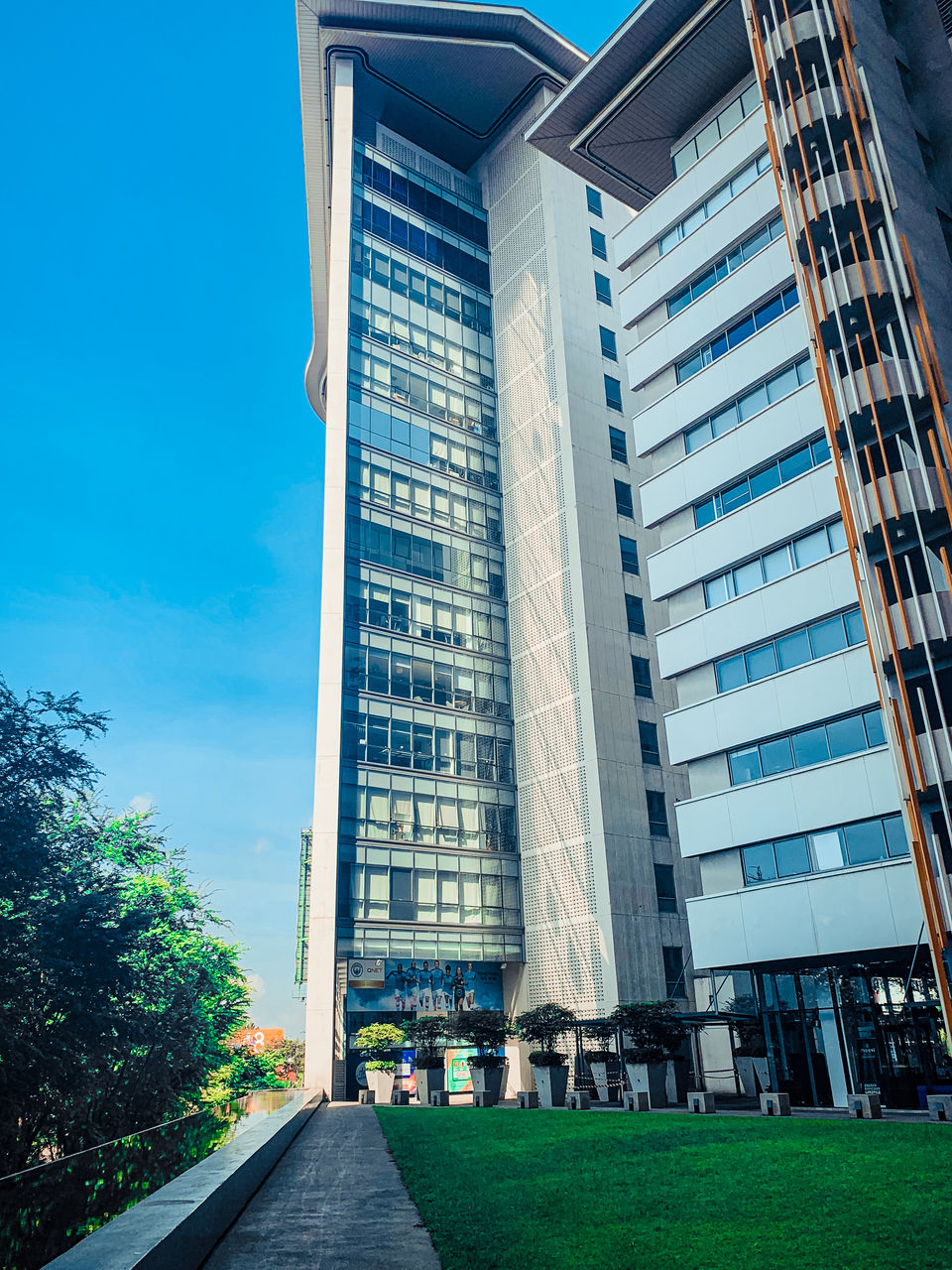 Once we reached airport there was nothing much to do apart from loafing around, once we have checked in our luggage and boarded the flight, all it took was 4 hours to reach KIA(Kempegowda International Airport) and another 4 hours to reach Bellandur and Silk board from KIA. By the time I reach home I could have flew back to Malaysia one more time!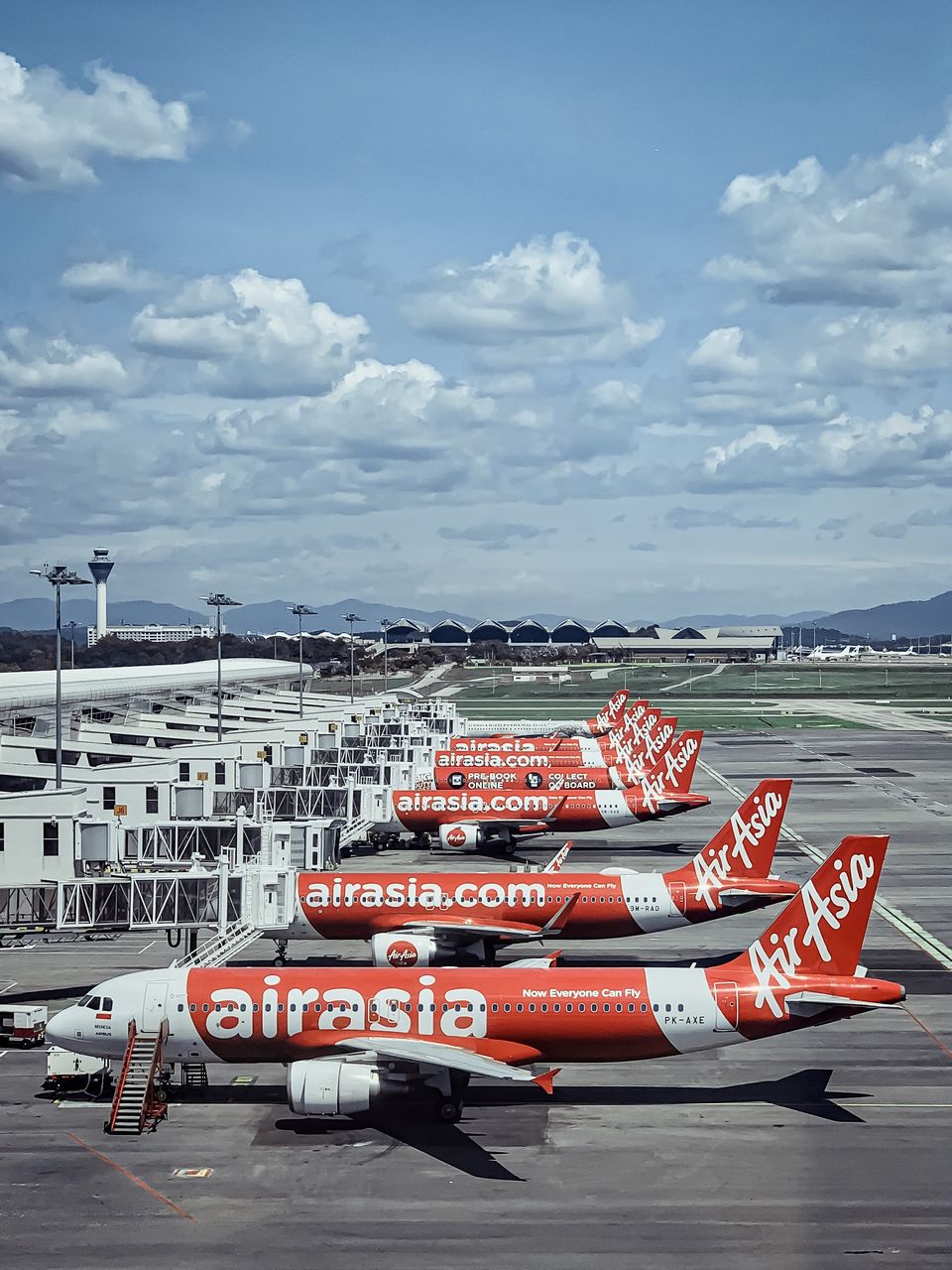 Best part of the trip was not the destination it was the journey, a journey of three friends who are friends for life and who always says yes for new adventure so let me introduce AKSHAY who is the captain of all the trips we go on and on and the one who prepares itinerary and also admin of this page YELLOWHIGHWAYS who clicks some amazing pictures by putting his soul in a camera and I guess by now you would know his piece of art. Next is HARRY who is professional fighter on Mau Thai and jiu jitsu who's always on high energy to do the next move and great foodie. In simple words it's always best to have bodyguard when your out on your own, well, just kidding. He's simple and sweet. And the last is me I'm CHETHAN who's writing this blog as you guys read, well I'm not a professional writer I just like to pen down what my heart wants to speak when words won't fall out of lips and to stick to my clans in whatever they do because if friends don't stick on who else will?
This us and I hope this will help you guys to go on next adventure!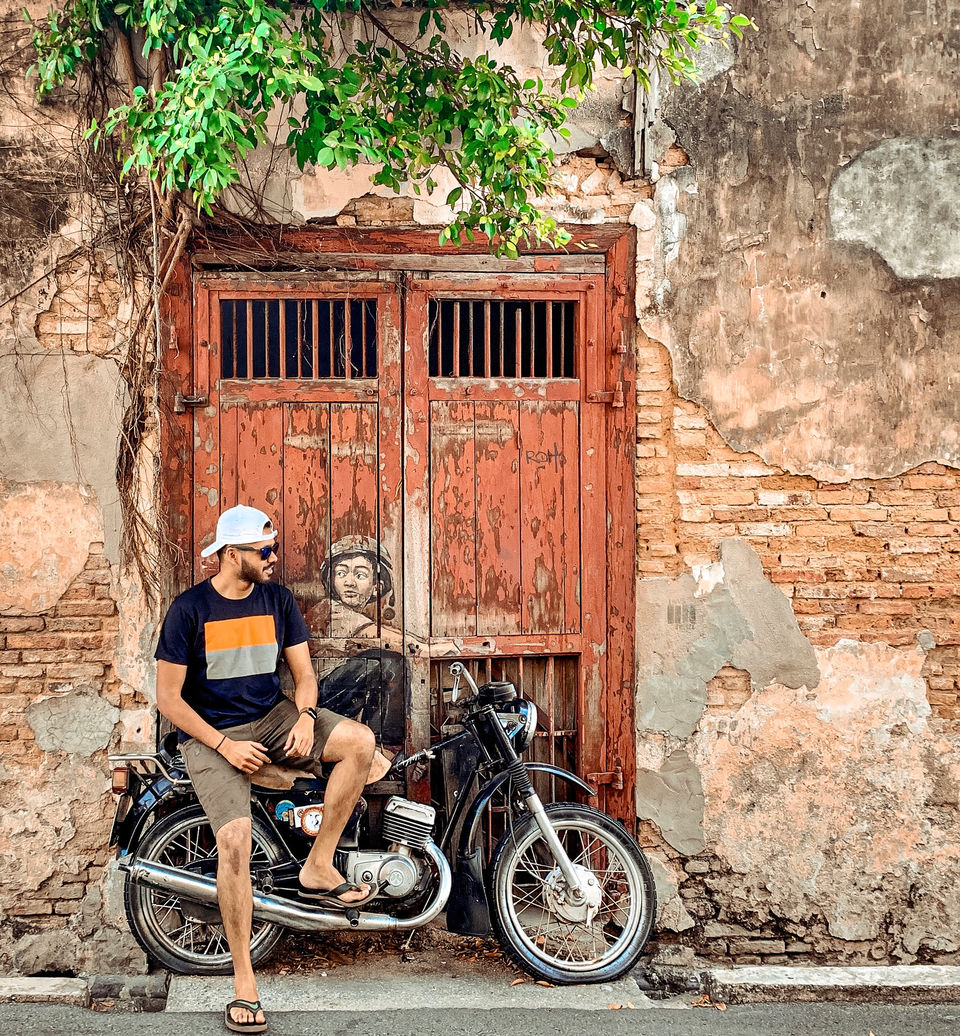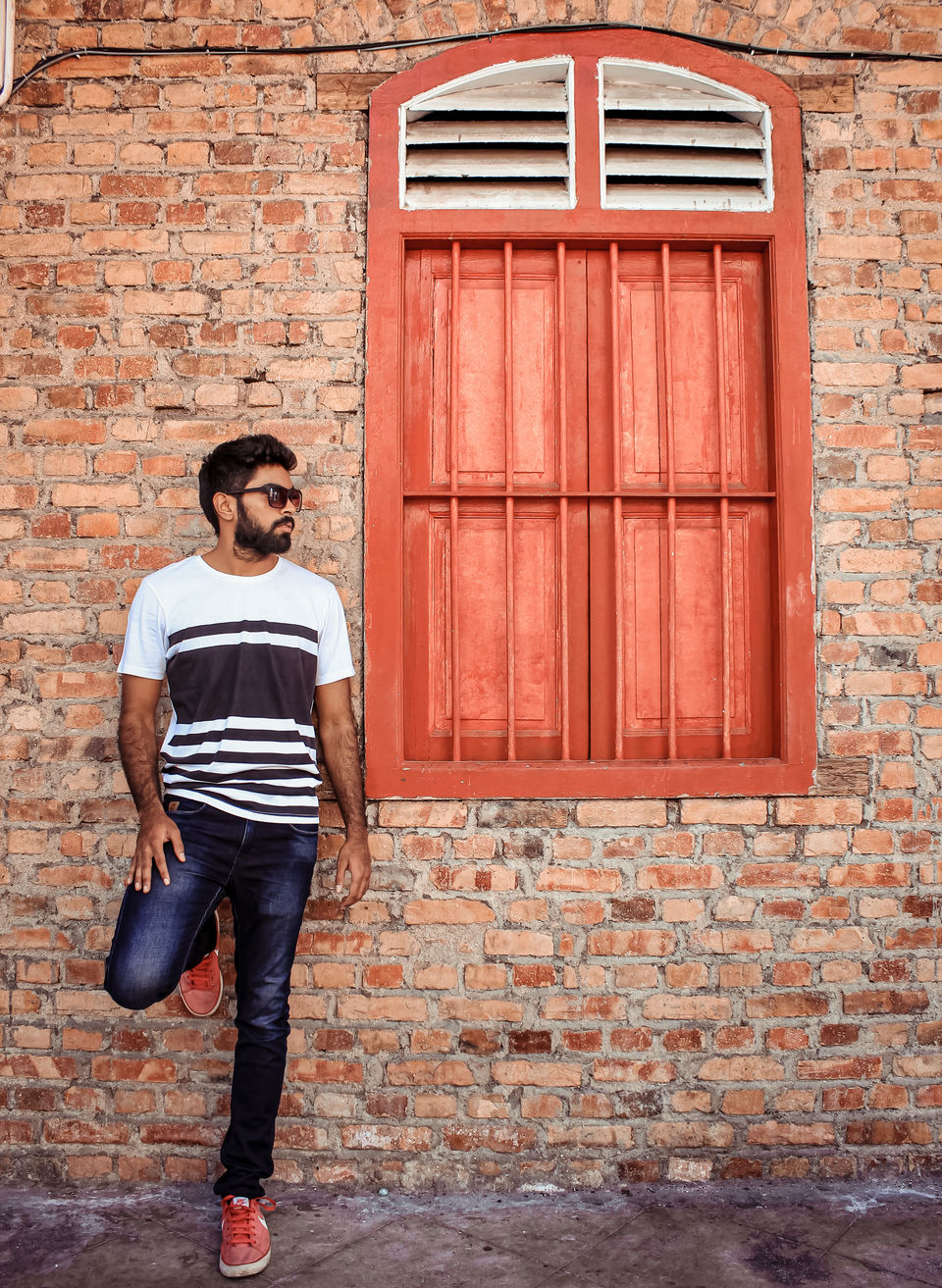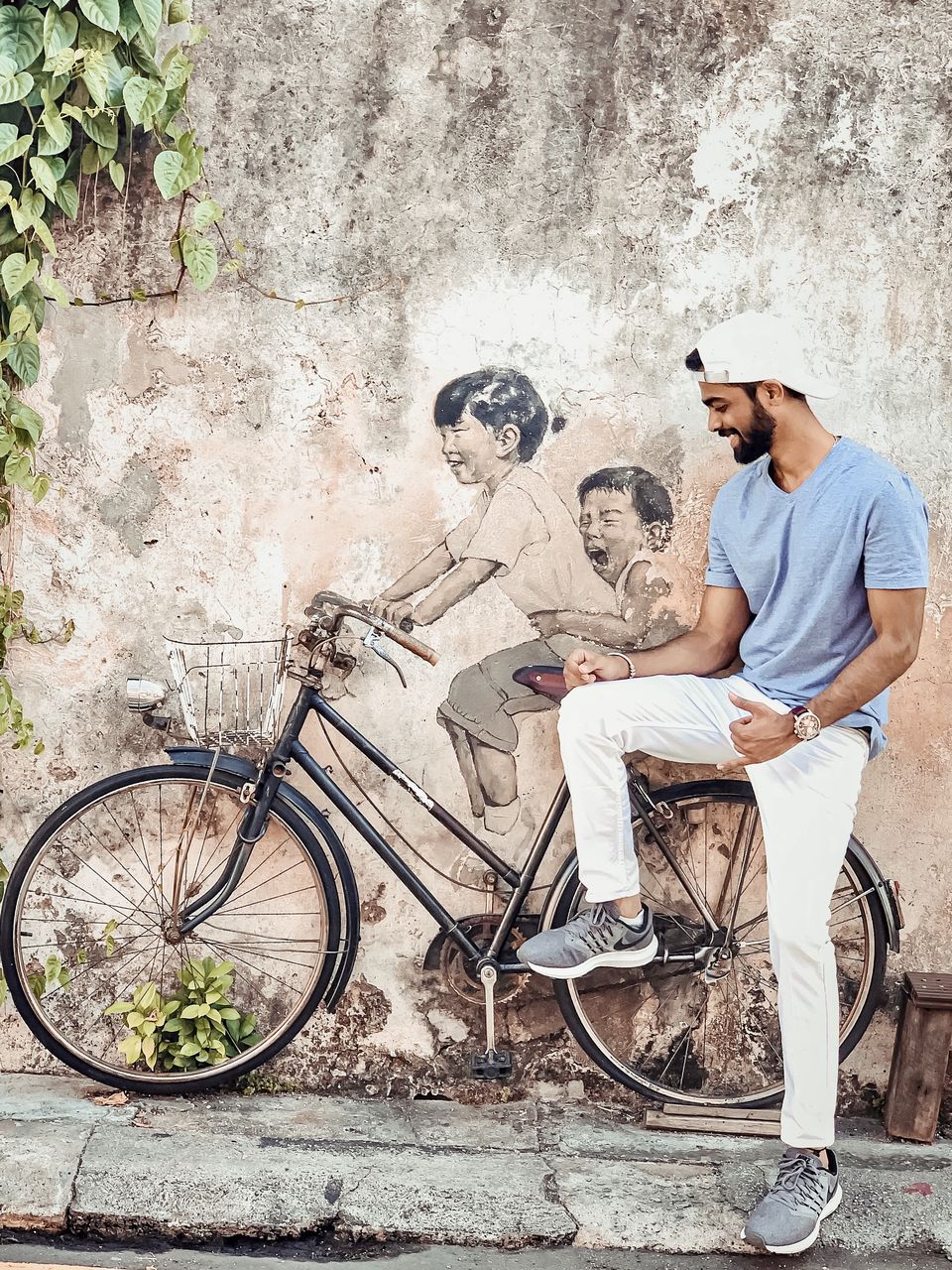 Words to live by -
Life is short, life can go 0 - 100 in real quick, what ever your dreaming of doing the things or going to places, take action on them. You will remain same in next 5 years if you keep doing the same things as your doing now!
Nothing changes, if nothing changes!
Malaysia truly Asia by Yellowhighways - Travel! Culture! Tradition! Explore! Food!
Reach us for more info and do follow us in Instagram - YELLOWHIGHWAYS
Many Thanks to Credit Card holders for funding our trip!!
Itinerary reference - Tripoto
Tech Gadgets - iPhone XS MAX, Canon, GoPro and OnePlus
Booking partners - Klook, SOCAR, Booking.com, Asirbnb and Goibibo
BOOK NOW!