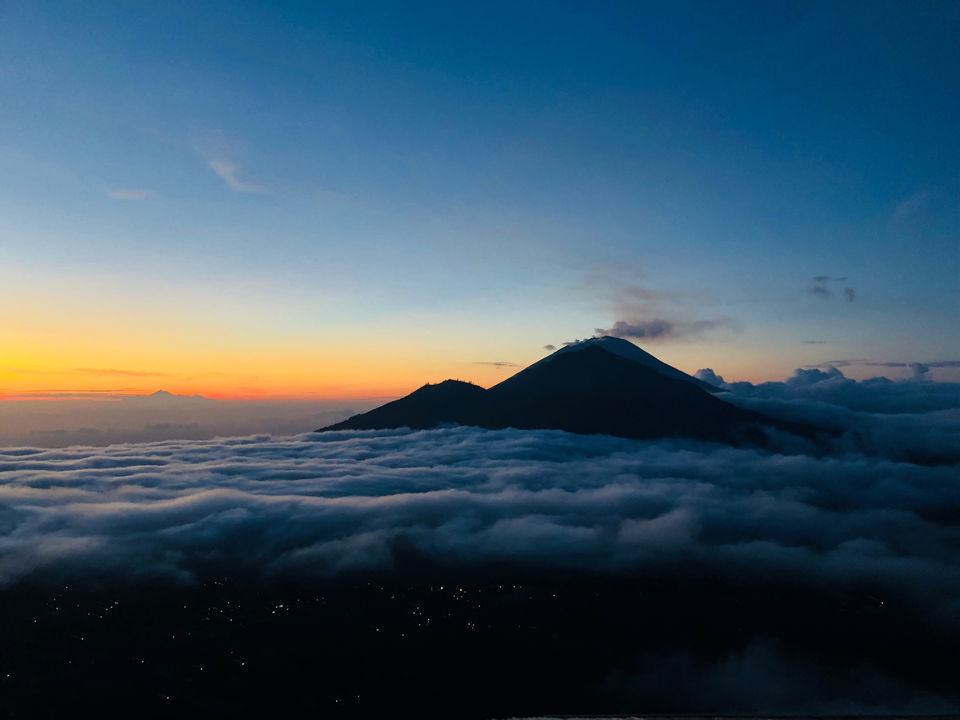 This beautiful active volcano Mt.Batur ,a 4 hour sunrise trek is what most people do, to get the breathtaking views. It was last erupted in 2000, but its neighbor Mt Agung is still very active even today. This 1717 mt tall volcano is not very tough trek if you are physically fit. In our case we were group of 4 person so we didn't require any additional person for trek (as usually guides or companies conduct these trek in groups only). The cost starts from 350k IDR TO 700K. You can easily book it even from any street vendor. The trek includes a visit to coffee plantation or a temple and a cab for the whole journey. We booked our trek for 400k per person with a cab and a guide disignated to us only. The trek usually starts from 2:30 am with some snacks and torch in your hand. The experience of trekking in star lit night of a foreign country and that too on a active volcano is very special. Just munch your snacks and keep trekking. The best thing is that you can stop the guide whenever tired but in order to reach the top to witness the first golden orange rays you must to keep a pretty moderate speed. Short but little tricky trek made up of lava stones, mineral soil, sharp turns, so be very careful. Your guide can give you an option to stop at the halfway and go back but please try to refuse it gently no matter how tired you are feeling at that time. Juices, water,chocolates,chips and drinks can be purchased at the halfway point and the first viewpoint but it won't come cheap and you will understand why. You'll meet young vendors doing the same trek to bring these to the top. When you will reach at the top a huge carpet of clouds, a smiling Mt Agung Volcano steam and fresh air will welcome you. For me this was the best Sunrise of my life. Don't forget to keep extra layers with you because its really cold up there (I forgot so ended up in wearing a big T-shirt).At the top hold your cup of tea, sit at a safe spot and just watch the glowing golden sky. If you have booked a package then your guide will serve you boiled eggs cooked in the steam from the volcano..They were served in a breakfast box with bread and Tea.While coming down ask your guide for a little less steep path.After this trek, we treated ourselves with freshly plucked Oranges from a Balinese Orchard..:P(can't share that story)...but yes,I loved this whole experience, that amazing sunrise I saw will stay with me forever.
Important points:
1) Beware of monkeys at the top.
2) Try to go with a Guide for lesser troubles (locals can sometimes create some issues if you are trekking without guide)
3) Keep at least one woolen.
4) Wear good trekking shoes or sports shoes with nice grip.
5) There are no bathrooms on the volcano, as it's a sacred mountain.
6) Check weather forecast before booking this trek.