"Only 50 meters more, come on Aditya, Come on" I heard my mind telling me. These words aren't just words but an entire essay and certainly the reason I could summit that day.
Roopkund is a frozen lake in the Uttarakhand state of India. It is located in the Trishul range of Himalayas. Roopkund is infamous for its hundreds of human skeletons found at the bottom of the lake and also nearby lake area.
With the passage of time, only a few skeletons and bones remain untouched rest were collected or stolen by the people visiting this area. The area is not populated and stands tall at 5,029 meters above sea level.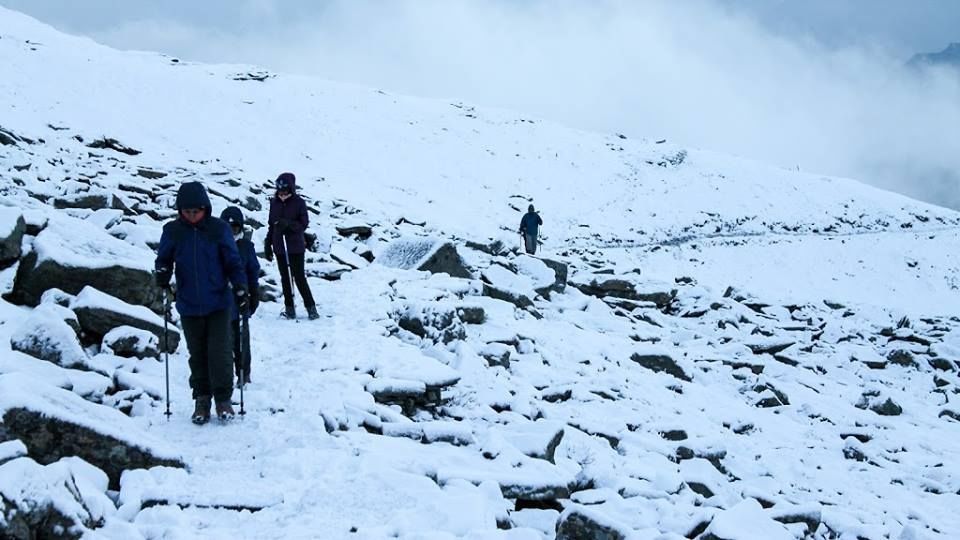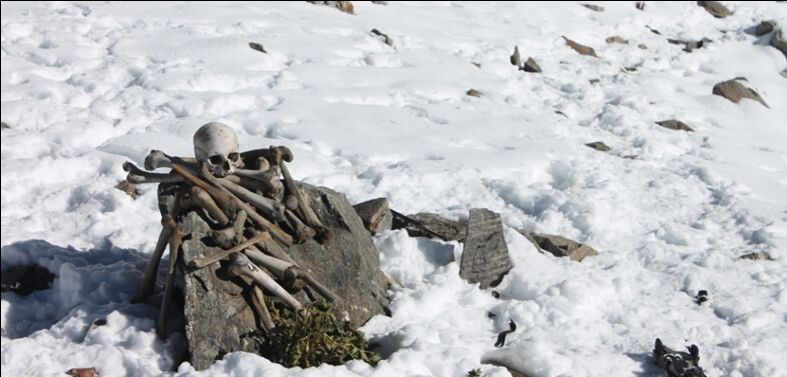 It was earlier believed that the skulls were of General Zorawar Singh of Kashmir and his men, who had got lost and died in the middle of the Himalayan region after they got caught in bad weather while returning from the battle of Tibet in 1841.
Most reliable theory as per National Geographic Channel Documentary-
In this theory which is considered as most reliable one, Scientists and researchers mutually agreed to the point that these remains belonged to a group of out of state Pilgrims and local porters and they are dated somewhere around 850–900 AD. These Skeletons most probably belonged to two major groups; one of a clan taller in height and second belonged to a comparatively shorter group (local people).
Their demise was mainly triggered due to a fatal throw of some hard solid material on the back of their heads and shoulders. It was verified by the researchers that their death did not occur due to any injury or hurt caused by any weapon, avalanche, cloudburst or landslide.
The sharp marks on their skulls and shoulders specified that they were being smashed by a round or circular object, like a leather ball. It seems like these hard object fell from above, maybe from the clouds or mountains.
In this event, most of the people died of the deadly consequences and rest of them just froze due to the snowstorm. But locals believe that their most common pick is the story of the angry Goddess one.
But if you asked me how was my experience then, believe me, I can't express in words becoz it was a journey of insanity and optimism. Unbathed for 7 continuous days, fatigued to the extent of sleeping on roads if given a chance, after walking for 17 km that day, after pooping in dry toilets (where you just dig a hole in an open area nearby your sleeping tents, cover the hole with 4 walls of another small tent and you just excrete in the hole only to cover it later with mud once the task is done; the same hole is used by 20 other people with none of them using water but tissues)for 7 continuous days, after sleeping in sleeping bags for 5 days(where you dress yourself in 5 layers of warm clothes and sleep like a corpse, straight in one position inside the bag only to get up with cramps the next morning and that too if you are lucky to not suffer from insomnia from the negative temperatures at night) and carrying a rucksack of 10 kgs on our shoulder from the past 5 days, we were taking last steps towards Roopkund.
Happy Travelling
Mach's Gut