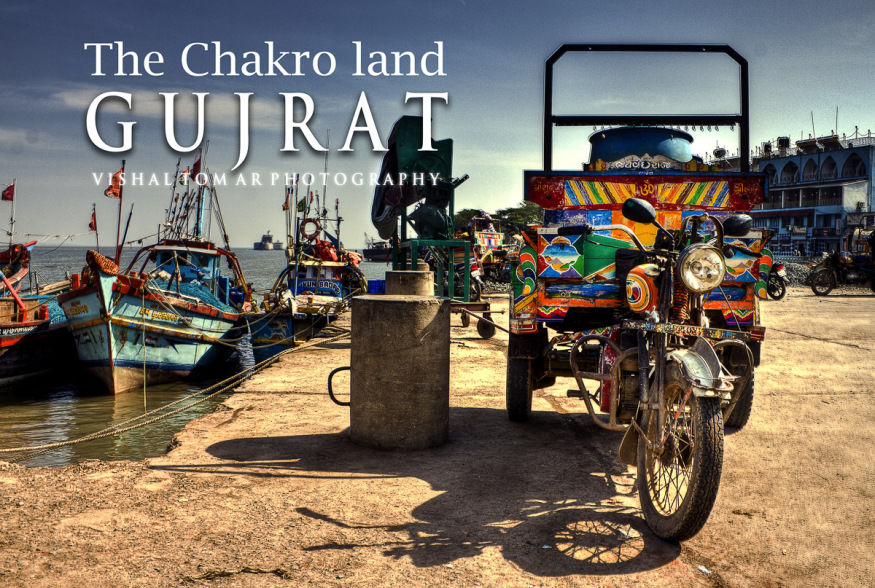 Me and my dad are major travel/ history buffs and heard a lot of fuss about how polished Gujrat has become lately. So we decided to pack our bags and see for ourselves the fact beneath the forth. What better way to know a land than a road trip through the heart of the state. It being a family trip, I was sure we wouldn't skip any temples and pilgrimages, which otherwise get cut down left to me, my lenses and friends.
From photography point of view I was left disappointed. The frequency and absurdness with which I encountered "photography strictly/ strikly/ stricly prohibited" sign boards, sometimes half a dozen at single spot frustrated and angered me. Add to that the fact that temples of all places hardly welcome you or make you comfortable, suggest money donation, force you to buy prasad coupons, and sell the pictures which you would have loved to click yourself at a price right under your nose; made my blood boil. Moreover after watching the movie OMG recently, I was more sensitized to the hypocrisy in the name of religion, making it extra difficult for me.
Our journey started from Ahmadabad and ended at Jamnagar. We decided to stick to Saurashtra part of the state, keeping road travel to a comfortable less than 200km per day, average. More often than not, a traffic jam here is courtesy the great Indian mammal, the cow strolling/sitting right in the middle of the street. It is on the roads that I saw something uniquely Gujju. The " Chakro Rickshaw ". It is a hybrid of motorcycle front and a truck body gaudily dressed in shimmering colorful ribbons, mirrors, patterns and as loud as they are colorful.
I had the fortune of meeting a Jain monk right in on the first day of our travel. We were staying at one of the many dharamshalas at Palitana, a major Jain pilgrimage. The fact that the monk was only slightly elder to me made restless with curiosity as to why would someone renounce worldly possessions at such a young/productive age.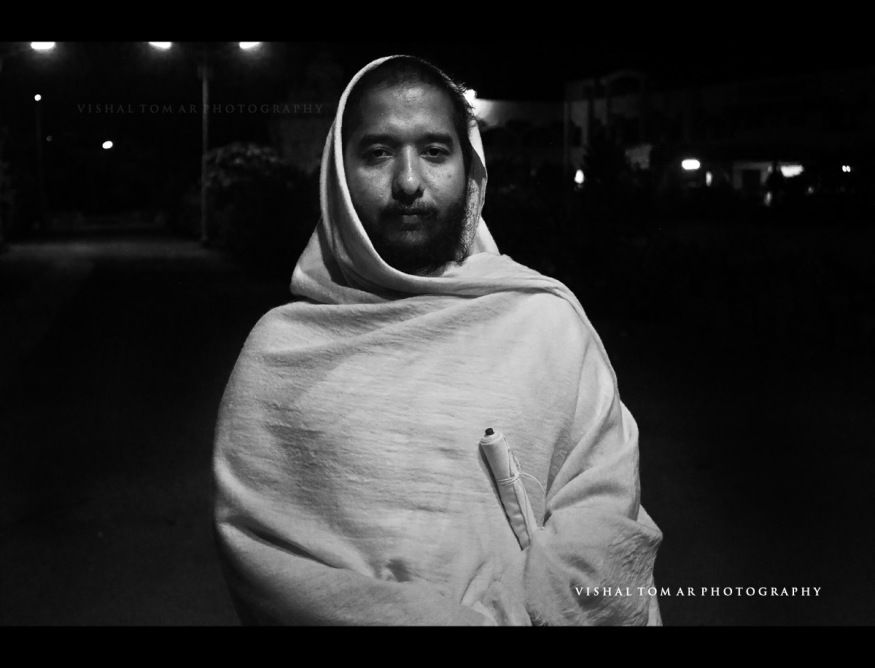 The dharamshala we stayed in has an elaborate complex of big and small temples, housing over more than 200 idols of lord Mahavir. It has been in the making for the past seven years and was to be continued indefinitely. The pujaris, in their maroon dhotis and pinkish kurtis, dedicatedly take care of the everyday activities. Photography is welcome. The walls and pillars are engraved with stories and teachings of lord Mahavir in the form of statues and carvings. It is an amazement to see a dead rock being brought to life by the hands of such fine artisans.
The main pilgrimage to Palitana temple has 3500 steps to be climbed before you get a chance of being blessed by more than 27,000 idols of Gods in its complex high on the hill. The exercise is more punishing than it sounds, especially coming down, but fun if you are a gym regular. The pristine air and clear sunlight of the early morning are a good encouragement to run the whole journey at least once. Photography, thankfully, is welcome.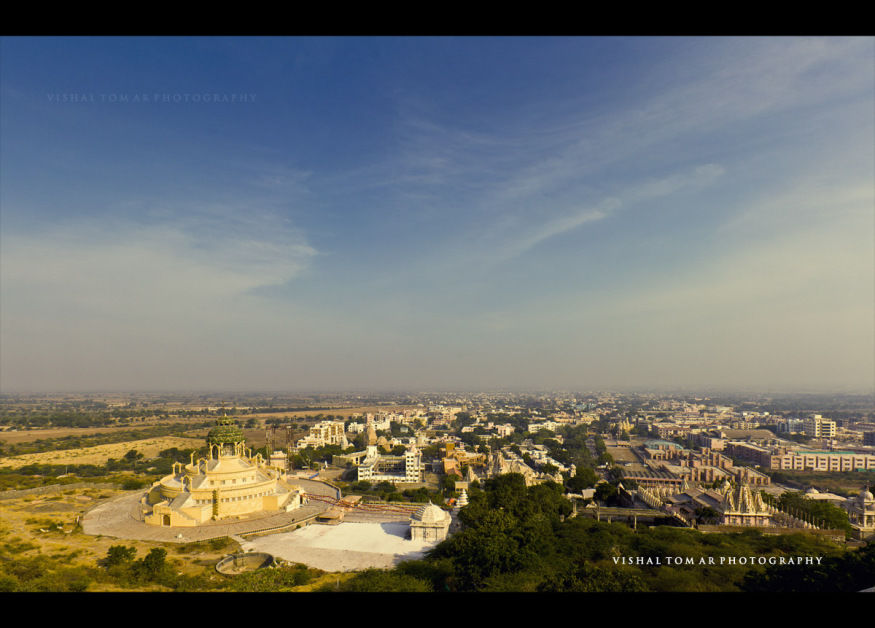 We visited a place called Lothal. It is an archeological site preserving ruins of Harappan civilization, around 5000 yrs old. Though the key site of Harappa and Mohenjodaro civilization is in Pakistan as of today, this is the closest you can come to without bothering about a Pakistani visa.
Sabarmati ashram is worth a visit for its memorabilia present inside the museums. Namely mahatma Gandhi's prison sentence order, his letters etc.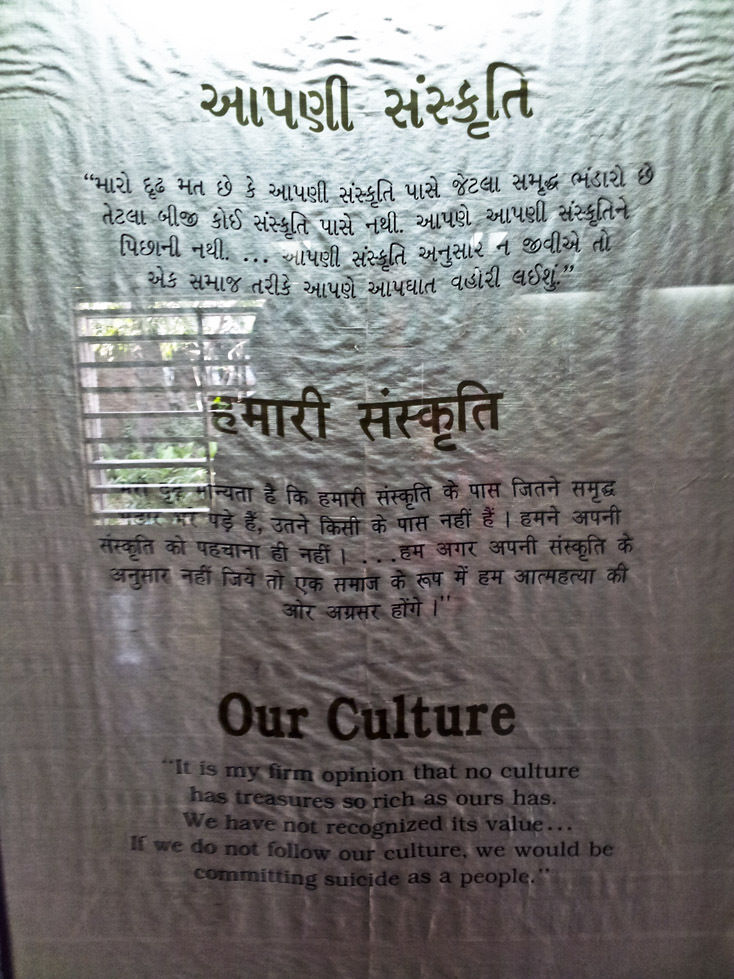 Next up was Diu of the Daman and Diu fame. The road from Palitana to Diu is excruciating, back breaking, gut wrenching, mind numbingly bad, so be prepared. Once you reach Diu, it is all worth.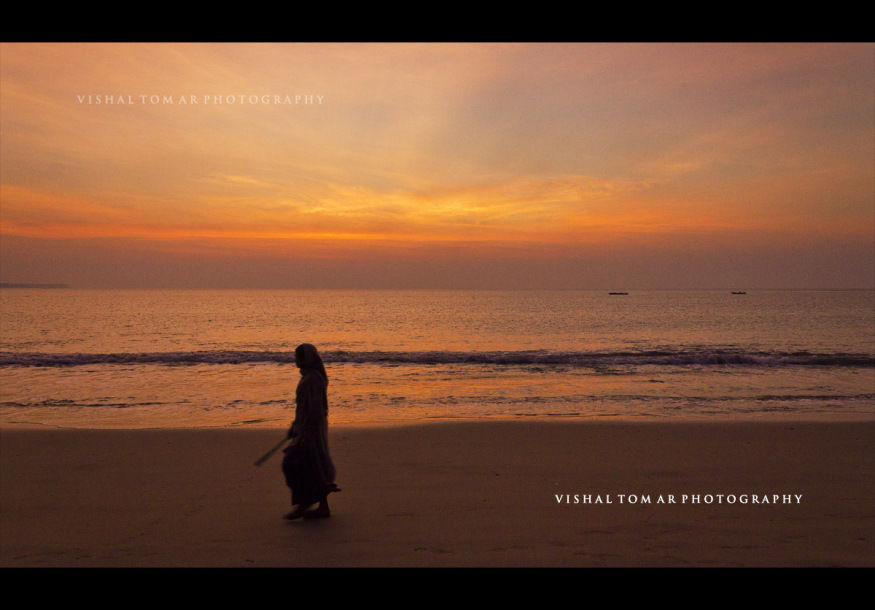 Diu is a small union territory by the beach. It has one of the lowest population densities of the country. Understandably, it is much cleaner and has great roads. The reminiscence of Portuguese culture still hangs subtly in the architecture, names of the places, foods and clothes of the people. We stayed at Hoka resort, and loved it to the core. I strongly recommend this Portuguese style villa. It has great food (try the egg and fish pie for breakfast, still watering), well mannered staff, prompt service and a stone's throw from the beach.
Sunrise by the beach is a photographer's delight in Diu. Clean beaches, shallow water, cliffs overhanging the sea and a sunburst make the perfect recipe for the visual creature within me. Diu is the lazy opposite of the party destination, Goa. We missed the Diu festival, looked good in the adverts.
Diu doesn't offer much for sightseeing, the regular round of poorly managed museums, a few temples and cathedrals. The sea shell museum I would suggest (no photography allowed). The local bazaar is abuzz with activity, though there was nothing Diu specific that I found. A must checkout place is Ram Vijay Ice-cream center. It sells homemade delicious ice cream, in unique flavors since 1933.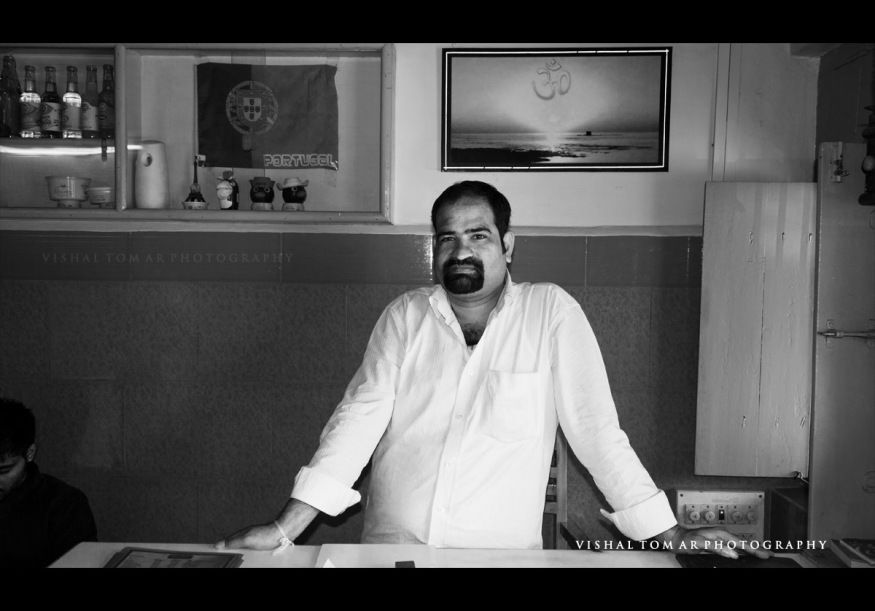 We proceeded from Diu to Somnath temple. It's a big Hindu pilgrimage, being one of the twelve jyotir lings (Shiva temples) in the country. Also it doesn't spare any measure in making you feel like a terrorist. No cameras, belts, footwear, wallet, purse etc. You asked for the blessings didn't ya!
I'm rarely excited to wake up at four in the morning. But this time I was up in a beat, for we had made impromptu plans of visiting the Gir national park. I was super thrilled for a chance to click his majesty, the Asiatic Lion. Thought I had to settle for some amusing and expressive langurs, deers, bisons and lion's pug marks it was not a bad deal at all. The open jeep safari in the jungle at the break of dawn was practically my first one in recent memory. It was great to see the wild in the golden hour, so refreshing if you come from a city, especially the lack buildings, cars, roads, shops or any man made structure. Pure wilderness all around! It is a well managed govt. setup with no hassling over prices.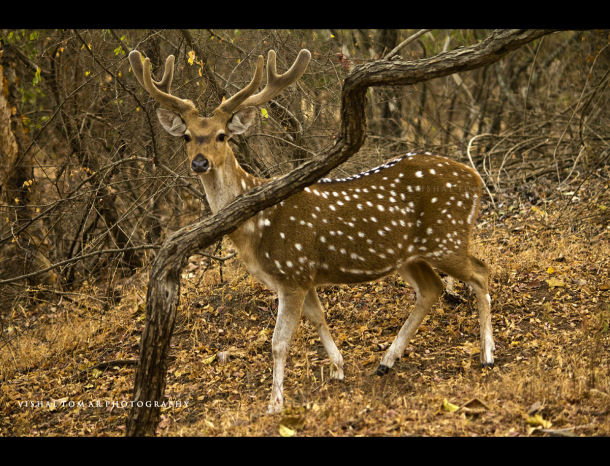 Junagadh in itself doesn't has much to see. An Ashokan era rock with scriptures (Ashok Lekhshila) I loved the most. It has another pilgrimage of 9999 steps but our still aching muscles advised against it.
Gandhiji's birth town, Porbandar was our next destination. A sleepy little port town makes it to the map only for the birth place of father of the nation. I would have appreciated some less cow dung on the roads and better preservation of the town of a person of such national significance. The actual house of Gandhiji has been developed into a palatial museum though, with interesting memorabilia. Since you are at Porbandar, visit the Huzoor palace and add another picture in your album.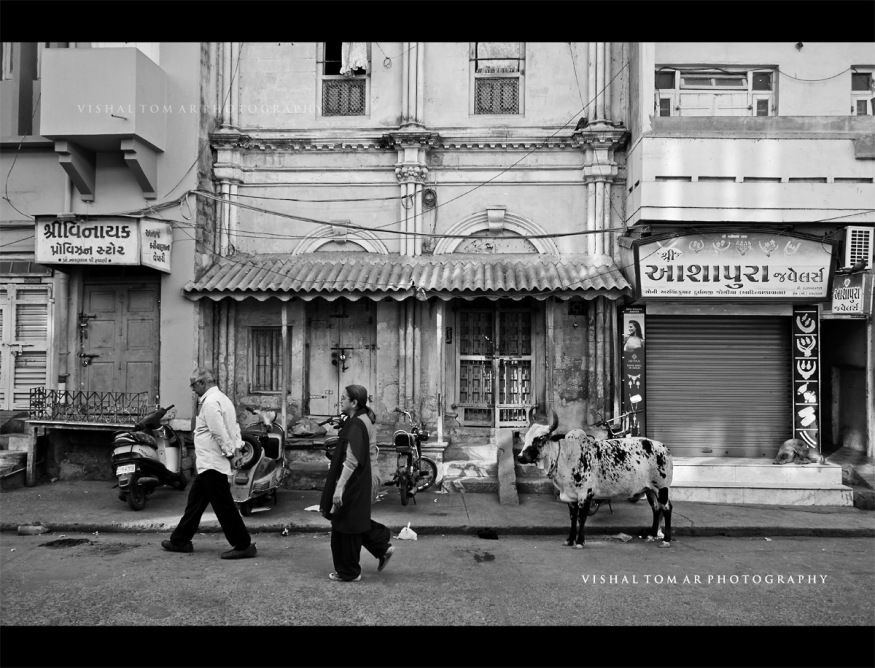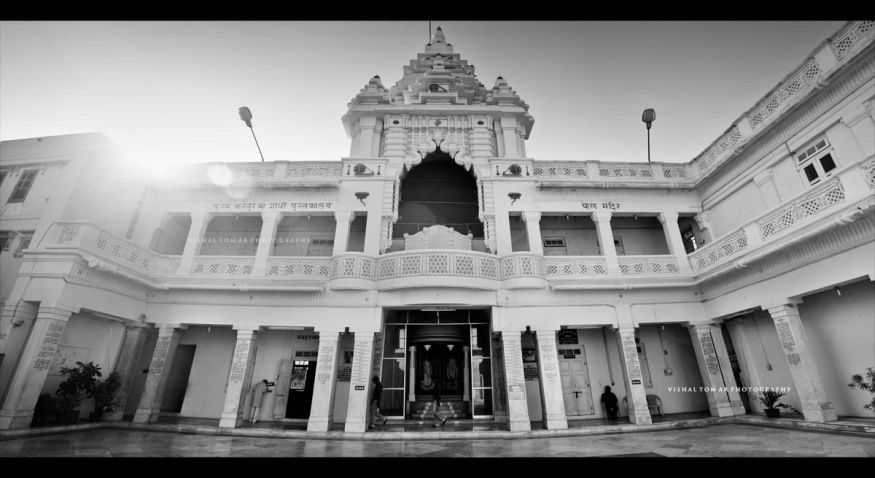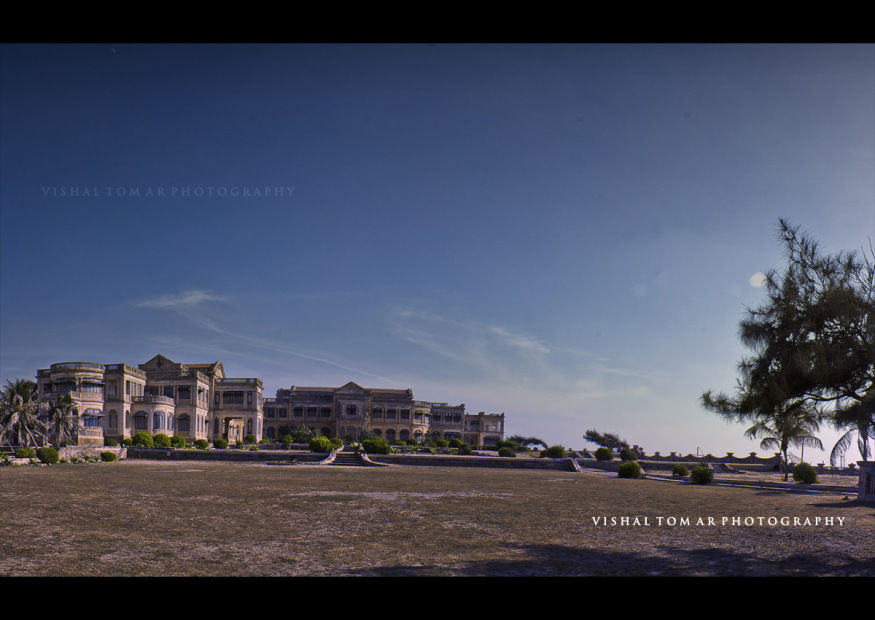 Dwarka is another huge temple and holds great importance in Hindu mythology. It was the seat of administration for Lord Krishna. Another smaller temple on an island requiring a ferry ride, called Bet Dwarka is considered Lord Krishna's residence. Like any other temple these days, it leaves me less peaceful than before. Bet Dwarka has timing restrictions, so be sure to reach there before 12 in the noon or after 4 in the evening. In between it is closed. (God needs to sleep, pujaris are busy with their rituals, were the reasons we were told)
The boat ride is a great leveler. From tribals, to urbans, to villagers and people of different religion sharing the same boat makes for an interesting setting. A Ray-Ban and Reebok clad guy besides an ornate, rustic, dhoti-kurta clad tribal with handle bar moustache; or the elderly women chanting devotional songs while the younger ones update their statuses on their smart phones makes for interesting juxtapositions.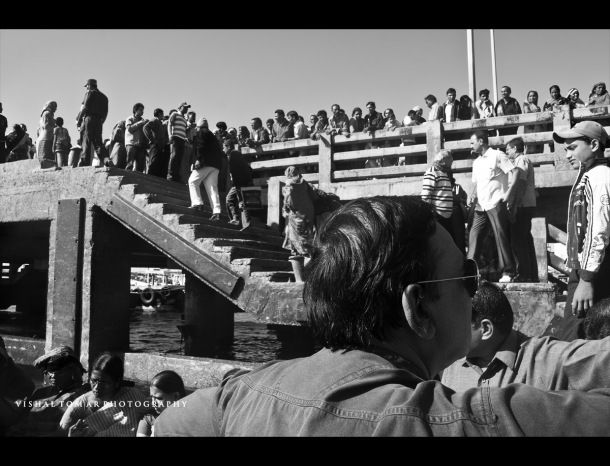 The beach/junction of Gomti river and sea is a must visit in the morning. Pristine water, cool air, the town just warming up to activity makes for some great pictures. I got a bird's eye view of the place from our hotel, the Lord's. There's nothing much besides and the rest can be skipped (Bharat museum, Tara mandir etc)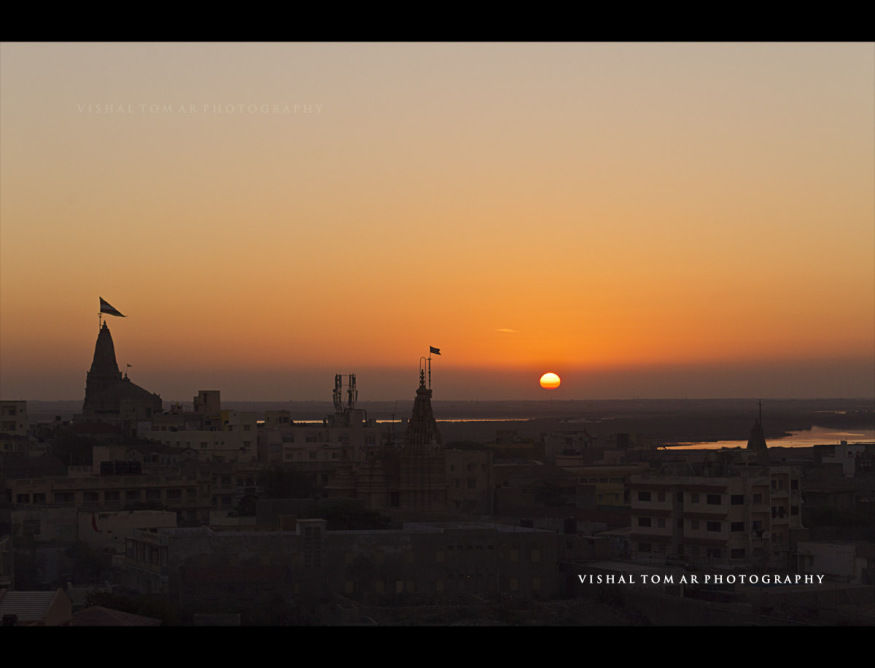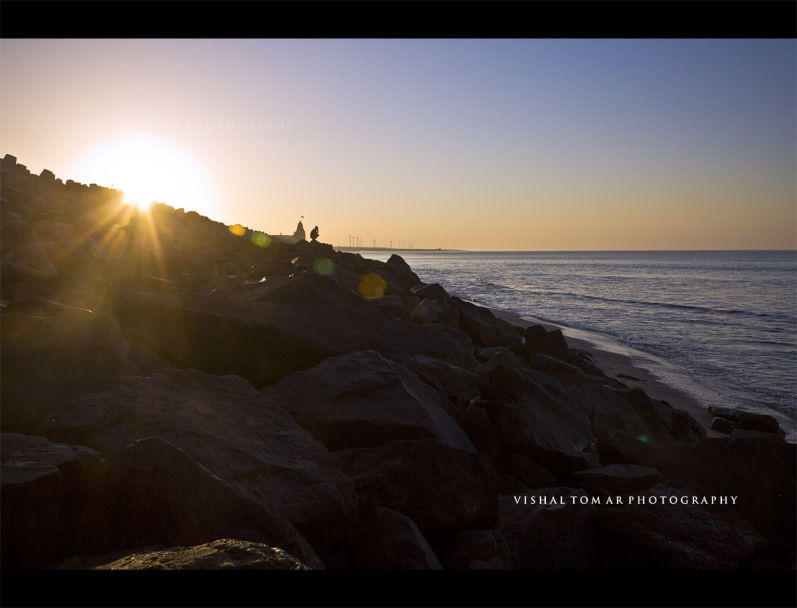 Jamnagar was our final leg of the journey. It's the oil refinery capital of the country and an urbane town. The Lakhota lake palace of Ranjit Singji (of the Ranji Cricket trophy fame) is a must visit. Another fascinating thing I saw there is called Solarium. It's a revolving horizontal chamber set atop a giant tower so that patients of skin diseases can benefit from sunlight as much as possible throughout the day. It is the last of its kind in the world and sadly in shambles.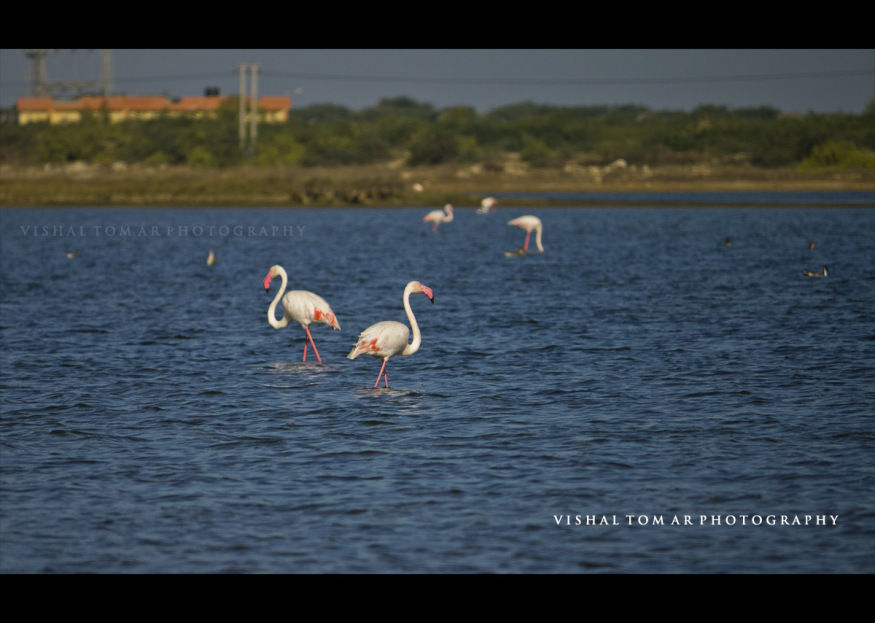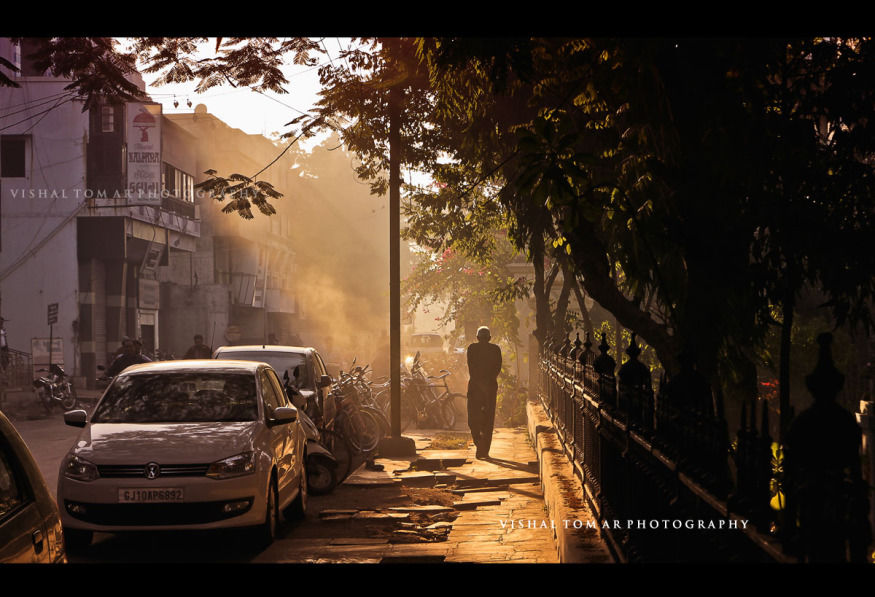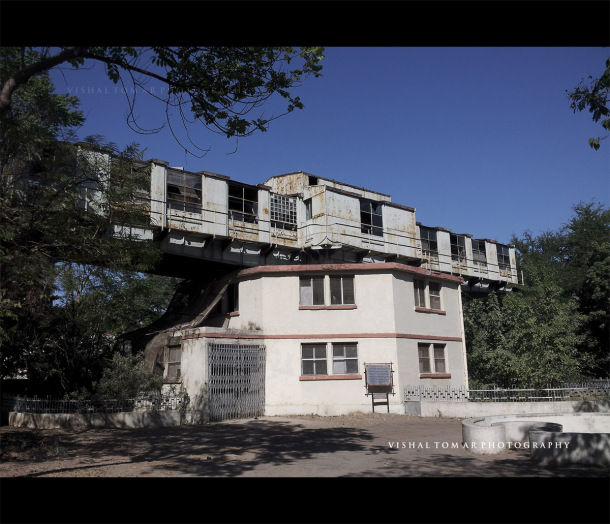 The Khijadiya bird sanctuary is a must visit. I was amazed to see inspite of my best efforts to hide among the bush and click I was always successful in alerting the bird flock by the hundreds only to get pictures of birds scattering here and there. Need more camouflage next time, mental note. On the other hand the Marine Wildlife Sanctuary, the only of its kind in the country was a total let down. The staff discouraged us so much that we decided to skip it altogether.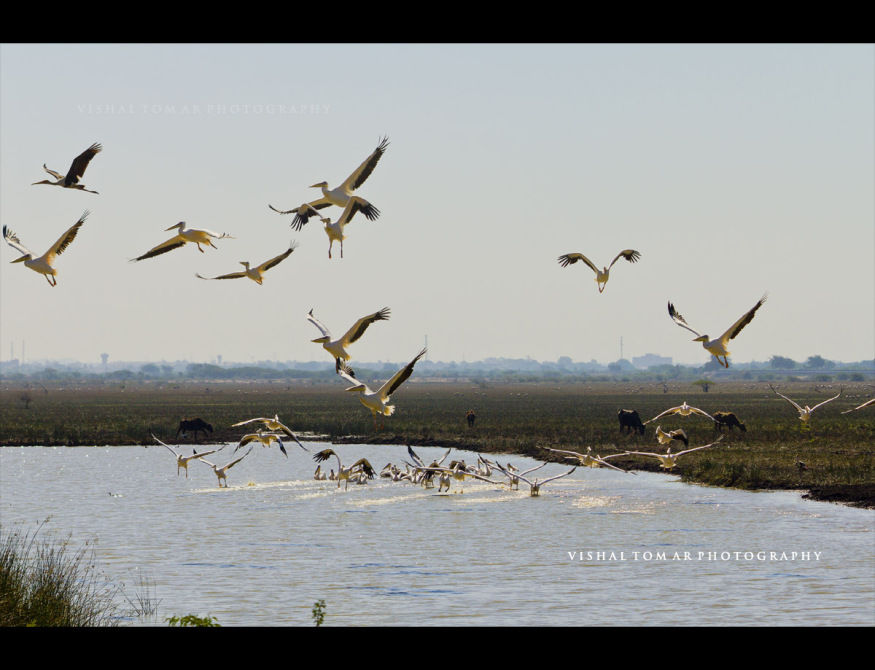 All throughout the trip I had been more of a tourist than a traveler. So since I had some time at my expense, I took a stroll in the bazaar of Jamnagar. New shops setup besides colonial buildings and arches. Long, curving, stone footpaths turned shopping centers of everyday wares. Cars as well as bicycles entering huge doors of a havelis (old bungalows) fitted with air conditioners makes it easy to picture its colonial, even ancient existence. I walked into a small idol making workshop. The shy artisan in return for not bothering him with my camera, allowed me to see his workshop. It was an immersing experience, and I also ended up clicking the artisan and the owners. Later I came to know that it was a 70yr old workshop and I thank the friendly folks for allowing me a glimpse of it. (more about it later)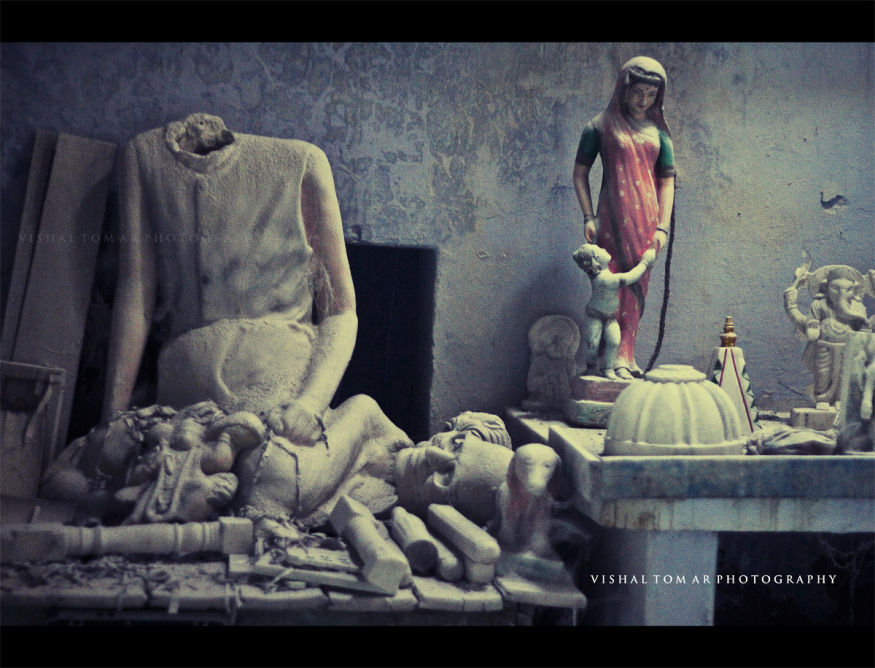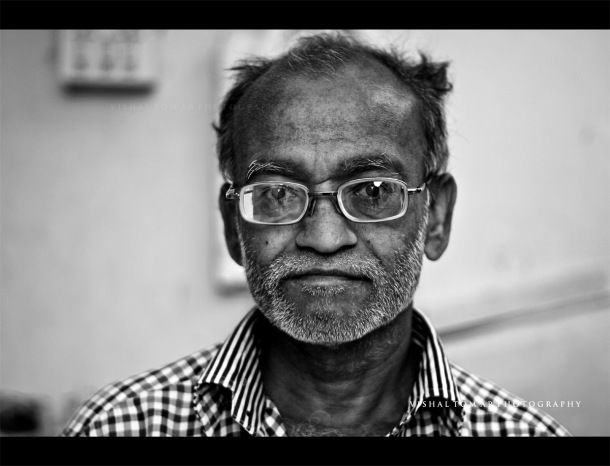 I found it hard to find authentic Gujrati meal in the restaurants. Guess people here prefer S.P.C (South indian, Punjabi, and Chinese) over Gujju delicacies. Bad news for my foodie tasted buds; I was all up for new flavors and elaborate meals like I found in Rajasthan, Kerala, and Punjab etc. Also the road side "Dhaba", an assured lip smacking food joint for a road tripper was conspicuous by their absence.
All in all it was a bag of mixed memories, Gujrat. And not as promising as the T.V. adverts promise it to be. People are poorer, many beggars, arid land, hard salty water for home use even today, ill maintained heritage structures and unnecessary bother at the temples makes for a little uncomfortable and sad travel experience. If you ignore all that, then there is a lot of history and culture to be explored.
Thanks for dropping by.
would love to hear your feedback.