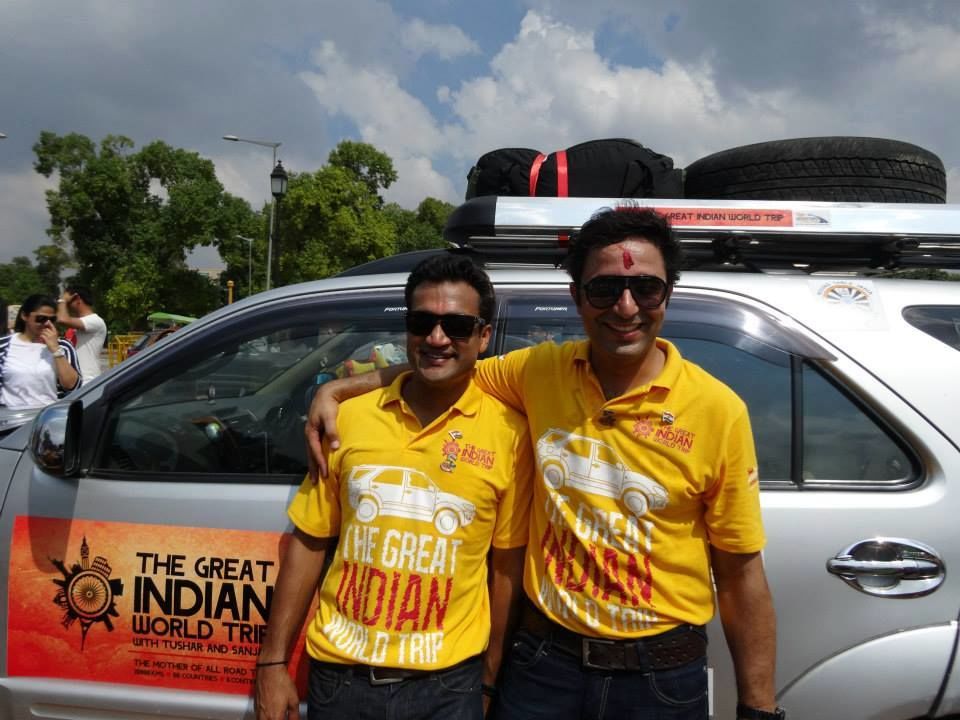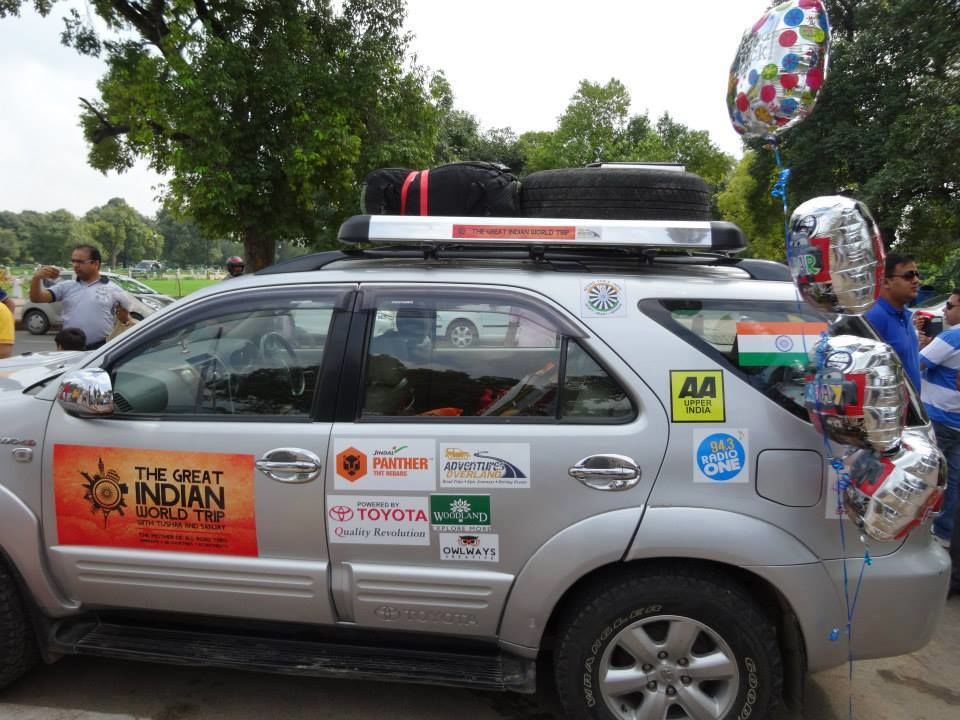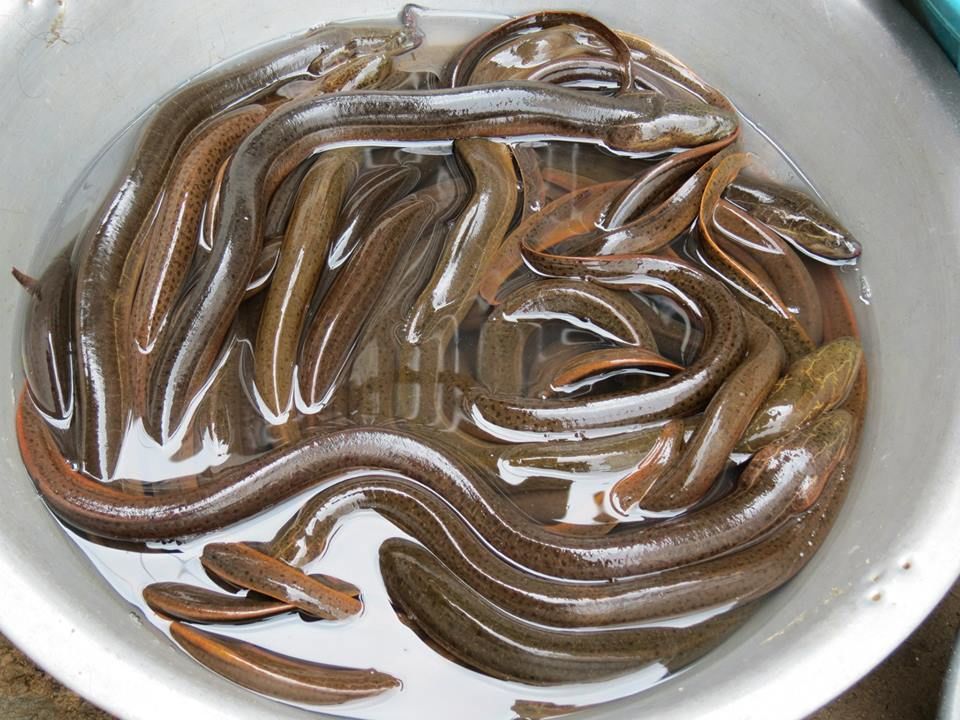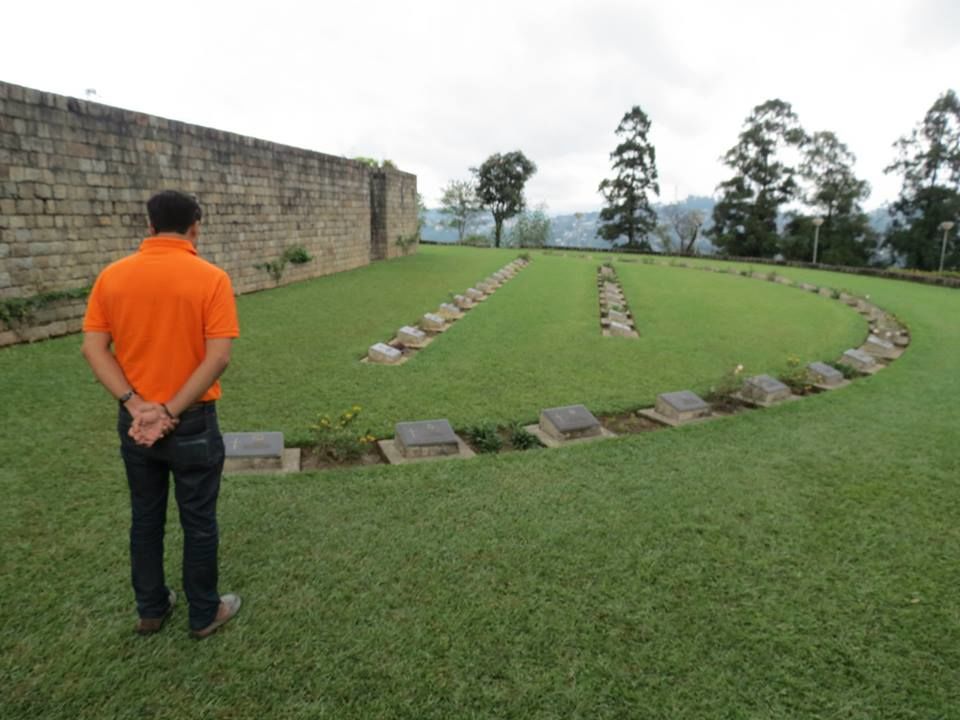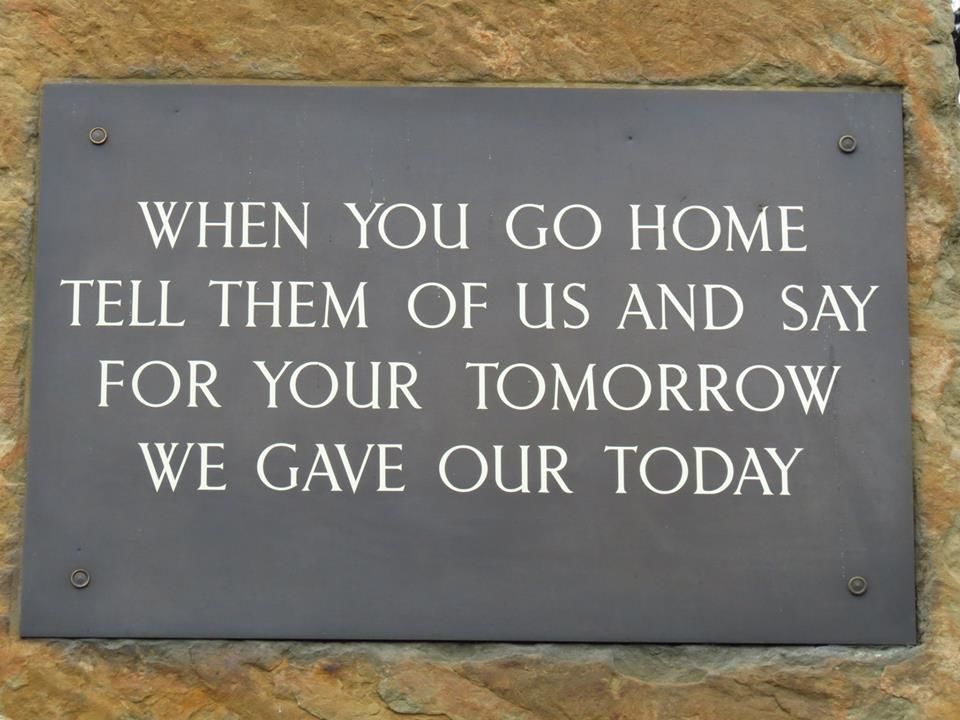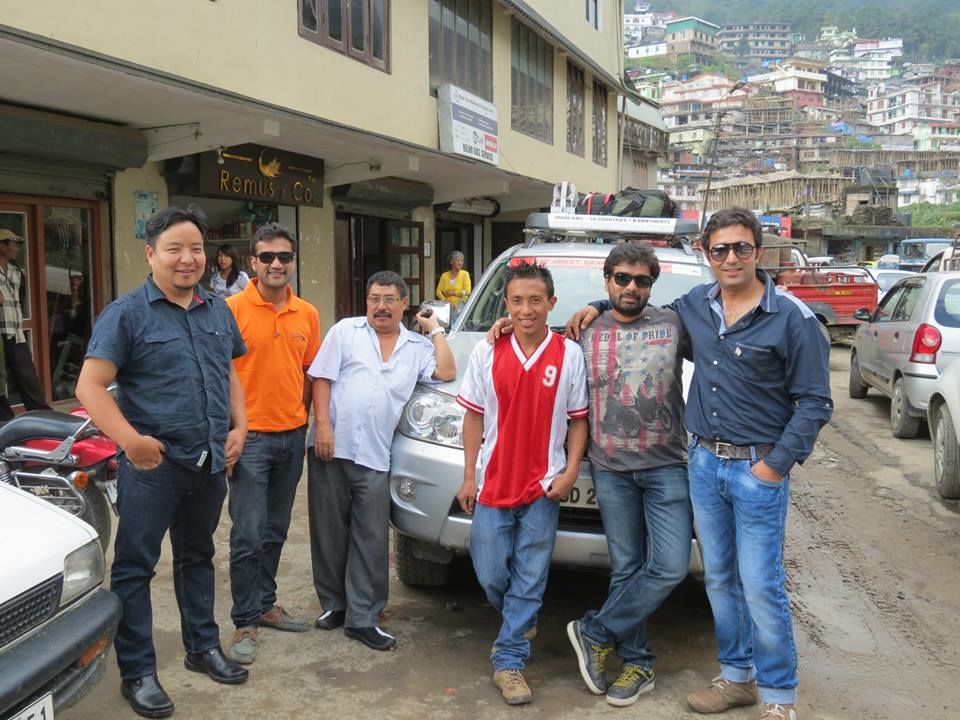 gI beat the alarm and woke up before it did. I felt very calm as I got out of bed, got dressed in my crisp new Great Indian World Trip yellow T-shirt and walked out to meet Sanjay and Prasad. They had already arrived and were waiting for me to start putting up stickers on the car. One by one, we peeled the stickers and pasted them gently on different parts of our Fortuner. Our names and blood groups on the front fenders, Indian Flag on the side rear window, sponsors logos on the rear doors, our main logo on the front doors. After an hour of decorating and grooming her, she was ready. She was transformed from a regular Toyota Fortuner to the car that was going to make history. A car that would be driving all over the world. I couldn't stop smiling. I kept staring at her for a good 10 minutes and realised that it was about time to leave for India Gate, the flag off point.
The scene at India Gate was nothing short of festive. Hundreds of people were waiting for us as we arrived. Our families, friends, media and adventure enthusiasts, everyone stood in the Delhi heat on a Sunday morning to give us a good send off. After bidding goodbye to everyone, I switched on the ignition amidst loud applause and cheers and as my grandfather lifted The Great Indian World Trip flag, our car inched ahead and we took our first baby steps towards the world. The Great Indian World Trip began.
We slowly negotiated the Delhi traffic and soon hit the Yamuna Expressway in Greater Noida towards Lucknow. Last few weeks had gone in planning and all of us had been working round the clock. Our first night in Lucknow gave us a chance to finally stop thinking or planning and to start enjoying the journey. We all were tired, exhausted and needed a good nights' sleep. Day one of the Great Indian World Trip had gone better than expected. I closed my eyes and my last thoughts before sleep took over were images of the car, the Great Indian World Trip logo and the smiles and waving hands of people at India Gate.
We started early next morning for our long drive to Siliguri in West Bengal. We were driving through Uttar Pradesh and our next state was Bihar. Roads were fairly smooth but we realised that it would take us at least 13-14 hours to reach Siliguri. On the way, we had planned to stop at one of my aunt's place in a small town in Bihar called Forbesganj which is around 200 km before Siliguri. Forbesganj was established by the British and is very close to the India-Nepal border. My aunt was expecting us to reach her place by late afternoon but we arrived late in the evening. She insisted that we spend the night at her place and start early the next morning.
"No point going to Siliguri at this hour. You won't reach before 1 AM and it would be a hassle to find a hotel at that hour. Stay here, I will cook you nice food and some rice pudding" she said with a smile.
The second day of the journey didn't go as planned. We didn't make it to Siliguri but stayed back in Forbesganj instead. It was a lovely evening where we spent time chatting with my aunt and her family. In the morning, my aunt invited journalists and reporters to interview us before we took off.
"Thanks a lot for taking such good care of all of us" I said to her before leaving
"It was our pleasure. Now our little town Forbesganj will also become part of the Great Indian World Trip." She said as she hugged me goodbye. I was overwhelmed by her love, concern and affection. It was beginning to hit me that we were up to something special. Everyone we met so far had gone out of their way to help us.
After a sumptuous breakfast that my aunt had lovingly prepared, we bid goodbye and left Forbesganj. Our next destination was Guwahati in Assam. However, since we had not covered Siliguri last night, it meant that we would have to drive an extra 200 km to cover the delay.
"The delay of first day is lingering on us. Today, we have to reach Guwahati no matter what" Sanjay said.
"What time will you reach Guwahati?" My cousin Vivek, a tea estate owner in Assam called
"Very late, by 11 PM I think. Please book a hotel for us, will you?" I asked him
"Dont worry, my friend owns a hotel in Guwahati, I will ask him to book a room for you guys." He replied
Just like that, our hotel was sorted in Guwahati as well. I was beginning to enjoy this experience. Start driving and someone or the other would call to offer their help. It was reinforcing the fact that we were on an epic journey and the whole idea was to connect with as many people as we could. Had we booked our hotels by going on some hotel booking website, we would have missed out on meeting or talking to so many people along the way.
"Last 3 days has got me thinking. How about we try to do as many home stays as we can? Not only will this give us interesting stories and experiences, but we will also get to experience local food and culture in different parts of the world." I said to Sanjay
"Of course, and since we don't have enough funds to complete this trip, we will also save some money." Sanjay replied
"Absolutely! Let's give ourselves a challenge. At the end of this journey, if we have spent more nights at local homes and less nights in hotels, we win. But if we end up spending more nights in hotels and less nights at local homes, we lose." I suggested
"Good idea. Let's do it!" Sanjay and Prasad said in unison.
We carried on talking, planning, clicking pictures and videos as we went along. Soon, Bihar and West Bengal was behind us and we entered Assam, the 5th state on our drive through India. We reached the hotel which Vivek had booked for us and were glad that we were finally back on track. It had been another long day where we covered around 700 km.
We started driving on Asian Highway 1 (AH1) the next morning. This highway is one of the longest road connectivity routes in Asia going from Afghanistan all the way to Japan via ASEAN countries. I had already driven from Singapore to Guwahati on AH1 when I had participated in the ASEAN India Car Rally in 2012. We were on our way to Kohima in Nagaland and were enjoying driving on AH1 passing lush green tea estates and particularly the Kaziranga National Park famous for one horned rhinos. Nagaland is a restricted state but we had already arranged for Inner Line Permits to enter the territory.
We reached the Assam-Nagaland border where the guards at the check post flagged us down.
"Sir, you need to make an entry and show your permits" he said
I went to the post with our thick 'black file' where we safely kept all the important documents required for the journey.
"Where are you going?" the officer at the post asked me
"Right now we are going to Kohima but we are on our way to Singapore" I replied smiling
"Singapore? By Road?" he looked up and asked raised his eyebrows
"Yes sir, all by road" I replied and went on to tell him in brief about our journey. He shook my hand, wished us well and we entered the tribal state of Nagaland.
In a few hours, we reached Dimapur, a small town around 70 km before Kohima.
"Let's have lunch here before proceeding towards Kohima" Sanjay suggested
I suddenly remembered that I had exchanged a few emails with a guy called Rohit Jain from Dimapur a few months back about doing a tie up for organising expeditions in North East of India. I found his number in my phone and called him.
"Hi Rohit, we have never spoken before but have exchanged a few emails a couple of months back about organising expeditions in North East" I said to him on the phone
"Of course I remember, and I also know that you are planning a round the world expedition" he replied.
"Thats' great. Well, the expedition has started and we are in fact passing through Dimapur right now" I replied
"What? You are in Dimapur? Right now? Why didn't you tell me before? Please come home for some tea." he replied excitedly.
We had never spoken, never met, but the way he invited us felt like we were long lost friends. He gave me directions to his house and we went to see him. As we reached, his whole family was waiting to greet us. We spent an hour at his home during which he and his dad made a few phone calls and sorted our accommodation in Kohima and Imphal.
"Tushar, in Kohima, because of a conference, all hotels are booked. I have spoken to a friend of mine, Mr Francis Behlo and he is trying to arrange some accommodation for you guys." Rohit's dad said. He gave me Mr Behlo's number and asked me to call him once we leave Dimapur.
"Francis uncle is a very interesting man. He is a Naga, born and brought up in Kohima and is the most generous person I know. He will take care of everything for you guys in Kohima. Don't worry at all!" Rohit said.
"Also, I have spoken to my cousin Jimmy who lives in Imphal. Take down his number. When you leave Nagaland for Manipur, give him a call, he will sort out everything for you in Imphal" he further added.
I didn't know how to react. It was only an hour back that I spoke to Rohit for the first time in my life. Here we were, sitting in his house with his entire family, and all of them doing everything they could to help us. It was only the fourth day of our journey and already people had showered us with so much love and kindness.
We thanked him and said goodbye to his family and left for Kohima. It was only 4:30 PM, but it had already started getting dark. Sun sets very early in the north eastern part of India and it is not advised to drive after dark in many parts of North East. We hurried towards Kohima driving through hilly terrains and broken tarmac. Just before we reached, I called Francis uncle and introduced myself.
"Count the 5th petrol pump after you enter Kohima. You will see a yellow truck parked on your left. That is my pump and I will be waiting for you outside" he instructed. We followed his instructions and found his pump easily. A short, fair man with a moustache and a smiling face greeted us.
"Welcome to Kohima. No hotels are available today, you are most welcome to stay in my home. Your auntie has gone out for some work, I will introduce you to her once she returns. Please come in and have some tea in the meantime" he said as he ushered us into his home.
The journey just keeps on getting better and better. Francis uncle didn't know us, had never heard of us but still invited 3 strangers, all men, to come and stay in his home. Once his wife returned, she greeted us like her own children and cooked us a lavish meal. We also met their nephew, Richard, who is one of the most impressive young men I have ever met. Richard is an Architectural Engineer who, after having worked for a few years in Bangalore, decided to return to his native home in Nagaland. He has won many awards for bringing innovation in Bamboo Structures.
"I wanted to put my knowledge and experience for improving the building conditions and architecture of Nagaland. I didn't want to wait till I get old and then come back just to share my experience. Right now, I am young and Nagaland needs young architects." He told us
He also told us that he is the co-owner of Kohima Comets, a football team. He also created a syndicate to help the under privileged craftsmen to earn a livelihood by selling their products on the highways.
"There are a lot of talented craftsmen living in the villages in Nagaland. But, they were not able to sell their goods at their stalls on the Kohima Imphal highway because nobody would stop to take a look. So, I came up with an idea of building a clean toilet on the highway. We build the toilet, put up a big board saying CLEAN TOILET and right next to it, we set up a small shop where the craftsmen could sell their products. Now, lots of cars stop to take loo breaks and end up walking into the shop and buying their goods." he explained his innovative idea.
It was a very interesting evening and we left the following morning feeling very inspired after meeting Richard, Francis uncle and his wife. Before we left, auntie made sure that she fed us well.
"You have a long way to go. You won't get home food anywhere, so eat as much as you can!" she said lovingly.
We bid goodbyes and went to see Kohima town before we had to head off for Imphal. Kohima is a lovely hill station and we first visited the World War II Cemetery. This cemetery is dedicated to the 10,000 soldiers who lost their lives during the Japanese Invasion in 1944.
"When you go home tell them of us and say, for your tomorrow we gave our today". Reading these words at the memorial in the war cemetery gave me goose bumps. I closed my eyes and said a silent prayer for all the young soldiers who laid their lives for their country.
We left the cemetery feeling sombre but what we saw next left us in shock. We visited a food market in Kohima where we saw everything under the sun being sold. White rats, honey bees, eals, live frogs and dog meat. I had heard stories about people eating dog meat but to see dog meat being sold in an open market left me in shock. It was not a pleasant sight and all I could do was look away and keep walking. We spent a few minutes looking around the market and then left. I couldn't get the image of the dog meat out of my mind and it was making me feel sick.
After spending a couple of hours looking around in Kohima, we left for Imphal. It took us another few hours driving on broken tarmac through hilly, forest regions of Nagaland and Manipur. We reached Imphal, capital of Manipur, the 7th and the last Indian state on our journey by evening and I picked up the phone to call Rohit's cousin Jimmy.
"Welcome to Imphal. Your hotel is booked, I have invited a few friends, we all want to know everything about your world trip" he said cheerfully.
Not only did Jimmy booked our hotel, he also drove us to a friends' garage where he advised us to park our car.
"It is not safe to park your vehicle outside the hotel. The roof of your car has a Tyre and a jerry can, it might get stolen overnight. I have spoken to a friend of mine, lets' park your car in his garage overnight" He suggested.
The journey through India went way better than any one of us could have imagined. Every single day we got new surprises, new acts of kindness, people opening their homes and their hearts to welcome complete strangers.
The world is better than we think it is. We are doing The Great Indian World Trip to experiences different cultures, to meet people of varied backgrounds and to taste foods of different regions. I am happy to say that we got a good dose of all of the above in our own motherland, India. But I am happier and very proud to say that despite the varied backgrounds and cultures in our own beloved nation, the common links that I felt were kindness, hospitality and selflessness. We were welcomed everywhere with open arms. We met people as strangers and shook hands but left after hugging each other as old friends.