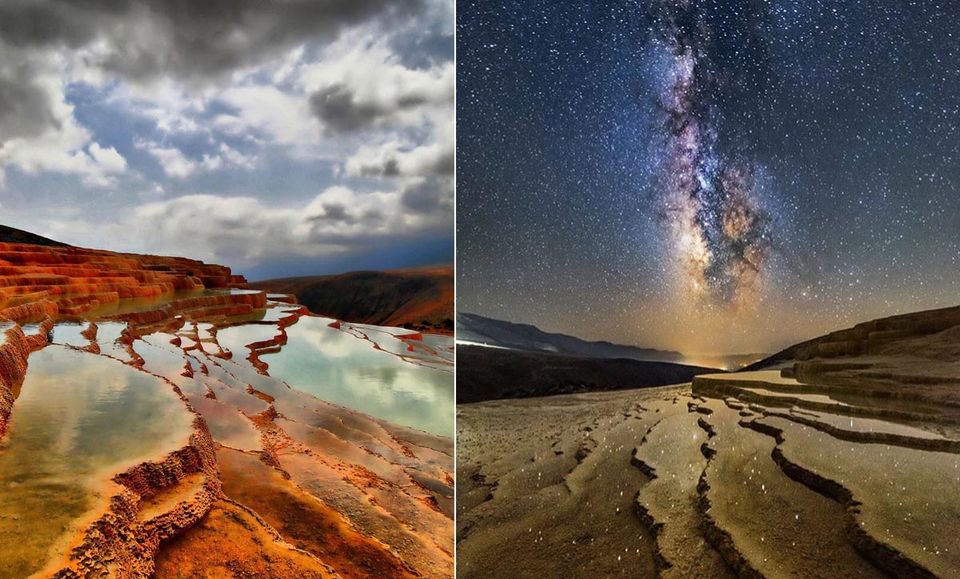 Picture yourself standing on the edge of a mountain overlooking iridescent pools of water situated on beds of calcified travertines. These beautiful puddles, flowing down terrace-shaped layers of rock, make up Iran's Badab-e Surt – a mountainside with flowing water from hot springs that creates burning hues of reds, oranges, and yellows. The scene is breathtaking!
What makes this place unique
The site at Badab-e Surt was created because water from two different mineral hot springs flowed down from 6,000 feet above sea level for thousands of years. As it cooled down, it left behind carbonate mineral deposits that eventually hardened, giving the mountain a staircase shape.
The name of the place is also inspired by the science behind it. 'Bâd' means gas, 'âb' means water, and Surt is the name of an old village in Orost, which is located about seven kilometres from the spot! There are a few other places in the world with similar carbonate formations such as the Mammoth Hot Spring in the US and Pamukkale in Turkey where the Bollywood film Ajab Prem Ki Gajab Kahani was also shot. But what makes Badab-e Surt unique is its distinctive yellow-orange hue, which results from high levels of iron oxide in the water.
Why travel to Badab-e-Surt?
Located in Iran's Mazandaran province, this travertine terrace is situated about 1,840 metres above sea level. The site looks like a dreamy staircase which mirrors the reflection of the sky and changes colour depending on the time of the day. This happens as the mineral deposits stay on top and the water gets clearer as it flows down. Besides having the obvious appeal for photographers and travellers, this place is of great value to geologists. One of the only few such sites in the world, it needs to be highly protected from an environmental perspective. However not much has been done by the government. But because of its hard to reach location, this place is relatively untouched.
How to get here?
It may not be the most easily accessible place in the world but Badab-e Surt is definitely worth the visit. Located about 400 km from Tehran, the only way to reach this place is by road. If you're flying from Delhi, you'll need to take a flight to Tehran and then take local transport like a taxi or bus via Mazandaran to Orost, which is where these hot springs are located. The closest major town to Badab-e Surt is Sari, which is about two-and-a-half hours away. On reaching Orost, the town located about 7 km from the site, you can either hike up to the hot spring or hop on to a local tractor.
Check out some amazing photos of this place
What is the most colourful destination you've travelled to? Share your experience with travellers on Tripoto and check out our YouTube channel for more travel inspiration.
Get travel inspiration from us daily! Save our number and send a Whatsapp message on 9599147110 to begin!