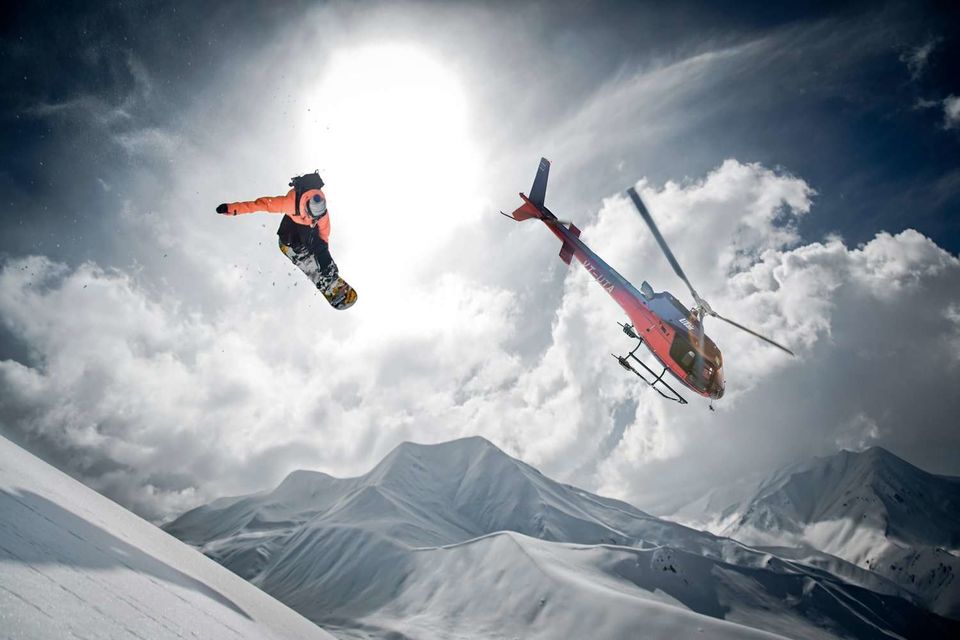 WINTER IN GEORGIA
ushbatravel.ge  
company  nom +995 598 922 551
I won´t deny it - I focus on summer hiking and only rarely hike on snow. Still, more and more people are coming to Georgia also in winter and keep asking me about activities in the mountains during this period. So I prepared this short summary of what can be done - which hiking trails can be tackled also in winter, few words about skiing and so on.
Just keep in mind that for almost all "hiking" trails you will need proper equipment - in waist-deep snow, you won´t get anywhere in mere hiking shoes. You can pick either snowshoes or cross-country skis. Snowshoes are more suitable for beginners since it´s easier to use them and you don´t need special shoes - they can be attached to hiking boots. On the downside, you will be only half as fast compared to your "summer" walking speed so they are suitable only for some shorter trails.
For serious ski-touring, you will need cross-country skis - those are much faster but have the steeper learning curve and you will need special shoes. And you will also need alpine skis if you are interested in classic downhill skiing - luckily, all this equipment can be rented at mountain resorts.
OK, and now take a look at the individual mountain regions, from the west to the east…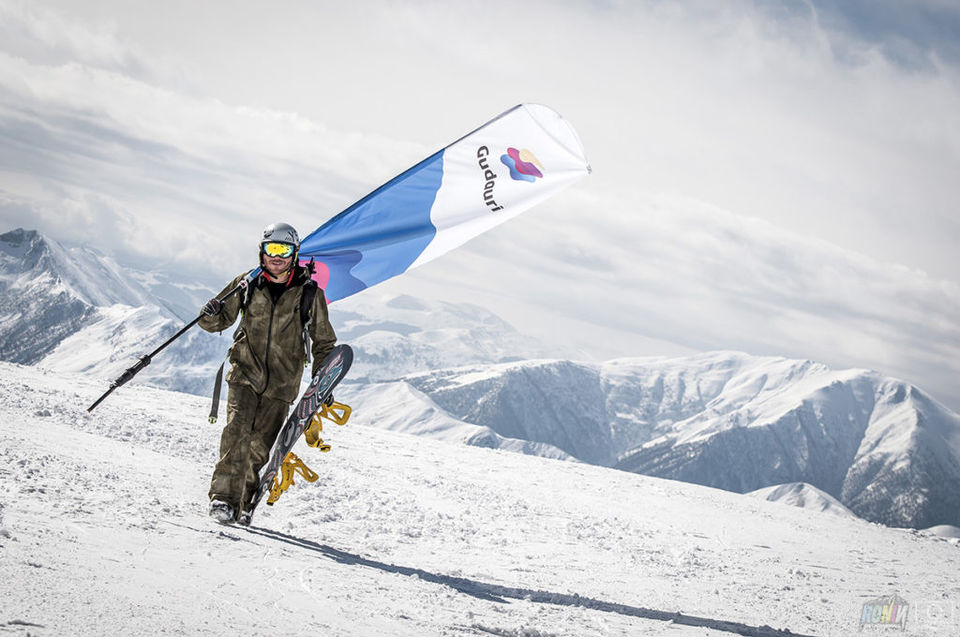 SVANETI
UNESCO Heritage site Svaneti offers a wide range of outdoor activities not only in summer but also in winter. On a relatively small area, you can find two brand new skiing resorts.
Hatsvali resort, opened in 2011 lies south of to Mestia and offers runs for beginners and intermediates. The upper cable car station lies on the top of Zuruldi ridge at the elevation of 2350m. The resort is now more accessible than ever since for the 2017/2018 skiing season was built a new cable car line which can bring people up onto slopes from the edge of Mestia.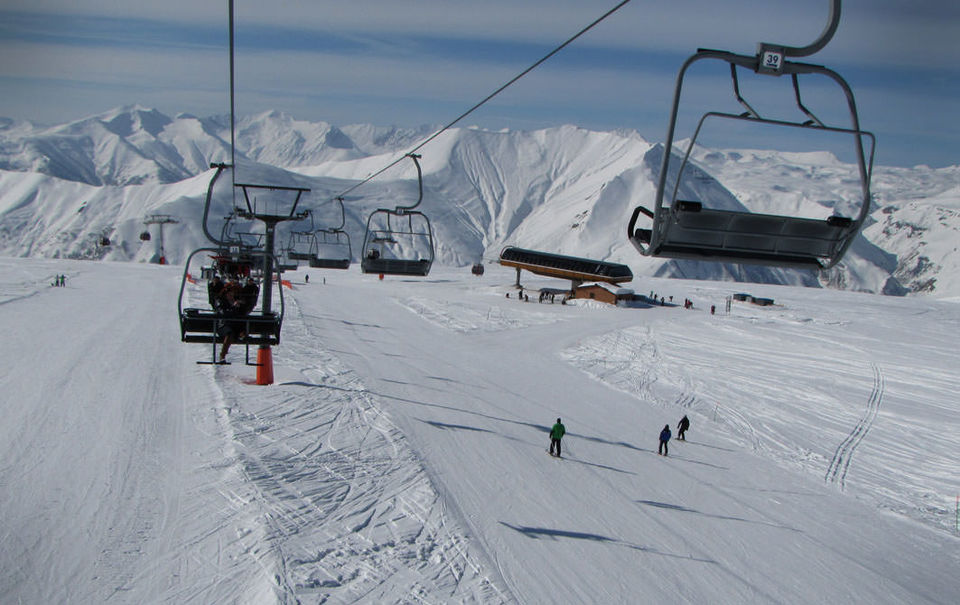 Tetnuldi is the newest Georgian resort, opened only in 2016. It lies beneath the mountain of the same name, some 15 km away from Mestia. caters to more skilled skiers and lovers of freeriding. The highest station lies at the elevation of 3165m. Overall, Tetnuldi still feels a bit rough and "unfinished" but has a great perspective and in a few years may grab from Gudauri the title "the largest Georgian ski resort".
OK, now to the trails - if you want to explore Svaneti on snowshoes, there are several shorter ones in the vicinity of Mestia you can try. Hike to the Chalaadi glacier should be available as well as the one climbing to the viewpoint on the Tshakazagari mountain and further up towards Koruldi lakes. You can also cross from Mestia to Zhabeshi or from Tetnuldi resort to Adishi village.
If you are interested in ski-touring, the classic summer Etseri - Mestia - Ushguli route should be doable also in winter. But I strongly recommend hiring local guides or agency to organize it since this route traverses several high mountain passes with some degree of avalanche danger. An even better option may be staying longer in smaller villages such as Ushguli, Mazeri or Etseri and use them as a base for day-long ski-touring trips.
RACHA
Speaking of winter sports, Racha is "terra incognita". There are no resorts, no infrastructure, and very little information about ski-touring possibilities - I know only one company specializing in winter trips in Racha.
Still, there are some routes - good place for ski-touring are numerous side valleys or Racha such as Lagorula or Muchamesh valley, vicinity of Gona village or even the Chkhauri valley. For the more panoramic trip, the Chiora ridge should be open to ski-touring even in winter. And once the locals manage to buy that badly-needed snowcat, it may become very interesting and accessible destination.
KHEVI
The main draw of Khevi region during winter is Gudauri ski resort lying at the southern slopes of Sadzele mountain, close to the Jvari pass. It´s the largest and the most developed ski resort in Georgia, boasting eleven ski lifts and over 50 km of maintained routes suitable for everyone from beginners to expert skiers. The highest lift station lies at the altitude of 3275m, the lowest one at 1990m, so the elevation difference is pretty impressive. And if you get bored of its ordinary trails, you can try also heliskiing. Or ski-touring - I am a bit out of my depth here but a very good list of trails in the area can be found in free Gudauri freeride guidebook provided by Gudauri Travel company.
One of the drawbacks of Gudauri is that unlike Mestia which is a lively town with cultural heritage, this is just a resort. There are some places of historical and religious importance in the vicinity such as the Lomisi monastery or the Khada gorge, but it takes some effort to get there.
And then there is, naturally, Stepantsminda village mainly visited for the Mt. Kazbek views and iconic Tsminda Sameba church. Hike to the church is doable all-year-round, snowshoes aren't that necessary (but that ultimately depends on snow conditions).
Another trip doable in the winter is the walk towards the Chaukhi massif (only the first few km of this trail, not all the way to the pass!) since the terrain is easy and the scenery magnificent.
Khevi region offers also many more options, especially to experienced alpinists. For example, I wouldn't send anyone in winter to the Keli volcanic plateau. Yet, there are people who organize there an annual freeriding camp. So the options are limitless if you know what you are doing.
KHEVSURETI
Unlike Khevi, there are few reasons to visit Khevsureti in winter. Datvisjvari pass is blocked by snow so the more interesting Upper Khevsureti is off-limits. And the most popular hiking destination of Lower Khevsureti, Abudelauri lakes are completely covered with snow. Unless you are interested in remote locations with "the end of the world" feeling, postpone your Khevsureti visit to the summer.
TUSHETI
Tusheti is another Georgian region whose accessibility is seriously hampered by winter snows - road through the Abano pass becomes accessible only in the late spring.
Still, that doesn´t mean that the area is completely cut off. There is a weekly helicopter flight which lands on the new airfield near Omalo - right now, it transports only border guards and locals but from the New Year, they promise to start bringing tourists as well. This flight is operated by AirTusheti company and will operate each Tuesday, so you would have to stay a whole week or return on the same day. Still, it could be an interesting experience. The price is not yet known, when it will be, I will update the article.
BORJOMI
The most popular winter destination in the Borjomi district is Bakuriani ski resort lying southeast of Borjomi, at the northern slopes of the Trialeti range. It boasts six major ski lifts (counting also those in the newly-opened Mitarbi resort) which transport skiers onto nearby mountains such as Sakvelo, Kokhta or Mitarbi. The altitude difference between the village and the highest cable car station is over 800m.
Bakuriani resort is not as modern as let´s say Gudauri, but on the other hand has quite pleasant, "lived-in feeling" since you will spend your time in an actual village. Another advantage is the fact that the slopes cross the pine and spruce forests. Because of many attractions for children, Bakuriani has a reputation of the family-friendly resort. But that doesn´t mean that there is nothing to do for expert skiers. After all, Bakuriani was originally developed as the Olympic training facility for Soviet skiers.