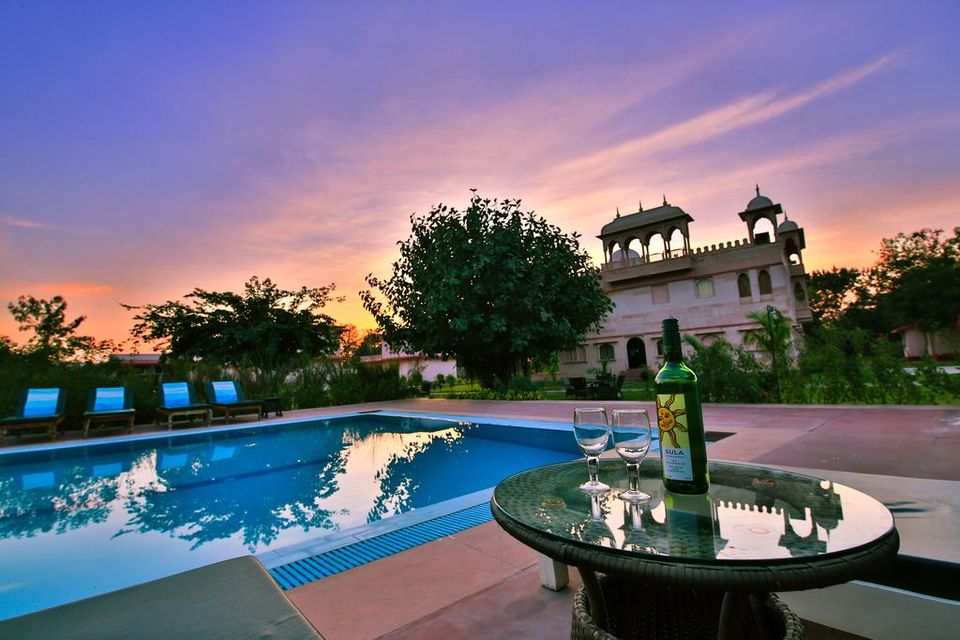 Nestled in the foothills of Aravali Hills, Ranthambore is famous for its tiger reserves and wide range of flora and fauna. The place is a wildlife enthusiast and photographer's paradise, inhabiting hundreds of birds and animals. If you are in Rajasthan then this is the best place to spot tigers. The park is scattered around the 10th-century Ranthambore Fort. The Ranthambore National Park, along with the Ranthambore Fort and the surrounding hills and temples make Ranthambore an outstanding tourist destination. To make your trip more convenient and luxurious, there are plenty of accommodation options. From camps, havelis, resorts to hotels, there are options for every choice.
These hotels in Ranthambore will certainly sweep you off your feet with their hospitality.
Stay closer to nature when you visit Ranthambore to explore wildlife. Jungle View Resort is a perfect accommodation option for travellers who love to feel the serenity with all beauty and freshness of nature. It is an eco-friendly budget jungle camp resort located just ten minutes drive from the main safari gates of the Ranthambore National Park. This place is located in an spot and offers outstanding hospitality and experienced drivers/guides. Book your stay here to reconnect with nature and self.
Where: Ranthambore Fort Road
Accommodates: Deluxe Double Room and Standard Double Room
Set in the lap of nature, Kipling Lodge is surrounded by lush fields and trees. Taking a leaf out of Jungle Book and the raw adrenaline of wildlife, Kipling Lodge offers complete comfort of luxury, complemented by an authentic colonial charm. The resort is located just a stone's throw away from Ranthambore National Park. This hidden gem offers well appointed rooms and access to beautiful gardens and facilities. The well spread out resort has 10 superior garden rooms, two terrace rooms and 04 theme suites designed on different wildlife.
Where: Village Charodda,Ranthambore
Accommodates: Superior Double or Twin Room and King Suite
Showcasing an outdoor pool and views of the mountains, Ranthambore Heritage Haveli is located near the famous national park. The resort has been elegantly designed in traditional architecture keeping in mind the natural surroundings and Rajasthani culture. The friendly staff at this resort ensures best comforts and good hospitality. The haveli accommodates well-furnished 20 Deluxe Rooms and 06 cottages in Ranthambore Heritage Haveli.
Where: Village Khilchipur, Ranthambore Road, Sawai Madhopur
Accommodates: Deluxe Double Room
The Shergarh Resort wildlife boutique resort is a royal heritage resort in a breathtaking four hectare's oasis of beautiful landscaped gardens. It is among the best budget luxury hotels and wildlife resorts in Ranthambore National Park area. Surrounded by lush green forest area the resort is a blend of luxury living and wildlife. Their eminent hospitality through its location architecture design and high levels of services leave no guest disappointed. Guests can enjoy various activities within premises. The Shergarh Resort accommodates 19 luxury air conditioned cottage and 4 luxury Tents. Guests can enjoy a range of delicacies in their multi cuisine restaurant.
Where: Sherpur, Near Ranthambore National Park Enterance
Accommodates: Tent, Double Room with Balcony, Classic Double Room, Suite
With well known royal hospitality, Sultan Bagh Jungle Camp offers incredible holiday experience. The accommodation options include 04 Cottages and 16 Double occupancy luxury Swiss tents. The tents are mounted in order to blend harmoniously with the natural surroundings. Richly and tastefully adorned with ethnic decor all rooms are equipped with world-class services to make your stay comfortable and memorable.
Where: Village Ranwal, Ranthambore Road
Accommodates: Rajwara Tents and Maharaja Villas
Relish the jungle life while experiencing Indulge in impeccable services and world-class comforts at The Baagh Ranthambore. Located only 1.5 Kms away from Ranthambore wildlife sanctuary, the resort offers an opulent jungle life setting. The resort accommodate Super Deluxe and Luxury Cottages. The spacious rooms and suites of this property are tastefully crafted to represent a perfect blend of history, luxury and uniqueness. Each room has beautiful décor, period furniture, king-size bed, and world-class facility. Other facilities include ultra modern discotheque, swimming pool, spa, indoor-outdoor games, and lush green lawns.
Where: Village Kutulpura, Swai Madhopur
Accommodates: Superior Double Room and Superior King Room
Jungle Retreat Resort is set in the glorious surroundings and exuberant ambiance with 15 deluxe rooms and 03 luxury family rooms. The resort is located in peaceful surroundings to offer an undisturbed privacy. To admire the beauty of lush Ranthambore book your room on the first floor with individual courtyards. Rooms on the second floor have private terraces and offer stunning view of the Ranthambore National Park. The resort has an outdoor pool and a lush green garden with an off site snack bar.
Where: Khilchipur Sherpur Village
Accommodates: Family Suite with Balcony
Which of the above is your favourite place to stay in Ranthambore? Share your travel experiences with Tripoto community here.