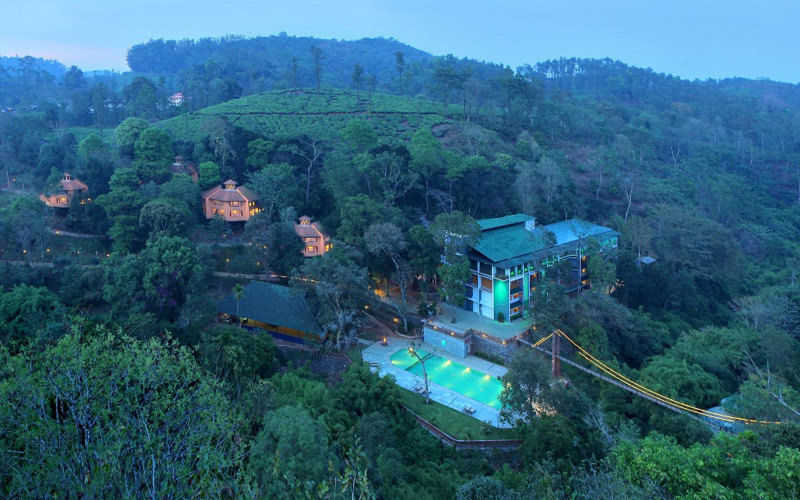 The green jewel in the crown of Kerala, Wayanad, is situated at the confluence of the three south Indian states, namely Kerala, Tamil Nadu and Karnataka. With verdant hills, gurgling cool springs, mist-clad mountain peaks, pristine streams, pre-historic caves, virgin forests and lush green tea and coffee plantations, the district offers the best of both nature and culture.
A holiday in Wayanad can offer adventure, relaxation in nature and soulful nurture. To make your vacation more memorable, the district is dotted with an array of resorts that offer splendid views and world-class services. Here is a list of some of the best resorts in Wayanad that promise unique infrastructure, hospitality and home-like comfort.
Where: Karapuzha, Kalathuvayal post, Ambalavayal, Wayanad, 67359
What's special: Nestled quietly on the Karapuzha Lake Waterfront, the Vistara Resort offers a comfortable stay and beautiful vistas. It is located close to the Ambalavayal village and a stroll away from the historic Edakkal Caves. The incredible views, spectacular gardens, private balconies and recreational areas make Vistara an ultimate destination to spend your holiday.
Accommodation: Deluxe Lake View Villa, Sky Villa Lake View Villa, Royal Villa Villa and Luxury Sky Villa Lake View Villa
Cost: Starts from ₹5610
Starts from ₹5610 per night inclusive of breakfast
Where: NH-212, Near Vythiri Town, Vythiri 673576, India
What's special: Spread across 16 acres, the Vythiri Village Resort features Deluxe Rooms and Luxury Villas. It is tucked away amidst the mesmerising mist-clad hills of Wayanad in the Malabar region of Kerala. The resort offers a world of enchanting greenery and is surrounded by boundless splendor. This five star resort has 200 guest rooms and a high tech conference hall that can comfortably accommodate 2000 delegates.
Accommodation: Deluxe Double or Twin Rooms, Suites, Pool Villas and Cottages.
Cost: Starts from ₹7194 per night inclusive of breakfast
Where: Near Bansura Sagar Dam, Padijarathara, Wayanad, Kerala
What's special: The resort of Silver Green Holiday Enclaves is located in the valley of Kuttiyamvayal at Wayanad, Kerala, India. The resort has a total area of 3 acres. This resort overlooks the Banasura Sagar Dam. This dam is India's Largest Earth Dam and the second Largest in Asia. Being close to this most visited attraction of Banasura Sagar Dam, a stay at this resort is very highly recommended.
Accommodation: Suite with Lake View, One-Bedroom Villa, Double Room Wood House, Honeymoon Villa, Two-Bedroom Villa and Deluxe Villa
Cost: Starts from ₹2812 per night inclusive of breakfast
Where: Jubili Hills, Pookode Lake Link Road, 12th Bridge, Padinjarethara Road, 673576 Vythiri, India
What's special: Adithya Nature Resort is ideal for those who love getting in touch with nature and the ones who seek adventure. The resort provides a fun-filled stay for you to relax and unwind.
Accommodation: Diamond Villas, Emerald Villas, Vaidooryam Villas and Ruby Villas.
Cost: ₹4409 per night inclusive of breakfast
Where: Lakkidi , 673576 Vythiri
What's special: Upavan Resort is surrounded by lush green forests on three sides. With lofty mountain peaks, luxuriant vegetation, gurgling streams and a bird's eye view of the deep valley, the resort offers a perfect stay at a perfect location. Upavan Resort offers gracious hospitality with top-notch facilities which include traditional ayurveda centre, exciting indoor games and a well-equipped fitness centre. Guests can also enjoy adventure activities such as wildlife safaris, trekking, nature walks and much more.
Accommodation: Superior Double Rooms, Queen Rooms with Garden View, Deluxe Double Rooms, Large Double Rooms, Double Rooms with Garden View and Superior Queen Rooms
Cost: ₹4500 per night inclusive of breakfast
Where: Pinangode Road,, 673121 Kalpatta
What's special: Misty Hills Resort is surrounded by dense coffee plantations and majestic mountains. The ambiance of this place is perfect for a leisurely vacation. The resort offers many adventure sports to its guests such as trekking, climbing, cycling. They also offer sightseeing of sites like Pookode Lake, Banasura Dam, Edakkal Caves, Kuruva Island etc.
Accommodation: Deluxe Double Rooms, Two-Bedroom Apartments, One-Bedroom Apartments, Cottages, Executive Double Rooms and Suites.
Cost: Starts from ₹1474 per night inclusive of breakfast
Where: Chethalayam , 673592 Sultan Bathery
What's special: A dwelling house of nature, The Woods Resort is tucked away from all the chaos of the city. Nestled among the tranquil green tropical forests of Wayanad, the resort is a peaceful retreat. This green getaway rejuvenates the senses and offers a sense of calm and serenity. It has been carefully crafted to render the essence of "God's own country" to the guests. They offer some of the best services that make vacations memorable.
Accommodation: Cottages, Elevated Cottages with Forest View and Suites.
Cost: Start from ₹5,400 per night inclusive of breakfast
These resorts in Wayanad offer a real sensation of exclusivity and unique emotion. In this beautiful place, these luxury resorts bring to you an experience where spicy aromas blend with mystic bird songs, and great vistas of majestic mountains and serene streams set your spirit free.
Have you ever been to Wayanad? Share your travel experience with Tripoto wanderers here.
For some amazing travel videos, tune into Tripoto's YouTube channel.