Let's agree, Bali is the most sought out and most popular destination for Nature Lover. It is one of those places that you must visit at least once in a lifetime. There are various things that you can do in Bali. This place ranks on top when it comes to Adventure activities and Honeymoon Spots. This place is also best known for Yoga, best Spa Retreats as well as for Destination Wedding. In short, Bali is all in one package.
I visited Indonesia with my friends and it was an amazing trip. We spend 12 days and covered a lot of places. But there are so many things to explore that you will need at least a month or two to trace everything.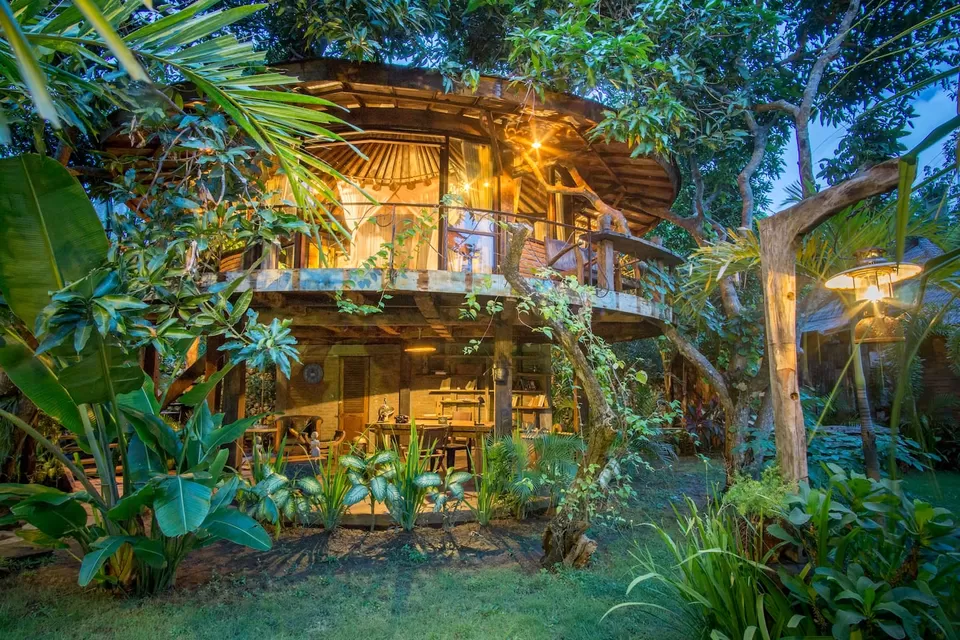 Ulun Danu Beratan Temple
Ulun danu beratan is one of the prettiest and well-maintained temple. One of the best things that you could do in bali is to visit this picturesque temple. This is a floating temple. Do you still need reasons to visit here? This temple gives a spectacular view of sunset.
If you are travelling from India then the place would be easy on your pockets. As 1 Indian Rupee is 198 Indonesian Rupiah.
This is one of the Most exotic places to visit in Asia. But Since it is a huge place. Also You might want to consider visiting other Islands in Indonesia apart from Bali.
Apart from that , If you have any other Places to Visit in Bali or any other Beaches in Bali. Please let me know in the comment
Uluwatu Temple
This temple is located right on the shore It is a perfect place to end your day after checking out all the things to do in Bali. Sum up your day by visiting this temple during Sunset. Be cautious of Monkeys and take care of your belongings because the monkeys love to run away with your things.
Tanah Lot Temple
The temple at Tanah Lot is put on a rock that has been shaped over time by the tide. It's quite an interesting temple and one of the most unique temples in Bali.
Surfing : If you've never tried surfing before, consider taking surfing lessons in Bali. It will be one of the most memorable activity of your trip. And meanwhile you will learn a new sport. Bali is a paradise for surfers. But that does not mean, the ones who is alien to Surfing should not enjoy this sport.
Kuta Beach is the best place to learn to surf in Bali because the waves are quite small and manageable . So If you are on a Trip with your friends or a Solo Trip. Or even if you are on a honeymoon or with your family. Do not shy in indulging in this activity.
You will love it when you catch your first wave. You will be really proud of yourself.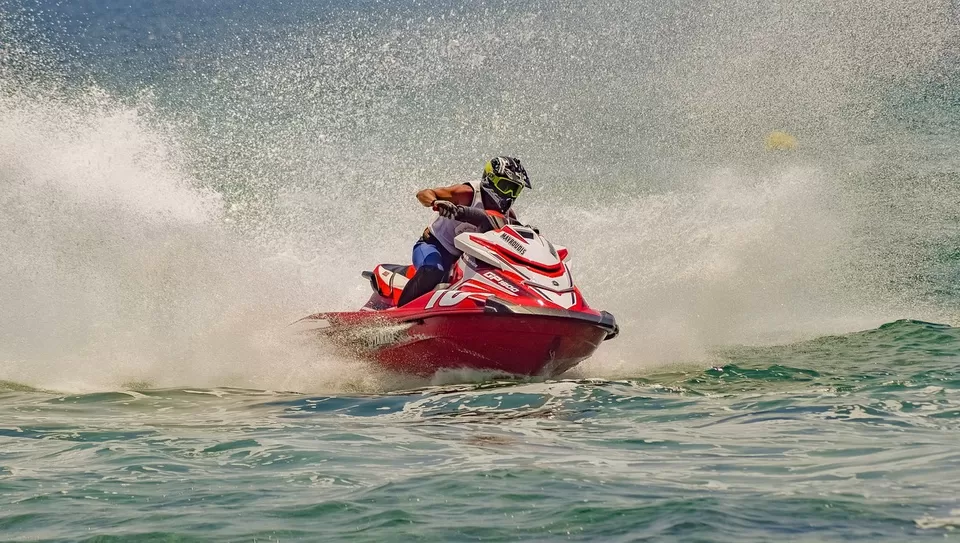 Hot Air Balloon ride : Admit it , you have seen it in Movies and Commercials and always wanted to try this unique Hot Air balloon ride.
You can enjoy the breath-taking view of Entire Bali by floating high on this Balloon ride. This Balloon ride is available in Ubud .But the experience is worth viewing for the unique glimpses it gives you of the beautiful countryside. If you are some one who loves to get pictured above ground level.Then this is the perfect thing to do. Moreover, It comes with breakfast, afternoon tea or dinner with your beloved one.
Retreat yourself with holistic treatment with Balinese Massages
Massages in Bali : When on a leisure trip, indulge on some amazing relaxing Balinese Massage treatments. A Balinese massage is like no other treatments. It reduces stress and balances your body, while the aromatic oils boosts your mood. You will feel all kinds of relaxed ,refreshed and re-energises after a Balinese massage. Balinese massage uses a different techniques including pressure-point stimulation, skin rolling, stroking,kneading combined with the aromas of essential oils.
Do Not Miss The Bali swing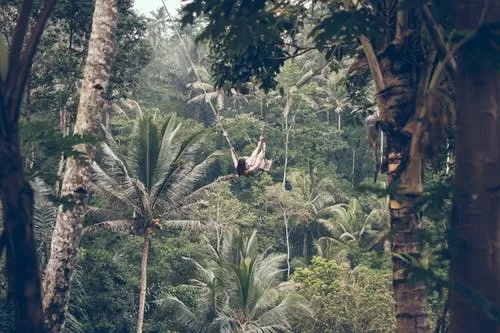 You have to do a night hike up on mount batur to watch the sunrise from the top. So If You don't want to get looted for this hike, Make sure to hire a guide or specialist at a low cost.
Highlights if this Night Hike cum Trek will be a spectacular view of the colourful sunrise, in fact a magnificent view of the island, with the 2 larger mountains acting as a beautiful backdrop to the scene. You can see Mount Agung and lake below while being served Hot coffee at the top.
Most Visited Temples of Indonesia
Magical Treehouse at Balangan Beach
This is one of those vintage architectures where you will feel like Alice in Wonderland. Since the construction is native and developed form timbre wood of old Balinese ships. This is one of the Instagrammable architecture Mount Masigit Kareumbi Hunting , Conservation Park : It has some of the prettiest and most nature-induced treehouses in the world which is surrounded by amazing forest conservatory.
There are other Tree houses as well in Bali, but these two are the best and top rated Tree Houses which is worth spending your time.
Most Refreshing thing and activity to do in Bali is Going for Surfing
Sanur Beach
Sanur Beach : Guys, If you love collecting Shells then head to this beach. Not just this, you can spot Starfish while walking on the beach. The sea here is crystal clear with golden sand and small coral. Avillion Villa Cinta is one of the best beach facing villa resorts Canggu Beach : There are many adventurous sports to do on Canggu Beach. A love for Surfers , in fact the best place for surfers . Guess what? You can start taking cheap lessons in Surfing and get rental boards in various sizes Lovina Beach: This beach is popular for Black Sand that originate from the Mt Agung volcano cooled lava. If you want to see what a Black Crystal beach looks like, head towards Lovina beach in Bali. You can also catch glimpse of Dolphins during sunrise. The affordable places to stay here is Pandawa Village *
Stay in a Treehouse in Balangan Beach
If living on Tree House was one of your dreams. Make it come true when in Bali. As a result you can get to Wake up to birds chirping with amazing views of lakes, forests, rice fields, sunrises and breath taking sunsets.
This beach encompasses tall palm trees, wild mangroves, fragrant trees and orchids , clear blue ocean and rolling golden sand. You will feel like you are in Heaven. This place is also famous for Swimming and Surfing. The Currents and Waves are low which makes it best for swimmers. While Surfers can travel to south or north ends for higher waves. You can stay at Kayumanis Nusa Dua Private Villa & Spa or any other preferred Villas near the beach Kuta Beach : This Beach is opposite of Nusu dua Beach. It is famous for Crazy Party Clubs. Kuta Beach in bali is more touristy place, with lots of Crowd and Locals. However, this is the perfect beach for Surfers. The famous HardRockCafe is based on this beach. Poppies Bali is a decent but top rated Hotels in Kuta beach Balangan Beach : This beach tops the list. As it is located across from the greens of Uluwatu. This is the secret getaway beach and perfect for people who love strolling along enjoying the sun while the waves lap on your feet.
Bali in Indonesia has some of the top exotic destinations that is easy on your pockets It has some stunning Black Sand and Volcanic beaches. About 80 % of Bali's economy depends on tourism.
Of course, Now we know why this place is a dream destination for so many people.
After Travelling to Bali, I have put together some of the fun things to do and Best Places to Visit in Bali. Let's Get Started. First things first for first time visitors
Best Beaches |You must visit in Bali
Bali is home to some of the stunning Beaches. The Water is shiny Turquoise in colour whereas the sand is perfect crystal white.All of the Beaches are absolutely drooling but there are some favourites.
If you are a beach lover then it will be impossible for you to drag yourself away from the alluring beaches of Bali. And why not you can do free things on the beach which is Observe the Calmness of the Water and have the best time of your life.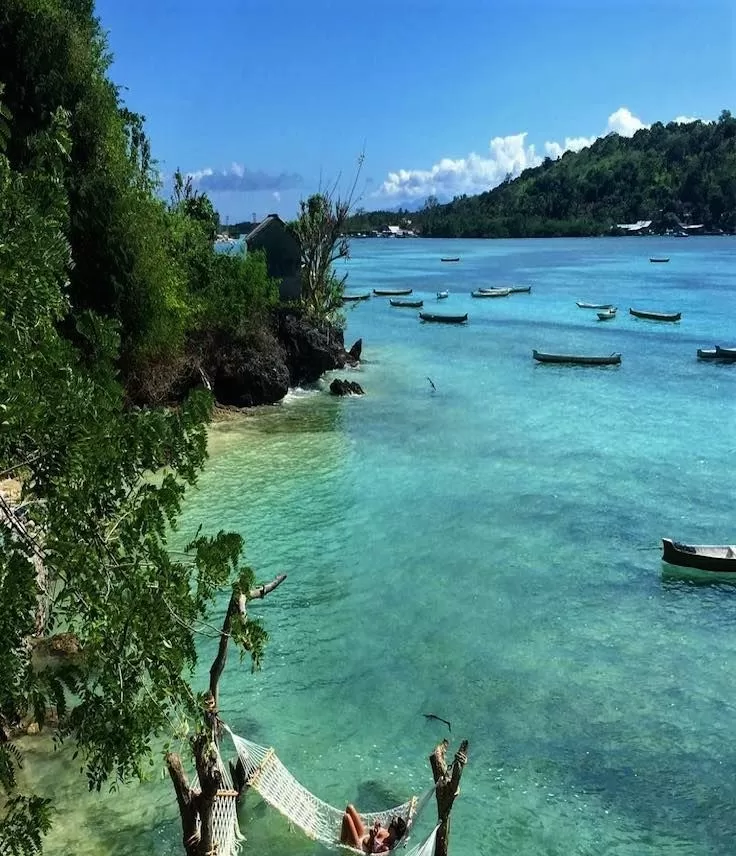 Indonesian Beaches in Bali
Nusu dua beach
Have you heard of Swings? Have you heard of Famous Bali Swings ?
Well, Swinging out through the air with the jungle and rice fields below is a fantastic experience, and the views are mesmerizing. However, this swing is not free of cost. It comes with a price. The authentic and original Bali swing is found in Ubud.The Bali Swing is, in fact, several different swings of varied heights. They overlook the beautiful palm tree valleys with a river. This gives you the real Balinese jungle look and feel.
FOOD | When in BALI, Eat without worrying
You cannot say no to Chicken Satay. Once you pop you can't stop. Eating chicken satay is one of the best things you can do in Bali along with others.Other then this , you must try traditional and local Bali Food.
For all the Vegetarians out there, worry not there is Sayur Asem , Sayur Lodeh, Nasi Goreng, Mie Goreng. These are some of the traditional and loved vegetarian food in Bali in Indonesia. However, if you wish to eat Indian Food in Bali visit Indian Restaurants
Shopping Markets in Bali |What to buy in Indonesia?
It is obvious that when you are on a vacation , you will end up buying things from that country. Who doesn't want to Shop and get souvenirs?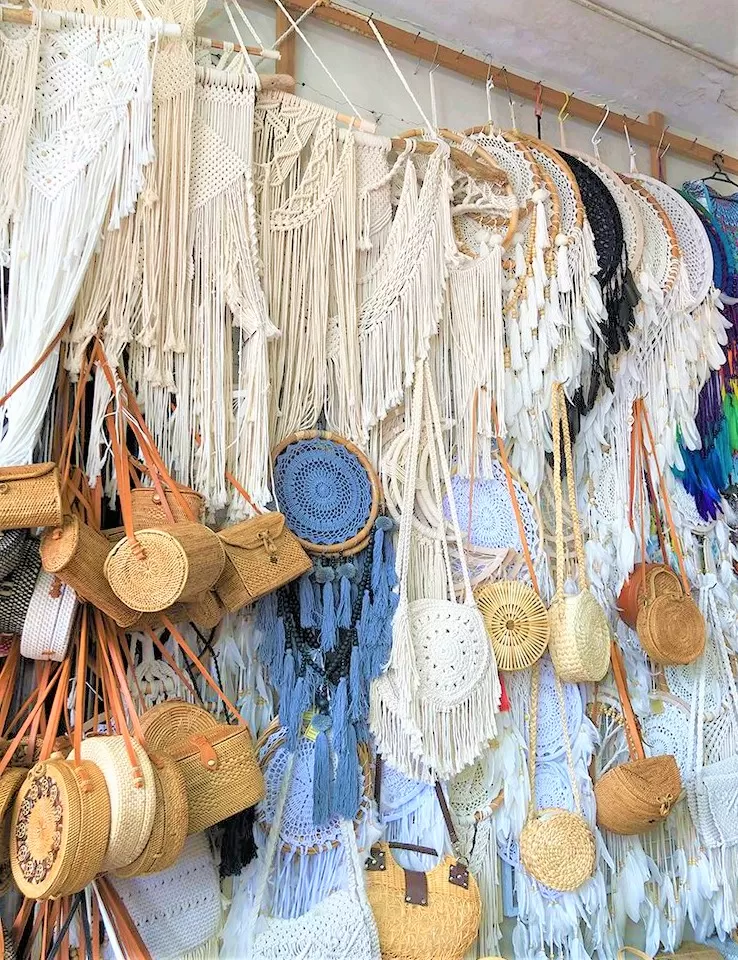 Below is the list of some of the things to do and markets to visit for shopping in Bali.
Sukawati Market
Ubud Market
Souq Stores in Seminyak
Mercredi Stores in Seminyak
Mount BATUR for Sunrise