Beaches of South Bali are beyond the sands of Kuta, Seminyak and Legian. The ones in the Bukit Peninsula region of Bali are a world away from these popular and commercialised spots. The island itself has variety of beaches to offer; from black volcanic beaches in the north to white sand beaches with turquoise water in the south. And, the beaches of Bukit Peninsula in South Bali are nothing less than picture perfect postcards. Some of these beaches are so secluded that if you are lucky you may have the entire beach to yourself! Most of these places are amazing to watch dramatic sun sets while downing them sun downers at the cafes or bars on and around these beaches.
"Beach hopping" in Bali is definitely worth all the time if you want to get in some hiking, as some of them for us required a lot of climbing and bush walking to access the beaches or a get a good view from up above a cliff and if you are a passionate photographer and capturing dramatic sun sets is your thing then you'll definitely not want to miss this. Beautiful Beaches of South Bali are inclined to pop up a few luxury resorts where you can book some stunning beach facing rooms at one of the many resorts on or nearby these sands that is, if you manage to pick your favourite one out of the list below.
We took a day out of our measly 7 days in Bali to discover the beautiful Beaches of South Bali. To do this we rented a car with a driver to take us around and which, was the best decision ever as the roads to get to most of the beaches are narrow, bumpy and dangerous at places. Also, finding parking at some was quite a task. It was good to let someone familiar with the places and who knows the the local language to handle the backend issues of tracing the location and taking care of the car while we enjoyed exploring the beaches and focused on taking pictures.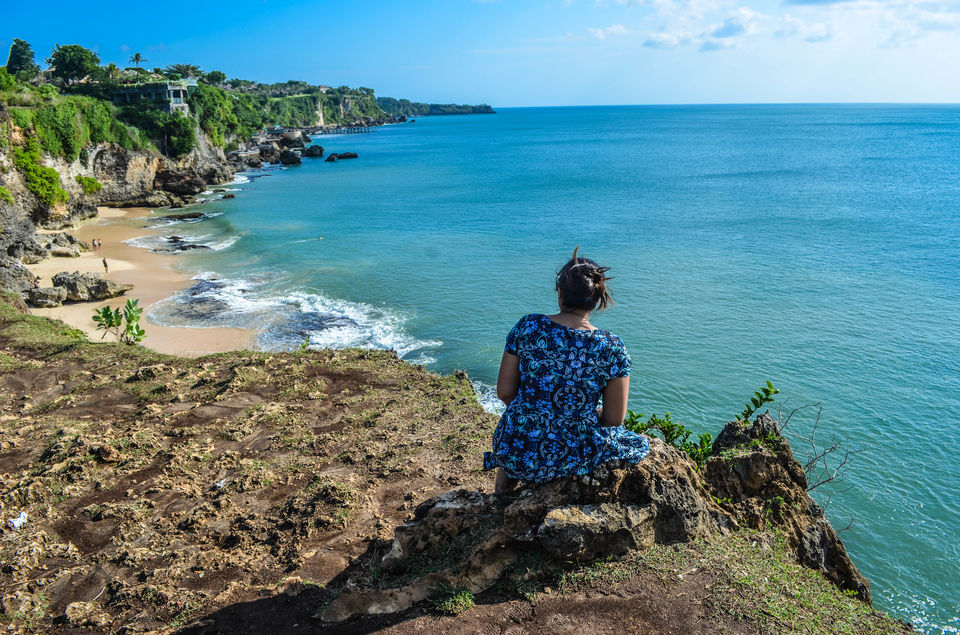 Things to keep in mind while Beach Hopping in Bali
The Bukit Peninsula beaches in south Bali are white sand beaches with clear turquoise water. Though rugged rocky beaches look beautiful, some have way too many rocks with sharp edges and swimming in the water with them is not recommended.
A lot of walking maybe involved depending on how much you wish to explore as accessing some of these beaches you have to get through flight of rough stairs. Wear comfortable shoes and clothing fit for surviving the hot sun during the day.
Make sure to visit these beaches around low tide if you plan to spend time on the sands because with high tide the beaches tend to shrink. The timing for high and low tides really depends on various factors, however, just to give you an idea; low tides occur around early mornings and in the late afternoons till sun down. Best would to refer to these websites for nearly accurate timings for surfing and/or lazing on the beaches of South Bali: http://magicseaweed.com/Uluwatu-Surf-Report/565/Tide/
Best way to get from one beach to another is to rent a comfortable car with a DRIVER who speaks and understands English as you should be able to communicate with him when required and avoid confusion. I recommend booking your car at YourBaliDriver.com.
Sometimes the driver may recommend taking you to a restaurant or activity not on your agenda and this maybe because he has a tie up with the place to get business. At this, do not hesitate to politely refuse and stick to your itinerary.
Self drive is definitely possible if you are planning to get to a few beaches or a particular beach and not to all of them as mentioned below, in a day. However, we found renting a car for 30 US$ to 50 US$ for ten hours with a local driver is quite a steal.
At most of the entrances to these beaches, locals charge a small fee of around 2000 IDR for visiting. I believe it's parking charges as in our case our driver took care of that.
Don't forget to tip your driver a minimum of 20,000 IDR i.e. 1.5 US$ in the end of the day for his services.
You can also hire a metered taxi to these beaches, however, while getting back you might have trouble finding one and end up paying more than the usual fare for a private cab. As most of these secluded beaches do not have taxi services in the area.
Explore The Beaches of Bukit Peninsula in South Bali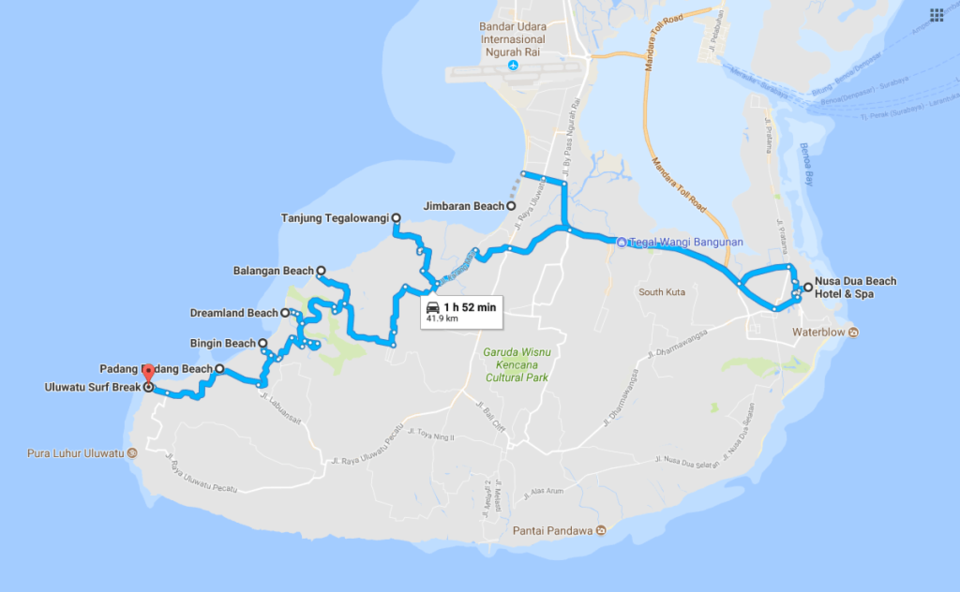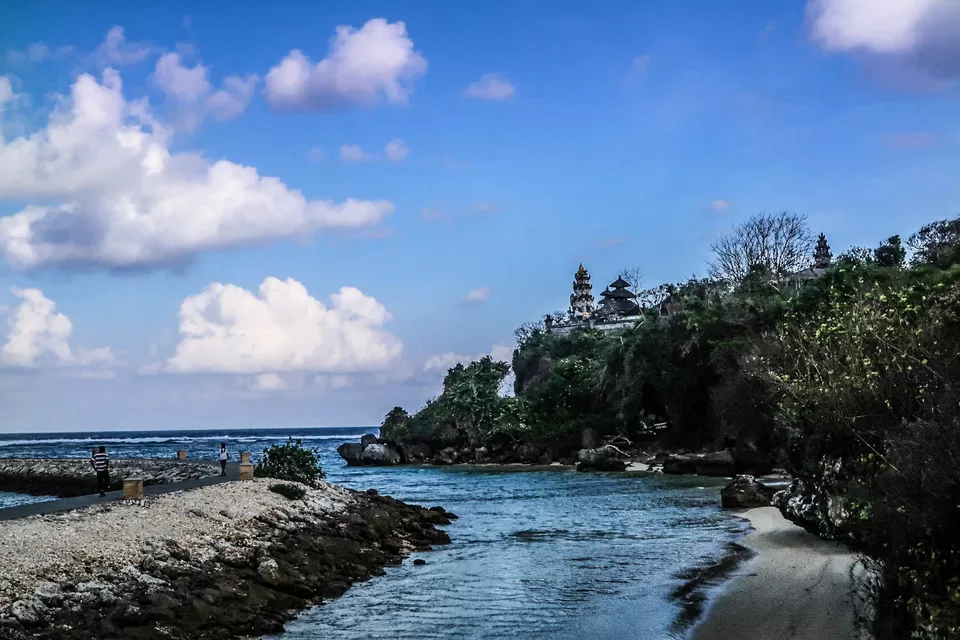 If you are looking for a posher beach experience of chilling on bean bags, sipping on them mimosas and your every need being catered to while soaking up some Bali sun watching the waves crash, Nusa Dua beach is the place for you. Two long stretches of white sandIn our case we had already spent two days of our stay in tranquil Nusa Dua at one of the many resorts right on the beach located in the South-east region of Bukit Peninsula. With sufficient time in hand we explored the entire eastern stretch, indulged in some thrilling water-sports at Tanjung Benoa and also checked out the very average water blow site there.
P.S.: Only drawback is that one doesn't get to view the stunning Bali sunsets over the waters of Nusa Dua as it is placed in the east of the island, however, unlike me you don't mind getting up at 5 am to experience peaceful sun rises you are in for a treat here.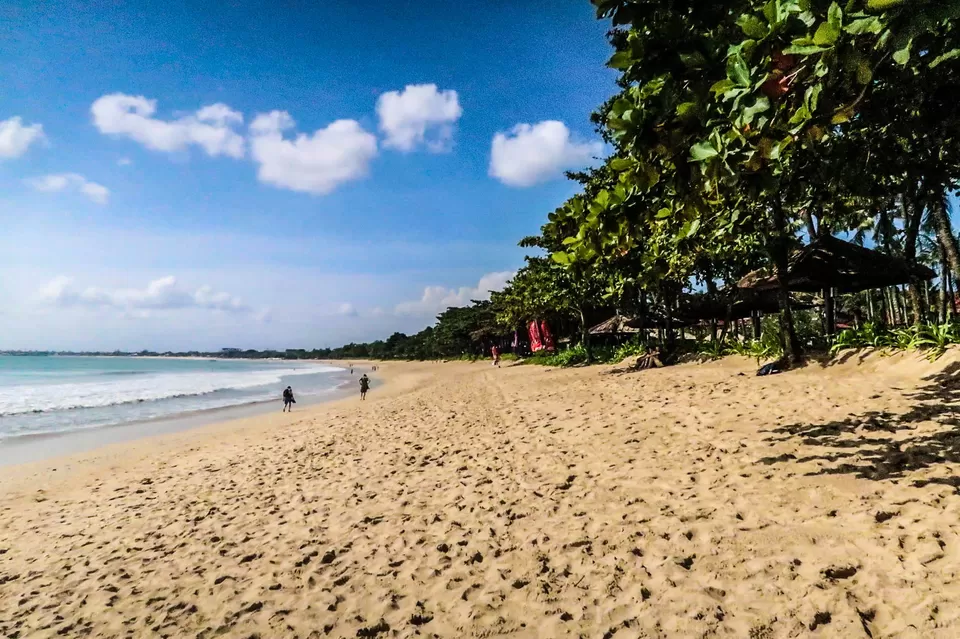 If you love fresh and deliciously prepared seafood as much as me, visit Jimbaran around meal time and you wont be disappointed. Other than the oh-so-famous and usually crowded Rock Bar with a ridiculously amazing view in the luxurious Ayana resort, Jimbaran has a number of tiny warungs or café along the beach with tables and chairs right on the sand serving away amazing Balinese seafood preparations. Jimbaran beach is a must visit during your time in Bali if you are looking for a fast and peaceful getaway from the not so clean and over commercialised beaches of the north or just to get your seafood fix like we did.
P.S.: Get a seat at Made Bugus Café on Jimbaran Beach around sun set with beer and follow up with a delicious seafood barbecue dinner.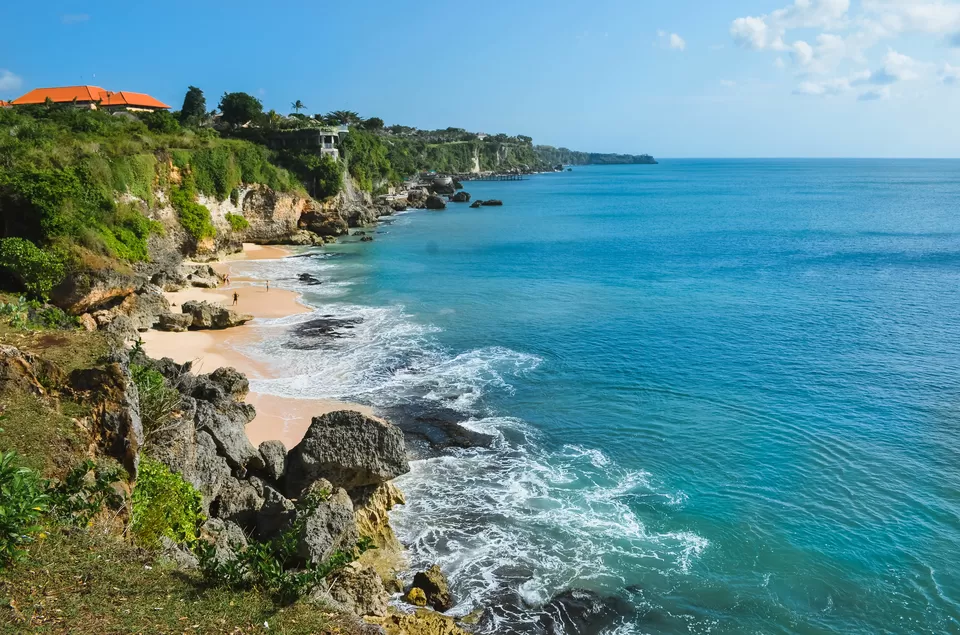 We stumbled upon this beach by accident and my, it was a beautiful surprise. For a long time, we assumed Tegal Wangi to be a part of Bingin as there were no sign boards outside the gate, no one collected any fee and even our driver kept saying it's Bingin. However, upon posting a picture on INSTAGRAM a Bali local kindly pointed out that it's not Bingin, but, Tegal Wangi and a sweet google search confirmed it. So much for being a travel blogger! Don't worry, the post has been rectified since.
Though pretty scenic from a not-secure cliff looking down on the beach below, however, to actually access the beach there are some steep steps one can get caught up on and it is definitely not safe to swim in the waters around the beach due to all the massive rock formations. We were lucky to have gone there during low tide because the beach actually shrinks quite a bit around high tide. Scenic, clean, very few people at any time and on an off beaten path, makes it all the more worth it.
P.S: There are no cafes, restaurants and no commercialization whatsoever. If you are planning to watch the sun down (which is highly recommended btw) here get your own beach towels, food and drinks to bring in the evening on this secluded beach.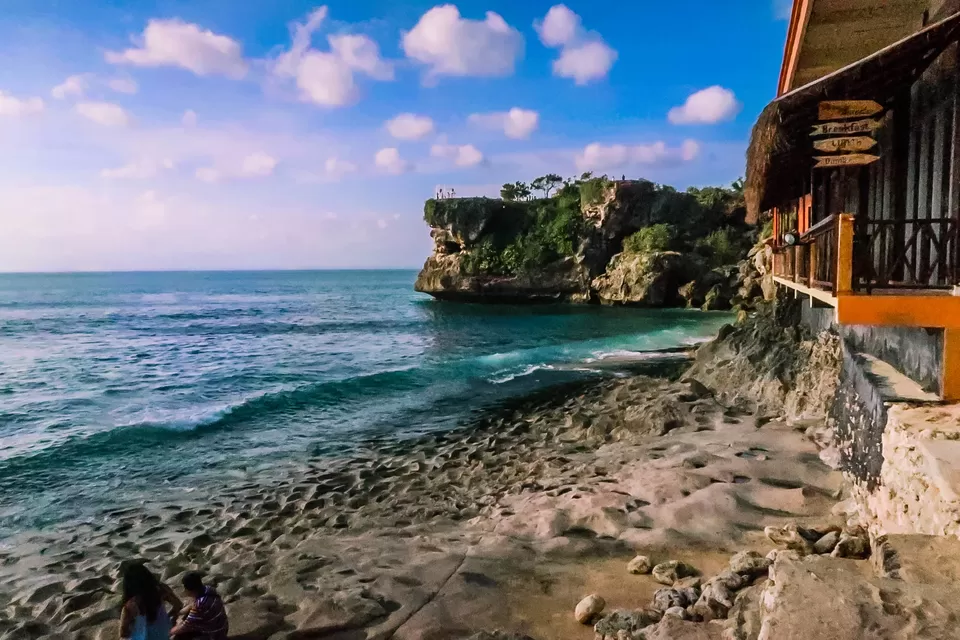 One of our favourite spots during our beach hopping endeavours. A rustic beach with shallow reef, coarse and rocky white sand. A quite and a perfect surf beach to watch surfers catch some brilliant waves. The reef base is exposed during low tide making the Balangan stand out amongst other beaches in Bali. Yet, quite secluded and not overly commercialised with only a few shacks on the sand. Though, here again we had to climb up and down a lot of stairs to get to the actual beach, however, it was all worth it. Just thirty minutes from Kuta, Balangan is a great way of getting away form all the hustle and bustle for the much needed serene calm to this unique escapade.
P.S: Do attempt to climb up to the accessible cliff to get a great view of the entire stretch for some amazing shots for your Instagram and look out for the natural water pool to soak the day in.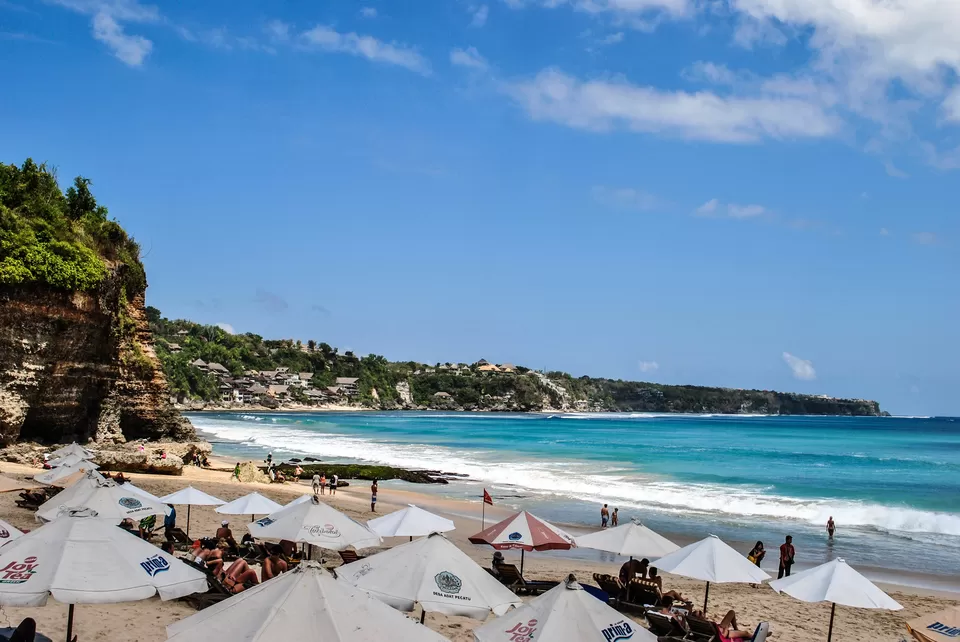 Visiting this commercialised beach after the ones mentioned above could come as bit of a shock. A ton of tourists, surfer-bodies and sun bathers on lounges and in restaurants on the beach. Lined with a few resorts that open up on this public beach still boasts of golden white sands, crystal clear water of the sea and not necessarily clean as the other beaches. It is quite a walk from the designated parking through hoards of souvenir stalls, shops, small cafes and restaurants strategically placed to lure tourists. Be prepared to be bombarded with vendors trying to sell you everything, especially lounges with towels on the beach.
P.S: The distance from the car park to the beach is quite a bit, so there are free shuttles that take you down to the beach from the parking area.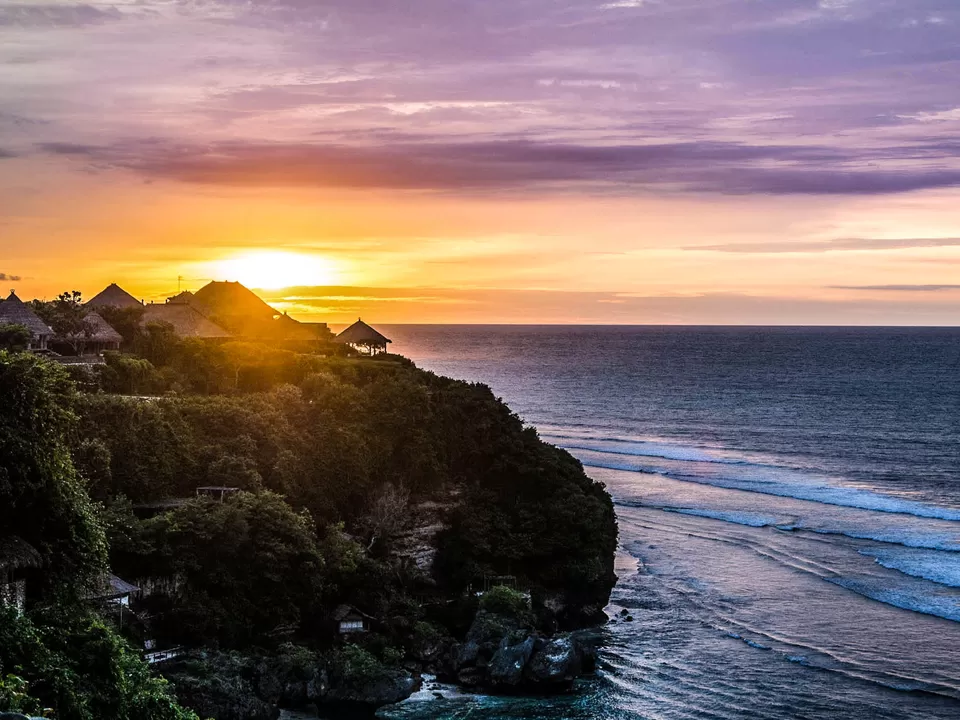 Great spot for surfers. From the winding walk down the two hundred plus steps on the rather narrow and rugged stairway to another gorgeous white sand beach of Bukit Peninsula in south Bali was a sight straight out of a movie. With a ton of places to eat at and get some amazing sun downers while watching the surfers catch the challenging waves is a pleasing treat to the soul. Surprisingly the beach is not as commercialised thus, not frequented by too many tourists, however, we have never witnessed so many surfers with boards in one place anywhere else in Bali.
P.S: The beach has a number of quaint bed and breakfasts if you consider and a number of cafes on the cliffs that give away a brilliant view of this scenic spot around sun down.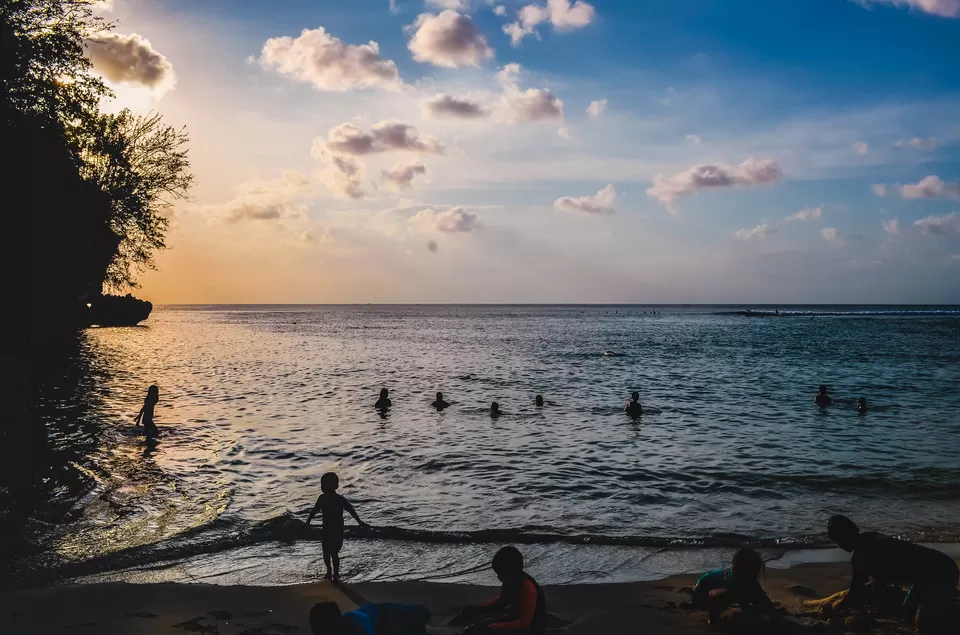 Popularised by the movie and the book "Eat, Pray and Love", Padang Padang has gained a reputation as a must visit spot for everyone visiting Bali. Tour groups in huge numbers visit this beach and at any time of the day the beach is brimming with tourist and surfers trying to catch the amazing waves. Even to enter one has to pay a fee and get a ticket of 10,000 IDR per person at the gate; which is a little less than a dollar, however, the most anyone has to pay to visit a public beach. Overly crowded, overly commercialised and very over rated; all in one compact little not-hidden-anymore beach. Though the beach itself is rather stunning if you can picture it without the hoards of people and the rather distinctive cave entrance down the rugged stone steps that opens up right on to the beach, for us was the only highlight.
P.S: Beware of aggressive monkeys and there are many other spectacular beaches (mentioned above) you can visit for free.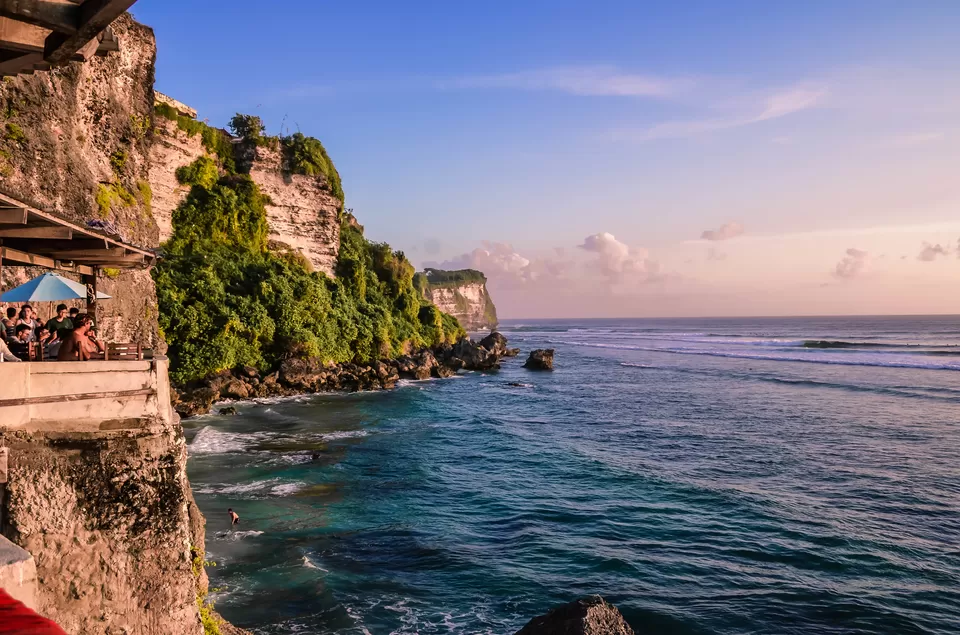 This was quite the hidden gem that we stumbled across in the caves of Uluwatu. It is a rather touristy spot with restaurants and cafes on every cliff, however, as you keep walking up and down the steep stairs carved out on stones with no safety fencing on either side the crowd keeps getting thinner and thinner. Upon reaching the base we stumbled upon the most stunning cave opening into the ocean. It was the last beach on our Bali beach hoping endeavour and with high tide around the time for sun set got a lot of surfers running into the waters to catch the waves. The beach by this time was non existent and had drowned in the waters. We took more unstable steps to the only café in the place with an unobstructed view; Delpi Warung and indulged in some well deserved pints of bintang, talked to some surfers, watched some brilliant ones in action and finally witnessed the much talked about dramatic sun down's of Uluwatu, right here.
P.S: The walk up and down the stairs to access the hidden beach is not only steep, it takes a while as well and gets a lot tiring when you have to climb back up to the car park. Nevertheless, it is worth it going all the way and not just settling for the tempting bars and restaurants at the top. Talk about rustic off-beaten paths, this one takes the crown.