Bheemeshwari is a quaint fishing spot, located just 100 km from the bustling city of Bangalore. It falls in the Cauvery Wildlife Sanctuary, and offers the weary city dwellers a much needed escape into the wild, without going too far. Bheemeshwari offers a range of adventure activities like Coracle rides, Fishing and Nature Walks. It also offers the chance to just cut off from the world, and sit peacefully by the majestic Cauvery River.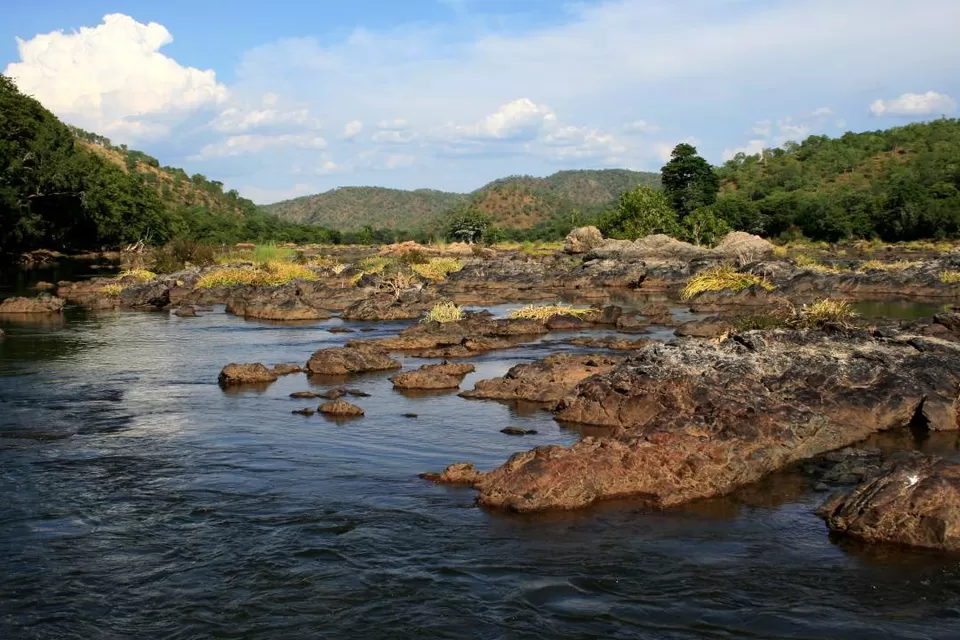 What To Do?
The organized tourism in Bheemeshwari is handled by Jungle Lodges and Resorts operated by Karnataka Tourism. They have both day out packages as well as stay packages.
Overnight Stay at Camp
The stay package for 1 night involves check-in at around 1 PM, meals(lunch, dinner and next day's breakfast), adventure activities if opted(Zip line,Burma loops,parallel walk,cat walk,elephant foot walk), coracle ride(depending on water level), camp fire and barbeque party, and an early morning nature walk. The entire itinerary is well chalked out and included as a part of the package price. For more information, you can check their website here.
Day Trip
The day package starts from 10.00 AM and ends at 5.30 PM. It includes Welcome Drink, Buffet Lunch, Evening Tea / Coffee, Zip-Line, Burma Loops, Parallel Walk,Cat Walk, Elephant Walk, Rappelling,Pool Kayaking (depends on water level), Coracle Ride, Forest entry charges. The adventure activities may be part of the package or charged separately, as per the package chosen.
Self Planned Trip
If Jungle Lodges is not the chosen option, then the banks of the Cauvery River offer a serene place for a picnic. Fishing is famous around Bheemeshwari, and is one of the most sought-after activities. Coracle rides may be available from local villagers. There are other places to visit nearby. The area near Bheemeshwari which is open to the public is called Muthathi. Read about my trip to Muthathi on Tripoto.
Places to Visit Nearby
1. Galibore Nature Camp
Jungle Lodges runs another camp similar to the one at Bheemeshwari for both overnight and day visits. It is located around 14 km from Bheemeshwari. You can check all the details on their website.
2. Cauvery Sangama
Sangama is the confluence of Cauvery and Akravati rivers. Nearby is a Shiva Temple locally called as Sangameshwara Temple. The river is quite shallow at Sangama, and gives an opportunity to dip your feet in the cool water. It is a beautiful sight around sunset, when the setting sun bathes the water in a golden glow. It is located 22 km from Bheemeshwari
3. Mekedatu
This is truly one of the hidden gems around Bangalore. Here, the Cauvery river passes through a narrow gorge where it is believed that even goats could leap across, which gives it the name Mekedątu (Goat's leap). It is a beautiful places for trekking. It is located 6 km from Sangama and around 28 km from Bheemeshwari.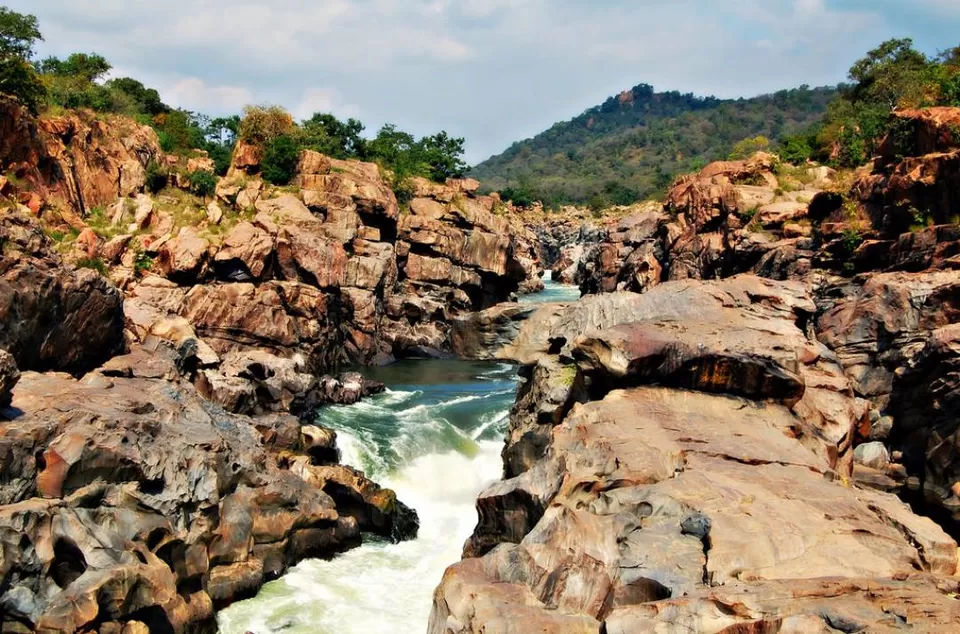 4. Chunchi Falls
Chunchi Falls is a beautiful waterfall on the Akravati River. It is around 50km from Bheemeshwari, but a worthy addition to your itinerary.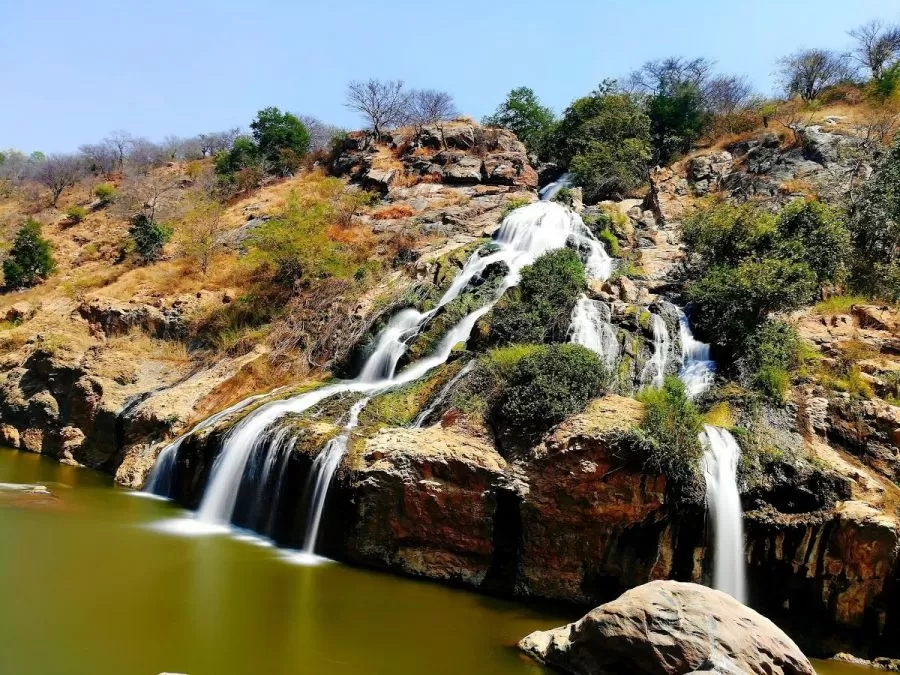 Note: for visiting Muthathi, Mekedatu and Chunchi Falls, please plan to leave before 5.30 PM as visitors are not allowed to stay back on their own during the night.
Best Time To Visit
Best time to visit Bheemeshwari is just after monsoon, between August and February. At this time, the river is alive and the forest is thick and verdant. This is the best time for birdwatching as well – river terns, fishing eagles, wood peckers, kingfishers and other water birds flock here. However, since the area is located just near the Cauvery river, it is prone to flooding, so please check the weather before planning your trip.
From March-June the weather is warm. However, the river recedes to reveal sandy banks, and provides ample opportunity for picnics and leisure activities.
Mekedatu and Sangama may be inaccessible during monsoon months due to dangerous water levels.
How To Reach
The best way to reach Bheemeshwari is by road from Bangalore. It is around 100 km from Bangalore and takes 3 hours to reach.
Expenses
For a self planned trip, the expenses may be only on fuel and food.
If you are taking a day trip package, it starts at Rs. 2500 per person + taxes
If you are taking an overnight package, it starts at Rs. 4614 per person +taxes
So, if you are looking for a quaint getaway close to nature, but not too far from the city, Bheemeshwari promises an unforgettable experience.