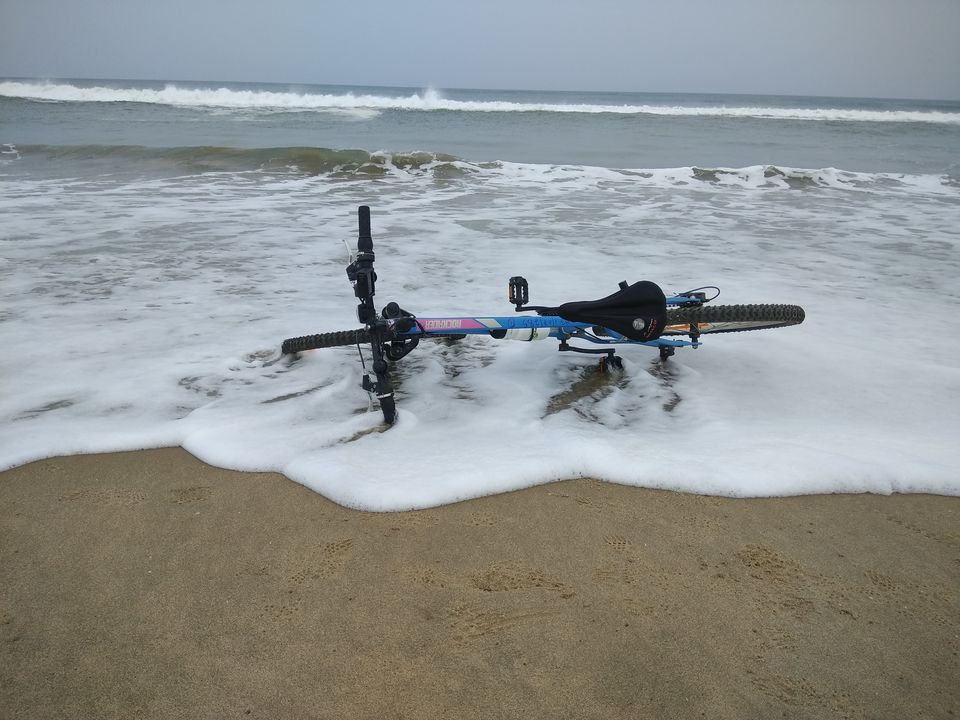 Often reading blogs on 10 best cycling routes in India, Adventures one can do in India stuff like these had given a small hint of East coast road to my travel bug. With a taste of travelling to the Wonderful Wonderland by the sea – Pondicherry, a couple of month's back I was day dreaming about cycling on one of the most picturesque roads you can witness in India. It took a bit of daring mind to decide upon cycling on the road for whole day and that too solo…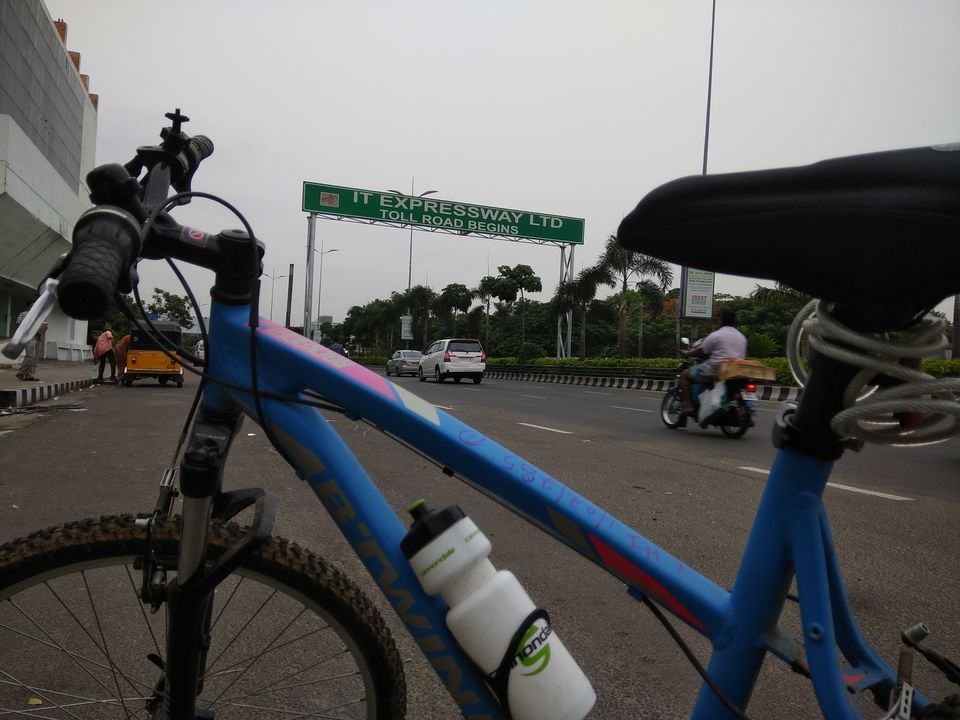 When I did an initial check on blogs explaining this adventure, I got a vague idea on what all I have to face on this route. But all of these people had one thing in common to say, this was one of the amazing adventure experiences' of their life. Just waiting for summer to end (As it's too difficult to ride adjacent to a sea coast in summers), the idea of cycling on this route started to bother me again and again this month. With a few travels being okay to carry my bicycle in the same bus I travel, I zeroed on SRS travels bus which departs at night 11 from Bangalore and reaches Chennai by 6 in the morning. Later on I came back in Sharma travels from Pondicherry to Bangalore.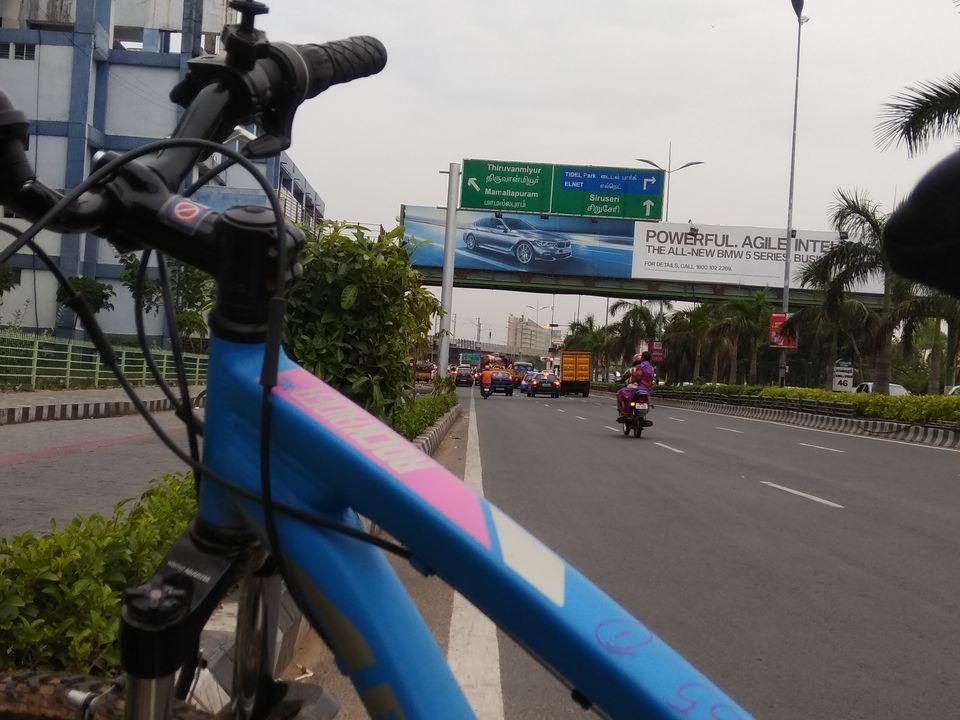 First three hours: - 6.30 to 9.30
After an initial glitch of arriving half an hour late to Koyambedu in Chennai, I started cycling right away as I didn't have much time to waste with me. It was initially difficult as traffic had already built up on the roads of Chennai. With an aid of google maps I cruised along State highway 55 crossing Porur flyover and reached Ramapuram by 7.15a.m. Had a first cup of tea and started cycling again through Trichy – Chennai highway for next 5 kms and got into Rajiv Gandhi IT expressway. It didn't take more than 10 minutes to reach Thiruvanmiyur, the place from where the ECR starts. It was a cool breezy morning with many small avenues on to my left leading to sea shore line, I crossed Palavakkam, Injambakkam, Uthandi, Kanathur and reached the bypass of Kovalam Beach by 9.30 a.m. covering 45 kms successfully.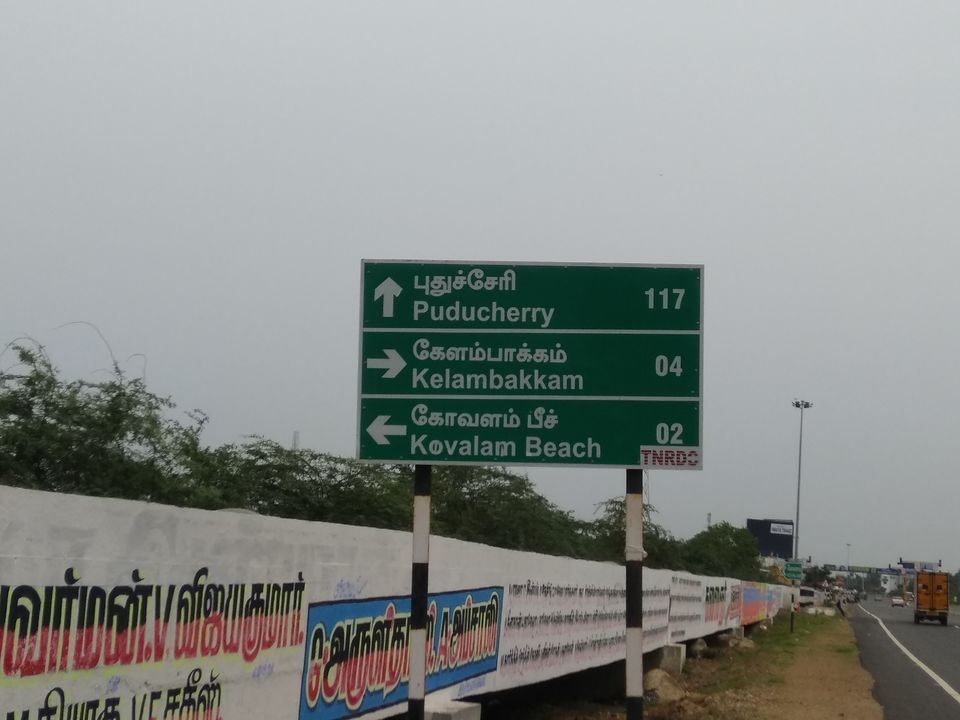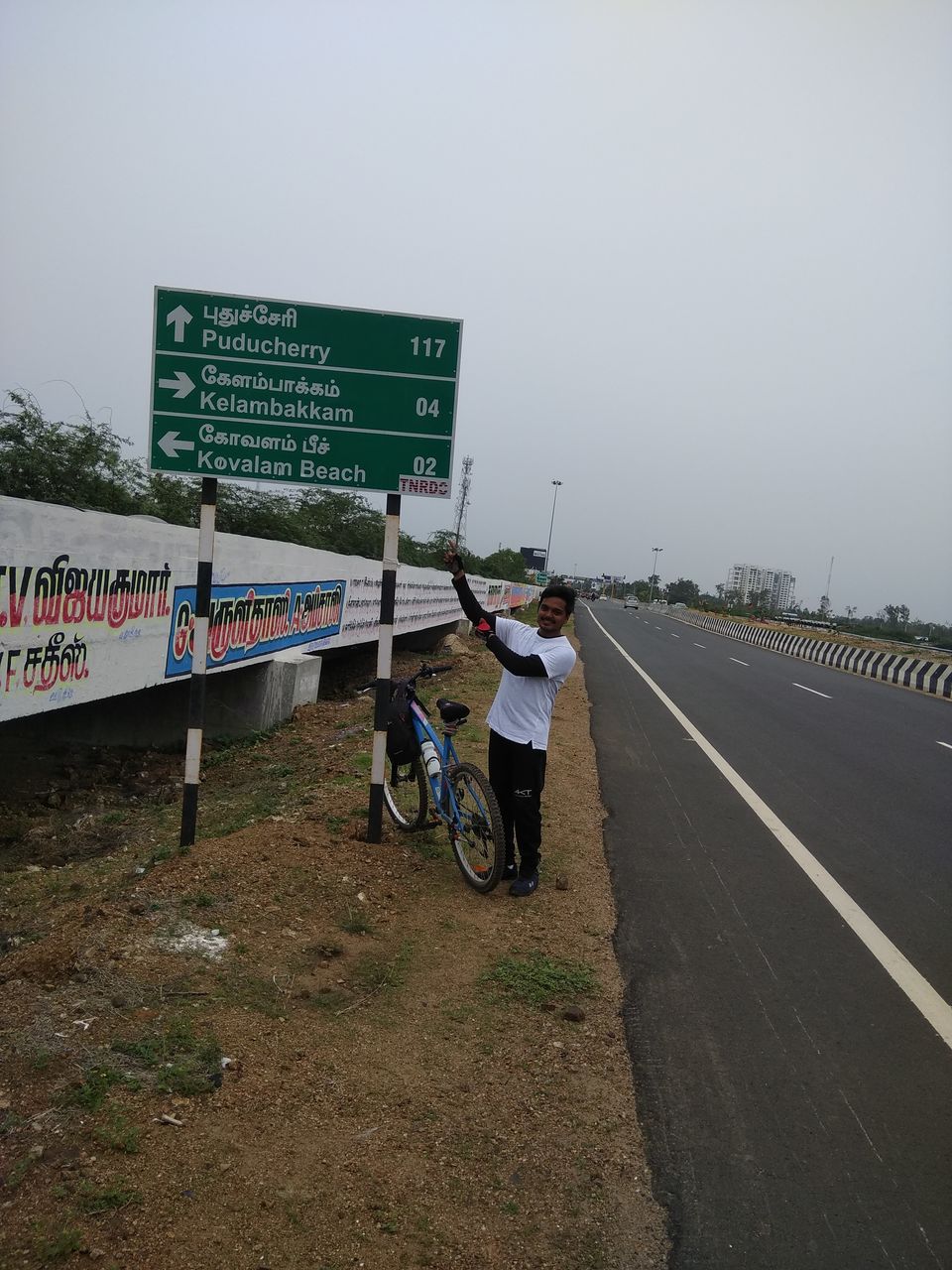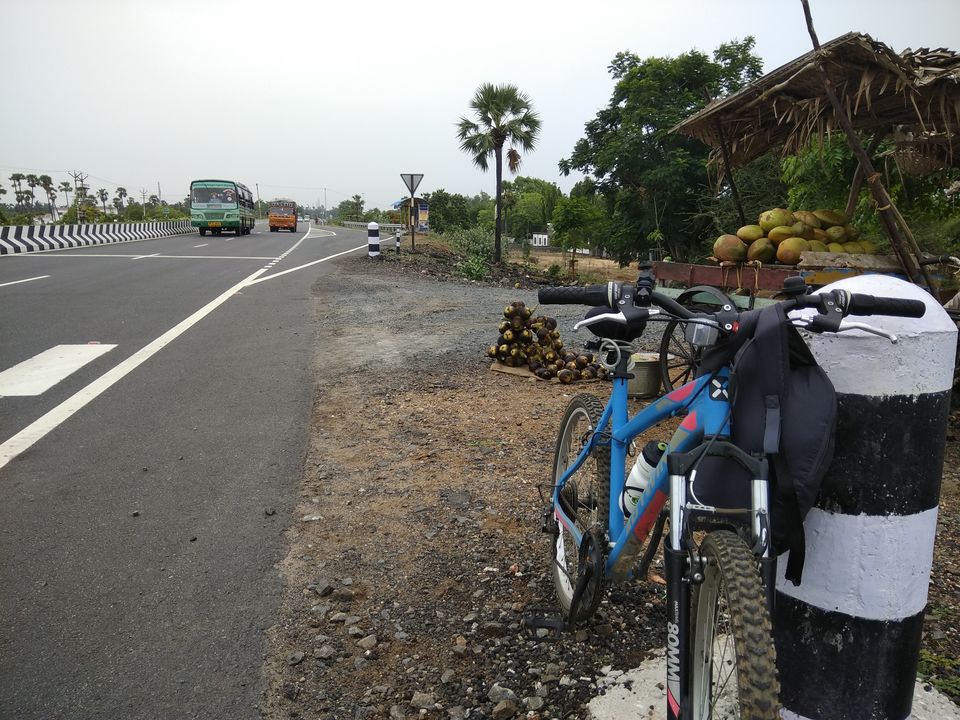 Next three hours: - 9.30 to 12.30
After a quick photo break at Kovalam beach junction I started cycling again towards Mahabalipuram, and the road started to become too busy as it was a weekend also. After an hour I reached the bypass of Mahabalipuram, with Dhanalakshmi College of engineering on to the right. Had a small break again with a pomegranate juice to quench my thirst, and started again. The road from here is a two-way road and I had to be extra cautious about both vehicles coming in front of me and the vehicles overtaking me. My watch clocked 11.45 a.m. and was hungry also, as I didn't have anything solid from morning. Next 45 minutes was a continuous 15 kms ride to reach Kalpakkam for lunch.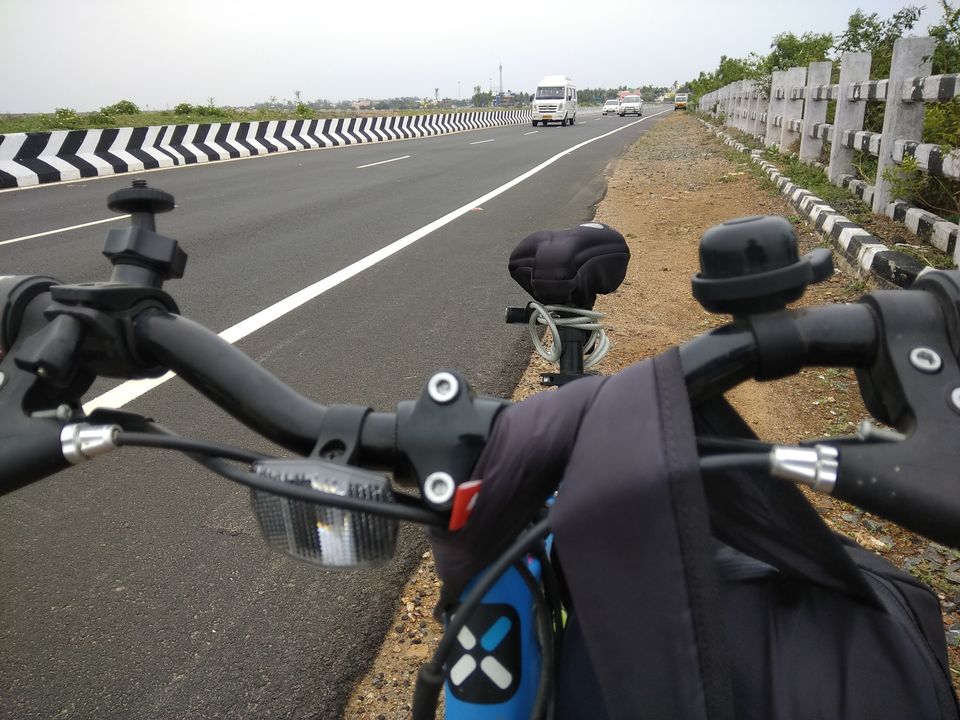 The next three hours: - 1.00 to 4.30
After having schezwan chicken rice at a normal grade hotel in Kalpakkam, started cycling again in a hot sun. The canopy of trees on both sides of a road came to my rescue saving me from the scorching sun, and this is when I got to know why ECR is mentioned as one of the best roads in India to cycle. The sun also started playing tricks as I headed towards Pondicherry. Even my body was asking for a quick nap, but my brain didn't agree for that as I was not sure if I can complete the distance before the sunset. With all these helter-skelter thoughts running in back end of my brain, some music also came to my rescue. My next stop was at a Cafe Coffee Day nearer to Odiyur lake on the ECR. This stretch has 3 CCD's on its way till Pondicherry. Had a cold coffee at CCD by 3.30 and headed towards my next destination Marakkanam. My clock ticked 4.30 p.m. and it was time to buy 8th water bottle of the day.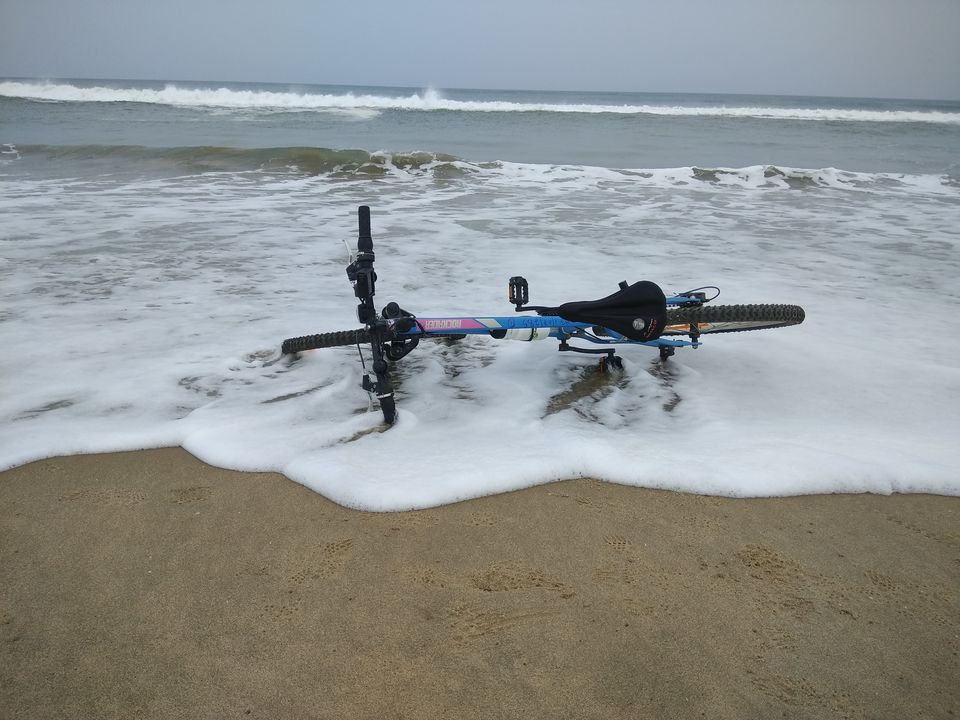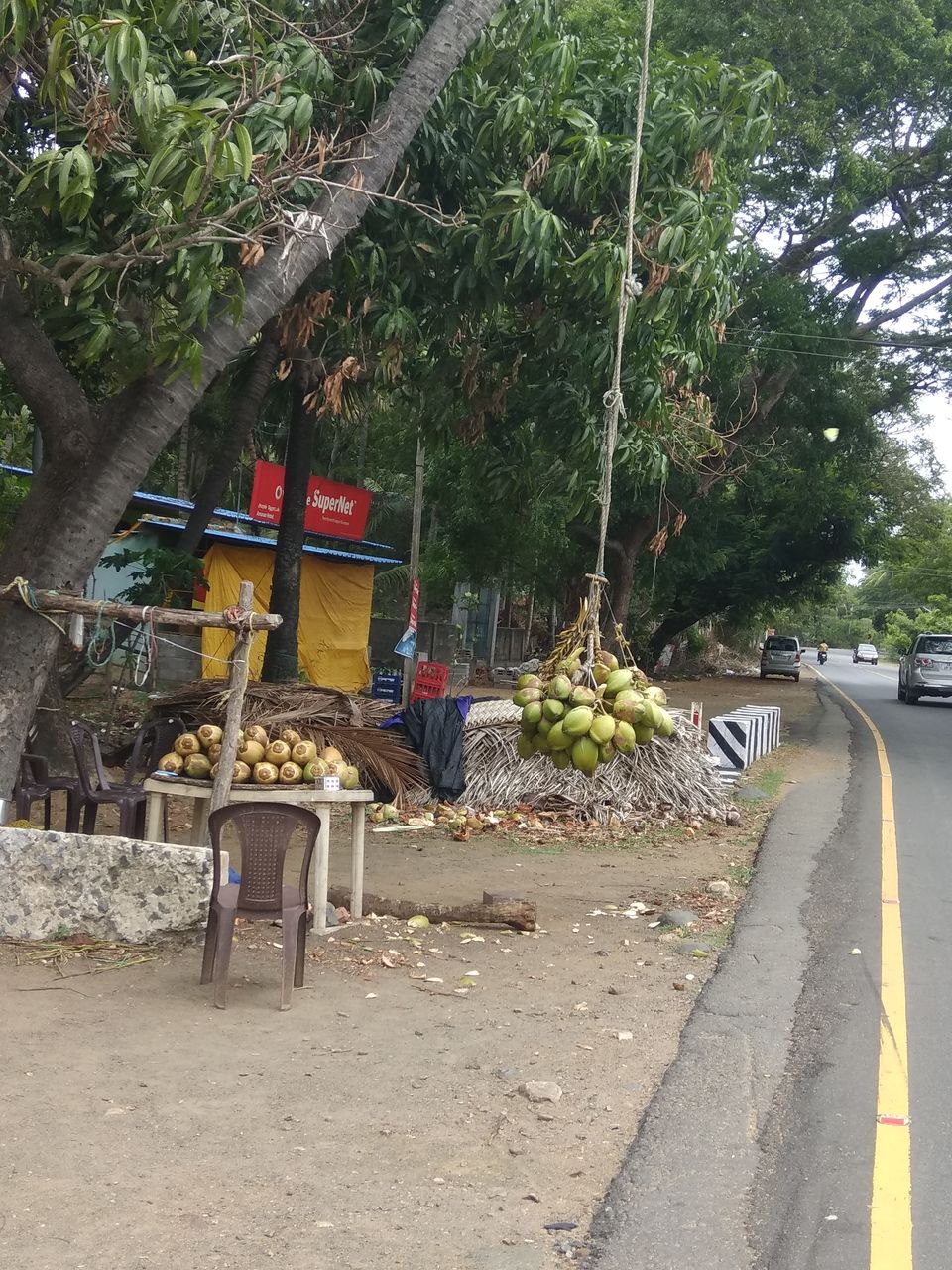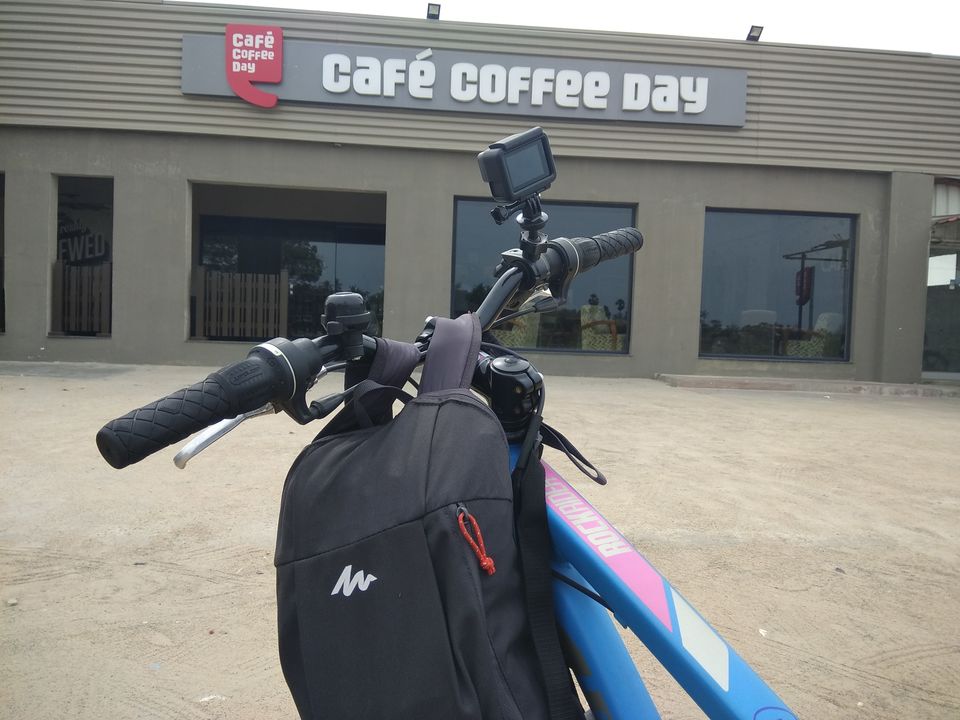 The last 2 hours :- 4.30 to 6.30
After a small break at Marakkanam I was too lazy to peddle again and body was also completely in pain, but was in no mood to stop after coming 120 odd kms. It was 36 kms from here to reach my destination which I had dreamt of months back. This stretch is the most beautiful and the longest stretch with no many curves on the road. The road just seems to never end, it seems much more never ending thing if you are cycling (he he he). By 6.00 p.m. I crossed Koonimedu and was almost nearing Pondi and was out of drinking water. Couldn't find any petty shops nearby, but had to cycle wishing a shop to get water. After almost 2 kms found a shop and got 9th water bottle of the day and drank almost half litre in a go.... As per my plan I made it to Pondicherry entrance by 6.30 p.m. and was on cloud nine and patting my back for achieved something which I believed I could achieve. With a very less interest towards taking a selfie I had to wait for next 10 minutes for a guy to stop on a busy road and click few pictures for me which would last my lifetime boasting of what I had done on this day....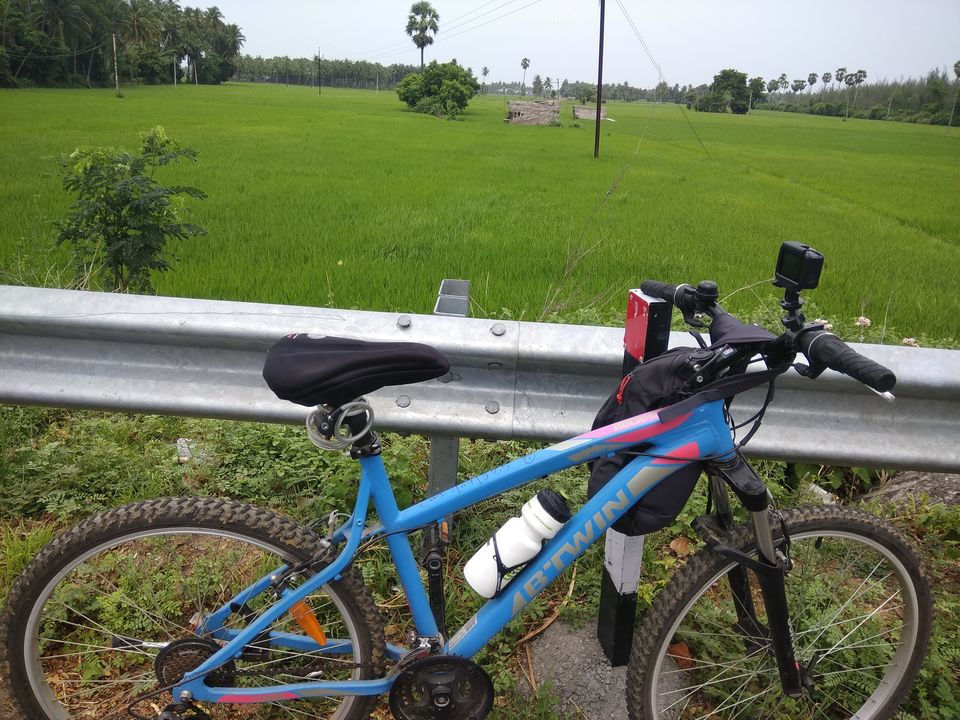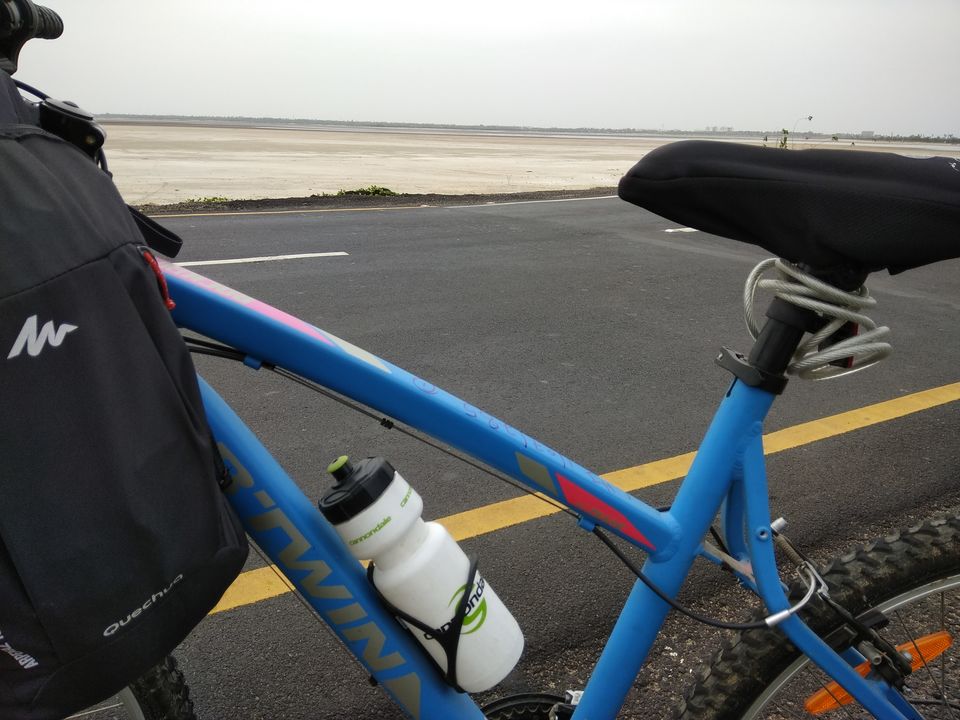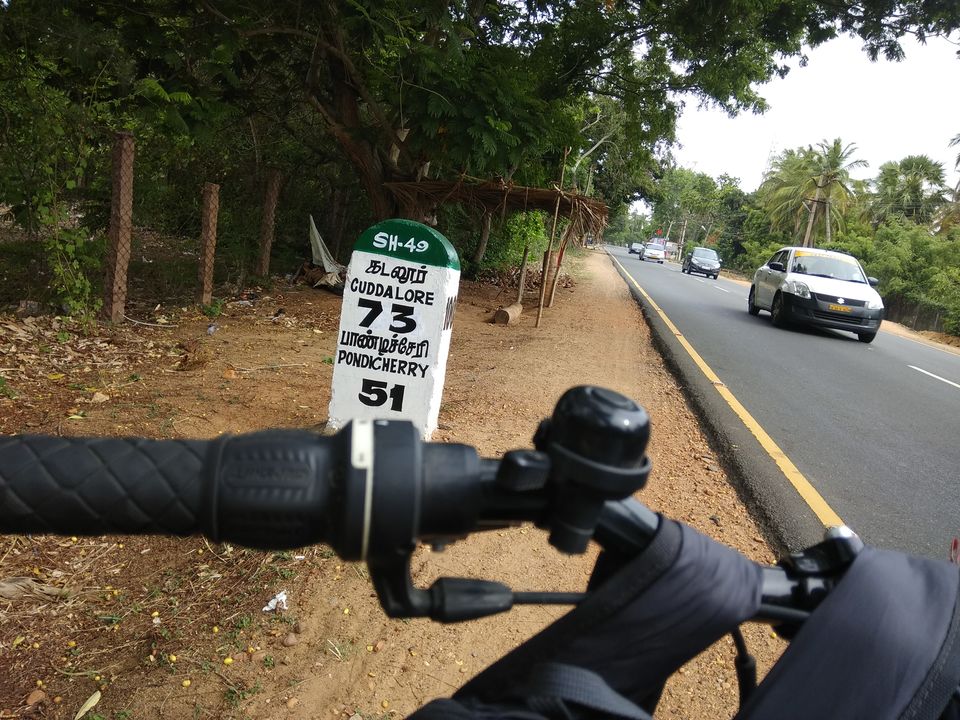 So it took 160 kms, 12 hours, 10 liters of water, one damn wish for me to fulfill my dream and achieve something solo which empowers me to do more of it in future.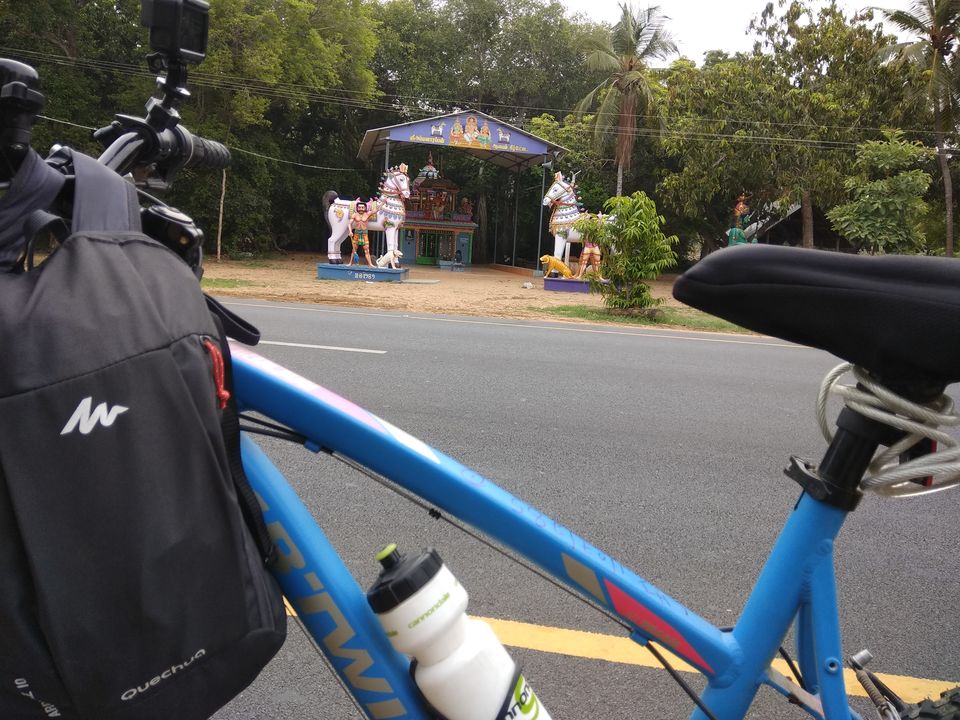 There are few things to keep in mind if you want to cycle on this road...
Mainly select this adventure when it is less humid on ECR.
Many coconut stalls and fruit stalls on the way for refreshment.
No need to worry about hotels for food and places to rest.
Be careful on about 10 narrow bridges you come across this stretch.
Be careful about speeding vehicles as few don't care about a cyclist on a two way road.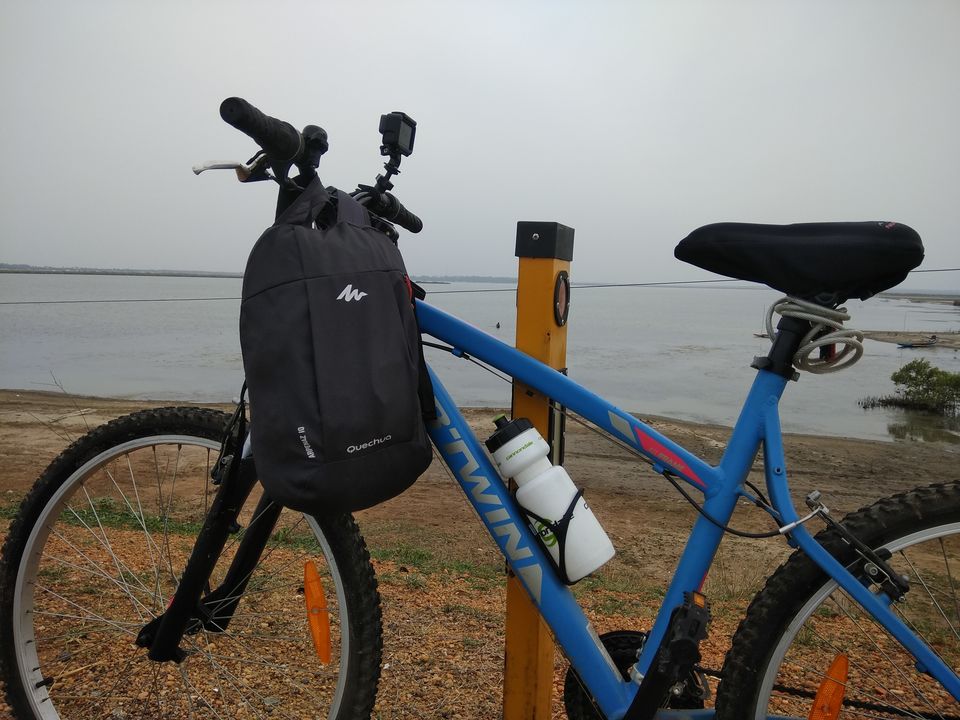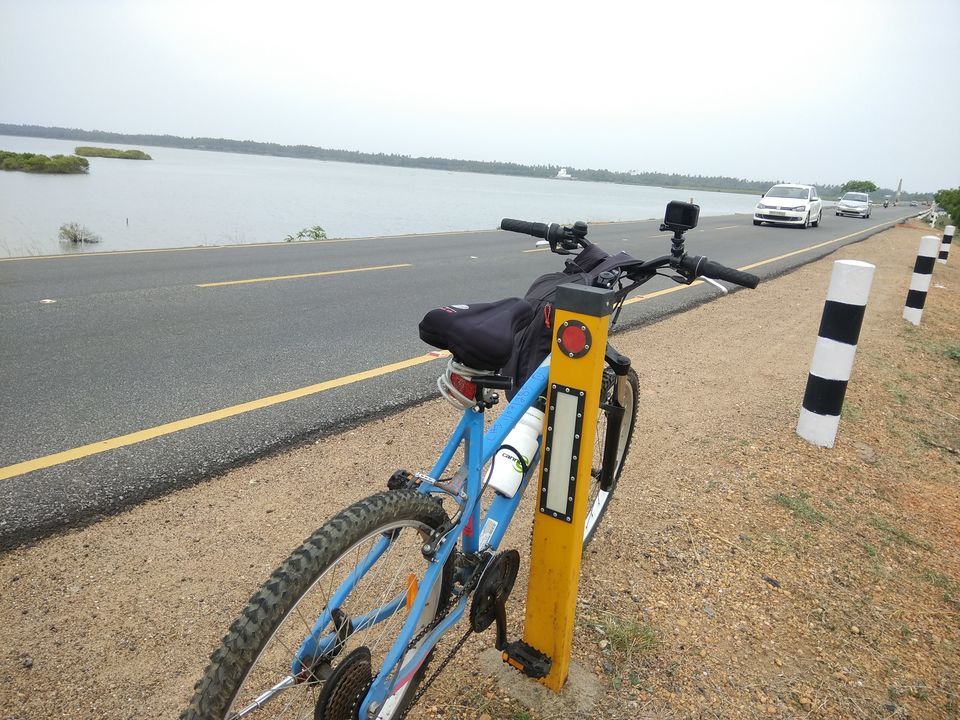 The Gulmohar trees give colour to your adventure enroute.
Don't miss to hit beach and rest on a sea shore for a while as you get many of them on the way.
Have a look at Kaipanikuppam salt refinery after Odiyur Lake.
Be slow and be cautious as it's a busy road with two way traffic.
Plan prior and have candies in your bag to keep your senses busy for a long ride.
Check with travel agencies before only if they are ready to take your cycle in the same bus you travel, as later you don't need to wait for your cycle to get delivered.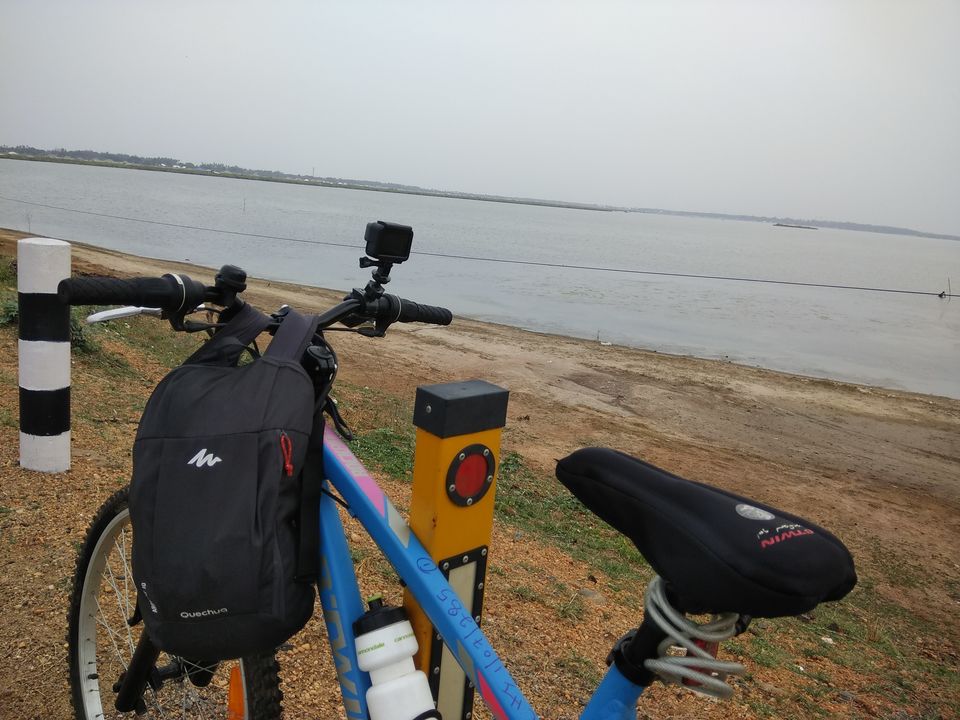 Even it seems to be difficult for first, but it's really achievable if you want something to dare in your life, then this can fulfill your thirst for adventure of life.
Happy Travelling!!!!!