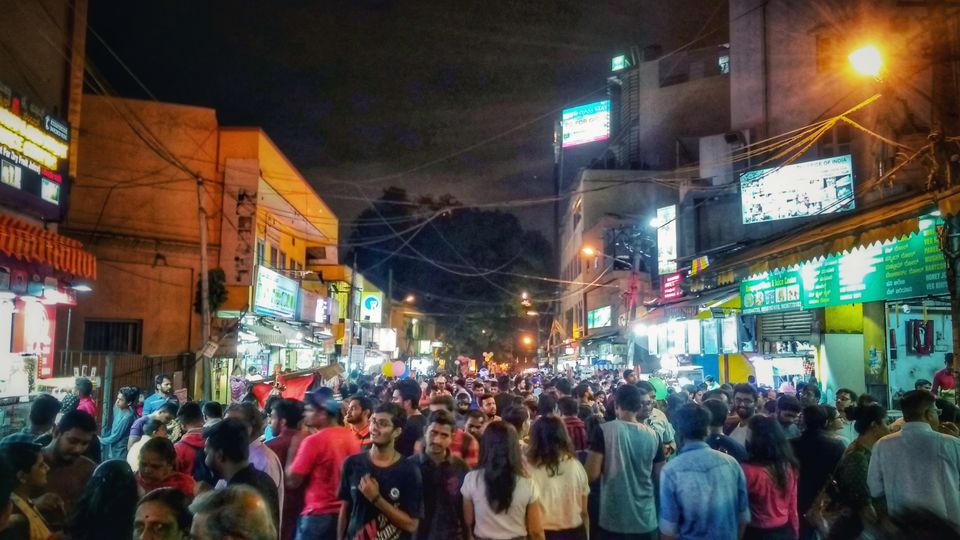 You are in Bangalore on a Saturday night and what better way to finish the day with a visit to food street in vv puram. Even though it's a vegetarian place, you have to believe it when someone like me who is a non vegetarian tells that this place will soothe your soul with the wide varieties it has on the menu. Right from steaming hot idli to super cool gola ice-cream and everything in between you are in for a best food walk ever. So, go on that cheat day and enjoy a night out with friends and family savouring tasty food and sweets without any guilt. You deserve it once in a while as a celebration to living life. Find a reason if you have to and get going on this food ride.
Food street opens at around 6:30 pm. Better be there by 7:30 pm to get that lively feeling with all the young crowd gathering around and trying out all kinds of food like they haven't had anything in a while. Start the course with a plate of idli or a masala dosa. Go onto enjoying different foods like dosas, paddu, akki roti, vada pav, pav bhaji, noodles, fried rice and everything else. If you are not from Karnataka you have to taste akki roti and holigi.
Then comes the most happening food on the street. The peri peri crispy potato stick. The wait would be more but it will worth it when you take a bite of that spicy and crispy potato with cheese melting on it. Enjoy the varieties of chats ranging from pani puri which has chocolate pani puri and different combos available. Grab some kulchas and parotas if you are looking for something heavy along with Chole and paneer.
When it comes to sweets section get ready to have the delicious pheri soaked with badam milk, jalebi and jamun combos, holigi, dry fruit milkshakes, fruit juices and everything you see on the street. Grab an ice cream or a kulfi or a fruit salad and enjoy the last bit of what the place has to offer.
Enjoy the cool ride back home with filled tummies and happy taste buds which will thank you for the visit.
Must try :
Potato stick
Pheri
Jalebi combo
Mysore masala dosa
Paddu
Akki roti
Dabeli
Pav bhaji
Badam milk
Ice cream
Note :
The place is well maintained considering the amount of crowd it gets. Please maintain the hygiene and drop your left overs in the dustbins which are placed all around the place.
Take what you want and finish what you take.
Try different kinds of foods and sweets.