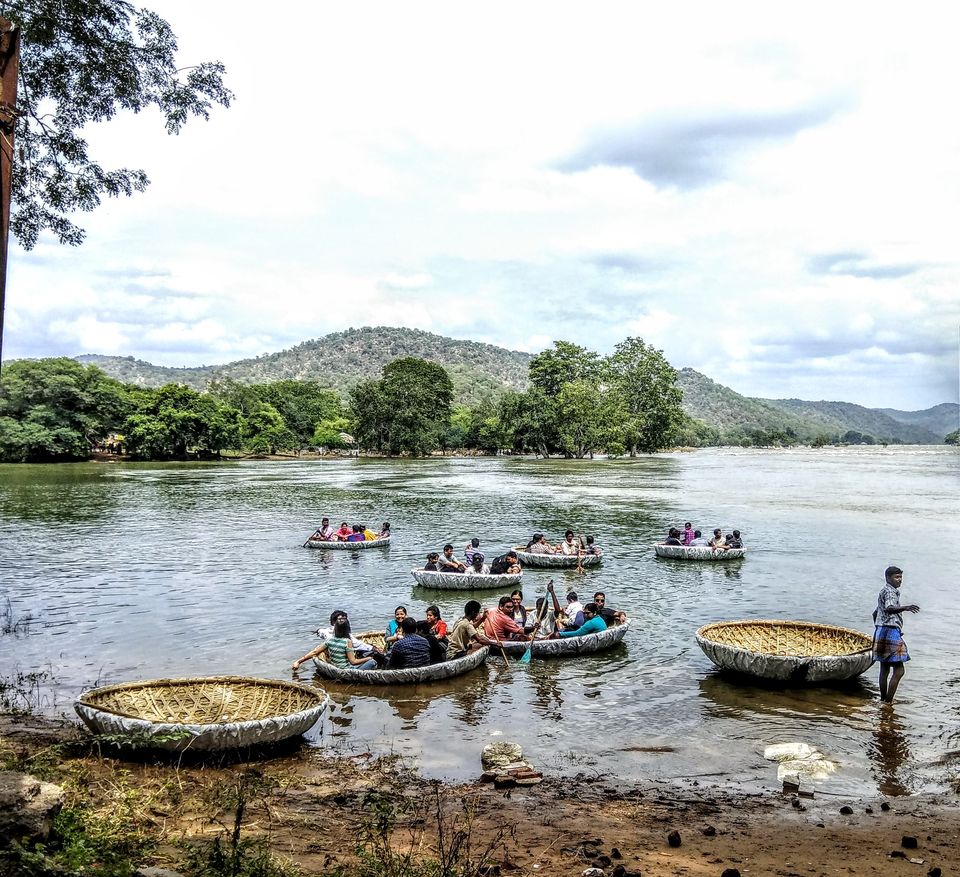 Most travel sites and blogs feature this place when you search for day outings around Bangalore or places within 100 kms from Bangalore. What I would like to do though is to also provide my view of what can one do at this place beyond just spending two hours there on a day trip and returning back. The place has its own charm which is distinct in different seasons and one that calls for different experience every time you visit it. While it is gushing with Kaveri water in the monsoon and post that, it is at its calmest during summer and late winters when one can take a dip in the water and walk through the river bed to the other side.
Mekedatu or Sangam as it is popularly known locally is the confluence of river Akravathi and Kaveri. The Akravathi part of the confluence is still for most parts of the year while the river Kaveri flows with immense strength all through monsoon raising the water levels and submerging some flora around. The actual Mekedatu spot is around 5 kms from Sangam
I first visited the place in 2008 while I was still in college and have fond memories of this place which I refreshed during my last visit. The current truth about this place is that it is no less beautiful than it was back then but since the tourist inflow has multiplied many times, the authorities have had to crackdown on safety of the tourists. As as result, most places that are prone to danger are cordoned off from normal public. This is not necessaryily a bad thing but the adventurer in you may cringe at this sight. It happened to me as well but be rest assured that the place can has more to offer if you are willing to spend time and explore.
Getting There
Sangam is around 100 kms from Bangalore and 35 kms from Kanakpura which is the biggest taluk place around. If you are going by road, take the nice road and exit on Kanakpura road. From Kanakpura, take the left road that goes straight to Sangam. The route till Kanakpura is often busy and bustling with vehicles but as you take the road to Sangam the road narrows and becomes scenic with water bodies and tree canopies around. The place is a part of the reserved forest area and you encounter a forest checkpost around 10 kms before Sangam. They charge a Rs 10 fee for bike and around Rs 20-30 for cars to enter the forest area. The last stretch at Sangam is a ghat areas with multiple hairpin bends which may come in as a surprise if you are zooming at a speed of 80+ kmph. If you take the nice road and the highway, it will generally take around 2-2.5 hours to reach Sangam. There are shop vendors and locals ready to ask for money for parking or entry or guiding you. Steer clear and head straight to the Sangam area where you can park your cars and two wheelers.
There are 1-2 direct buses to Sangam from Bangalore and many starting every two hours from Kanakpura. The are many buses to reach Kanakpura from Banshankari TTMC bus stand. It will take around 3 hours to reach Sangam by bus if you get the right connections.
Things to do
If you are doing a day trip from Bangalore, the most obvious thing to do after getting to Sangam is to take the coracle ride to the other side of Akravathi river and then the bus to the Mekedatu view point. They charge you Rs 50 for a two way coracle ride and then Rs 60 for the view point by bus separate. Its not unusual for the coracle riders to ask for tips over and above. Give them some tip but also ask them to do some simple stunts like going round in water with the small boat and they would most often oblige. The bus ride is no fun if you ask me. The bus is rickety and filled will as many that can breathe inside and often waits for people to come from the other side to start. The ride is bumpy to say the least and will move water in your stomach. There is not much views around but it is still preferable to sit towards the right side while going and left while coming back to get a view of the river as it flows gently in the beginning and suddenly picks speed and turbulence as it enters the gorge. The view point is fenced and cordoned off after some people slipped off and died which doing stunts on the rocks around the river. Let the crowd finish their selfies and then head to the view point to get a peaceful view of the gorge and the surrounding hills. I was told that you cannot walk to this point and need to take the bus but I think you can try doing that if its not too hot and dusty. Packed hours for the coracle-bus-viewpoint trip will be from 10 am to 4 pm. If you can avoid those, please do but if on a day trip there is not much you can do as you need to head back to Bangalore.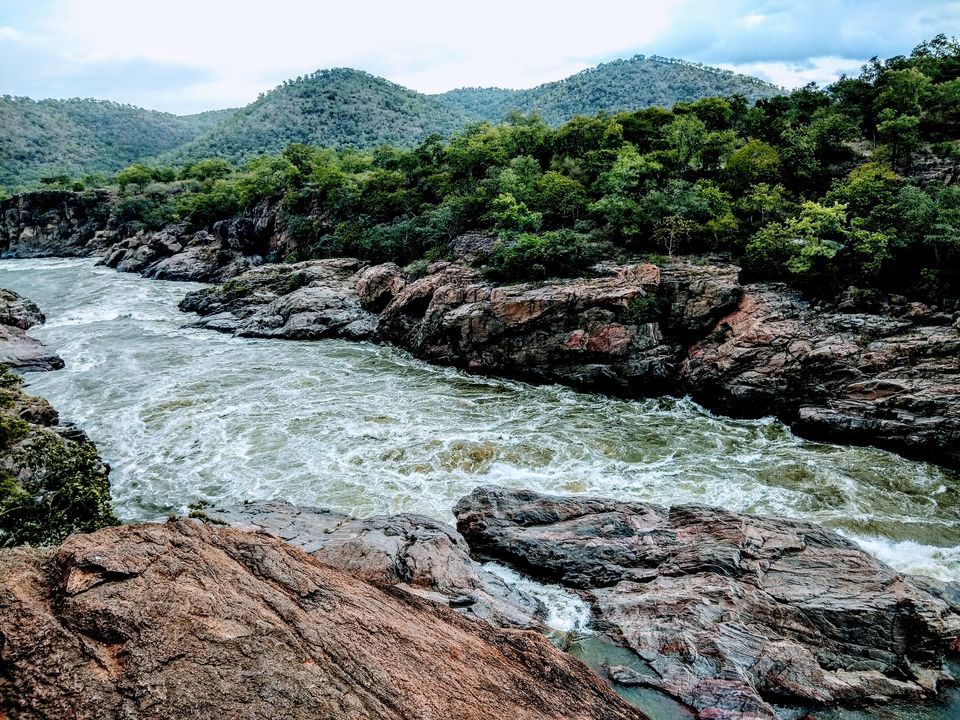 If you are staying over for the night, there are offbeat things to do. One of which is to simply stroll around the river banks on the other side before taking the boat back and watch the sun set over the Sangam. If the weather is good, walk to the view point and back along the river. The flow is strong and with undercurrents. Do not take it lightly though. Do not venture into water in the monsoon. There is a death toll by year mentioned right at Sangam.
Early morning at Sangam can give you the best clicks and solitude that cannot come during the day. Spend some time along the river bank. Another thing to do is to venture towards the Galibore nature camp road that heads right just before Sangam. This was the best off road tour we took on that morning. It may seem like going nowhere but be sure to be treated with the most exotic birds and deers around if you are an animal and bird watcher. The 8 km drive to Galibore nature camp is one of the best early morning but one that can be bumpy off roading types. There is a Ved Mahavidyalaya enroute and some other establishments including a small village. The school is a boarding school that combines stateboard syllabus with Veda teachings. You can get in and see the place. Its a good experience to see the kids learn and chant vedas and talk to the authorities about how they run the place.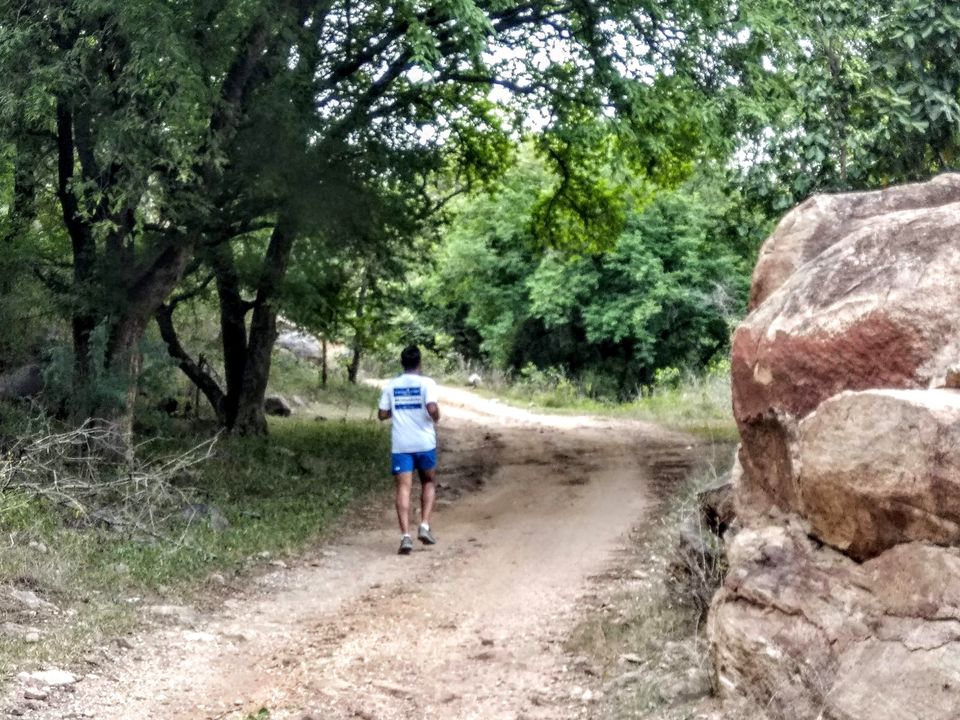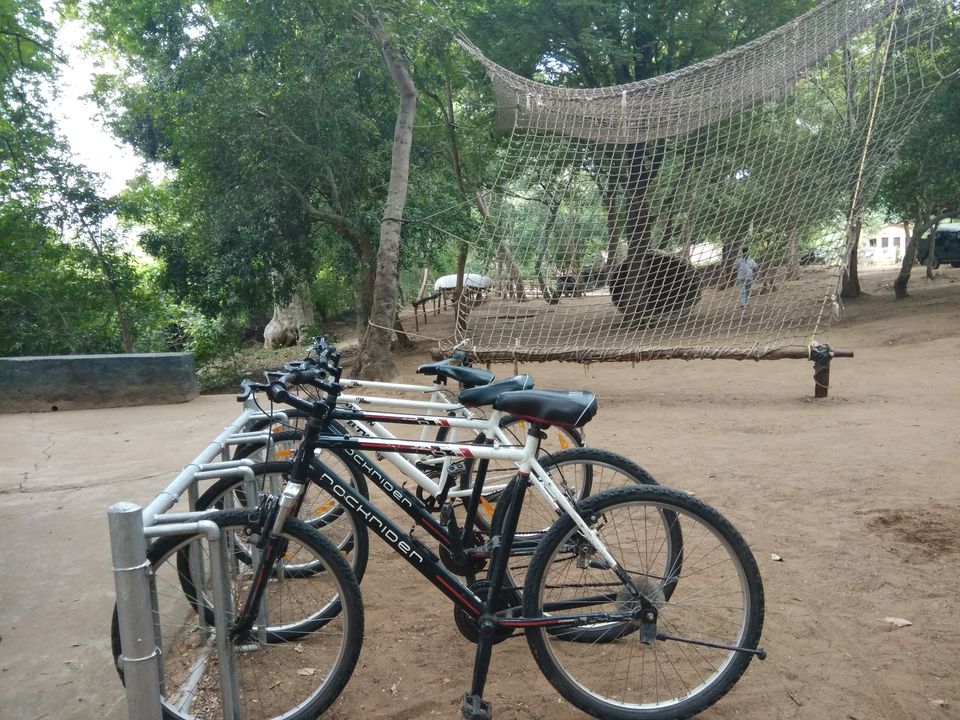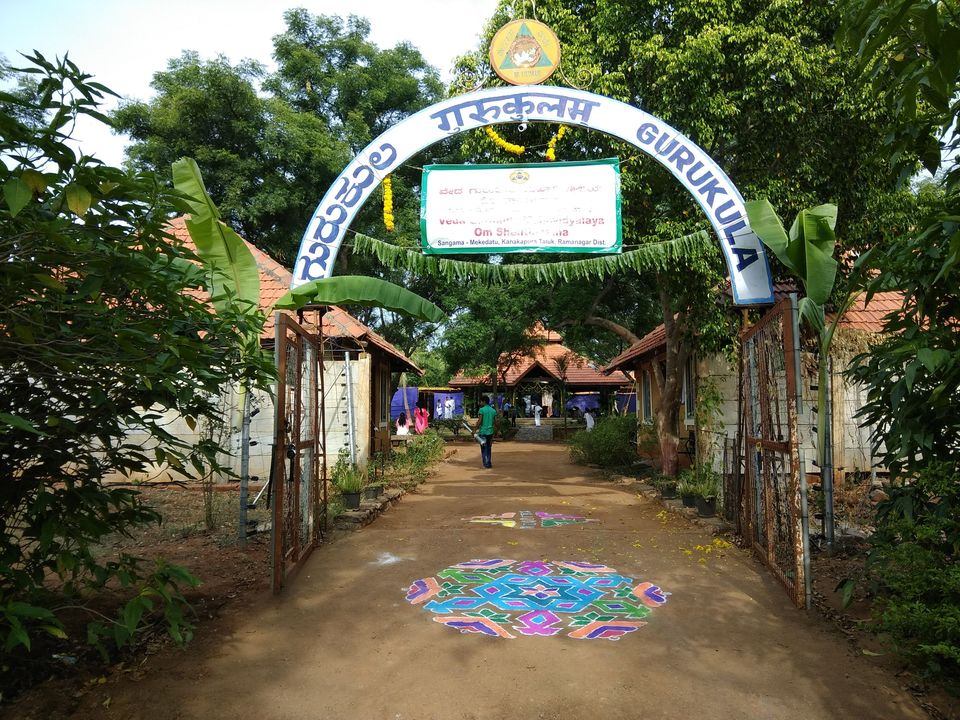 On the way with a slight detour are the Chunchi falls which are 6km one side from the main road to Sangam. The falls are on Akravathi river which runs dry for most part of the year and carries little water towards Sangam. The drive to Chunchi falls is pleasant with well maintained roads but the falls will leave you disappointed. Its way too crowded with day trippers and not worth all the hype that it gets considering that they are close to Bangalore.
Stay
If you want to enjoy the beauty of the place beyond the crowds that throng it during the day and explore places around, I would suggest to stay over for a night. There is only hotel at Sangam (the KSTDC Mayura run by the Karnataka government). The hotel is an ok place to stay and do not expect anything fancy other than a bed and fan. There is no room service and you need to go to the restaurant for food during the day. They can get you dinner in your room if you wish but you need to order before 7 pm. You can book online for this place and it would typically be around Rs 1-1.2k for an AC room. You may not expect but its hotter at this place than Bangalore and somewhat sultrier too. If you cant withstand the discomfort, go for the AC room.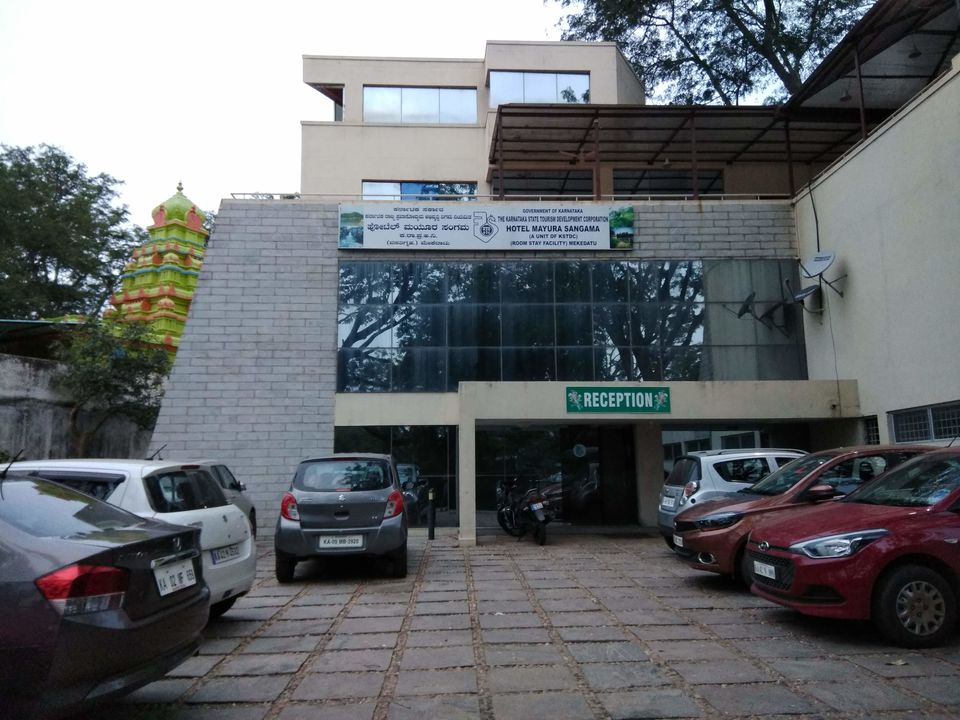 The Galibore nature camp is a good though expensive place to stay right on the banks of the river inside the forest. Expect to pay around Rs 5k per person including food and activities for a day. Activities include coracle ride, cycling, other games and trekking in the nearby hills. The camp is well maintained and has tent accomodation that is basic but very good and has all facilities.
Eat
After crossing Kanakpura and heading towards Sangam, there arent any food joints to have proper food. Its best to pack some snacks from home or on the way. Even at Sangam the road has fast food joints serving bread omlette, tea and other packed items. They all have fish fried though you are not guaranteed for a fresh catch to be served on your plate.
The KSTDC hotel runs a restaurant too that is the only place for travellers to eat while at Sangam if you are looking for having lunch. The restaurant is self service and serves basic food menu at slightly higher than average cost. There is nothing apart from bread omlette here for breakfast.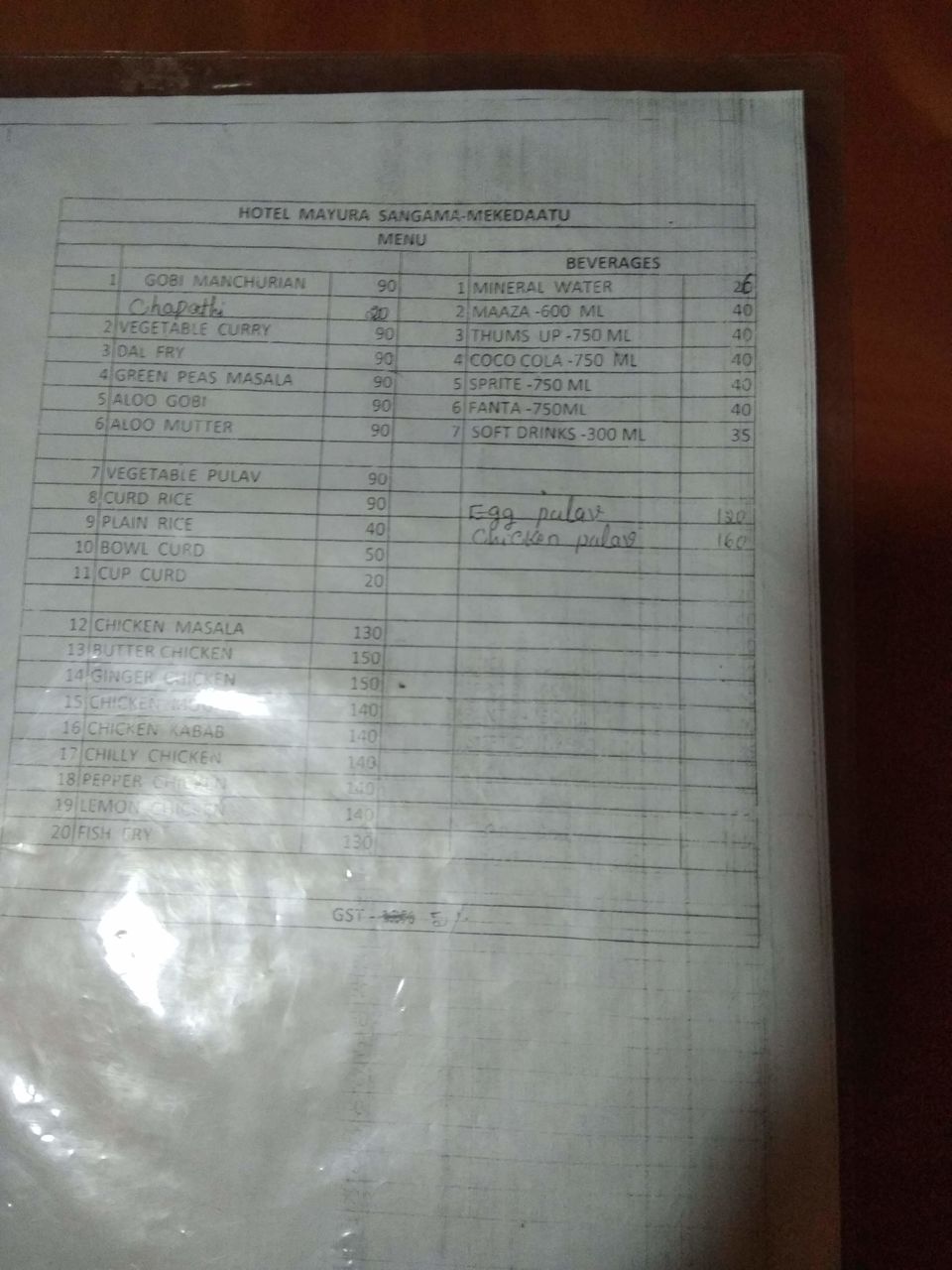 Things to carry
The most important thing to carry is food if you can. Light snacks if on a day trip and possibly bread and some other things if going for longer. The place is buzzing with monkeys flying from tree branches and waiting to snatch that packet from your hand. Be careful. Other things to carry may include - slippers to get in water during the summer and later winters, cap as its very sunny during the day, binoculars to spot exotic birds around and most importantly an open mind. Its easy to get disappointed with this place if you are searching for that instagram thing to post from here. Its natural, rustic and basic and thats where its beauty lies.
For more details and other travel stories, you can visit my blog here
Frequent Searches Leading To This Page:-
Mekedatu Sangam trip from bangalore, offbeat trip on weekend near bangalore, offbeat destinations for weekend getaways, weekend getaways from bangalore