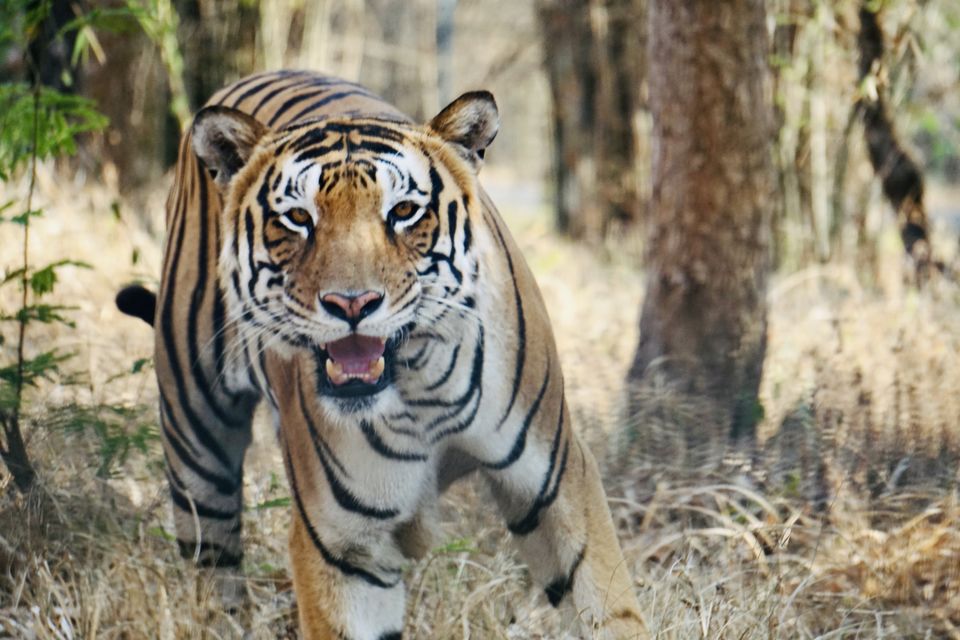 Bannerghatta National Park is situated just 20 kilometers from the the IT capital of India-Bengaluru, it is unbelievable to imagine that wilderness can be so close to such a crowded big city. You can either go there by your own vehicle/ Ola/ Uber, also is a great option of taking a local bus which goes directly to the park. It is one of the best getaways from Bengaluru for a one day trip or even for a weekend. It is definitely a great idea to spend a weekend away from the city in nature's lap and that too with the most ferocious species on Earth- Tigers and Lions just few meters away from you! This can set your heart racing! You can book the jungle lodges on the official website (link below).
http://www.junglelodges.com/bannerghatta-nature-camp/
There are various modes of Safari available at the park such as by Jeep, Bus, Innova and Xylo with both Ac and Non-AC options being available. We preferred to take an AC Jeep Safari (definitely the best option for Summers). The advantage of doing a personal Safari is that you will have a guide who will explain you about the park and wildlife in detail, it is the best option for all curious wildlife enthusiasts, as the guides in the park are very knowledgeable.Personal Safaris are expensive ranging from INR 3000-INR 4000 (for 6-8 people) but are definitely worth it because you can experience the wildlife very closely. If you opt for a Bus Safari, it costs around INR 500 per person, it is definitely cheaper if you are in less number but the only disadvantage is that you won't get that feel of experiencing the wildlife very closely if you are not by a window seat!
Check the below video for the beautiful and cute cuddling of two male tigers.
Bannerghatta National Park is the only wildlife park in India where the forest is divided into territories for each animal, and that is why it is highly likely that you will be easily able to spot Wild Animals. They have separate sections for Lion Safari, Tiger Safari, Bear Safari and the Herbivore Safari, all the wild animals are very well fed in the park and their life expectancy is higher than their peers across the world. For example, Tigers have an average life expectancy of 16-17 years but the Tigers in Bannerghatta live for at least 23-25 years. ( as told by our guide)
Check the below video to see how the Tiger is chasing the Innova!
If you plan a visit to Bangalore, we strongly recommend you to spend one day in Bannerghatta National Park. Along with the wildlife safari, they also have a zoo for the kids and a Butterfly park. It is definitely a great idea to spend at least a day here if you love wildlife, because it is very difiicult to see them all together so closely and that too in a Jungle.
Hope this article in informative and helps you planning a trip to Bannerghatta!
Subscribe our channel on Youtube @gulpingnomads
Follow us on Instagram at @gulpingnomads