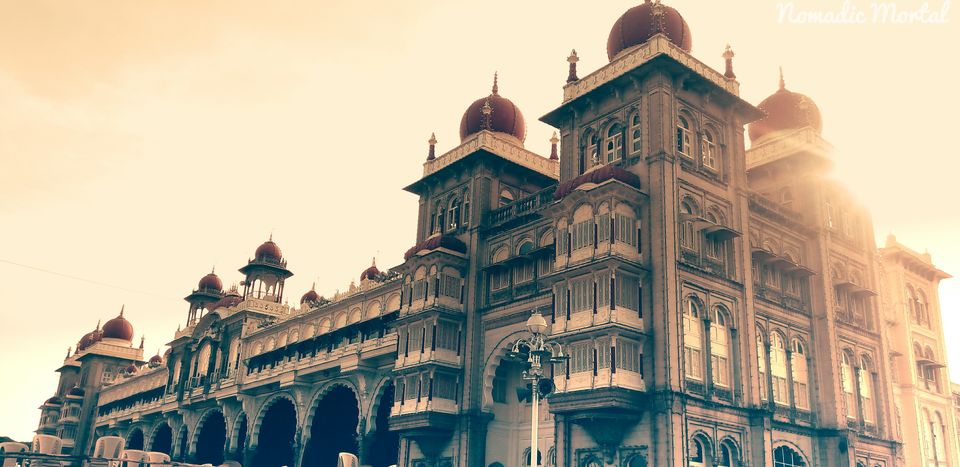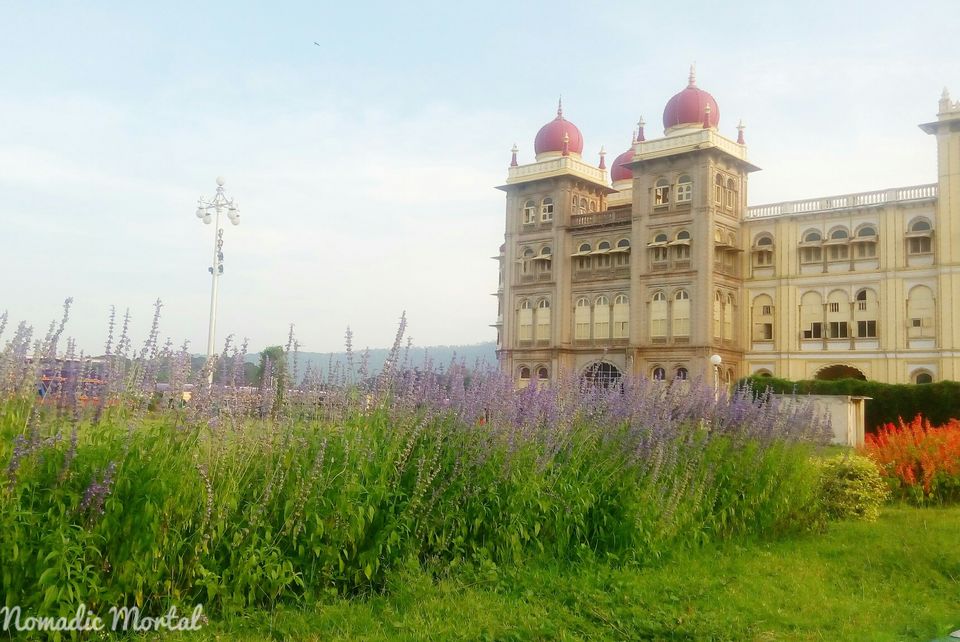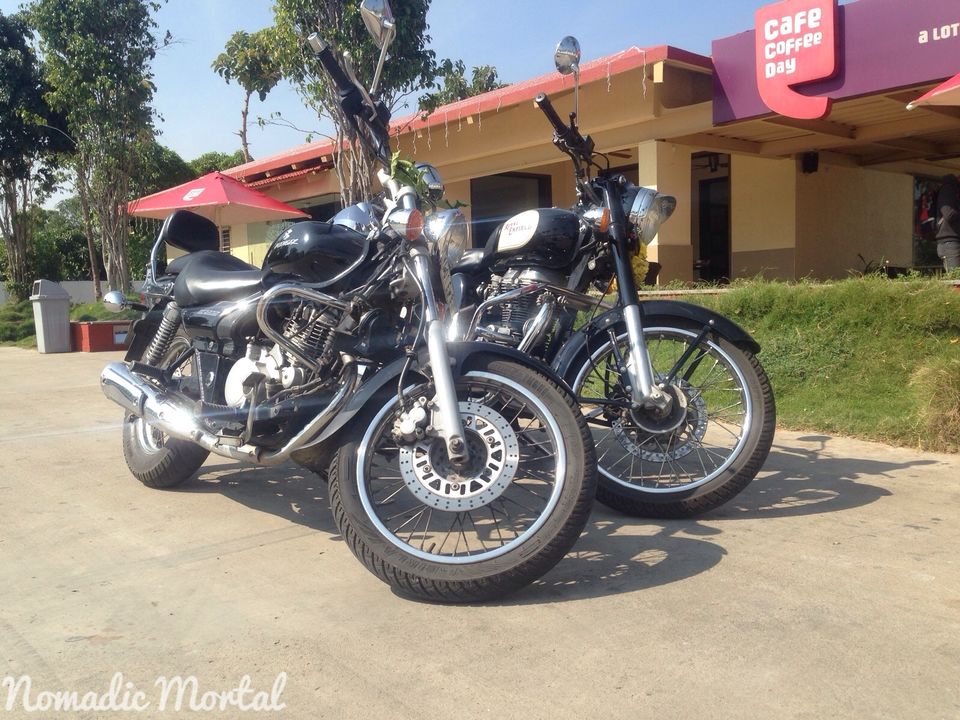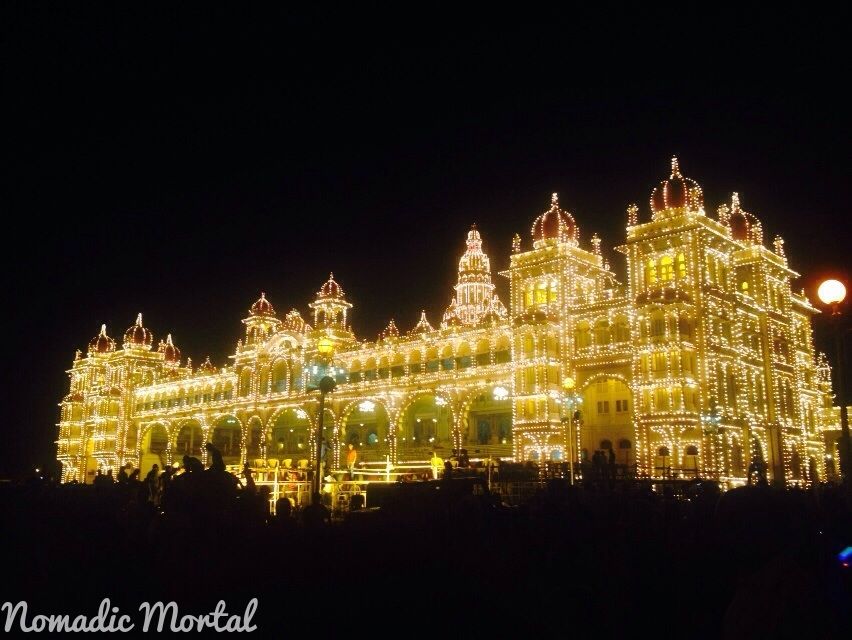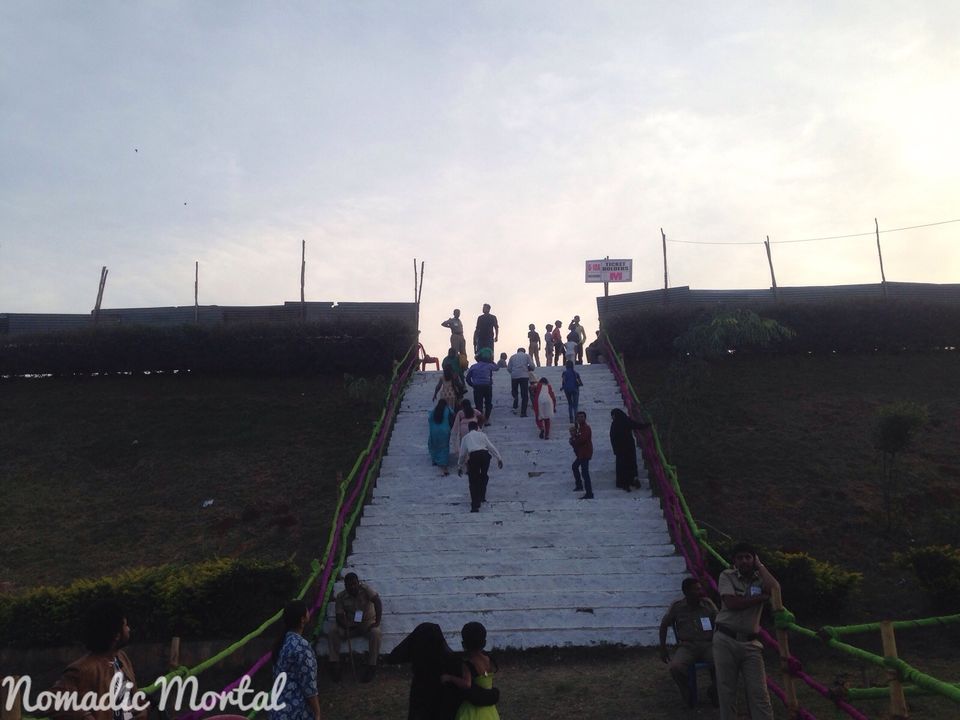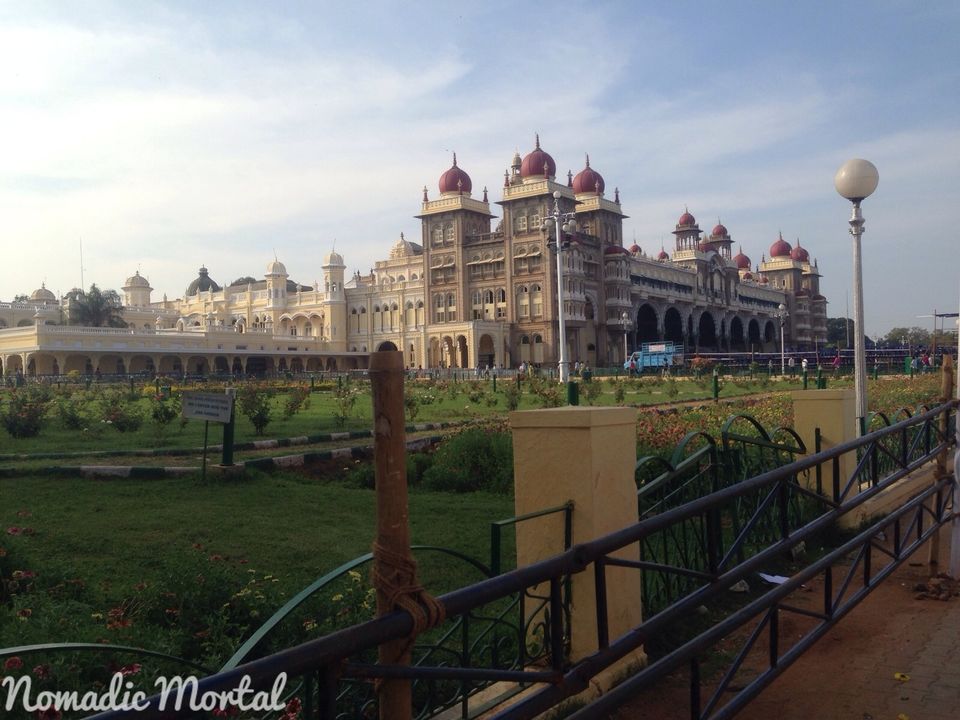 If you've met me, then you'll know I'm not the kind rooting for unplanned trips. But sometimes you just got to go with the flow. This time around our destination was Mysuru for the world famous Dasara celebrations. Being a Bangalorean and having visited Mysore plenty of times, I found it kind of shameful that I had never seen the Mysuru Dasara.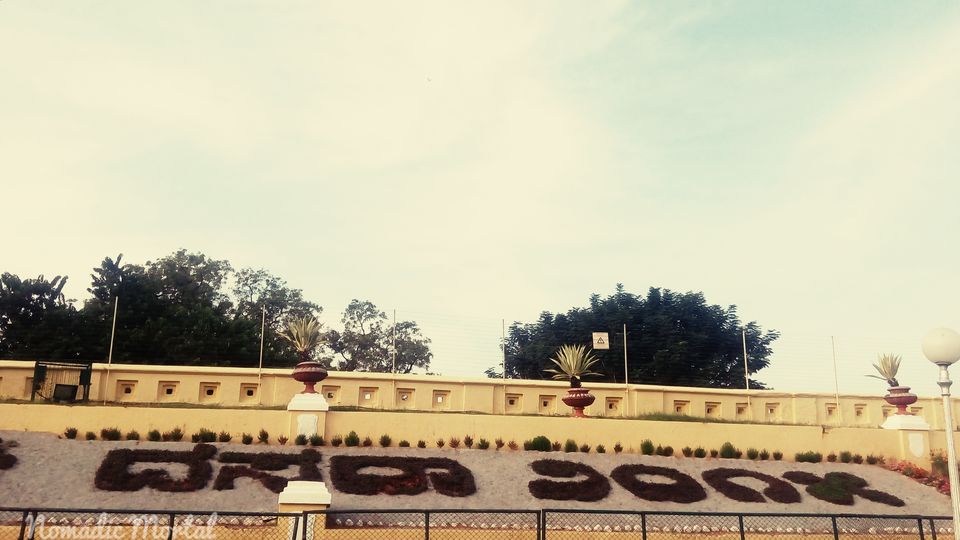 So the planner in me got to work. After days of Googling and Googling I found nothing! There was literally no information regarding the programs being held, the dates were inconsistent and also I had no clue of where and how to buy the tickets. This is kind of sad given the wide array of people who visit Mysuru for the sole purpose of Dasara.
A little insight:
Mysuru Dasara began as early as the 15th Century and it is still celebrated today with almost the same grandeur. It is the Nadahabba [State Festival] of Karnataka.
The main attractions include
The Jumbo Savari, which is the procession that starts from the Amba Vilas Palace and goes through various streets of the city and ends at the Banni Mantapa tree. The main attraction of this procession is the idol of Goddess Chamudeshwari which is placed on a Golden Howdah [750 kgs of Gold] which is placed on the beloved decorated lead elephant Arjuna.
The Torchlight Parade which takes place in the Banni Mantapa grounds. A beautiful Parade, followed by 21 rounds of fire [in pauses] shot from 3 cannons, various cultural programs, dare devil stunts performed by policemen on bikes, laser light show, torchlight parade and finally the fireworks.
The Mysuru Palace, lit up with nearly 100000 light bulbs on all days of the festival.
The Dasara Exhibition, which is held opposite to the Palace and lasts till the end of December. It is basically a Sante [Fair] where a lot of people from all over the state and also the country put up stalls to sell a wide variety of items.
Various cultural programmes held throughout the 10 day celebrations, Flower Show, Kusti Spardhe [Wrestling Match], etc.
Day 1
Bangalore – Mysore Highway : We started early morning on 2 bikes from Bangalore expecting loads of traffic since it was a long weekend. But we didn't encounter much traffic which was a good thing as we took long breaks many times along the way. We had the famous Bidadi Thatte Idli for breakfast. If you've read my previous posts you'll know how I am major fan of that. :P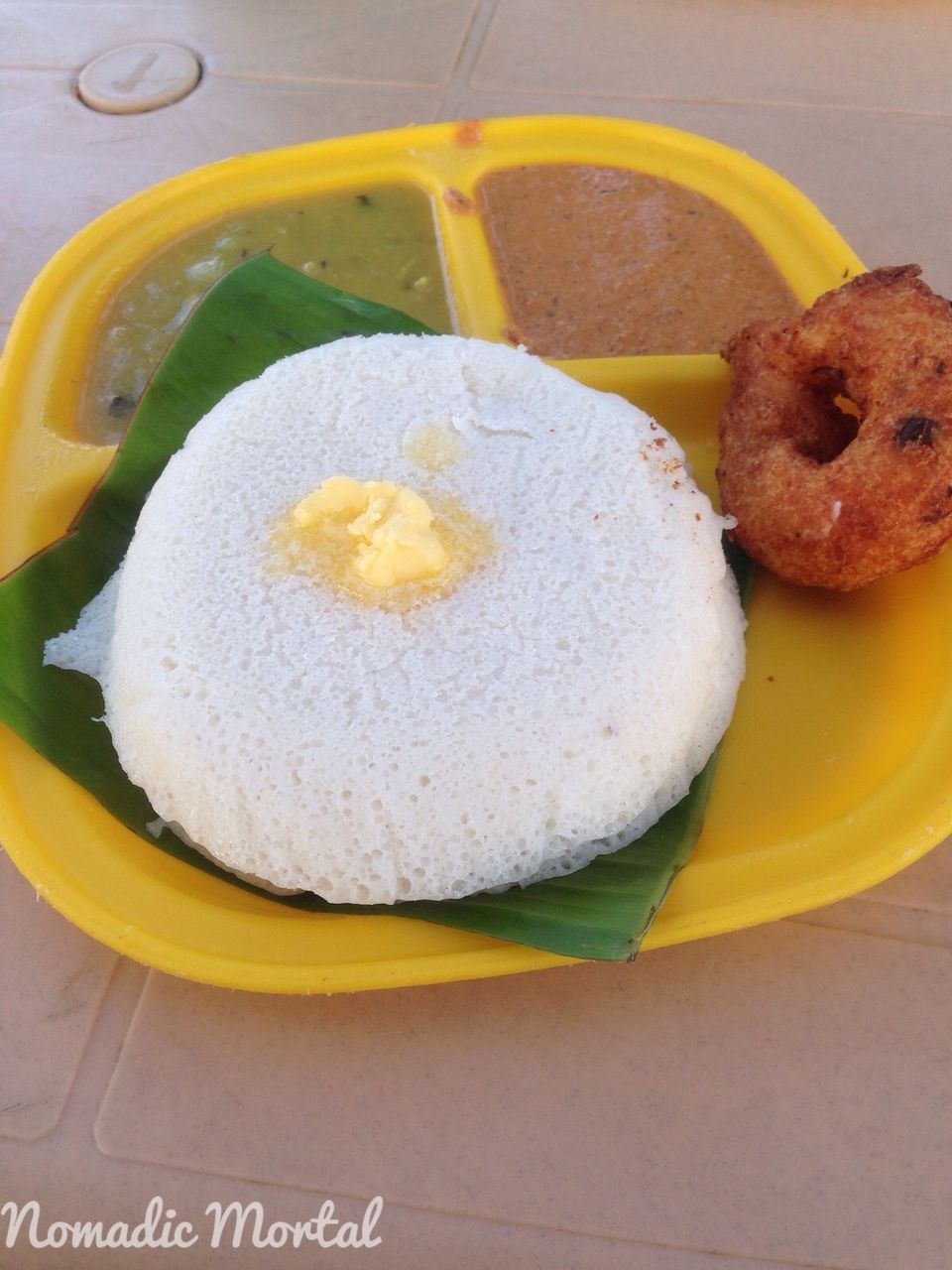 Mysuru : When we finally reached Mysuru, there was a hoard of traffic to welcome us. Probably the first time I saw traffic in Mysuru. We spoke to a few locals on the way, we realised that the tickets to both the Jumbo Savari and the Torchlight Parade were sold out and we were indeed too late.
There goes my wish to see the Dasara, I thought.
Somewhere near Banni Mantapa, a man with a kid on a 2 wheeler approached us and asked if wanted tickets for the parade. He quoted extra for obvious reasons. But we were desperate and we took it. Ended up paying 300 extra.
Mysore Palace : After freshening up, we left for the Palace. By now the procession had started in all its grandeur and the Palace was empty and we could enter it with no entry fee. This Palace is the one most of us Bangaloreans grew up admiring. I'm sure most of us have visited this Palace more than our very own Bangalore Palace. It stands there in all its glory guarded by a well built fort, surrounded by the lush green royal gardens. The architecture is a mixture of Hindu, Muslim and Gothic Styles.
Few Pointers : Entry will be restricted before the procession takes off and also anywhere between 4:30 and 6:30 PM.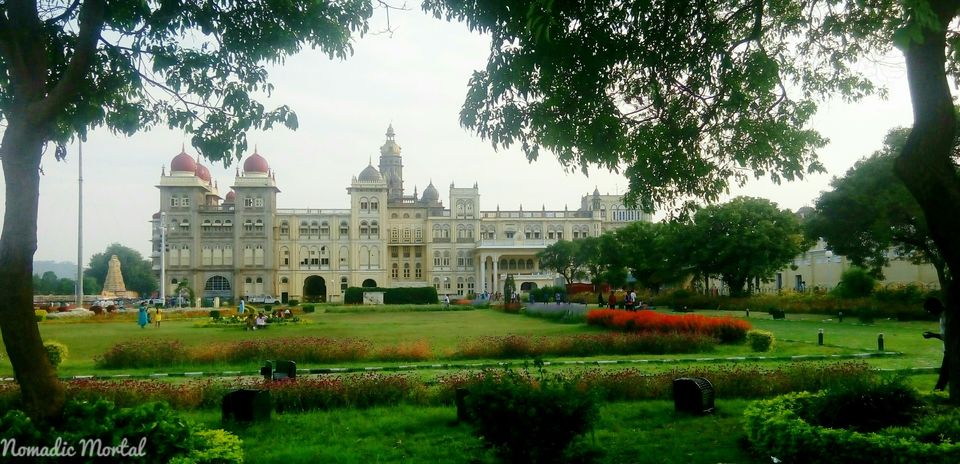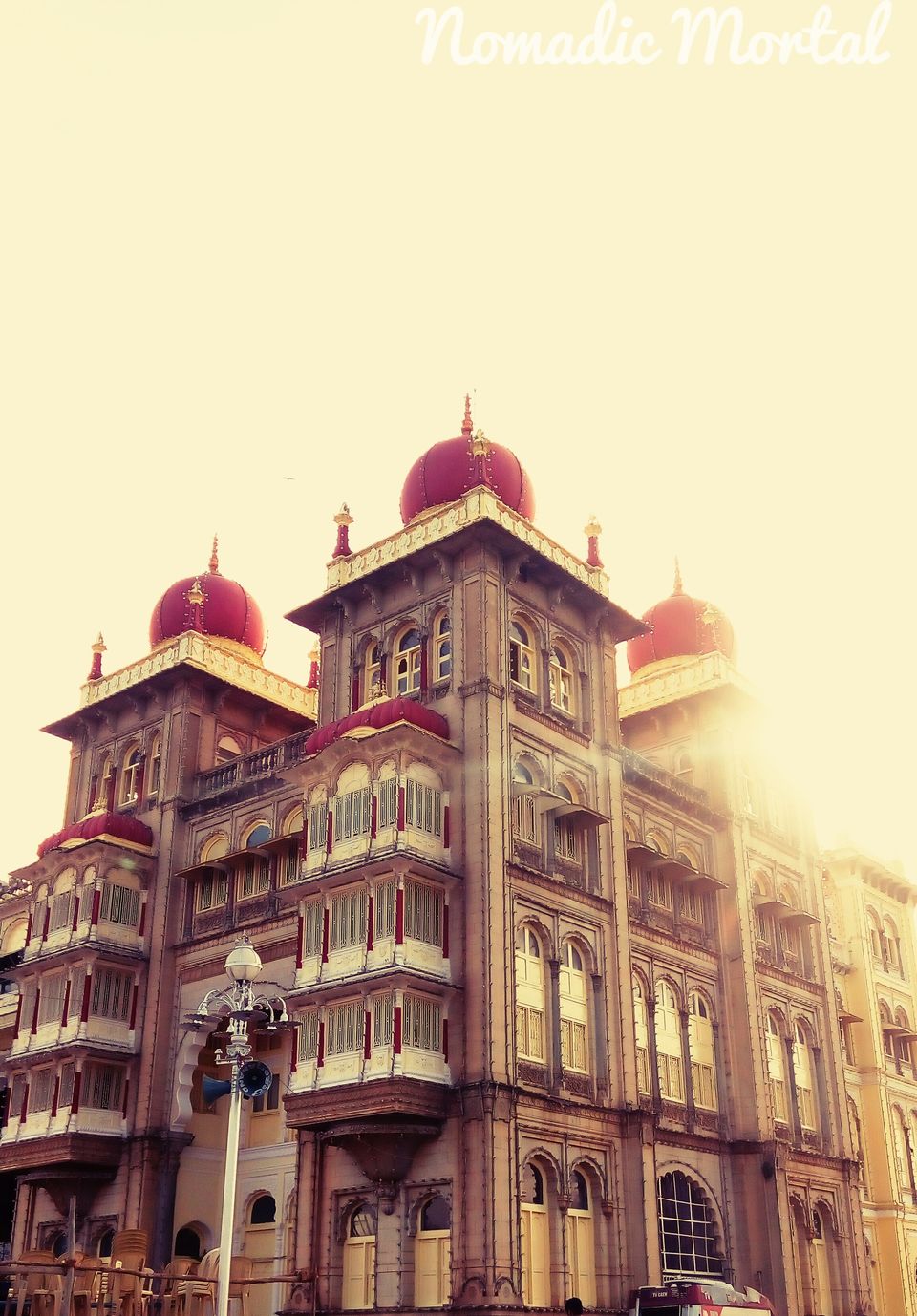 Jumbo Savari : Now, the plan was to catch the procession along the way during its 5 km route. However we got stuck in unfortunate traffic and by the time we reached Banni Mantapa, the last stop of the parade, it had already ended. What a bummer! We were all so disappointed. Now who goes to Dasara and doesn't see the procession. :( Tche!
Few Pointers : Well I know now that tickets are made available 5-6 days before hand. We can buy them at the DC's Office, KSRTC Bus Stand and also the Palace itself. For some unfortunate reason they have currently stopped selling tickets online. Mind You, these tickets sell like hot cakes. The procession starts from the Balarama[South] Gate and ends at the Banni Mantapa grounds. Facilities will be made on the footpath on both sides of the road en route for people to sit and watch the procession.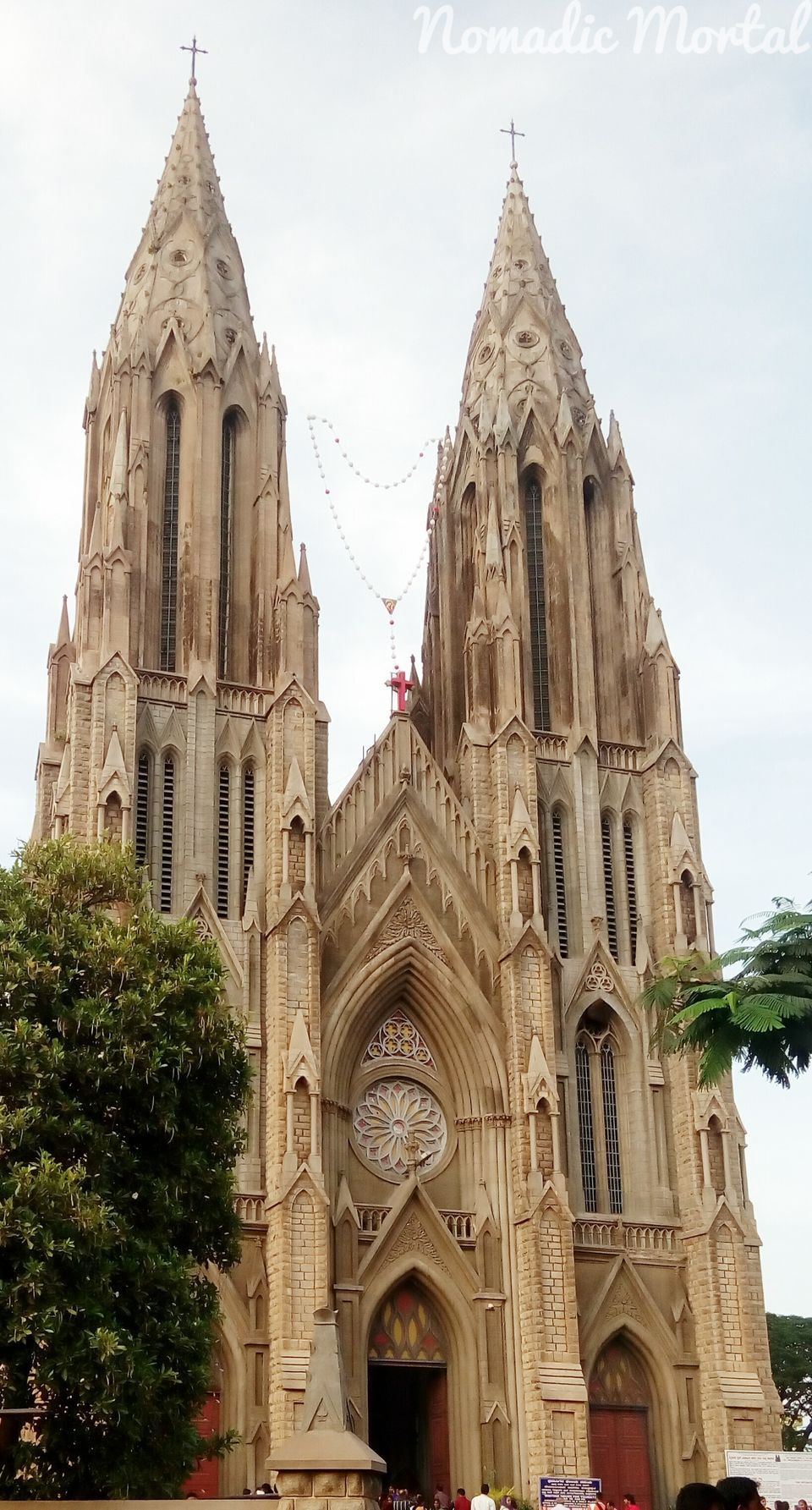 Torchlight Parade : Oh well. We managed to put the sad faces aside and headed towards the Banni Mantapa grounds. After waiting for quite some time, because some ministers didn't find it in their best interest to reach on time, the parade finally began. There was so much energy everywhere, everyone was shouting, all excited about what is about to unfold. This completely changed my mood. And the icing on the cake was the cannon shots. I, for one, have never heard cannons being fired. Have you? Honestly, the sound will manage to shake your soul, awaken it and make it dance with glee. I had goose bumps all over. I can feel my ears ringing even now. It is something you should definitely experience at least once.
Then there was the amazing dare devil stunts performed on white classy Bullets. And Oh My God, 25-30 people on 4-5 bikes, another hair raising event for sure. There were also many cultural programmes and Tent Pegging on horsebacks of course and the amazing laser light show. The unforgettable Torchlight formations which is performers holding sticks on fire and forming different words like "HAPPY DASARA" "See You in 2016" and so on. A complete treat for your eyes.
Few Pointers : Tickets can be brought at the same places as the procession ones. There is loads of parking space provided. So head to the designated parking place to avoid walking too much. Also carry water bottles; you're going to need it when you're cheering at the top of your voice. :D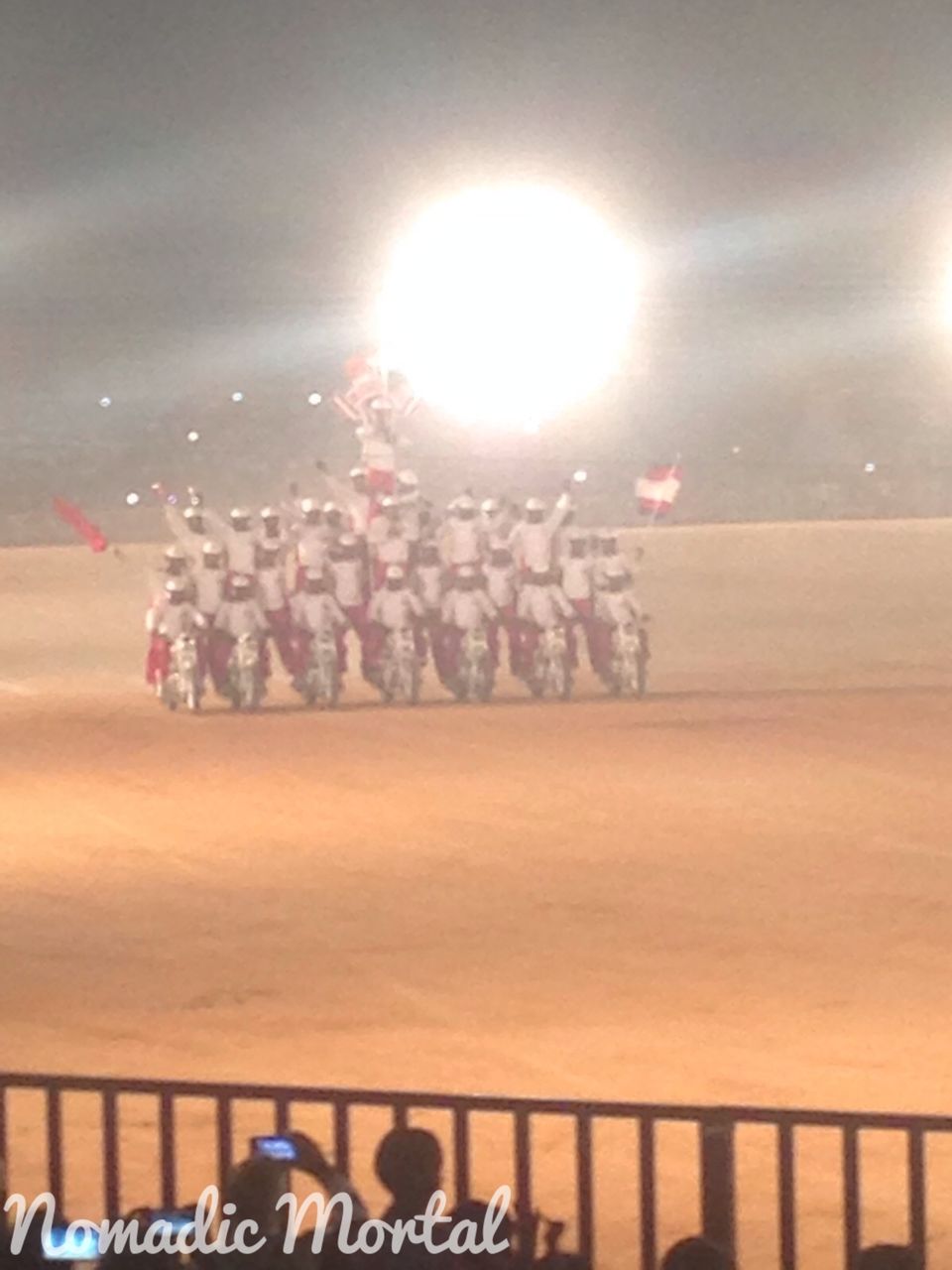 Mysore Palace : We couldn't stay until the end of the parade since we wanted to see the Palace lit up. So we left a couple of minutes before it ended and we headed towards the Palace.
First look and I fell in love all over again. The magic that 100000 bulbs can do is so indescribable. The glory of the Palace is now truly shown. It was jam packed with people and you literally have to wade your way through. But trust me this beauty will not fail to impress you. She looks like a bride all dressed up for her wedding [Being overly dramatic].
Few Pointers : Palace is lit up between 7 PM and 10 PM on the last day. Do visit the Dasara exhibition for loads of shopping and fun.
Chamundi Betta : There was one last stop before we could end our eventful day. There are several view points from Chamundi Hills for a panoramic view of the beautiful city of Mysore. We decided to rush to one such point to see the Palace lit up from above. Keep in mind the lights switch off at 10:00 PM and we had just started our journey at 9:51 PM. The odds of us making it there were zero to nothing. But who cares.
Glimpses of the Palace could be seen while ascending and the excitement just grew more and more. Unfortunately by the time we reached the vantage point, the lights were already switched off. But we were too happy to let that dull our mood. We sat there in peace looking at Mysuru all glittery. What a beautiful way to end the trip!
A trip that truly made me go from agitating disappointment to childlike glee within a few minutes. A trip that brought me closer to my peeps. A trip that changed my perception of travelling unplanned. A trip I would love to take again.
See you in 2016 definitely. Well I'll be more prepared this time. :P
Travelling - It leaves you speechless,
then turns you into a Storyteller.
-Ibn Battuta
This trip was first published on Nomadic Mortal.