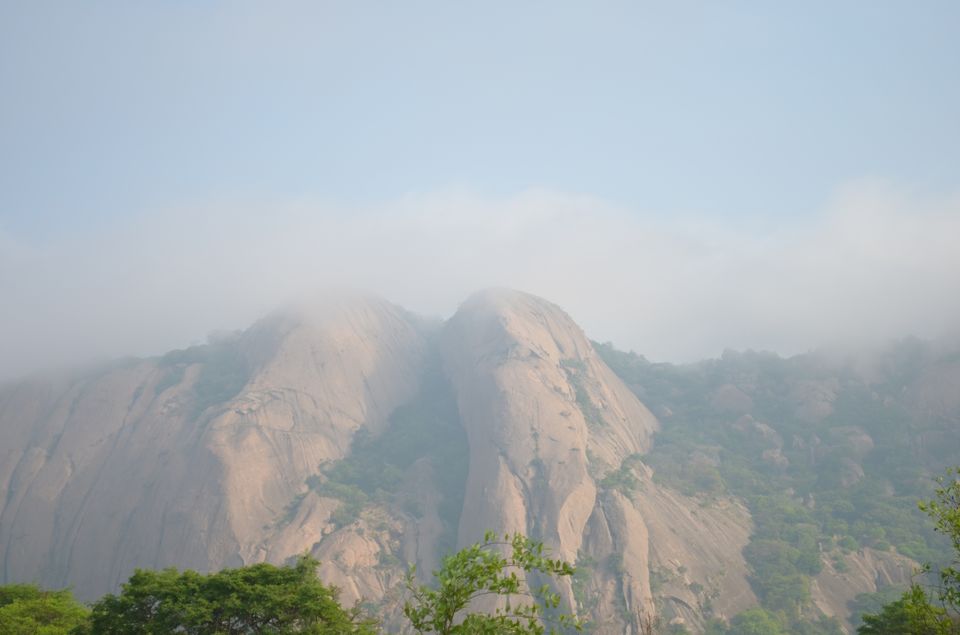 They say it's one of the largest monolith of the Asia. I'm not sure how true is that on the records but, it is huge, single rock.,Take my word for that.
Savanadurga is at around 1200 Mtrs from MSL.
It is situated in Ramanagar district on the way to Magadi, is around 60km from Bangalore.
Being situated in a remote place and away from usual bangalore crowd, it is one of the place where people go for Cycling and hiking during the weekends to feel fresh.
Once you reach the base of Savanadurga, you can find a temple, which is said to be built by Kempegowda, the founder of Bangalore city.
You will, usually need around 2 hrs to reach the top. Being a monolith, it will be difficult for you to find a proper resting place on the way to top. You will find the ruins of forts also.
You will be welcomed by the cold breeze and bird eye view of the near by villages once you reach the top with that You will have the pride feeling climbing the one of the largest monolith of the Asia.
There is lack of proper toilet facilities near by. Don't forget to carry water and light snacks. Early morning visit to this hill will make sure you witness the beauty of Morning and at the same time will keep you away from the heat of sun.
There are other multiple places on the way to Saavandurga. Big Banyan Tree(Dodda Aalada Mara), Manchebele reservoir are few. The road to Savanadurga also is quite scenic and treat to eyes.
You can also try Bidadi tatte idli if you are coming from Bidadi side.
How to Reach : Suggested to go for Bicycle ride. You can also hire private cabs.
Things to Carry:Water bottle and light snacks.