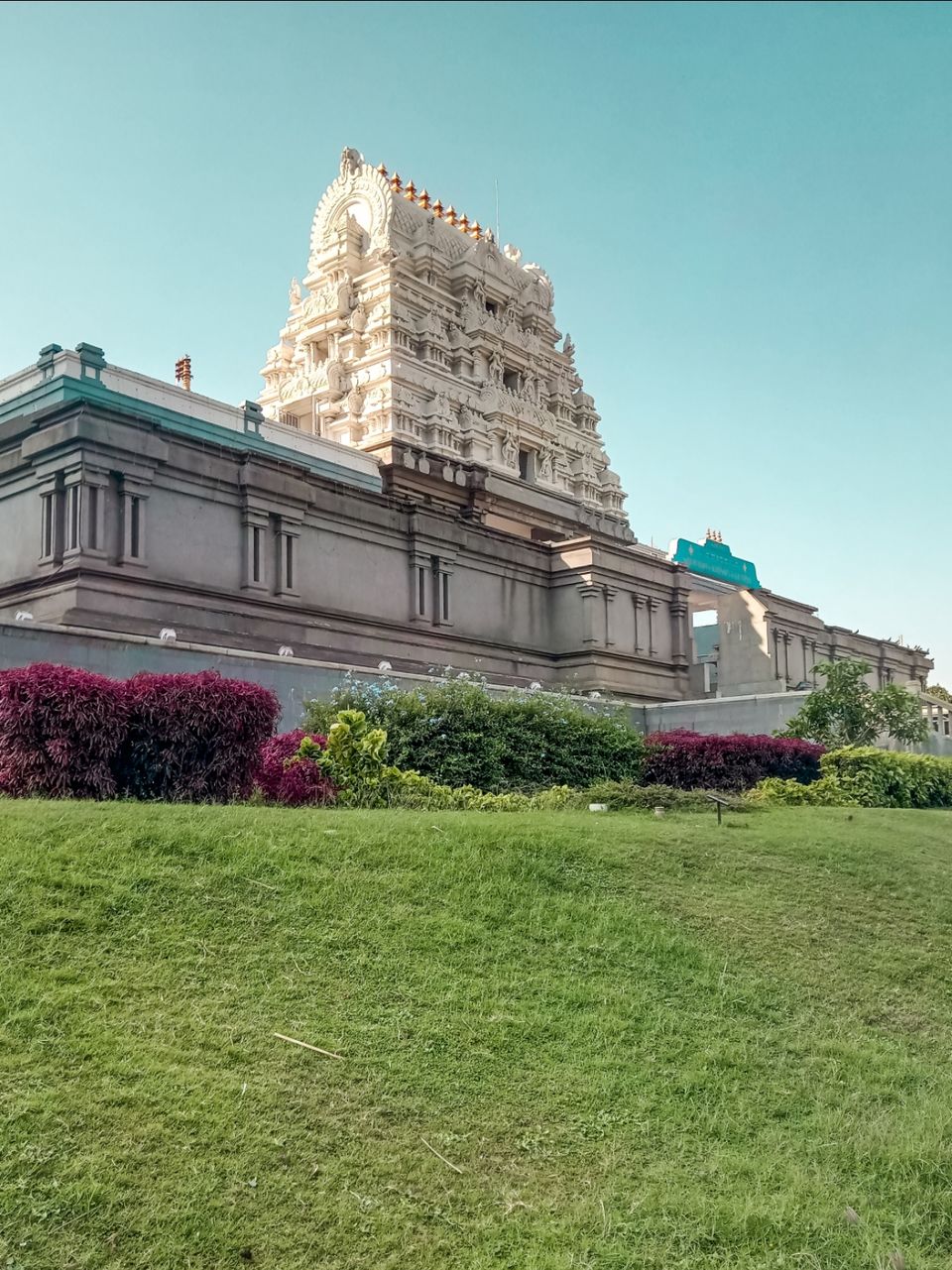 No matter how big or lavish malls and monuments a city has, temples of South India have a different charm altogether. The roughly cuboidal towers of temples engraved with brightly painted sculptures make amazing Dravidian masterpieces. The dominant colours of the temples are teal blue and yellow with hints of red and the smell of the flowers and bhogs are quite tempting.
ISKCON TEMPLE
It is one of the largest ISKCON temples of the world frequented by many devotees from across the country and the world. It is situated atop The Hare Krishna Hill and there are a number of stairs and a couple of small temples leading to the main temple of Radha Krishna. The main temple hall is quite big with a sparkling chandelier in the center of ceiling and the idols of the deities are gold plated and beautifully decorated with fresh flowers and ornaments. I couldn't resist myself from taking a photo although it was a no-photography zone.
The whole temple gives you a feeling of purity and freshness, special attributes to the fruity smell of the atmosphere. The exit way from the main temple leads you to a flourishing indoor market with shops selling spiritual books, merchandises like bags, pens, pencils,etc., vegan bakery and sweets and many other delicacies, essential oils, and many more. At the final exit from the temple hall, you'll be greeted and served with free khichdi bhogserved with leaf-bowls or donna (Khichdi is a popular Indian dish made with rice and pulses.)
SHREE DODDA GANAPATHI AND BIG BULL TEMPLE
These two temples are located adjacent to each other and many locals and tourists visit this temple with pure thoughts and wishes which are believed to be fulfilled by Lord Ganesha. The Big Bull Temple worships a big black bull, also known as Nandi. Spend sometime sitting on the rocky stairs basking under the winter sun.
Originally posted on my blog- https://theglobetrottersush.wordpress.com