I have been living Hostel and PG life from School till my job, my trips and stories with me friends its endless… I had more trips with my Girls rather than groups of guys or Mix.
For this trip we started early morning so we planned to go to Matura – Vrindavan first and on the way back to Agra.
Early morning 5 of us started in a small car. On the highway we had lunch in of the Dhaba's. In many of my trips I was about the miss my Buses, trains & flight here also as soon as we touched the highway the adventure started and out car's tyre got Punctured. Shouting on the driver wouldn't help because the highway was too hot and many cars' tires were bursting & this incident became a part of this story.
As soon as we reached Mathura, We found a hotel it was not pre booked this time. So 5 of us stayed in a Family room with extra bedding, it was a birthday of one of my friends and the main reason for this trip.
In Mathura you can find hotels easily, the one we stayed in wasn't too expensive.
The agenda was to cover Mathura, Vrindavan and Agra in two days Yeyee ….
Mathura:
One of the Biggest hub of Temples the birth place of Sri Krishan, The city has lot of significance in old Puranas and known for India's oldest & ancient temples . Every Year this city attracts lots of tourists and pilgrim...
Krishna Janma Bhoomi Mandir:
The Name itself has the explanation of this place , The walls of this temple is so amazing the moment you will touch the walls , you can feel the peace . This temple used to a prison, the stone is still there in the temple on which Sri Krishna was born. Going on Janmashtami is recommended in this temple. It looks beautiful with all the decoration of lights and flowers.
Jama Masjid:
Another example of History built in 16AD by Abd-un-nabi, this is located very near to Krishna Janma Bhoomi Mandir, and hence the entire tourist visits this place.
Dwarkadhish Temple:
Made of marbles, the structure in new as compare to other temples it's about 200 years old .Which has been made by the Devotees of Sri Krishna, Which has beautiful shrine of Krishna.
Radha Kund:
It is said that the kund is made by Sri Krishna itself when he slew a Big Bull on earth the pool was created. Water of this pool is considered as holy water which attracts thousands of Devotees every year.
Govardhan Hill: if you can take out sometime visit this hill which was lifted by Lord Krishna when lord Indre were angry and rained in the village. So this Hill gave them place to rest, it is said that Lord Krishna holds this hill on his little finger.
The holy town of Mathura in Uttar Pradesh is also famous for its special sweet dish called the 'Peda' and the city has been mentioned several times in the religious texts as one of the revered pilgrim sites for the Hindus. The above-mentioned places are a must visit as it provides the deep insight of the cultural and ancient historical relevance of Mathura.
Vrindavan
I was very keen to see Madhuban in Vrindavan where Sri Krishna and Radha used to Dance with all the Gopies , Vrindavan is another oldest city of UP , The places is famous because Sri Krishna spent most of his childhood and Teenage here . The place from here the love started between Radha & Krishna. A most visit place if you are on UP's belt.
The purity of love you can feel at every place of Vrindavan, It's full of Stories of Holi, Ras, dance, Romance everything.
Govind Dev Temple
India has diversity – Faith everywhere, There is something people believe in, There is something which keeps their heart with full of Hopes and Positivity. The shrine of this temple was brought from Jaipur –Maha Sawai raj Singh. Again the Temple has a beautiful idol of Sir Krishna with Flute and Radha by his side
Hare Rama Hare Krishna Temple-ISKCON Temple:
ISKCON Temples are placed almost in major cities of India, you will see foreigners dancing on Radhe Krishna songs, the idol of Radhe-Krishna looks beautiful with all the ornaments and Flower decoration .you will fall in love with the lobby the amazing chandelier and the surroundings.
Bankey Bihari Temple: if you are missing this temple would be a great loss. This temple was made by one of the Famous Music falcon Swami Haridas. The idol of Krishna is the oldest across UP. The Pujari of this temple always stands by the Idol and keep on shutting the curtain up and down, so that people can see the lord Krishan only once. There is a long story behind this.
6. Ranganathaji Temple:
Ranganath another name of Lord Shiva, A huge temple with fine architectural design and amazing complex you can see it from far.
Madhuban: on every trip you have your fav spot this was mine, have you heard of the song
" Madhuban Main Jo Kanhaiya Kisi Gopi Se Mile
Kabhi Muskaaye Kabhee Chhede Kabhee Baat Kare "
Meaning of this song is every day Krishan dances with Gopi's and Radha is jealous of that & the place where they dance is Madhuban. Its strongly believes that every night Radhe-Krishna and Gopies comes to this place and dance and they play Raas Lila in Madhuban.
This place is strictly prohibited at night; nobody dares to visit this place at night. It is also said that people who has seen them dancing have lost their eyesight. It's a huge Lush forest, Full of Tulsi.
The Taj Mahal
Love knows no limit, you cannot measure the deepness of love but Taj Mahal is just an alive example of love. The masterpiece, The Show piece of Mughal one of the 7th Wonders of the world _ The Taj Mahal, Was constructed by the architects for the beloved wife of Shah Jahan. Her body is in the Tomb of Taj Mahal only.
The complete white marble structure with excellent and impressive interiors and exteriors designs and naakashi's will make you fall in love with this place. You can't appreciate the work and the beauty of Taj enough until you witness the marvelous miracle by yourself.
Agra Fort
It's near to The Taj Mahal, which is again full of gardens and Halls with some tombs. Jahangir palace, Khas Palace and Diwan-i-khas is situated in the same place, adding this to your itinerary will not be a bad idea you can take a long walk of this fort and click some pictures as well.
Jama Masjid:
The settle mosque is full of artists-tic paintings and holy words from Quran. It too six year to build up this structure, Shah Jahan has chosen best of his architects to build this place which took almost 8 years of hard work and experience from across the community. There is no entry fee but you will have to pay for still camera. The Mosque has 4 towers in total and three ways to get in the mosque
Fatehpur Sikri
Personally designed by Akbar, Another beautiful master piece of History, Which was founded by Akbar, This place is full of Gardens, Harems, Neat and clean road and some emergency exit. The history of old era lies in these forts.
Sikandra Fort:
The beauty of this fort lies in the res stoned which seem never to lose the colour and becoming shinier and warm day by day. This has other small stops like Fort Akbar, Full of Gardens which we call charbagh with high walls and some well-planned Fountains .Throughout the year you can find out tourist crowd at this place.
Looking at the time and the main center of attraction we have covered the entire above mentioned place, before heading home it a ritual to buy gifts for your family and loved ones. So we decided to buy the famous Petha from the local market, you can find numerous variety of petha.
If you are coming from a cab driver will leave you in parking, if its afternoon time take a Tanga with a seating capacity of 6-7 or Opt for a camel ride.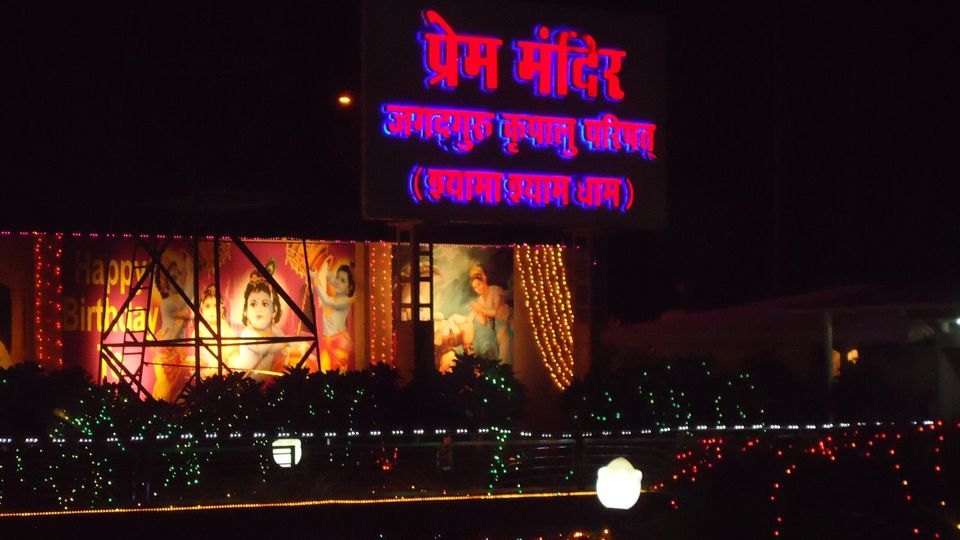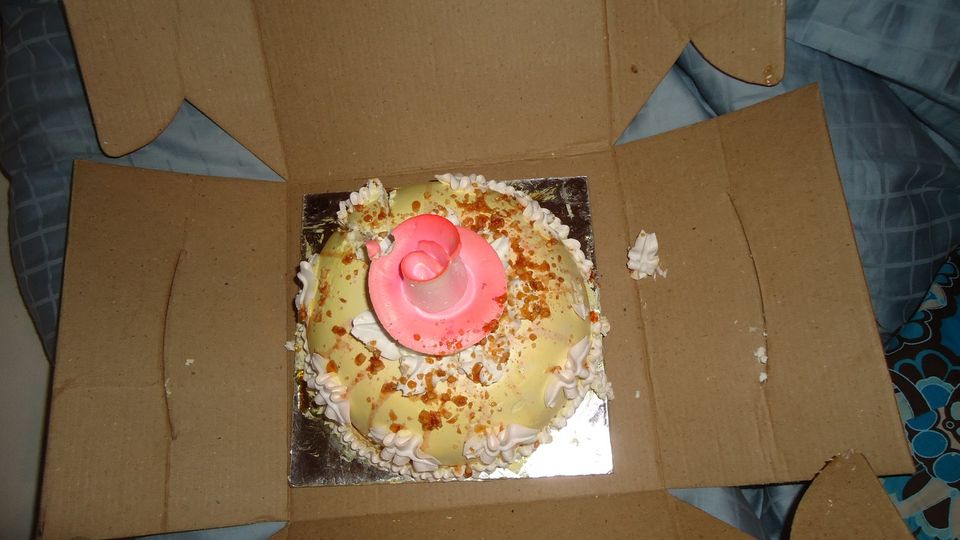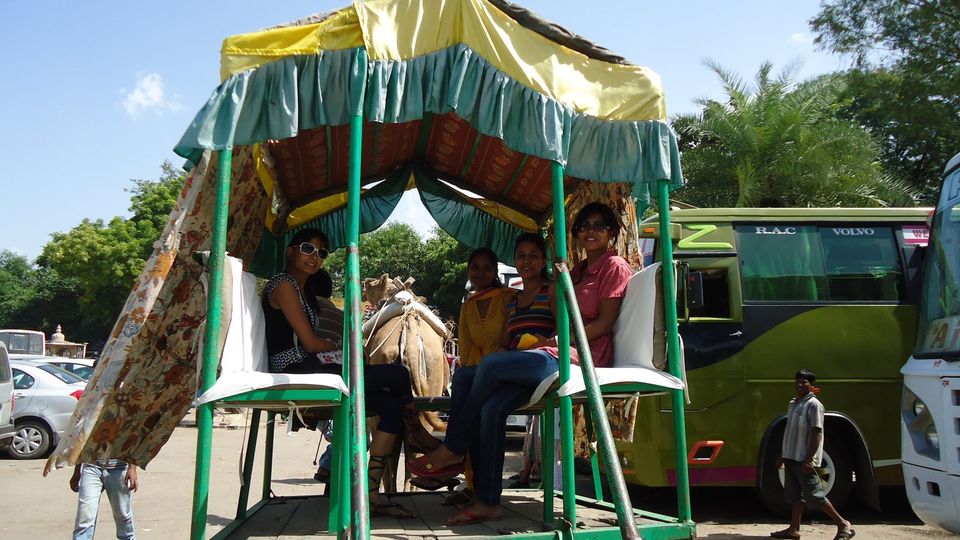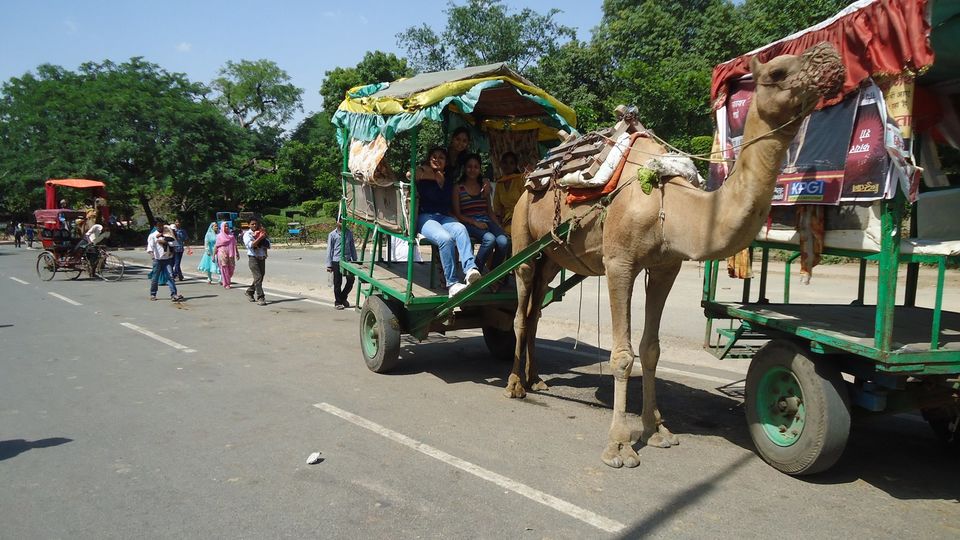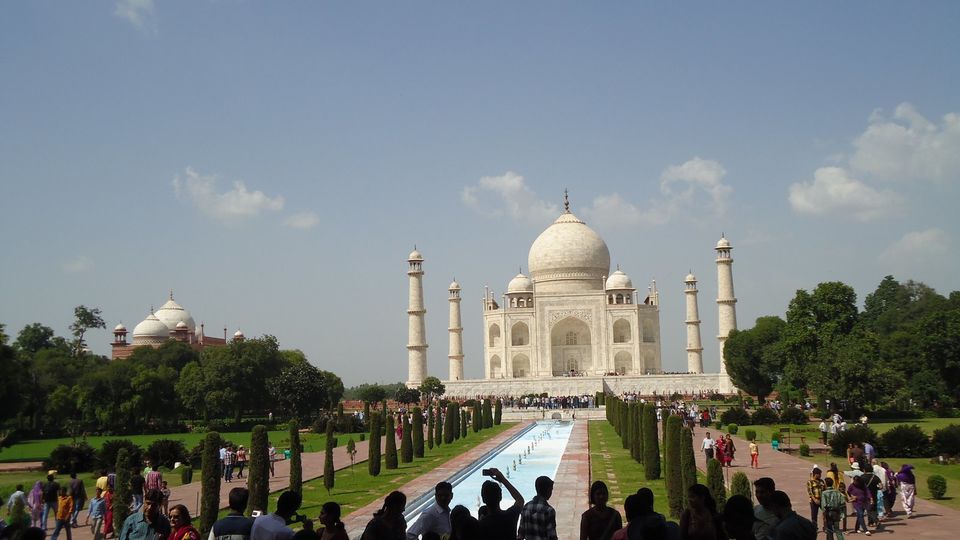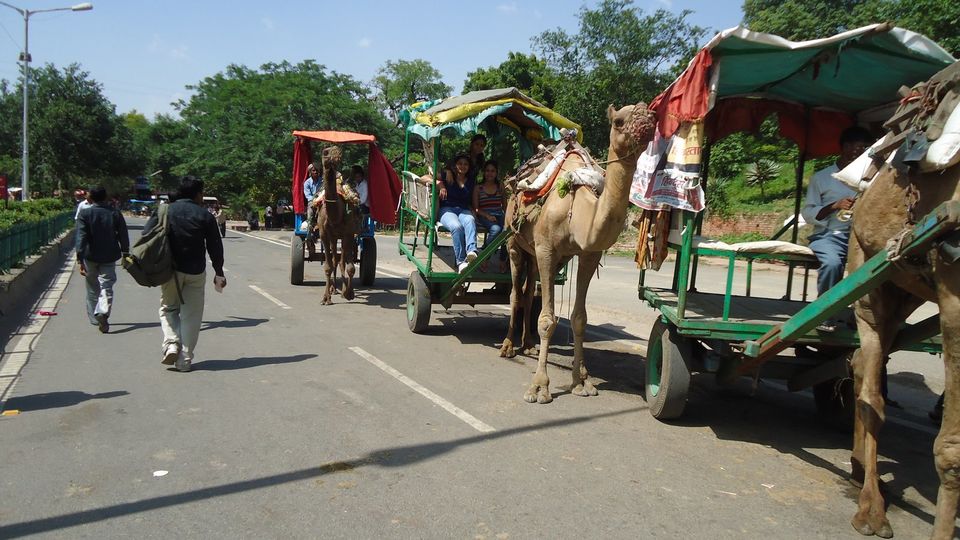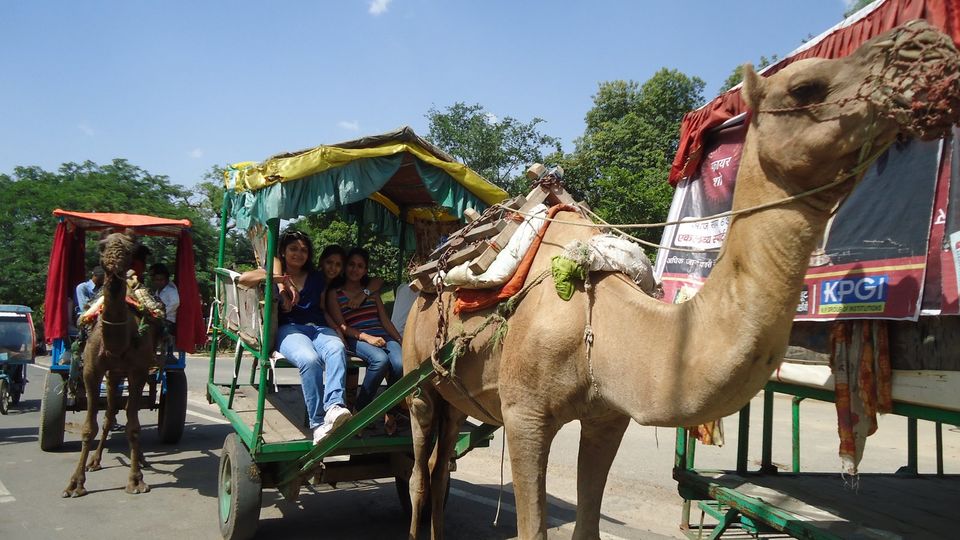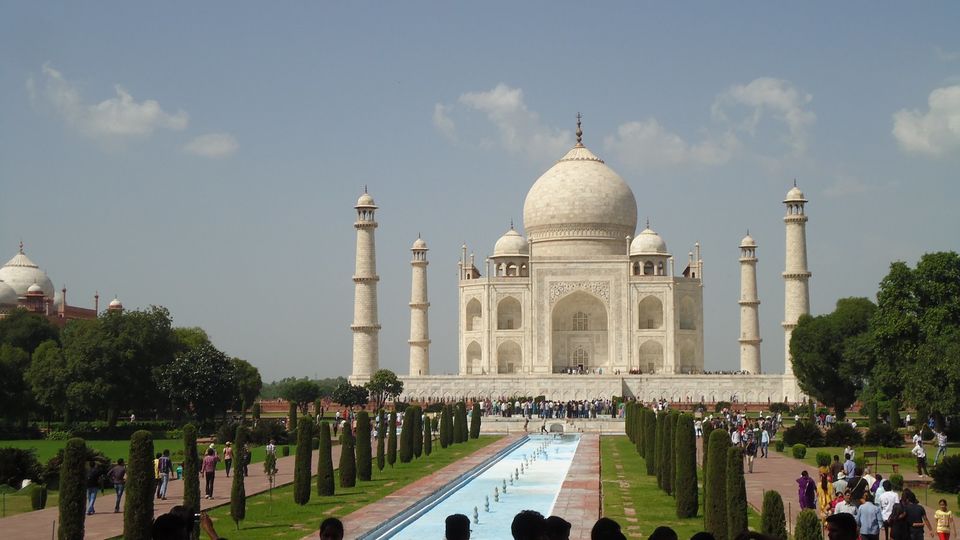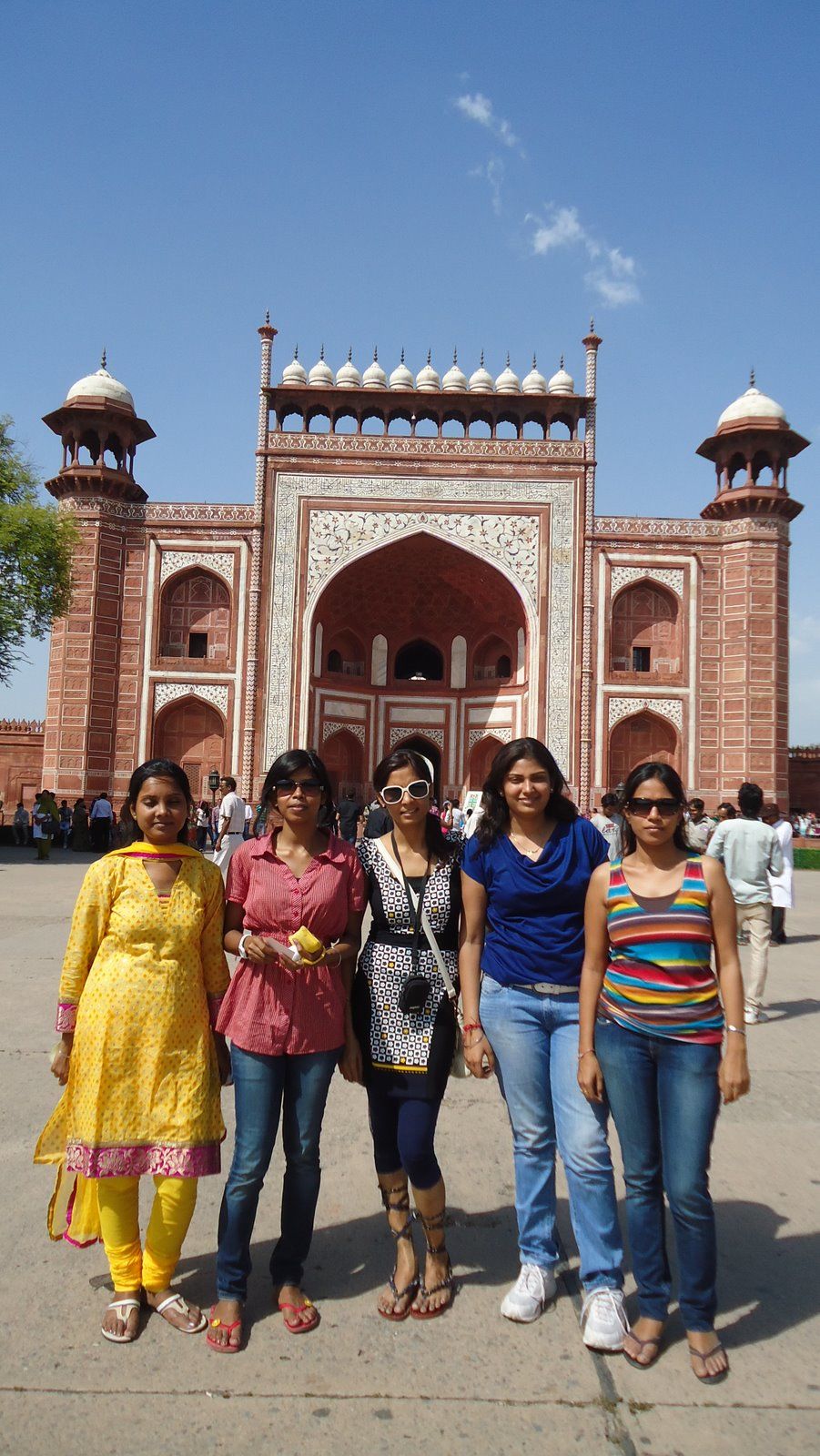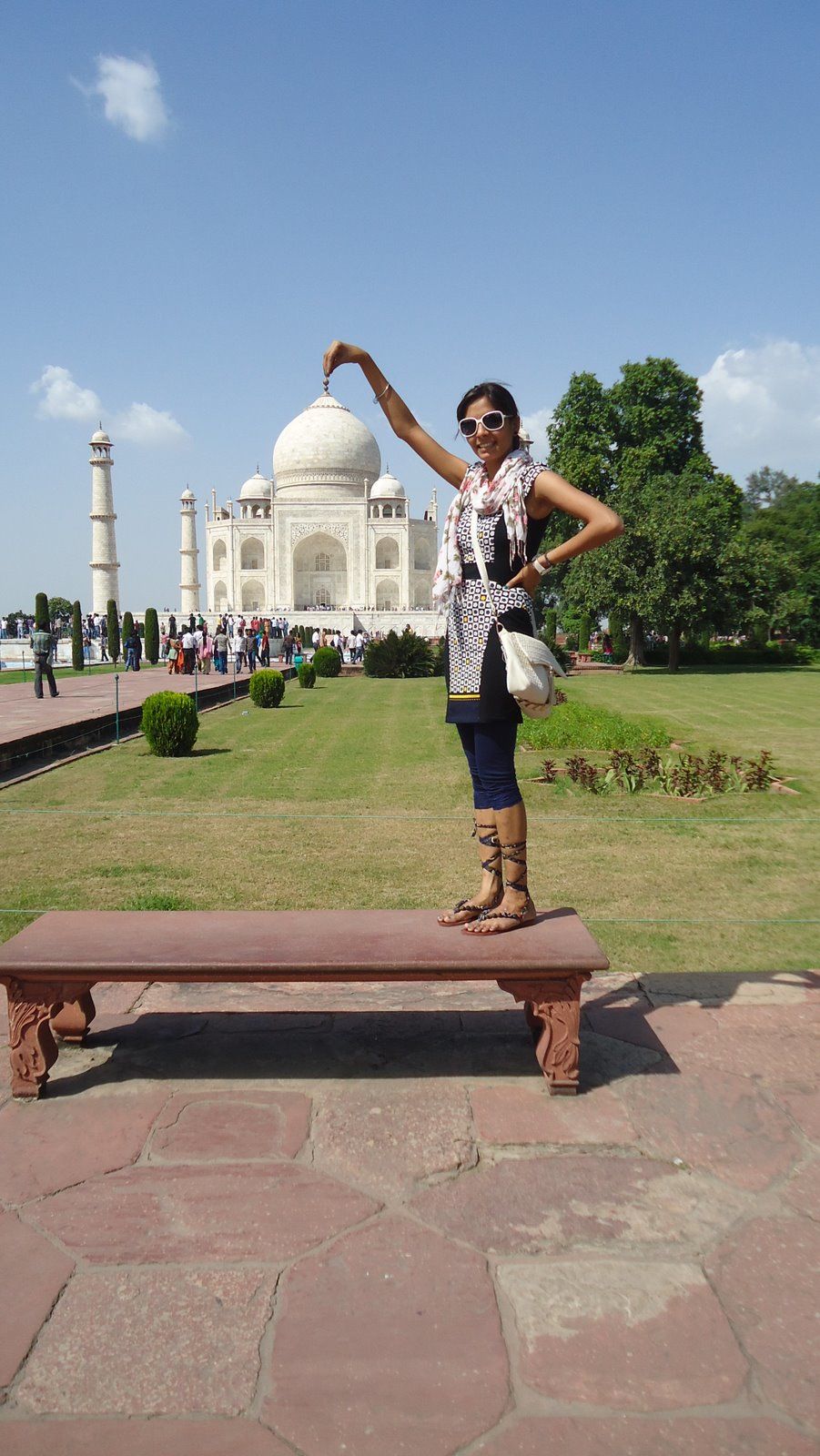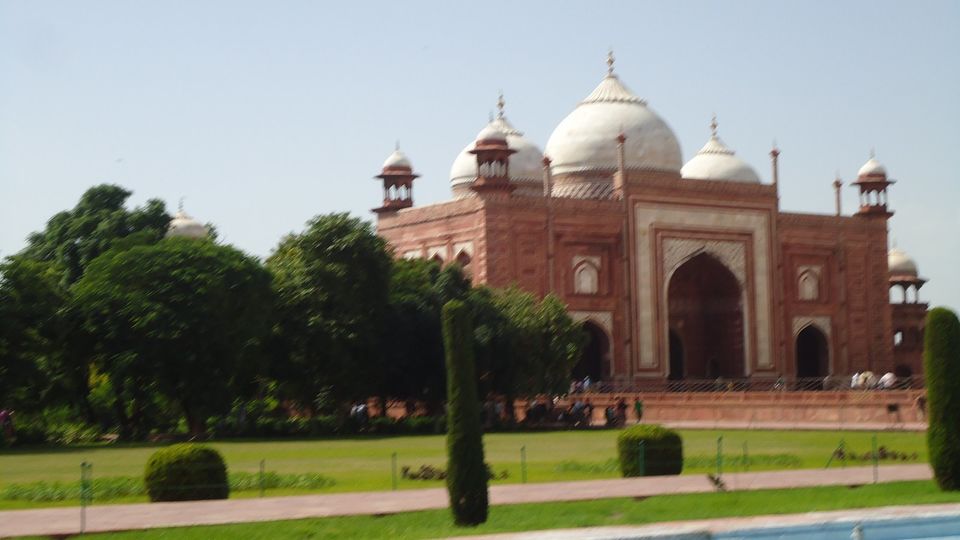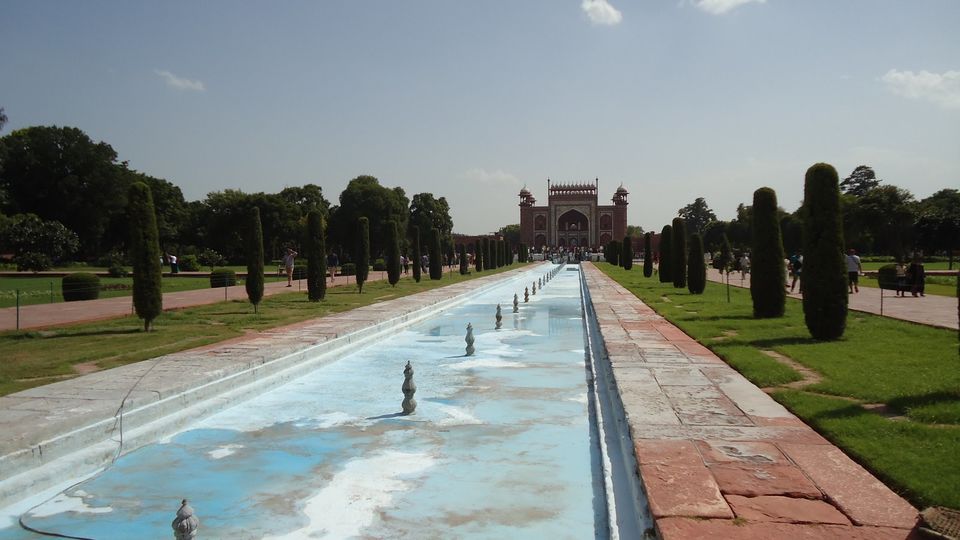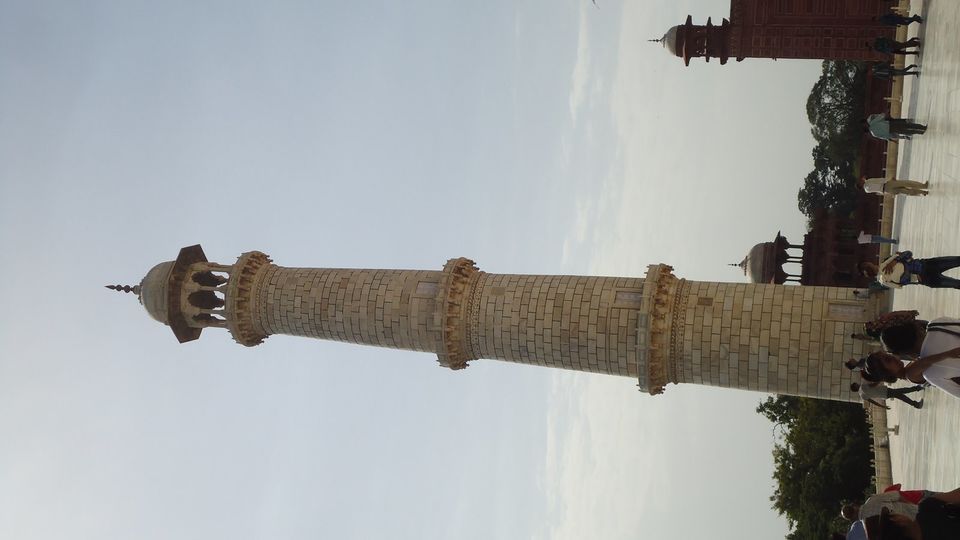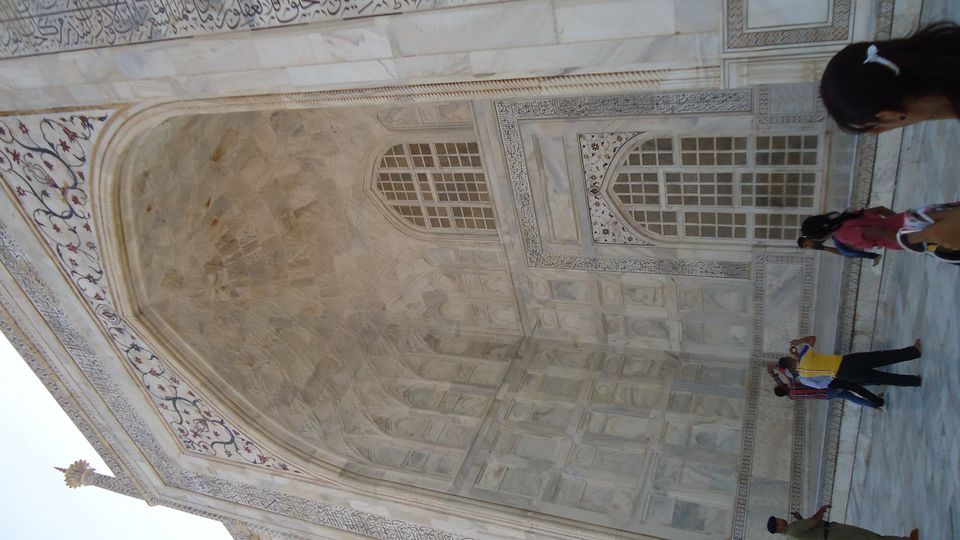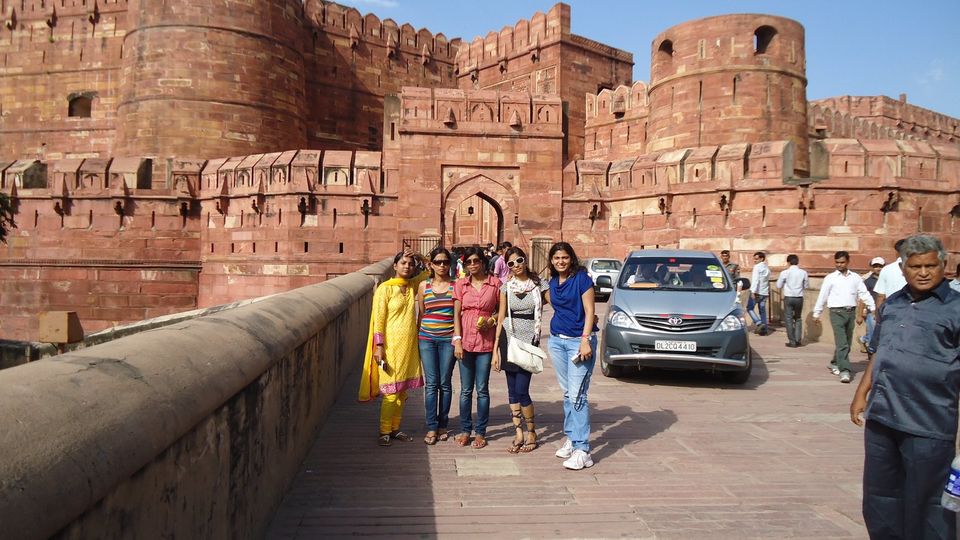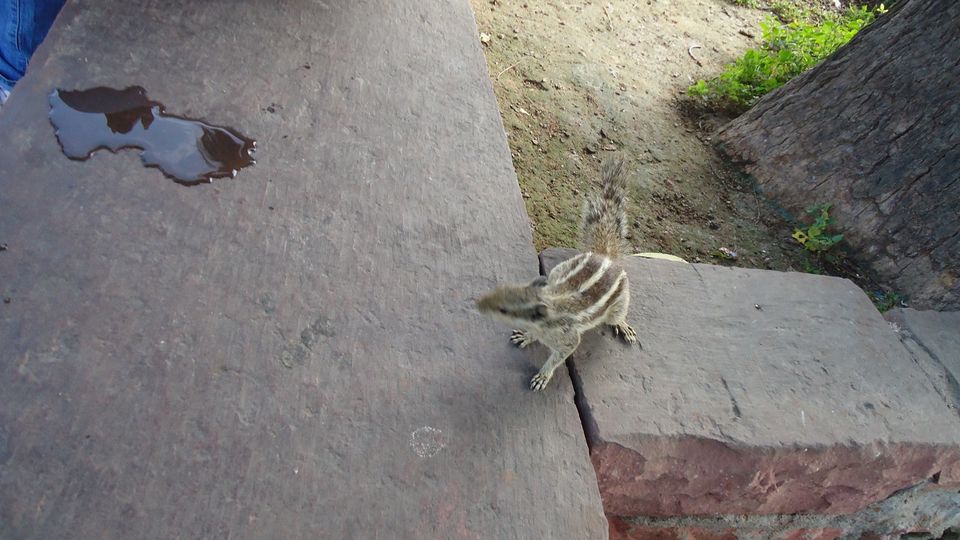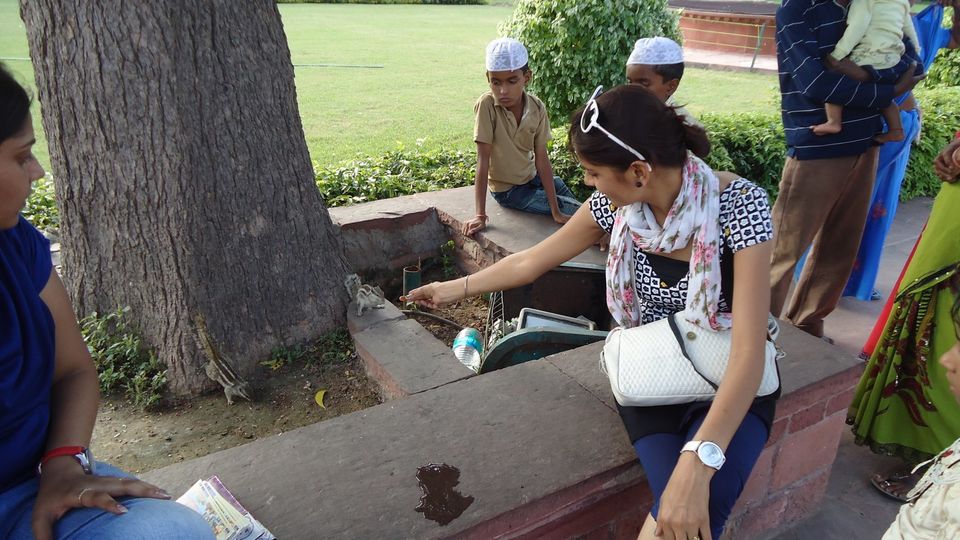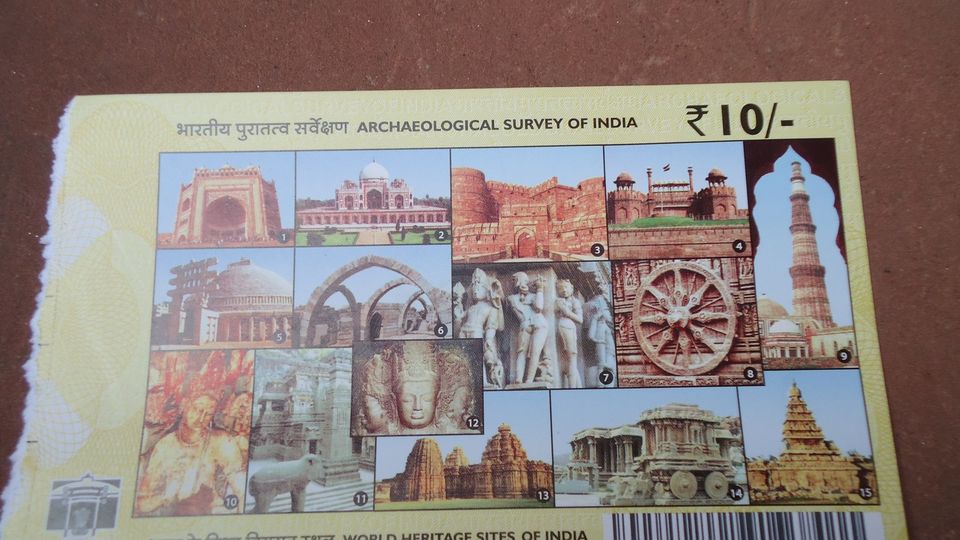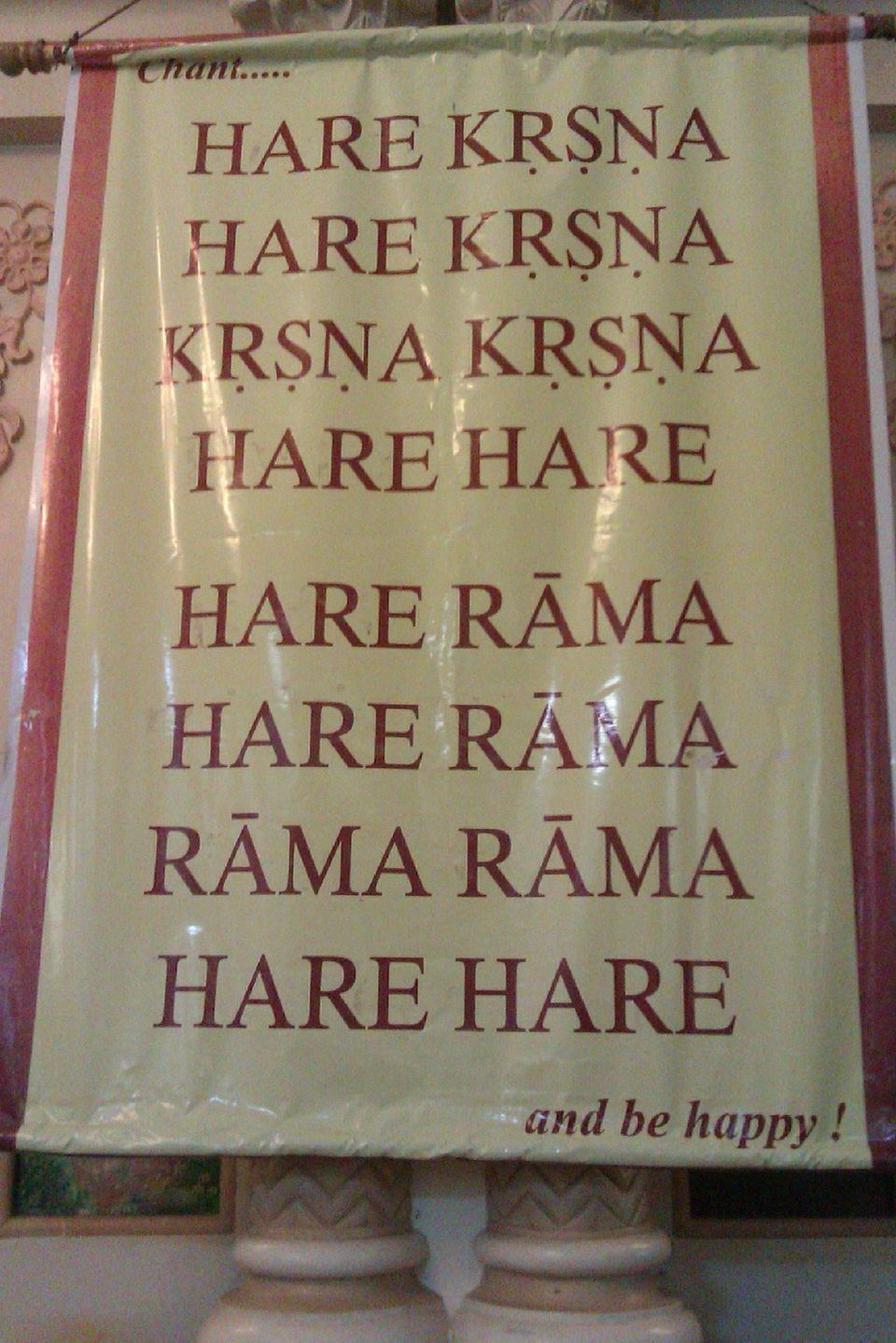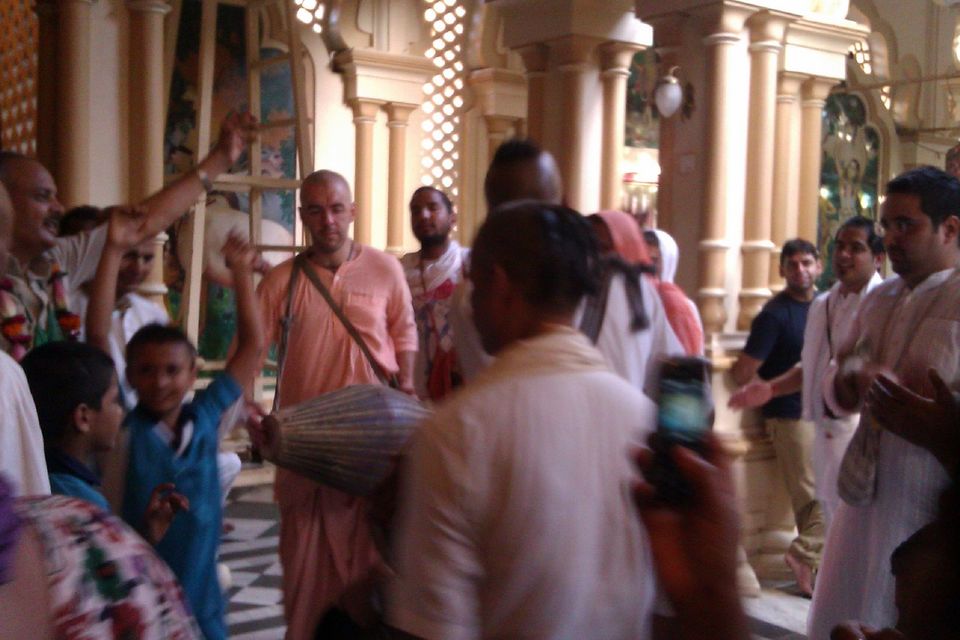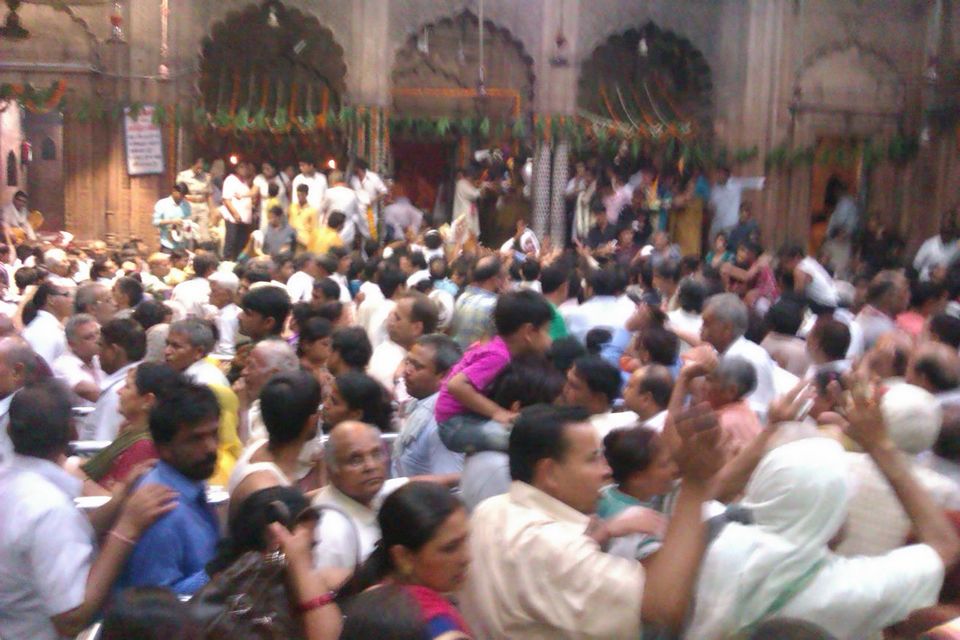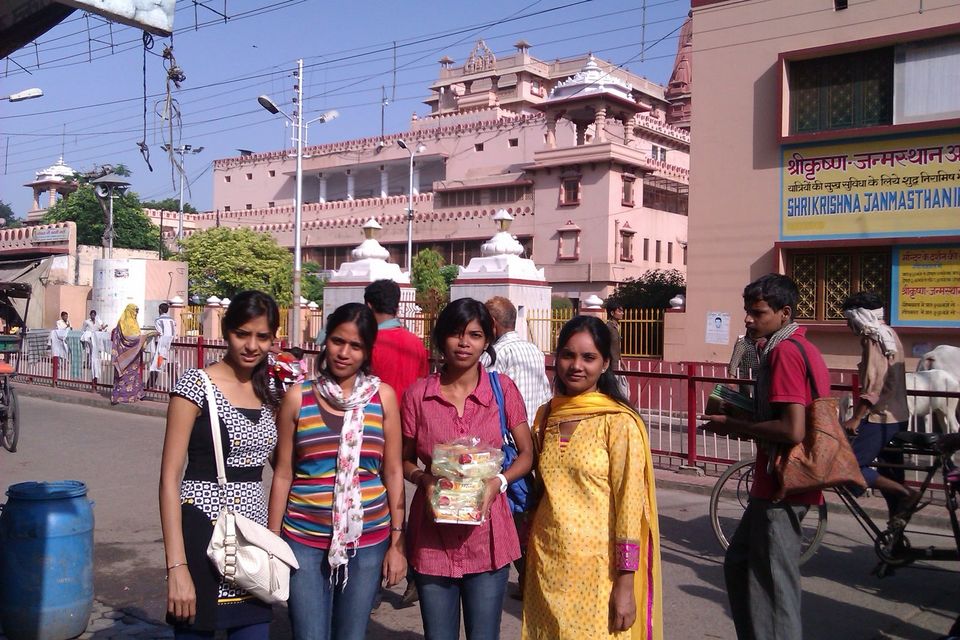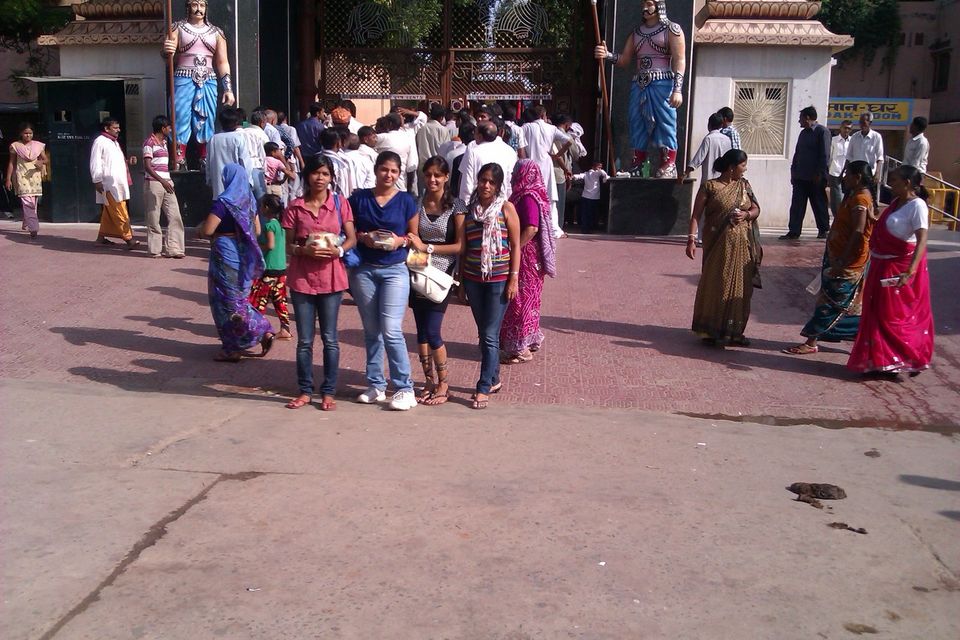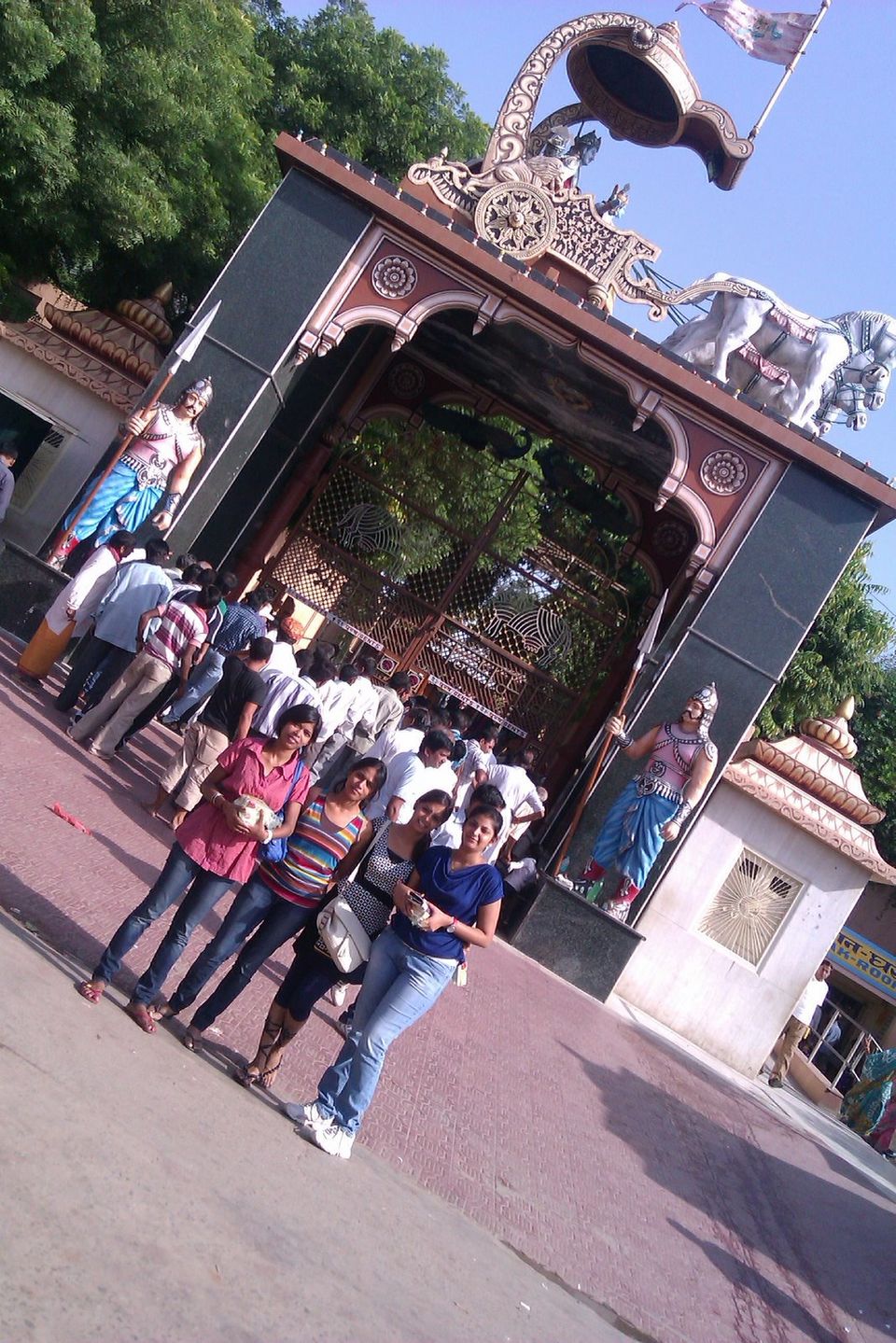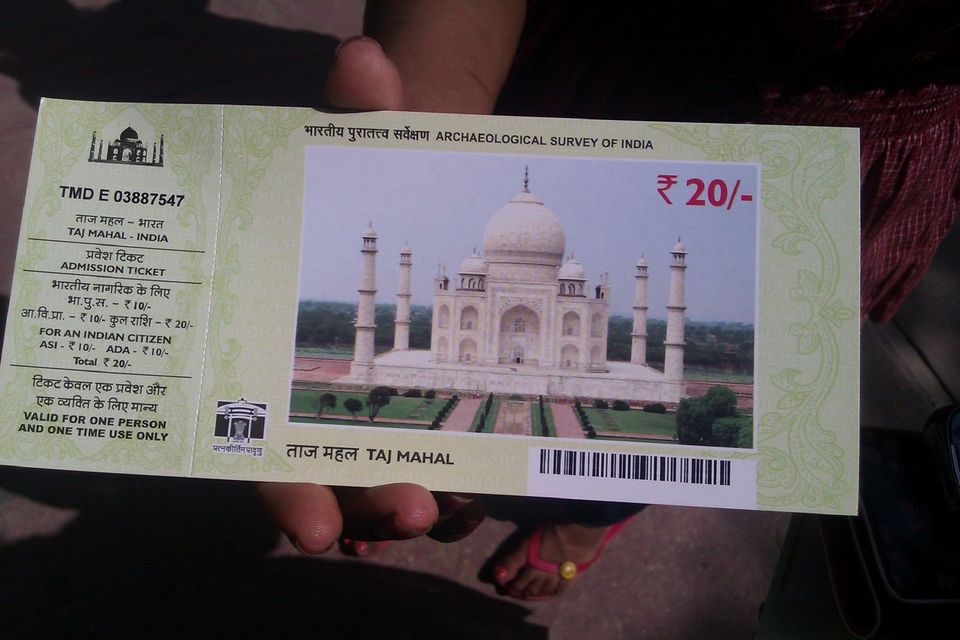 The market behind Taj Mahal is another place to by some monuments for your family and friends.
Here the trip ended and we were home with other stories…. Loved all the places we saw on this trip and yes I had gala time with me girls 