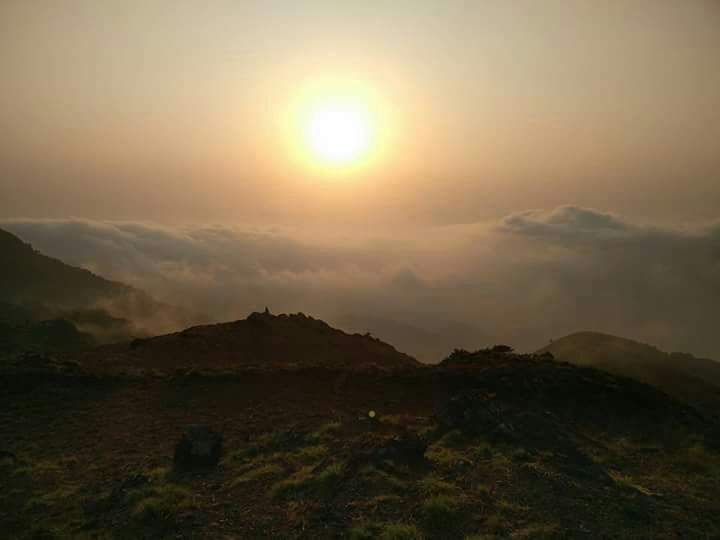 I grabbed my trekking bag and rushed straight from office and had an overnight bus ride to the foothills of Kodachadri.
We reached the homestay, changed my work clothes, ate light and headed out. It was my second trek and was really looking forward to it. There was a stream of waterfall to greet us and from there forests. The vegetation was beyond expectation. Right after the forest came yellow grass and paddy. From that to a mindblowing Hidlemanu waterfall again!!! Had to have a dip in it. The chilled water straight on me was so soothing. It had a small pocket in between behind the waterfall where I sat for a while.
Changed clothes (had two people hold up towels to avoid peekaboo ;) ) headed out to forests again. Mountain after mountain before reaching the shrine of Sri Shankaracharya which was at the tip of Kodachandri. There was one hill which had an angle of 45 degree and was the toughest for me. Gasping for breathe I did that too.
Laid flat on the ground pleading my outdoor leader but he dint let me give up (I'm eternally thankful to him for that). Headed to another mountain (Yeup, we aint there yet).
Off we went to the most rugged terrain which was more of a half cut road (there were jeeps taking pilgrims to the shrine half way).
We finally reached a temple at the foot of the hill and I thought phew! finally (though wasnt awestruck). That's when he said it's not over yet and the best is yet to come!!!! Yes this is it! I was at the foot of it and Sri Shankaracharya's shrine was at the top.
Walking walking slowly the temperature started dropping. Started getting cold a bit. The beauty was beyond explanation. Serene. I could literally see the clouds.
A gush of wind got the clouds right to me and oh boy! #touchtheclouds-check. Checked it off my bucket list :)
Now I knew why Sri Shankaracharya came all the way till here for prayers. It was so peaceful and serene and beautiful.
Sat till the beautiful sunset,made me realise its been a while since I have seen the sunset.
Day 2 We headed to the Nagara fort and from there back to Bangalore. Nagara fort had an old world charm and architecture.
This was truely a memorable trip that wouldnt be forgotten. Ever. #bitbythetravelbug