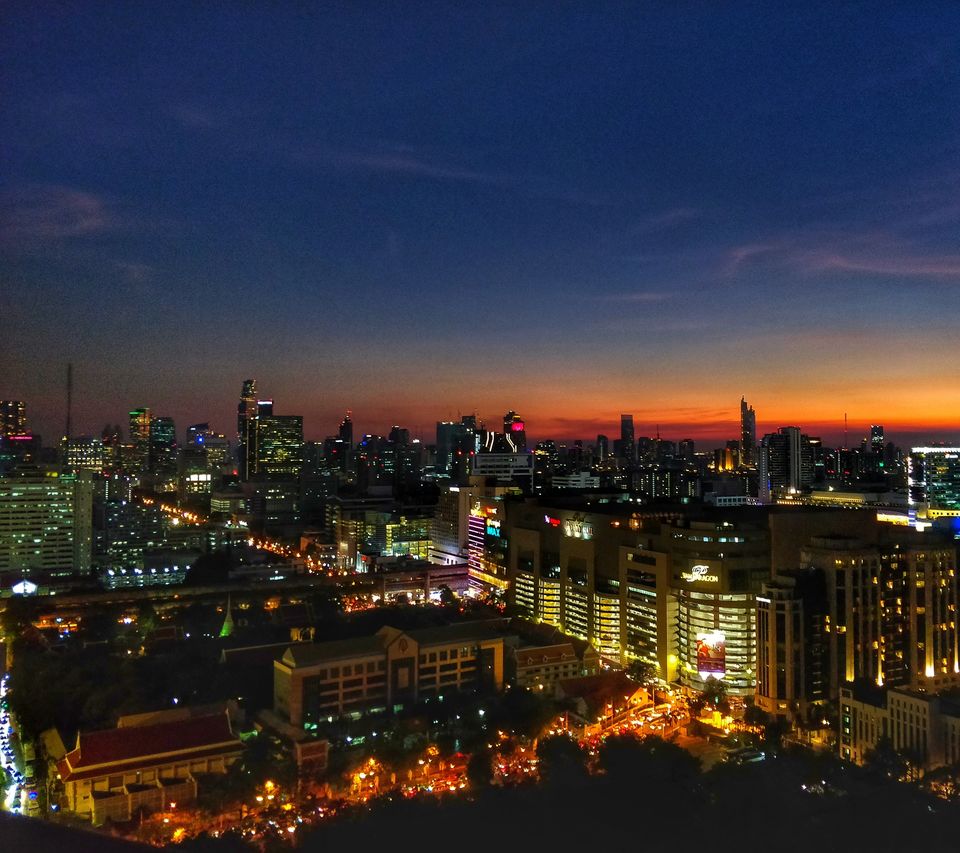 According to MasterCard's annual "Global Destination Cities" rankings, Bangkok is one of the top tourist destination in the world with 20.05 million population visiting the country every year.
Good research while visiting such a loaded place is important for things to run smoothly, amongst which transportation can be a major muddle.
Here are some tips you should remember while travelling around Bangkok through different modes of transport and get to your destination smoothly.

TUK TUK's

"Tuk Tuks" or "Sam lor", which is an auto rickshaw, is everyone's favorite way of getting around in Bangkok. Therefore, if it is your first time, then travelling in a "Tuk Tuk" could be a great experience and adventure too.
However, the fares of this adventure ride may vary depending on the time, distance, traffic and precisely the mood of the driver. Mostly for tourists the bar is always high. Small distances can cost you 30 baht.
In peak hours, chances of high fares are more, at the cost of huge traffics and consuming a lot of your time. Also, beware of the "bluffers" around you. Incidents about people telling you about a "secret shopping place" or "city tours" and bluffing people were reported. So, just be safe, ignore such stuffs, and do not be bluffed.
LOCAL TAXI
Local taxis can also be a convenient way to get around Bangkok. Insist the cab drivers to go on meter.
In local taxis or even if you book a cab online the toll fees are not included in the fare, it is borne by you completely.
Tolls are usually applicable if you are crossing an expressway. For example, while travelling from airport to downtown leads via expressway. So make sure you keep the toll fare ready in cash. Around a total of 75 THB is the toll while coming from the airport to metropolis. Avoid travelling by cabs in peak times (7.00am to 10.00am or 4.00pm to 8.00pm) as the traffic is worst during this time in Bangkok.
GRAB TAXI/ BIKE
Just install the App, register with cash mode, and roam around the entire city with proper fares and safety.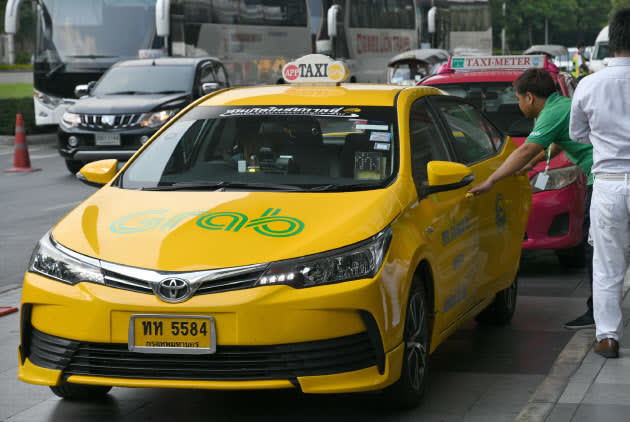 Again, Avoid travelling by cabs in peak times (7.00am to 10.00am or 4.00pm to 8.00pm) as this can end up sticking at one place for hours.
Bike taxis are best for single person as it is cheap. It overtakes traffic and saves a lot of time. There are offline bike taxis too, you can see drivers with bikes taxis waiting at the corner of roads.
Small group of people / friends travelling can probably book a bike taxi individually and meet to their common destination as an alternative to avoid traffic.
BTS/MRT
One of the finest way to travel are the Trains, which can be a great time saver. Bangkok has one of the best connectivity when it comes to Bangkok Sky train (aka BTS) and Subway or Underground Train (aka MRT.) Install the Bangkok app, where you can understand the connectivity of BTS and MRT.
Some important points: - Try to avoid rush hours 7-9 am and 5-6pm. - There are no restrooms at BTS / MRT.
BUSES
One of the cheapest mode of transport in Bangkok are the buses with fares starting from 2.5 baht to 25 bath maximum from one point of the town to another. In addition, these buses go almost everywhere in Bangkok.
I would suggest if you truly want to experience these buses and travel around, just do these steps, and follow one of the greatest tool i.e. the "Google maps".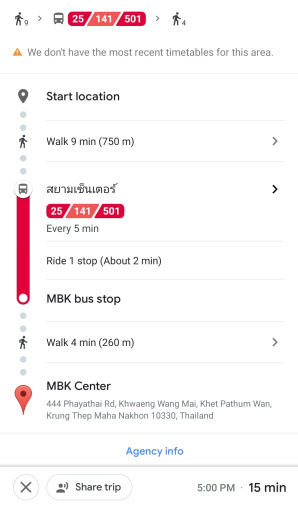 Open you google maps and just enter the destination.

Walk towards the bus stop

Get on the bus number and the color of the bus as shown on the app. Get the ticket for the "stop name" shown on the map or simply ask the conductor.
Get down at your stop Walk to the destination along in the direction shown by maps.
These are some really interesting and cool tips you should know before travelling around and exploring Bangkok. So just relax and travel like a Pro.
Be Safe and enjoy your Journey.
Please comment if you have any questions or if you want to know about something. I will get back to you on those.