This is our second trip to Bangkok. The previous being a few years back. Bangkok has always been a favourite international destination inspite of us having traveled to many countries. Since we travel on our own ( no tourist packages for us please ), use the local transport and eat local food imbibing the local feel of a place is easy plus it helps us understand the country and its people.
Thailand is another Southeast Asian country sharing its borders with Cambodia,Malaysia ,Laos & Myanmar. It is famous for its beaches, food and nightlife. The climate is tropical with high humidity. It is cooler in the months from November to February.Shopping is very cheap and bargaining is acceptable.
Currency of Thailand is the Thai Baht. When we had been there the conversion rate was 1 THB equals to 2 INR. Language spoken is Thai though most of the locals speak English
Bangkok the capital of Thailand is famous for its Malls selling electronic gadgets, street food and fine dining restaurants(the options are many), cruises, Floating Markets & the famous Thai massage . It is best explored taking a stroll through the lanes ,using the local transport and experimenting with the street food which is available in every nook . and corner.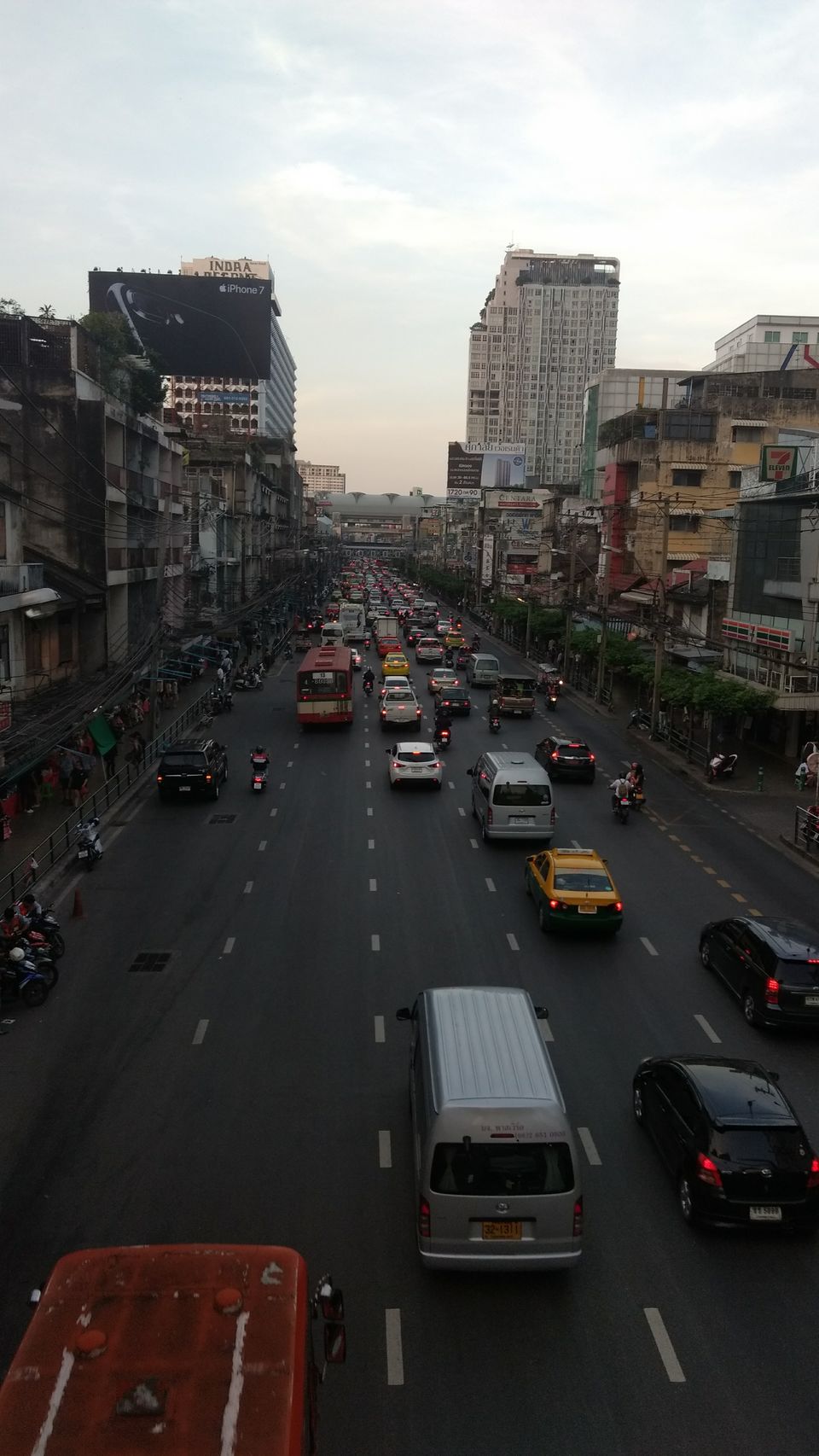 Bangkok City
Food Travails : Thailand is a famous foodie haven . Khao Pad (Fried Rice), Pad Thai (Thai style Fried Noodles), Som Tum (Spicy Green Papaya Salad), Gaeng Daeng ( Thai Red Curry)are just a few famous and delicious dishes to mention. In Bangkok, for the adventurous foodie ,there are food items sold on roadside stalls/ carts like Chicken feet soup,Fried insects and bugs/scorpion,dishes of red ant and its eggs, grilled snakehead fish & the Durian fruit which has a strong smell. But since we were not so adventurous we stuck to the tried and tested dishes though we did try out a lot of street food like soup, Chicken/ pork on skewers etc. There are a number of Indian restaurants in Thailand so if you need to stick to comfort food ,there are many options available. There are a few vegetarian restaurants too.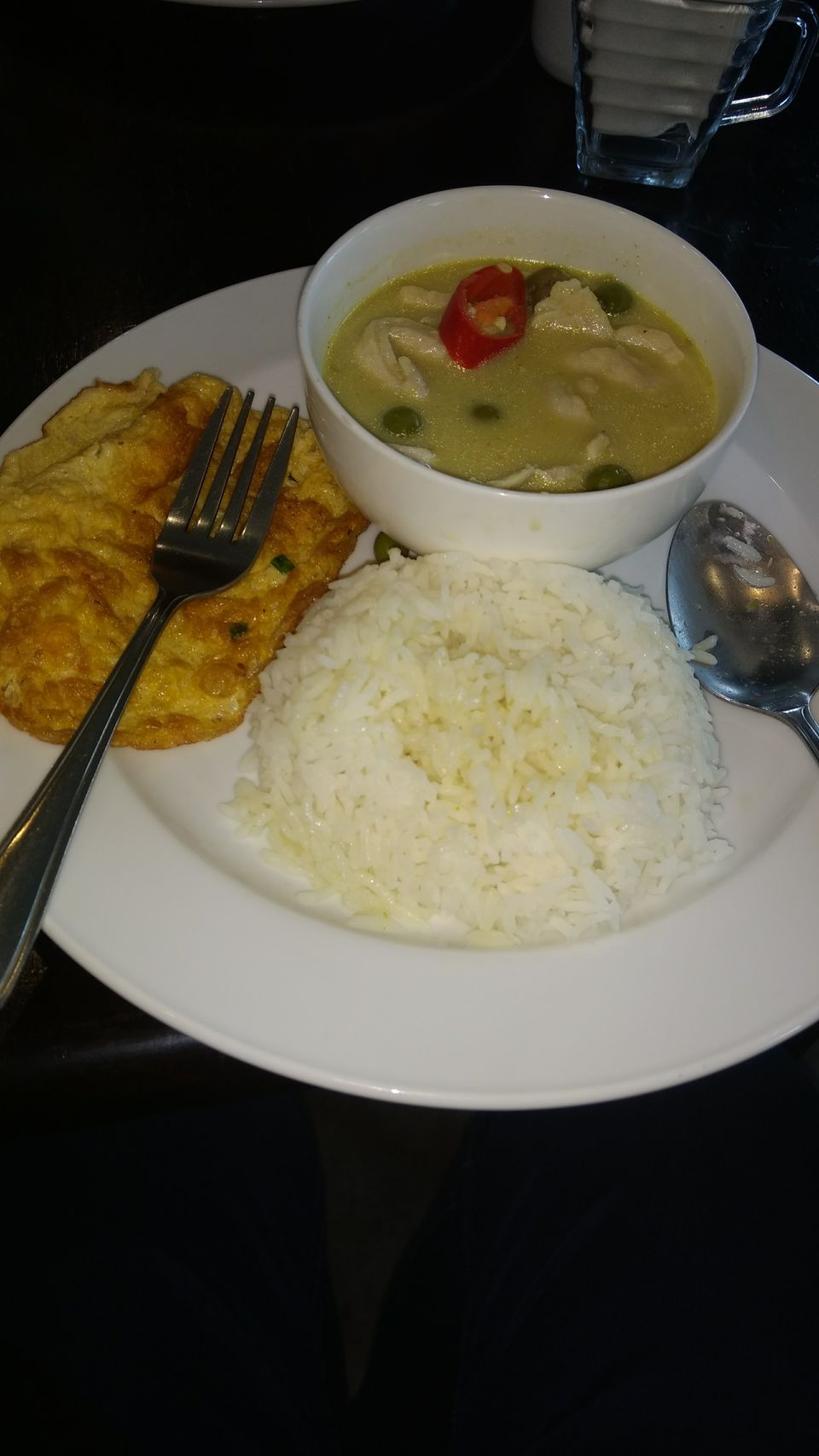 Comforting Thai food -Jasmine Rice with Thai Curry
Travel : There are many cheap and easy modes of transport in Bangkok mainly the tuk tuk (Our Rickshaws), trains , buses and the river taxis ,ferries which take you around parts of Bangkok and the nearby places near it. We normally used to travel by Tuk Tuk or by local train . If you plan to travel by Tuk Tuk it is advisable to haggle for the commute rates since they sometimes charge exorbitant rates for tourists.
Train travel is fun, cheap and more convenient since we can avoid the traffic blocks which we encounter if we go by road. There are proper signboards at the railway platform plus in case of any problem there are booths to guide the tourists who plan to travel by train.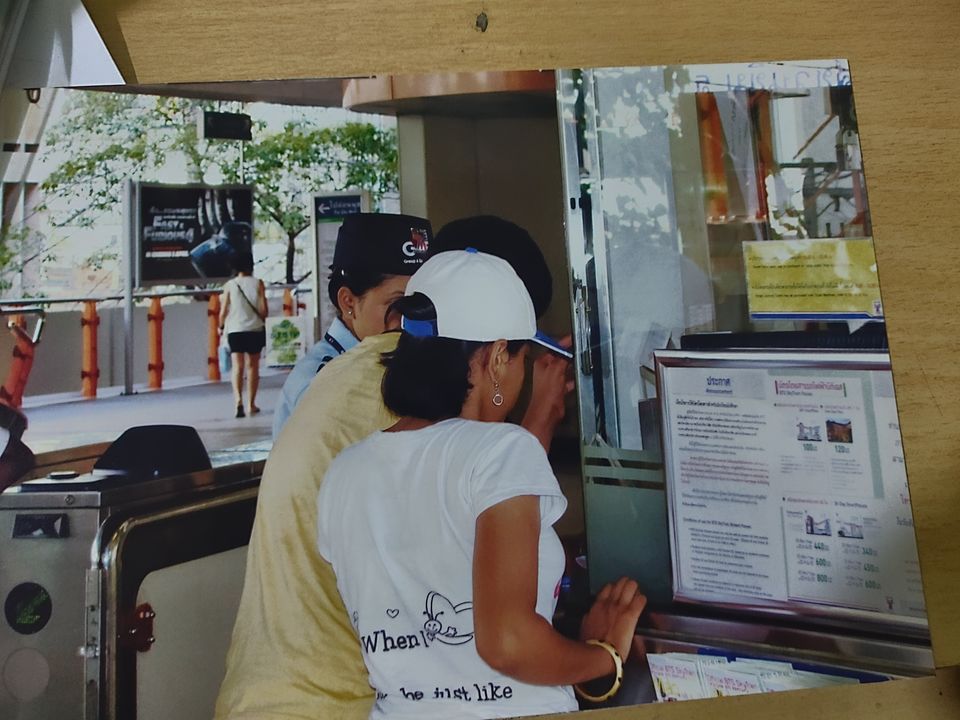 Easy & user friendly ticketing booths at the Railway station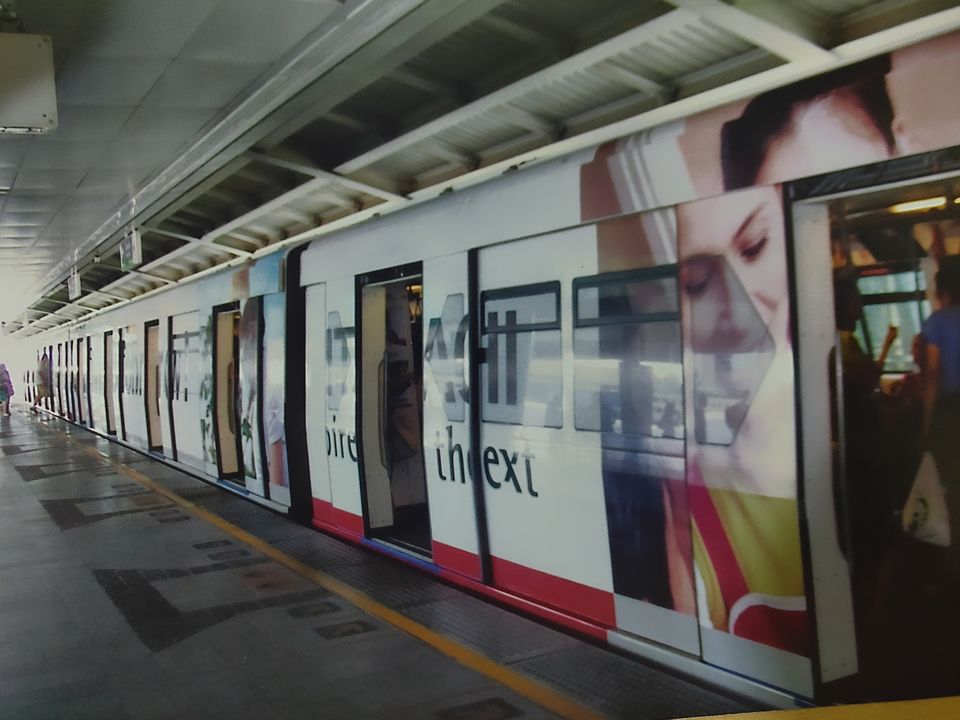 A scene during Thai peak hours. Very disciplined crowd
We also travelled by the river taxis which run up and down the Chao Phraya River. Apart from train travel there are express boats, river taxis or ferries across the river to reach various tourist destinations like Wat Arun,Wat Pho & Grand Palace. Officegoers also use this mode of transport to escape the road traffic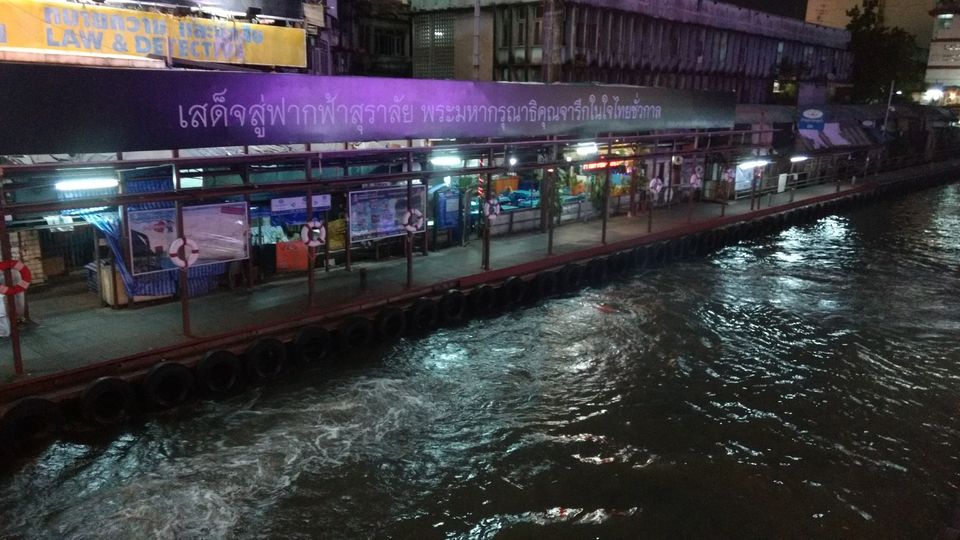 Office goers waiting for the river taxi
†††The road traffic is bad especially during peak hours . Long serpentine queues at traffic signals make commute difficult. So it is advisable to use the public transport during peak hours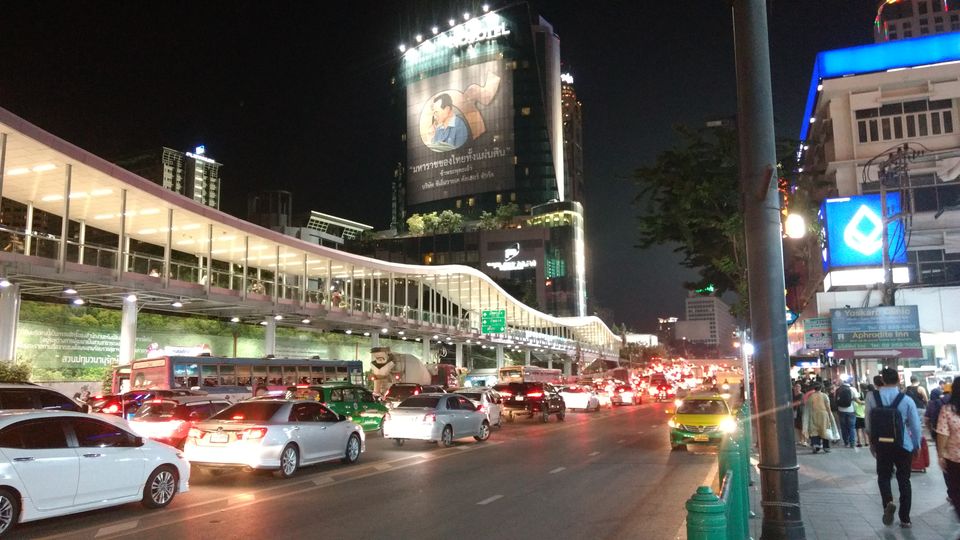 Streets of Bangkok in the evening
After a brief review on Bangkok, let's me continue with the trip details wherein after a satisfying stay at Pattaya, our next stop was Bangkok . The drive from Pattaya to Bangkok by road is 2 hours .
We checked-in at our Hotel in the Pratunam area of Bangkok which is in the heart of the city. After keeping our luggage in the rooms, we proceeded to explore the surrounding area and what could have been better than visiting the Pratunam Market which was the closest market in that area and a 10 minute walk from the hotel.
Since Shopping is a very dear and integral part of my travels and I bet of a majority beautiful girls and ladies too,and the blog being on Bangkok which is a shopper's paradise I have written a separate blog on the main shopping areas of Bangkok.
So stay tuned in for the next blog on Shopping and the sightseeing places in Bangkok
Hi, I am Vidya Rao ,Was working in a bank for 24 years and happily quit to discover myself . With a partner who equally loves travelling and two supportive children who encourage me to travel, I am discovering how fascinating the world is. The travel bucket list is long , ticking off a destination along with a stamp on my passport gives me a thrill beyond compare. I love travelling to places with a lot of history , heritage and natural beauty . Being a total foodie ready to experiment with any food , tasting the local cuisine of the place is an bonus. Not a fan of tourist packages, I love exploring the place I am visiting, interacting with the locals and eating the local food . 'When in Rome,Do as the Romans do' is a motto I judiciously follow I have travelled to many international destinations like Vietnam, Cambodia,Thailand Dubai Tanzania ,Parts of Italy, Austria, Switzerland, Amsterdam, Brussels ,France , Singapore ,Malaysia and have covered almost all parts of India right from Kashmir,Ladakh to Kanyakumari and North East to Rajasthan I believe travel broadens your outlook, gives you information no Geography or History textbook can ever teach you and most importantly gives you memorable moments to last a lifetime I am writing this blog with the intention of encouraging people to come out of their comfort zone and explore this extremely beautiful world View all posts by libranv69gmailcom