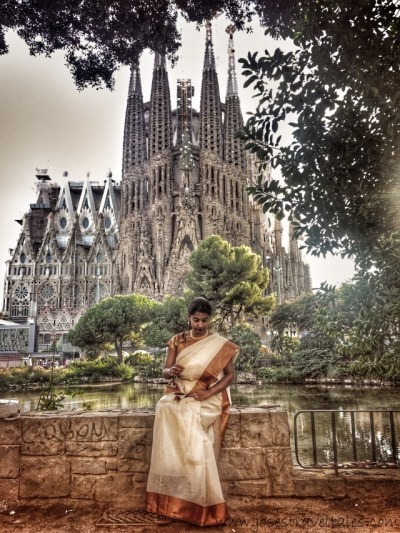 Barcelona - One of Europe's most frequented cities has a lot to offer to anyone visiting it. Its a city that has amazing food,strong culture and a crazy nightlife. There are a zillion things to do in Barcelona and one can never get bored in this mediterranean city. What we love the most about Barcelona is that the people are extremely warm and welcoming. Once you make a trip, it is very difficult to bid farewell to this place. So if you have been making plans to visit the popular and vibrant Capital of Catalonia, then this post is for you. In this article, we would like to give you our recommendations on the top 10 things to do in Barcelona, what to eat and some fun activities to try out while you are in this city.
So Here are our recommendations on the top things to do in Barcelona
Try a Free Walking tour
We have talked about this several times on our blog and once again we repeat it. The best way to explore Barcelona is by foot. The city bursts with art and architecture and it is definitely worth taking a tour with Runner Bean Tours. We highly recommend this particular company because we have tried walking tours by other companies in the past, but no tour stood out like Runner Bean Tours. They have several kinds of Tours, so you surely have a lot of options to choose from. We have recommend them to our friends and family who visited Barcelona in the past and every single one of them loved it. The walking tour is very informative and the guide takes you to the most popular places in Barcelona. You must check out their page and try one of the Free Walking Tours Barcelona You can read about our experience with Runner Bean Tour HERE
Visit the Main Barcelona Attractions
If you are wondering that you would have covered all the touristic attractions in Barcelona while you do the walking tour, then you are wrong. Since the walking tour is only for 2.5 hours, it is highly impossible for the tour company to show you all the places that you ought to see. However, they always give you recommendations on what more you can see once the tour is finished. Places we highly suggest you add to your itinerary are -Park Guell reviewed here, Magic Fountain in Montjuic , Monteserrat, Tibidabo mountain, Arc de Triomf, Casa Vicens, Palau de la Musica Catalana etc. To see it all, we suggest you stay in the city for a good 3-4 days atleast.
Explore Sagrada Familia
We are at a loss of words when asked to describe this stunning church ! You will get to see the Sagrada Familia from the outside while you do the walking tour but we recommend you also do an indoor tour to experience Antonio Gaudis architectural brilliance. It is one of the most inspiring and iconic buildings in Spain and you have to get inside to see the beauty the Catalan architect has created. The spiral staircase, the stained glass windows and intricate mosaic work are a treat to ones eyes. The tickets need to be bought in advance in order to avoid serpentine queues. You have the option to purchase the Basic Ticket 15€, Audio Tour 22€, Guided Experience 24€, Top Views 29€ etc. Click on link to Purchase Sagrada Familia Tickets
Try the local Tapas and Sangria
Eat like a local - While in Spain, you ought to have Tapas and Sangria. The gastronomic wealth that surrounds Barcelona is totally unavoidable. So while you are in the city, eat to your heart's content. The food is fresh , flavourful and delish. We suggest you ditch the pizzas and burgers and try the typical local cuisine to get the real feel of the Catalan cuisine. We recommend you try the Patatas Bravas, Pan con tomate, Secreto ibérico, La bomba, Andalucian style Squids and Morcilla. Paella for main course and some Churros con Chocolate or Crema Catalana for desert.
Take a stroll on Las Ramblas
Barcelona's most popular street. It is extremely lively bustling with local artists, florists, restaurants, souvenir shops etc. Its a must visit while in Barcelona. Take a walk in this tree lined boulevard in the evening to get a glimpse of the nightlife in the city.
Learn about the Catalan gastronomic culture at La Boqueria Market
Visit La Boqueria market and try out the fresh fruits and juices.The market is a perfect blend of tourism and local life. La Boqueria is very colourful and you are sure to get a lot of beautiful Instagram shots. Everyday, a lot of photographers who are interested in food photography make their way to this market. There are also a couple of restaurants and bars in the market which is worth checking out.
Invest in an Experience- Learn Trancadis
Check out Alternative Journeys if you wish to spend sometime to immerse yourself in the local culture guided by locals of the city. We recently attended a mosaic workshop in order to learn the local Catalan art form -Trancadis technique, made popular by Gaudí and considered emblematic to Catalunya. We spent over 2 hours and interacted with an artist and made our own masterpieceYou should also check out their other services - Architecture and Photography Bike Tour, Raval Street Art tour, Create a community mural and so much more. The founder of Alternative Barcelona - Sebastien is very friendly and approachable.
A day at the Barcelona Beaches
Barcelona has several beautiful beaches- namely Barceloneta Beach, Nova Icaria Beach, Ocata Beach, Bogatell Beach etc. The beaches are clean, have crystal clear water and are safe to swim. Its a perfect place to soak in some Mediterranean sun and relax while sipping on some chilled Sangria.
Watch a match in Camp Nou Stadium
The Camp Nou stadium is an iconic historic building in Barcelona. If you are a fan of football, then you should not miss out on booking tickets for a match. The feeling of watching the match live in this magnificent stadium is surreal. If there is no match on the day you plan to visit, try to treat yourself to the Camp Nou Experience- Where you get to see the indoor of the stadium, a visit to the club museum where every single trophy and laurel won in the past are displayed , picture gallery showing the history of the FCB, press conference room, visitors dressing room ( no entry to FCB players dressroom), commentary area etc. The Camp Nou Experience is priced at 25 €, and you can spend as much time as you wish to once you get in.
Shop for Souvenirs and knick knacks
Whenever we travel we likeinvesting on things that are special/available only in that particular country or that are made in that country. If you are wondering what are the best souvenirs from Barcelona, then our top picks would be Espadrilles (typical Spanish shoe that is made of espart, a rough and resistant Mediterranean grass used to make rope). They come in all colours and look extremely stylish when worn. You can also pick up Gaudi inspired jewelry curated by a local artisan, Olives (they are extremely popular in Spain and of great quality), Saffron (Again very popular, good quality and cheap in Spain), Turron Chocolates, Mountain honey , A bottle of Cava, Caganer figurine and a customised Barca Jersey. Avoid shopping on Las Ramblas as it is ridiculously expensive. If you wish to pick up some groceries like paella spices etc , then visit Mercadona which is a popular supermarket. For clothing, the Spaniards love their Zara and Mango.
We hope this post has given you an idea on what to do in Barcelona and the places to visit in Barcelona. We really hope you visit Barcelona and make your trip a fun and memorable one. If you have any queries, please feel free to Contact Us
This is a travel and food blog by Vini & Jose, a fun indian couple who are absoloute travel junkies. They have visited 27 countries so far and look forward to creating many more memories across the globe. Through this space ,they would like to share their travel stories and adventures with the rest of the world and also inspire their readers to set out and explore those paths less travelled.