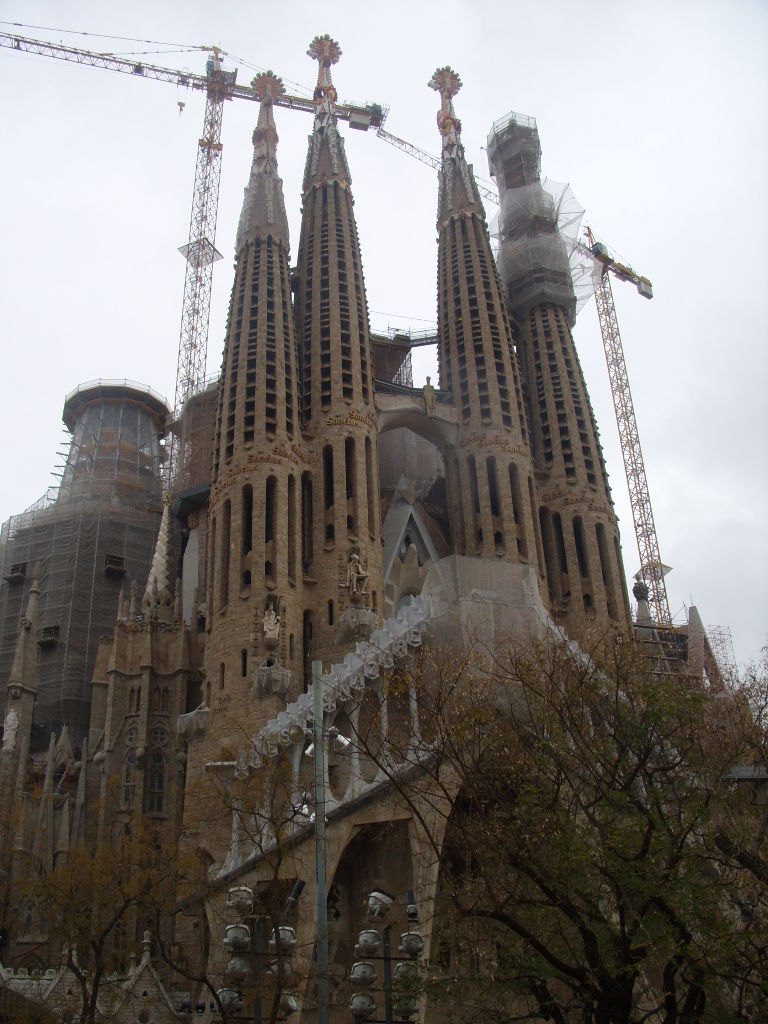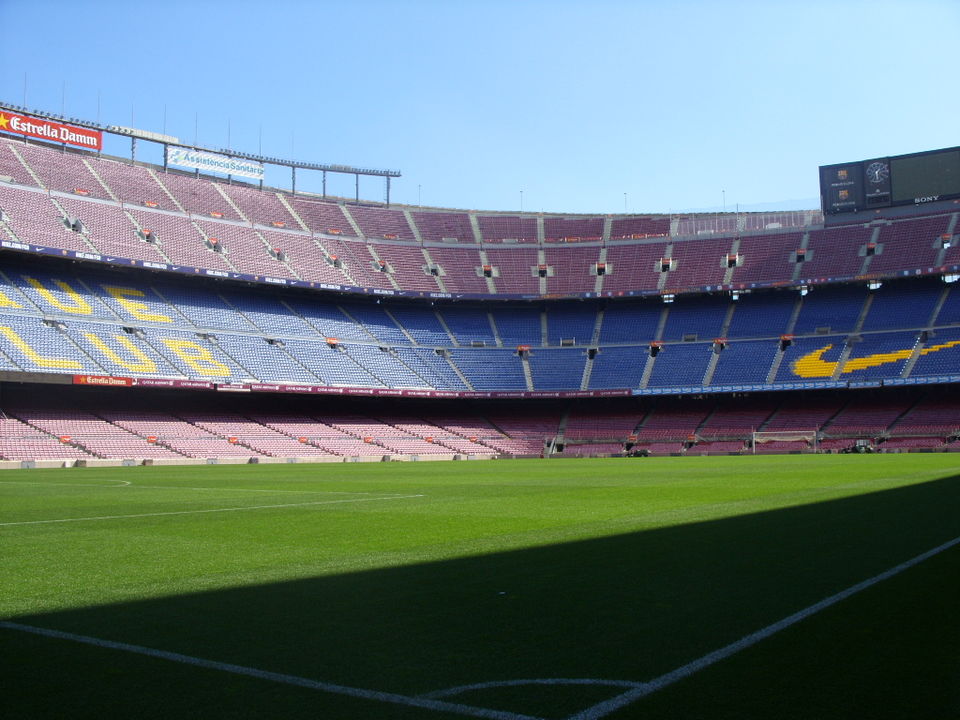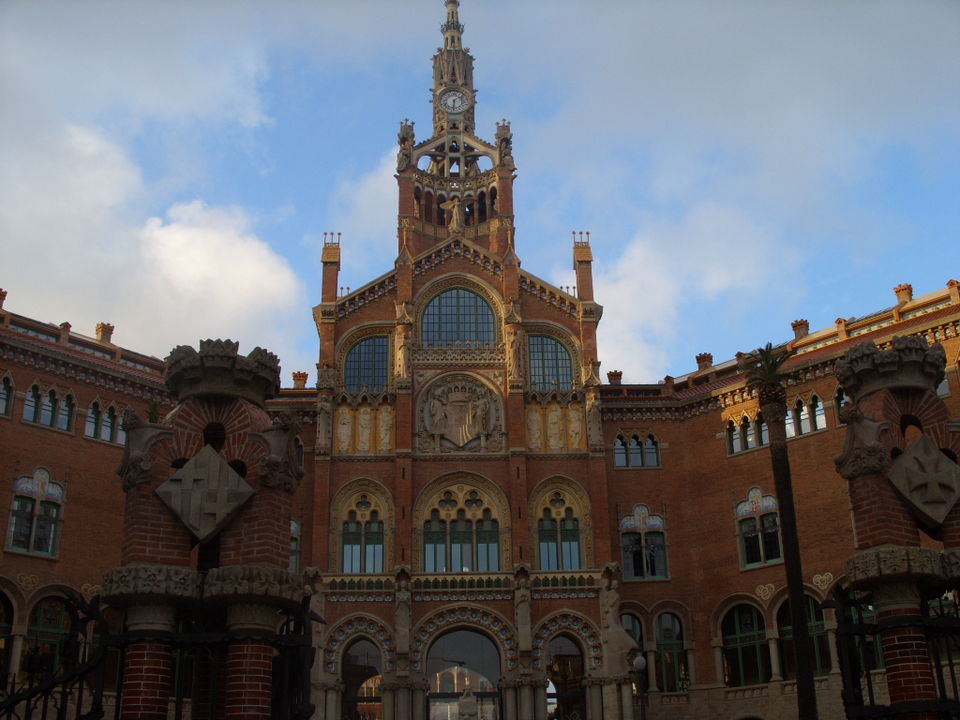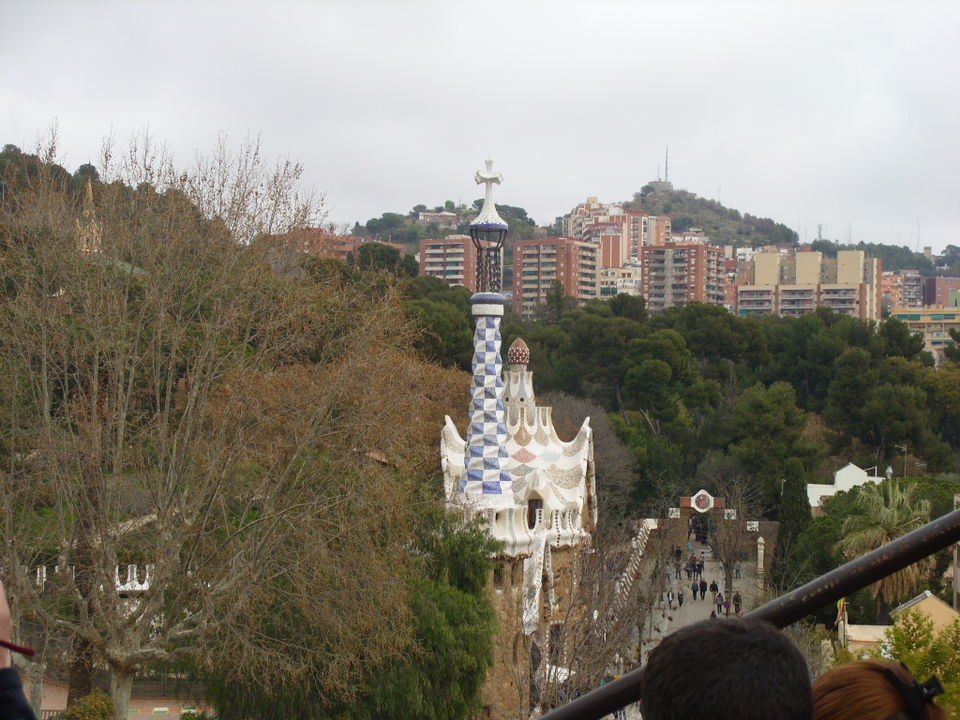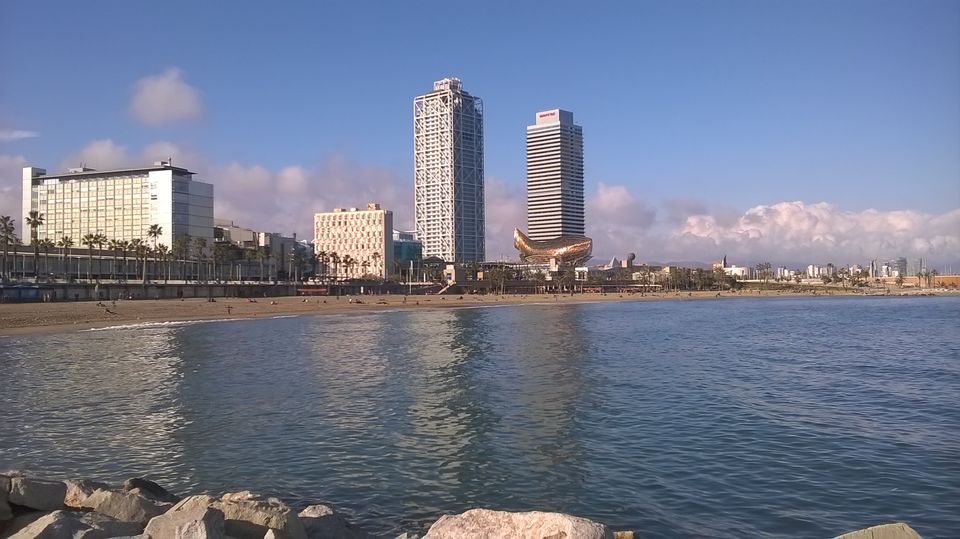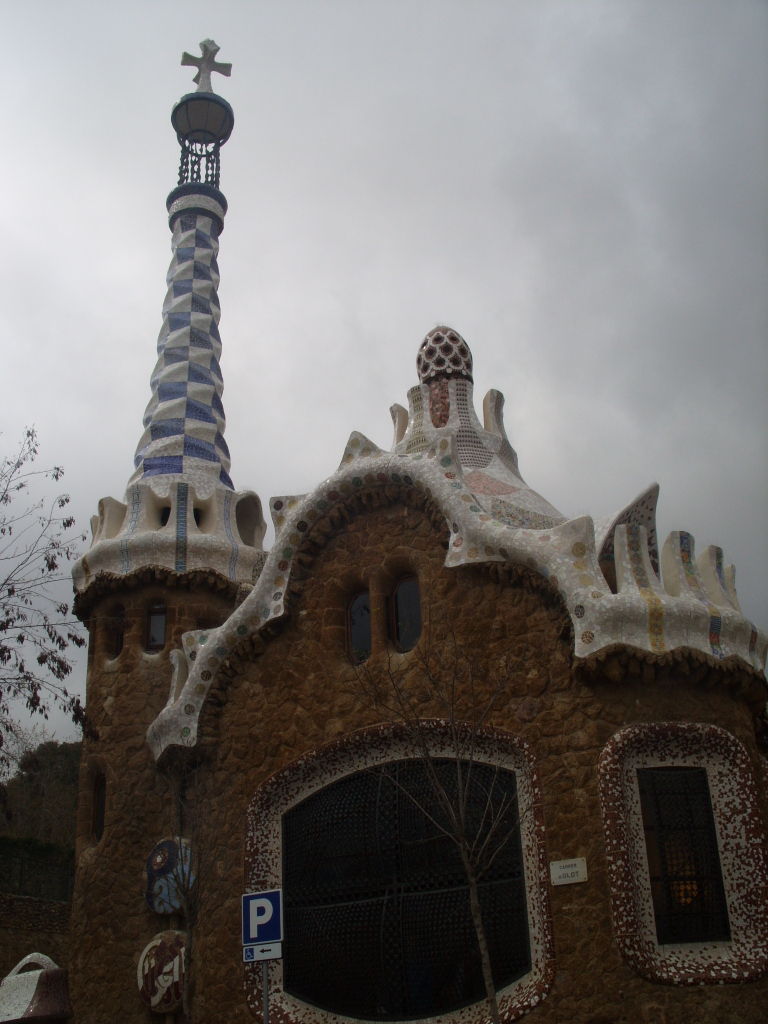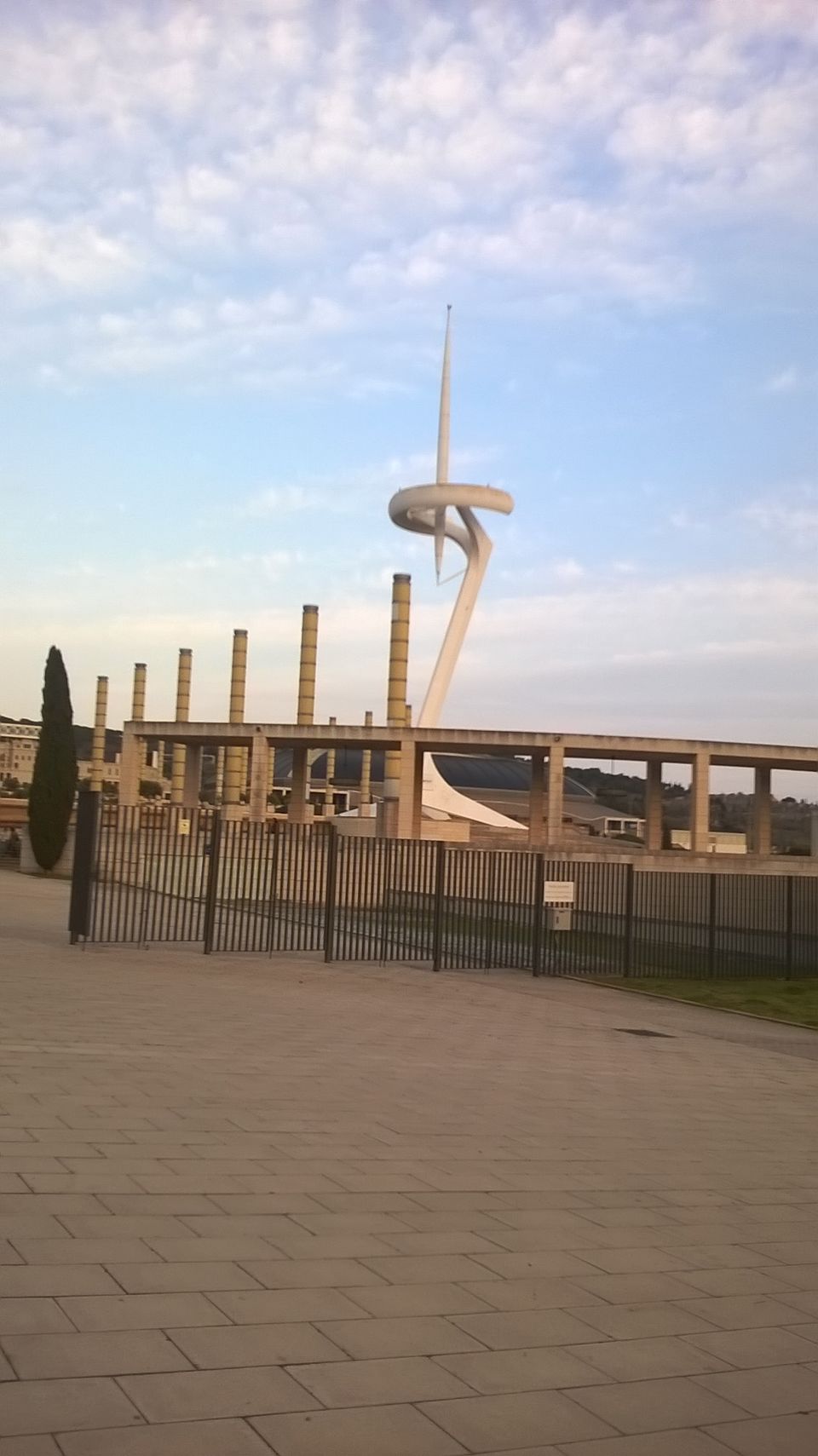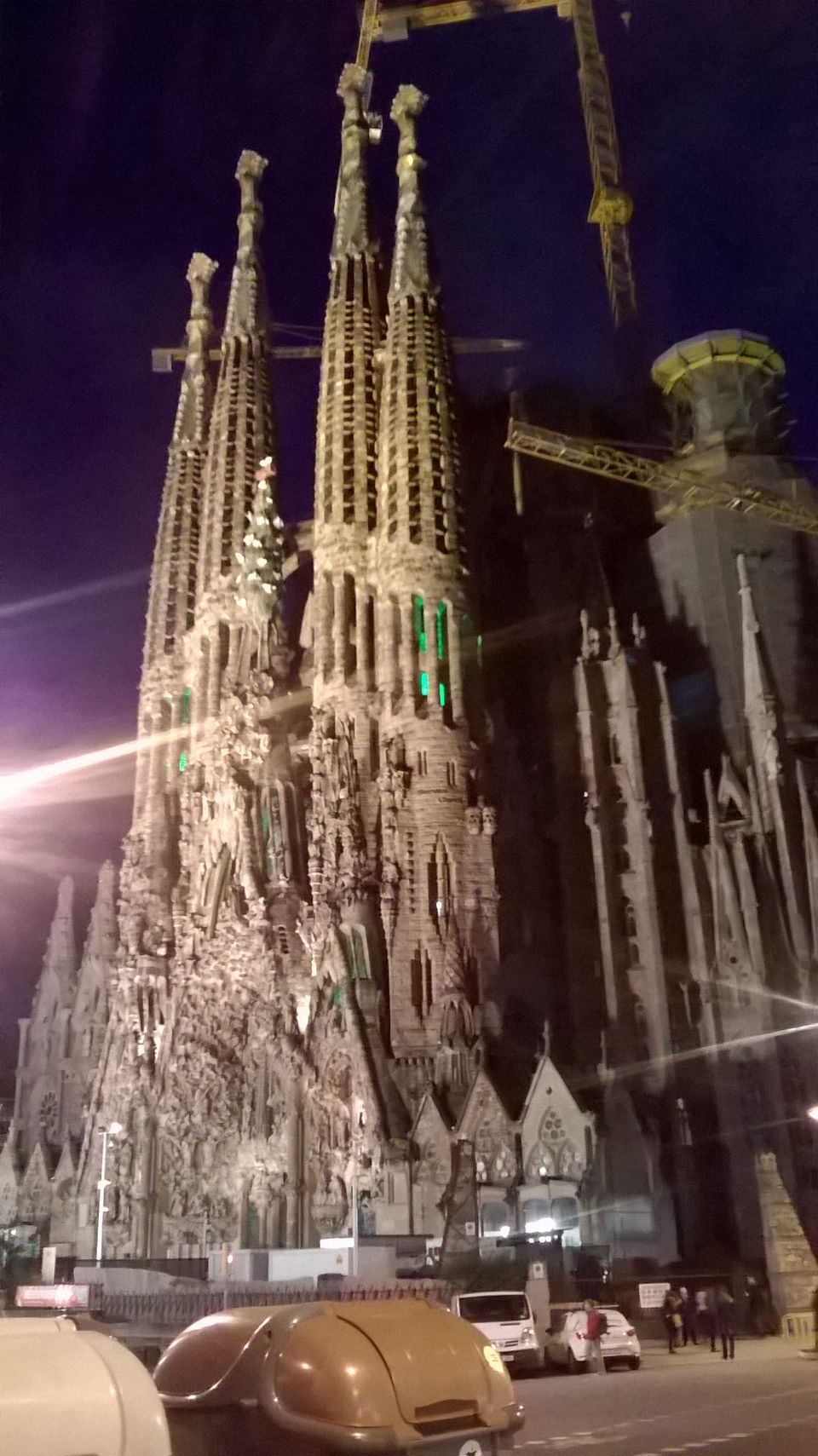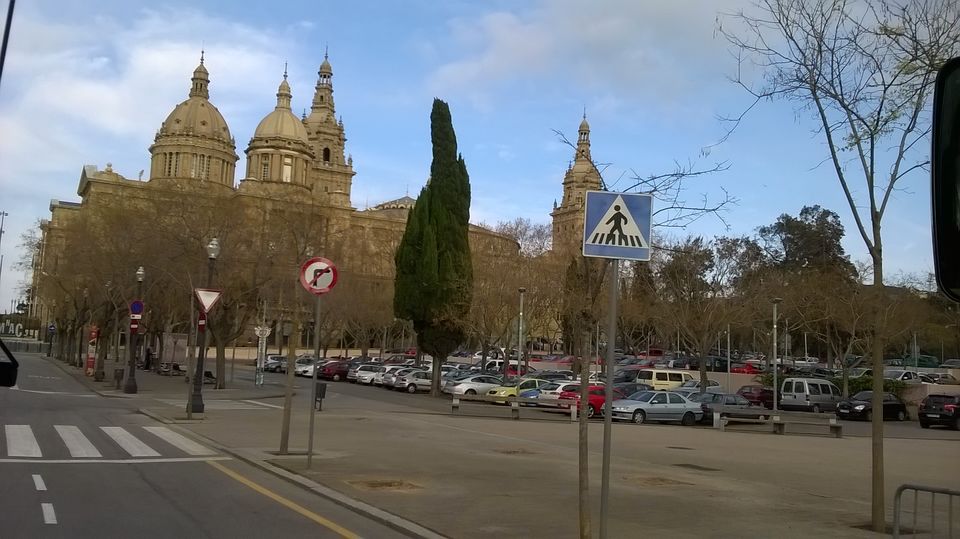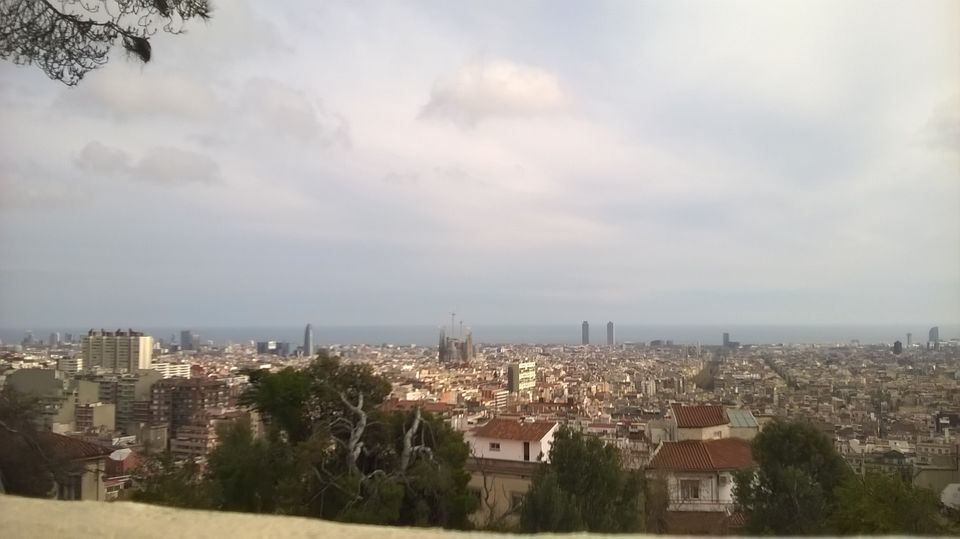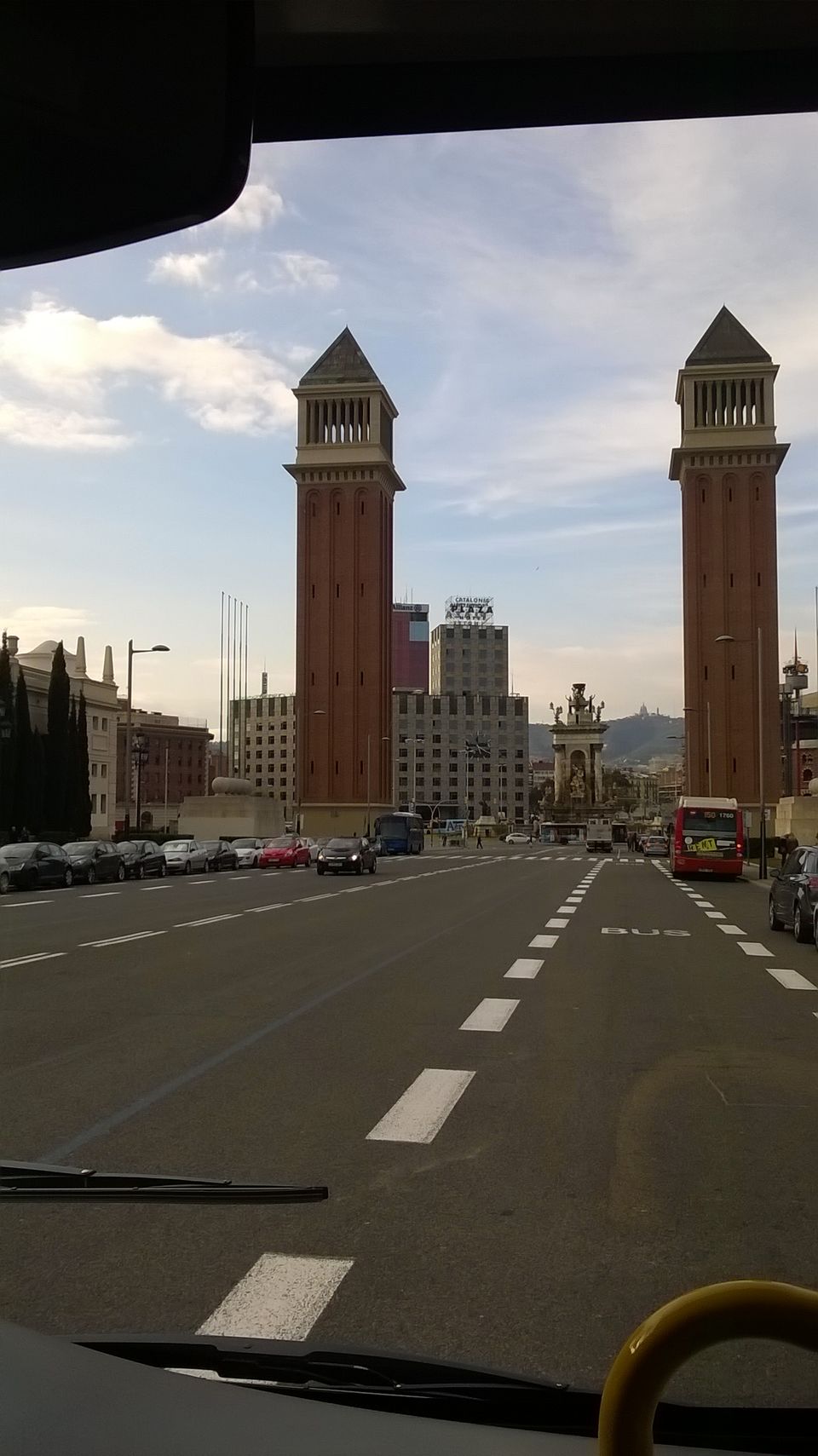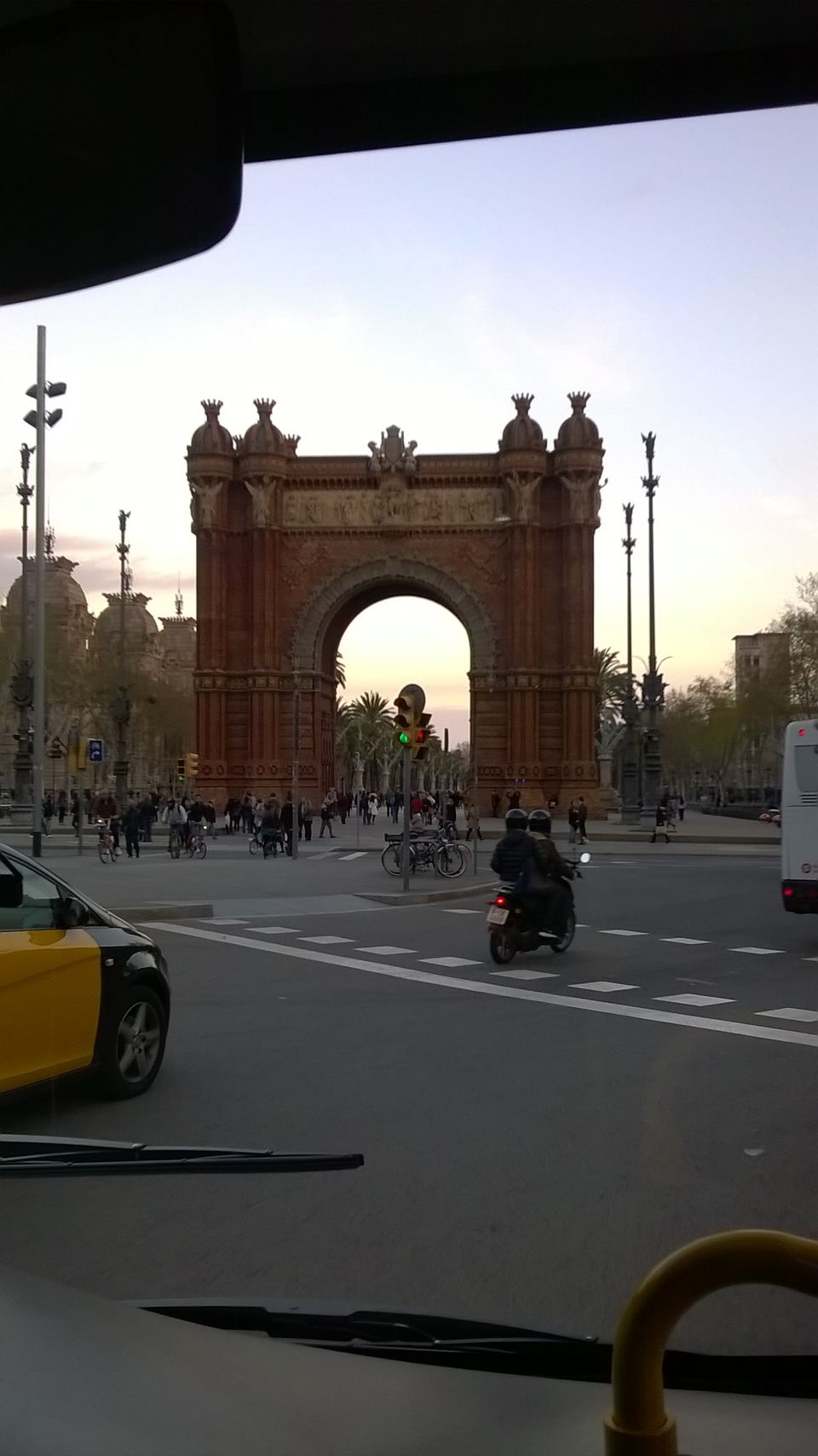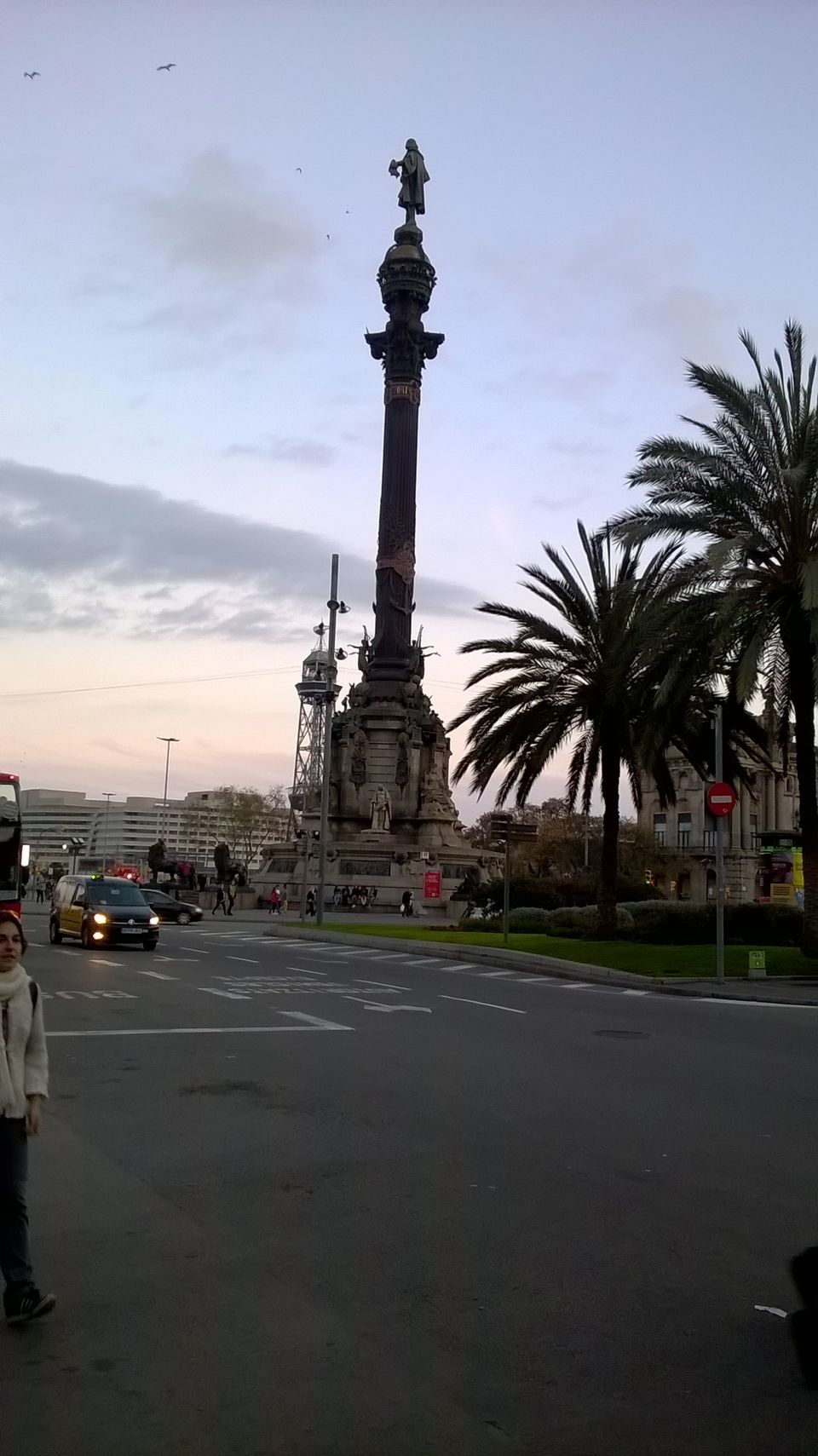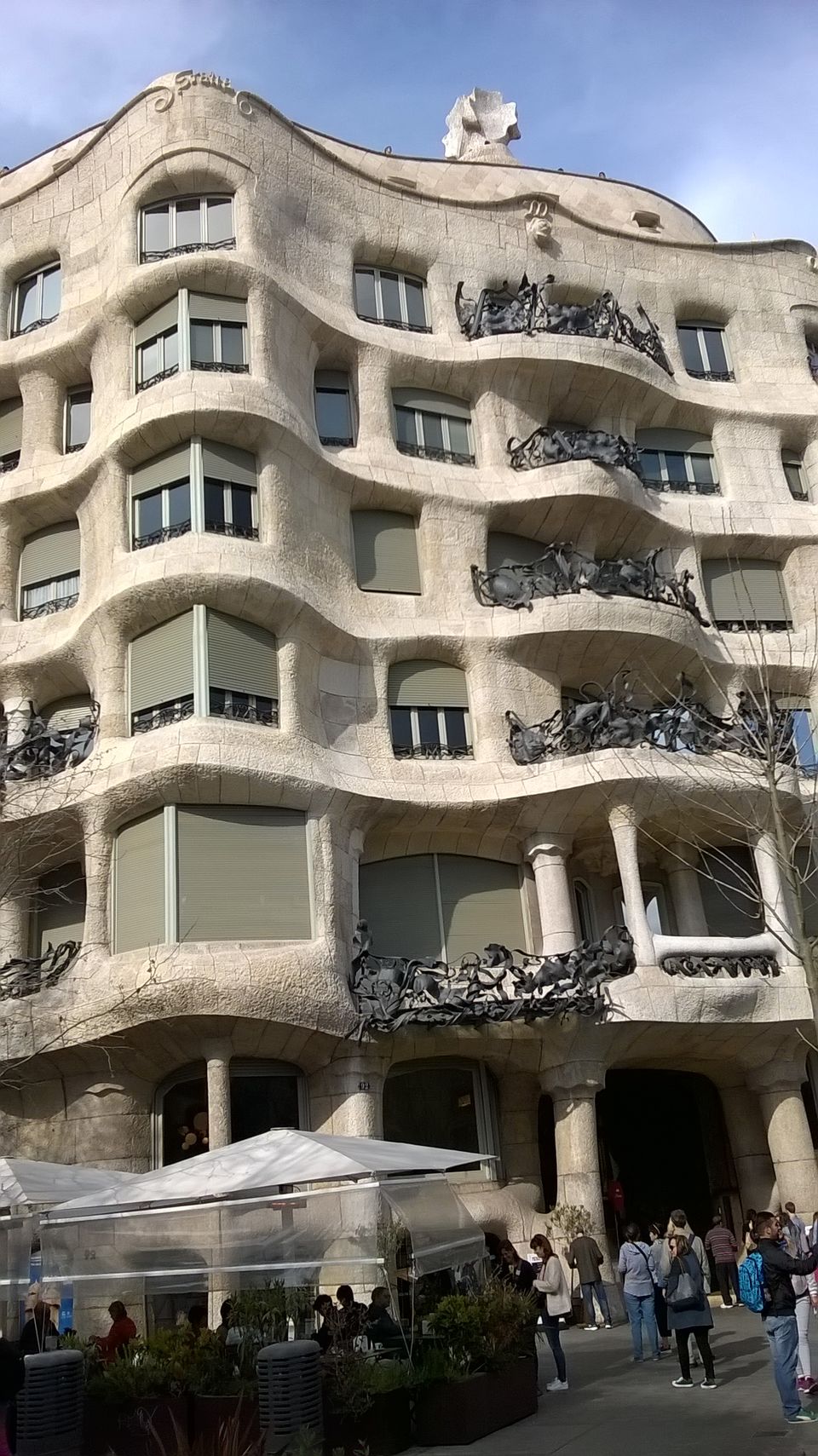 My journey to Barcelona was planned in January 2016, off season flight tickets and hotels were quite economical on Groupon . I stumbled upon one such good deal , Ryanair return ticket (Edinburgh-Barcelona) with a four-night stay at Travelodge and one-day city bus tour. Barcelona being the largest city of Catalonia has Catalan as its national language. So it is quite important for the solo traveller to get acquainted with few Catalan phrases, basic courtesy etc, therefore, I learned few, try to learn at least fourty , but remembered only twenty. On 14th March, I packed my backpack and soon I was in the Edinburgh Airport terminal departure lounge, on board, greeted by Ryanair female flight attendants, cheery faces with significant Catalan or Spanish tilt in their English slang. On board flight announcement in Catalan, made me realise that I am on my own, as a solo traveller. To get best out of my solo journey, to non-English speaking country, I have to trust my basic gut instincts. Unfortunately, there were no freebies on a flight, everything from food, drinks and toiletries, there was a hefty price attached. The monotonous sales pitch of our gorgeous looking flight attendants prompted me to close my eyes, I was pondering within myself, should I take a look on their offer or would I remember a thousand names of Vishnu, latter was the better option. Intense 5 minutes into my dhyana mudra, then distraction happened, right next to me, a girl named Zhang in her early twenties from China was avidly reading Barcelona city map. I made my acquaintance with her, like me, she was a solo traveller. I was quite impressed by her zeal to travel alone at such a young age, we started talking about our planned itineraries. Unlike me, she was on a short two days trip, her interest in Picasso work was the only sole reason for her journey.
Within two hours, the plane touched down on Barcelona el prat airport terminal two. On exit, I approached two local cops and asked for direction, I was struggling to find out nearest metro station. The moment I said `Holla sir, una esta ella metro estacion` sius plau` in English it means `Sir, please , where is the nearest metro station'. Soon, I realised that my Catalan phrases will evoke a typical street Catalan response, hard to understand verbally, but easy to understand with hand gestures. The cop pointed me to walk across the busy dual carriageway, I followed the direction and came to the nearest metro station. Self-ticket vending machine with English option allowed me to pay and print four days unlimited travel card called HOLA BCN card, valid only for the public transportation system, including buses, trams, metro underground train, overground trains know as Rodalies in Barcelona. Following Barcelona metro map is fairly easy, much like Delhi metro or London underground subway system, Barcelona metro is extensive network and it connects all part of the city. From the airport, I took L9 towards Zona Universitaria, inside metro station, there was quite a big screen, similar to Edinburgh Departure Lounge, advertising 'Make in India' campaign. I just thought about our Pappu and his notion about that `'babbar sher jo ghari jesa chalta hai`, litellary in our Modi ji's style, I murmured back in my mind `na na make in India ka majak''. Travelling with assured ease of being Desi (people from Indian Subcontinent), smiling altogether, without changing any metro line, I got down at Fira station.


.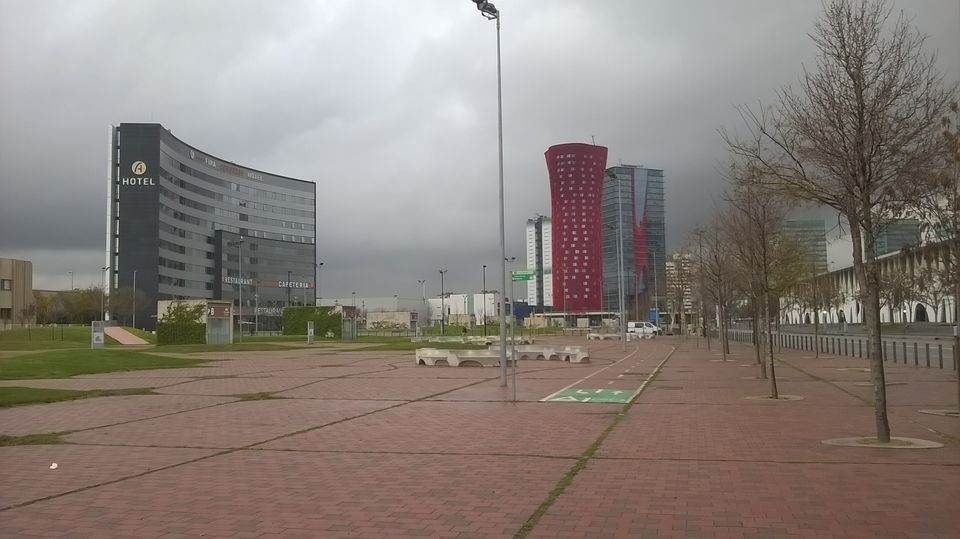 Following google map, I was right next to Travelodge Hospitalet, my four days budget hotel. Since I was 3 hours early for checking in, the receptionist told me to keep my belongings there and advised me to take a look around the city with caution. Barcelona is the largest port city in southern Europe, it attracts thousands of illegal immigrants from Africa, Middle East, Indian Subcontinent and from poor east European countries. Some of them are notorious for street gangs involved in theft , pickpocketing and bag snatching. To validate this idea of Barcelona and to get the first insight into the dark side of the city, I took my first metro ride towards the busiest city centre. My first stop was Sagrada Familia, I have to change three metro lines to get to my first destination. The crowd inside the metro was very dynamic, vibrant and cosmopolitan, people of every nationality, colour, race and gender was travelling with sublime ease. There was not a single indication that city being dodgy toward tourists, rather, I find the city to be very hospitable, warm friendly and welcoming altogether. Desi traveler generally travels with ease when fellow passengers look distantly Desi or distinctively closer to Desi complexion, thanks to sunny bright Mediterranean weather, localities of Barcelona carry that beautiful sultry tan and their love for Bollywood was quite on display on earphone music, phone wallpaper and that temporary Heena Hindi tattoos on their forearms, `hare Krishna hare ram', om, cracking one like 'Maine Pyaar Kiya`', 'dil jale' and the one I can't forget `hans mat pagli pyaar ho jayega; So there starts my journey.
Barcelona is one of the world most exciting place, cool and contemporary, steeped in centuries of history. The city has amazing art and architecture, boulevards, distinct neighbourhoods, and stretches of golden beaches, fine food and flamboyant football. There is something for everyone here. Since it was my first time in Barcelona, so the top of my list was the eccentric artwork of architecture Antonio Gaudi, he drew his inspiration from nature decorating Barcelona with curvy colourful architecture. So my first place on day one was:
1) Sagrada Familia: this was the largest project by Antonio Gaudi,the construction of this world famous attraction begins in 1882 and is still going on. Antonio Gaudi's disciples are now looking for this project. The towering domes, turrets and gables speak volumes about its architectural magnificence. Inside of the cathedral is just as impressive,bright and spacious, unlike any other cathedral in the world, natural light plays an important role in decorating its interior.
After spending few hours, I headed back to the metro station, en route to Travelodge Hospitalet, Fira for checking in. A quick glance into the phone , using free wifi, I was quite happy to find out that I was quite closer to three very famous sights, 1) Barcelona Olympic Stadium 2) National Catalan Museum and 3) Mont Juic. I soon hoped into Bus L25, outside hotel, the joy ride took me to the top of Mont Juic
2) Mont Juic: In Catalan, it literally means Mountain of Jews, this highest ground within city held its prominence since medieval times. Castle de Mont Juic, which is an old fortress, with high walls, build during the 15th century, castle acted as an important defence against foreign incursion. From the top, It gave me a great perspective of how spread out Barcelona really is. I got really some great views of the city on an overcast cloudy evening when the city was lazily switching back on to neon lights. Following the downward mountain wide motorway trail, I reached another important sight Barcelona Olympic Park.
3) 1992 Olympics placed the city on a global map, shaping the city's destination from an industrial port city into a modern metropolis, that we see it today. Set high above the city, on the top of Mon Juic hill is an Olympic stadium. Montjuïc is, without any doubt, one of the most beautiful places in this city , from the Olympic Games in 1992, one of the most symbolic places in the city. Montjuïc vibrates with emotion during those wonderful days which showed Barcelona to the world.
I ended my day one at National Catalan Museum. Free archives of city and its history are freely accessible to general public. I collected walking tour maps, tapas bar maps and other leaflets advertising about latest cultural shows happening around.
Day two: My itinerary for the second day, took me to two must be visited places,
4) Camp Nou: Home to the mighty FC Barcelona. Tour inside the stadium took me on the trail of following so many football legends. Unfortunately, due to an away game, I couldn't watch a football game.
5) Barceloneta: It wouldn't be a proper visit to Barcelona without going to the beach at least once, so on second day of my journey after visiting FCB camp nou, I headed down to Barceloneta beach, which is popular with locals and travelers who don't want to trek out too far in search of waves and sandy shores. The sun was out, the water was inviting, and the beach was packed. If there's one thing to love about seaside cities, it's that they always have lively boardwalks, and Barcelona proved to be no different. There were joggers, skateboarders, bikers, and rollerbladers. And if I needed a break in the shade, there were lots of benches, where I could kick back, relax, and enjoy the views of the marina. Watching sun going down over the Montserrat mountains was indeed a sight to withhold. When the sun goes down on the sea horizon, probably it is considered as one of the most romantic views of nature. But when the sun goes down behind the dark silhouetted mountains, and on other side sea sparkle as oyster of pearls, then heart thrill with unknown music, the music of love. Which, I consider as the most spiritually uplifting experience, like me many other solo travellers were amazed to see such a beautiful spectre of nature.
Day Three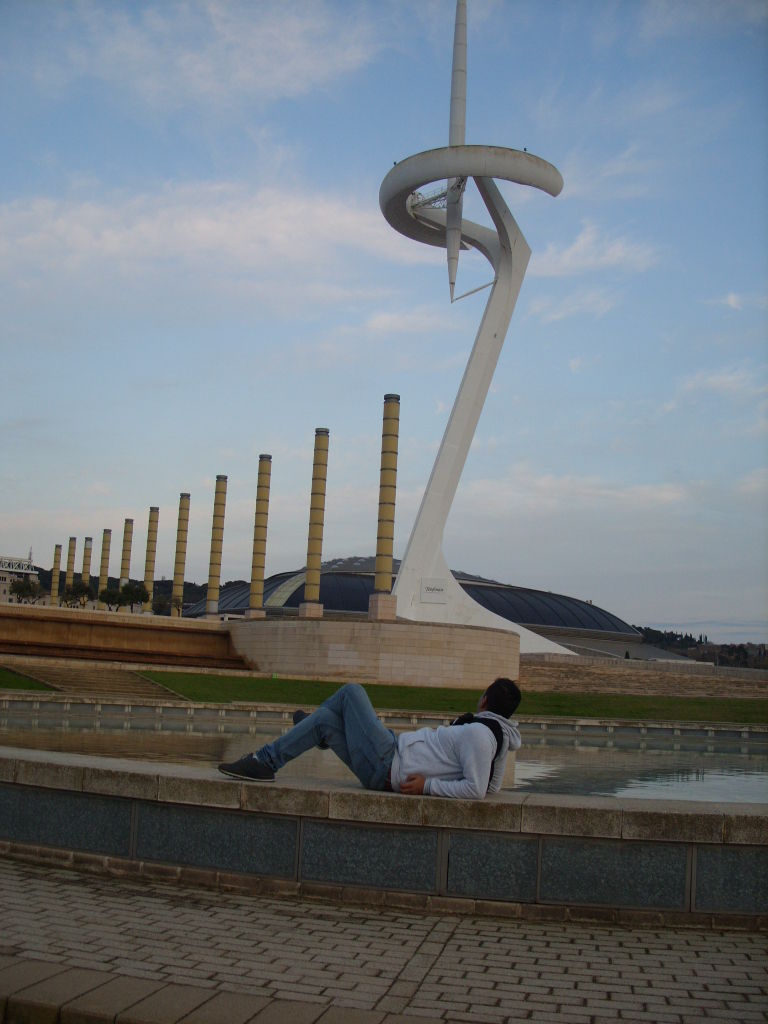 Park Guell: Barcelona has many attractive sights, one of them is Park Guell, designed by celebrated architecture, Antonio Gaudi. The place is an enchanting hillside garden outside the suburbs of the city. Here Gaudi let his imagination run wild, creating a fairy tale wonders full of surprises. At one point, I was feeling that I had tumbled down the rabbit hole and suddenly set foot in the world of Alice in wonderland. Inside the park, there is the unique design of serpentine mosaic benches, a collonaded pathway that seems to attract lots of performers and colourful salamanders made of broken tiles. Outside park, street hawkers mostly our Desi brethren across the border was selling souvenirs, Gudi's trademark design salamander and dragon.
7)Gothic Quarters: While Gaudi's architecture symbolises Barcelona, it's here at enchanting Gothic Quarters where I felt the true essence of this beautiful city. Wondering in narrow maze of streets and squares, it feels like I stepped back in time. Here, I found best preserved medieval architecture in Europe. The centerpiece of the Gothic quarter is 600 years old medieval Gothic cathedral, best known for its peaceful cloister, an oasis of calm in this bustling city. I was exploring without much of a plan and was waiting to see what I stumble upon.The Gothic Quarter truly is a beautiful neighbourhood to wander on foot. The twisting lanes made me bit dazed and confused at times, but I was never short of surprises around each bend.
Day Four
8) La Boqueria Market: One of the most exciting food market in the world, La Bouqueria buzzes with life, delightful sight of exotic fruits and veg, sizzling tapas bar, mouthwatering fiestas of food. There is general saying here, if you can't find it in la bouqueria, you won't find it anywhere else in the city. For my surprise, a middle-aged Sikh from Punjab was running a very busy tapas bar here in La Bouqueria. After sharing initial courtesy in Punjabi, he inquired with a grin 'India se ho' glancing happily at his Big tv screen. Soon our talk traversed over t20 world cup, tv screen flashing with post-match ceremony, India has maintained unbeatable world cup record. His happiness and my approval for sharing desi fervour were quite a delightful experience in football crazy Catalonia.
9) La Rambla: La Rambla is probably the busiest street in the whole city. This tree-lined, pedestrian-only boulevard, stretches for 1.2 kilometre and is packed with street performers, food vendors, and pop-up souvenir shops.
10) Like a lot of European cities, Barcelona also has a triumphal arch. What is different about this place is that it is quite an open space and I could see a lot of people just walking around. It was kind of a good place to just hang out and have a leisurely stroll.
11) Casa Batilo: This one is another Gaudi's architectural masterpieces. The facade is covered with beautiful mosaics, and the balconies have skeletal qualities.
12) Casa Mila: Also known as La Pedrera, another work by Gaudi. The building has an organic and curvy exterior, unique twisting chimneys with human characteristics.
Exploring Barcelona in four days is just a small endeavour, the city is so much spread out that it normally takes at least more than 15 days. This city has embraced so many cultures, ethnicity, religions and individual tales, but still it has maintained its unique Catalan characteristics. Writing on the wall is very much pro-independence. Passion for independent Catalonia also run high on the football pitch, each time Catalan giant Barcelona thrash Spanish Giant Real Madrid, city just unfold its real self.
Day Five: After spending four exciting days in this beautiful city, the realisation dawn upon myself, that now it's time to say adieus. But the gods had different plans altogether, due to French aviation strike and unfortunate tragedy at Brussels, all the flights for next couple of days got cancelled. I was struck at Airport, with exhausting financial resources. Nonetheless, there was another plan, one hour of extensive search over the phone, using airport's free wifi. I came to find out a camping site at Gava, ten miles outside the airport. Prices for hiring camping house was good enough for my budget. Getting to this camping site was quite a challenge using a public transportation. First time in my whole journey, I have to board the national train, called Rodalies locally, to get to my first stop Castelldefels (small beach town outside Barcelona city). From this town, I have to take an L94 bus, but finding the bus stop was quite a challenge. Taking help from local people, just figuring out from their hand gestures, I made my way onto the right place and managed to find the right bus stop.
Next two days I spend at camping 3 Estrellas, beautiful camping site at Gava. The place was peaceful and quite. This camping site attracts caravan travellers and family holidaymakers. Like me, there was more than a dozen solo travellers, met one such traveller Lucas from Argentina. His plan was to trek toward Montserrat mountains and spend three days at Monastery, located on the top of the mountains. I was at one point thinking about this journey bur work related consideration put a temporary full stop on my plans.
While I was travelling back to U.K, I had a full-fledged aerial view of Montserrat mountains. The snow clad peaks look mesmerising, inviting and full of untold mystic experiences. The view on bright clear days made my journey back to U.K very pleasant and delightful.