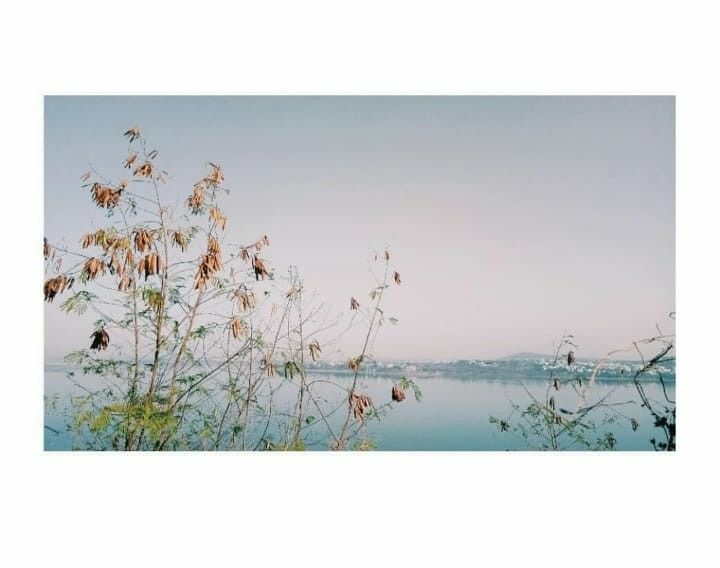 Bhopal also known as the "city of lakes" is a wonder place with magic potions locked up right in the heart of Madhya Pradesh. I have been living in Bhopal for almost 2 years now and never have I felt so attached to a city like this one. Bhopal not being a huge city can be explored in one day. The guide details on how to spend 24 hours in Bhopal like a local.
1. Cycling at Van Vihar
Start the day with an early morning cycle ride in Van Vihar National Park. Different cycles of your choice can be hired by paying a nominal amount of Rs 20. This exquisite National Park shelters a wide range of species including pot deers, sambhars, alligators, tigers, etc. which can be spotted while cycling your way through the national park.
2. Boating at Upper Lake
Right where van vihar ends, Upper Lake begins. Upper Lake or Bhojtal is the oldest manmade lake in India, said to have been built by the Parmara Raja Bhoj during his tenure as King of Malwa (1005–1055).
Hop towards the Boat club nearby to enjoy a beautiful morning boat ride. You can choose from a variety of Paddle, row and motor boats, star attraction being the local cruise.
3. Taj-ul-Masajid
In Kohefiza lies Asia's one of the largest mosque. Proudly boasting Mughal architecture, the construction was initiated between the years 1868 and 1901 by Sultan Shah Jehan Begum of Bhopal. Not only is the mosque the largest in the country, but it also happens to be the second largest mosque in Asia. Made of red stone, the mosque is situated by the lake referred to as the Motia Talab.
4. Bharat Bhavan
Bharat Bhawan is a multi-arts complex and museum established and funded by the Government of Madhya Pradesh, founded to create an interactive experience combining verbal, visual, and performing arts. It regularly hosts art exhibitions, plays, performances and literature fests. Situated near upper lake, the museum has been been beautifully constructed and is marked by terrace gardens.
5. Tribal Museum
Never will anyone ever see a museum of this sort. With a nominal admission fee, the museum showcases life of tribal people and many pieces have been made by tribals. It is divided into parts on the basis of time periods and covers all ages from Paleolithic to Neolithic. For any tourist, this is a place which you can absolutely not miss.
Sit in the garden while sipping tea/coffee with snacks and swans.
6. National Museum of Mankind (Manav Sanghralaya)
Stands in the same arena as Tribal museum, this is another beautiful place to visit. Kid friendly place, offers more information than books or internet ever could about the history of Mankind.
7. State Museum
In the same arena lies the State Museum containing old artefacts including statutes, coins, historical writings and letters dating back to the Indian independence struggle. Don't miss the huge animal taxidermy sculptures and fossils.
7. Manuabhan Tekri
The cable car will take you to the hilltop of Lal Ghati. The hilltop offers you a complete panoramic view of the city of lakes. The Jain temple on the top after climbing a few flight of stairs boasts of stone carved architecture and aesthetic view. Indulge in some local snacks and coffee shops built on the hill top.
8. People's Mall
Lying on Ayodhya Bypass Road, the theme based mall covers countries throughout the world giving you feels from London and LA. It proudly offers life-size replicas of seven wonders of the world.
9. Bhojpur
Lying on the outskirts of the city is Bhojpur, a monument of national importance built in the 11th century. Around 30 km away from the main city, Bhojpur houses the Shiv Temple with one of the largest shivlings to be found in the world. Carved from a single rock piece, the temple could not be completed and still remains a mystery from the history. A river flows alongside offering tourists a pretty townside view. Take a cab to reach there.
10. Bhimbetka
Dating back to the Paleolithic age are the Bhimbetka caves of Bhopal. The caves offer the earliest traces of human life on the subcontinent and are a certified UNESCO world heritage site. Spread over an area of 10 km, this site depicts human culture, cultivation in over 750 caves, some of them being as old as 30,000 years.
WHERE TO EAT
Bhopal has a great variety of breakfast buffets at 5 star hotels for reasonable prices. Head towards Marriott for pancakes; Jehanuma Retreat for an urban breakfast in a typical village setting; Noor-us-Sabah Palace for breakfast beside the lake side! Don't miss the local poha-jalebi which can be found in every nook and corner of the city.
For lake side restaurants, head towards Ranjit Lake View or Thuss near upper lake. Bhopal has a variety of cafes and restaurants catering all cuisines.
For budget friendly eating outlets, try out Sagar Gaire which has many outlets throughout the city (try out their sandwiches, shakes and an amazing variety of pasta), Indian coffee House (for South Indian and Filter coffee), New-Inn Restaurant in New Market(for Pav-bhaaji). For non-veg, try out zam zam and Al-Bake.
WHERE TO SHOP
For authentic Madhya Pradeshi prints and fabrics, shop from Mrignayanee where you can buy traditional/ethnic wear- sarees, suits, kurte (for men).
BEST TIME TO VISIT
July- March as the climate is pleasant and breezy throughout.
PUBLIC TRANSPORTATION
Bhopal is well connected by trains, flights and buses from almost all major cities. To see around the city, prefer cabs or local buses.
OTHER PLACES TO SEE
Kerwa Dam, Kaliyasot Dam and various other lakes including lower lake in the middle of the city.
HAPPY TRAVELLING!