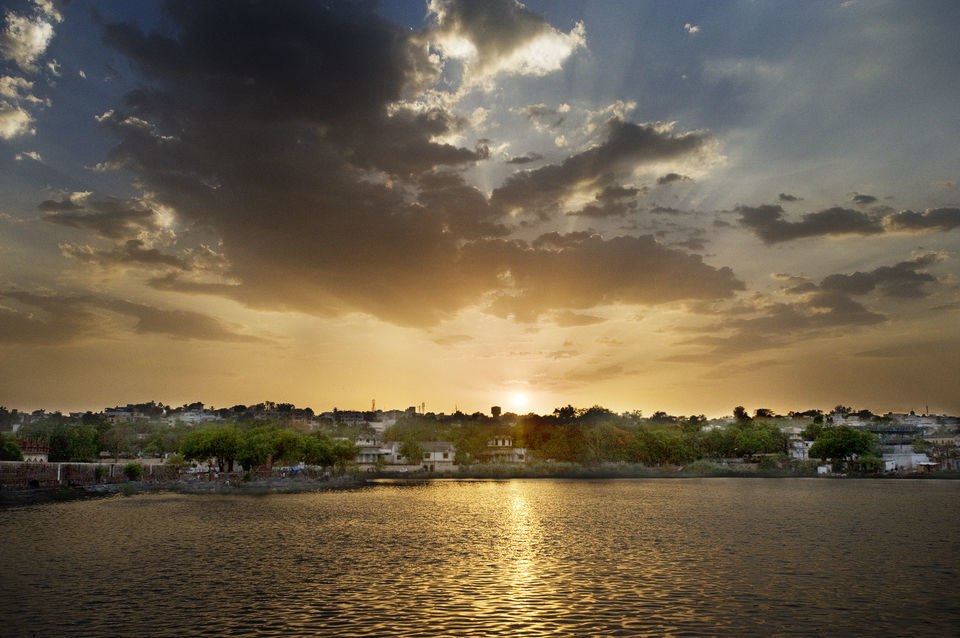 Sometimes travel can help us heal our soul in the most unusual ways. On one such occasion where tender love and care failed to nurse a broken heart adequately, I found solace in the unassuming yet stunning city of Bhopal, located in the heart of India. I was going to see a friend and had hoped that her company would help and I would spend most of my time indoors with her. The gorgeous city ruled by begums however, took me in its warm embrace and surprised me in more ways than one.
Places to see in Bhopal
The origin of this city dates back to the 11th century, when Raja Bhoja of the Parmara dynasty formed his capital Bhojapal, between two beautiful manmade lakes. As we drove from the airport to my friend's home on the Kolar Road, we popped our head out of the window multiple times, to gape at the heritage buildings and the beautiful upper and lower lakes that sped past us. "There is so much to see in Bhopal, you'll forget all the sulking in no time," my friend quipped. I took comfort in her prophecy and soon found myself drawing out an itinerary for the next couple of days. As I write this piece, I feel mostly healed and the heart is pumping fit and has made its way to a speedy recovery, which makes me think that the Bhopal plan worked. So, here's where we went.
Our first excursion in the city was to the gorgeous Gohar Mahal, situated beside the Upper Lake. The palace has been designed in what is a perfect blend of Hindu and Mughal style and was built in 1820, by the first woman ruler of Bhopal, Gohar Begum. Sadly, this heritage building has not been given its due and maintained adequately, but it's a beautiful façade and arches are vivid reminders of its past glory. Various artists were using the outer courtyard of Gohar Mahal for an exhibition of pottery, but we only had time for a brief look at some of the unusual pieces before heading out to the next gem to keep to our deadline. We were told that the place is often used by the artist community for events and performances.
Where: VIP Road, Nakkar Khana, Peer Gate Area
Timing: 8am to 6.30pm
The cool thing about Bhopal is the sheer variety of places it holds under its wing. My second stop was completely different from the first one. From a vintage palace, I was now headed to one of the prettiest zoological parks that I've come across. Adjacent to the Upper Lake, the Van Vihar National Park was first established in 1983 but developed and managed as a modern zoological park, following the guidelines of the Central Zoo Authority. It is beautifully landscaped, and houses over 300 species of animals, reptiles and birds which are kept in their near natural habitat. Though many wildlife enthusiasts diss the idea of zoological parks, this one seems to have a soul. Most animals here are either orphans brought from various parts of the state or exchanged from other zoos. No animal is deliberately captured from the forest. It has a beautiful open café facing the lake, perfect to take pictures. The food served here is average and can totally be skipped. Get some coffee instead, if you want to sit by the lake for a bit.
Where: Central TT Nagar
Timing: 7am to 11am, 3pm to 5pm
Call: 0755 2674278
Stop three was my favourite. It's a museum that celebrates mankind and the homes that various communities have built over the years. This open-air exhibition has many tribal artefacts and specimens from tribal villages. It is a display of life-size dwellings, typical of contemporary tribal cultures in various Indian states. Manav Sangrahalaya highlights architectural features and displays the elaborate interiors of these homes. The surroundings have been reconstructed to match the interesting ambiance of tribal villages. It's spectacular and even if you are not an architecture buff, check it out for the sheer scale of the museum and the inspiring thought behind its creation.
Where: Dr Salim Ali Road, Lower Lake View, near Boat Club, Shymala Hills
Timing: 10am to 5.30pm
Call: 0755 2661458
I love museums. That however isn't the only reason why I hopped from one to the other. Stop four though, also a museum, was very different from stop three. Bhopal's State Tribal Museum deserves more than a brief dekho. India's diverse tribal rhythms, geometrics, materials, forms and aesthetics inspire its architecture. It gives you a sense of the way various tribes live their day-to-day lives; their houses, beliefs, rituals, games and entertainment. Tribal artisans, supported by anthropologists, sociologists and social workers, have created the exhibits on display.
Where: Shyamala Hills
Timing: 12pm to 8pm
Call: 0755 2661948
After a long day, we decided to watch a play, and were lucky to catch director Atul Kumar's Hindi musical adaptation of William Shakespeare's 12th Night, titled Piya Beharupiya at Bhopal's famous Bharat Bhavan. This, I guarantee, can uplift the lowest of moods. Bharat Bhavan is a thriving centre for visual arts and performances. Sitting at the ground level (which is at the same level at which the artists perform) and watching a performance up close is an immersive experience that you must try.
Where: J Swaminathan Marg, Shamla Hils
Timing: 10.30am to 5.30pm
Call: 0755 2660239/2661398
Go shopping Bhopali style at the Chowk Bazaar. In the heart of the city, the chowk is a buzzing market place lined with old mosques and havelis that transport you back to a bygone era. We meandered through the shops in the narrow lanes, picking up a variety of fabrics at wholesale rates, Bhopali crafts such as silver jewellery, beadwork and embroidered velvet purses (called batwas).
Where: Chowk Bazaar Road, Sarafa chowk, Peer Gate Area
Timing: 11am to 10pm (Monday closed)
Quick escapes
Take a short but scenic 45-minute ride to Kolar Dam, located 35km south-west of Bhopal city. It is built on the Kolar River which is a tributary of the Narmada. This dam is constructed near Lawakhweri Village in Sehore district. We just sat on one of the walls lining the dam to enjoy a pretty sunset. There are some dhabas along the way where you can get freshly cooked, hearty meals. We tucked into roti and chicken curry and downed it with a pint of local beer.
Plan a quick excursion to see the magnificent palace at Islamnagar, 11km from Bhopal, and you will be glad you did. It was built by the Afghan commander Dost Mohammad Khan who established the princely state of Bhopal, and declared Islamnagar as his capital city in 1708. The palace is divided into various sections— Chaman Mahal, Rani Mahal and Gond Mahal — and reveals the grandeur and the luxurious lifestyle of its owners.
A four-hour drive from Bhopal will take you to the Satpura National Park located in the Hoshangabad district of Madhya Pradesh. Spread over Satpura Hills on highlands of Central India, the park is home to the coveted tiger apart from a glorious list of animals, birds, insects, reptiles and trees. It is one of the few parks in the country that allow a boat safari and a safari by foot apart from regular gypsy safaris in the forest. We tried the boat safari and it's not something you want to miss. Beware of crocodiles!
About 45km southeast of Bhopal, lie the Bhimbetka rock shelters, an archaeological site that spans the prehistoric paleolithic and mesolithic periods, as well as the historic period. This UNESCO world heritage site exhibits the earliest traces of human life on the Indian subcontinent and consists of seven hills and over 750 rock shelters distributed over 10km. Head here to be awestruck and travel way back in time.
Cuisine on offer
Bhopal's rich history reflects in a diverse food culture, influenced by both Muslim and Hindu cooking styles. Try the bafla, a wheat cake made of refined flour or maida and dunked in a lot of ghee. It is usually eaten with a thick dal (lentils). Tuck into poha and jalebi, the local breakfast favourites at Kalyan Singh's Swad Bhandar, located on the east side of the Jama Masjid, off Itwara Road. The Mughal influence can be seen in the city's love for its kebabs and curries. The seekh kebab is particularly popular. The best places to taste Bhopal's street food are the chowks in the old city of Bhopal. Head to Jhili Miyaan, located at the beginning of Chatori Galli, for your fix of melt-in-your-mouth kebabs.
When to go
Summer can be very hot in Bhopal. Anytime from July to February is a good time to visit.
Getting there
By air: Bhopal airport, also called Raja Bhoj Airport, is located 15km southeast of the main city centre and is connected to all major cities in India.
By rail: Bhopal Railway Station, near Hamidia Road, connects it to different parts of the country. Bhopal is one of the two major Delhi-Mumbai railway lines and is the main railway junction of the West Central Railways.
By road: The roadways that lead to Bhopal are well maintained and motorable. The bus station is near the railway junction in Old Bhopal. Extensive bus services (state/ private) are available for getting to various places in and around Madhya Pradesh.
Getting around
Bhopal doesn't have local trains or a metro system. Getting around the city though is still fairly easy. Bhopal City Link Limited is one of the local bus networks available to go around the city. Recently another network called BRTS Corridor has also started and commuting locally has become fairly cheap, easy and safe in Bhopal. You can also book radio taxis, get onto a three-wheeler auto rickshaw or hire a car through operators such as Savaari Car Rentals or Clear Car Rental.
Accommodation