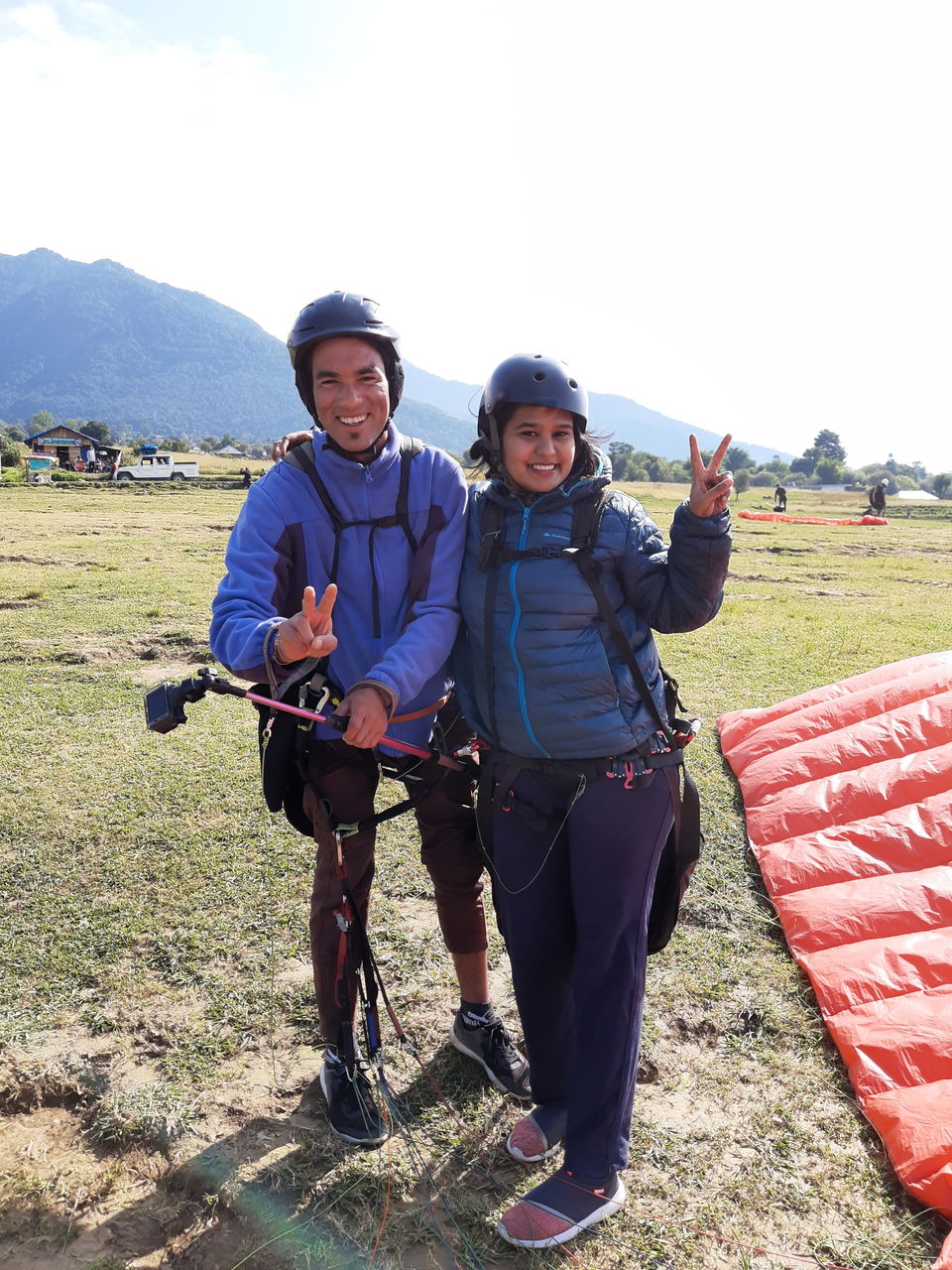 Amidst my monotonous and stressful school job, I wasn't planning any trip anytime soon. But, one day, I saw Vipin Sahu's paragliding video which went viral and it was all over the internet. It was so hilarious that I watched it over and over to get rid of the blues. When he yells 'mai madarc**d hoon jo isme aya", I couldn't relate it more with myself at work. :P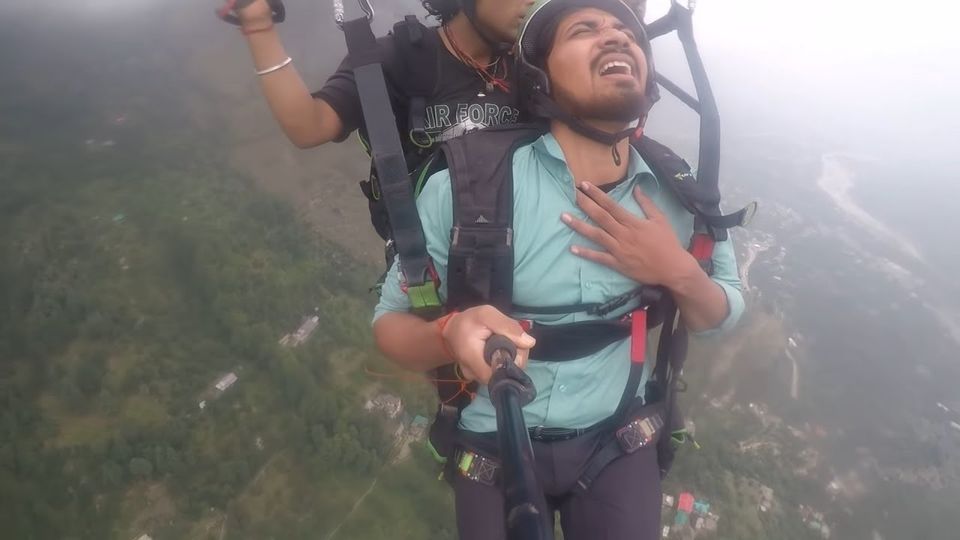 When monotony keeps hitting your life for a while, there is some strange craving inside you to feel alive once again. Suddenly, it occurred to me that I should go for paragliding too. I was looking for a way to upscale my low spirits. In my bucketlist, Paragliding was always there and it always belonged to Bir- Billing. The reason being that it is 2nd highest in the world and 1st highest in Asia and obviously, India too. October is the peak season for paragliding enthusiasts in Bir Billing, as International Paragliding Championship is also organized at the same time. With this much of theoretical knowledge and an autumn break in my school coming up, I decided to go for it.
I along with two more friends booked our Volvo bus ticket to Bir.
Day 1 - 3rd October,2019
We reached Anand Vihar Bus Stop(Delhi) at around 8pm. It was a windy and pleasant evening. We had our dinner and the bus came on time. We got into the bus and our trip started off smoothly. I switched off my phone for the next 4 days.
Day 2 - 4th October, 2019
We reached Chaugan at around 11 in the morning. We got down the bus and walked for good 20 minutes to reach the Bir colony where there is abundant number of hotels, guesthouses and homestays.
We were extremely tired and hungry. We just needed a place to keep our backpacks and sleep for a while. So without much exploration we checked into Zhim Zhim Guesthouse. As planned, we got a room, asked for an extra bed and slept for a few hours.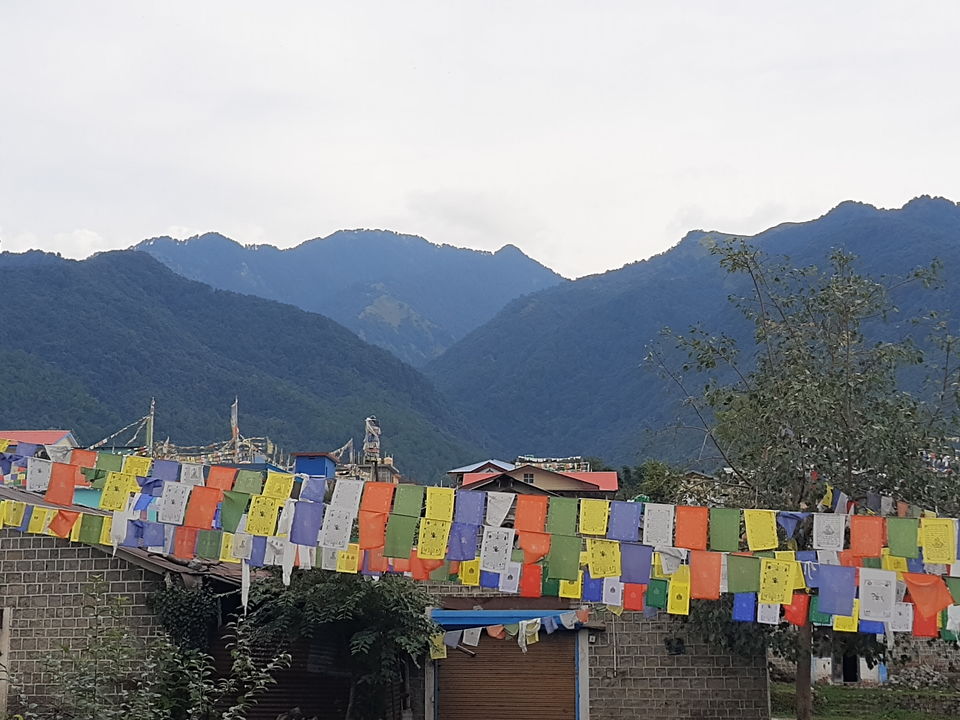 Zhim Zhim Guesthouse has noticeable bright yellow walls and a balcony which gives you a view of monastery. We got freshen up and then we sat down in the balcony for a while enjoying the view, breeze and mild music.
Then we took off to explore the places to eat for having lunch. We had our lunch at Sher-E-Punjab, a small dhaba, where there are good options for Indian food. We had Daal makhani and mix-vegetable sabzi with Chapati. We were also served spicy chutney, which was unbelievably delicious.
With tummy full and happy hearts, we again took off and continued our exploration. We reached a small steam after walking for about 20 minutes from Bir. We just put our feet down in cold crystal clear water and relaxed till the sun went behind the mountains.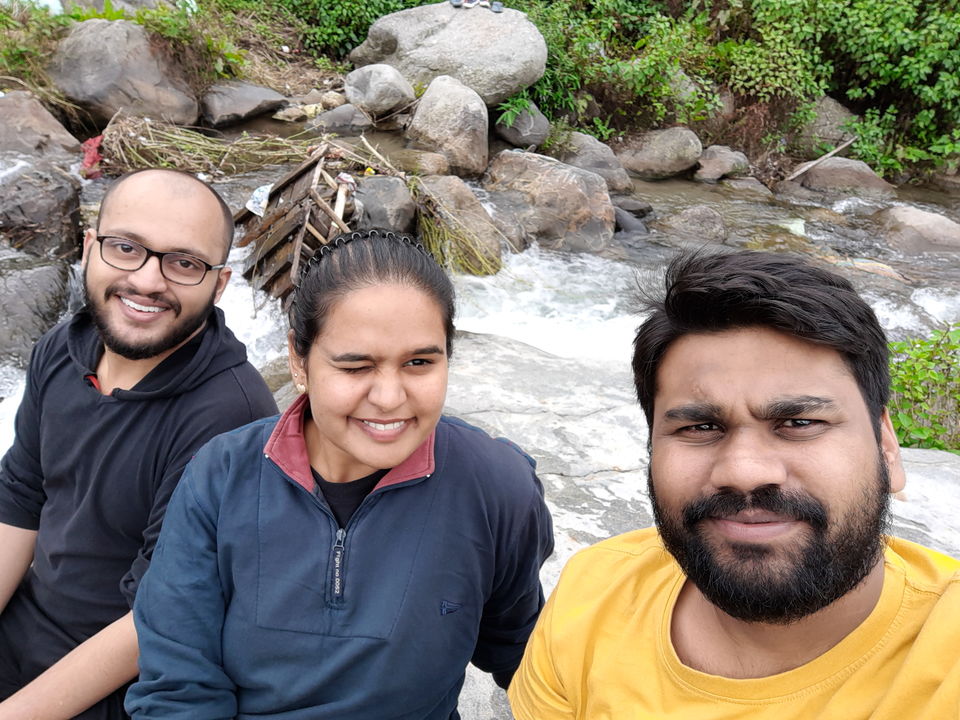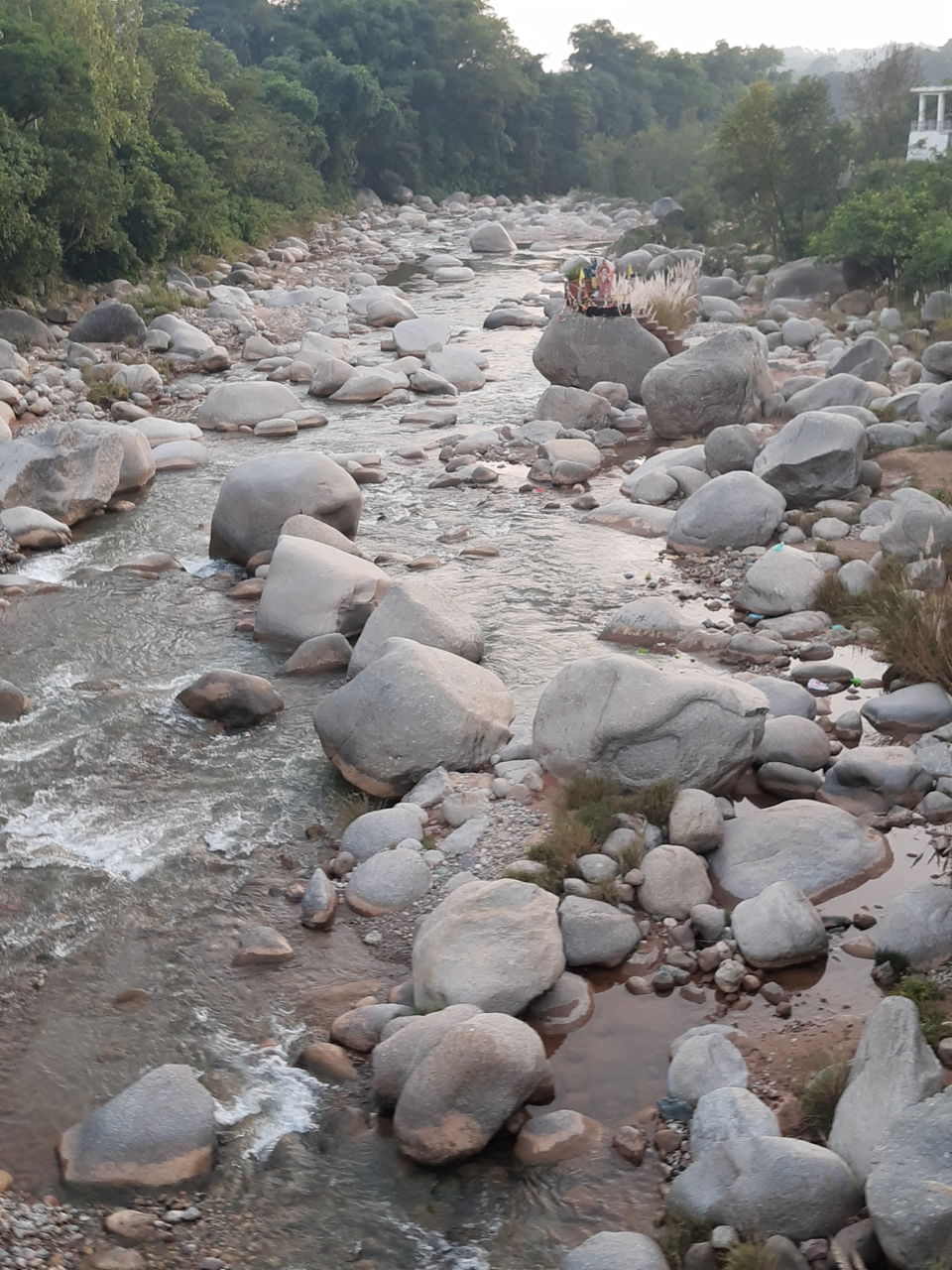 Then, on our way back, we found another hotel- Sky View guest-house right next to the Paragliding landing point. We decided to move here next day (owing to being next to a happening place and great deal).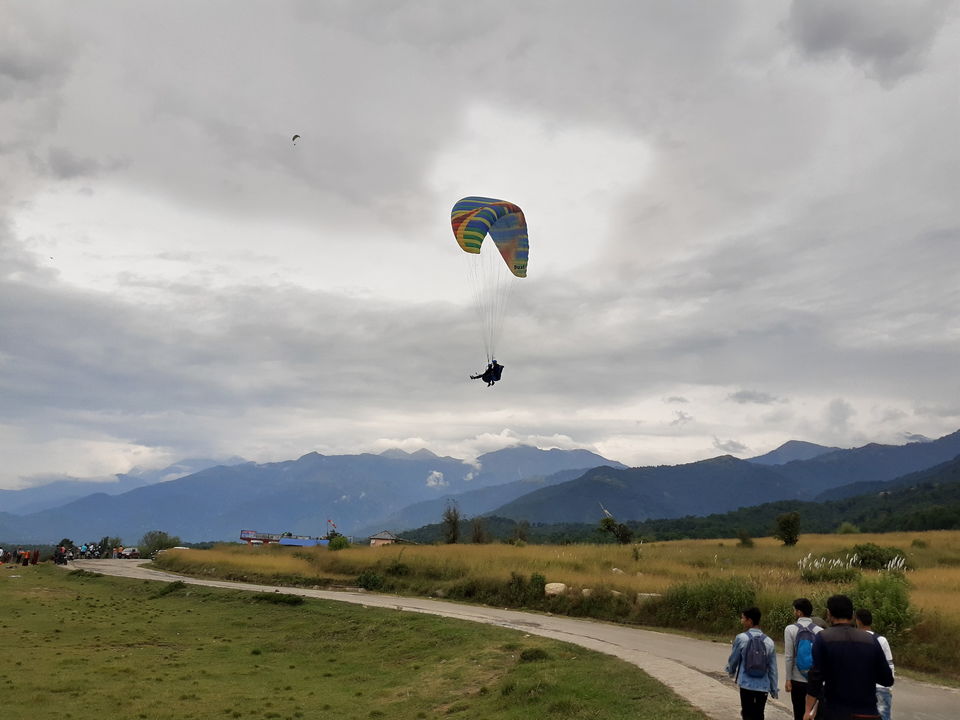 We strolled through the Bir road, exploring when we found a small café by the road side: Sasta Café
A dozen of stairs to climb, but it seemed beautiful from outside.
We went up, and boy…it's a pretty café! Decorated with fence filled with pebbles, Fairy lights, little Tibetan flags, and frames with good quotes, it was an absolute treat for eyes. There were small wooden tables and stools which were comfortable and the sound of wind chimes and mild music made it magical. We decided to check menu but the there were no prices tags with the items. There was only one guy inside the kitchen, no one else to take orders. So, we went in and asked what we could order. He recommended trying pancakes and sandwiches. We ordered the same.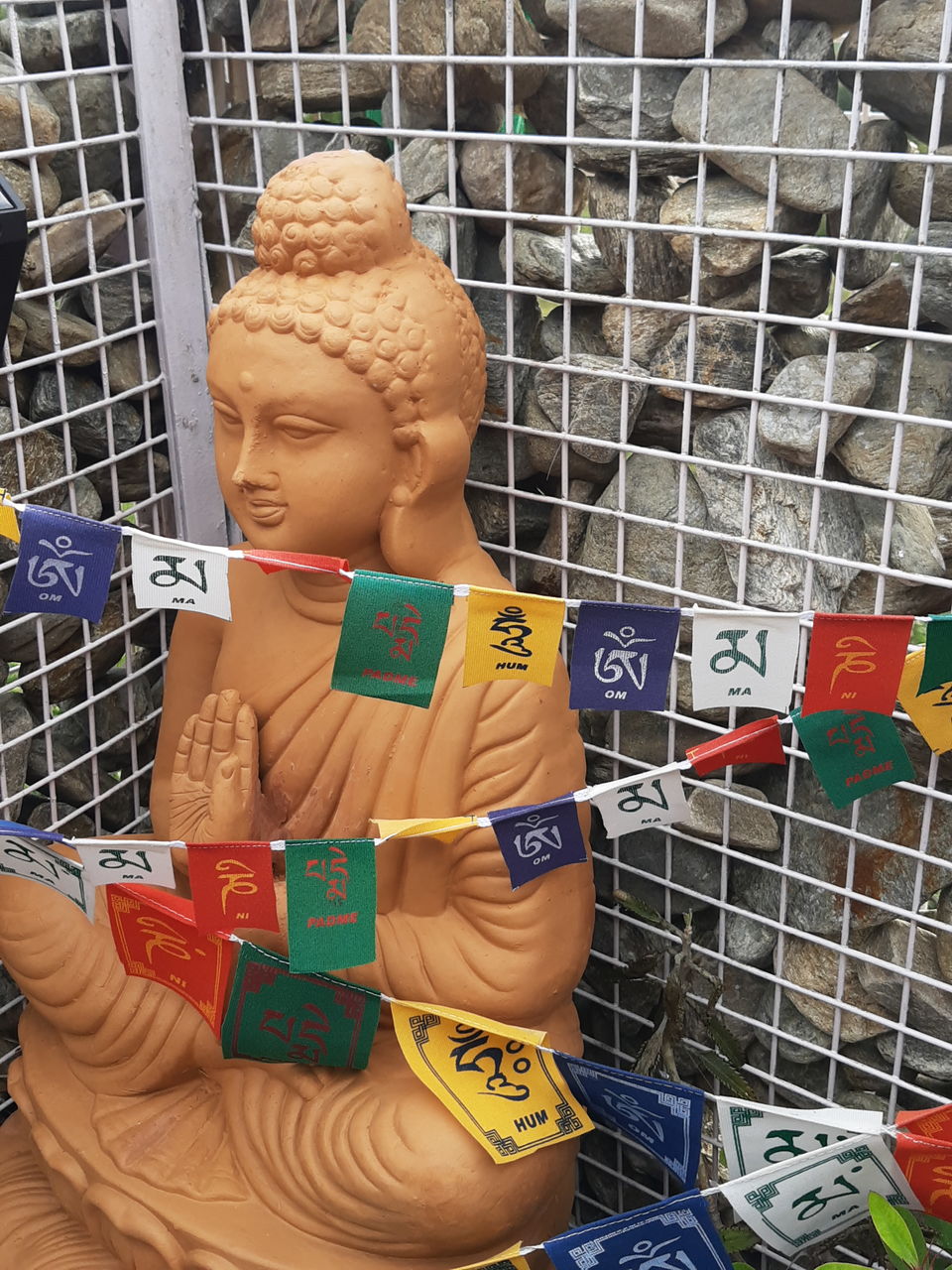 There were no other customers, so we had plenty of conversation with this guy. His name is Vikram. He told us that there are no rate tags in his café and customers are free to pay as much as they like for his services and food.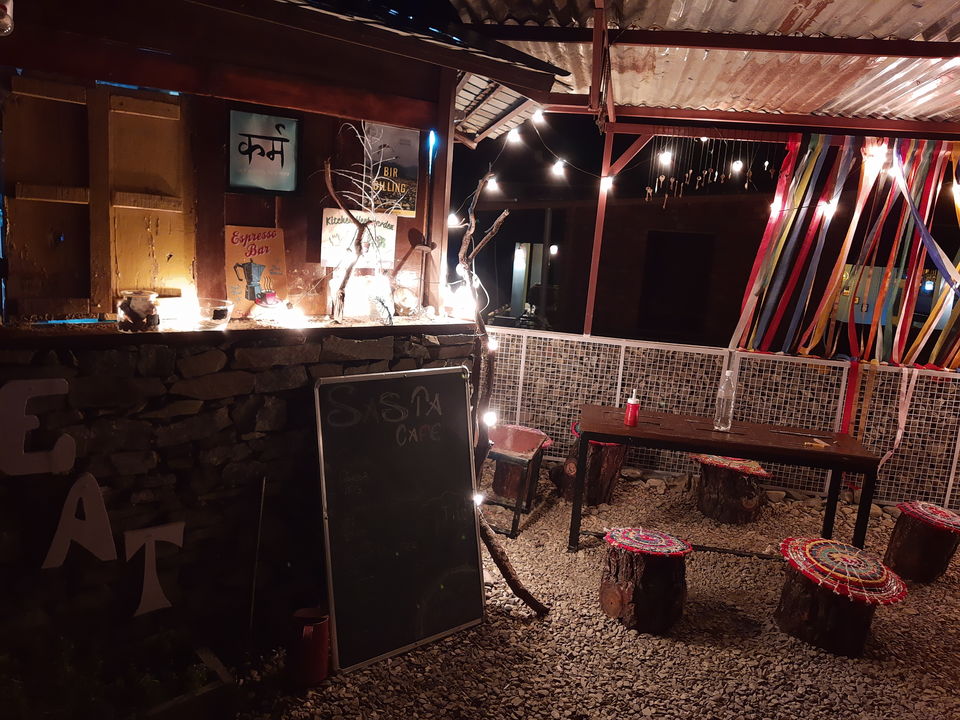 I think it's a bold and an excellent concept. Vikram being a friendly and humble person, and his café being a great place became an adda for us for the rest of our evenings in Bir.
On our way back to the hotel, we got a bottle of red wine for ourselves. Next day, We were going to fly!
Day 3 - 5th October, 2019
In the morning we got up early and got ready to go for paragliding. A mini tempo came to pick us up at 6.30. We got up on the back open area for some extra air, extra view and extra thrill.
It was about a 40 minutes drive through zig-zag and rough road. We thoroughly enjoyed the view on the way. Finally we reached the top. We were excited and at the same time I could feel my hands were wet and it felt funny in my stomach. I was nervous and happy at the same time. We were assigned our pilots and they started briefing us what we had to do and what not. My pilot even asked me to try running after wearing the gear to get comfortable with it.
The thing is that it's not a flat land. It is a natural launch-pad that stands at an altitude of 8000 feet from sea level. There is a slope and by the end of the slope your glide goes up, lifting you from the ground and you take off. So you have to continuously run down the slope till you are in the air as the glide will pull you back when it starts to go up.
Just before my turn a guy slipped and they couldn't take off, which made me a little more nervous. My mates had already taken off, so I talked with my pilot to ease out my nerves. My pilot was a friendly guy and he said, "Nothing will happen, you will not even know anything. You will enjoy this!'' He gave me a selfie stick attached with go-pro camera.
Then it was my turn to fly. He started the video. I followed all his instructions. As we reached the edge of the cliff,for a microsecond, I felt a free fall feeling, but then it went up gliding smoothly. I yelled out of happiness Yoohooooooo….I'm Flyiiiiiing…
We glided over, close to big trees and mountains, and then pilot took the glide high. I could see clouds all over in front of me, like it was a completely different world that we are going into.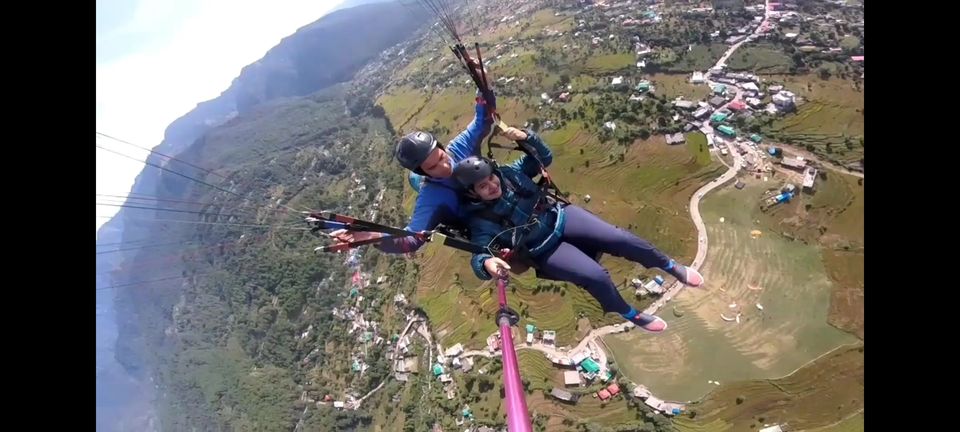 My pilot made sure that I am comfortable and he helped me hold the camera in a way that it captures the whole view. In between he kept showing me villages and monasteries from above. I looked at everything in awe; they all looked like beautiful and tiny miniatures. I sat silently, enjoying the panorama and the grandeur of Mother Nature. I loved every bit for bringing myself from Delhi up here and doing this. After a point the glide seemed to be still. After 20 minutes or so, we started to land. My pilot did some easy stunts to amuse me as we were getting down and I truly loved it. :P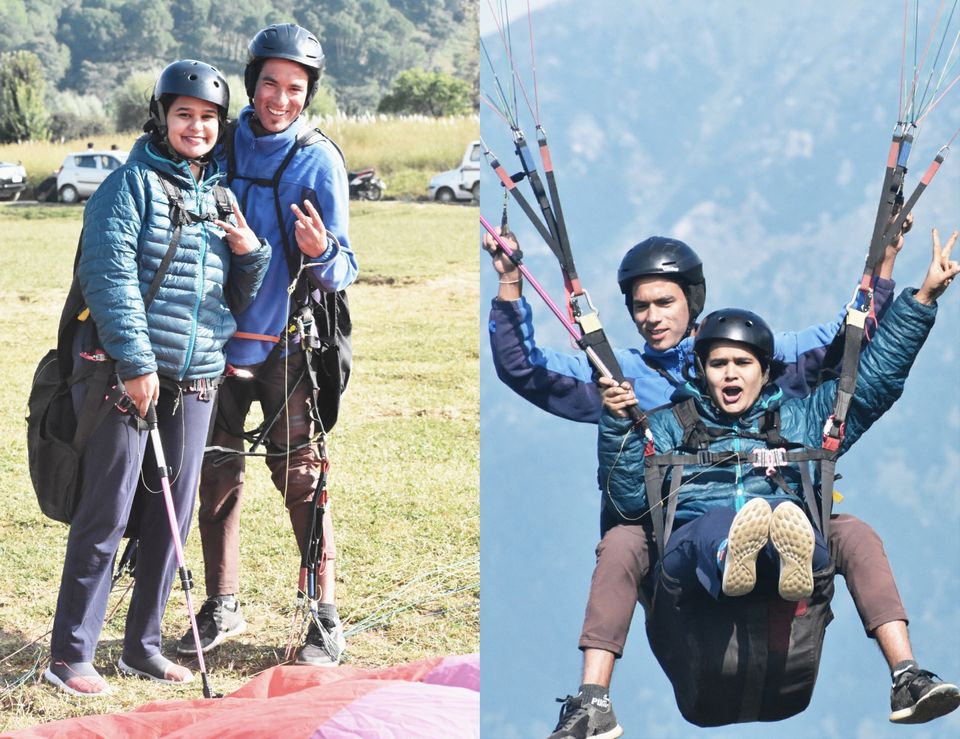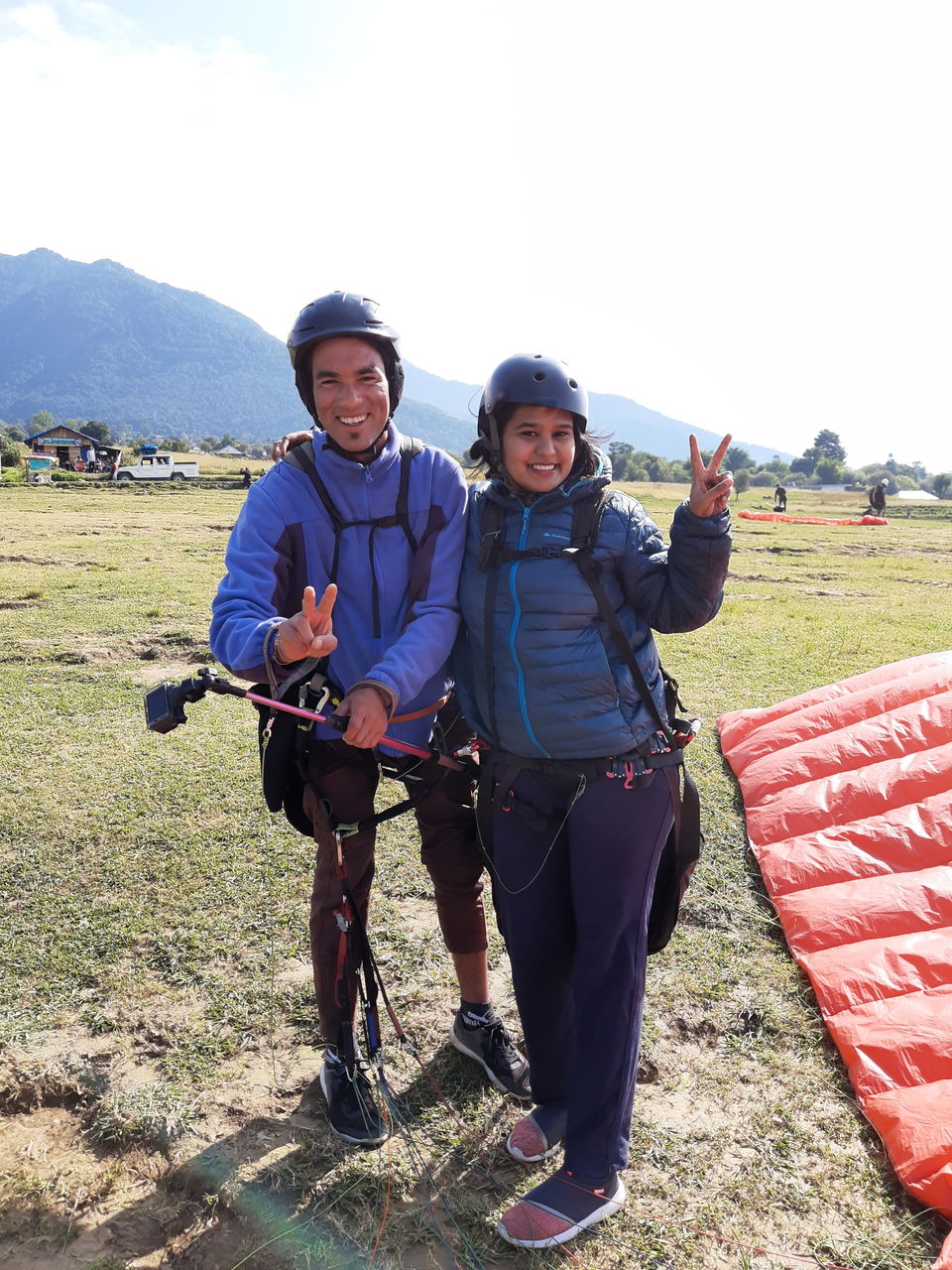 Finally we landed. I thanked my pilot and then we got our pictures from the landing site also.
For brunch, we went to Manish food. It's not a fancy shop or anything. But if you are looking for tasty Chinese food or momos, you must come here.
We then checked in to Sky view Guesthouse. We got took a bath, some rest and then we took off for yet another amazing place.
Its Northern café. It is around 10 minutes hike from the Bir road through a cut road and a village. You may have to take help of sign boards and people on the way to reach here. But when you do, it has a mesmerizing location, surrounded by mountains. It is quiet and peaceful.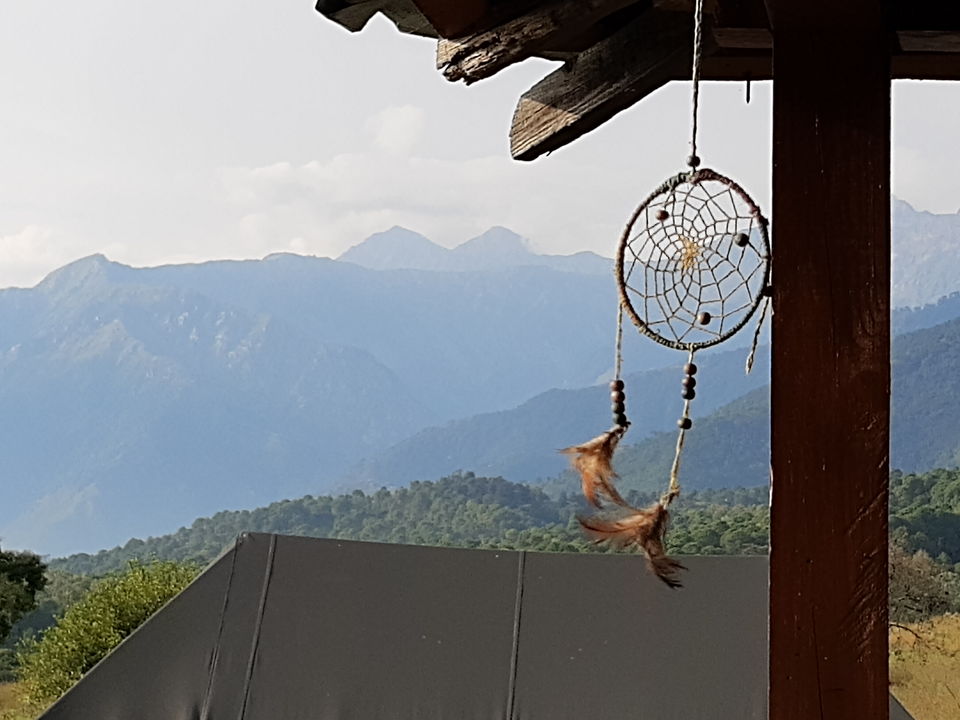 The food is amazing and they have 2 very adorable golden retrievers. We played with the retrievers and volley ball with the café owner and his mates. It didn't even feel like we met them for the first time. They were so friendly and welcoming. After that we sat down to rest, watching the most amazing sunset view: Lush green meadow with a backdrop of layers of mountains...Paragliders floating in the Crimson sky, like they are going to touch the sun before it goes down the horizon.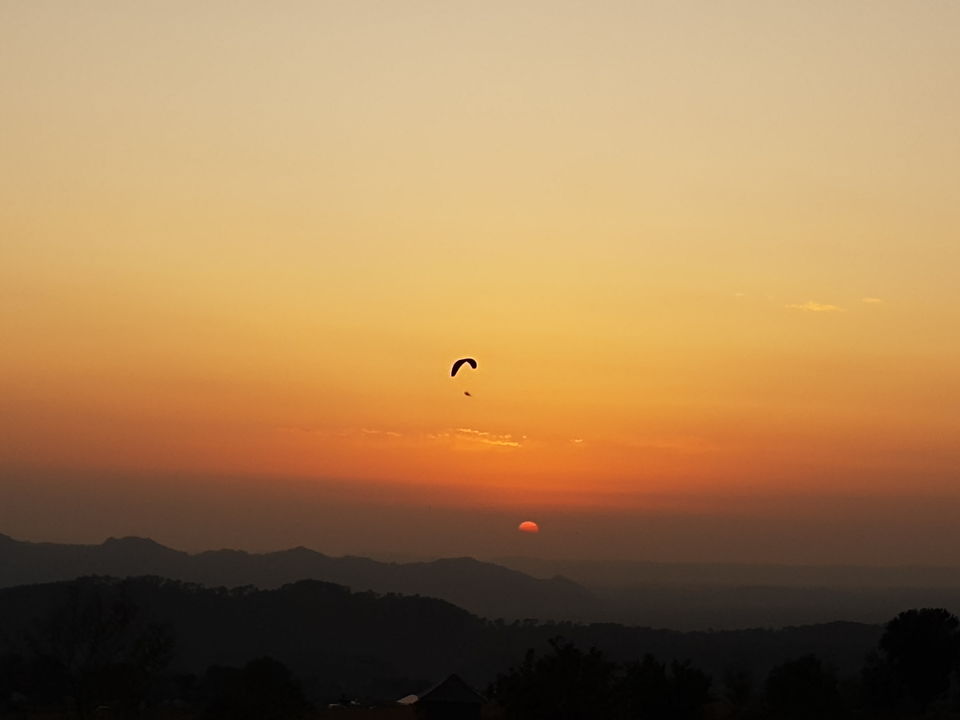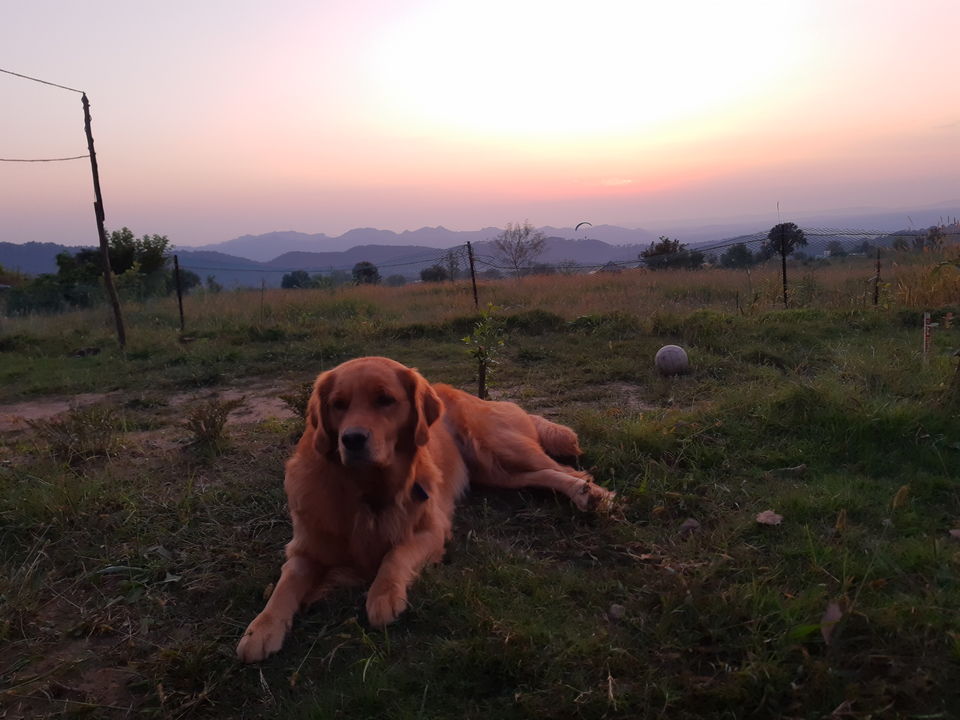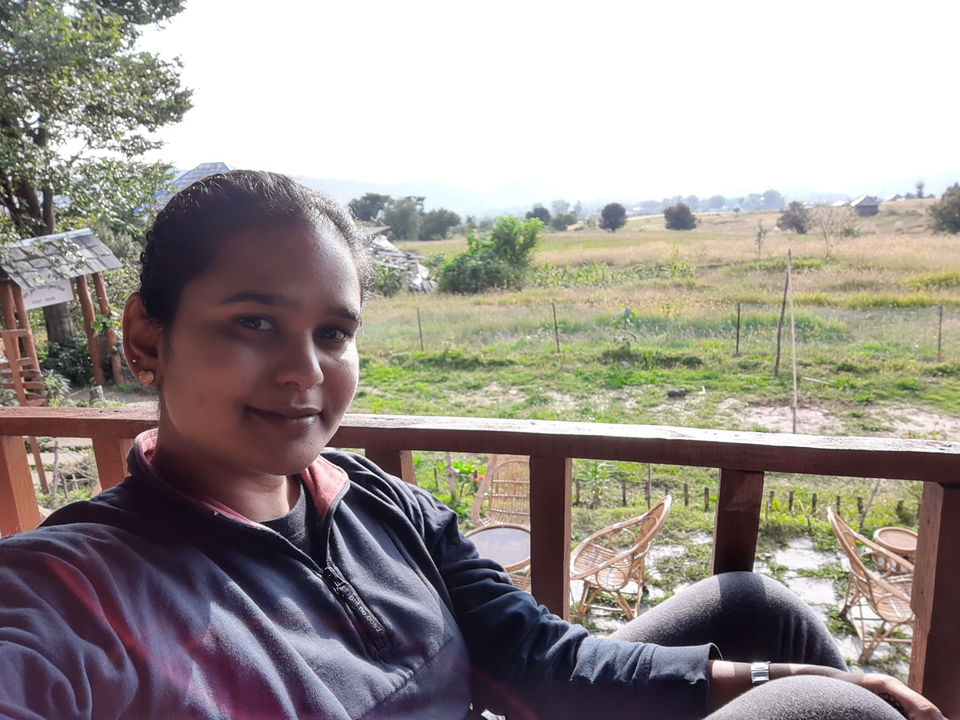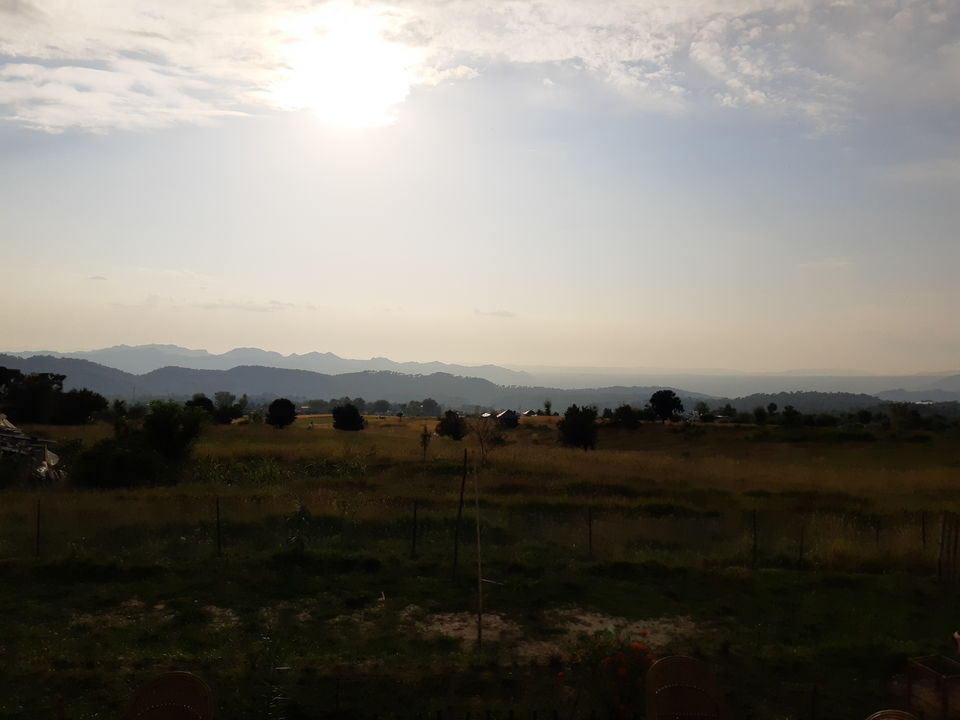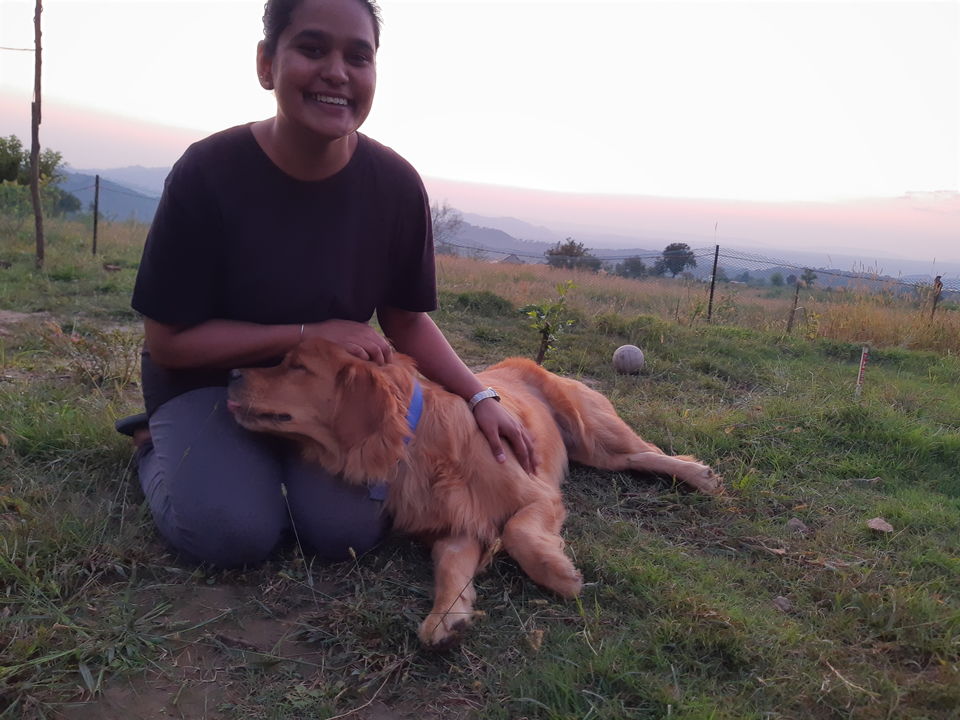 I would surely recommend visiting this place, and wait till evening to see the sunset.
We started walking down right after the sunset and reached the Bir road again. To celebrate our first flight, we stopped by an Ice cream parlour: Ice Kings. This place has variety of ice creams, chocolates, shakes, honey etc. It has the best cookies that I've ever had. We tried almost all of them. I got my favorite Honey and Cashew cookies packed.
We then went back to our adda Sasta café for hanging out and having dinner.
By this time we had got to know Vikram so well that no matter where we spend the entire day, but the day's closure had to be done at Sasta café. His menu may be limited but the food and shakes are amazing. And when we got to know Vikram on personal level, we were even more impressed with his humble and hardworking nature, his positivity and I have to mention, his amazing collection of music and sense of art.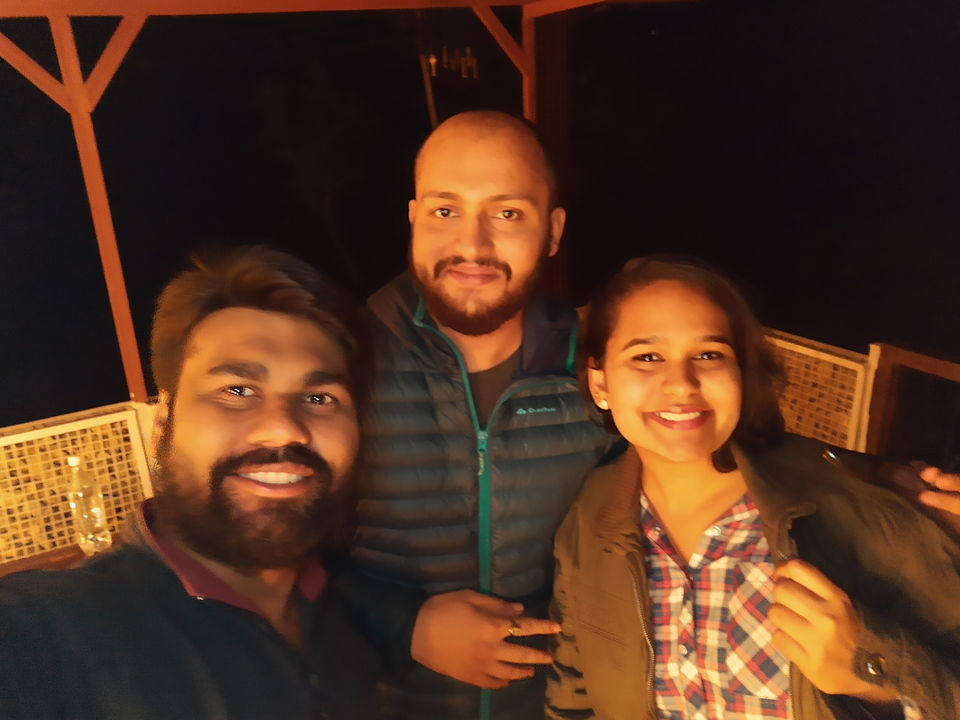 Our day ended with usual pancakes, sandwiches and Oreo shakes.
Day 4 - 6th October, 2019
This was our buffer day; so we got up a bit late, got ready and went to a small shop to have our breakfast. Then we took a bike and a scooty on rent and decided to go to Paragliding site. I tell you, that journey will never be enough for me.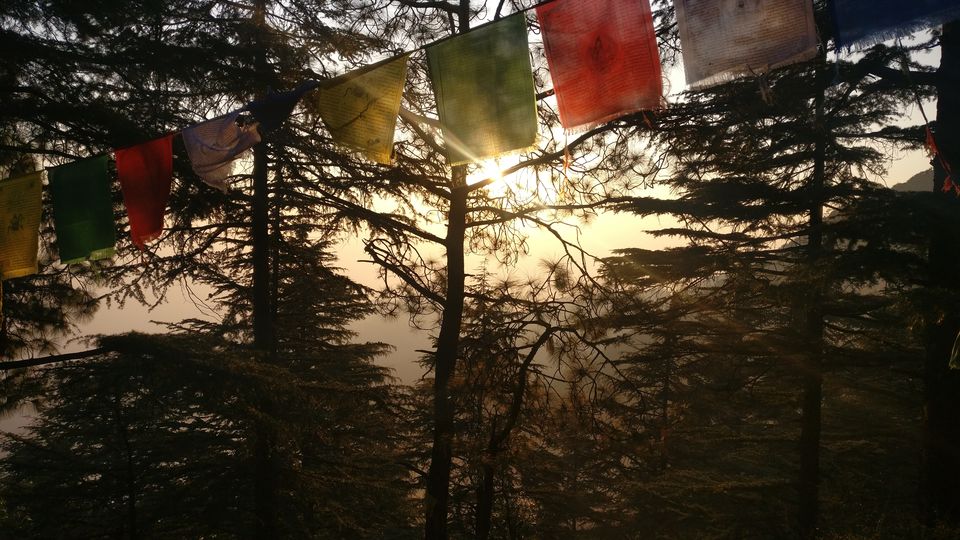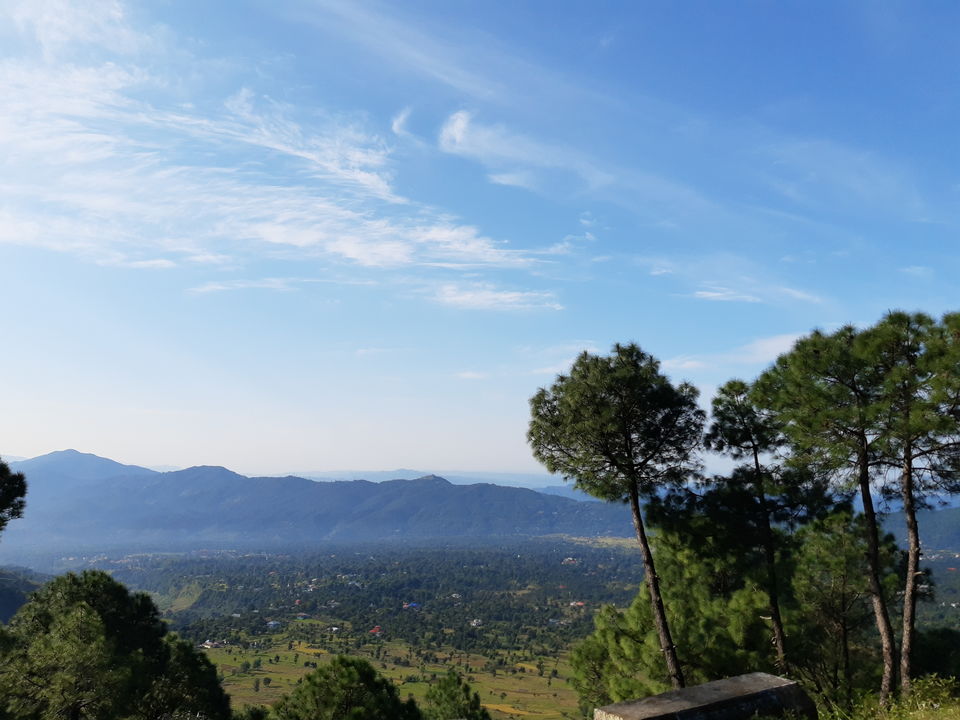 We took our time and stopped many times on the way to enjoy the scenery.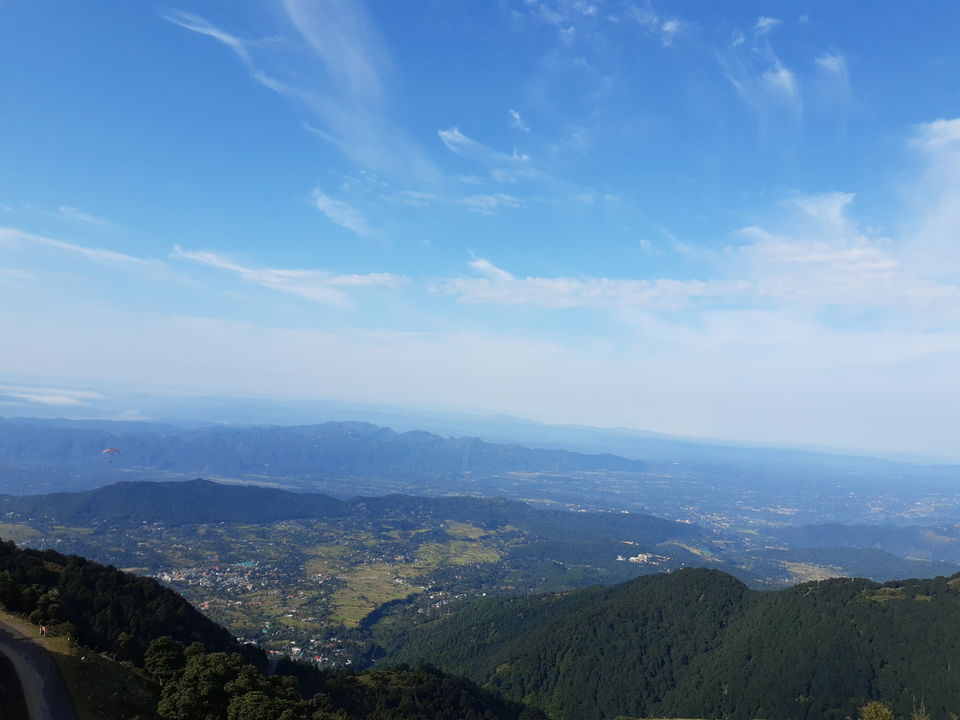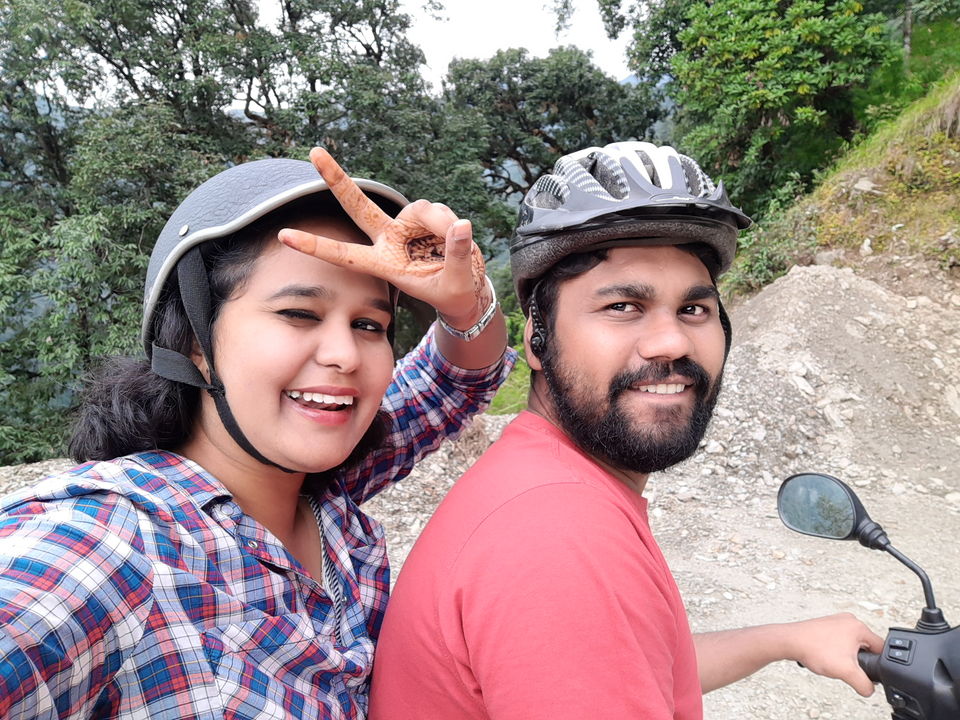 Finally, we reached the top. We hanged out for a while, watching paragliders, some getting prepared, some floating in the air like little birds.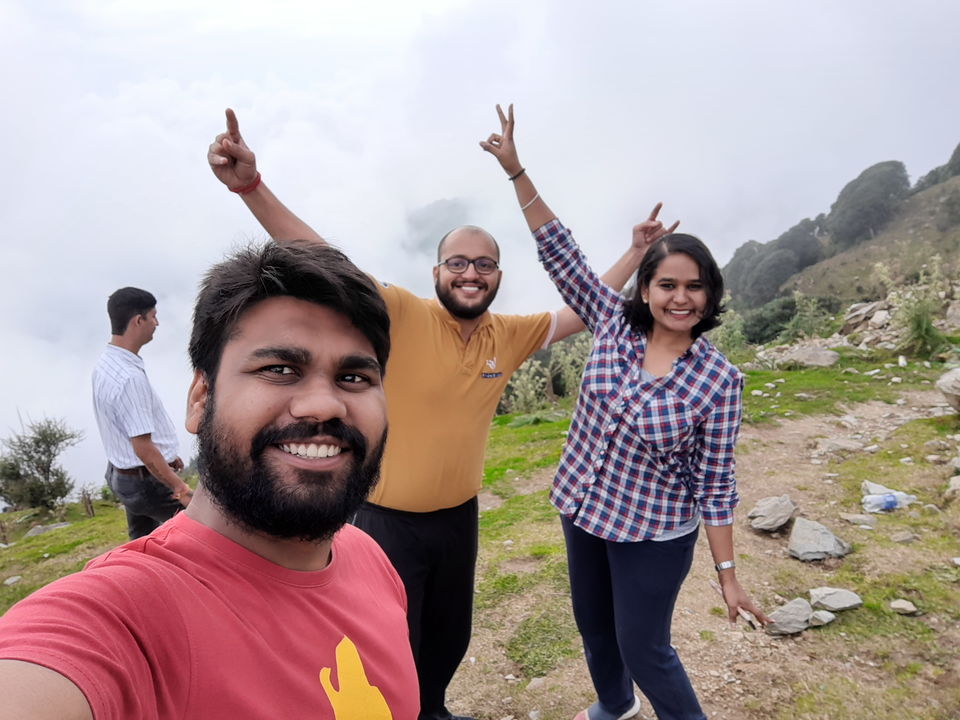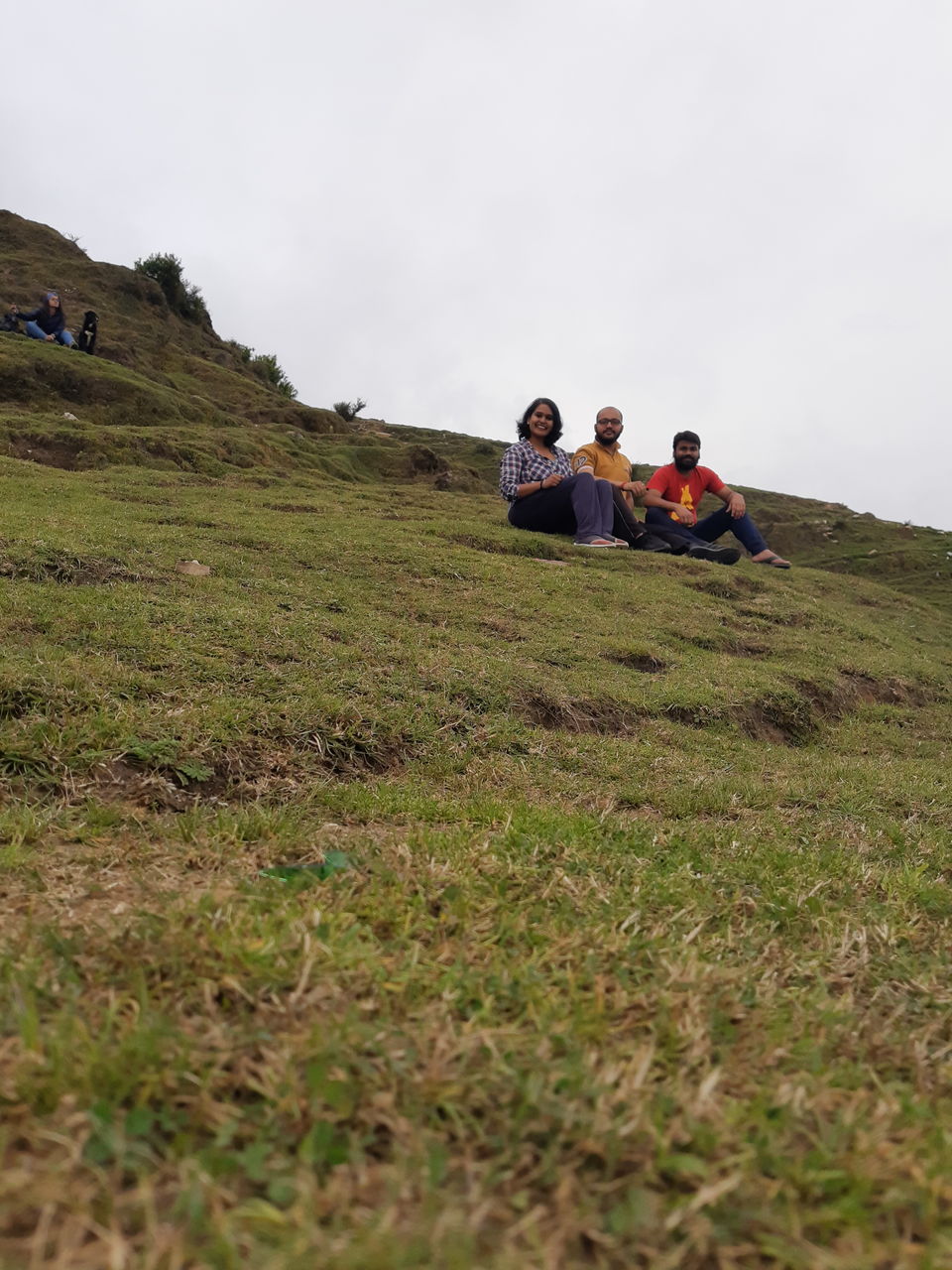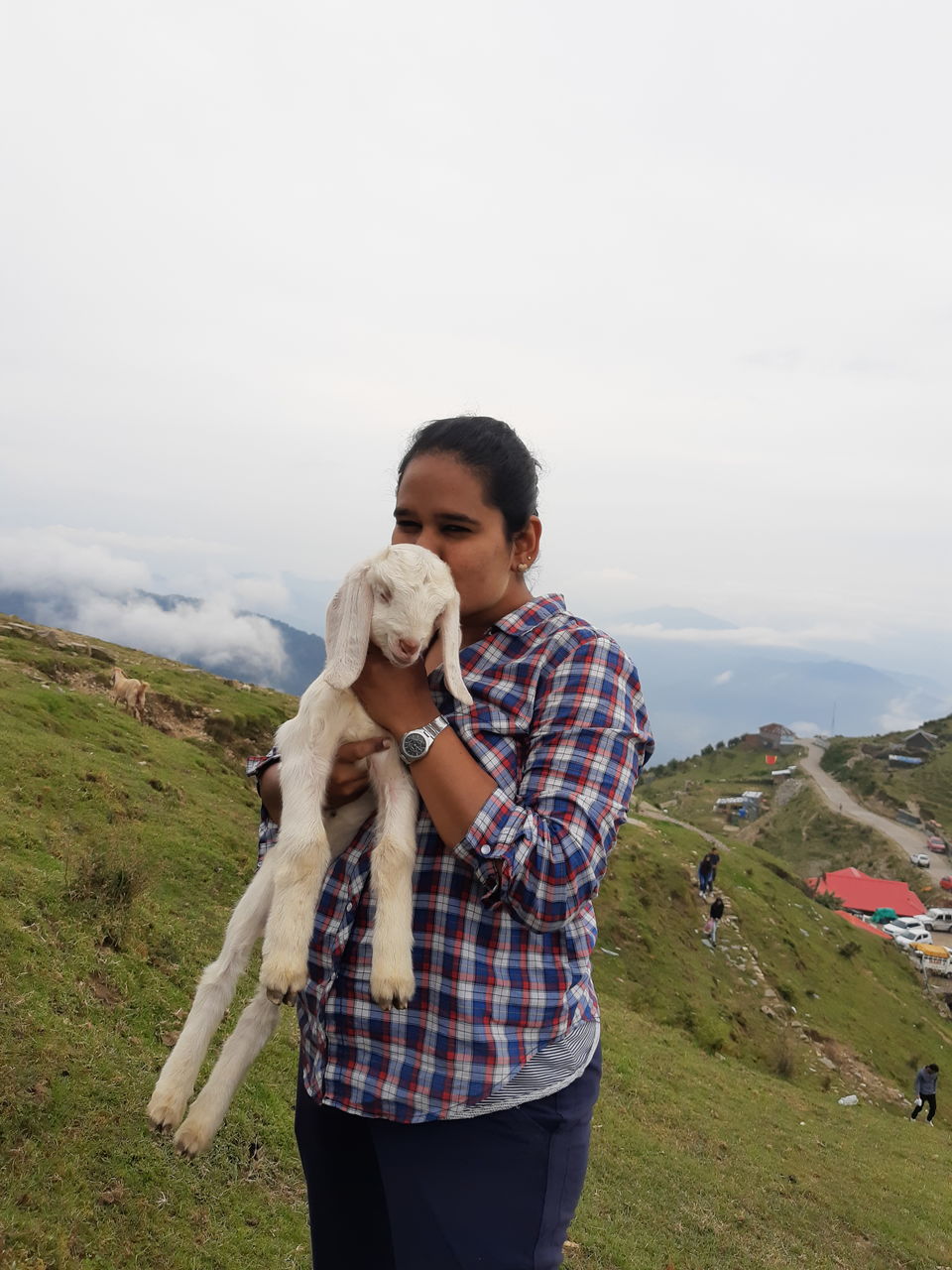 We spent a couple of hours here and then we decided to go down and hangout in the Bir market. I was in search for authentic Tibetan food. So, after much research, we landed in Joy café. We ordered Momos with soup, Fried rice and Manchurian, Phing with Tingmo and Thukpa. They were authentic in taste and a real treat for taste buds. The café owner made the food by himself, and he was a down to earth person. We had great experience trying new food.
Then we stopped by Ice Kings again to have ice cream. We then returned our scooty and bike to the rental shop and we went to Sasta café where Vikram had kept some newly painted wooden planks. He said he is making some decorative pieces for his café. There was a plane piece of stone lying there in his café. I asked him if he could give me his paint and brushes, and I could paint something for him. He gladly gave away his paints and brushes. We took off and went to the Paragliding landing site. It was late night, not really many people were around. We put a blanket on the ground, sat down and had deep conversations. The stars were shining bright. A couple of dogs came by and joined us in our special and last night in Bir. There was absolute silence around, except that we could hear some soft rock music from a distance, which only added to the vibe.
Post midnight, when the temperature started dropping and we decided to move back to our guesthouse. I took out the stone, paint cans and brushes and painted something for Vikram.
Day 5 - 7th October, 2019
In the morning, we went to the stream for a morning walk, spent time watching the sun rise.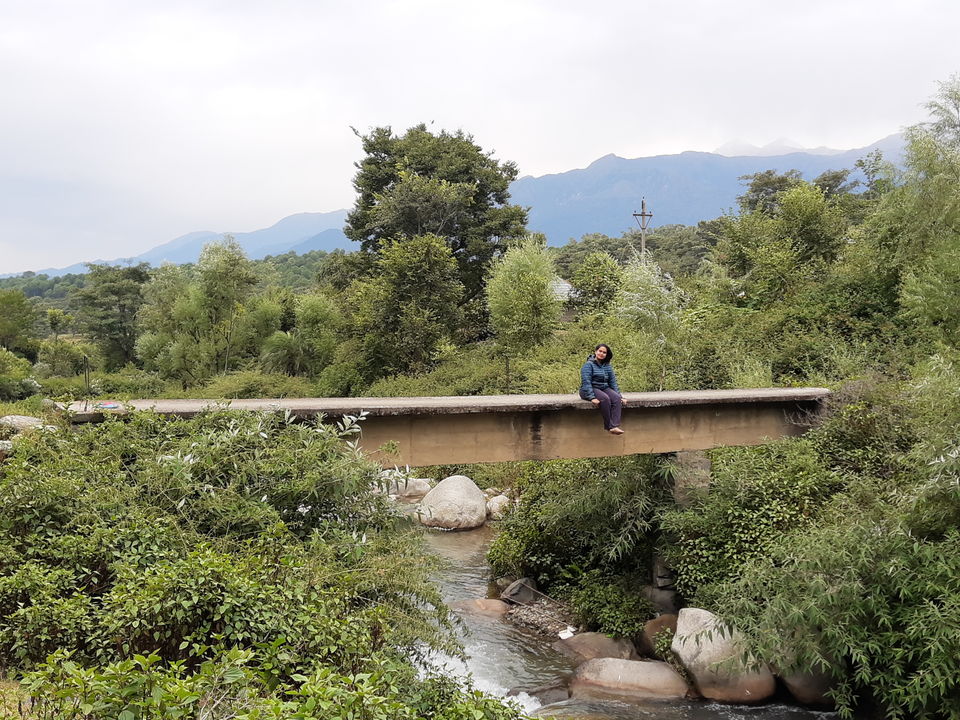 We then came to the Landing site, had our tea.
We checked out of our guesthouse and then we went to Sasta café for breakfast for one last time. I gave Vikram his paints and brushes and the stone that I painted for him. He was happy. :)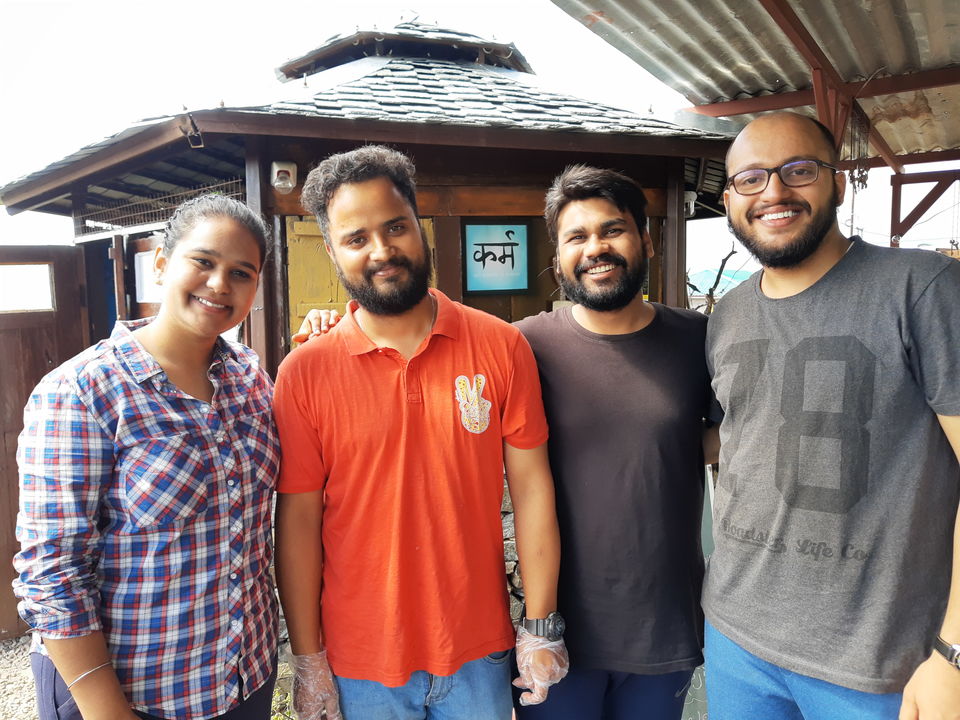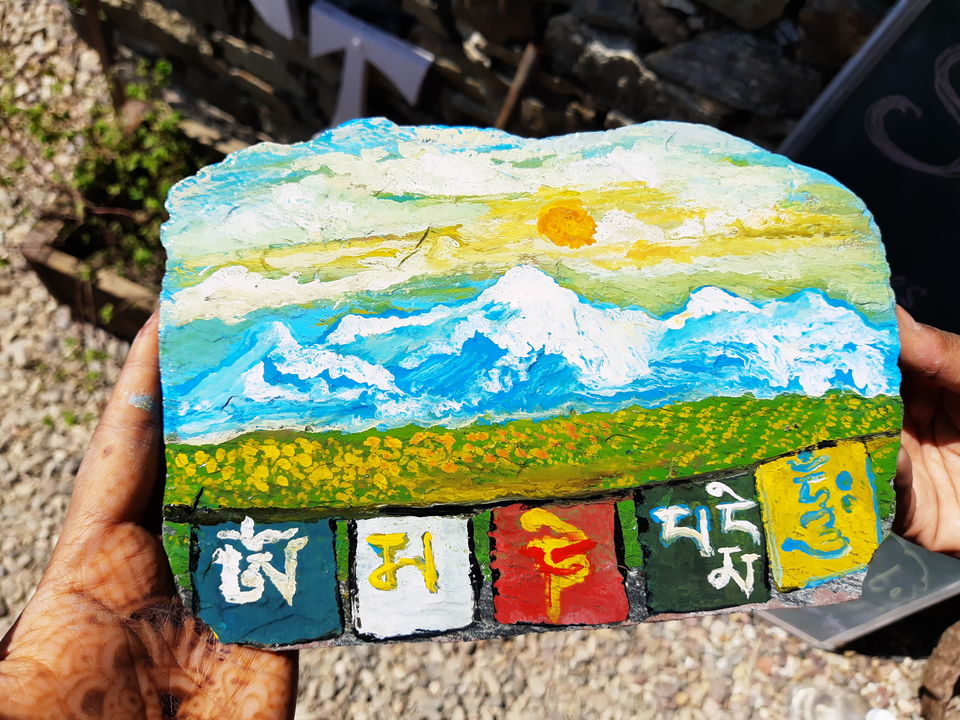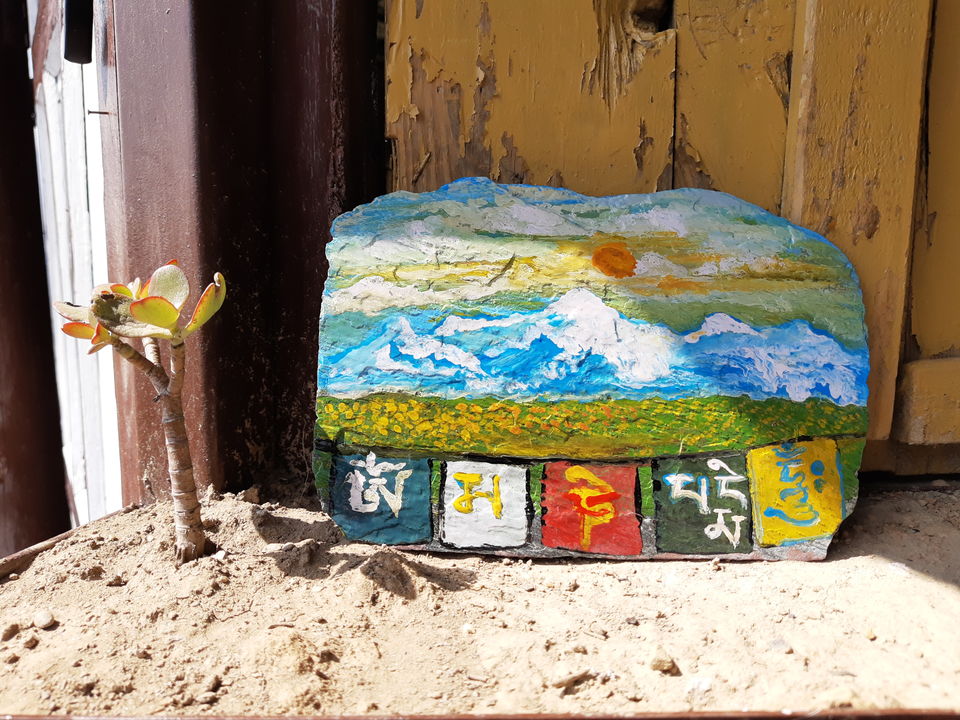 One of his friends was there in the café who offered us a ride to the stop. After a wonderful trip, we had to come back to where it all started out, with memories and great experiences.
This is our story of Bir Billing. You could do this itinerary in 3 days as well. But, we had enough days in hand and we did it quite comfortably.
In my opinion, one must definitely go and experience this place and everything that it has got to offer. No matter how many blogs you read or how many videos you watch, you don't know it unless you have actually done it!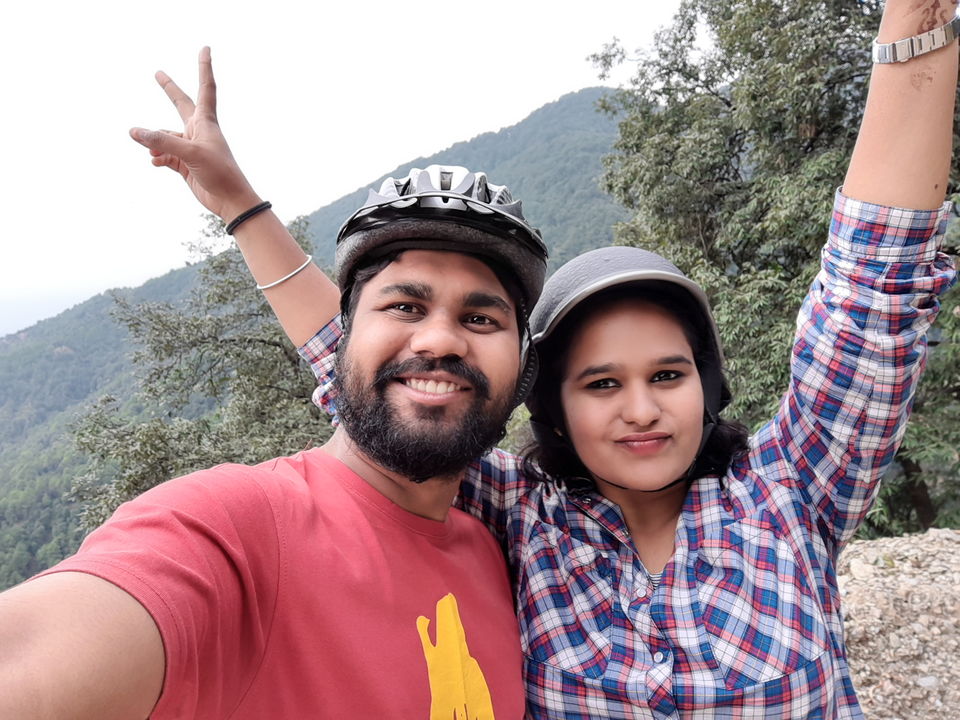 If you loved reading this, or you get inspired to go too, don't forget to press the blue heart icon below and share it with your friends and family. Please feel free to leave your comments and feedbacks. :)