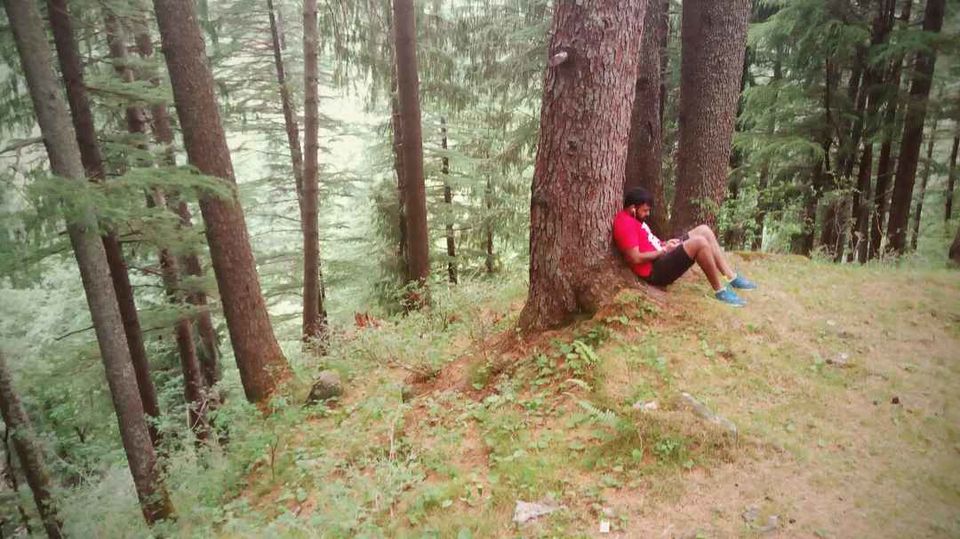 Reunion is what brings you back to life, a life you always want to relive! - This was the exact thought that came to my mind when I planned a trip with 2 of my best friends from college. Busy with our 9-5 job, we were not able to stay in touch. A call from a friend is all that was needed to bring the old Spark back. And just like that we booked our tickets to the capital of India - New Delhi!
Until the day we left and the time we reached Delhi airport, we had no plans and the destination where we were going was unknown. The only thing we had decided was, we were going to board a bus that was going to Manali.
We headed to ISBT for our bus and was all geared up for a all night trip!
Must do tip - Book your bus tickets well in advance. 9-5 desk job makes you comfortable and you don't want to travel by a Non-Volvo bus just to keep your back intact. Do book your bus via redBus - the easiest one-stop destination for bus booking. Cost for Non-Volvo - Rs 1000/- and for Volvo A/C semi sleeper Rs 1300/-.
Our journey started at 10 p.m. and it was bumpy drive with passengers falling over each other (literally).
We decided to go to Kasol as we had read about it through various blogs and articles that were published on Facebook. Also, the name Kasol itself was fascinating for us. Mind you, the decision was taken as we read an article on facebook just after we boarded our bus.
We reached Bhuntar by 10 a.m. and headed to local bus station which would take us Kasol. This bus had a capacity to accommodate 40 people at a time and by the crowd you can see in the below picture, we were atleast 3 times the capacity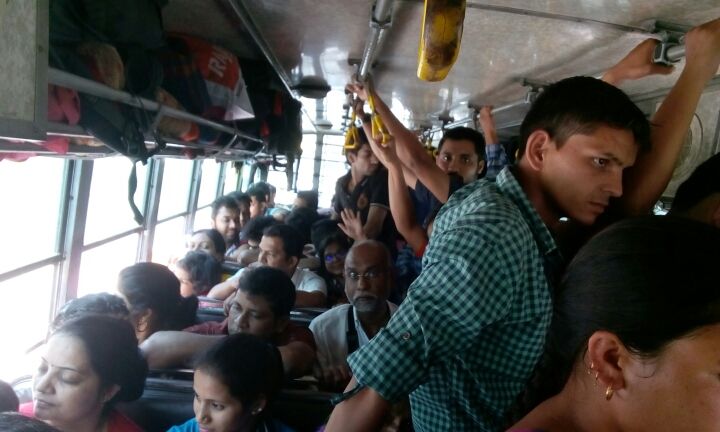 I was sitting with an old lady (about 75 years of age) who asked me a simple question with all her excitement - what is the reason you have come to Himachal for? And my answer was simple as well - I said "PEACE". After a long silence, she asked me so where are you going to find peace? - without wasting a second I answered "KASOL" with a big smile.
She smiled back and told me - You are going to a wrong place young man!
After a long silence, I asked why would you say so? - She replied, Kasol is a start point for various treks and hence all new travelers just like you head to Kasol. If you want peace, you have to go to Pulga - I had never heard of this place before. And just after she said this, she got off from the bus and waved at me.
We reached Kasol around 1 p.m. and the moment I reached there, I just remembered the words the lady told me. She was absolutely right. Kasol market was filled with travelers and there was hardly any place at nearby cafe for us to have lunch.
We walked a little to find a local dhaba at the end of market. The food was a delight and it costed only 80 Rs per head. Aloo de parathe with Dal can sound common, but it tastes different in Himachal. A must have, atleast once.
Over the lunch, I discussed the idea of visiting Pulga with my friends and they were a little surprised. Infact, they were tired and hence they didn't want to travel anymore. Being a media planner, I tried to hard sell my idea just the way I sell my media plans to my clients. And as usual, it worked.
After lunch, we took a cab from Kasol to Barshaini which costed us Rs 500/- and we were entertained with some trance music. (if you are traveling on a tight budget, would recommend to take a local bus which would cost only 20 Rs).
We reached Barshaini by 4 p.m. and we started our ascend to Pulga. We can see a small village from the other side of the valley and we had our doubts about the place. But with sun setting down, we decided to go for it. It's a 60 minute trek to reach Pulga. Big rocks are colored with directions so that you don't get lost. You will come across small waterfalls where you can fill your bottle, which you might need during the ascend.
We reached Pulga by 5:30 p.m. and the first sight of the village was mesmerising. All the hurdles that we faced while traveling, was all worth it.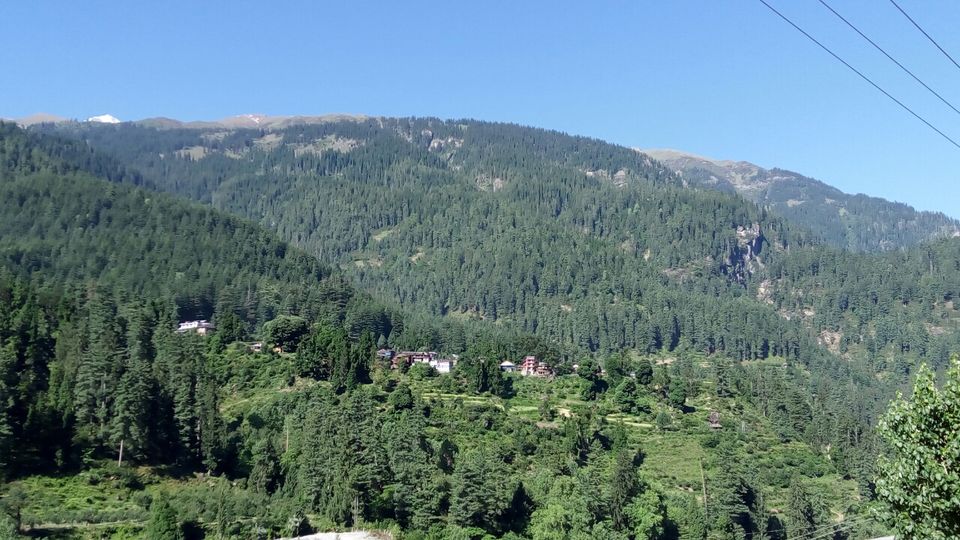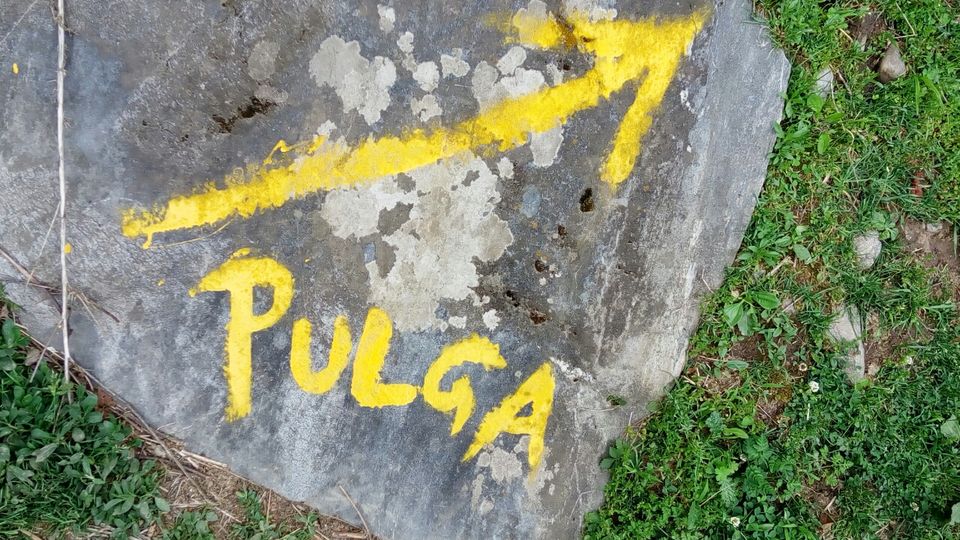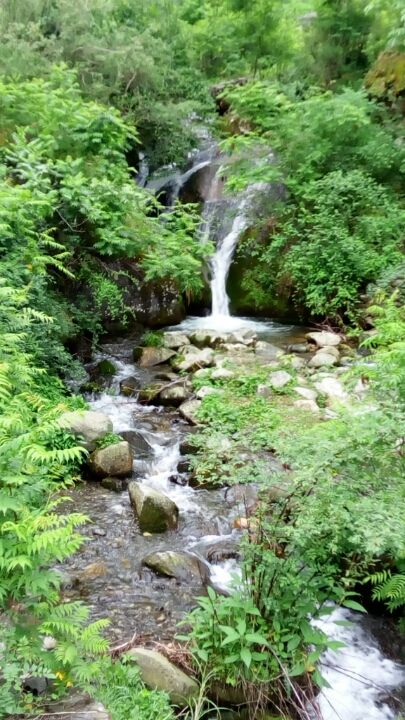 Kids greeted us with the sweetest smile I have ever seen. Small kid came to me and held my hand as if he wanted to say something. He asked me to go along with him and I couldn't say no. He took me to his place and his mother asked me to come and check their place. It was then when I realized that they were offering us a place to stay. They were asking for Rs 200/- per head which included breakfast, lunch, dinner and a place to stay. It was the most economical option and I wanted to say yes. But with my female friends who wanted to have a little luxurious stay, our hunt for a better place began. We split ourselves in group of two's and went in different directions. After a while we reached end of the village and saw a two story building which looked like a decent place to stay - the name was Forest View Hotel. With a rooftop cafe, we immediately decided to book our stay. The rooms were available at Rs 250/- on twin sharing basis.
From our hotel, you can see entire village and even the other side of the valley. The hotel was full with Israelis, who were on a break after there mandatory military service. The music and the party was in full swing. We chatted with them for a long time and exchanged few smokes, which gave a great start to the evening.
The temperature dropped and we were covered with multiple layers of blanket. The cafe served various cuisine (Italian, Mexican, Thai and ofcourse a variety of Israeli food). We had a sound sleep and the day started as early as 5 a.m.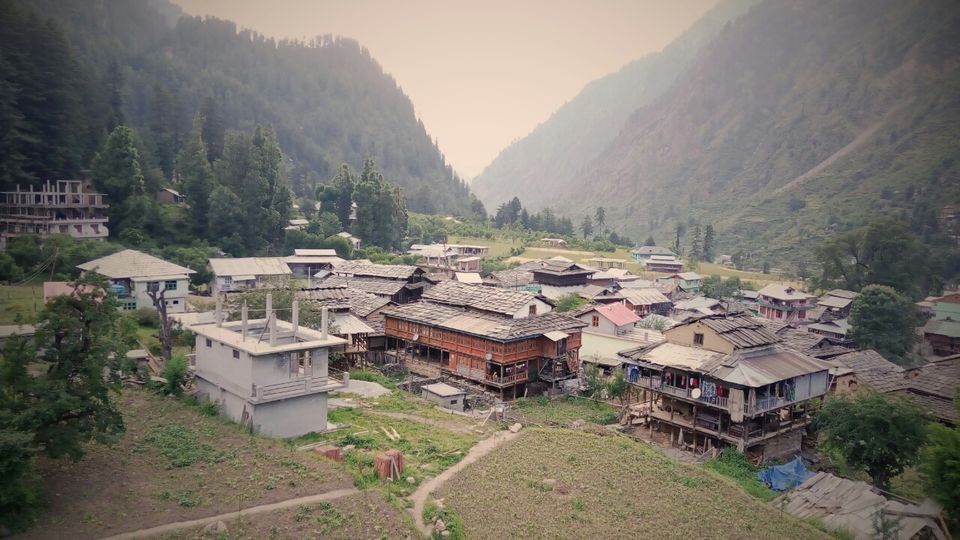 With sun shining bright, it was a perfect start for the day. With met other travelers from Bombay (Mumbai) who were on a trip for kheerganga trek. Apart from me, none of my other friends were carrying a proper back pack and hence we couldn't go for the trek.
Must do tip: Even though you are on a unplanned trip to Himachal, always carry a proper back pack. If you don't have one, you can always get it on rent from tentsonrent.com - A one stop solution for all your trekking/camping needs on rental basis.
We started exploring the village and found there is a (oak tree) jungle right behind the village.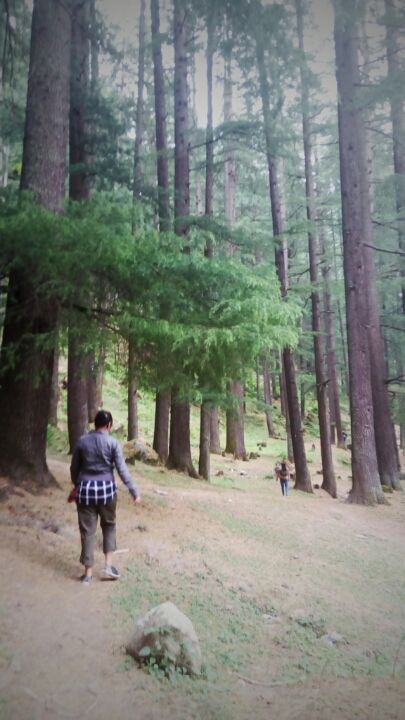 The walk in the woods gave us the feeling we were looking for - "PEACE".
You can listen to the sound of air passing by the woods and the river flowing by the mountains.
This is what I was looking for. We met a few people who were practicing their music in the midst of Woods. They say, this is how they can concentrate on their art and practice it.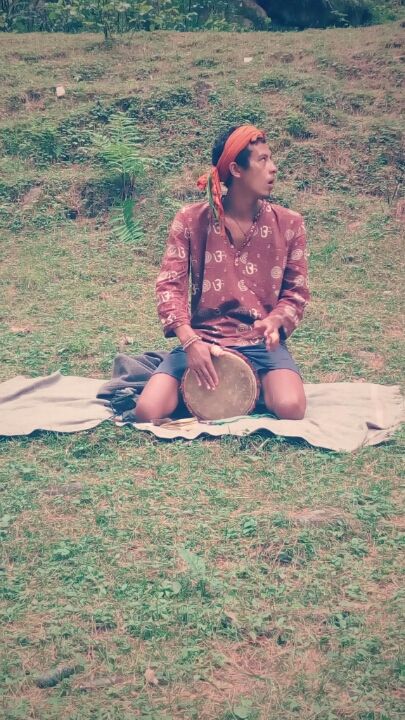 Needless to say, they were good in what they were doing and they were able to gather some audience too.
From listening to some unknown music, it was time to listen to some music of our own. I opted for a secluded corner and the hours spent in that corner was the best time of my entire trip.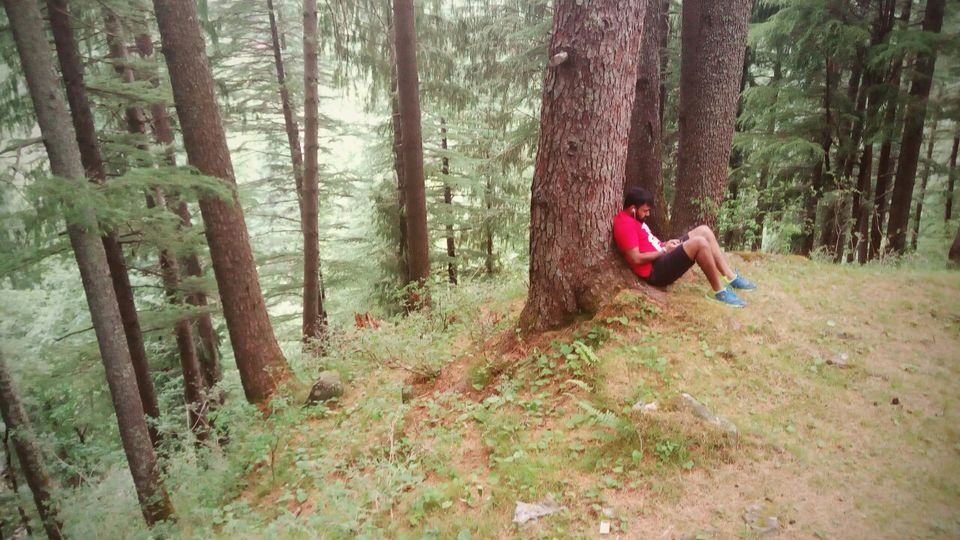 We stayed there till evening and none of us spoke to each other - it was the "ME" time we all needed. We came back with a new zeel and decided to go for kheerganga the next day irrespective.
We started our descend the next morning and decided to take a shortcut which proved to be wrong. It was steep route which one should avoid. However, we came across some waterfalls and the sight will be remembered for ever.
We reached the start point of kheerganga and started our trek. But just in few moments one of my fried twisted her leg and that's it, it was end of our trek and we decided to go back to Pulga.
Once we were back in village and the local started seeing us more often, they offered us things that we were not looking for - but that is what Israelis come for. The locals have their own farm where they grow the leaves and sell it off to travelers.
Next morning we were exploring the village and found a spot which was technically the end of the village. We sat on top of the house and can see the entire valley. The view was captured beautifully and is now framed at my place.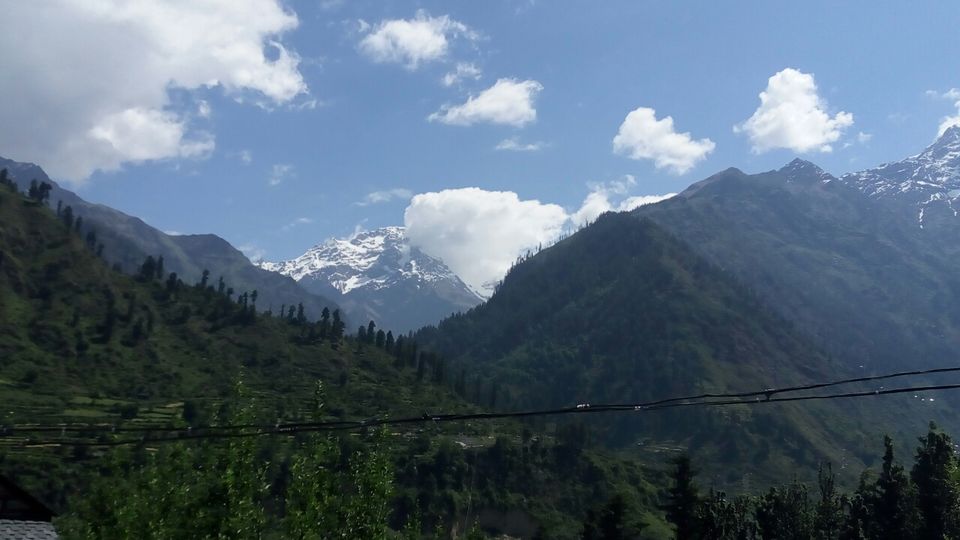 We sat there till evening, remembering all the fun things we did back in college. Who topped the exams, who cheated on whom, things we hated about each other, our favorite professor, our intercollegiate football game we played and a whole lot of things. It was like, we never grew up and we were still the same. We realized, it was the 9-5 job that changed us and we have now decided to go on a week long trip once in a year if not more and that too without our better half's.
We are now friends with few of the locals and the staff at the café has promised us for a job in future, if we decide to settle there.
The 4 days at Pulga, was the break we needed for ourselves. The best part was, we hardly had any conversation for 5 years and the time we spent made us realized we were never apart.
We started our descend to Barshaini and got on to a bus for Bhuntar and from there another bus back to Delhi.
On our journey back to Mumbai, we were looking at the pictures we captured and had a smile on our face. A trip with friends is all we need to be what we are.
Keep traveling! Few pictures from our trip. For more, follow us on Instagram - the_tripster