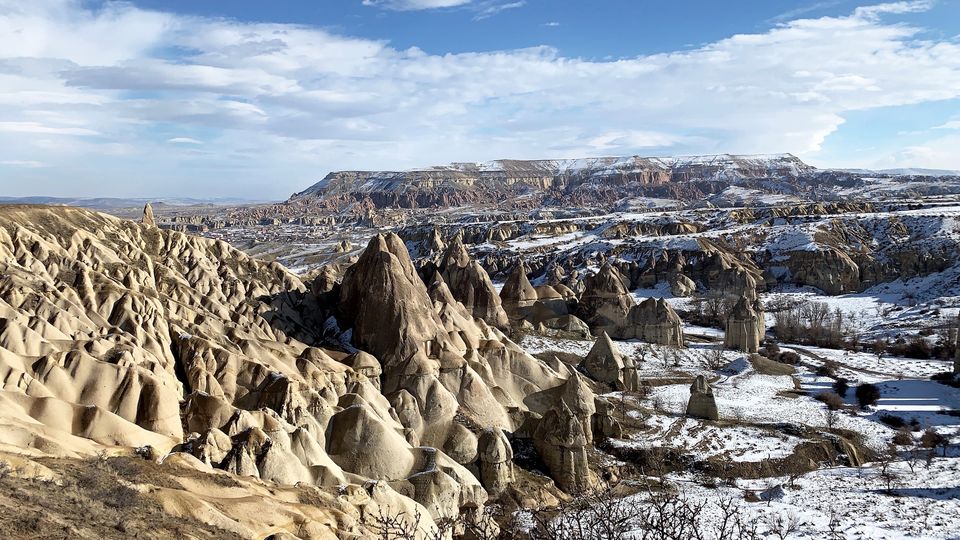 You have landed on Moon but on Earth in Cappadocia! Yes, that is the very first instinct you are going to feel in the mystical moonscaped and awfully breathtaking Cappadocia. When I say that there is no place on Earth like this small mystical town, I mean it. The bulldozed valleys, fairy chimneys, outstanding rock formations and a whole city 500 feet under make you believe like you've just landed on Mars!
What truly adds to the beauty of the topography is to watch this godly land covered in snow. It is like a Christmas miracle! Don't believe me? Just watch.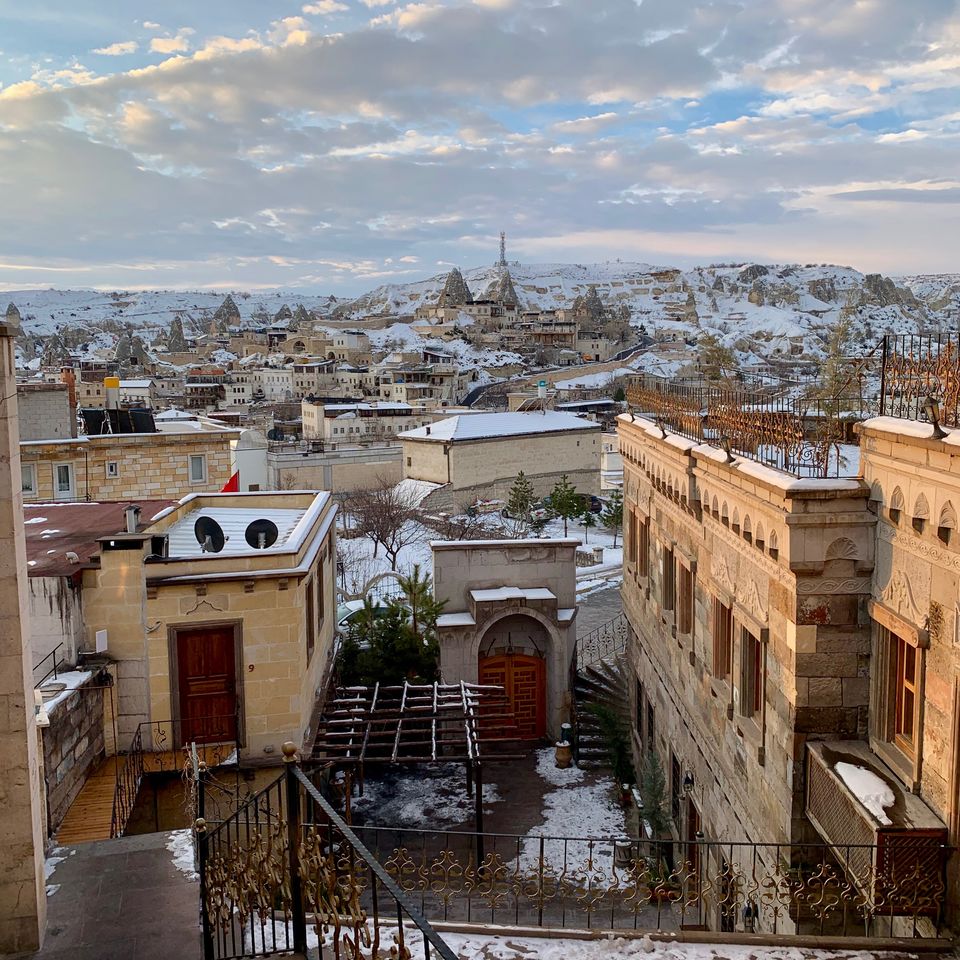 One can keep glaring at the landscapes and never get enough of it. The unusual landscape is a result of multiple volcano eruptions and erosion leaving behind a series of fairy chimneys, craters, canyons and divine valleys. The highlight of the destination is that you get to stay in real caves! Mostly all the hotels in Cappadocia are inside actual caves with the Turkish tradition swooning all around them. You can find a cozy terrace warmed up with carpets, patchwork rugs, sheesha and a cup of Turkish tea. Cappadocia is a combination of 10 beautiful small towns but the popular one, Göreme is a heart-stealer. All hotel terraces in Göreme provide a picturesque view to the early morning hot air balloon ride, another showstopper in Cappadocia. Unfortunately, we could not experience the ride during our stint visit due to bad weather. (Note: Try not to book return tickets in advance because the activity varies according to the wind speed.)
It is not only the terrain but everything in Cappadocia is like nowhere else on Earth. Barren trees adorned with evil eyes, the narrow and deep underground city, carpet-laden alleys, too many cats everywhere, bewitching open air museum and I can keep going on. Each area is stitched with history and every corner twisted with a tint of tradition. I truly believe that the traditions and culture of Turkey reflecting in niche details is what makes the country such an off-the-grid beautiful destination. No other European or Asian country will offer such a masterpiece of historical convention layered with a delightful sight!
The views in Cappadocia feel like they were just pulled out of a sci-fi movie, maybe Star Wars? Apart from the top tourist attractions there are a few off-beat drops on the map. Do visit the Love Valley in Göreme for a truly heart melting spot with your beloved. The views are unrealistically gorgeous with a few swings facing towards the valley.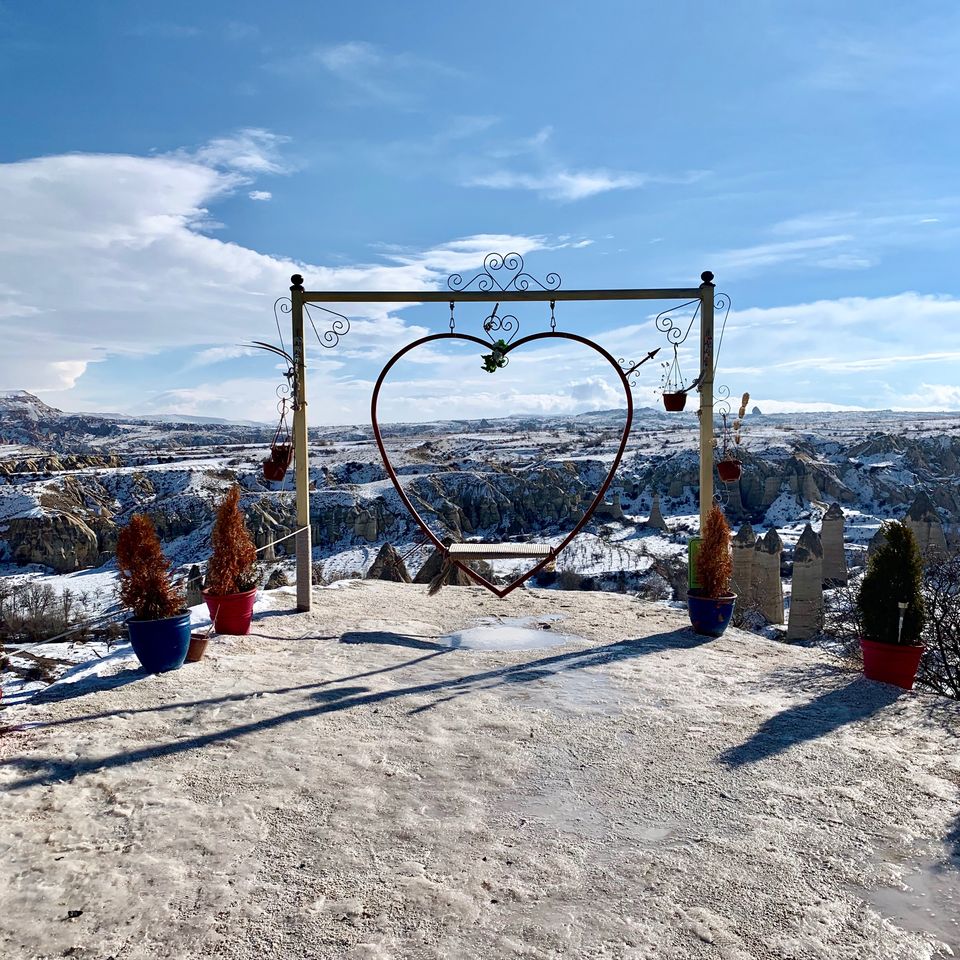 One should also visit Galerie Ikman in Göreme for some Instagram worthy moments. The carpet and handicrafts showroom has left no wall uncovered making the place a visual treat! The place has been visited by more than 22 million travellers.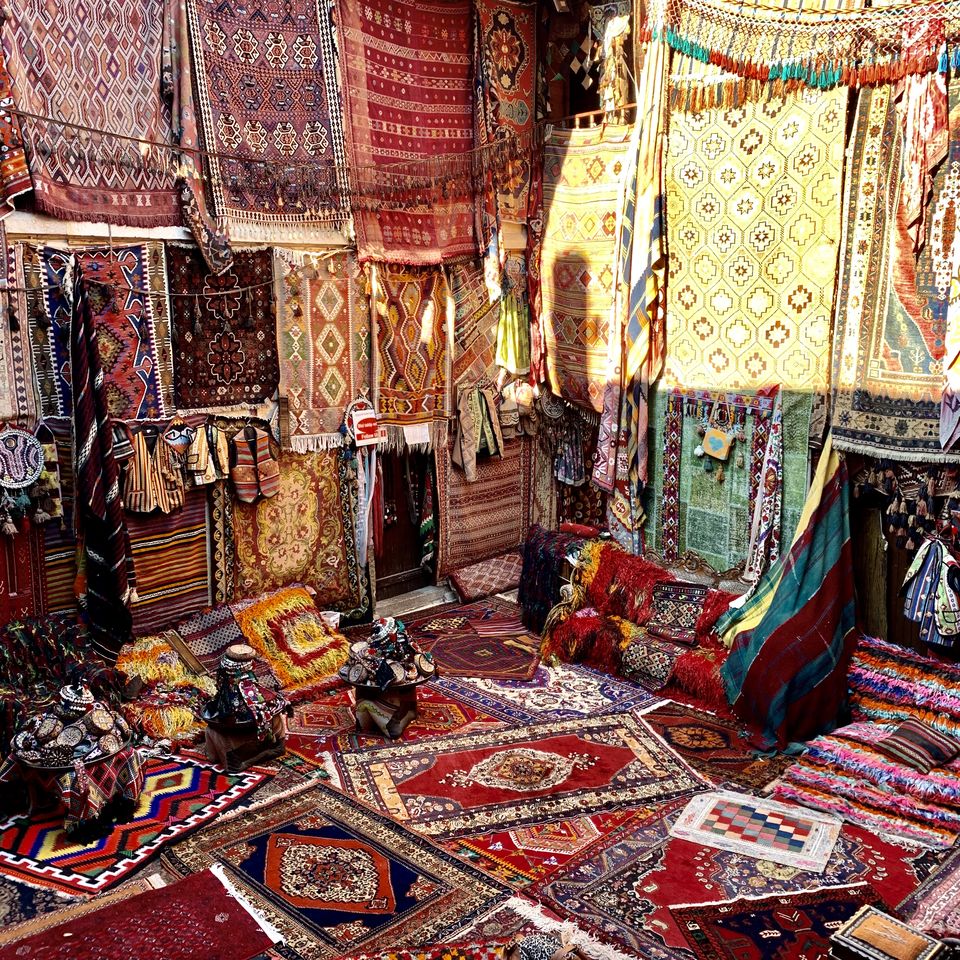 Cappadocia makes you feel like you have stepped into an alternate reality. The town maybe small but there are a lot of restaurants to satisfy your tastebuds. Do try a cup of mulled wine on the streets. It is safe to say that I fell in in love with this enticing play of nature at the very first sight. I have repeatedly observed that the smallest places offer the maximum beauty in any country. If I could, I would run back to this tiny town in a heartbeat!
Other places to visit in Cappadocia:
-Nevsehir Castle
-Pottery Shop in Avanos
-ATV ride through the town
-Monks Valley
-Devrent Valley