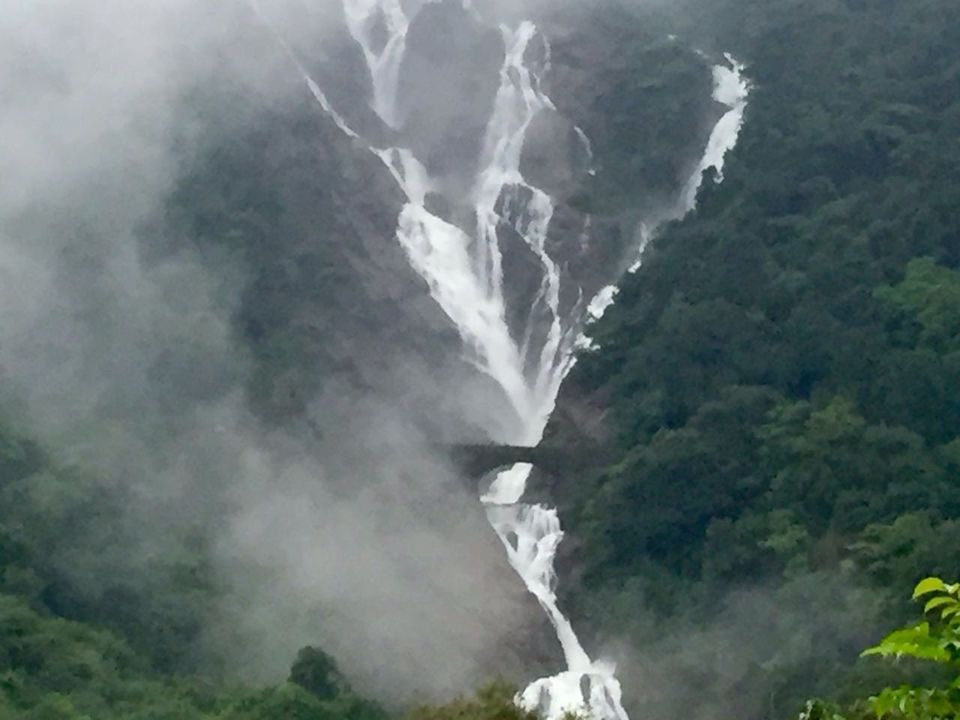 The Dudhsagar Waterfalls in Goa is a four-tiered beauty located in Goa, India. Considered one of India's tallest waterfalls, she's a force to reckon with at a height of about 1000 feet.
The Castle Rock trek involves walking on train tracks and has been banned since 2016 or so when the rules became stricter. You can however research alternate routes which may not involve the train-trek and are through the neighbouring forests. These options offer a more distant view of the falls.
Best experienced during the monsoons when the water is at full force, it's advisable to opt for an experienced guide to ensure you don't get lost along the way. We managed to experience the Castle Rock route in 2015. This route is considered more scenic than others with the trek leading you through multiple tunnels and tiny waterfalls which are enjoyable on its own. The trek window is typically in July-August each year and typically unavailable otherwise.
We reached the Dudhsagar Waterfalls from Bangalore by traveling on the Vasco Da Gama express. This train also halts briefly in front of the falls as people shriek with excitement and the anxious TTs prevent them from jumping on to the train tracks to take selfies with the gorgeous beauty in full force. After our preview of the falls, our excitement to begin the trek grew stronger.
While we stared at the waterfalls at this halt, our guide reminded us to grab a hold of our bags and prepare to jump out of the train. A little confused at first, we hopped out of the train a few stops prior to Castle Rock train stop.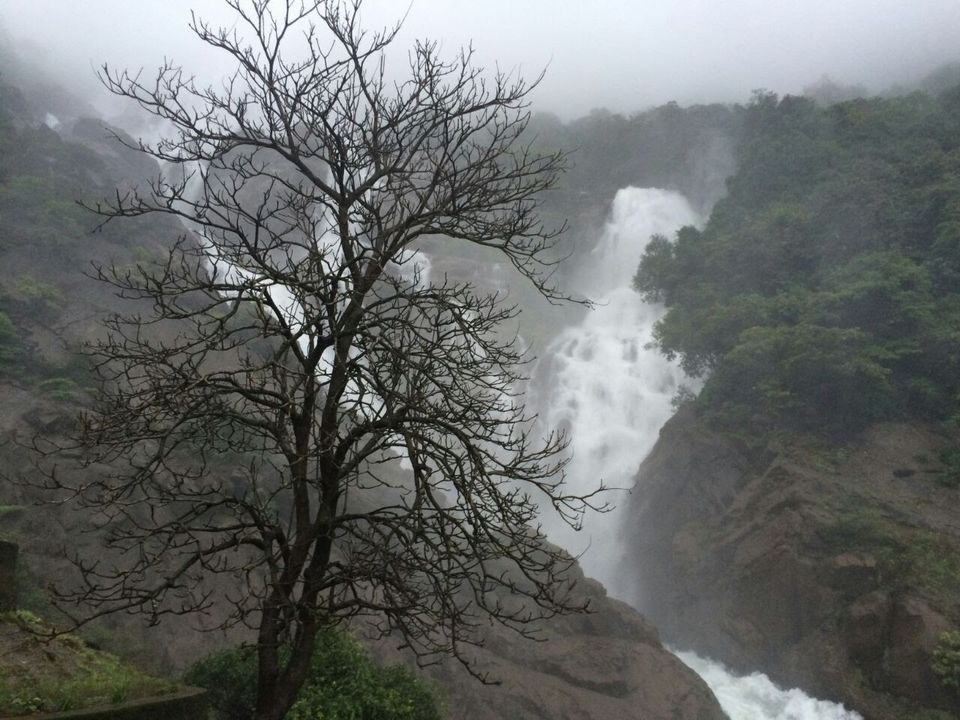 This unknown spot then led us down muddy trails to a make shift camp site which was a roof over our heads - literally it's all it was! As the rain continued to pelt down, we were full of excitement at reaching the waterfalls which we'd already passed by earlier on.
Preparing for a monsoon trek:
I recommend investing in a sturdy pair of trekking shoes because walking on train tracks requires a shoe with a thick sole - most sneakers won't be able to withstand the weekend of walking over tracks in the rain and regular sports shoes will end up hurting your feet.
Additionally, a good rain coat/poncho if you're carrying a bag is essential. You are amidst nature with no access to any shops or resources. Stock up on drinking water, snack bars and only the essentials to avoid feeling weighed down as you make your way to the falls. If you're someone who can't live without luxuries, best stay away from this experience because you're likely to also come across leeches, bugs and more. Odomos, a flashlight, power banks and waterproof covers for your phone/camera is definitely a must-have. I for one didn't bother carrying a phone on this trek and luckily had friends who took lots of beautiful pictures!
The Dudhsagar Waterfalls trek itself is about 12 kilometers long. It was raining continuously which made the experience so much more enjoyable! We set out to keep a sturdy pace as we walked along the tracks, made friends with the other trekkers and introduced ourselves to each other. We even sang songs to keep our pace up as it can get a little daunting with bullets of rain hitting your face, temperatures reducing and the train tracks for your feet to get used to. But as long as you enjoy the great outdoors and have good company, you're great!
You often have friendly train drivers pass by while they sweetly slow down the train as they make time to wave out and wish you the best for the trek ahead. It's a blessing when they slow down as there are narrow turns which you can't overcome no matter how much you try. Your feet tend to get caught in the tracks and with very little or no room on the ground to walk on beside the tracks, this is your only path.
The most beautiful part of the path heading to the waterfalls is walking through the numerous tunnels. This is something else altogether and adds to the mysterious charm of the place. The many waterfalls pouring over the marshy-green surroundings truly become the 'light at the end of the tunnel'.
As you walk along, you get easily lost in the trail. We were rushing to make it to the falls before sunset as staying out in the wilderness at night is unsafe.
You keep mustering on and soon enough you can spot the majestic waterfalls from a distance. This can be deceptive as it appears closer than it actually is.
The surroundings are rather enchanting too. Filled with mist and clouds overshadowing the hills, it results in quite a magical sight.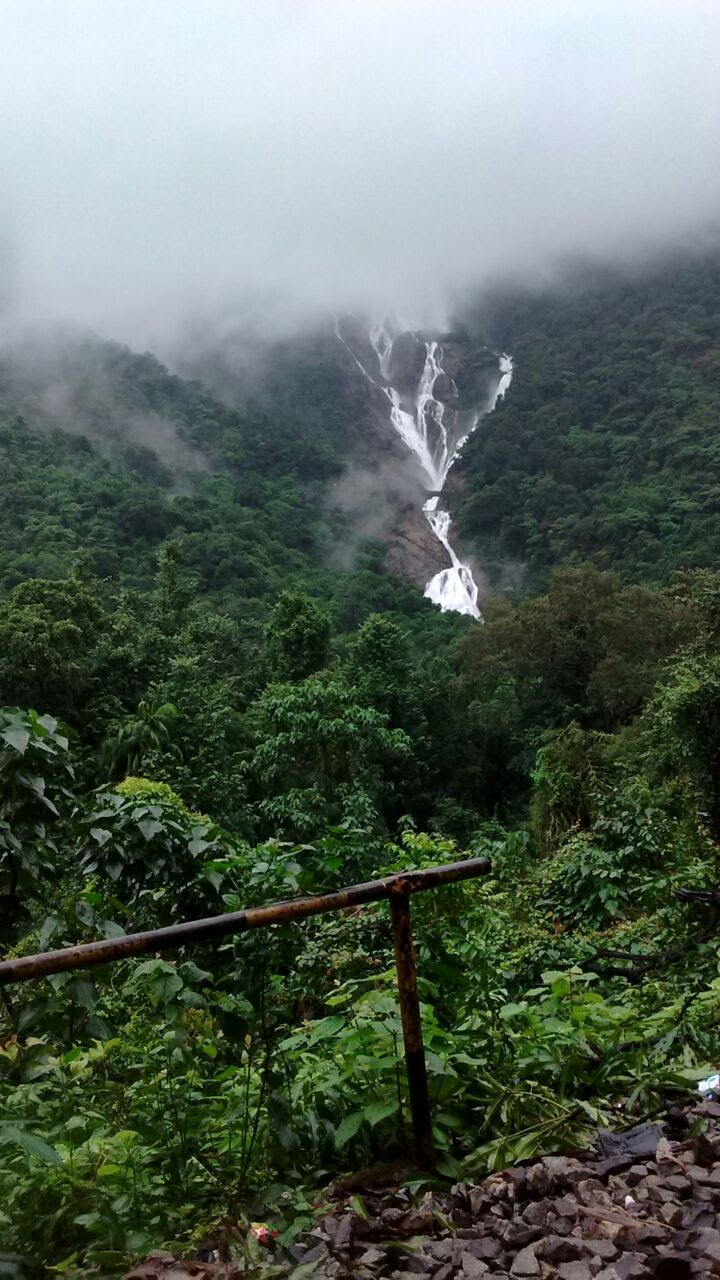 As you inch closer to the waterfalls, you'll hear the roar of the water gushing on! Your heart brims with joy at the thought of reaching it.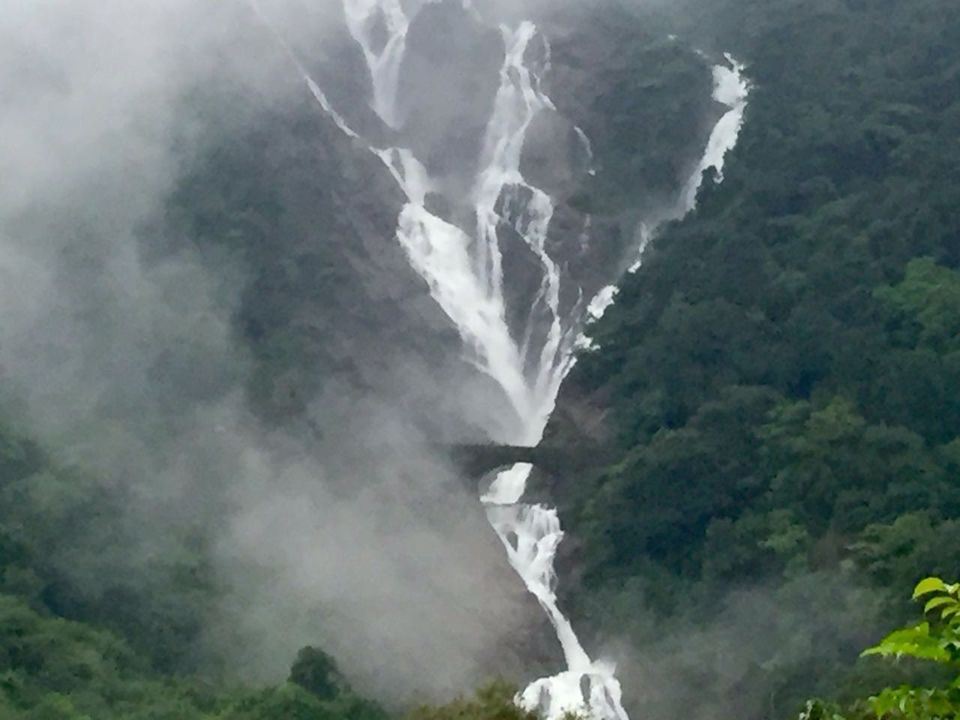 Once you reach the falls, you're astonished at its sight. All you want to do is stop and stare as you let the white mist hit your face. The treacherous edge of the flimsy barricade keeping you from a deathly fall is easily forgotten when you're standing in front of it. Our guide reminds us that it's time to return back to the camp site and with a heavy heart we leave this beauty.
You make your way back through the beautiful tunnels which led you to this gorgeous location in the first place. But this time, the tunnels seem to look different as the surroundings get more misty and dull. It's a brand new experience once again!
Once you make it back to the camp for the night you realise how tired you are. You try to settle into the night in your sleeping bag with the rain beating down and mosquitoes for company.
The next day, we had an early start and decided to walk back to the Castle Rock train station. This route was again about 13 kilometers. With our bags we were more tired but the thrill of having witnessed the waterfalls first-hand kept our spirits up.
The walk was adventurous as we treaded through rivulets and realised that rain coats were pretty much useless at this point. Still it was something we all braced ourselves for and enjoyed it anyway. Sometimes screaming about stepping on an animal in the river too. Your trekking shoes will help you make it through the river bank with the many twigs, critters and stones that are sharp from the river's turns threatening to cut your feet.
We eventually made it to Castle Rock where we patiently waited for the train to arrive as we chatted along about the trek. It was still something that we didn't fathom - did we really spend a night in the wilderness, with nothing around us and walk about 26 kilometers for the Dudhsagar waterfalls?
This monsoon trek was amazing in many ways - the beauty of the monsoons, the train tracks and most of all getting to experience this trail with a group of girlfriends made it memorable. The silly moments and the teachings you gain from this experience are priceless and led to some wonderful memories. It may have been a few years since I walked this path but every monsoon, the memory flashes before me as if it were yesterday.
It's always best to check the rules and whether the travel guide is a responsible one before booking a monsoon trek. Typically such experiences also require passes from the forest department. Don't forget to travel responsibly and ensure you don't litter the beautiful route as you trek.
Follow me on Instagram for more travel updates!