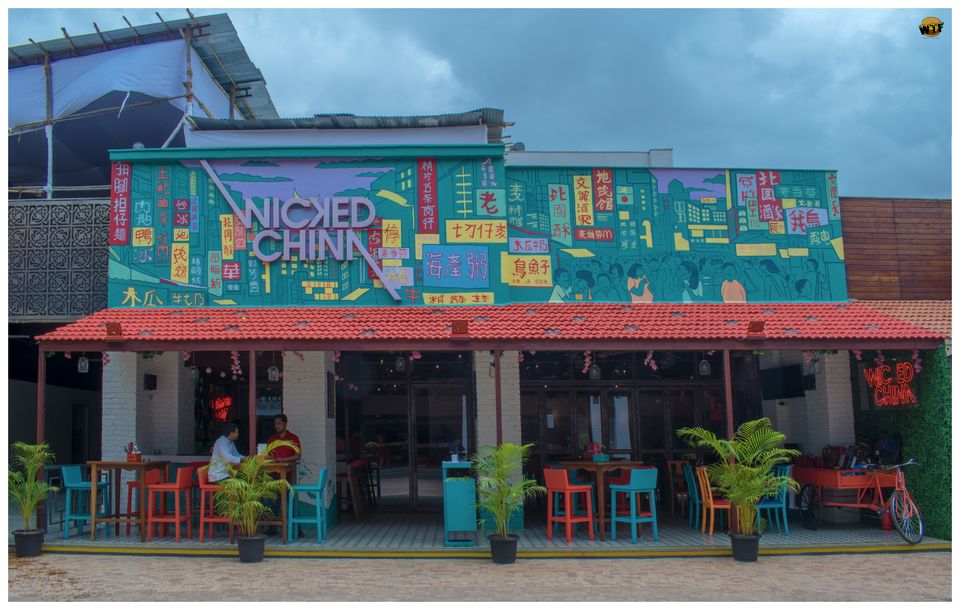 Wicked China is one of the liveliest restaurant that I've visited in the recent times. This surely has the most vibrant ambiance of most of the restaurant i can think to compare with. I can't deny the fact that this place has totally made me fell in love with this one. Right from the vibrant outdoors, the place looks like a Chinese dungeon from outside. With the receptionist table to the bags kept on a cycle, anyone will bound to have expectations when they're supposed to enter.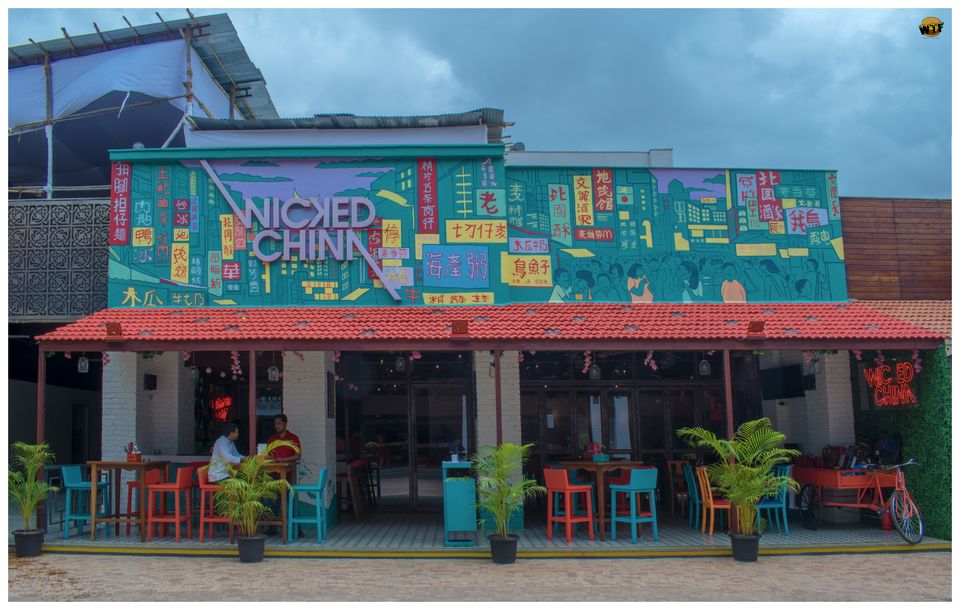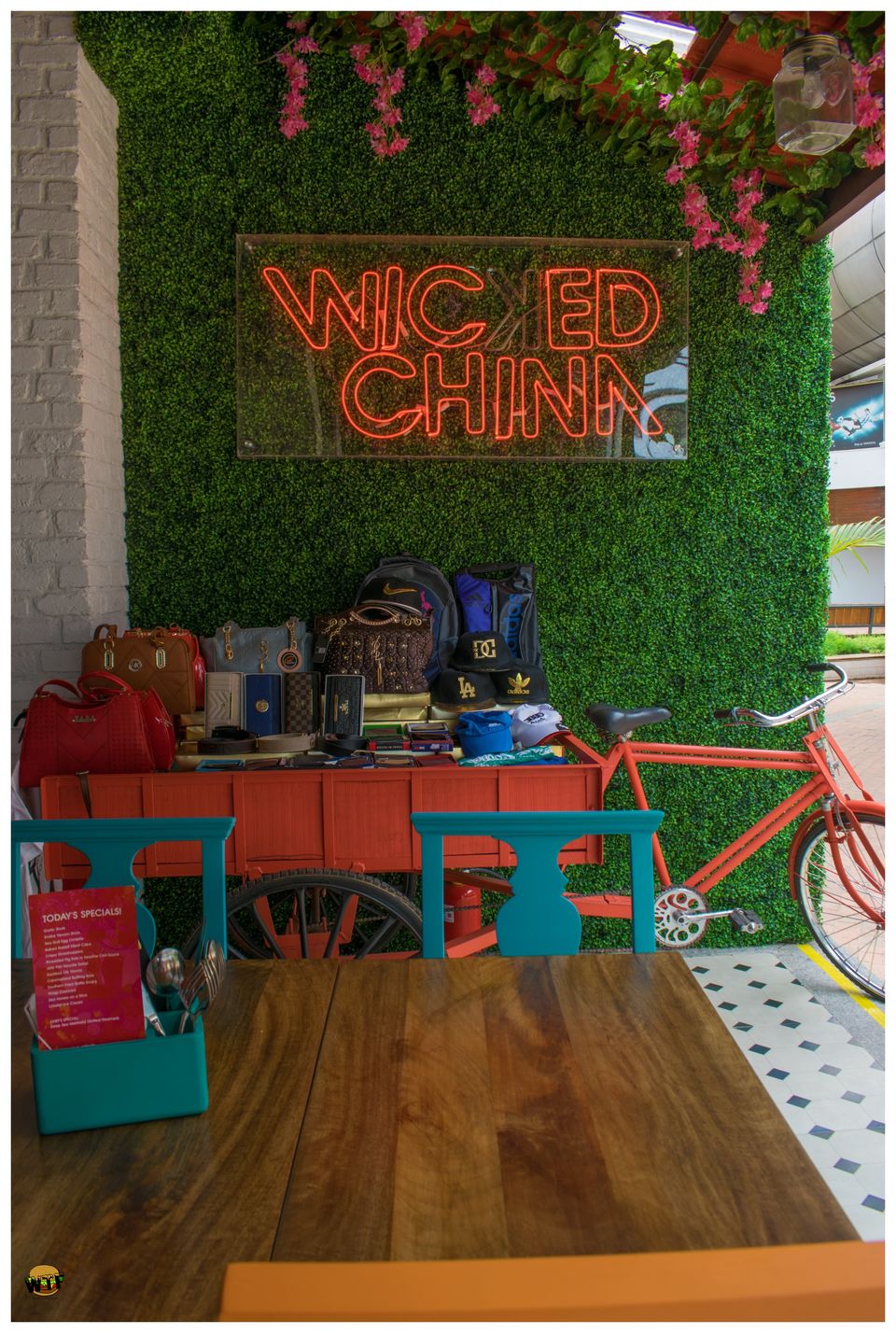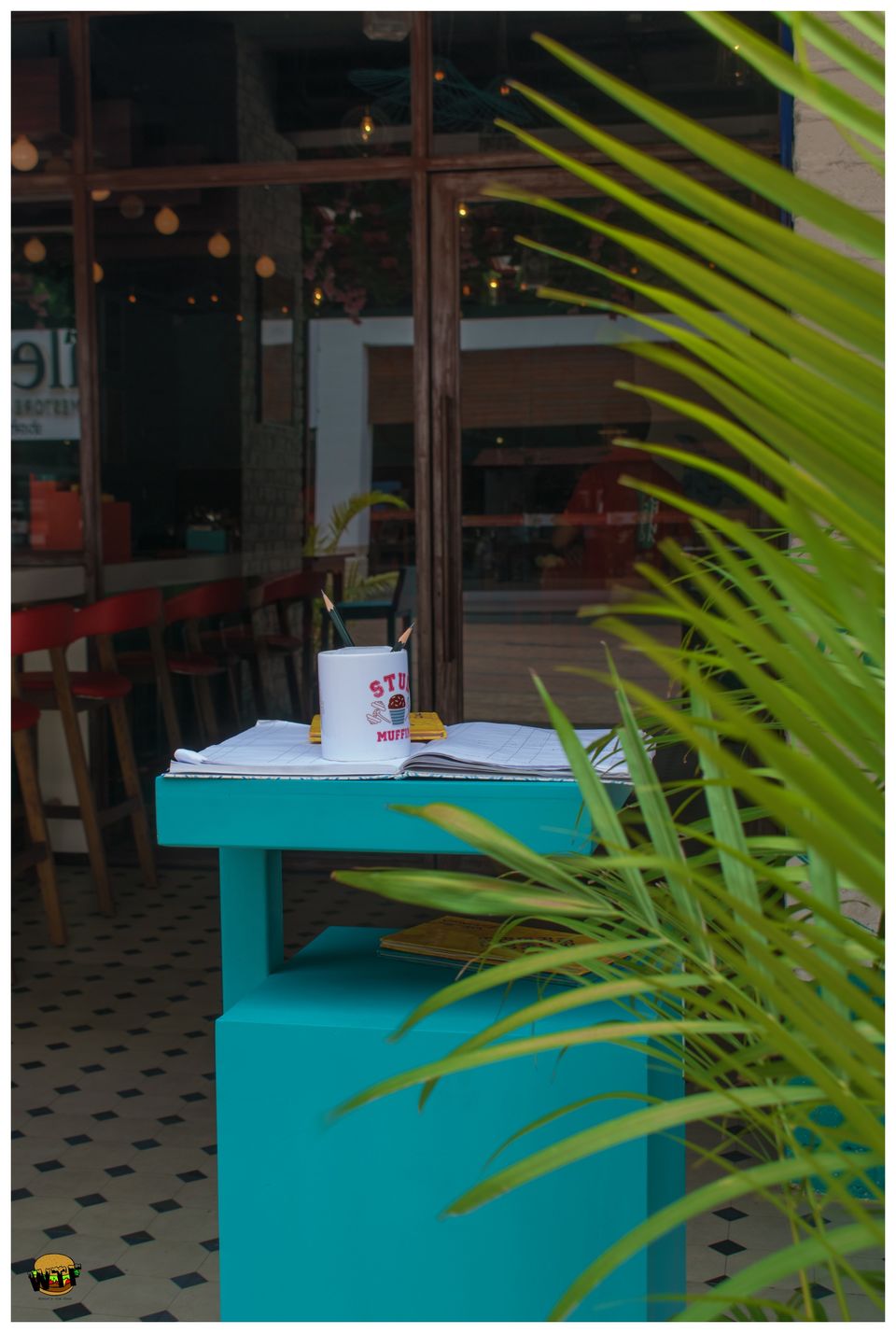 From the decorated paintings and posters inside to the selfie counters, from the bicycle rims help up on the ceiling with yellow bulbs to the a a wall with a bicycle that stand right in front of the entrance and adds to the decorum of this crazy ambiance by 100 degrees, i wish i could have count of the things that would help me talk about the ambiance of this beautiful place. In simple words, every picture, painting, artifact, or prop has something to tell you.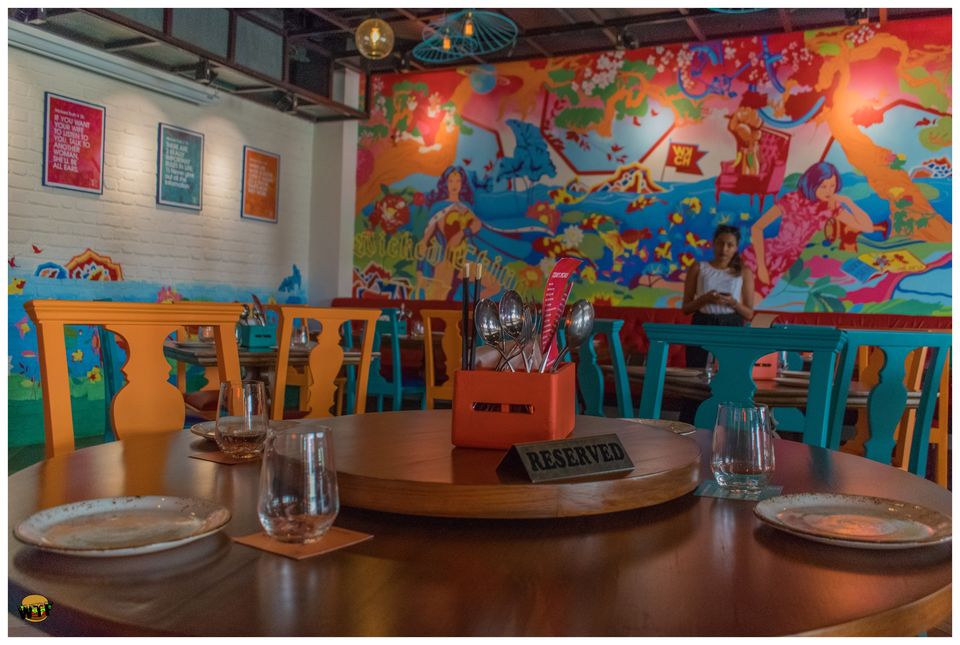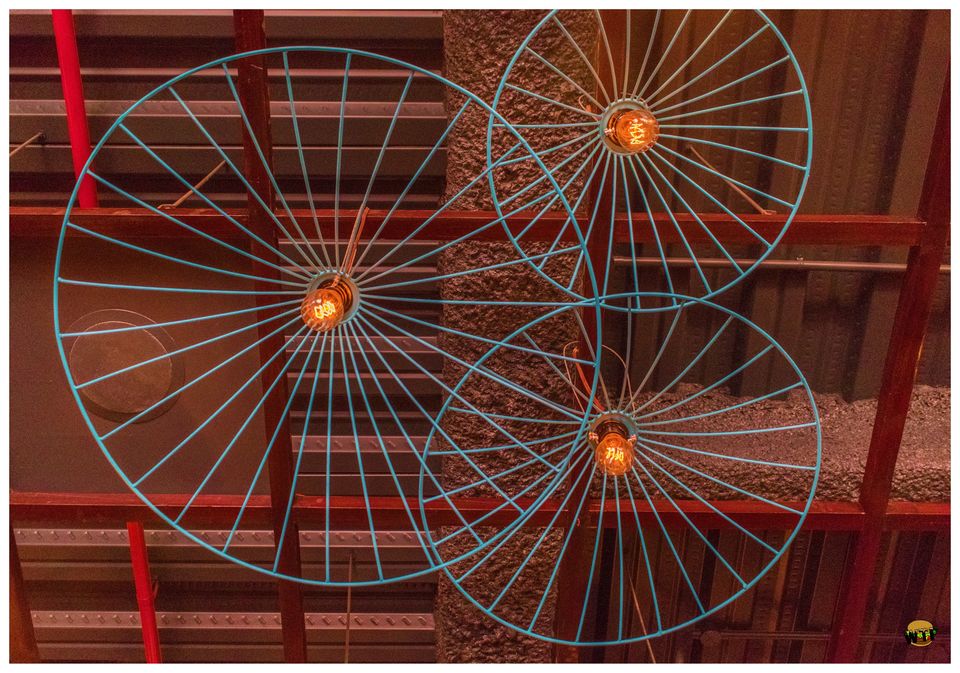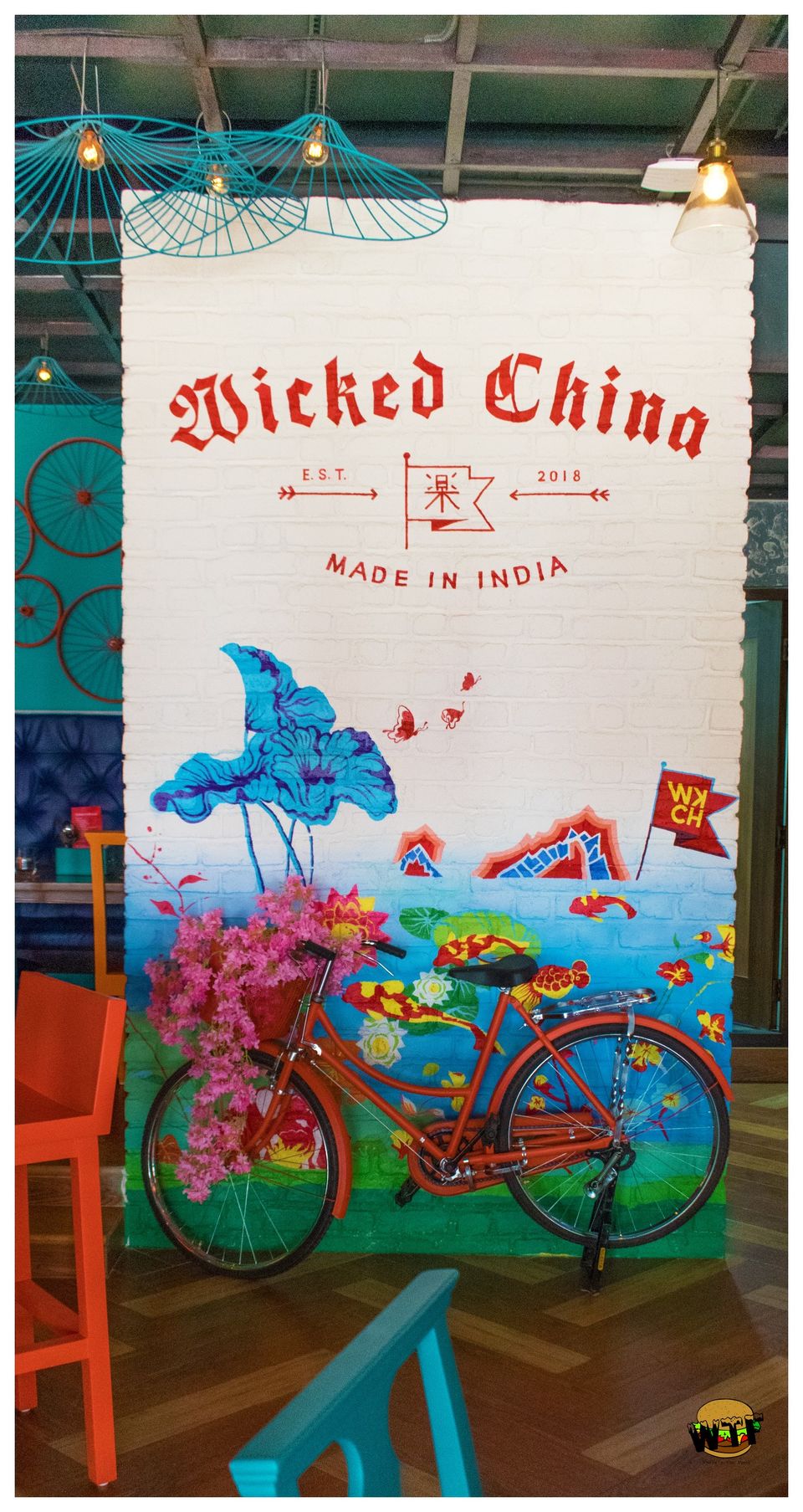 I've loved the fact that with having the two type of sitting arrangements, namely inside and outside, the bar has two counters (inside and outside) to avoid hassle free orders of drink for the customers.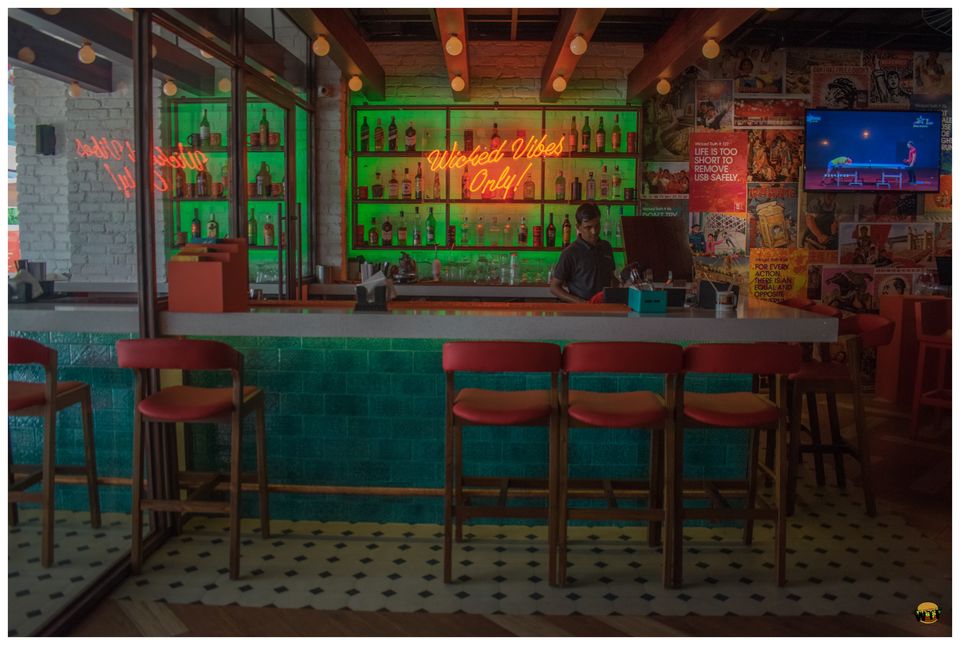 I was recently invited to this place for a tasting, and I almost loved every bite of every single dish that was just kept in front of me. Given below is a brief about those delicious items that i had:-
DRINKS:-
Black Hearted (190 INR):- How can we not talk about Coffee if Coffee is all that we got, Lol. Seeing something with a cold brew coffee, i was so excited to try this. And, I'm glad that this mixture of Cold Brew Coffee, Citrus Mix, and Zest totally stood up to my expectations.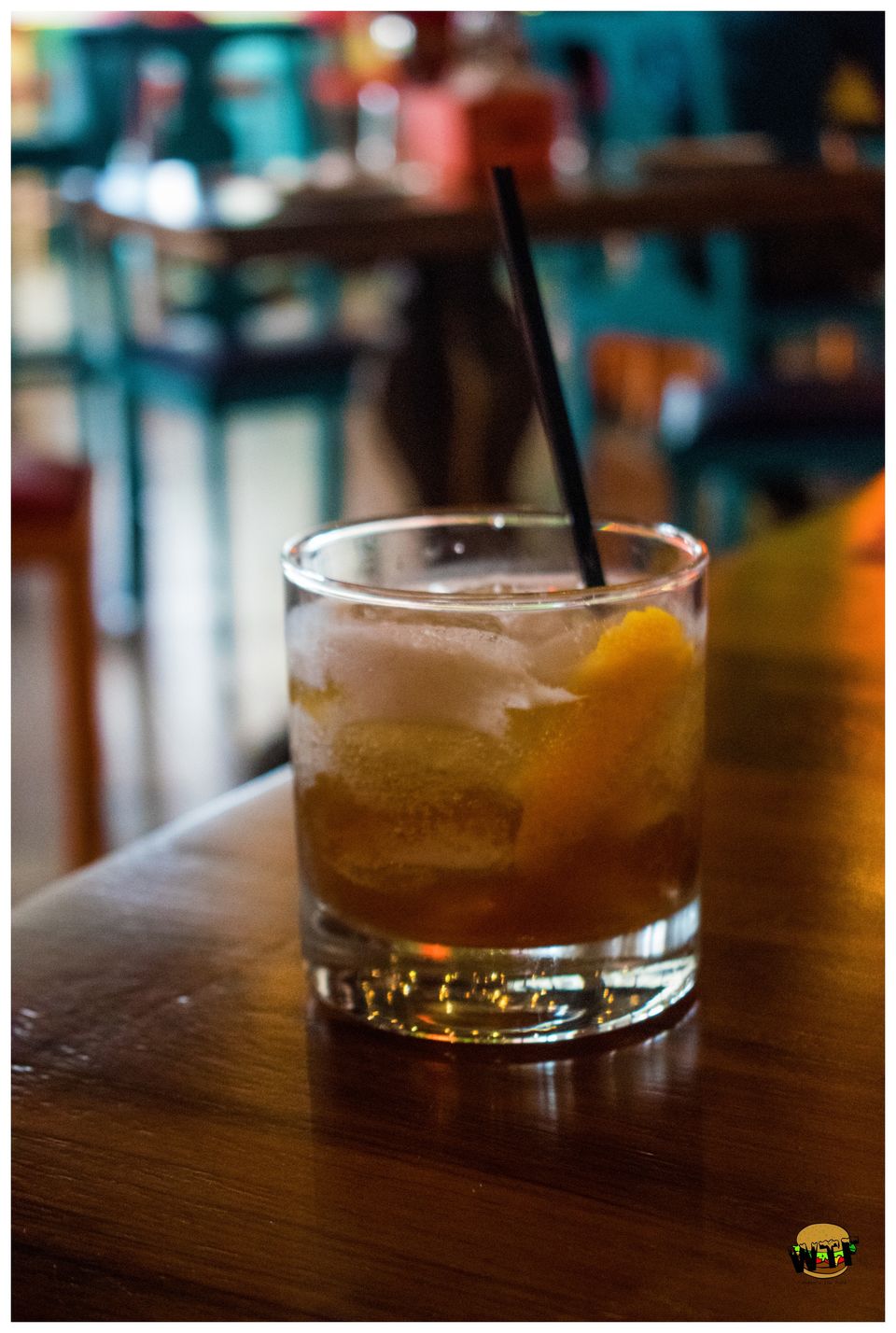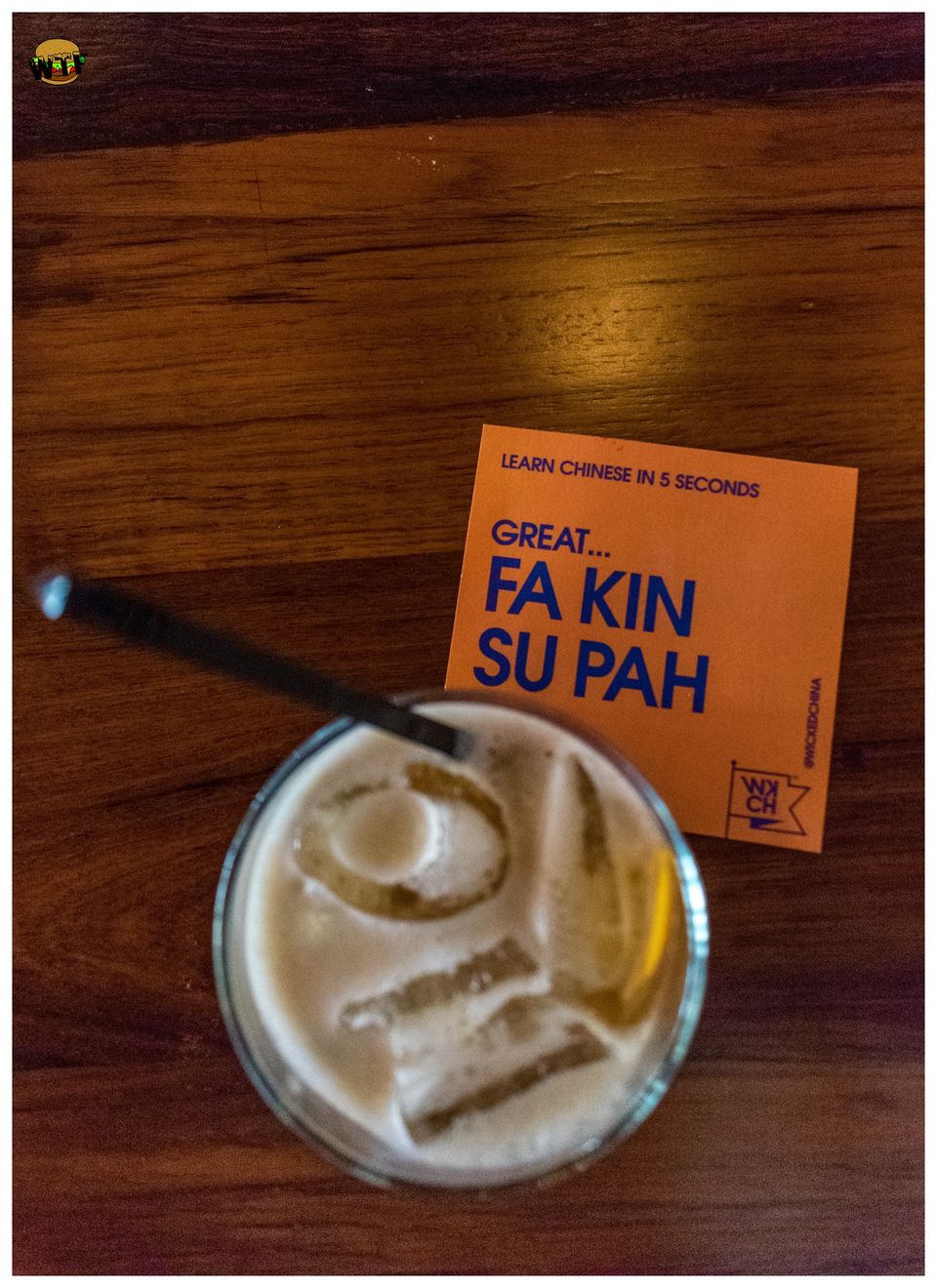 Frozen Virgin Strawberry Margarita (190 INR):- Okay, No i didn't notice that it had Strawberry. And, You know what i was a sweet accident with a perfect blend of Strawberry Crush, Cranberry Juice & Lime Juice.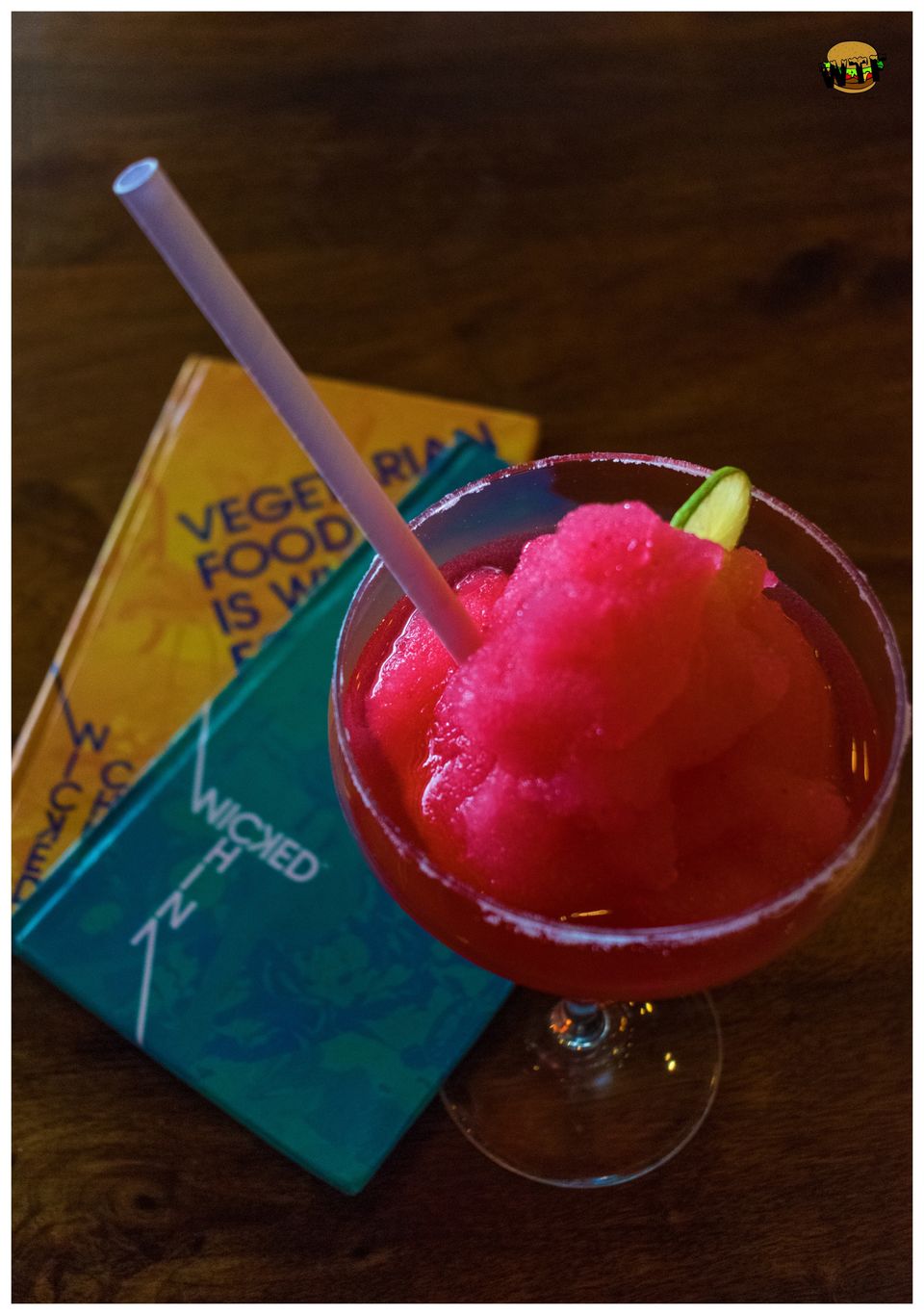 HOT BEVERAGES:-
Cafe Au Lait (95 INR):- Stop Laughing, Okay?
What would you have done if you saw something with Coffee?
I am not ashamed to say that I have a crush on Caffiene and Coffee is my all time secret gulty pleasure.
Although, This was @thebeautysecretsdiary 's order but we share a Coffee.
Let us share a one sometimes.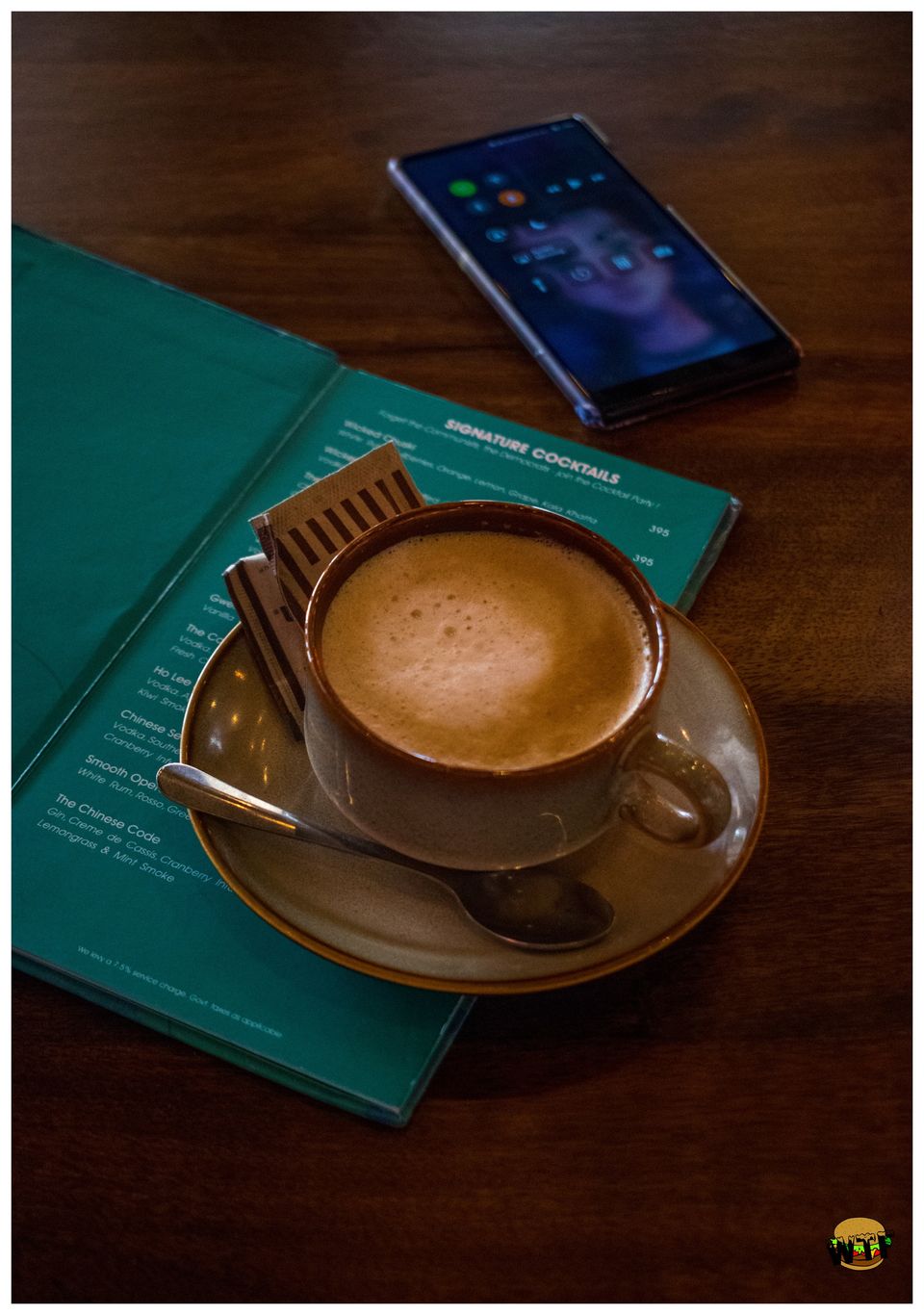 CHINESE NIBBLES:-
Spicy Edamame(240 INR):- Not only is edamame a great appetizer that is very easily prepared, it also makes for a great snack for kids. Plain or salted edamame is often a favorite snack among children, perhaps for its taste, but it's also fun to eat. Edamame are often cooked in their pods and, in order to get to the tasty green soy beans, they must first be squeezed out of their pods.
Spicy edamame is a great appetizer for a cocktail party, and it provides a fiery alternative to simply salted edamame.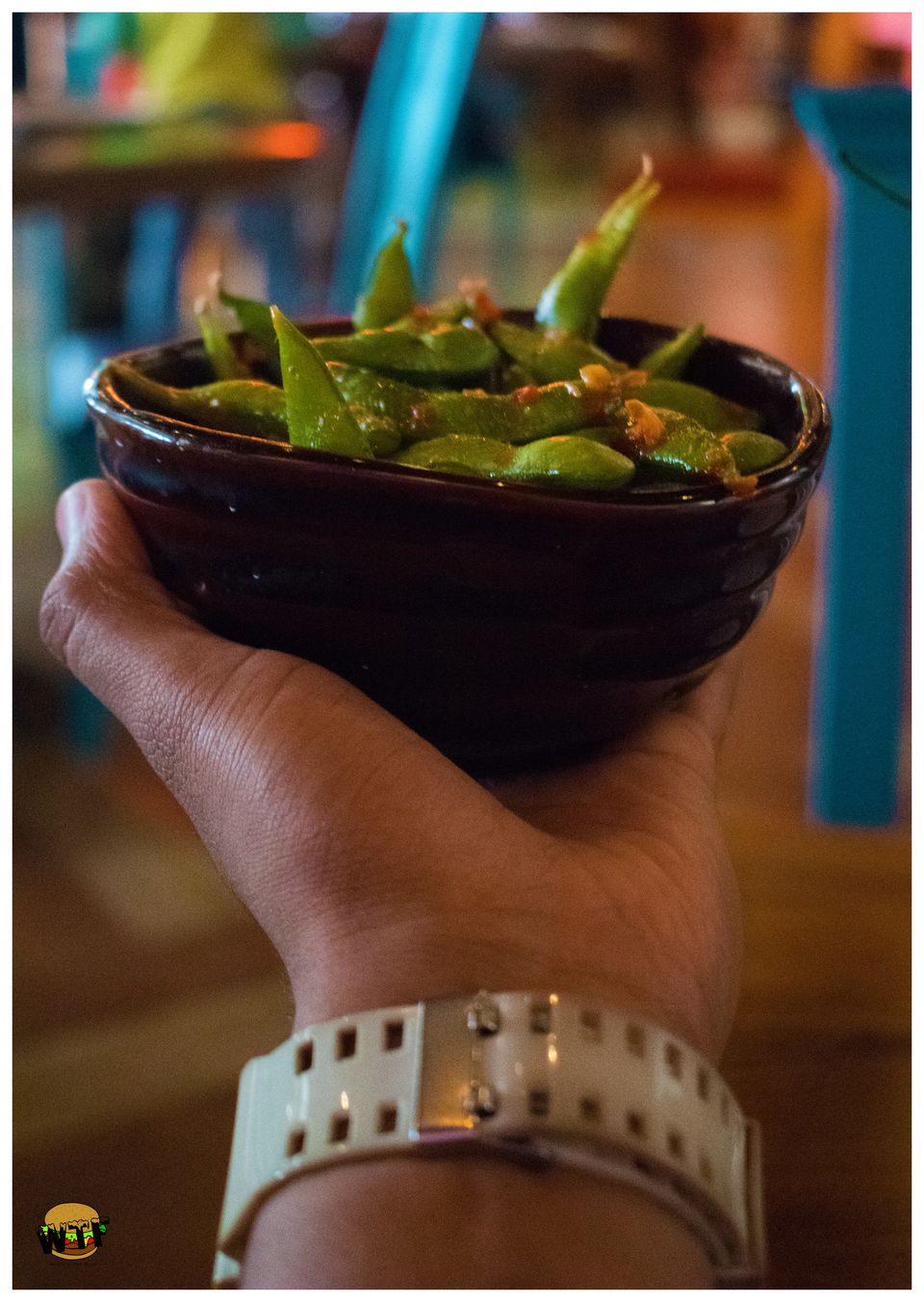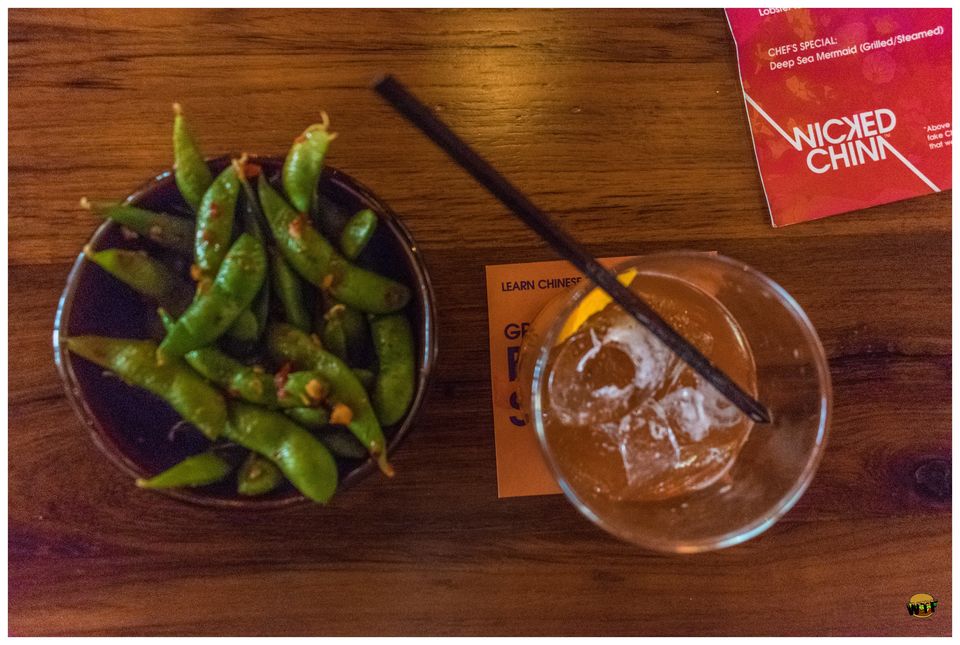 WICKED SMALL PLATES:-
Turnip Cake with Burnt Garlic and Chillies (260 INR):- I never imagined that i would happen to like a dish made out of turnip, but the magic happened. The Turnip Cakes at Wicked China has something in this dish that makes go wow.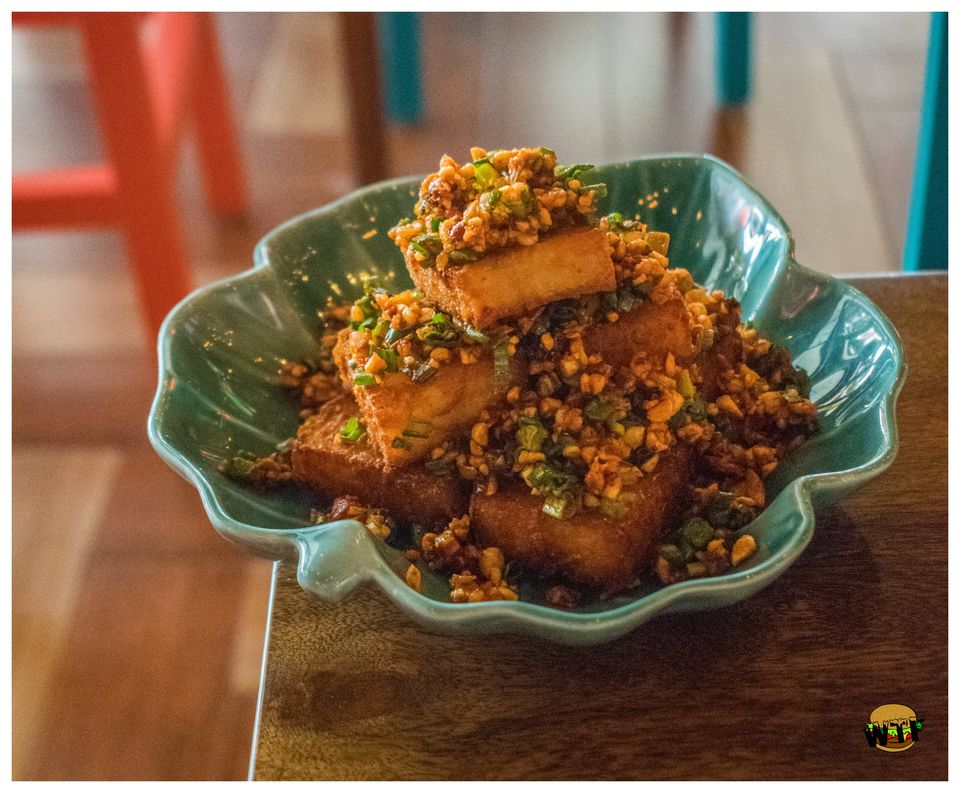 Crispy Honey Chilli Lamb (390 INR):- Strange but a true fact, I have never had Lamb ever till @thegluttongourmand made me had a Lamb Burger at @marriotchakan and i didn't like it to be honest. It was right when i came to know that me and Lamb have our own differences, while i wanted something else from life, Lamb perhaps wanted something else, lol just kidding! TBH, Crispy Honey Chilli Lambs actually happened to be a deal breaker and made me fall in love with Lambs again.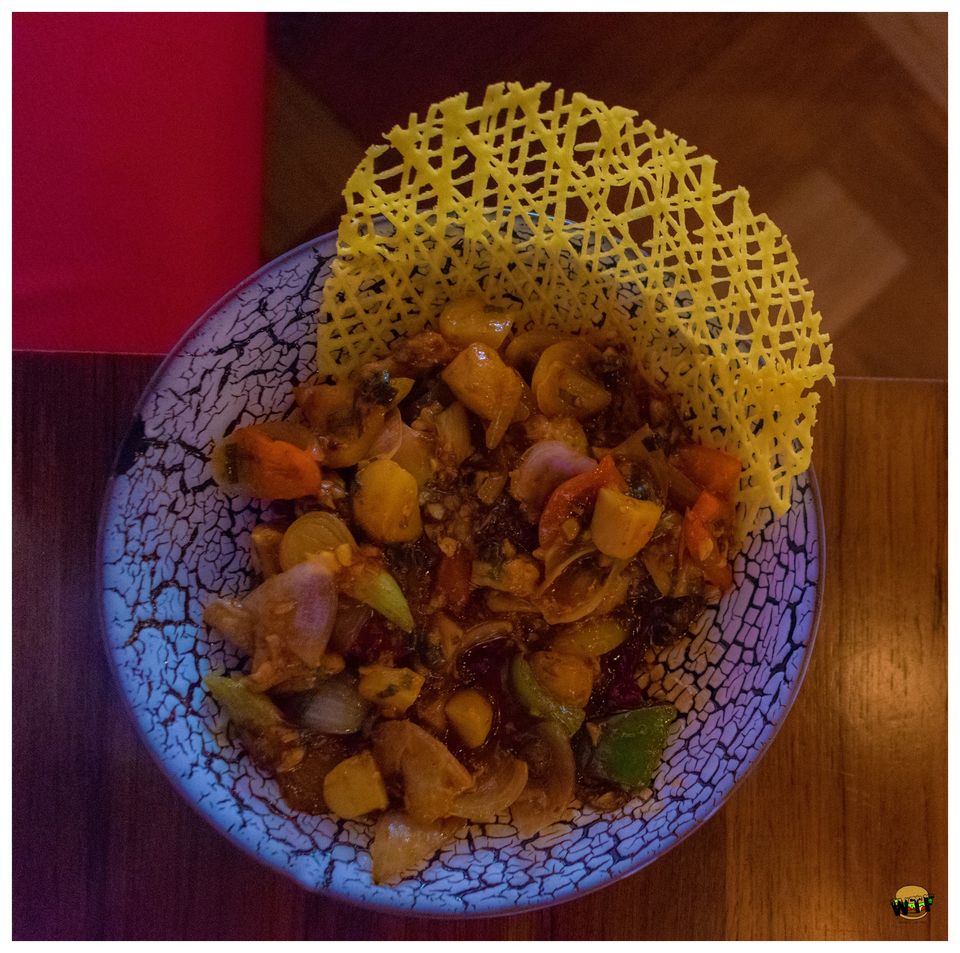 STEAMED DUMPLINGS:-
Three Style Dumplings with tuffle Oil (270 INR):- Its about Mushroom Dumplings, and other veg things you know. But, You better ask @thebeautysecretsdiary about more on this one.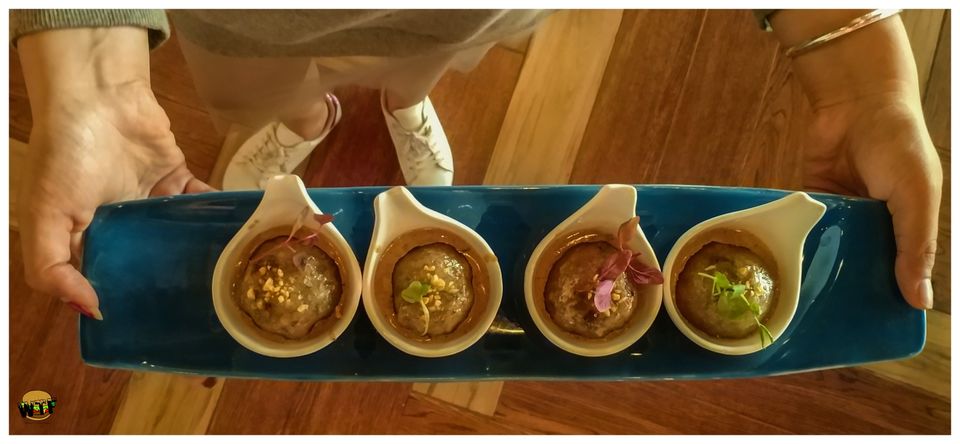 Pumpkin and Bamboo Shoot Dumplings (270 INR):- Now we are talking Veg, Like Seriously?
I won't say i didn't like it. But you better ask @thebeautysecretsdiary about it.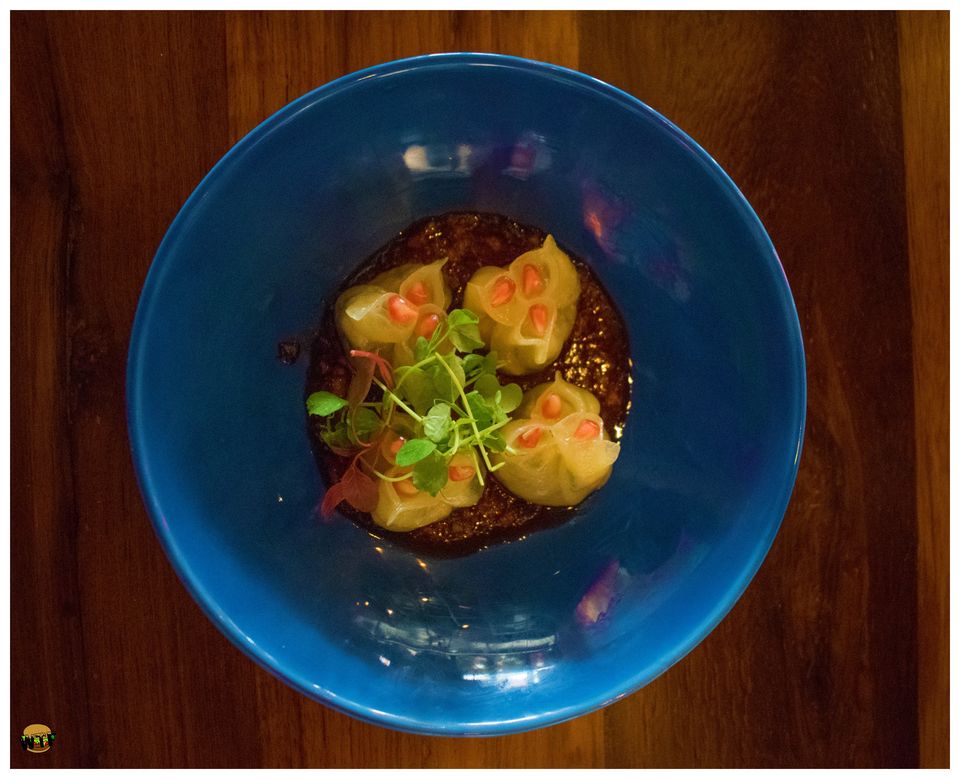 Prawns Haragu Dumplings (320 INR):- There's nothing in this world that could stop me fro loving Prawns. I loved prawns, and so did The Prawns Haragu Dumplings. The Prawns hidden inside a thin soft steamy crust, It's not tough to reach your destiny also known as "Prawns".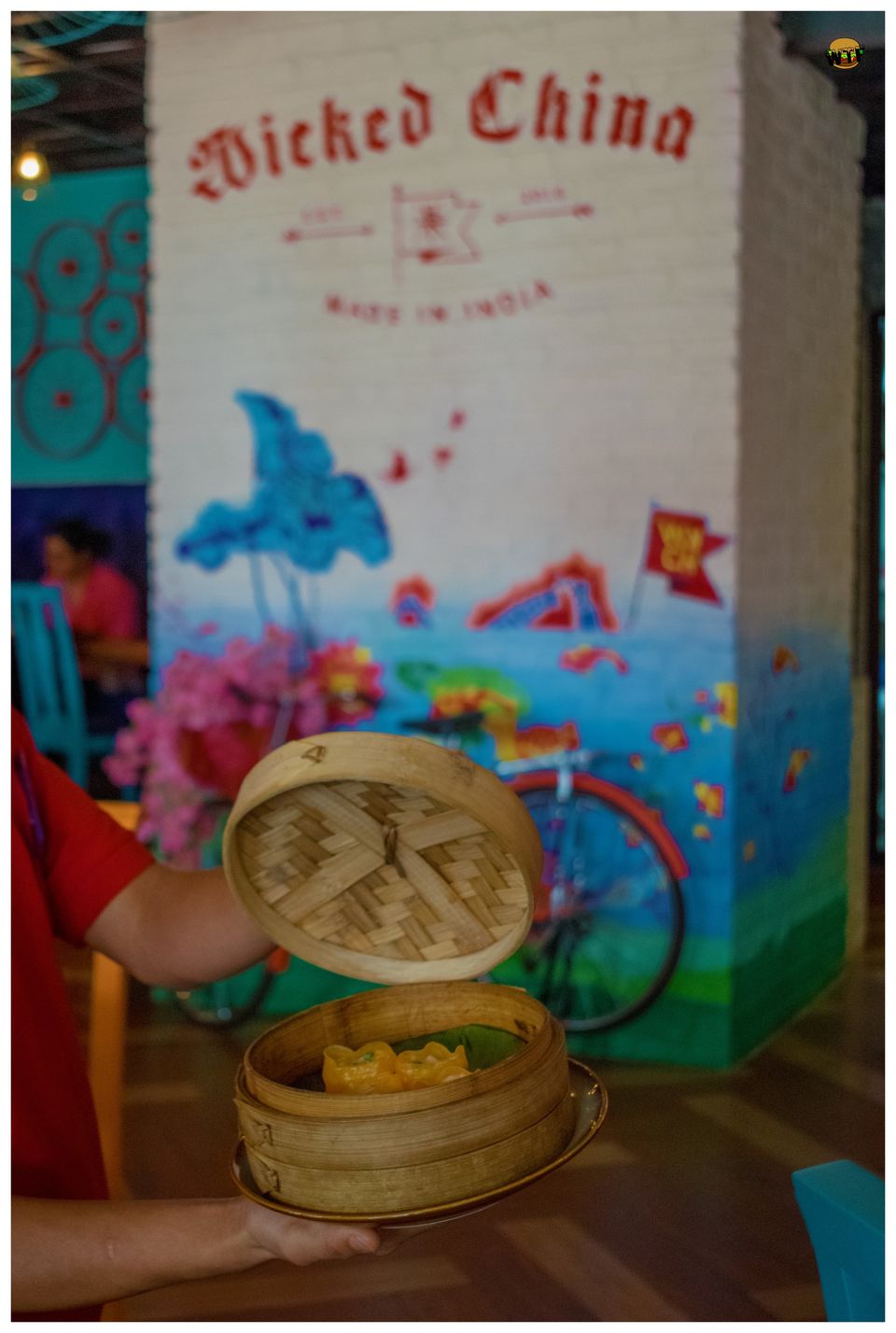 Chicken Gyoza (290 INR):- These are like Videshi Chicken Tikka which are ill cooked, steamed, fried or grilled.
Chicken Gyoza is basically a mixture of chicken mince, cabbage, green onions, ginger garlic, tamari, sake, sugar, sesame oil and pepper wrapped inside a gyoza wrapper. These Chinese originated Gyozas are totally on their way to represent the taste of Wicked China.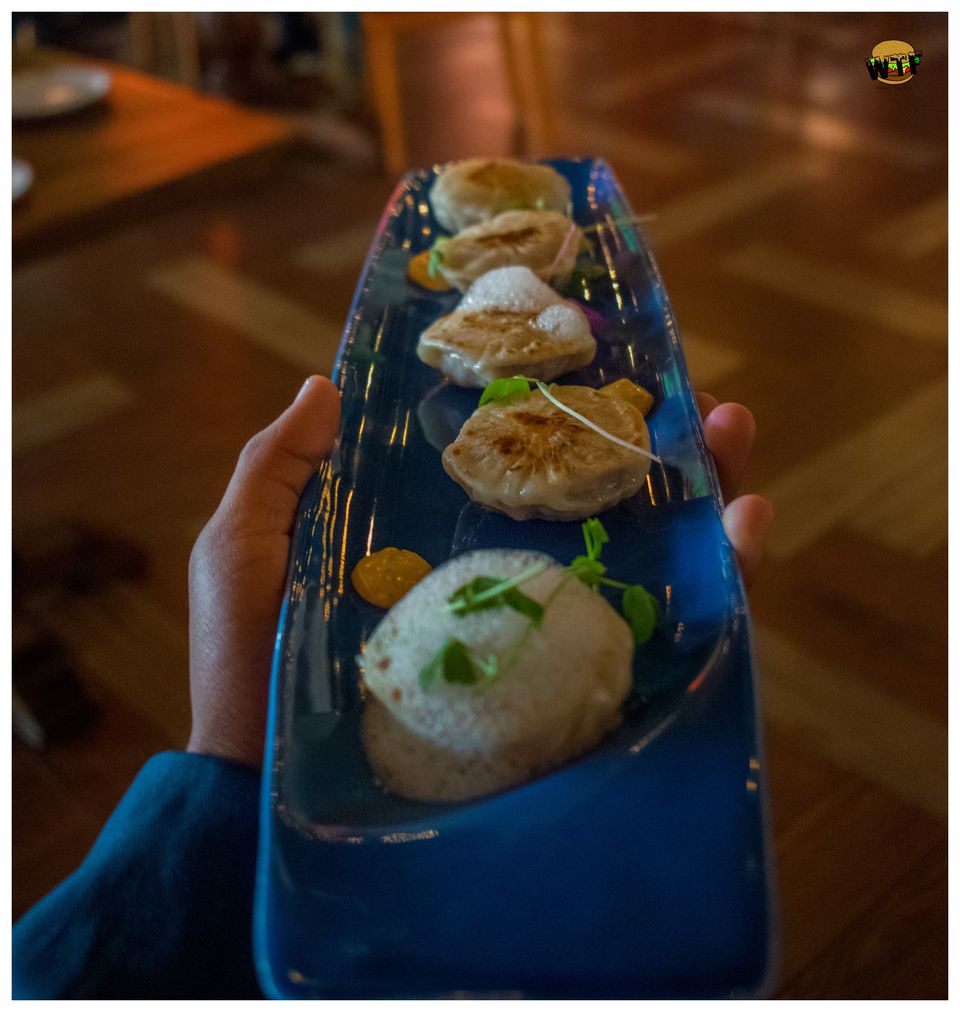 CHICKEN & LAMB:-
Sichuan Chicken (425 INR):- I come a place where gravy is considered as a beverage, and make that gravy spicy, but even if no gravy, you gotta make it spicy always. But In recent times I've fallen in love with the concept and taste of mild taste of spices in food. But, When I had this Sichuan Chicken, i remembered what i was missing for all these days.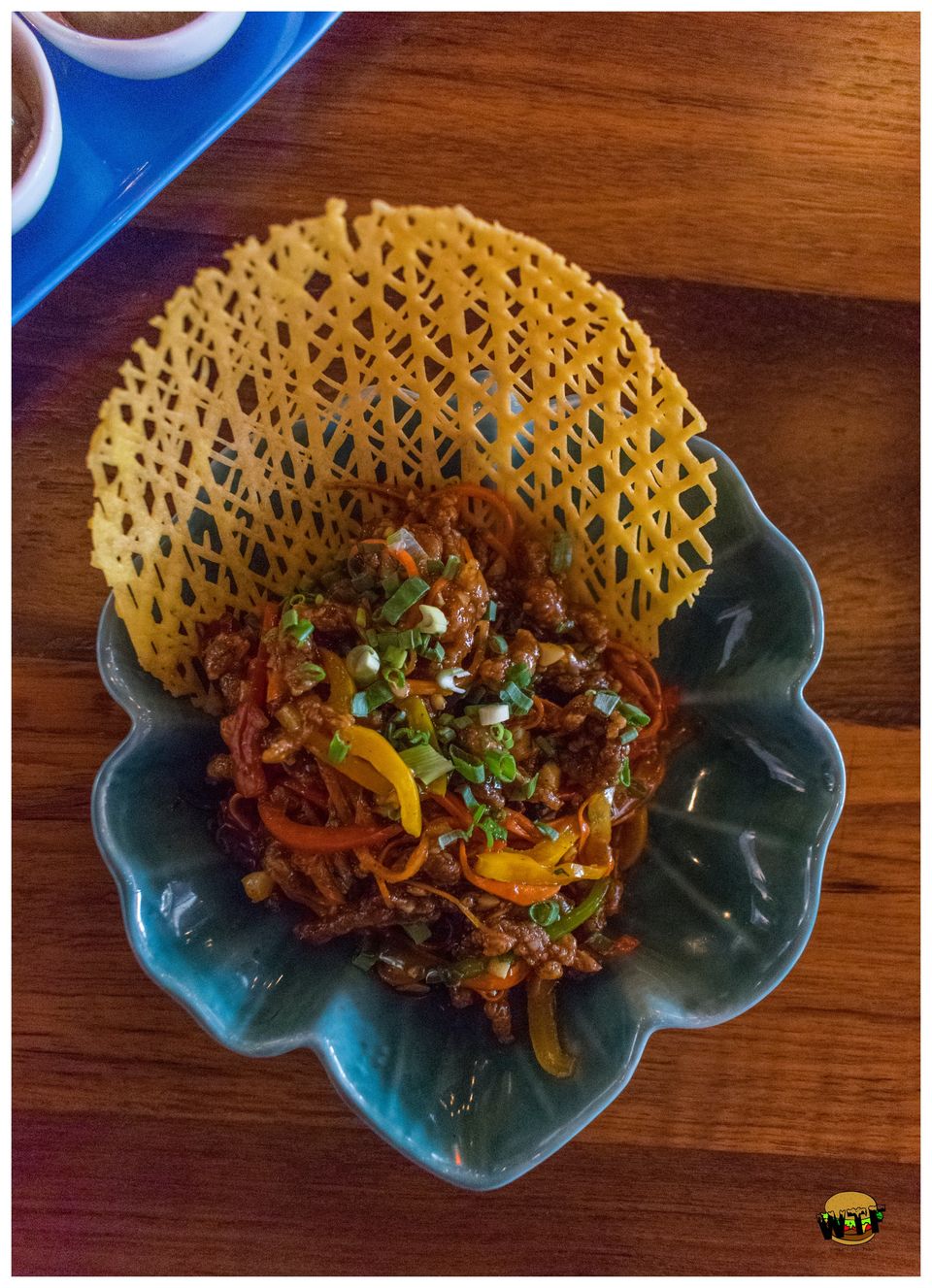 RICE , NOODLES AND CURRIES:-
XO Noodles (475 INR):- What-A-Name! i meant what a name again?
Anyway, This place is a paradise for seafood lovers and i cannot lie, and this dish a gift and your other brothers cannot deny. A noodles that has prawns and other fish in it are like a heavenly trip to your something fishy.
Steamed Jasmine Rice (275 INR):- Jasmine rice is originally from Thailand and is commonly used in Southeast Asian cooking. This is a long grain variety of rice that has a subtle floral aroma and a soft, sticky texture when cooked. The grains are also shorter and thicker than Basmati rice.
Red Thai Curry Chicken (430 INR):- Creamy, spicy red curry sauce is a staple of Thai cuisine, and you'll often find it mixed with vegetables, fish or tofu and served atop a steaming bed of rice. While red curry sauce is healthy in moderate portions, it can be high in fat and calories, thanks to the addition of coconut milk.
The color comes from the bigger red chilies used to create the base. The chilies are crushed with garlic, lemongrass, shallots, ginger and fish paste and added to coconut milk.
Enough of the general knowledge, Now just add chicken to every thing you imagined of.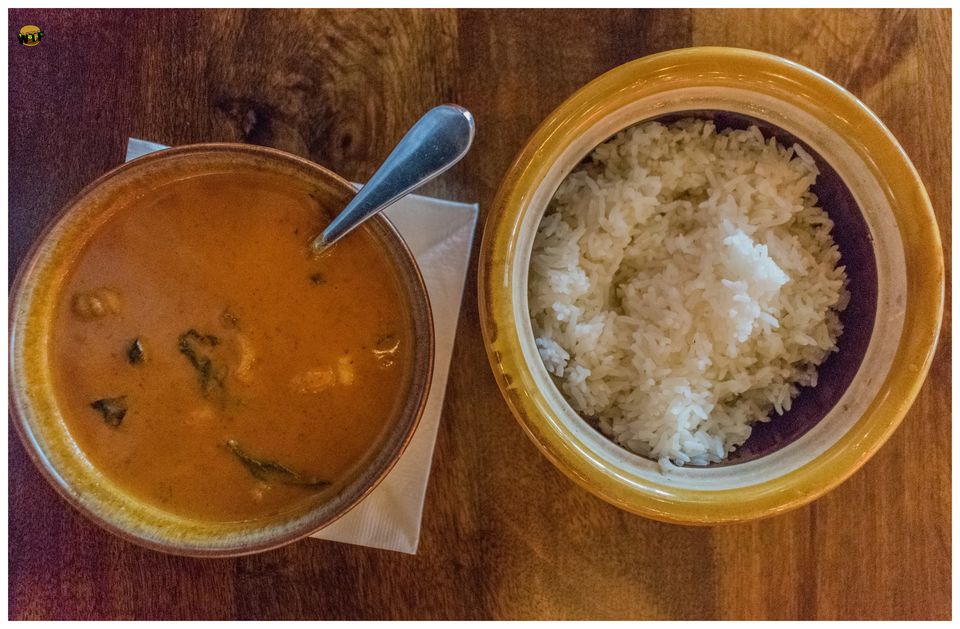 Fire Cracker Rice VEG (275 INR):- Rice prepared in perfectly balanced sauces and had mixed sweet, tangy and spicy flavors, it is like an all in one rice type of dish.
Stir Fried Vegetables in Chili Basil Sauce (375 INR):- While i don't give a shit, you must be worried about my eating habits, calories and all, So here it is. Stir fry vegetable is packed with nutrients and vitamins. Now Add Chili Basil sauce to that, because what about taste, Huh?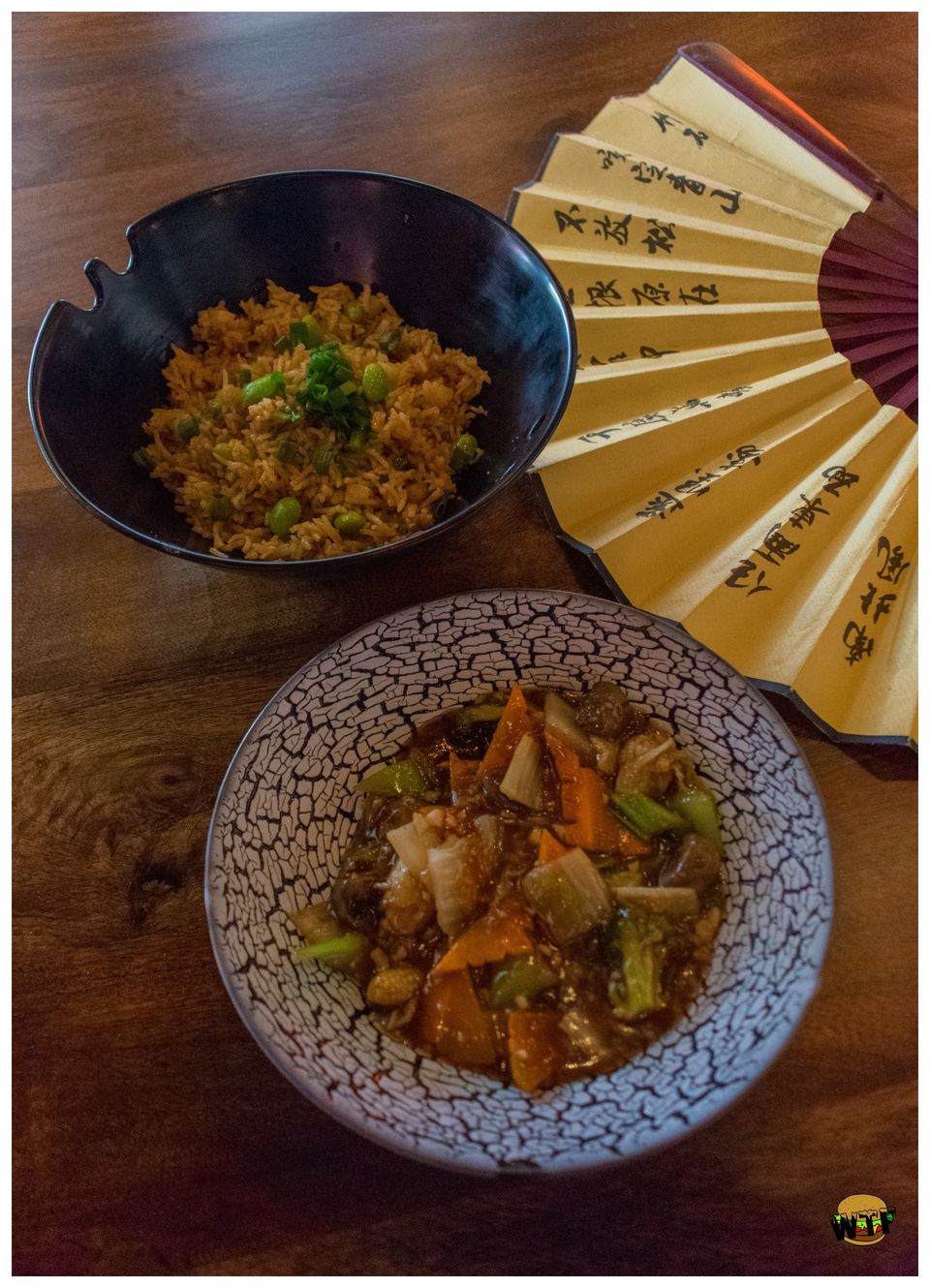 DESSERTS:-
Lemon Grass Creme Brulee (245 INR):- The lemon grass infused custard and paired up with a crunchy toast with dry fruits had to be good but Let's get married to the Brulee.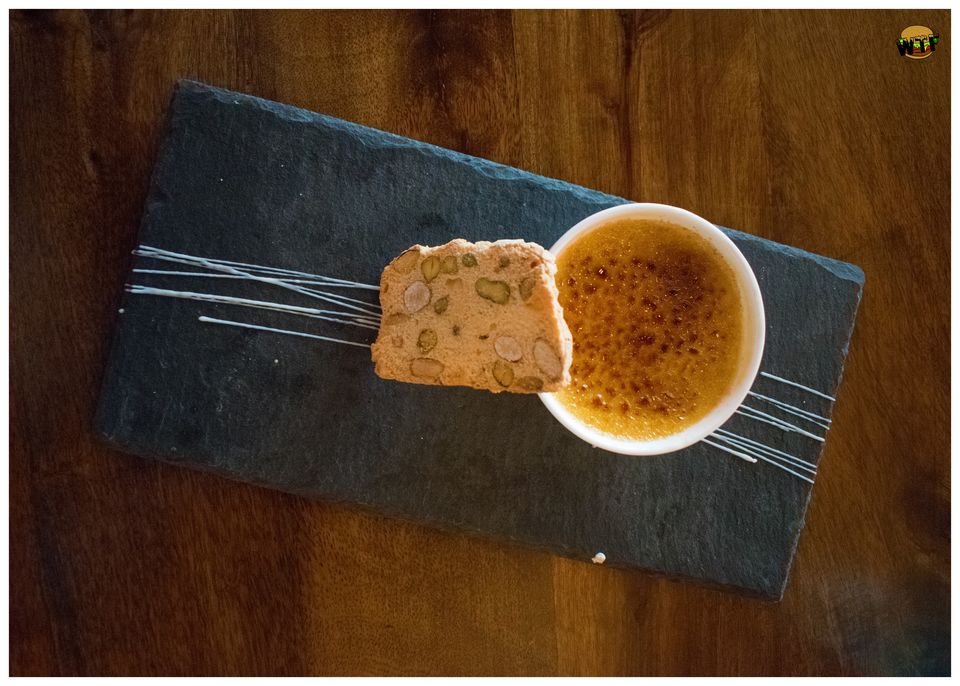 Flourless Chocolate Cake with Basil Ice Cream (245 INR):- Although Flourless Chocolate cake is a thing, and chocolates in any form are my thing, I actually didn't happen to like the cake that much.
But The Basil Ice-Cream totally made this dish complete.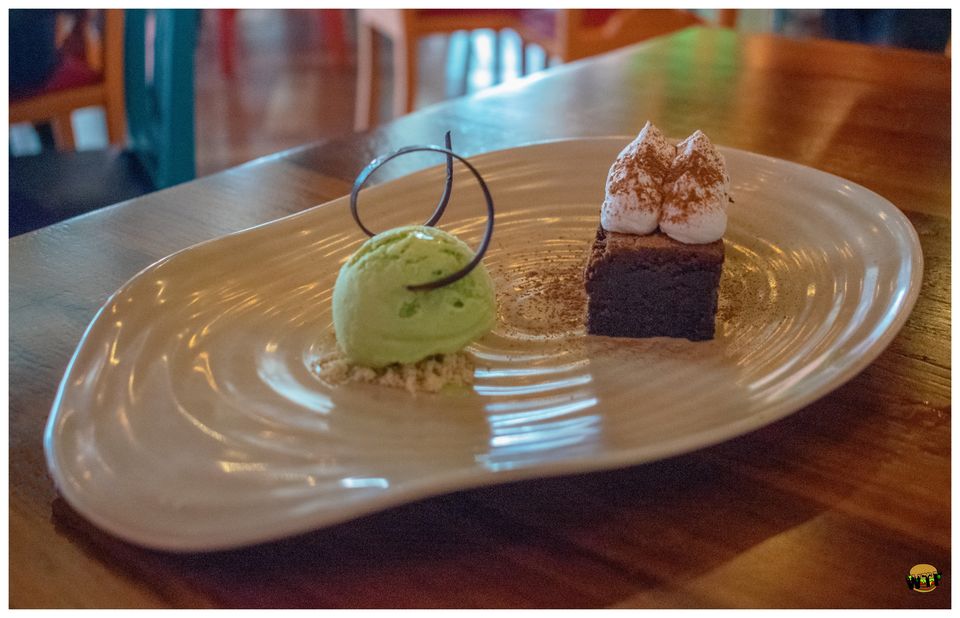 It was a wonderful experience and everything about this place is worth visiting. I had my memory created, hope to see yours on your social media profiles.
Thank You Sasha and Damini for extending the invite and Thank You Sasha, Damini, and Team Wicked China for Hosting us.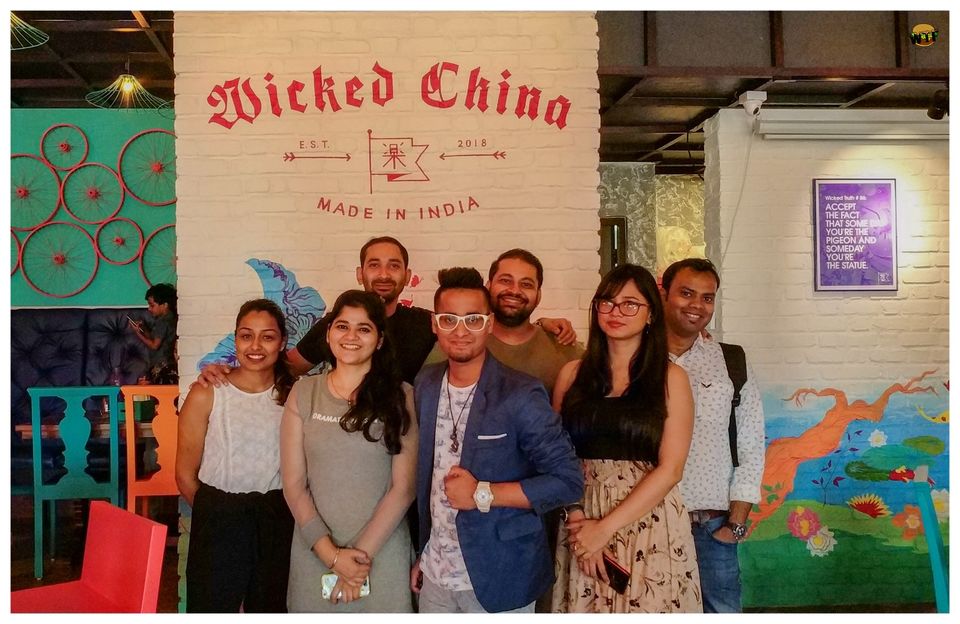 Wait! How can i not mention about the return gifts. Yes, That's true! Thank you Team Wicked China for these funky coasters. Hope to kill some Chinese fanatic with all this knowledge. (P.S; You should've read the text carefully :P)
Thank You!