Trip : Chennai - Chalakudy - Athirapally - Kochi - Chennai
Trip Dates : July 27 and 28, 2013
The aim was to see Athirapally when it is on full flow during the monsoon. And we ended up seeing it amazingly running bank to bank after 15 years - as per the locals. We had booked tickets from Chennai to Chalakudy. We had booked Ecogreen Homestay at Chalakudy based on the reviews we saw in TripAdvisor and they were bang-on ! We also took the package for 2 days in car - Athirapally and Kochi. A homestay run by Mr.Suresh Mathew had a car waiting for us at the railway station and received with warmth. This place is around 2-3 kms from the railway station. After a good breakfast, we started our day.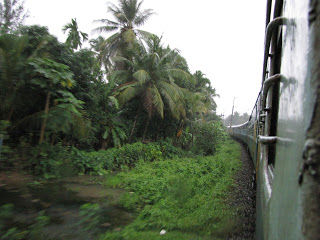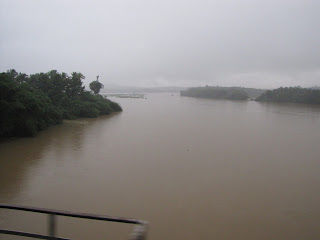 Kauthuka park is a very different kind of park, where the theme is bio-co-existence. Also, the place is rich with innovative ideas like Ariel roots, Walking trees and grand simulation of natural sanctuary with selected animals, fishes, amphibians and birds. Though the place is small, still is is a great place of learning and awareness. It is a great place to go with children as they get to learn about lot of things. One can spend about a hour here and is worth it. There is no entrance ticket; however, the owner requests for donation to maintain the place. Its one's wish to pay him as they could.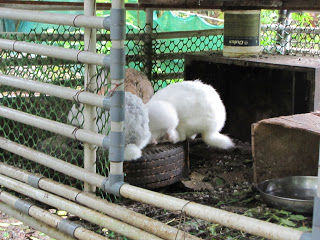 Next stop was the view point of the grand Athirapally falls . YES ! The falls was running bank to bank and the sound of water was so heavy. We decided to go to Charpa and Vazhachal falls before we get to Athirapally. Charpa Falls is 3 kms from Athirapally and Vazhachal is 5 kms further. Charpa Falls was almost falling over the road with roaring sounds ! It felt out of the world and an amazing experience in the peak monsoon.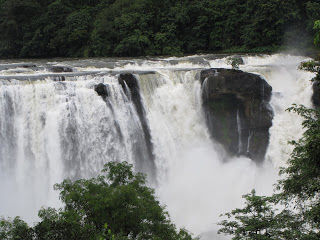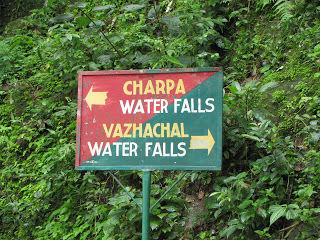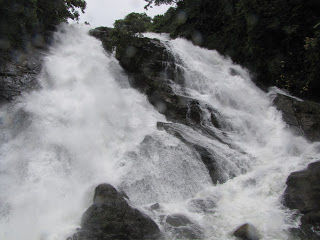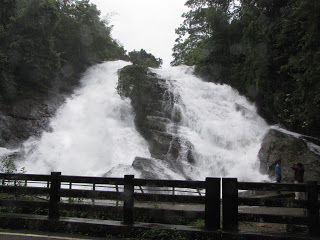 Vazhchal falls - Rs.10 entrance and this can be used for the Athirapally falls as well. The place was so clean and serene, well maintained. The water was so full that bathing was banned and security all around. We did a walk along the banks on well-laid platforms for about a km. We had some hot tea, pazham pori, Bajjis in the cold weather. After dipping our feet on the cold water for few minutes, we walked back and drove to Athirapally.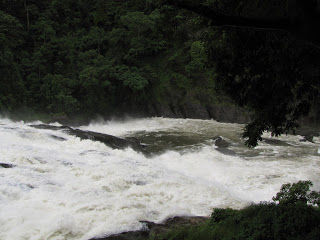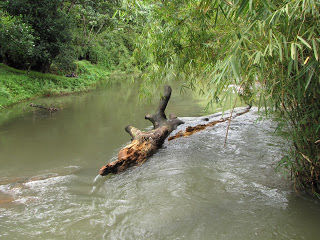 Day-2 -> Kochi. The first place we visited was the Hill Palace Museum at Tripunithura. This place is around 50 kms from Chalakudy. We spent an hour there going through some history of Kerala Rajas. Mobiles and cameras are not allowed inside. One can deposit in safe lockers at the entry of the palace. This place is located around 10-12 kms from the mainland of Ernakulam. A small kids play area is also available at the parking place. Overall, a place to go around and see a wooden palace and some history about Kerala.
Next, we visited the area of Mattancherry. First, was the St.Francis church. This place is a piece of history - Kochi, Vasco Da Gama, Portuguese, Dutch ! The church is really old and says renovated in 1779 !! A quick peek into the church makes one understand how old it is and services are still going on. The surroundings are greenly and within 1 km from there one can reach a small beach too. Few kms from there is the Mattancherry palace - A small place in Fort Kochi area. Here, one can read in detail about the Kerala Rajas history - Rama Raja, Kerala Raja, Ravi Raja. One can also learn how Kerala was formed. We drove to the Marine drive and spent some time there before we left to catch the train back to Chennai. We got parcel for dinner. One more piece of information: We had our return ticket from Trissur to Chennai, whereas we were going around in Ernakulam (Kochi). What we did to board the same seat from Ernakulam -> Bought sleeper unreserved tickets between Ernakulam and Thrissur on the same seats.
Athirapally Falls is around 32 kms from Chalakudy. As expected the weather was gloomy, but, no rains luckily. However, it was drizzling now and then. First place to visit was Kauthuka Park . ( http://www.kauthukapark.com/)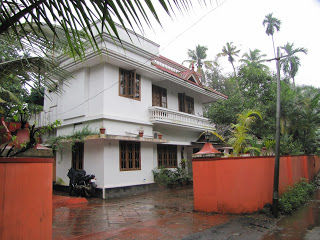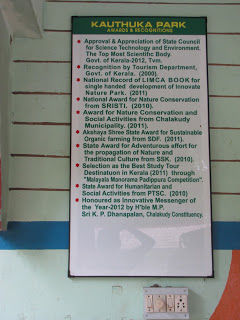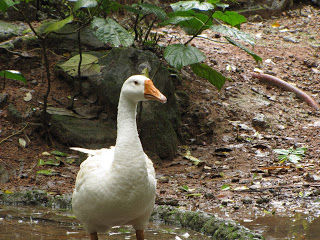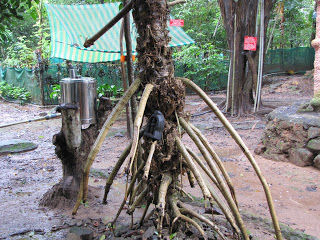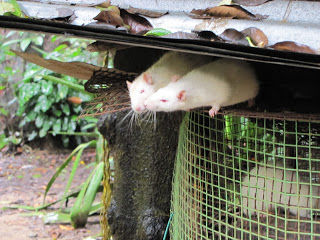 Water was running like milk and one could not see the bottom of the falls because of the water scattering all around. After spending few minutes there and none being allowed to take bath because of the heavy water, we started our downward trek towards the bottom of the falls. WOW ! The falls was flowing well beyond the rocks we used to see normally. The visibility was so low that when attempted to take a photo, the background was always virgin white !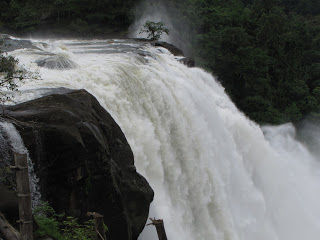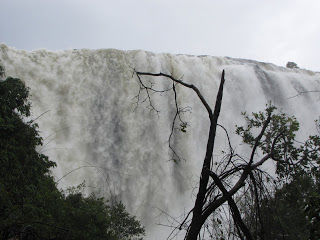 The driver aptly took us to a small, but, tasty veg food hotel - Saravana, few kms from the falls. Next, we went to the Thumboormuzhy dam. There is a small park for Kids to play and a nice view of the flowing water. This is closed for entry by 4 PM and exit by 5 PM. We reached back the stay and ordered food. The food was amazing. Though we ordered only Parattos, Chappthis and little rice with curd, we got lots of extras like Dhal, more rice, Sundal, papadams. This is an apt display of hospitality from My.Suresh of Ecogreen Homestays.
Breakfast was also ready and Tea served all through our stay was so good.