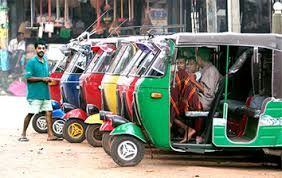 The most authentic way to explore and navigate through every niche of Colombo, the metropolitan city of Sri Lanka, would be in a tuk-tuk. This is an experience like no other. Here are some places you'll see during a tuk-tuk safari organized by popular tour companies such as Diethelm Travel Sri Lanka.
Colombo Harbour
It is not only the largest port in South Asia but also the busiest too, considering its convenient location on the Indian Ocean. There's something about watching the sunset from the machinery world, that puts you at ease. You'll usually be passing the Fort Clocktower and the Colombo Lighthouse on your way to the port.
Streets of Pettah
Resembling the many street markets in countries like Thailand, this is where you'll be able to find anything and everything for a cheaper price. There is a lot of hustle and bustle in this area; streets filled with loud vendors and shoppers who have mastered the art of bargaining! The streets are organised in such a way that each street is dedicated to a certain product range; textile, hardware, shoes and bags. Though this isn't exactly a tourist destination, it certainly gives one a whole new perspective on Colombo and its people. Look out for the red mosque and Sri Ponnambalam Vanesar Hindu temple that is entirely made of granite.
Dutch Hospital Shopping Precinct
This is one of the oldest buildings in the area that dates back to the Dutch colonial era. As the name suggests, it used to be a hospital. At present, it is a heritage building that is buzzing with pubs, restaurants and shopping outlets. Look out for the World Trade Centre building as well, located right opposite the famed precinct.
Galle Face Green
A popular spot in Colombo for families and couples to spend a few hours in the evening. Whether it is to just relax or jog around or eat some street food, this is where most locals spend their evenings. You could witness happy children running around with their kites or blowing bubbles in the air.
The Beira Lake
The Gangaramaya Temple is situated near the lake and is one of the most unique temples in Colombo. A shrine that belongs to the temple, known as the Seema Malaka is located on the Beira Lake, offering a rather serene atmosphere to the area. This is also a great spot to admire Colombo's skyline and its reflections, especially against the dusky sky and makes up for great pictures.
Independence Square
A structure that was built in 1948 to commemorate the Independence Day of Sri Lanka. A new addition to the area is the Arcade Independence Square, located right behind the square which underwent a renovation to be what it is today; a luxury shopping complex. The original colonial architecture was preserved while ensuring there are modern features that have been added as well.
Nelum Pokuna Theatre
Another building with an interesting architecture. Nelum means "lotus" and "pokuna" means pond; Lotus Pond. The reason for this name is that if you get a bird's eye view of the building essentially resembles a lotus in full bloom.
Laksala
A popular spot to find local handicrafts and souvenirs. They have beautiful wooden carvings and paintings that will allure you. Most of the items here are quite reasonably priced and make great gifts and mementos.
National Museum
A colonial building to add to the list of architectural buildings in Colombo. The National Museum is a great place to take a walk back in time through, as there are various exhibits and artefacts from Sri Lanka's colourful past.
Wolvendaal Church
This church is more than 360 years old and is the oldest Dutch church that has been reformed, in Sri Lanka. It serves as a reminder of the different types of occupations that were present during the colonial period.