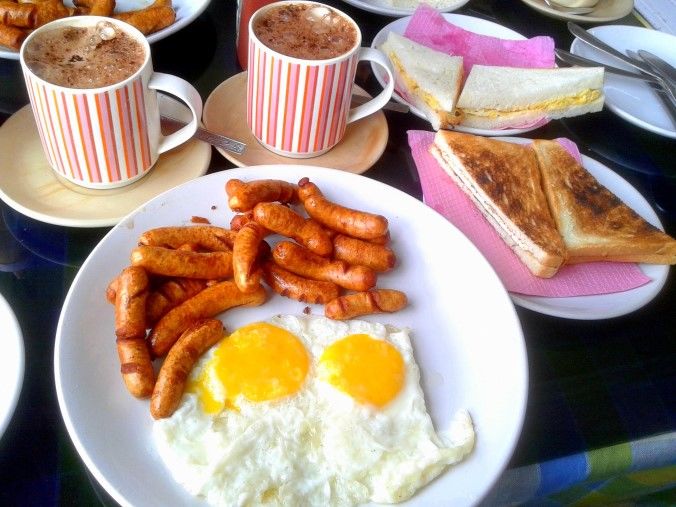 Darjeeling is an absolute delight to the eyes and the tummy. I can vouch for the fact that it is a foodie's heaven! If you love experimenting 'safely', this is your place. If you are a vegetarian and feel left out for lack of veg counterparts of the tasty non-veg dishes, this is your place. If you are perennially hungry and complain that shop timings don't correspond with your hunger timings, this is your place. If you believe the best antidote for boredom is munching, this is your place!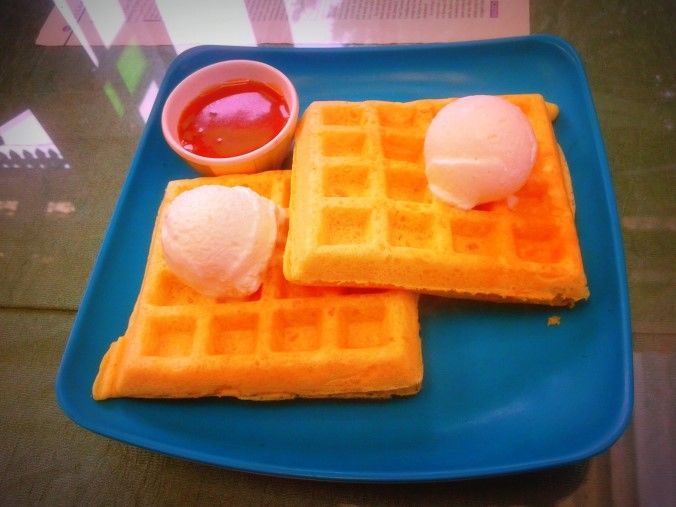 Waffles with caramel and ice-cream at FoodSteps.
There are some eateries whose names are synonymous with Darjeeling, like Glenary's and Keventers. Along with these, there are so many other options that you'll feel like you're in a maze of food-hunt! Like the old woman on the street just below the Chowrasta, who sells the very flavourful Darjeeling tea or, the street shop up on the road to the zoological garden, where a man sells piping hot momos with a very hot sauce that gets your eyes and nose leaky! All these are places that you must try!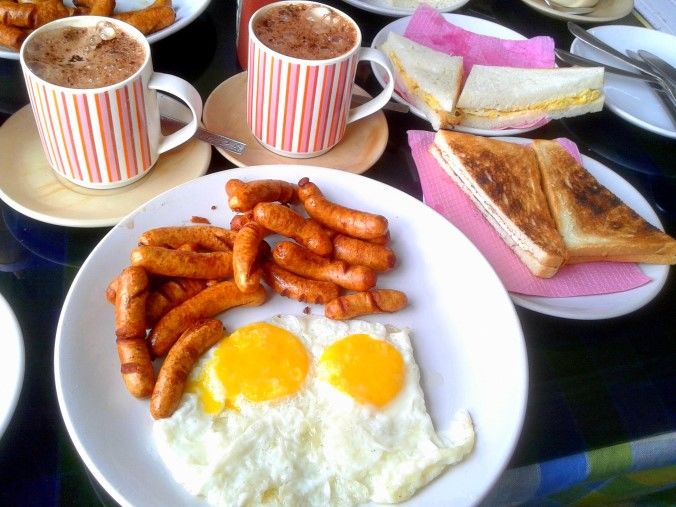 The heavenly breakfast at KEVENTER'S.
Keventer's is not even a slight bit exaggerated. If you want to have the customary breakfast here, you need to be here before the endless line of hungry people start to queue. We were extremely lucky to find a balcony seat. It was absolute bliss- the food and the view. Overlooking the snowy peaked mountains, the damp morning was very cold. With frozen noses that could hardly breathe, we sat down to a sumptuous breakfast of their speciality- cheese toast, sausage, eggs and hot chocolate. This was the elixir we needed to get us up and about exploring the beautiful Darjeeling on a rainy morning. Did you know, the movie Barfi was shot at right this spot, with the view of the clock tower right before us?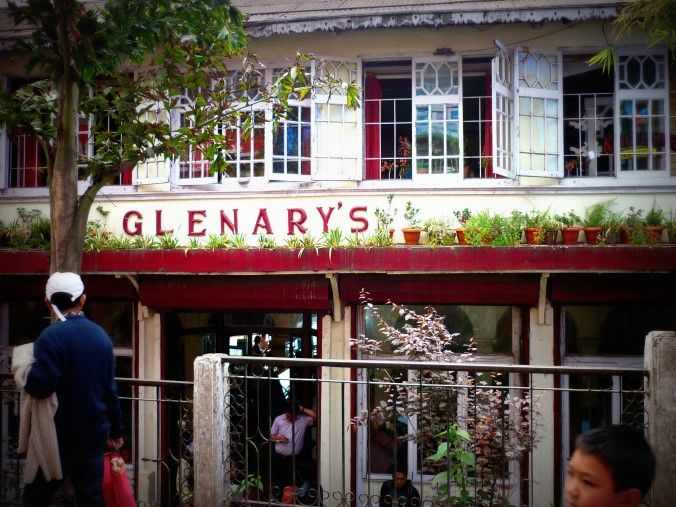 The dreamy bakery- GLENARY'S
The next eatery that'll blow your mind and surprise our gastronomic juices is Glenary's. Yes, this popular outlet lives up to its fame every bit. The first floor is the bakery section. The variety will leave you open-mouthed (surprise and hungry!) It will be some time before you make a choice of all that you want to try. And still you won't be able to do justice to everything you want to try! You might want to try what we did. We sampled some items every morning, on our way to outings. We packed some tidbits and had it on the go. That's how we were able to explore the food while we were exploring the city! And on the last day, we packed loads of stuff to take back home. The basement of Glenary's is the restaurant. Do come for a meal here to taste some nice European cuisine.
Boney's Snack Bar is not easy to find. It is situated in one of the lanes close to the Chowrasta. But if you find it, you'll be in for a treat. From a wide variety of local cuisine to some delicious western desserts, you'll leave this place wanting for more.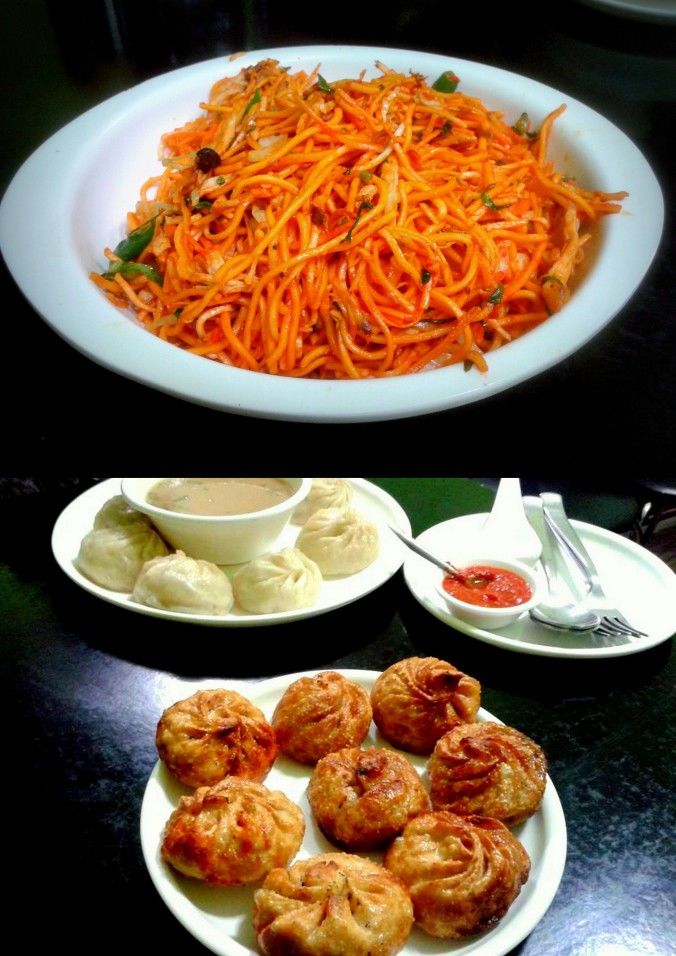 BONEY'S serves a variety of local dishes.
FoodSteps is another lovely place. This gem is nestled on the first floor of Pineridge. Its interior is made of wood and it has windows on all sides. Peak out one of these windows and you'll encounter breath-taking beauty. It is airy and beautiful. The owner is a warm lady, who came out to ask us how we would like our meal. This is one of the places where you'll want your order to be delayed so you can sit for some time, soak in the beauty that surrounds you, and spend some time talking to the friendly people while enjoying a delicious spread.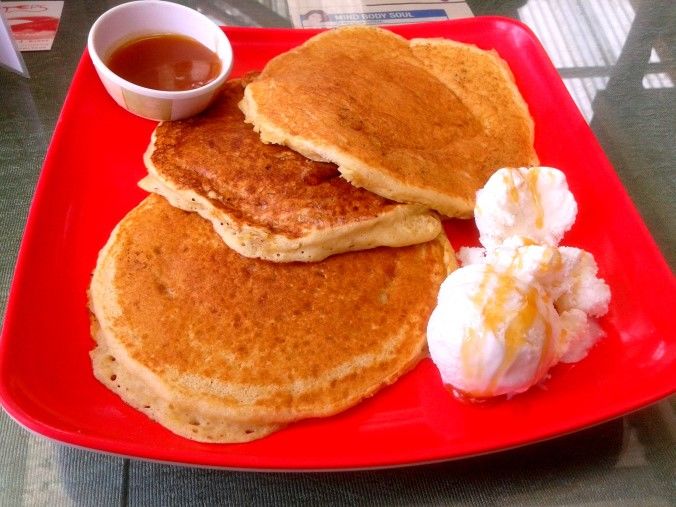 Pancakes at FoodSteps.
How many of these places have you eaten at? Why don't you let me know any other gems I might have missed?